Restaurateurs often seek out old, unique spaces for their businesses, but unusual ones can be hard to find—especially given the recent restaurant boom. That's why a Civil War-era carriage house on the Hill Center's grounds caught chef David Guas's attention when he passed by the structure over two years ago. Now the building—part of the Old Naval Hospital commissioned by Abraham Lincoln—is home to a second Bayou Bakery, a spinoff of Guas's Louisiana-inspired eatery in Arlington. The new location debuts early this week with a limited menu and abbreviated hours for the first few days; eventually the 90-seat spot will be open from early morning through dinner, and serve weekend brunch.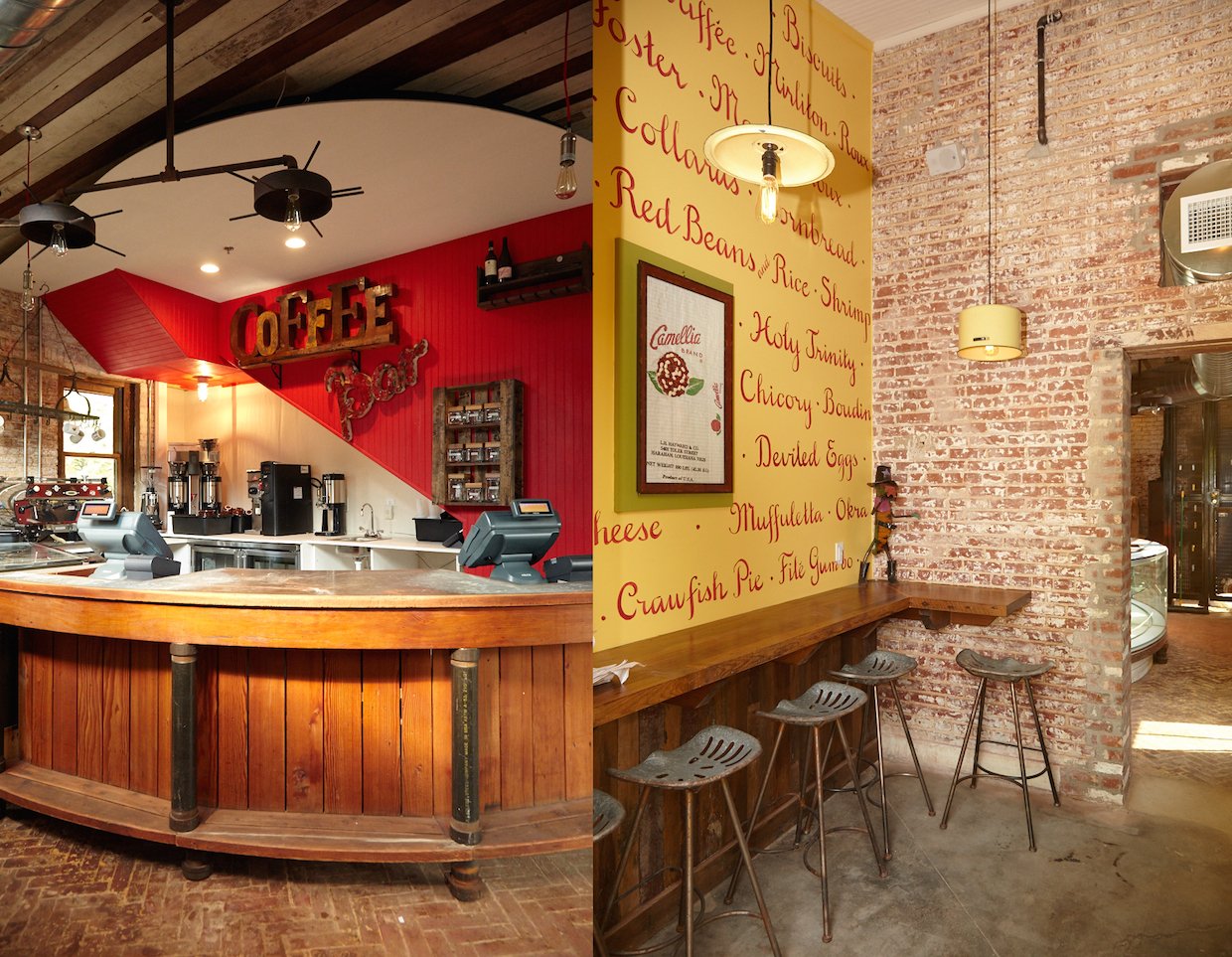 The lineup of freshly-baked pastries, specialty coffees and teas, sandwiches, and other Louisiana eats is similar to the Arlington branch. Morning diners can grab warm beignets, croissants, and buttermilk biscuits with cream cheese and pepper jelly—as well as gluten-free pastry options—and fuel up with Counter Culture coffees or an "Iced NOLA" chicory brew; more potent versions are available later in the day, like a bourbon-spiked Cajun latte with cayenne and cinnamon. The coffee bar (sample menu) greets guests as they walk through the entrance, and is where all food and drink orders are placed throughout the day and evening. Servers then ferry meals to tables in a glass-walled dining room, 40-seat patio, or the most unusual space—the stable's former feed room, where the original hay bails and grain shoots remain intact alongside a big leather sofa and armchairs, more practical for human dining.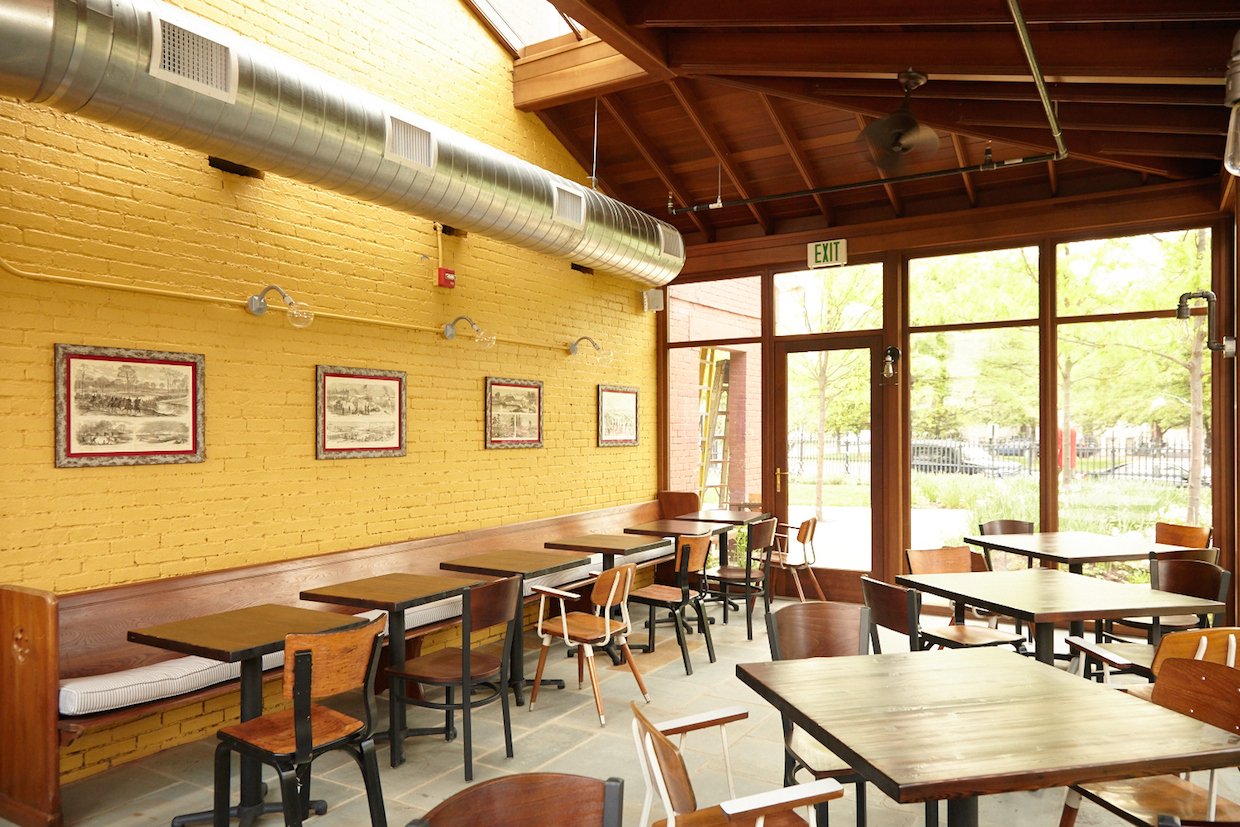 The concept is casual and the food unfussy—there's a roast beef po' boy aptly named the Arm Drip—but Guas still has what he calls the "fine dining curse" when it comes to cooking (sample menu). An array of baked goods and confections are made daily from-scratch; he began his career as a pastry chef before the recent days of hosting the Travel Channel's American Grilled. Both sweet and savory ingredients are sourced from small producers, like Viriginia Belmont Peanuts, which show up in Benton's bacon-studded "PorKorn," or local Stachowski's smoked andouille that's slathered with mustard and onion marmalade on a potato roll. The DC kitchen is larger than Arlington's, and could turn out new additions to the menu like a crispy catfish po' boy or summer corn hushpuppies. A lineup of evening entree specials varies by week, and includes the likes of New Orleans barbecue shrimp.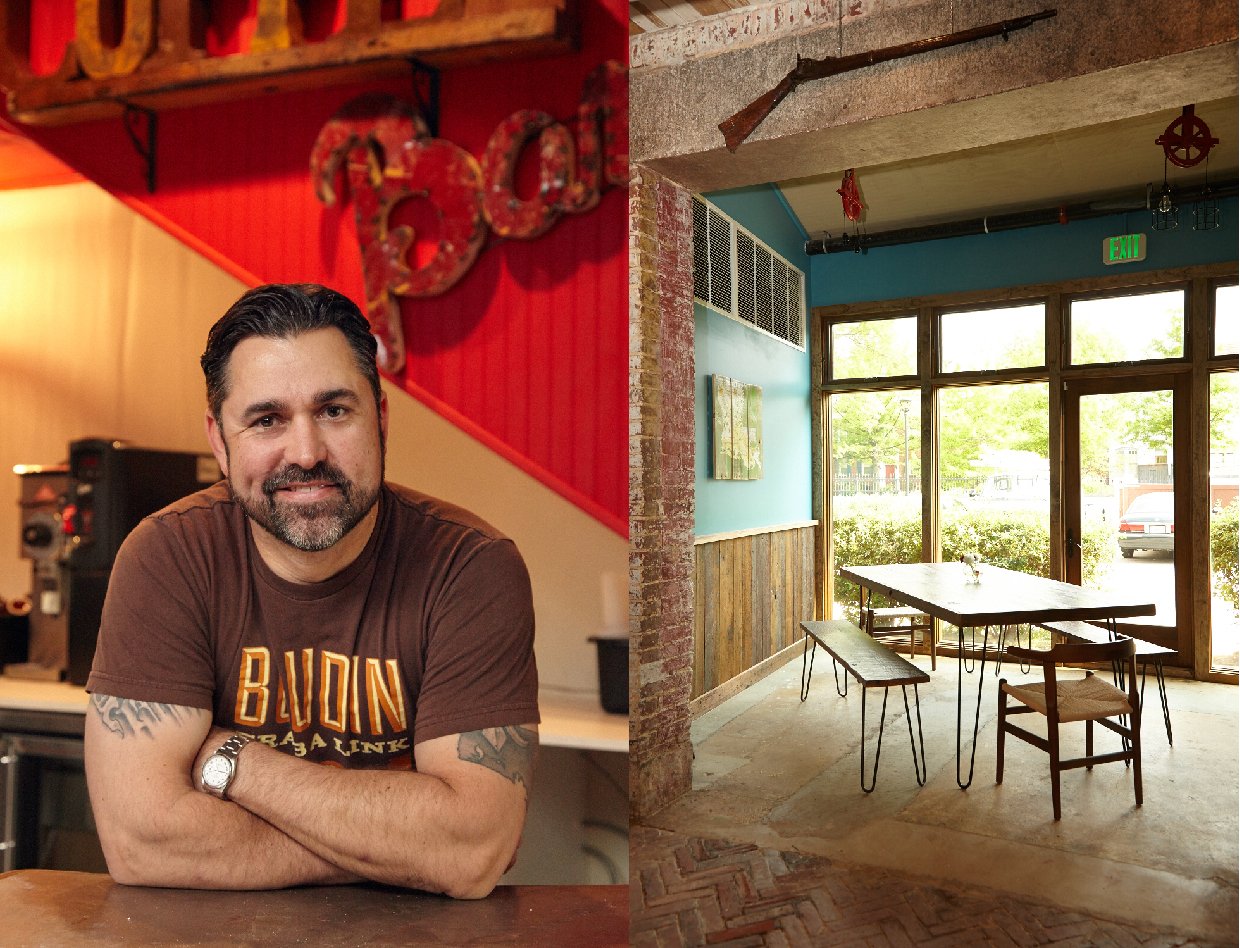 Though a place with "bakery" in the name doesn't necessarily sound like a drinker's paradise, guests can grab a cold Abita, glass of wine, or mason jar cocktail to go along with a "muff-a-lotta" sandwich or plate of red beans and rice. Bayou won't keep late bar hours, however. Asked if he ever considered a more formal concept for the space—one could easily envision a speakeasy or hip tasting room—Guas says he prefers the home-style vibe.
"There's something appealing about walking up to a counter and having a conversation," says Guas. "There are gas stations in New Orleans that serve amazing boudin. I want this to be the same—a treasure, tucked away. From there you can only go up."
Bayou Bakery, Coffee Bar & Eatery (Capitol Hill). 901 Pennsylvania Ave., SE. Full hours (starting soon): Monday through Thursday, 6:30 AM to 10 PM; Friday 6:30 AM to 11 PM; Saturday 7:30 AM to 11 PM; Sunday 7:30 AM to 8 PM.