When Sarah Bayot was working towards her master's degree in international affairs and development at George Washington University, she spent a semester studying the Democratic Republic of the Congo and knew she wanted to visit. She had her chance in 2011, when she traveled to eastern Congo to meet with an organization that provides holistic care for orphaned children. It was then she discovered her passion for caring for the children of the Congo.
In January 2014, Bayot officially launched Kicheko Goods, a for-profit online jewelry business that supports the education of children in the Congo—in the most recent collection, each purchase of a Kicheko Goods product sends a child in eastern Congo to school for a month. To find out more about her mission and vision, Shop Around got in touch with Bayot for an interview.
How did you get your start in designing jewelry?
Since I was young, I have had a creative bent that has expressed itself in different ways. In college, I interned with Fashion Fights Poverty, a nonprofit that supports emerging ethical and eco-sustainable designers while giving back to organizations that combat poverty through yearly events. During this internship, I met several designers that introduced me to ethical fashion and that became my entry point into a whole world of textile and design.
What does Kicheko Goods provide for children in the Congo?
Currently, Kicheko is working with Mango Tree School, a primary school based in eastern Congo that educates over 200 primary-level students who are under-resourced and cannot afford school fees. In 2014, proceeds from Kicheko were used to help construct a six-classroom brick school building for the Mango Tree School and provide scholarships for children in the community to attend. In 2015, our goal is to identify students who are most in need and to work with families to ensure that their children stay in school year round.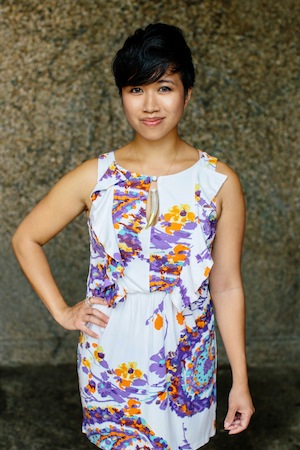 Let's talk about your jewelry designs. What's your style?
I'm such a city girl. I've always been drawn to urban environments but recently, I am intrigued by more natural settings and landscapes. There are elements of earthiness in Kicheko's designs that incorporate natural stone and deer and elk tine. I also have an eclectic sense of style that balances between clean and minimal aesthetics with points of interest. I design under the parameters of mixed materials, unique silhouettes, and translatable everyday wear that swings between subtlety and making bold statements.
So is every piece one-of-a-kind?
The deer tine and quartz necklaces are truly distinctive—no one stone or tine is shaped like the other. The other pieces are debuted in batches of ten to 20 units. Once made available online and through pop-up shops, we evaluate customer response and collects feedback. Depending on the product's resonance, the decision is made to remake and restock. This small-scale design model allows for freedom to create dynamic pieces and small batch collections.
Is DC a good market to start a socially-conscious jewelry line?
The jury is still out on that. There is a greater concentration of socially conscious brands based in other cities, and there is greater opportunity in these other cities to collaborate and cross-promote each other, which is a win-win. DC has a tremendous number of nonprofits and NGOs, but socially-conscious business is still emerging. Where DC has its advantage is that there is a concentration of experts in this city that really understand and can inform the giving model to ensure it is value added and does no harm. Like cities can be, DC is an expensive place to open up shop so concentrating on building an online store and doing pop-up events have been our strategies.
What does "Kicheko" mean?
Kicheko is a Swahili word that describes smile and laughter. In the five years that I've traveled to Congo, what has surprised me is was how ordinary and joyous days can be. The people that we have met crave ordinary days—to go about their businesses, educate their kids, have enough to eat, drink clean water, go to work, and be together. The moments I experienced were wonderfully ordinary and beautiful and I just remember hearing so distinctly these true bouts of laughter when the kids would make each other laugh, or just genuine smiles when you'd be going throughout the community and talking with the locals.
What's next for Kicheko Goods?
In the future, Kicheko dreams of partnering with other effective organizations on children's education and empowerment initiatives for girls and women and collaborating with artists and artisans on design projects and events. This year, Kicheko Goods is working towards and hopes to sell our pieces in independent boutiques, socially-conscious stores, and larger retailers.