Over the past century, Filson has made a name for itself with its "unfailing goods"—products that are built to last and backed by a lifetime guarantee. Based in Seattle, the brand has just five stores around the globe—four in the United States and one in London—but this August, a sixth is scheduled to open in Washington, DC.
As one of their top ten dot com markets, DC is a logical place for Filson to expand.
"We are thrilled to be coming to DC," says Filson president Gray Madden. "People in DC appreciate the quality and history of our brand."
The manufacturer of apparel, bags, and accessories was born in Seattle in 1897 as a response to the Great Klondike Gold Rush, providing durable clothing to the scavengers. Today, it does the majority of its business in bags and accessories, including their watches, which are manufactured by another American-made brand: Shinola.
"We're partnered with Shinola under the same parent brand Bedrock [Manufacturing]," says Madden. "Our watches are built in the Shinola factory in Detroit using the same Swiss movement, and they are guaranteed for life."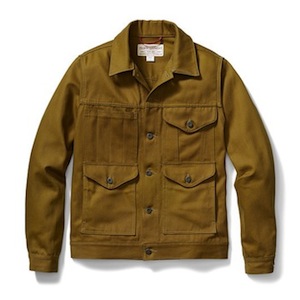 The DC store will be the brand's most southern location to date, so the apparel, which has a distinct outdoorsman aesthetic—think lots of plaid wool and flannel, and the brand's patented Cruiser trucker-style jacket—may take on some lighter fabrics as the brand reaches the south.
"We have a huge jacket and coat business, but we still need to round out the assortment in lighter weight material." says Madden.
But regardless of the warmer climate, Madden isn't worried about Filson designs meshing with DC gentlemen.
"DC is one of the most active cities in the nation," he says. "We like to say we manufacture products for those who refuse to stay indoors, and that's certainly DC."
After looking at different shopping hubs around town—Georgetown among them—Filson chose to open on 14th Street, at the address of Shinola's old temporary shop, 1543 14th St, NW.
"Georgetown is more established and has a lot of shops you'd see in retail centers all over the world," says Madden. "We wanted to be somewhere with a little more of a neighborhood feel."
The DC store is just the beginning of the brand's "really big" expansion plans, according to Madden, who said that Filson hopes to open ten additional stores, starting with a second London shop, within the next couple of years.