In 2010, the Campaign for Safe Cosmetics and the Environmental Working Group released a study on perfumes and the 3,100 chemical ingredients used to make up popular fragrances' secret formulas. According to the study, "The average fragrance product tested contained 14 secret chemicals not listed on the label. Among them are chemicals associated with hormone disruption and allergic reactions, and many substances that have not been assessed for safety in personal care products."
The fact that so many mystery-ingredient-filled perfumes are on the market makes Susannah Compton's contribution through her new venture, an all-natural perfume brand called Florescent, all the more interesting. A longtime freelance writer covering beauty trends, Compton always knew she wanted to start her own company, and that dream came to life the last weekend in May, when she presented her perfume publicly for the first time at the Northern Grade pop-up.
To find out more about Compton's mission to bring not-so-secret-recipe perfumes to the market, Shop Around got in touch for an interview.
You've covered beauty for a while as a freelance writer. Where do you contribute?
I mostly write about clean beauty trends for a site called No More Dirty Looks, and I serve as the Beauty Editor for Thoughtfully Magazine and produce content for Integrity Botanicals. I've developed an expertise in nontoxic botanical skincare and makeup, and I love helping people find more healthy and safe alternatives to their favorite products.
What made you decide to go from writing about it to creating your own perfumes?
As a writer covering natural skincare and cosmetics, I've been inspired by strong female entrepreneurs who have built their own thriving companies in this niche industry. The majority of these women started mixing botanical serums or compounding vegan lipsticks in their own homes before expanding, gaining traction and finding their products on the pages of Elle, Vogue and more. About five years ago I bought my first three bottles of essential oils. I was taken with how essential oils—which are distilled from flowers, herbs, fruits, leaves, grasses and other botanical materials—smell so fresh and real. I gravitated quickly toward blending perfume because I can't wear 99 percent of conventional perfumes without triggering severe headaches and nausea. Making my own perfumes became a creative outlet that allowed me to enjoy fragrance without the negative side effects.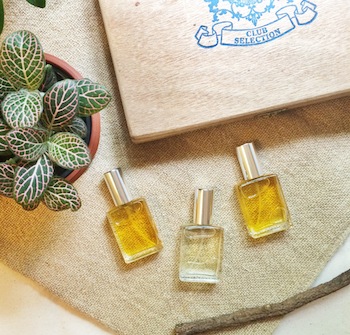 So what do you use in your perfumes?
My perfumes are 100 percent botanical. The scent comes from certified organic or wildcrafted essential oils, absolutes, balsams, and resins. These are set into a base of organic grape alcohol distilled in Oregon. I source my oils from small companies that acquire the purest, sustainably-produced oils from all over the world. My favorite rose absolute comes from Turkey and the most exquisite frankincense I know comes from Oman.

What's your process for making a bottle of perfume?
I make perfume the old fashioned way from pure botanical materials, nothing fake or synthetic. To create the scent, I blend aromatics including essential oils, absolutes, balsams, and resins. This is the most creative and time-consuming part of the process, and I spend many months developing and refining a given fragrance. One of my perfumes evolved over two years before I felt it was ready. The concentrated perfume blends are allowed to age and marry before being diluted with certified organic grape alcohol, which is the delivery mechanism for the scent. Once combined with alcohol, the blends sit for a minimum of one week before being chilled, filtered, and bottled.
Are there any aromatherapy benefits to your essential oil-based perfumes?
I don't design my blends with a particular aromatherapeutic effect in mind, but the individual oils absolutely have the ability to shift your state of mind and alter your mood. For example, in my Pretty Bird blend, bergamot uplifts and refreshes the mind while sandalwood is comforting and rose makes you feel very chill and loved.
What are your plans to continue to grow your brand?
I don't have plans to take over the world at this point. I really just want to connect with a great base of customers, sell on my web site and at local retailers. I love watching people smell my perfumes for the first time, and nothing beats the feeling of having a perfect stranger take your perfume home with them to enjoy.
Visit the Florescent website to learn more about Compton's perfumes, and email hello@florescent.co for purchasing information.