Affable, outgoing, and a hit on every dance floor, Johnny Haffey just may be DC's most in-demand wedding guest. It's a self-perpetuating cycle: the more word gets out about the 29-year-old Logan Circle resident, the more invite lists he winds up on. Haffey has attended more than 40 nuptials, with five on the docket for 2015. Also an ace on the subject of what pleases party-goers, we asked him the questions you're dying to put to your own guests.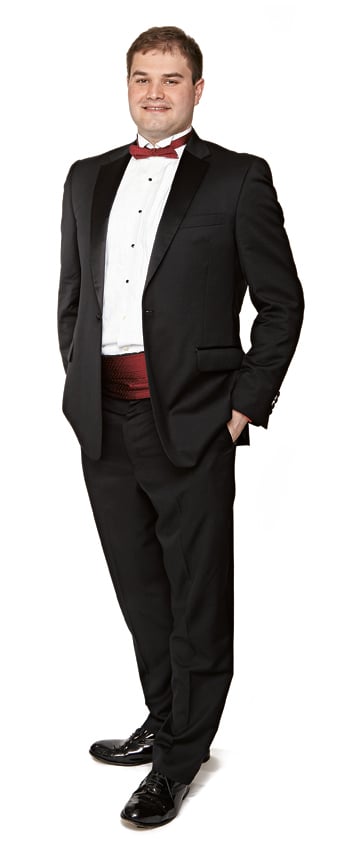 How do you feel about cash bars?
Cash bars are about expectations. As a guest, it's nice to know beforehand so you can plan accordingly (stop at the ATM, acquire provisions, and so on). As a couple, it's smart to expect guests to make adjustments, which might include guests leaving earlier than expected. Both sides should recognize there is no offense intended either way.
What about scheduling a wedding over a holiday?
The big summer holidays are prime for vacations, so appropriating one of those weekends (July 4, Labor Day) will likely cause some commotion. My suggestion: Get married on New Year's Eve. The holiday never lives up to the hype, and coordinating with friends is always a headache.
What gesture goes the longest way with guests?
No matter the size of the wedding, it's nice to feel like an important and honored guest—whether you are or not. A thoughtful couple is able to genuinely communicate that to family and friends.
Band or deejay?
Both are great, but a live band just gets things going. It's always exciting to get the happy couple onstage to lead some crowd interaction.
Which music is sure to get everyone out on the dance floor?
Motown, classic rock, and '80s hair bands. If you want to see someone's dad move like he just scored a goal, the song has to be something older than the couple.
Line/group dances—are you a fan?
I can't argue with results. Dances like the Cha Cha Slide put guests on the floor, but the impact is often like the crash after a sugar high. The initial rush gets people out there and involved, but the crowds fade away as soon as the organized routines do.
Buffet or seated dinner?
A buffet usually offers more in terms of choice and volume. But if a ton of speeches or formal events are planned during the dinner, it's easier for guests to stay seated and out of the way.
Are there any A+ wedding favors?
The koozie. I keep them in my car, my house, my work bag, everywhere. Edible favors are also great, especially at the end of the night.
What's something surprising that can ruin the big day?
Smooth transportation is worth every penny—nothing worse than a big group of people confused about what the next move is. Group buses and trolleys are a great opportunity for guests to get to know each other on the way there, and lose their voices singing on the way back.