In Washington, landing a Whole Foods near you can feel like winning one of Willy Wonka's golden tickets—a sign your neighborhood has arrived. The upscale chain, after all, is credited with catapulting the 14th Street corridor into a top residential choice. Could your corner of the region be next?
Thus when Whole Foods announced two new Washington-area stores in May, local reactions were predictably euphoric.
In the first location, Tysons Corner, the prospect of a 70,000-square-foot flagship was greeted as a sign that the office park/shopping mecca is on its way to becoming a place where people will actually want to live. At the second, Shaw—two blocks from Howard University—the choice was interpreted as proof that the neighborhood's recent gentrification is no ephemeral phenomenon.
Treating a high-priced grocer as some kind of real-estate fairy godmother, though, kind of misses the point. Like all major retailers, Whole Foods relies heavily on micro-demographics and complicated algorithms to determine which places are already on the rise and primed to attract the well-educated, affluent types who fit its meticulously researched customer profile. Hype notwithstanding, the store doesn't anoint a neighborhood—it does a more intricate version of the same math a lot of house-hunters do. And that, of course, is what makes its science so interesting.
Since 2000, when the Logan Circle Whole Foods opened, 28 more grocery stores have arrived in the District, according to the Washington, DC Economic Partnership. One reason is that the city started offering a tax break as an incentive for grocers to come.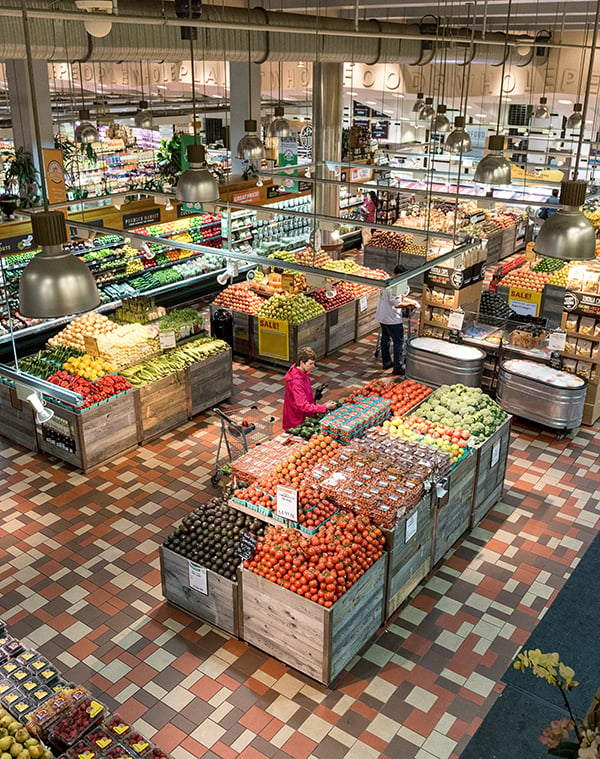 More significant, though, is a shift in how retailers and customers think about location. Whole Foods just happened to spy it first. The traditional supermarket model—a freestanding, one-story building on an ocean-size surface parking lot—no longer works in most places. Not only do more people want to live, shop, and play in the same mixed-use developments, but land values simply make that kind of design untenable.
"If you want to serve areas inside the Beltway, you've got to do an urban model," says Cary Judd, a principal at the real-estate brokerage KLNB Retail who represents Harris Teeter.
Even in suburban locations, grocers now seek out densely populated locales, convenient not only for drivers but for pedestrians, too. The Tysons Whole Foods, set to open in 2018, will be part of an 18-acre development called the Boro, just off the Greensboro stop on Metro's Silver Line.
The project's developers at the Meridian Group say the real-estate team at Whole Foods was initially interested in the corner where the two main thoroughfares of Greensboro and Westpark drives meet. There they could take advantage of traffic patterns that flow past from well-heeled neighborhoods in McLean. But as they got deeper into their evaluation, they became more focused on the location's ability to attract pedestrians. Already about 24,000 people work within a ten-minute walk, and the Meridian Group projects that by 2019 more than 3,700 will be living within the same distance, including several hundred in apartments directly above Whole Foods.
Meridian Group senior associate Tom Boylan says that once the grocery chain took a full accounting of the pedestrian-centered figures, its sales projections for the site increased significantly—one reason it decided to make the Tysons store its largest in Washington. The company also no longer wanted its main entrance to open directly onto Greensboro/Westpark. Instead, it signed on for a 200-foot-long storefront facing the main retail/pedestrian strip that will cut through the apartment and retail buildings planned for the site.
• • •
It doesn't take much sleuthing to figure out that Whole Foods is focused on opening in mixed retail/residential developments. Six of the seven forthcoming stores in Washington—in addition to Tysons and Shaw, Prince George's County, H Street, Capitol Riverfront, and Crystal City—are in projects where hundreds of customers will live just upstairs. (Only an Ashburn store is planned for a more traditional shopping center.)
Whole Foods doesn't divulge specifics about its real-estate decision-making, which it considers "proprietary." Mid-Atlantic regional president Scott Allshouse at least offers this via e-mail:"We take a variety of factors into consideration, including availability and cost of real estate, population density, education, demographics, and the community's interest in natural and organic foods. No one factor is most important."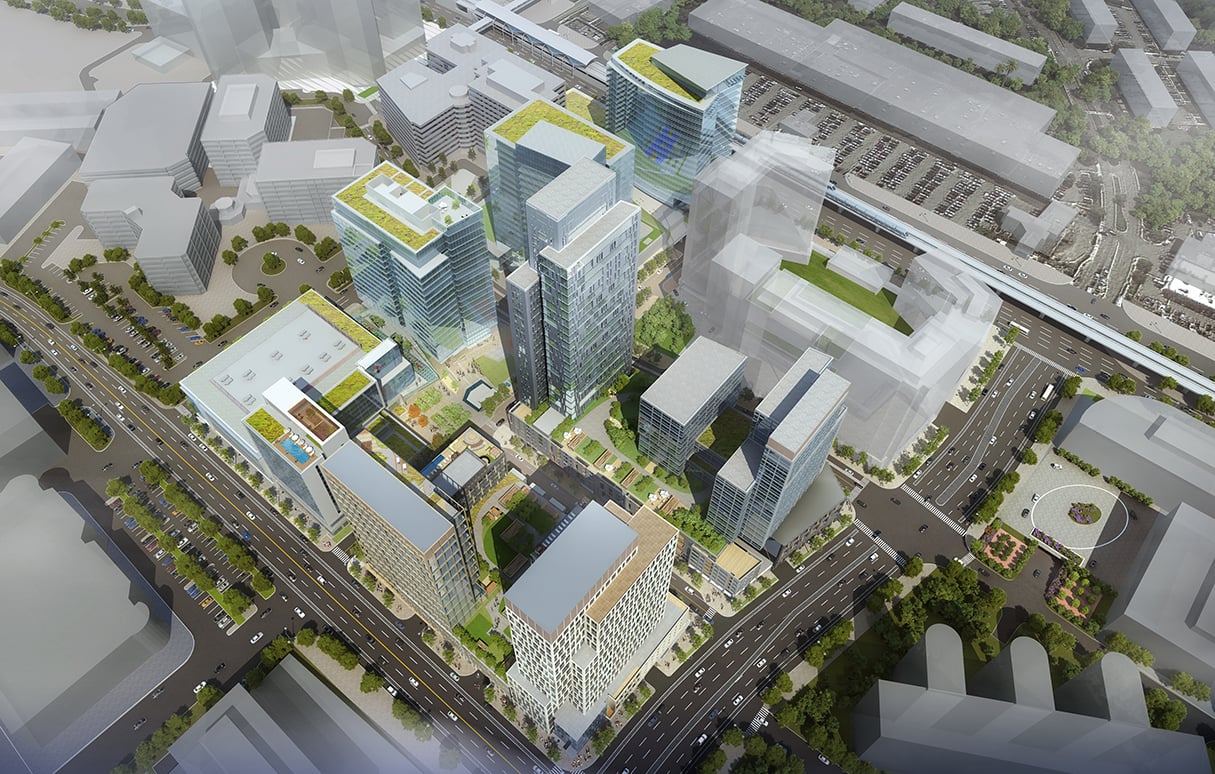 But Keith Sellars, who opened and managed Whole Foods stores for 14 years and now heads the Washington, DC Economic Partnership—an organization tasked with attracting businesses, including the grocer, to the District—says with Whole Foods, one factor does get the most weight: education level. The chain counts on consumers who are willing to pay more because they know about the health benefits of eating organic or have a taste for less common foods. "They're well traveled; they have sophisticated palates," says Sellars, who hopes one day to lure Whole Foods east of the Anacostia River.
For homebuyers trying to scope out things like good schools, this same quality—albeit without the deep data a retail giant can access—is also paramount.
Judd, who has represented Harris Teeter on all of its Washington-area leases, doesn't operate under nearly the same constraints as Whole Foods' Washington broker, Marc Katz (who, when asked why he couldn't talk about his work for Whole Foods, responded: "Because I intend to keep working for them"). Judd freely discusses the process he follows for his client, which he and other retail experts say is likely pretty similar to what Whole Foods does.
"I have war maps all over my wall," he says. "I have a dot for every grocery store in the market. It's almost like we're playing chess."
Judd scouts potential locations, then presents them to his client. The ones that garner interest get plugged into a predictive-analytics program, which uses a number of data points to spit out a projection for what the location's earning potential is likely to be. If a site passes that hurdle, Harris Teeter flies in its location consultant from Ohio, who compiles an even more specific sales forecast by assessing things such as commuter patterns, checking out competing grocery stores, and calculating their likely earnings.
Whole Foods' future Shaw location (it doesn't yet have an opening date) had a few key qualities going for it, says Matt Robinson, principal of MRP Realty, which is developing the building along with Ellis Development Group. First, it's two blocks from Howard—and as evidenced by the Foggy Bottom Whole Foods, near George Washington University, college kids and professors are good customers. The Shaw lot also fronts Florida and Sherman avenues, both heavily traveled main drags, and the design allows for easy entry.
Plus, the neighborhood is dense. The building with the Whole Foods will have 330,000 square feet of residences upstairs, it's directly north of three other mixed-use projects opening in the coming months, and 16,000 people already live within a half mile of the neighborhood's core.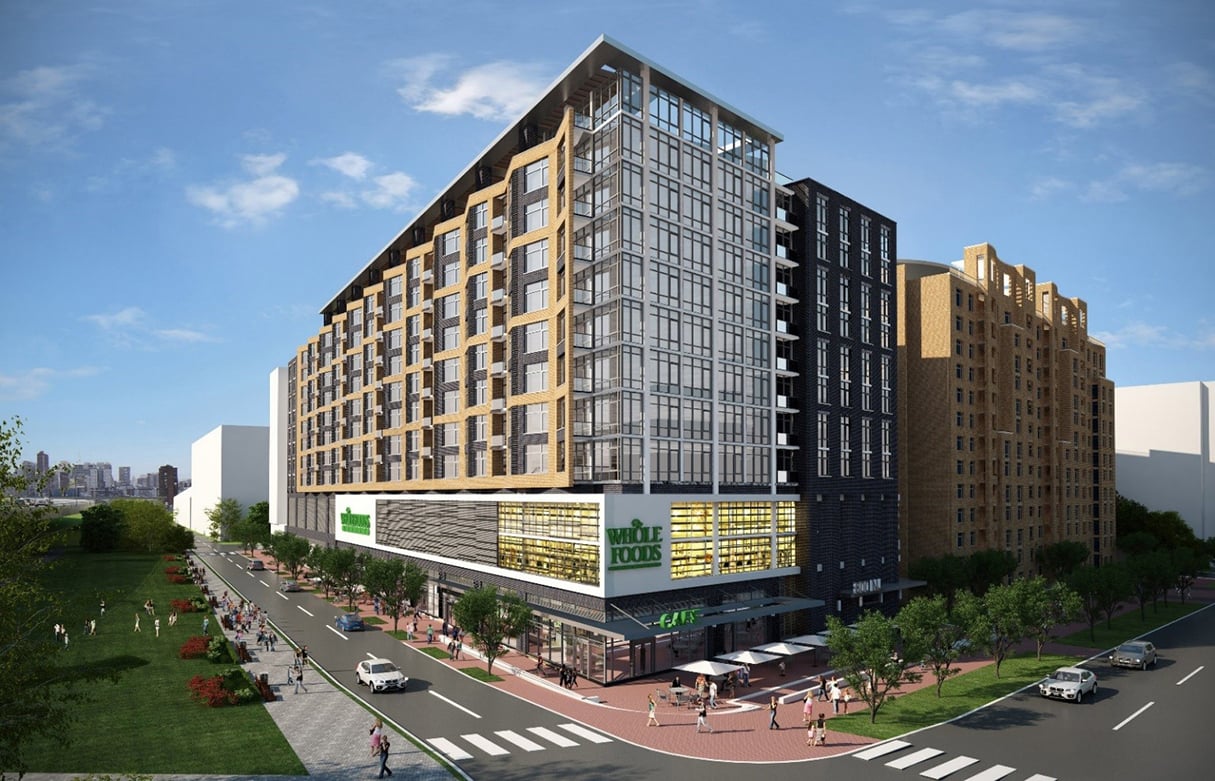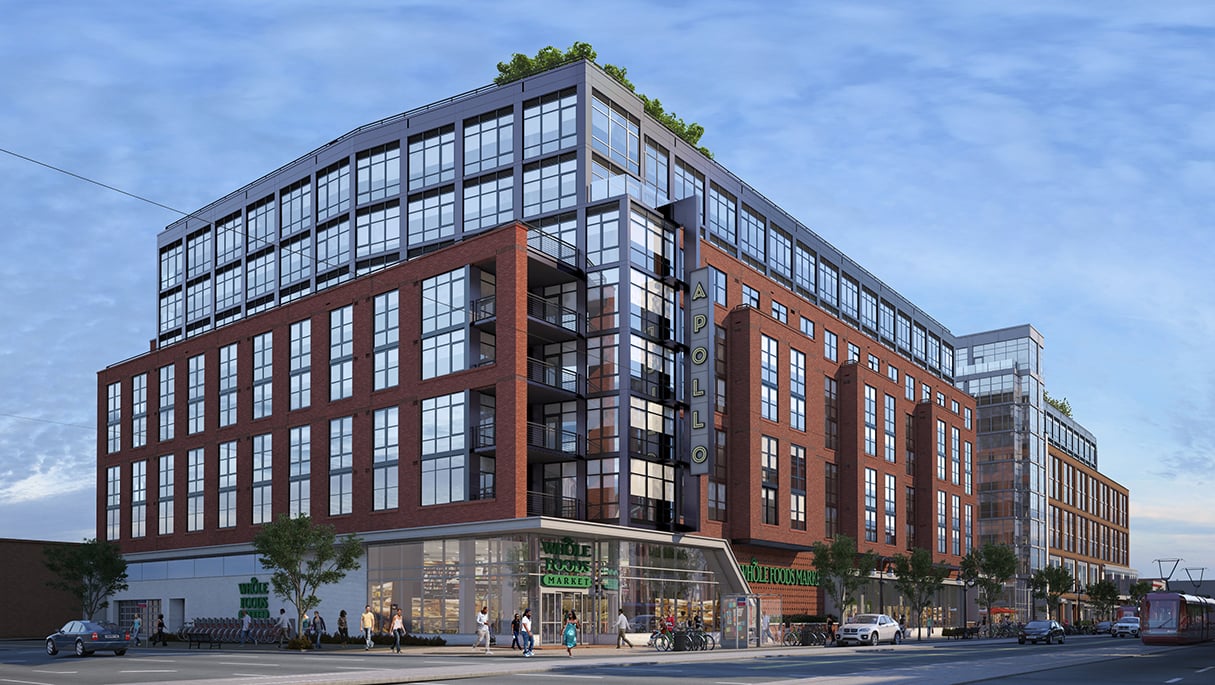 The two other DC stores in the works—one at 800 New Jersey Avenue in Southeast's Capitol Riverfront (announced in 2013 and slated to open in 2017) and one at Northeast's 600 H Street (announced in 2013 and expected to open next year)—are also in dense, emerging neighborhoods. But Michael Stevens, president of the Capitol Riverfront Business Improvement District, who helped sell Whole Foods on the New Jersey Avenue location, says the retailer noticed something else about the site: "They wanted a location proximate to Capitol Hill and the market that's there."
Stevens says the H Street store has the same advantage: "To use a classic military term, it's a pincer movement. They've got a northern store and a southern store. In both instances, those stores serve new-growth neighborhoods" while also capturing the more established parts of the Hill.
• • •
There's no doubt Whole Foods' real-estate gurus are some of the smartest in their industry. But does the re-tailer really deserve its mystique? Prince George's County executive Rushern Baker says yes.
The fifth local Whole Foods in the works is in Baker's county, the anchor tenant of a 37-acre development by Calvin Cafritz Enterprises that will include 850 apartments and townhouses. The location in Riverdale Park abuts Route 1, is minutes from the University of Maryland, and is across the street from University Park, a popular neighborhood for professors. Because Whole Foods announced in May 2011 that it was coming to the site, Baker says it has become significantly easier to convince other businesses to open in Prince George's. He credits the deal with helping push along the MGM casino at National Harbor and the 39-acre mixed-use development at the New Carrollton Metro stop.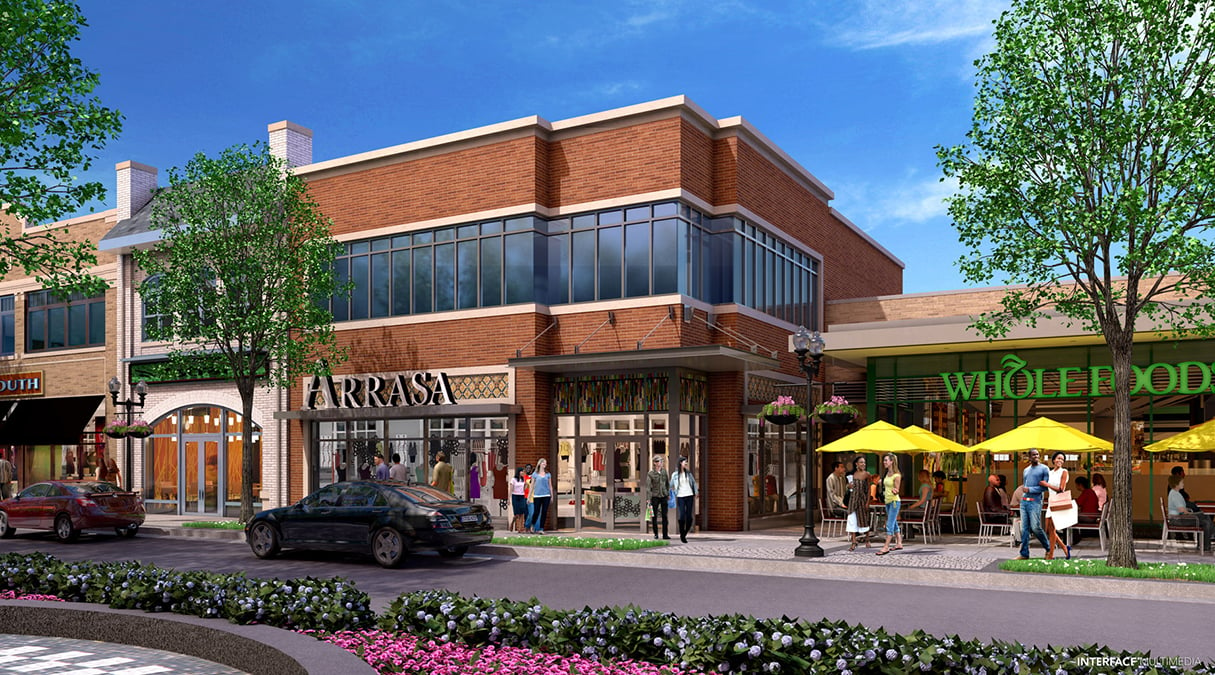 In other words, Whole Foods signals the same thing to other businesses that it does to Washington house-hunters: This neighborhood is on its way. Better get in now.
Developer Jim Abdo, who was already building high-end condos in Logan Circle before Whole Foods arrived there, might sum it up best: "Logan Circle was working without a Whole Foods. But getting a Whole Foods is like icing on the cake, with ice cream and a cherry on top. It's not that we didn't already have a good cake."
Senior editor Marisa M. Kashino can be reached at mkashino@washingtonian.com.
This article appears in our July 2015 issue of Washingtonian.