From the moment they first met, it was clear that Kiara Pesante and Malik Haughton would stand out from other couples. They continued on that path for their wedding at The Mayflower Hotel, during which they served french toast and omelets in place of typical surf and turf wedding fare, followed by a dessert bar named for a beloved aunt. All of the fun was captured in the photos below by PhotoArt by Lu.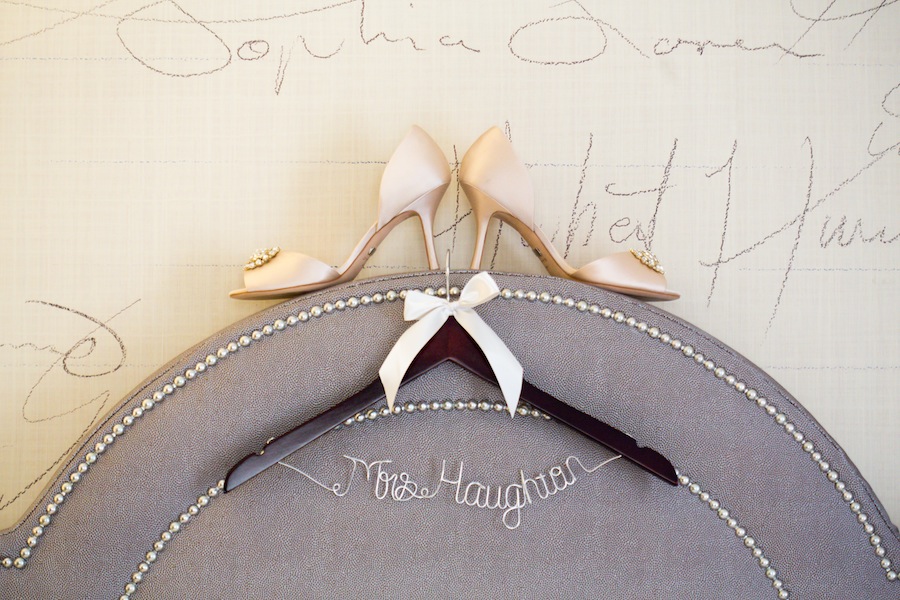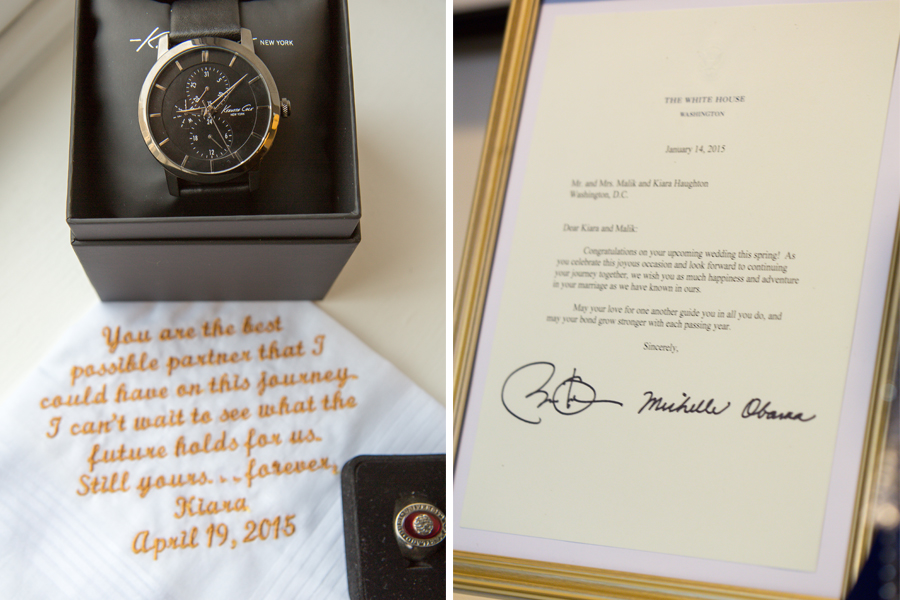 When Kiara knocked on Malik's office door at the bank he was working for at the time, she had one goal in mind: to get her account fixed. So when Malik asked her for her number, she countered with, "How about you give me your number?" Not one to give up easily, Malik convinced her to compromise by swapping numbers–so they'd both have the option to continue their conversation, if desired. But to Malik's surprised, Kiara beat him to a first date invite, calling him that very night and asking him out for dinner and a basketball game.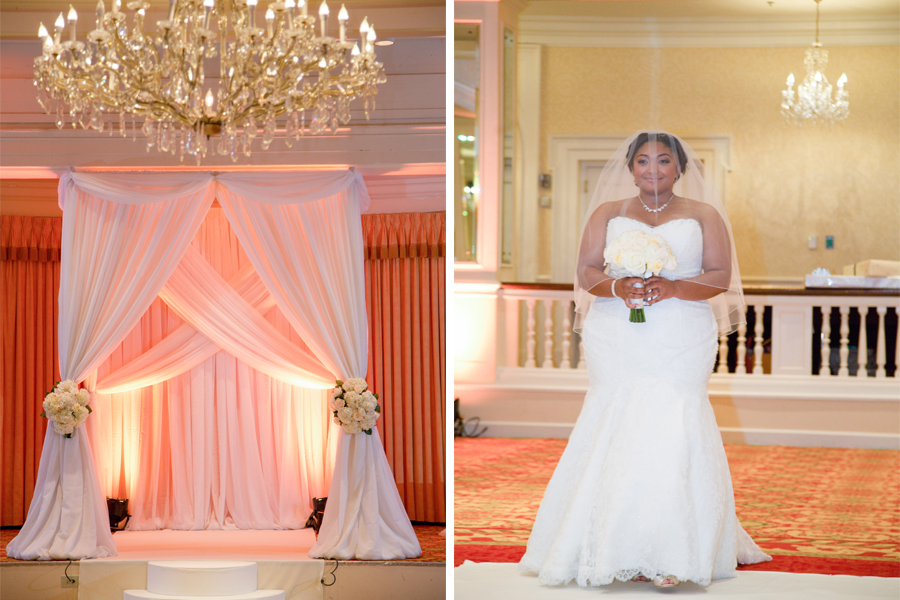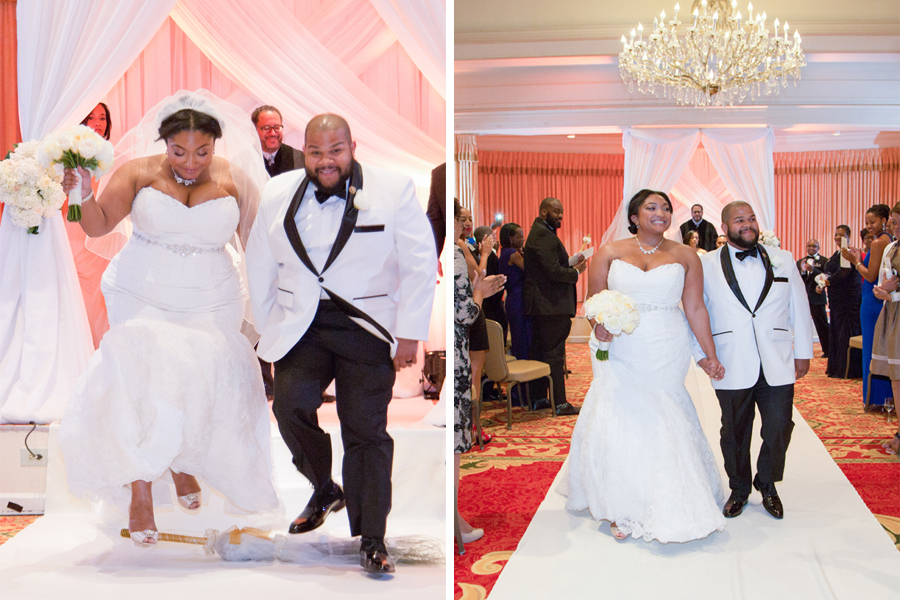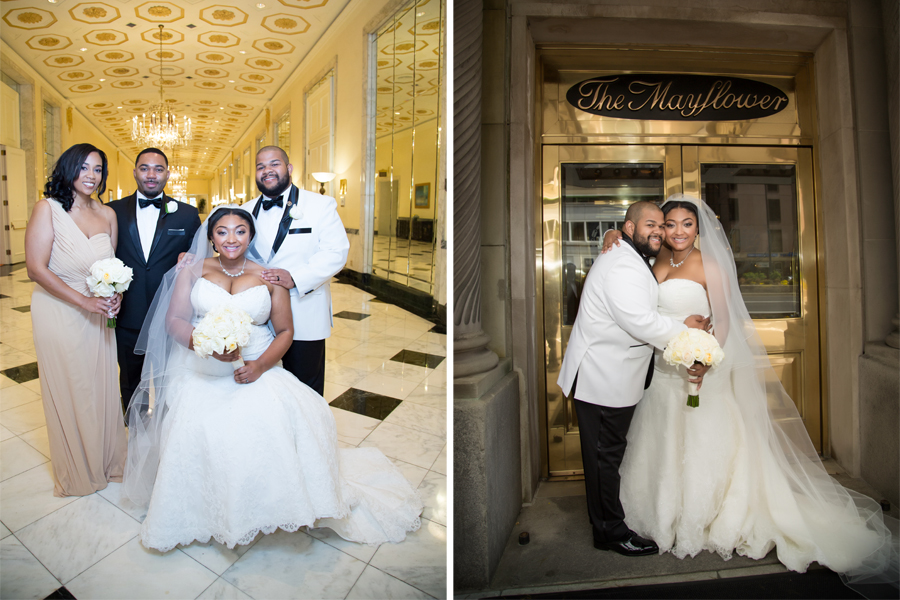 Just as Kiara showed she was a thoroughly modern woman by asking Malik out for their first date, she demonstrated that she wouldn't be a traditional bride when she told him that she didn't plan on wearing an engagement ring. "I wanted the focus to be on us and our love, and not on a piece of jewelry," she says.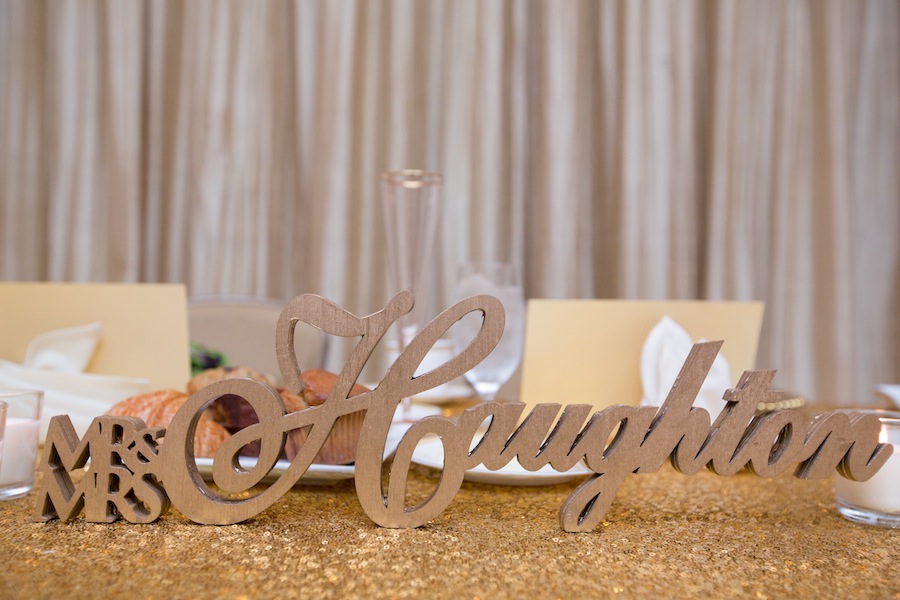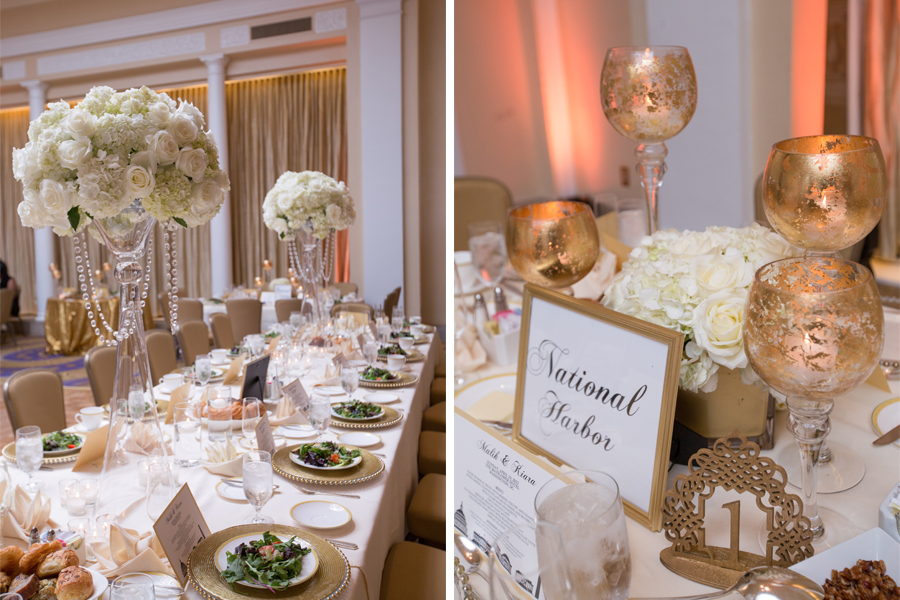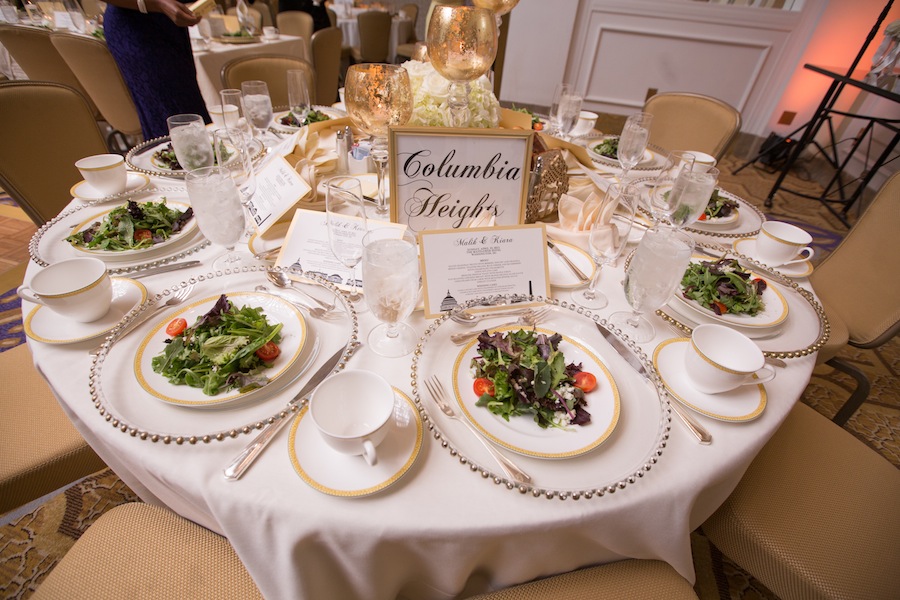 For their wedding at The Mayflower Hotel, they stuck to a simple and elegant color scheme of white and gold. Their dessert bar was named for the bride's sugar-loving aunt, who had passed away, while an Authentic Jamaican black cake was constructed by the groom's godmother.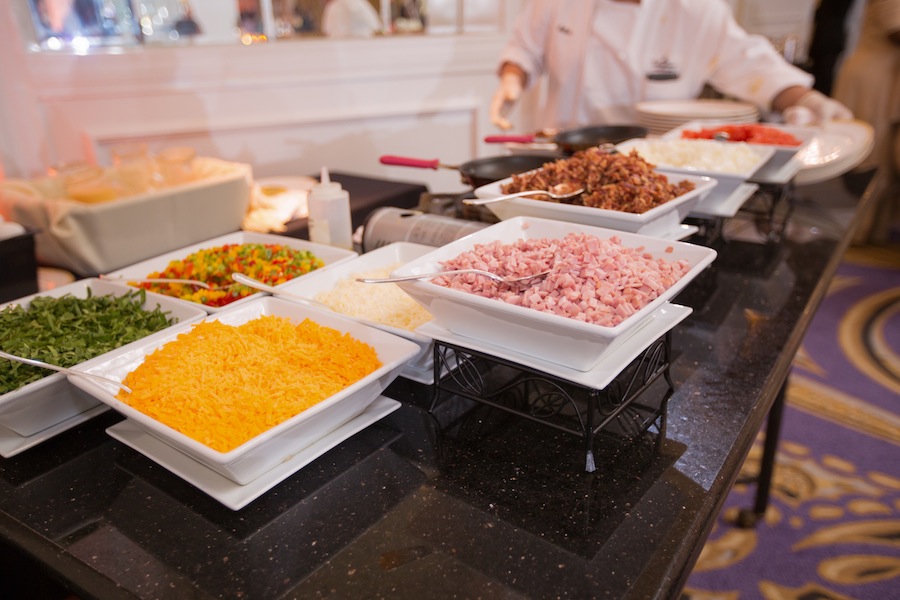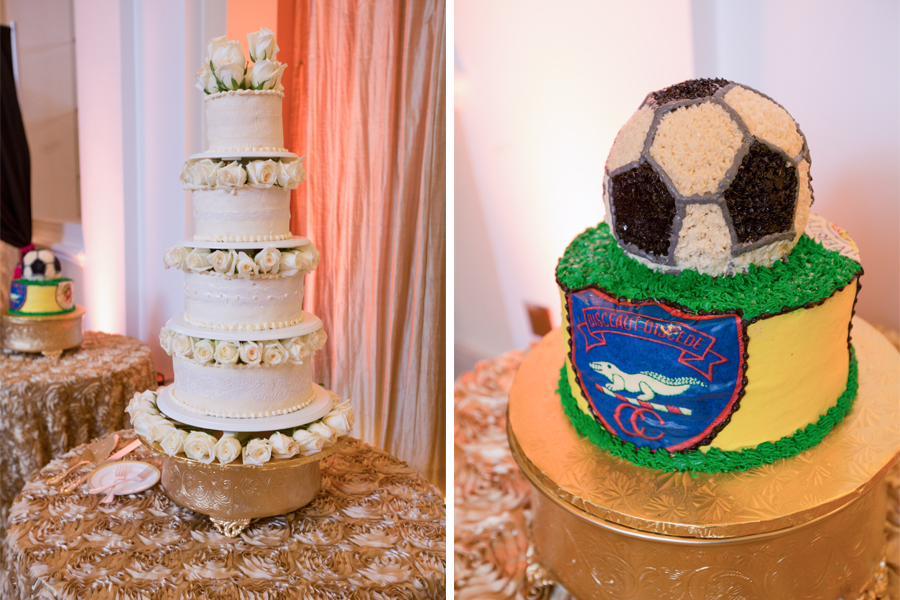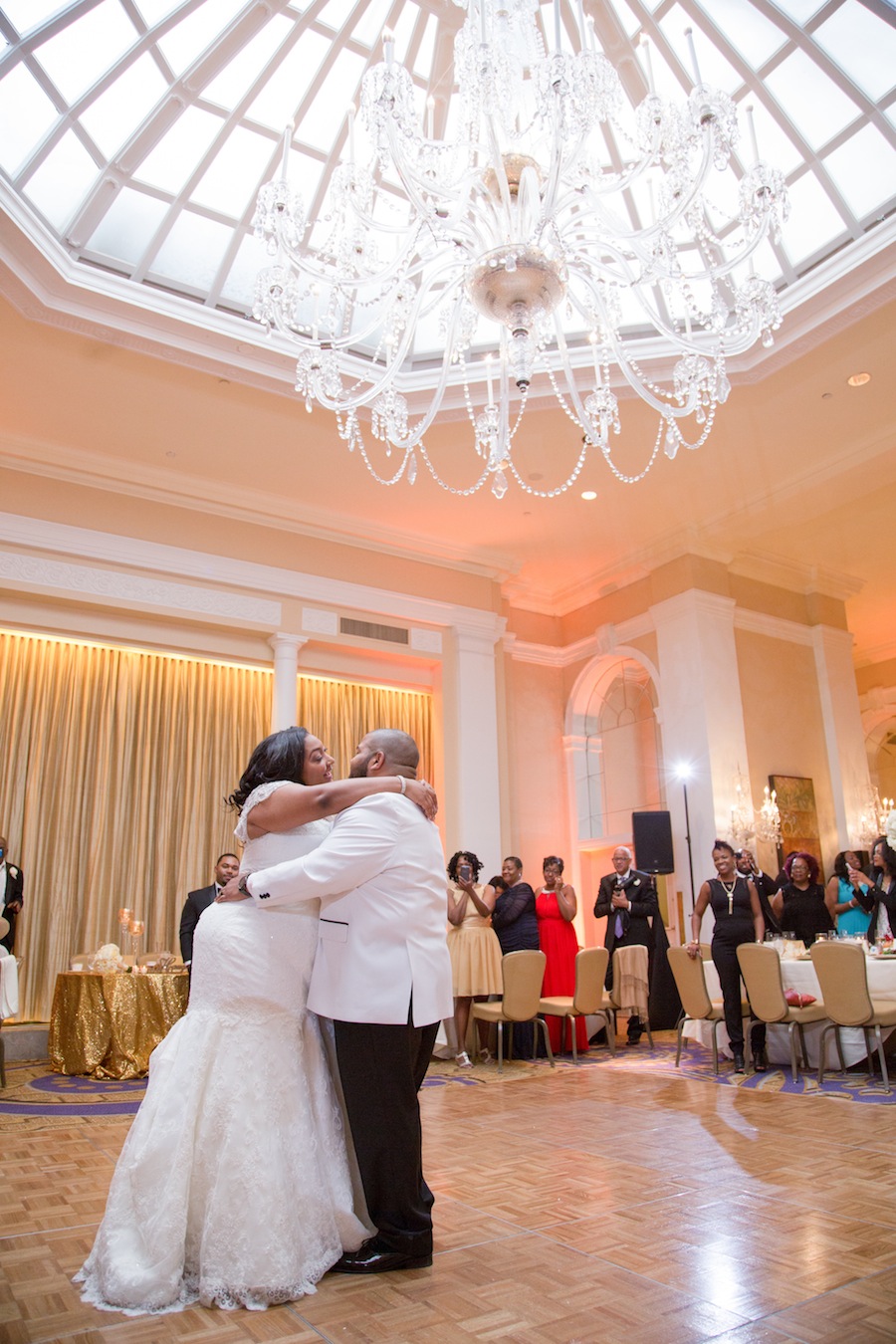 A highlight of the night was when the dance floor filled for F.L.Y.'s "Swag Surfing" before the bride and groom took off for their Jamaican honeymoon.
VENDORS
Venue: The Mayflower Hotel | Photographer: PhotoArt by Lu | Bride's Gown: Mori Lee, Cherry Blossom Bridal | Groom's Tux: Custom Design from Macways | Hair Dresser: Champagne Styles | Makeup Artist: Candice Olivia Beauty | Event Coordinator: Ash'Leigh Gunn of Sapphire Events DC | Cake: Deelish Bake Company | Florist: DaVinci Florist | Caterers: The Mayflower Hotel | Music/Entertainment: Harpist Jacqueline Hartley, DJ Nobe | Invitations: Invited by LamaWorks | Photo Booth: Flash Foto Booth | Table Numbers and Signage: Ten23 Designs
Looking for a gorgeous hotel to host your reception? Washington has plenty of amazing options.