When local interiors guru and Instagram wunderkid Joanna Carden slipped us some images of her simple, elegant, bountiful Thanksgiving table, we knew we had to share them. Carden graciously agreed to also provide some tips for styling a Thanksgiving table without losing your mind (or maxing out your credit card). After all, while it's important to give your guests a beautiful experience and make their day special, this is a day to be thankful—not to push yourself to carve an entire turkey out of butter or buy up every candle on the Eastern seaboard.
So here are Carden's best ideas for a chic, low-stress table that your guests will love.
Washingtonian: What do you think is the most important first step when designing a tablescape for an event like Thanksgiving?
Joanna Carden: For me, it's choosing a color scheme; whether I want to go neutral, colorful, or just warm tones. I went neutral this time, but wanted to add in some deep reds to give it a little more "holiday" feeling—that's where the pomegranates came in. Plus, who doesn't love the gorgeous texture of a halved pomegranate?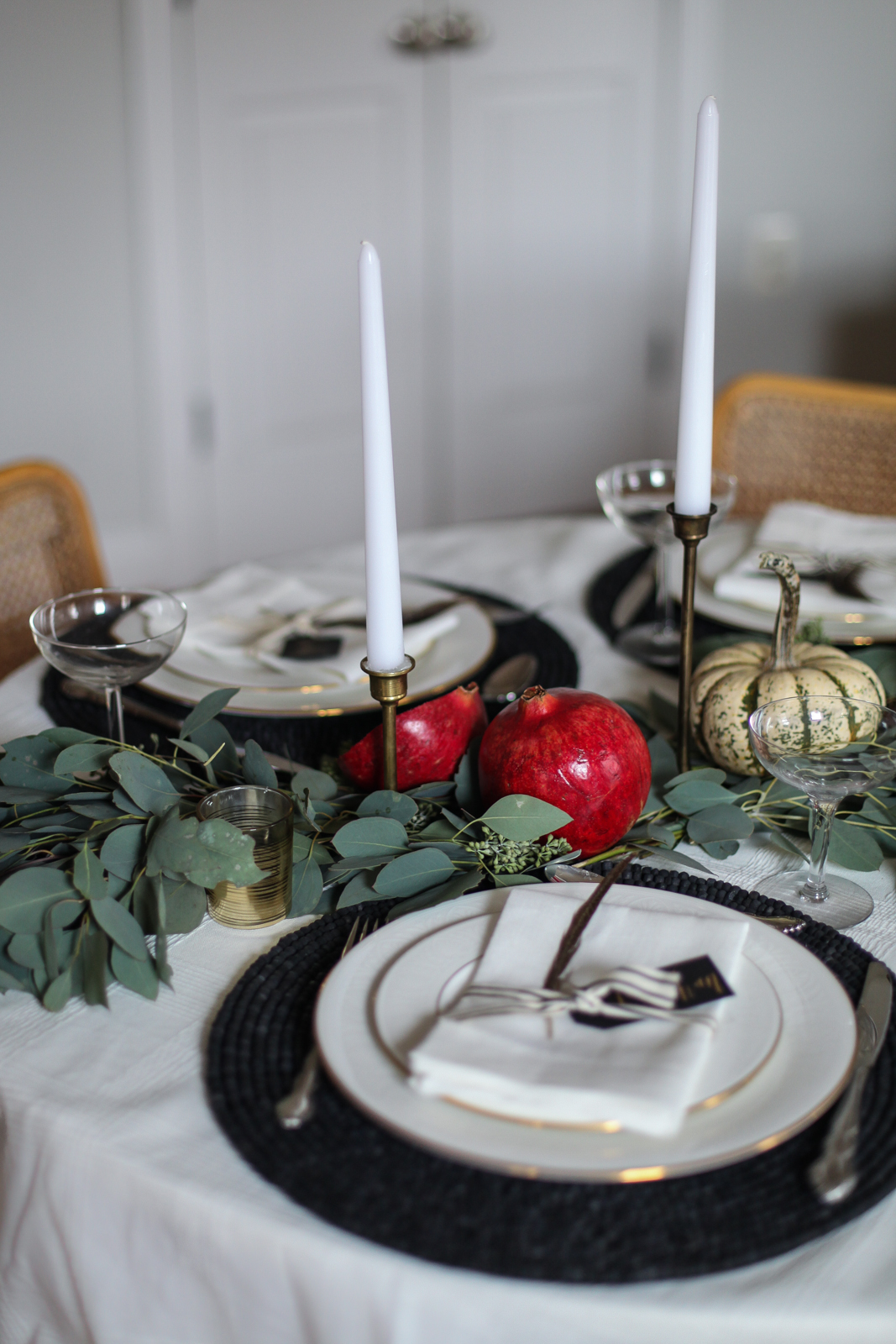 Washingtonian: Do you design differently for a big group versus an intimate dinner?
Carden: Not usually! I'll actually be styling a much larger table for ALL of my family on Thanksgiving, and will use all of the same elements. For the longer table, I'll be using a lot of candles to create a more "full" feel. I love using lots of tapers, votives, and pillars, and they end up being an inexpensive element (I tend to buy them in bulk to save a little money).
Washingtonian: What special touches do you think a table absolutely needs?
Carden: I definitely think name cards, candles, and a little ribbon around a napkin are the easiest and most important things to make any table extra special. If you just stick with those few things, you can make any table a beautiful table.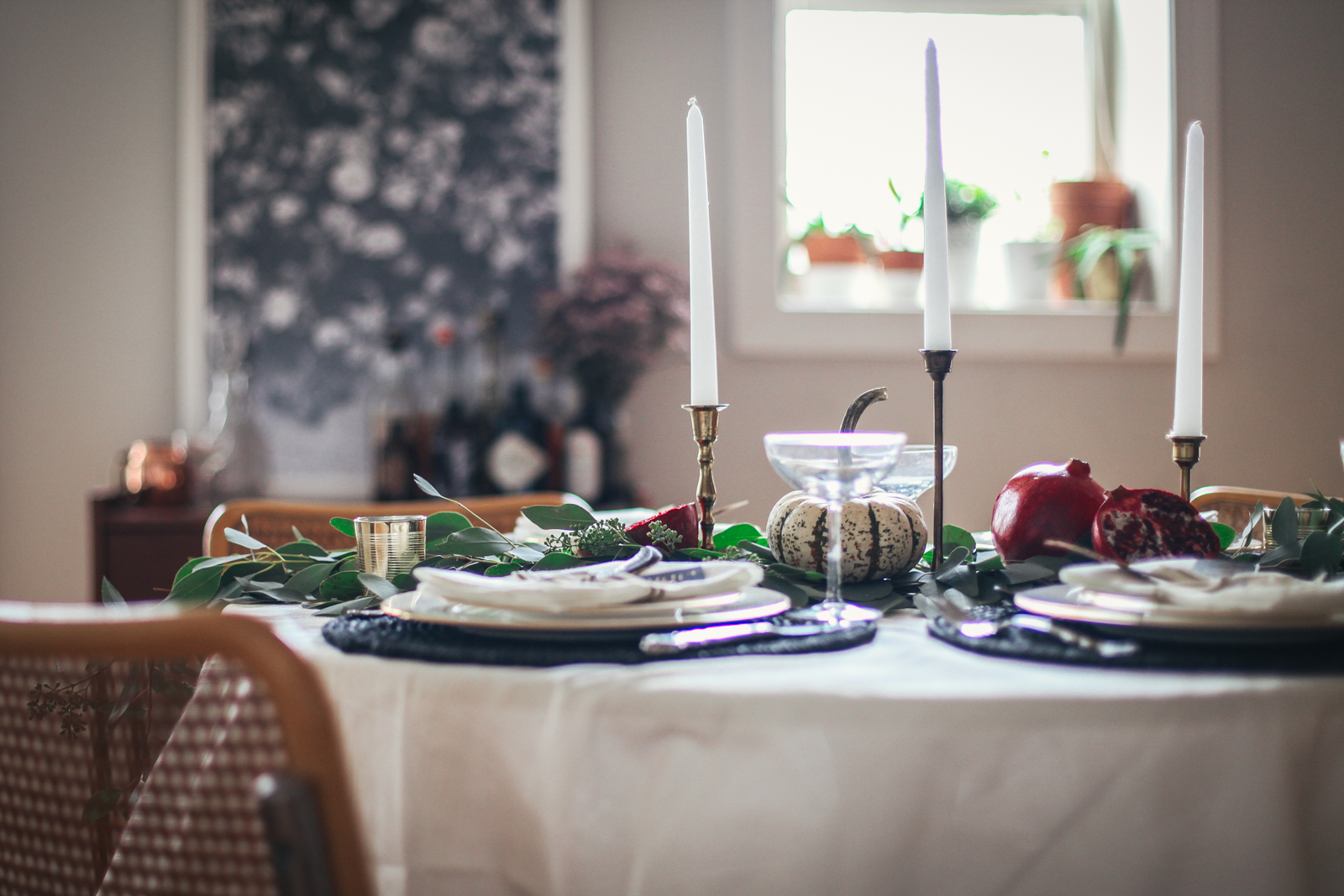 Washingtonian: What takes a tablescape from so-so to so pretty?
When I was styling this table, the real difference came when I added the eucalyptus and brass candlestick holders. Greenery is so simple, but brings a lot of beauty to a table. Then I thrifted some brass candlestick holders in different shapes and sizes. Those two elements really brought the table together.
Washingtonian: Is there anything new you've tried lately and really loved (or really hated)?
Adding little accents like sprigs of rosemary, thyme, or feathers has basically become my new favorite hobby. It's simple, inexpensive, and gives your tablescape a healthy dose of personality. I'm also especially focused on contrast right now. I initially didn't have any contrasting colors in this tablescape and it seemed washed out as a result. When I added the placemats, feathers, and name cards, it provided just the visual variation I was looking for.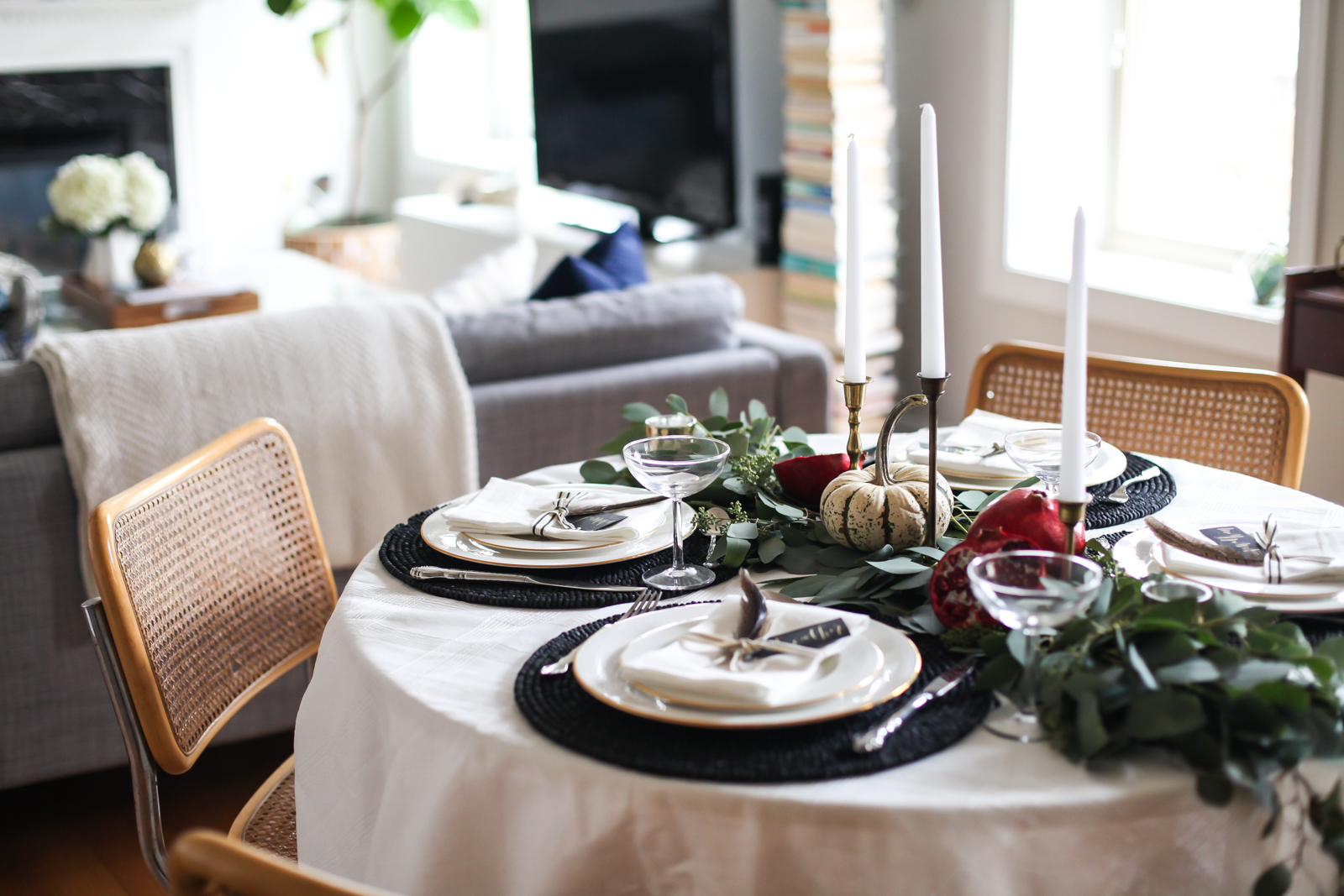 Washingtonian: How about a bit of practical advice for people who don't want to spend a fortune on linens/calligraphy/flowers?
I have a very small budget, so I always want to design a table that is affordable and anyone can pull together using things they already have in their house. For this table, I bought $2 eucalyptus per bunch from my local Trader Joes (you can also forage in your backyard for pretty greenery!) napkins from IKEA, namecards from one of my favorite Etsy shops that were very affordable (you can easily make your own!), thrifted candlestick holders, thrifted coupe champagne glasses, my mom's china and silverware, feathers for a few dollars from my local craft store—I think you get the picture! I also love using the short cocktail glasses that I already have as votive holders. Always check local thrift stores for pretty dishes, silverware, glassware, linens, candlestick holders, and more. There are so many special treasures to be found out there, you just have to keep an eye out!