Monday, 10:30 AM
Last week was a good one for the Target on 14th Street at the DC USA shopping center. It's Monday morning, the week of Thanksgiving, and the employees are gathered around the aisles of fake Christmas trees and holiday candy for their morning huddle. The floor leader announces that the previous week, they'd hit their highest "customer vibe" score–a Target term for customer satisfaction–in the past eight years.
This is great news, but for Michael Yost, how his employees perform over the next few days will be even more crucial. As the store team leader (Target-speak for general manager), everything the fluorescent lights touch is his domain. It's Yost's job to make sure that all runs smoothly leading up to and during Black Friday, a retail Super Bowl he's worked for Target for the past four years.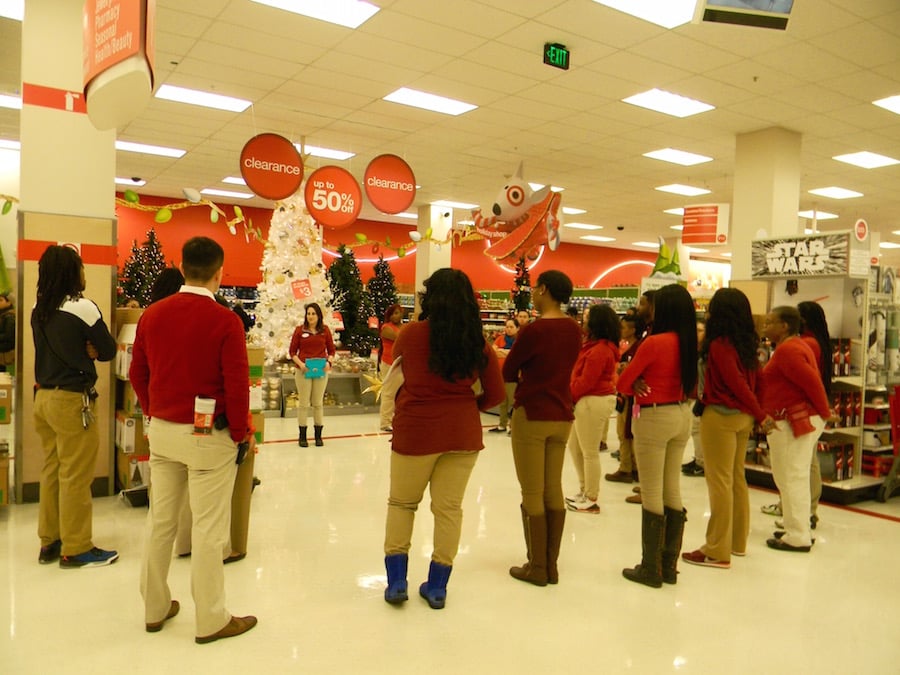 But Yost is prepared for the task ahead. Though he's only worked at the 14th Street Target for the past two years, the two years prior he spent at the Target in Westminster, an "Ultra Super Freaky" store, which is Target's way of saying "really, really crazy busy." His current store, he says, "isn't even 'Freaky'" on Black Friday, so they expect the crowds won't be nearly as big as those he's managed in the past.
His current focus is food–making sure that customers can find all of their Thanksgiving meal fixings easily, from well-stocked shelves. And while he works on Tuesday, district team leads will swing by the store to check that Yost's Target is prepared.
Wednesday, 6 PM
After spending some rare time off the clock during regular business hours on Wednesday, Yost will head to Target to start prepping the store for Black Friday. Between 6 PM and 2 AM, Yost will work with a team to make sure every sale sign is switched to reflect the new deals, all the Thanksgiving ads are taken down, and the new Black Friday merchandise is set out.
It's Yost's job to turn the maternity clothing area into a TV store while the regular electronics station is transformed into an Apple product checkout line, complete with a cage that will hold between $70,000 and $80,000 of Apple merchandise, so that guests who are only interested in Apple products don't have to wait in multiple lines. Apple doesn't allow Target to offer discounts on the products themselves, but Target gets around this rule by giving away Target gift cards (valued at as much as $250) with purchase to incentivize customers.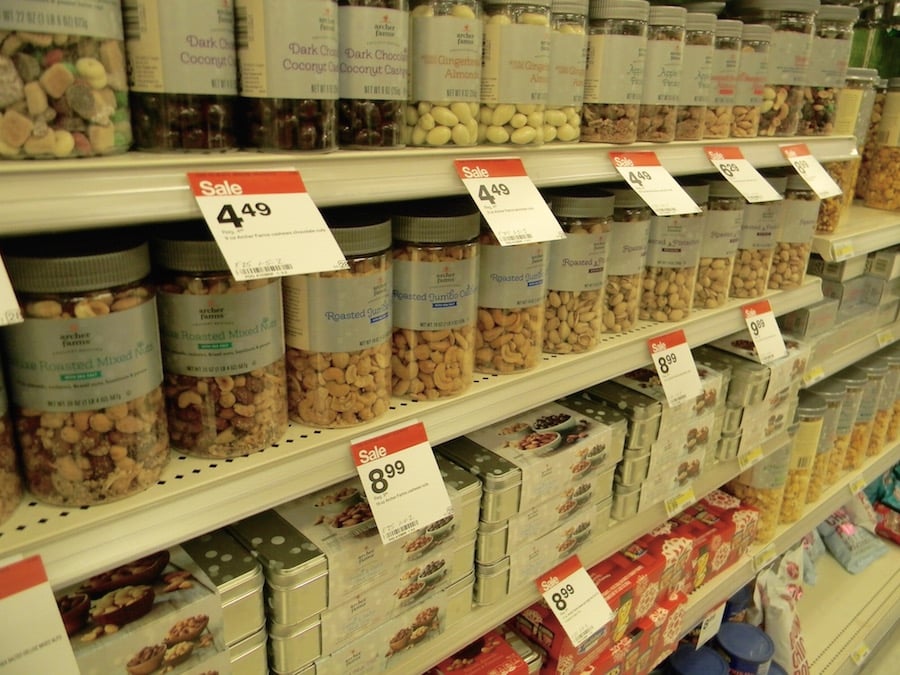 Thursday, Thanksgiving Day, 3 PM
After spending the morning at home and eating a noon Thanksgiving meal, Yost will arrive at Target at 3 PM to prepare for the 6 PM opening. He'll walk through the store again, to make sure that all the displays–cardboard "shippers" that hold the sale merchandise–were set out correctly, and that all of the register lines are clearly marked (he plans to position balloons above the registers so customers can see where to check out from across the store).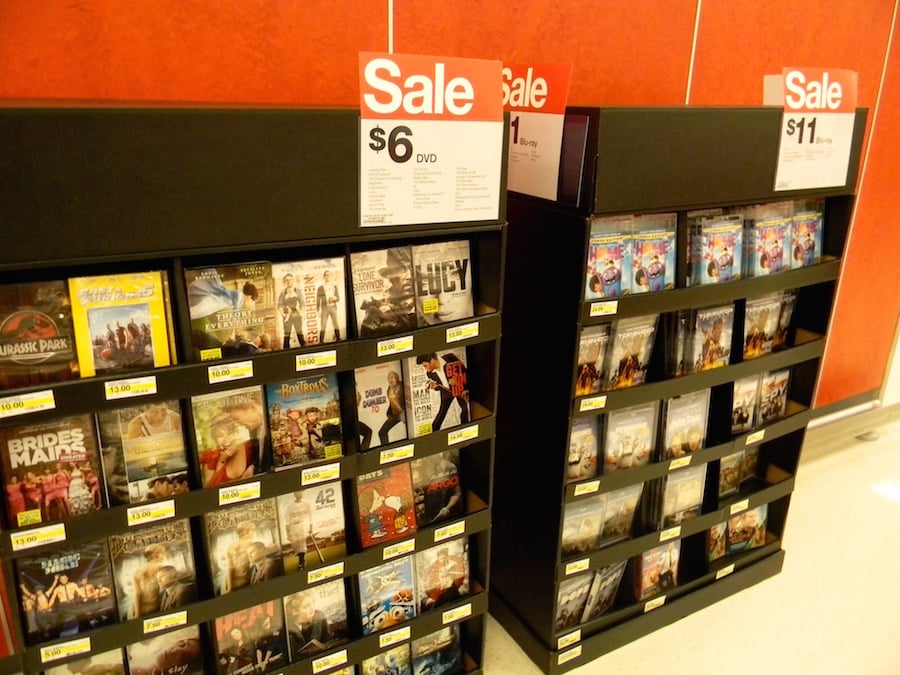 Once he's made sure the store is set up just so, Yost will go over the plan for the first two hours of opening. According to Yost, the first two hours of Black Friday sales will make or break you.
"If you don't set up a great process for the line in the first two hours, you end up being one of the horror stories on YouTube," he says.
The doorbuster deals are what drive most of the insanity–deals like a 55-inch Westinghouse television that will sell for $250 and a 55-inch high definition Samsung television that will sell for $800 (normally a $1,200 purchase). For these hot items, Target provides Yost with tickets he can pass out to over-eager shoppers who line up well before the doors open at 6 PM. Customers who queue as early as 2 or 3 in the afternoon have a higher chance of getting a ticket (Yost found out on Monday that he has just five tickets for the Westinghouse deal, seven for the Samsung), guaranteeing that they will go home with one of the coveted electronics and ideally, lessening their urge to stampede.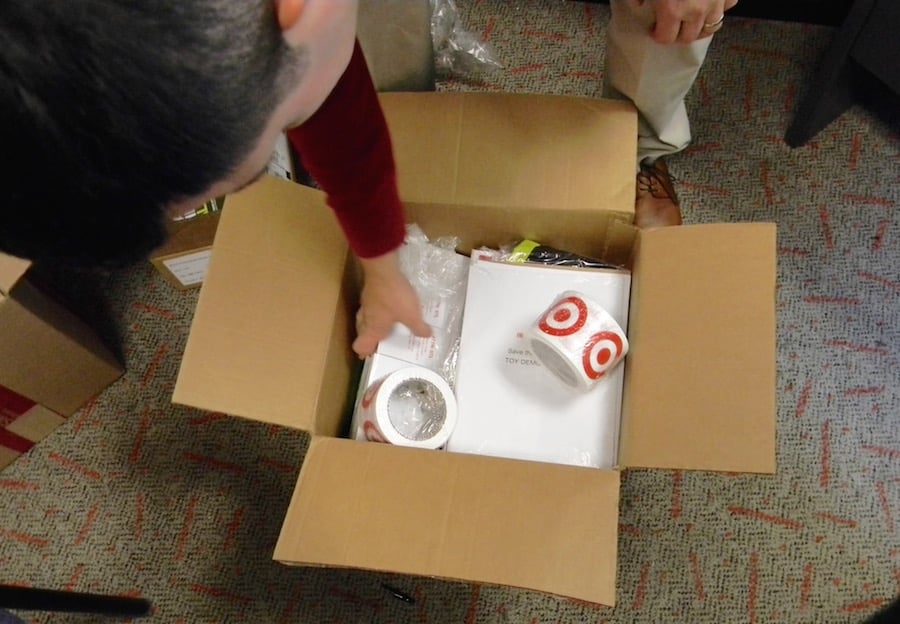 The majority of the 65 employees who will work Thanksgiving night into Black Friday will show up around 5 PM. Though Yost says that if he'd asked his employees to work Thanksgiving back in July, they'd have told him "no," by the time the schedule for the week goes up, Yost starts fielding requests from his staff to work these late hours, during which the overtime and holiday pay can give some as much as a 70 percent raise for the night.
Another reason employees might vie for the holiday shifts is Target will spend around $3,000 catering meals for the employees who work throughout the weekend–Yost has plans for a Thanksgiving meal of roasted chicken from Los Hermanos around the corner, and he'll feed his team from Eistein Bagels, Dominos, and Subway before the weekend is out.
"We try to make the experience as warm as we can," says Yost.
Before the doors open, Yost will give a "rousing speech" to energize his team. "It's probably the only time of the year I'll stand on a register," he says. He intends to use the time to thank them for being there, to let them know that they are his second family, and to take a team photo before the retail madness begins.
Yost will stick around for the first wave of shoppers, and the second, which rolls in around 10 or 11 PM, before heading home to sleep at midnight.
Black Friday, 7 AM
After his short rest, Yost will return to Target at 7 AM to begin his full-day shift. Traffic will peak in the store on Friday afternoon, so Yost will up his on-duty staff from 65 to 80. Depending on the deal, some of the Black Friday offerings may have already sold out overnight, but Yost thinks the best deal Target is offering this year is the 20-percent-off coupons that cashiers will hand out to those who spend over $75. The coupons will allow customers to return in early December to redeem a discount on their purchase–whether that be a mountain of clothes or an $1,000 television. The coupons are part of Target's plan to spread out spending, so that customers don't only shop at Target on Black Friday but continue to make trips throughout December.
Finally, at around 4 PM, Yost will leave Target and head home to spend what's left of the holiday weekend with his family.