"We're always on the lookout for someone who might know Mr. Larry," says terrarium connoisseur and Sill Life owner Holley Simmons, referring to the former owner of the deli space that she and two fellow makers have masterfully converted into a studio and workshop space.
"The deli itself was called The Lemon Bowl," she continues, "and we liked the name so we just kept it. But we just have so many questions about this space! Like why was there a shower in the back?"
The trio—Simmons, wallpaper and textile designer Kathryn Zaremba, and fiber artist Linny Giffin—got wind of the available space through friends at the Colony Club, a coffee shop one block up Georgia Ave. But on first sight it was a mess: ripped linoleum flooring, inconveniently placed walls, and that bizarrely full bathroom in the back. In the four months since they moved in, the space has undergone a complete transformation and is now filled with cheerful, perfectly off-kilter decor and a bevy of the Lemon Bowl collective's own work, like the windowsill that overflows with Simmons' cacti and succulents, an inspired macrame light fixture by Giffin, and chipper vignettes constructed around Zaremba's wallpaper.
Simmons, who found the space and aptly calls herself a "Craigslist ninja" (those chairs at the long workshop table were a steal at 15 for $100) works full time at the Washington Post as the dining editor of Express, and started her business by accident. "I went to buy a terrarium," she says, "but didn't want to spend all that money."
Instead, she ordered a mass shipment of succulents and got to work building her own. Friends reaped the initial rewards of her overflow of plants. After posts about her terrariums on Brightest Young Things caught the eye of LivingSocial, she was invited to teach a course at the company's former DC headquarters—for 500 people over 12 weeks. That was the moment, she says, when she realized this could be an actual business (or a "side hustle" as she calls it). Three years after she started, she's now even a member of the National Succulent and Cactus Society. "DC Chapter," she tells me, "and I'm definitely the youngest by about 30 years!"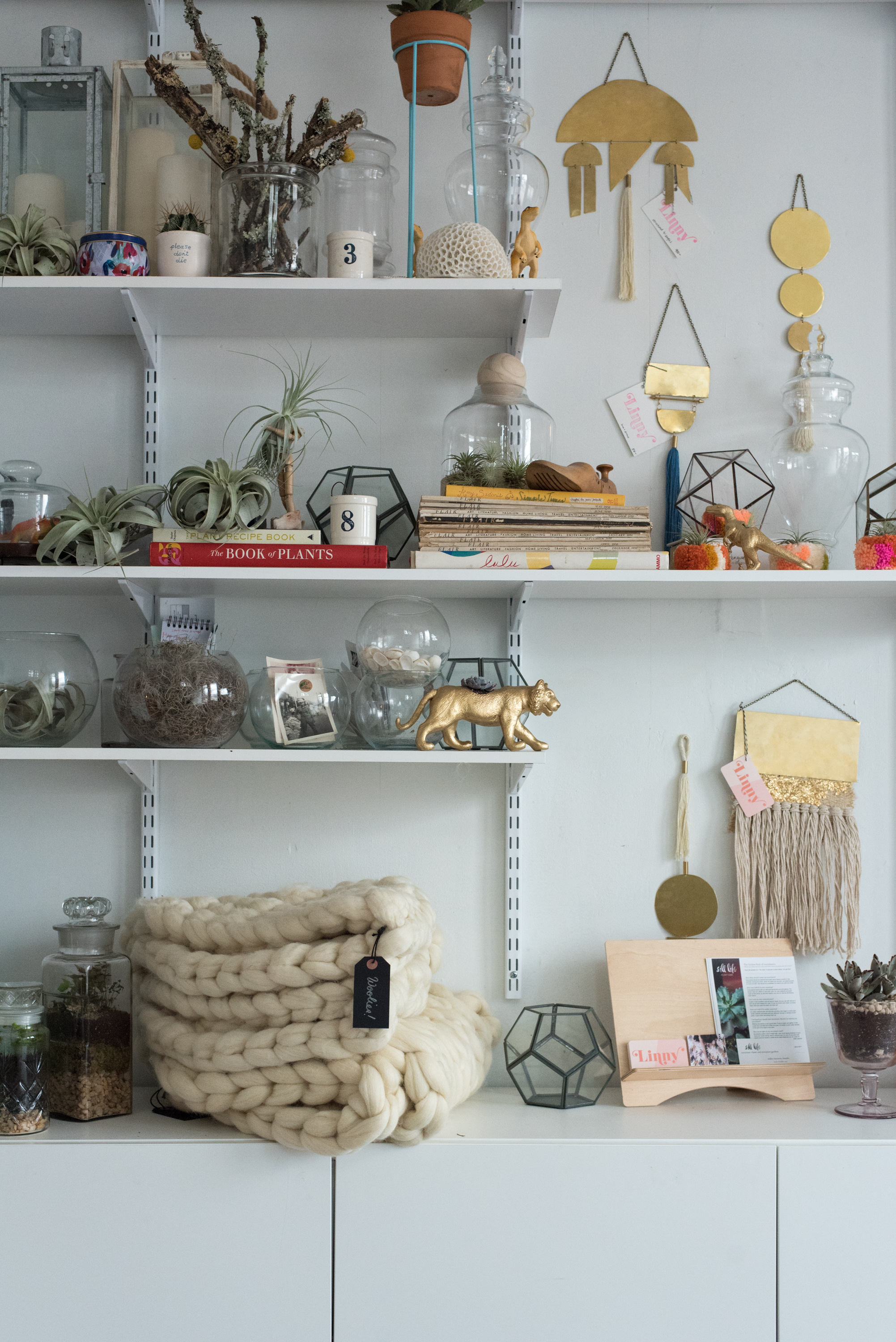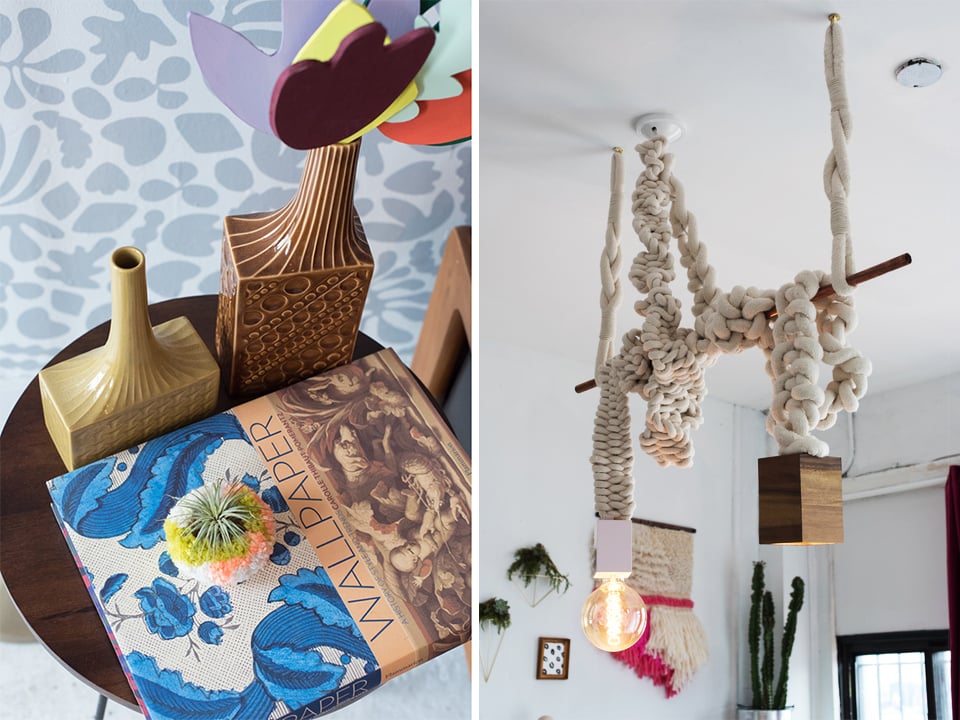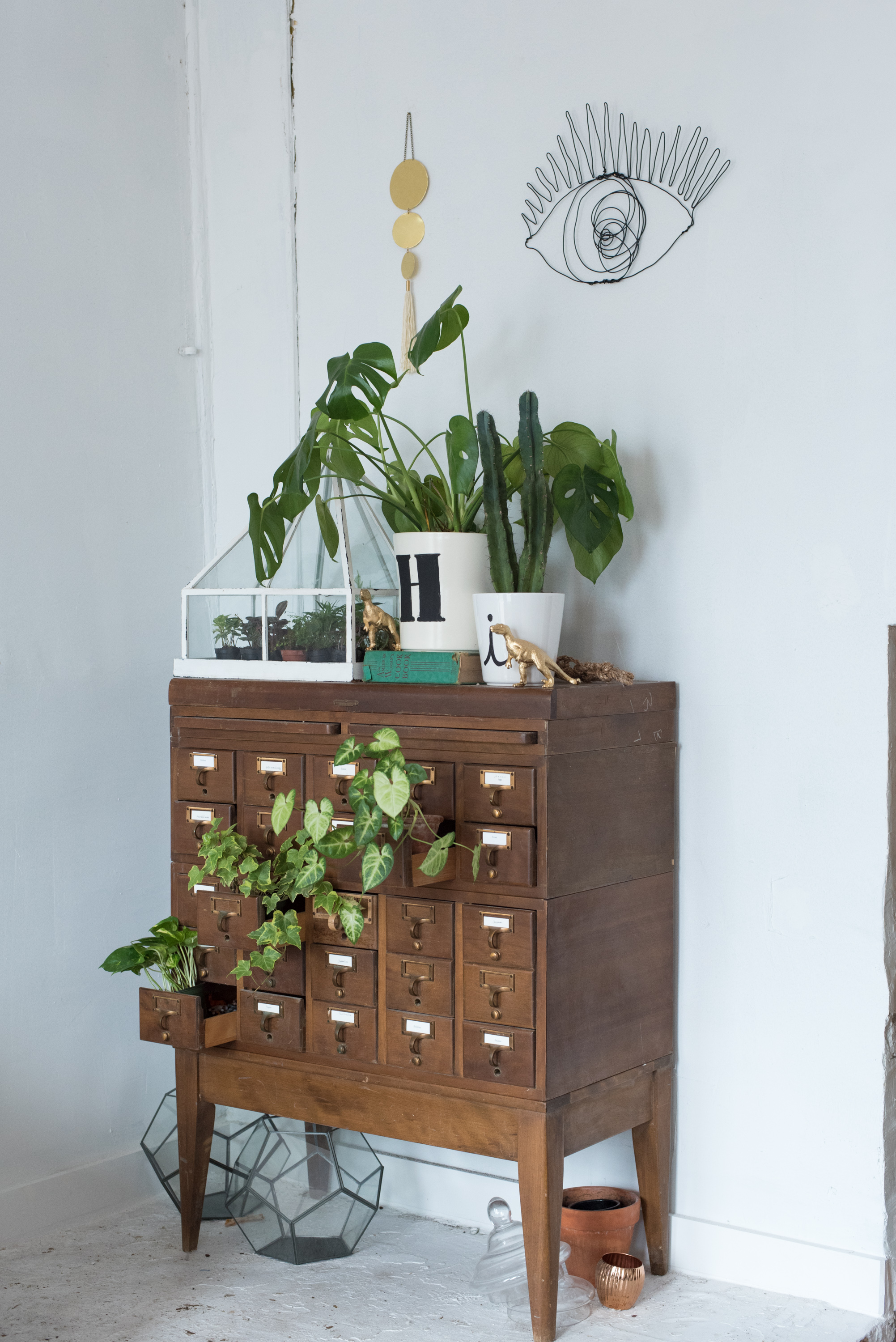 The long, custom-built table room at The Lemon Bowl now hosts Simmons' workshops, along with a long list of others, which is fortunate for her roomate.
"I was storing dirt in all the containers in our apartment," Simmons says, which partly spurred her on to find a space outside her house to build the pre-made styles (each of which is named after an important woman in her life) she sells through her site and to bring in groups of students. The room also serves as a de facto workspace for all three members of the Lemon Bowl trio–along with two other artists, floral designer Sai Souphom and graphic designer Amy King–where Zaremba can sketch or work on patterns and Giffin can weave or assemble the jewlery she's recently started designing.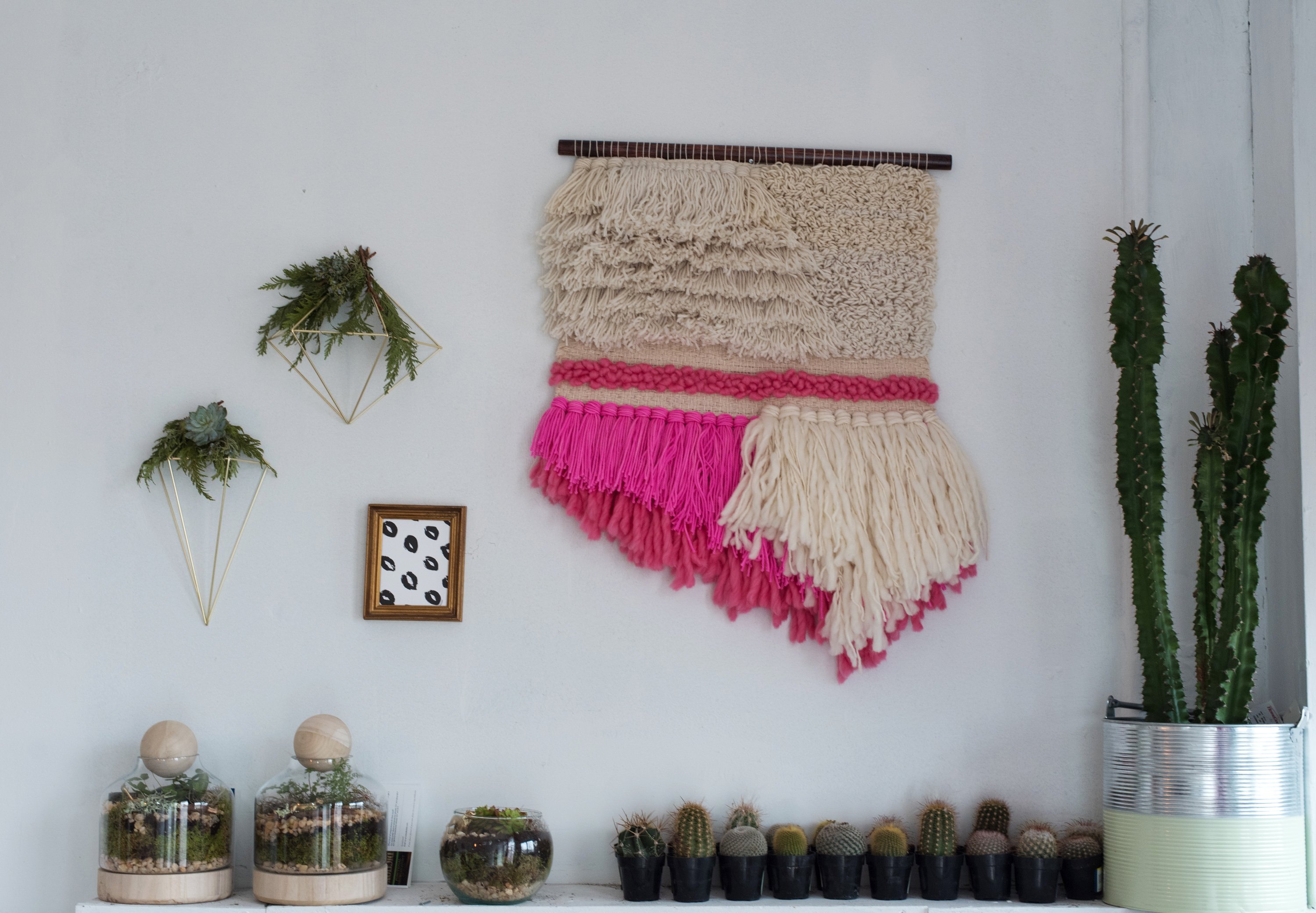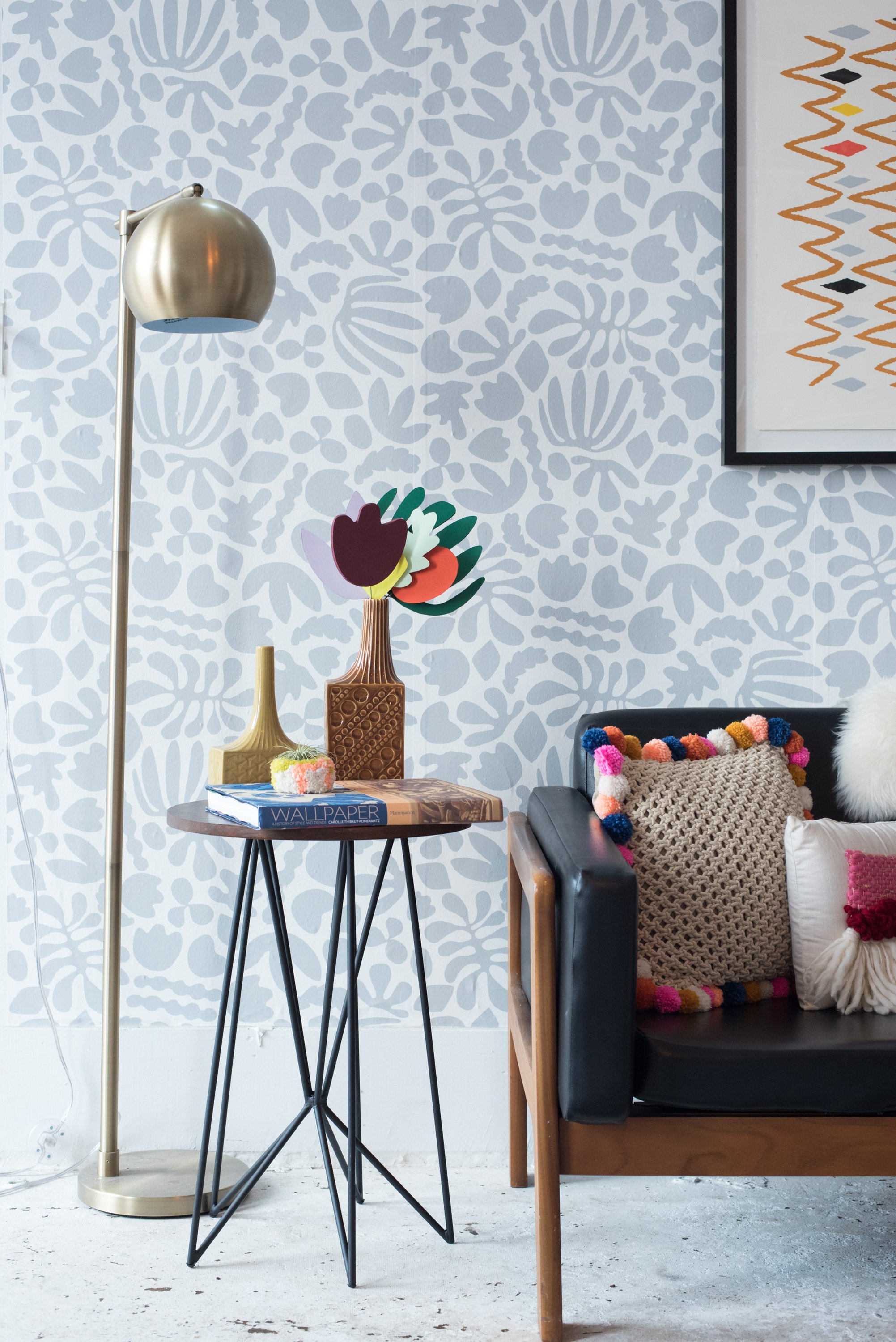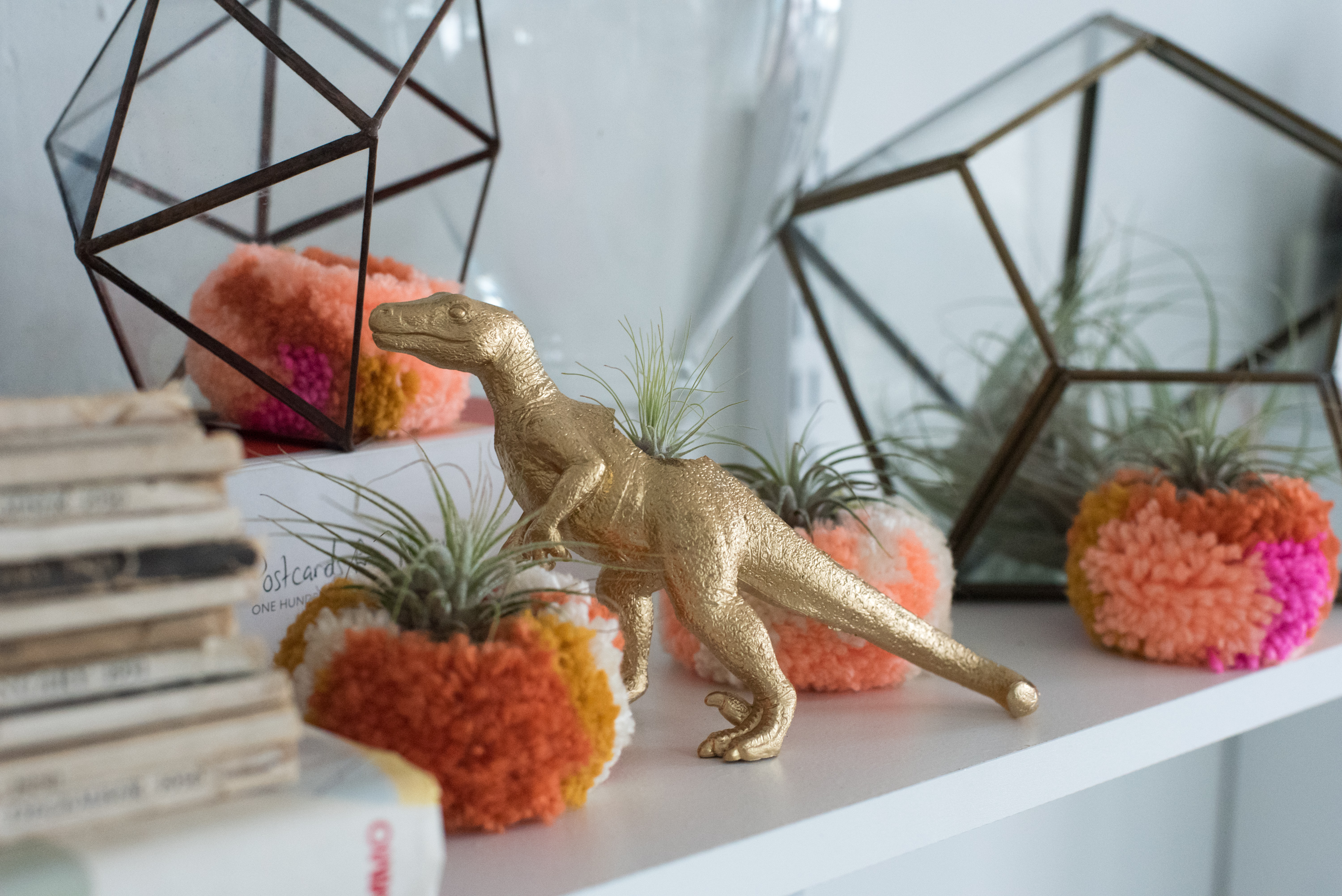 Zaremba started her career in textiles about two years ago, and quickly moved on to gift wrap, stationery, and her signature bright, kooky wallpapers, which feature motifs like pineapples and avocados, Matisse-inspired shapes, lemons (of course), and her personal favorite, a pattern of interlocking swans. Her business boomed after features in Dwell and on Etsy, but Zaremba is committed to producing all her goods in the United States and to remaining environmentally friendly. For her, The Lemon Bowl has some "serious female empowerment happening," despite the fact that its all-ladies crew was entirely unintentional. "The space is about people," she says, "and after six years in DC, this is the first time I've really felt like I have a community."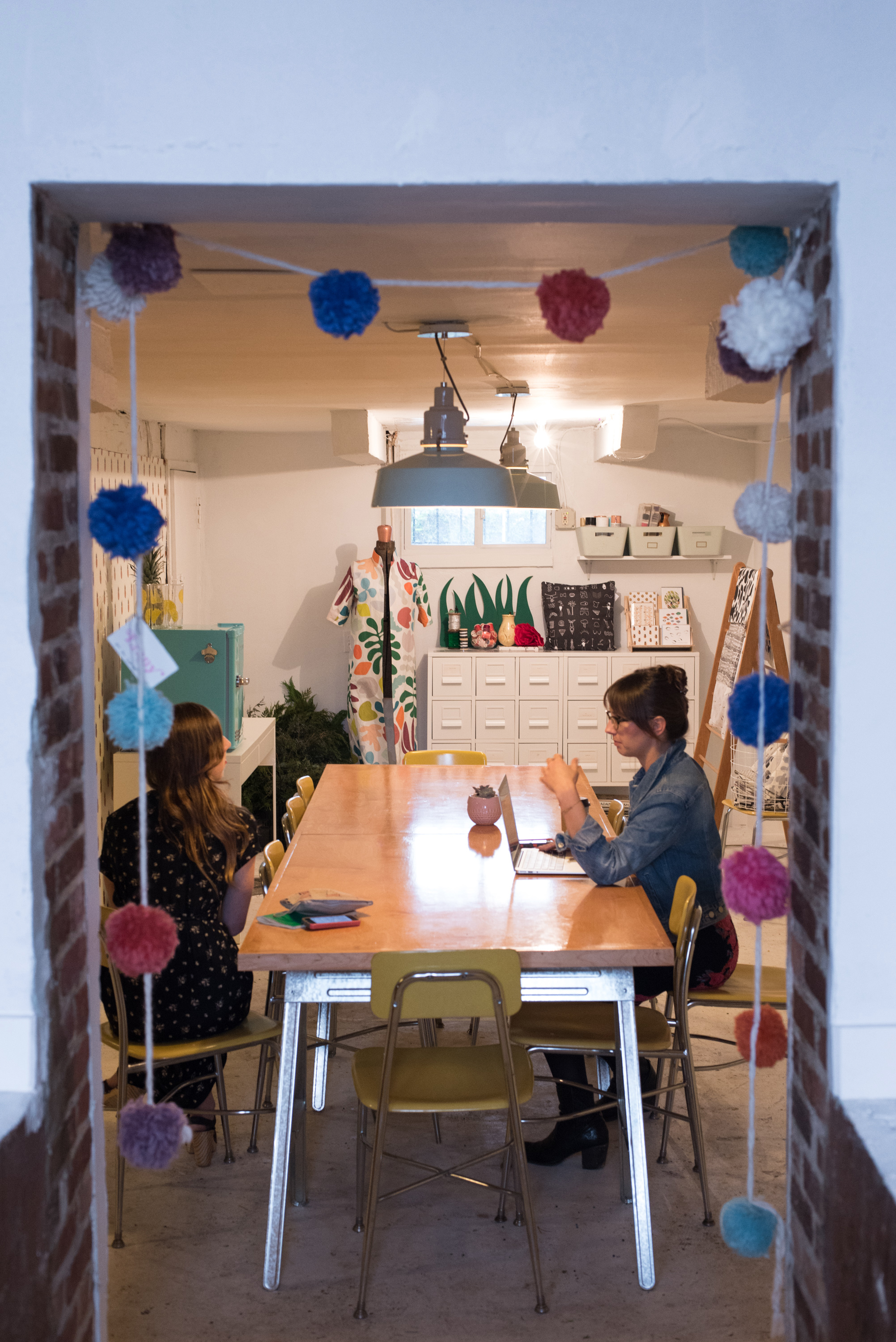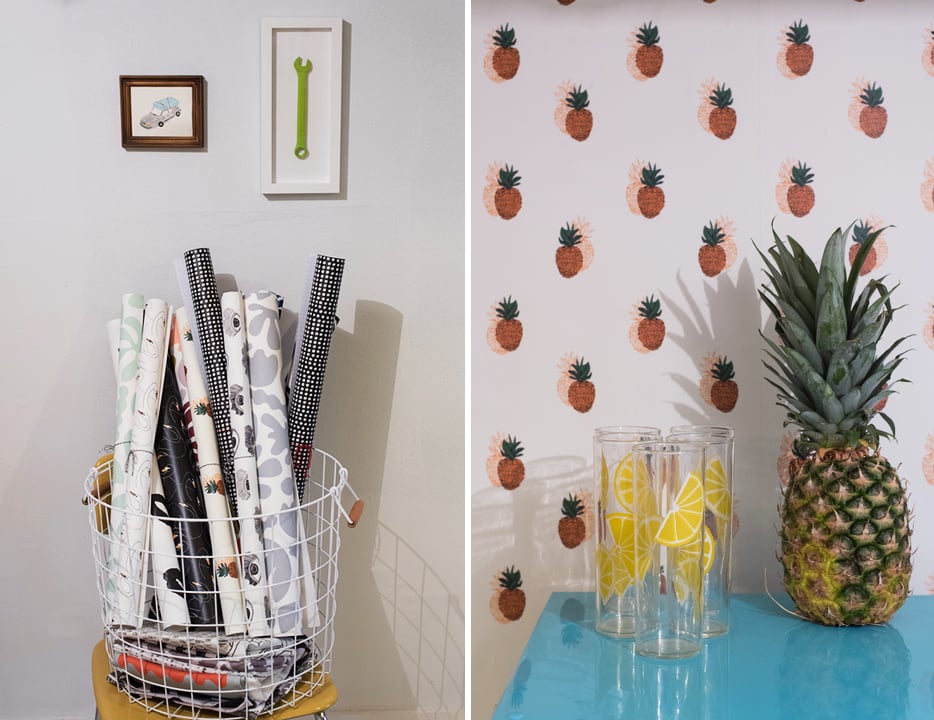 Giffin, who has only been dedicated to fiber art full-time since July, echoes Zaremba's thoughts. "I'm so inspired by watching the other girls create," she says. "Like immediately after I saw Kathryn's pineapple wallpaper I just knew I had to weave a giant pineapple, somehow."
Growing up with a mom who crochets and knits meant that from an early age she enjoyed the sense of community that comes with making things with other women. After five years working in early education, she just knew that she wanted to move beyond making tapestries for herself. Her first sale, funnily enough, was to Simmons. Fresh back from a sourcing trip to Peru and looking to get her business off the ground, she heard about The Lemon Bowl and knew she wanted in. Now Linny—Giffin's eponymously named company—is a full-time gig.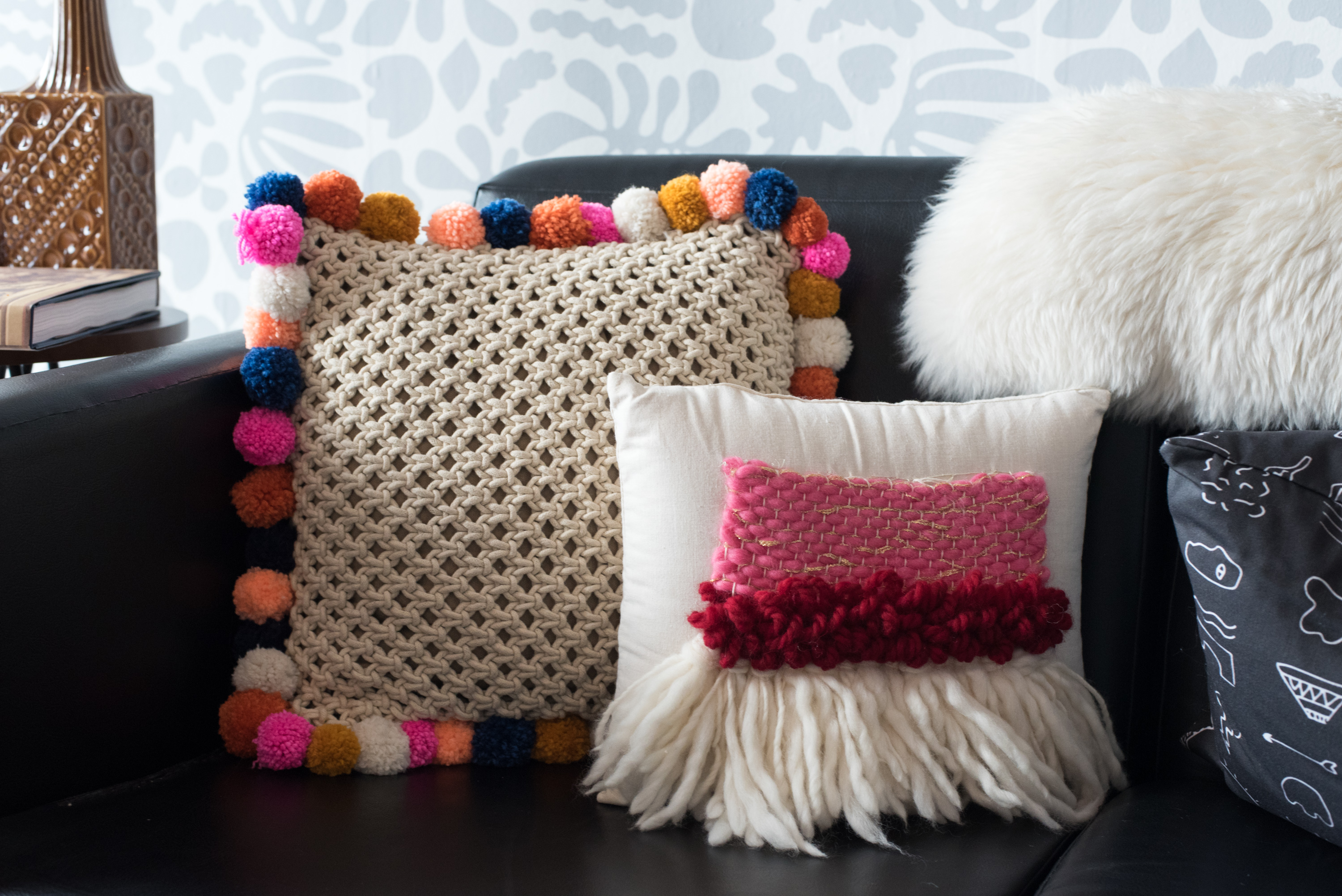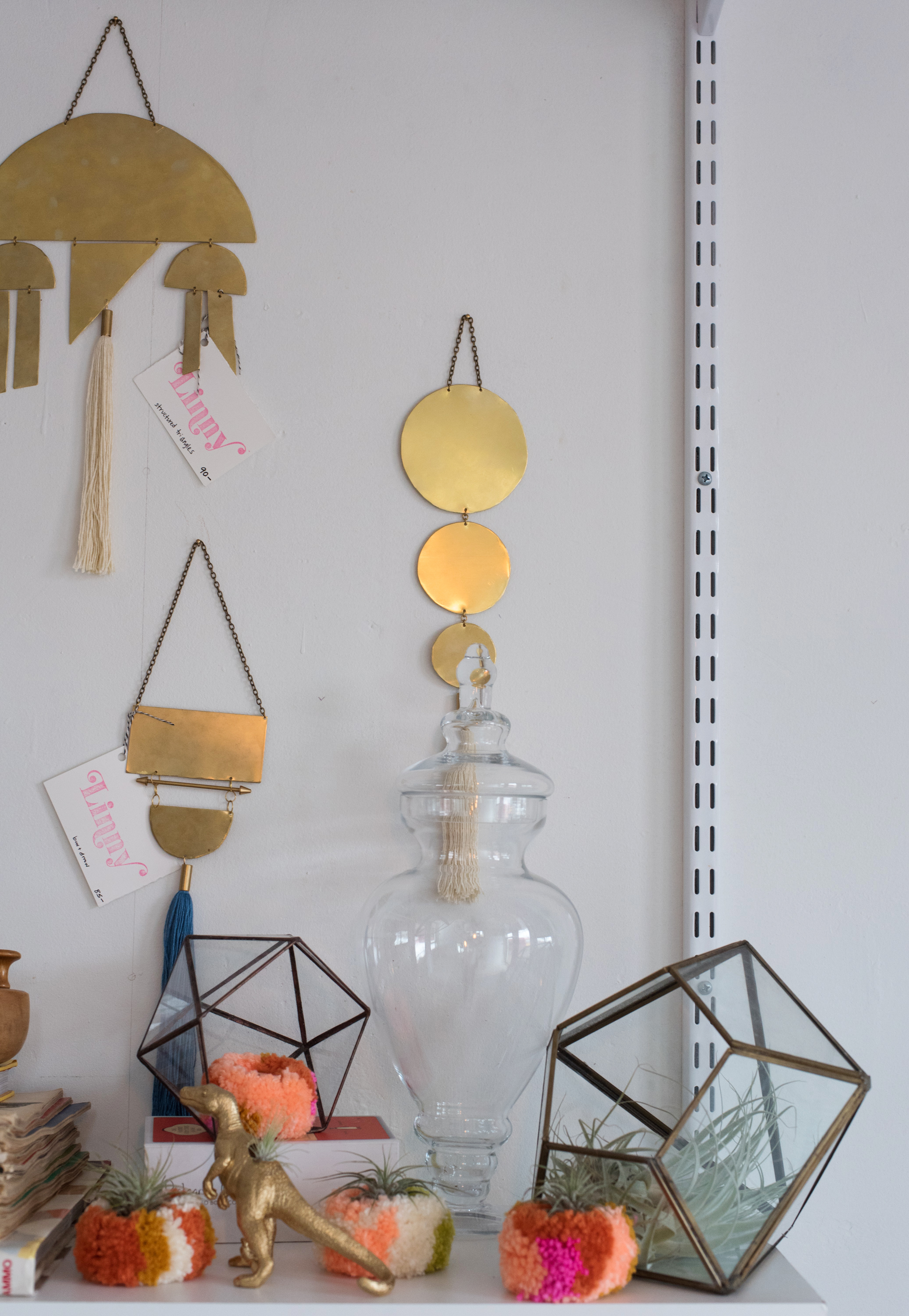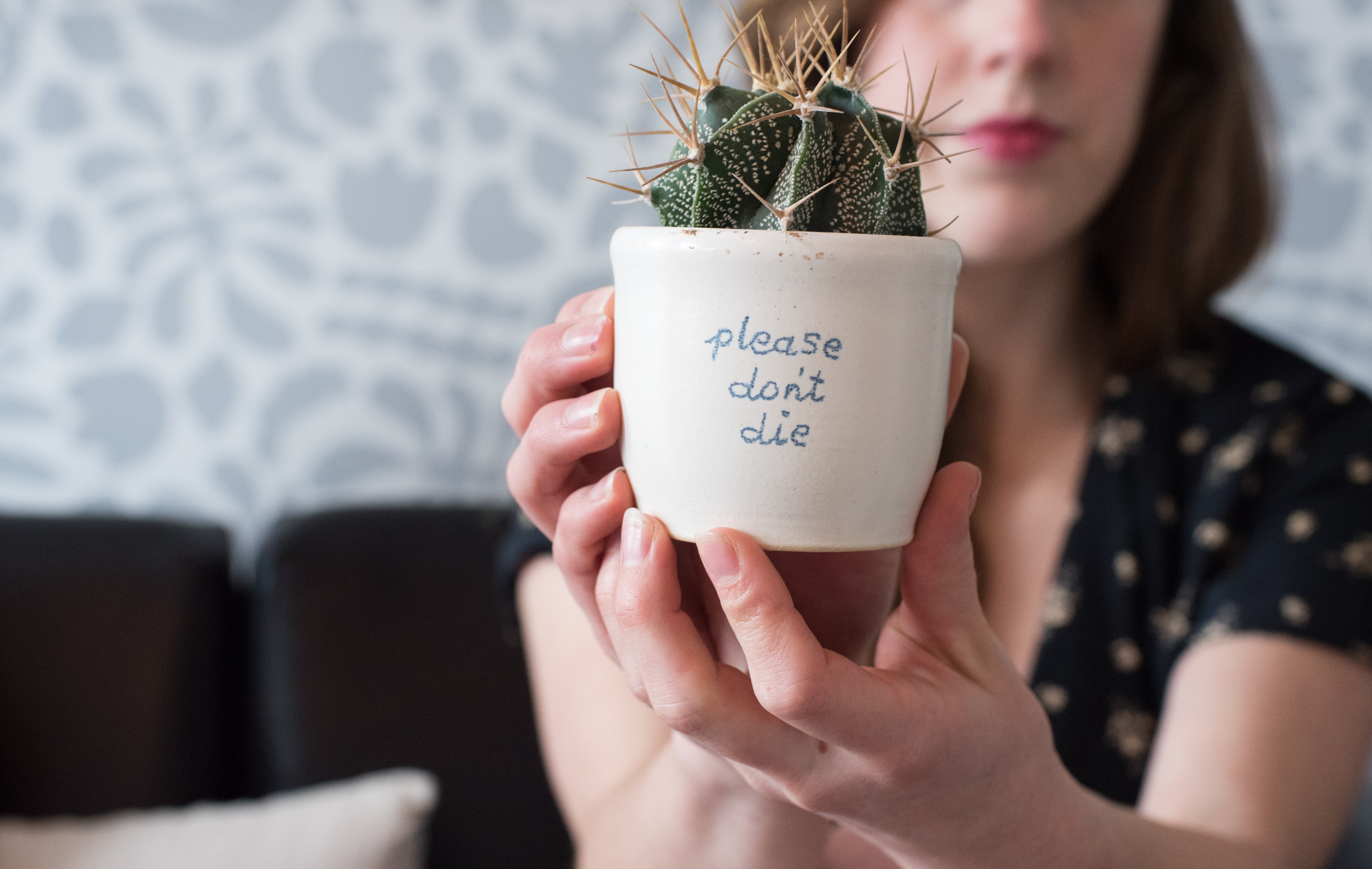 The space itself is a cohesive mishmash of all three women's work and aesthetics. Swaths of Matisse wallpaper create a cozy sitting area in the front room, which is also filled with artfully displayed supplies and trinkets. Giffin's handwoven pillows decorate the black leather settee and air plants are tucked into little wombs of yarn. The materials themselves are part of the decor: color-coordinated yarn bundles sit in wall racks and rolls of wallpaper samples beg to be rifled through. The overall feel is that of a creative's playhouse, where work and fun intermingle and the prime objective is to find contentment and joy through making.