We love that Melissa Wilson and Shannon Macatuno brought their fun-loving, go-with-the-flow personalities into their superhero-themed wedding. All the bright pops of color and cartoon accents were captured on camera by Skyryder Photography.
Like B&G on Facebook | Follow B&G on Instagram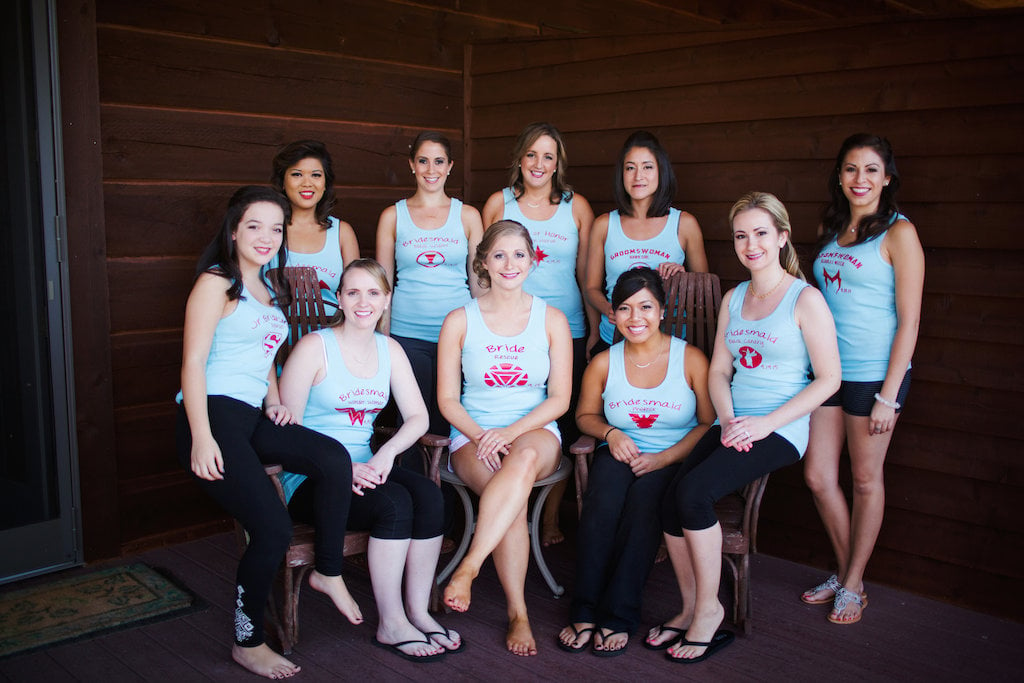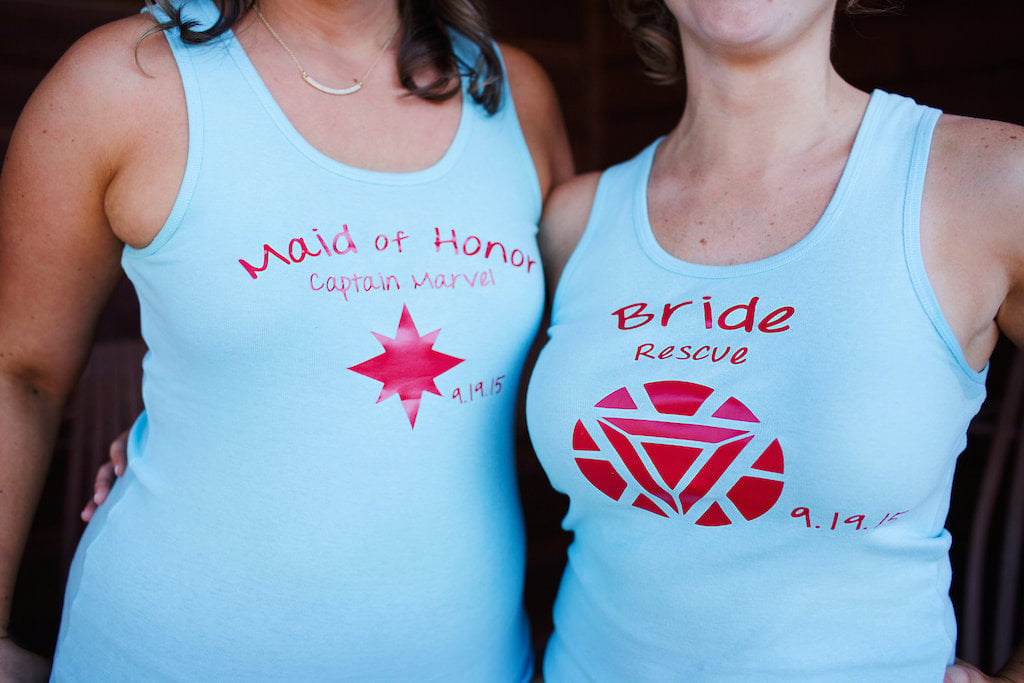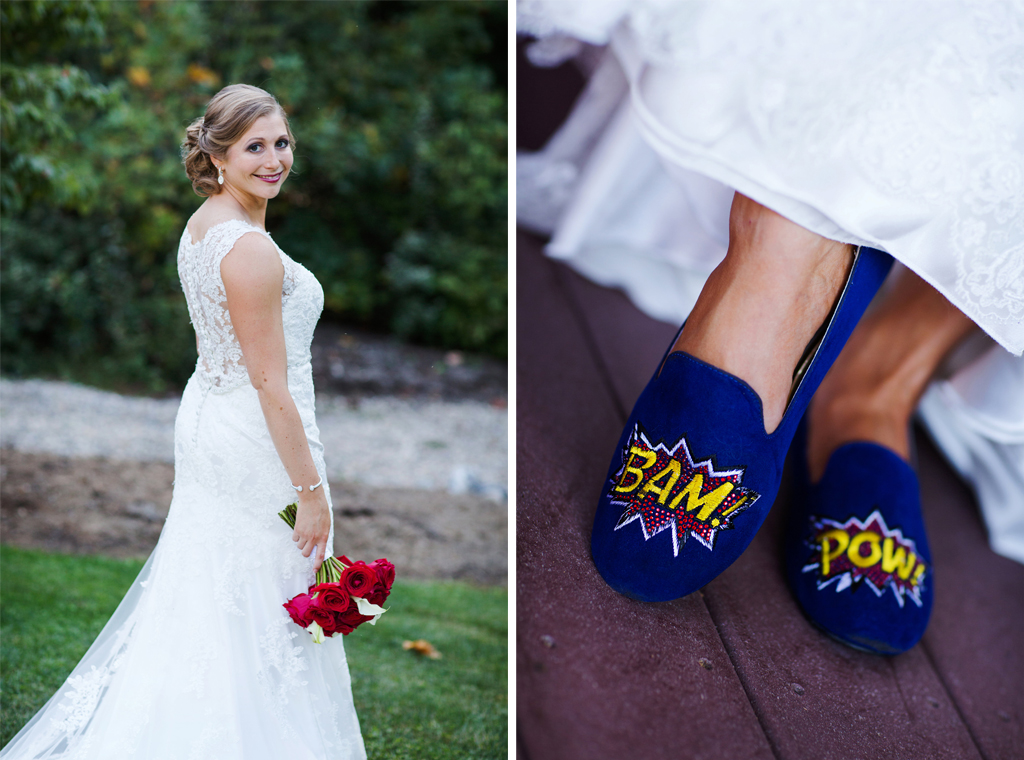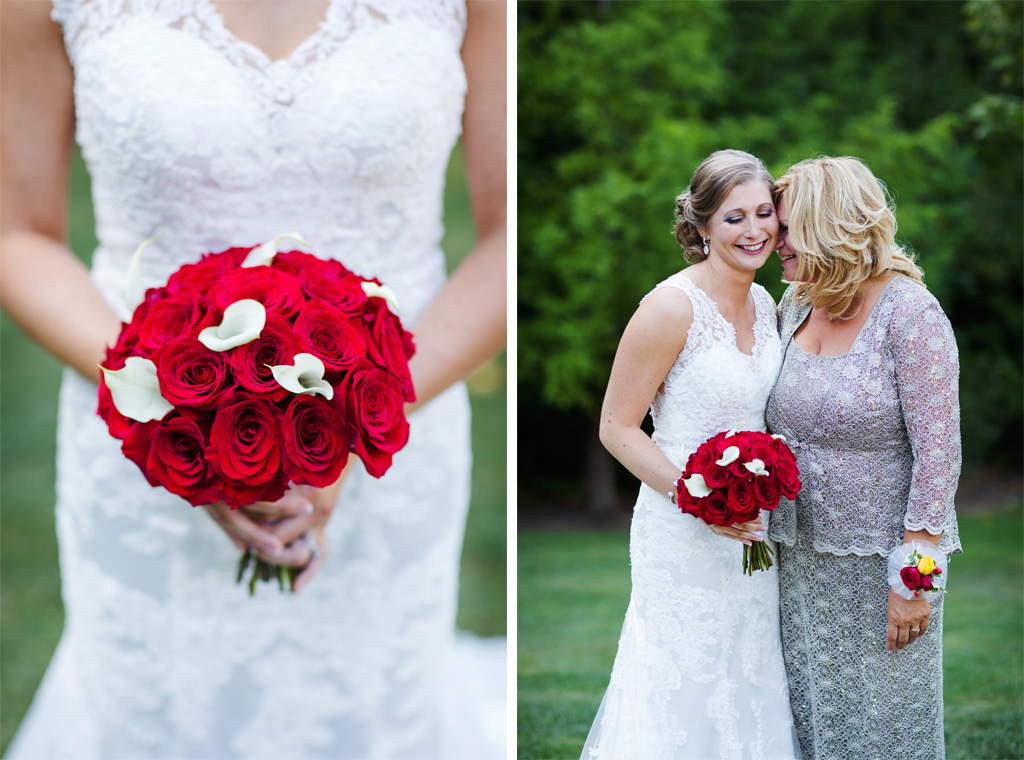 Melissa was working as the evening receptionist at the car dealership where Shannon was a salesman. Overtime, a work friendship began to develop, and as they began playing more games of after-work pool and going out to more dinners as friends, Shannon knew he wanted to be more than just work pals. Though it took Melissa longer to catch on, she knew she enjoyed his lighthearted company: "Shannon is a jovial guy who didn't take life too seriously," says Melissa. He asked her out to get sushi in the Baltimore harbor. After dinner, as they were sitting in the car, Shannon pulled out a plastic cupcake ring he'd bought for a quarter. "I saw this and thought you would like it," he said. "Maybe it will even be real one day."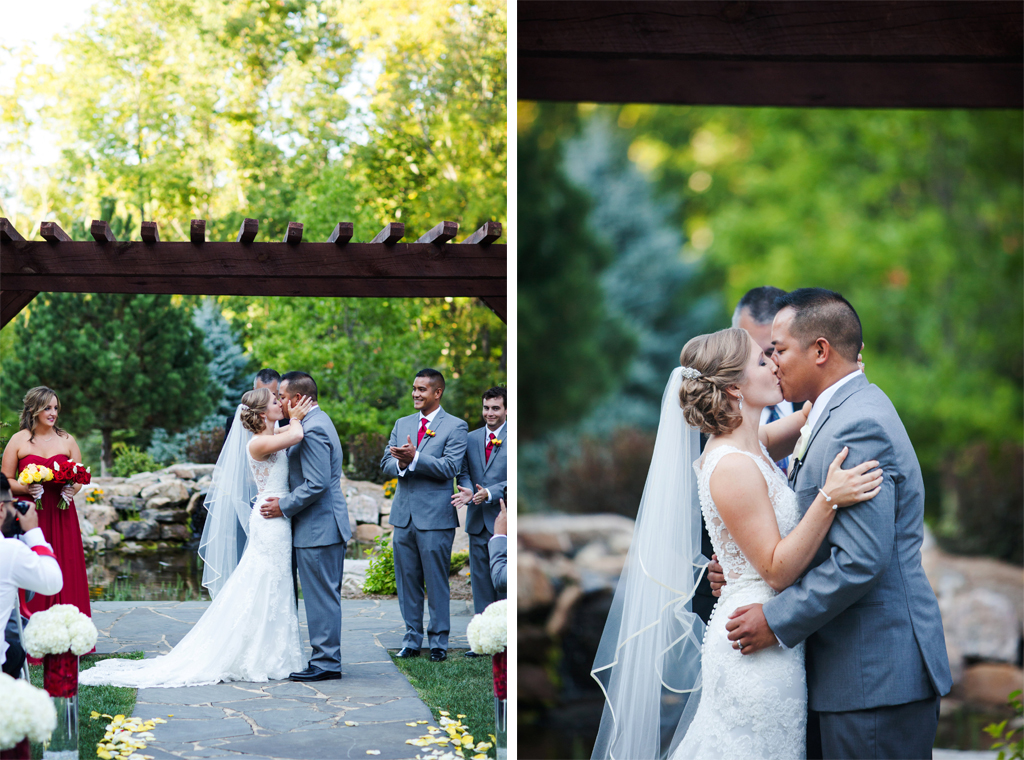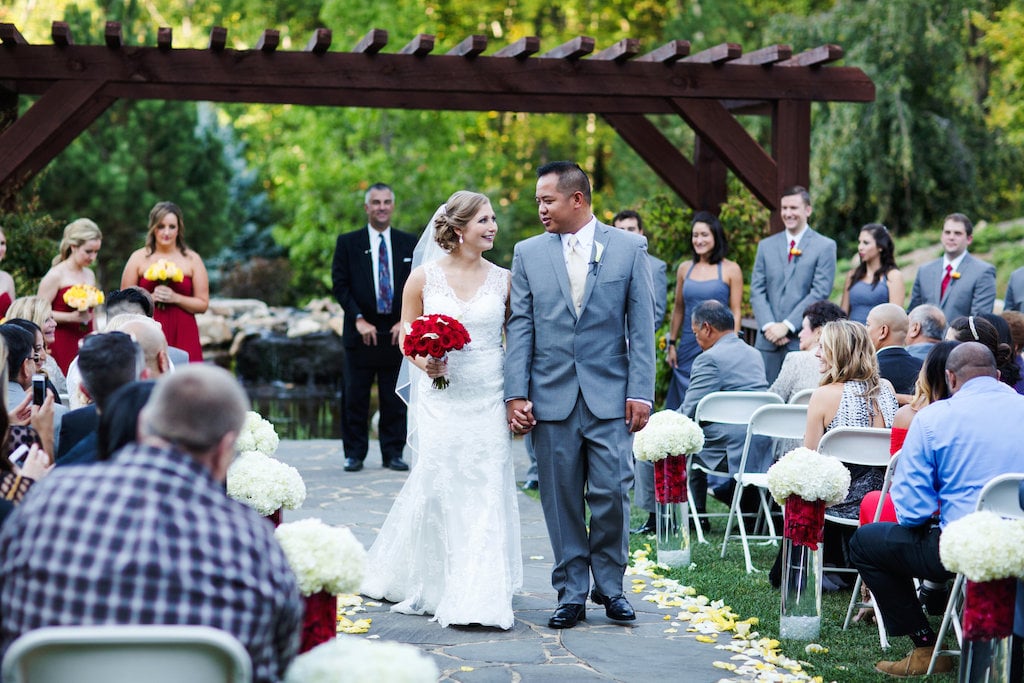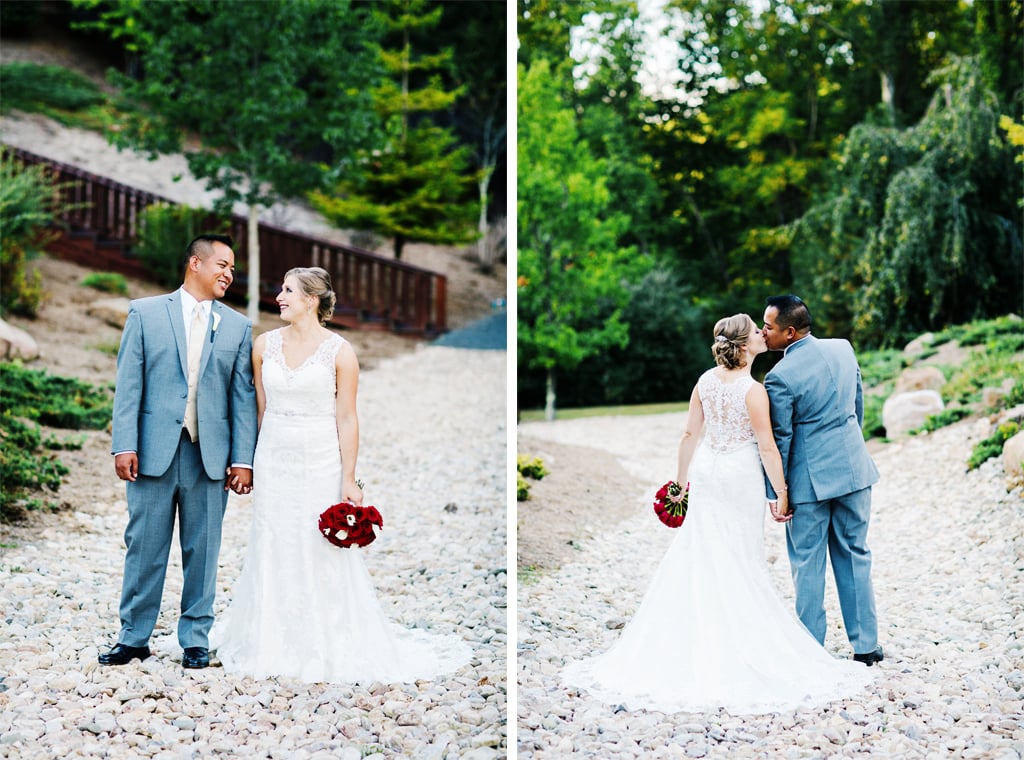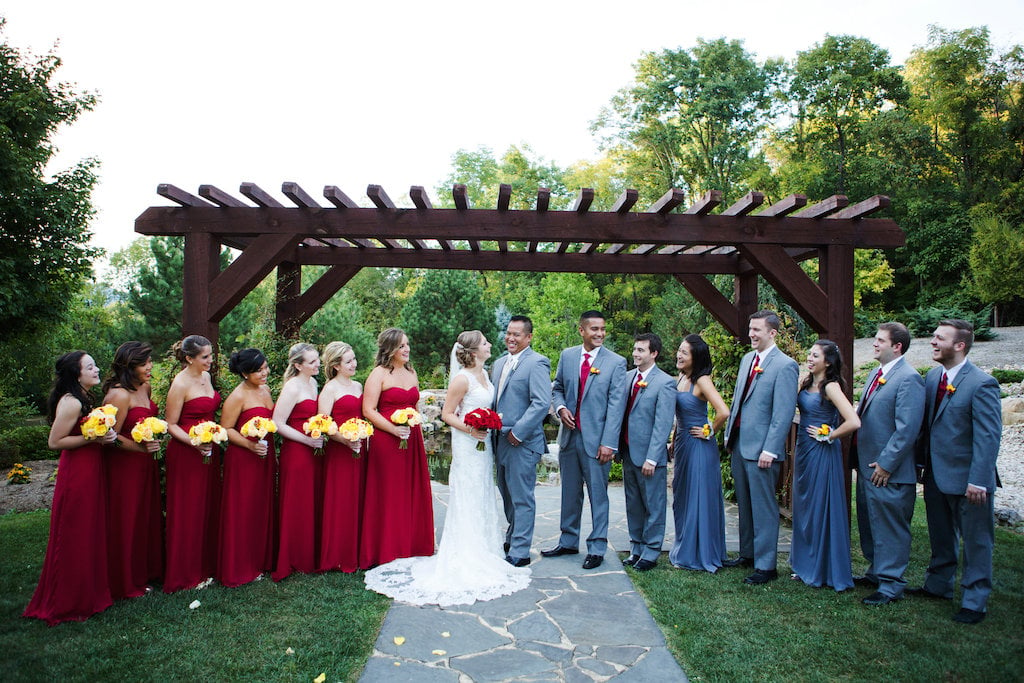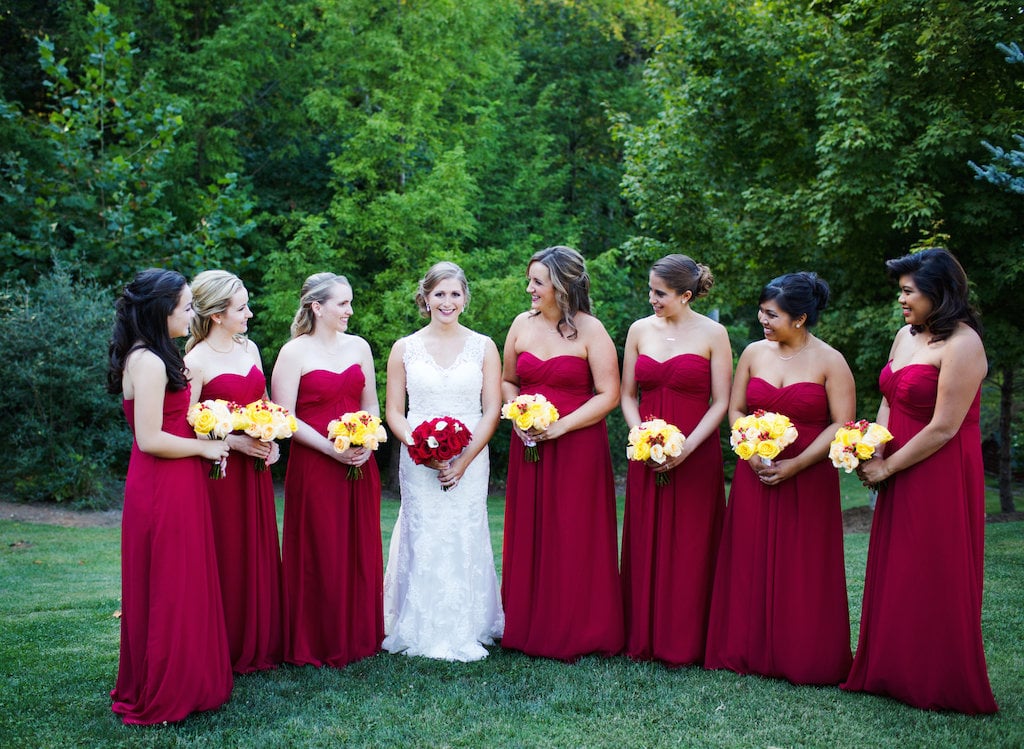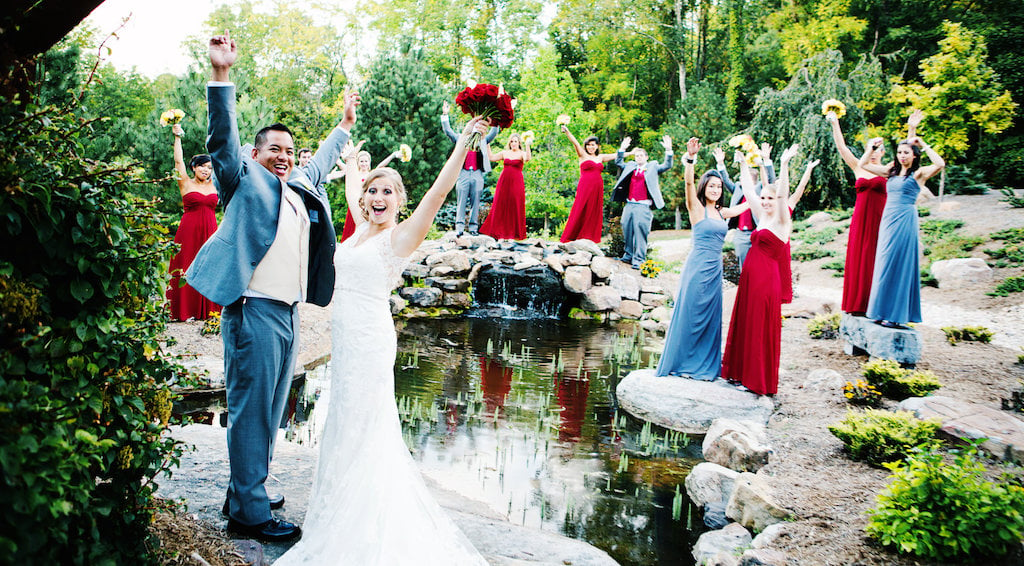 A little over two years later, Shannon made good on that suggestion. He brought Melissa back to the Baltimore harbor on the pretense of celebrating a friend's birthday, encouraging her to get her nails done and wear a pretty dress because "everyone" was dressing up. When they arrived in Baltimore, they found a bench by the water where Shannon said they would wait to meet up with their friends. He tried to take a photo of Melissa, but, upon stating that the batteries were dead, asked her to get out more from the camera case. Instead of batteries, Melissa found a sparkly ring inside.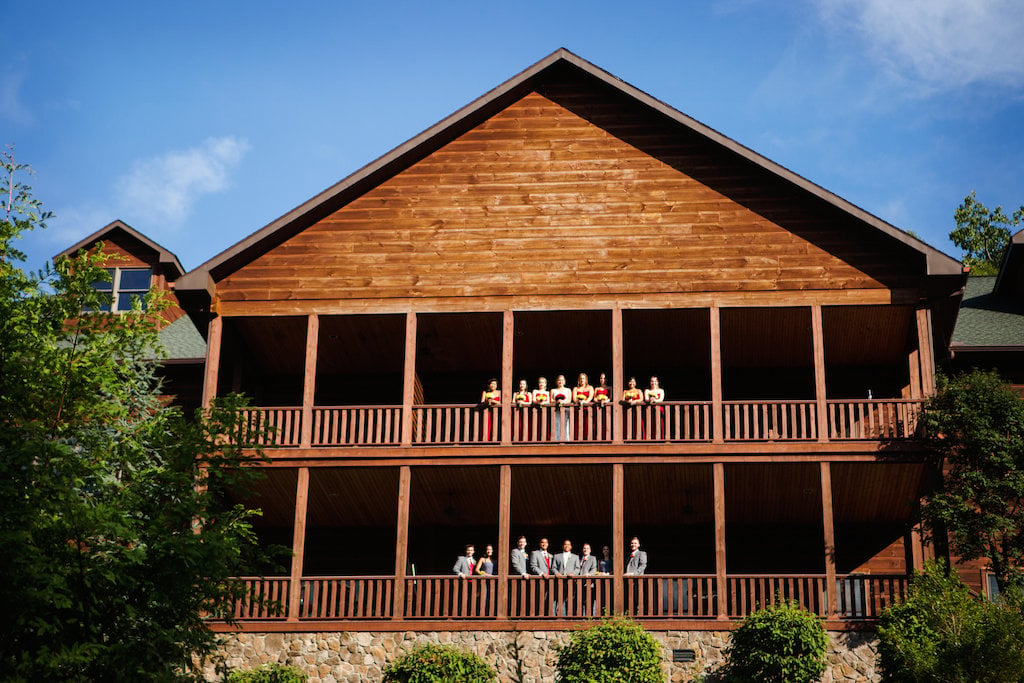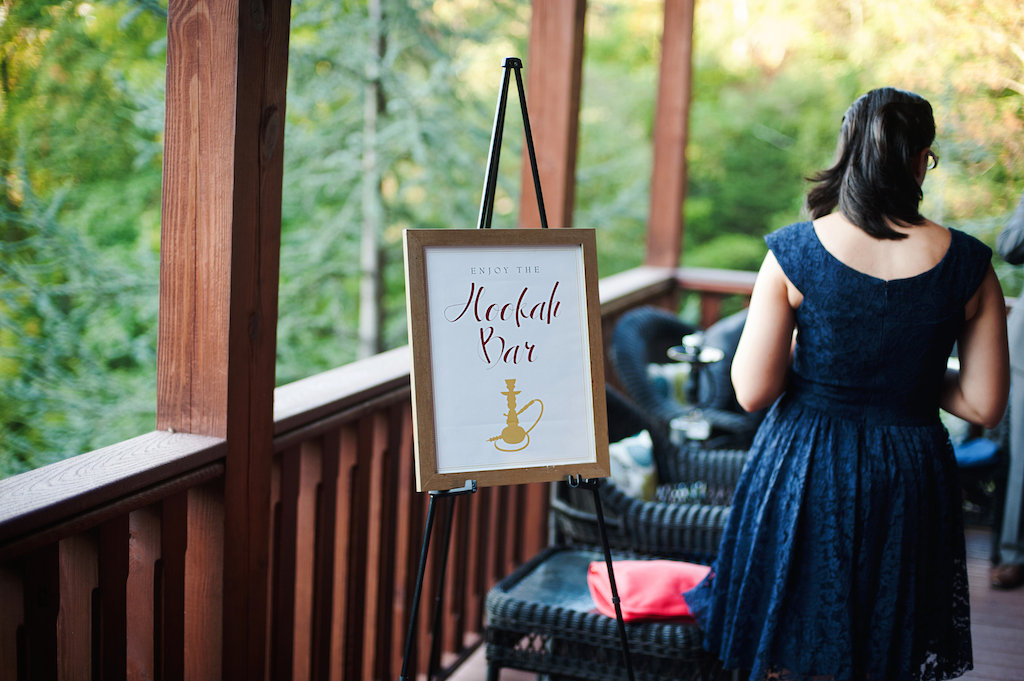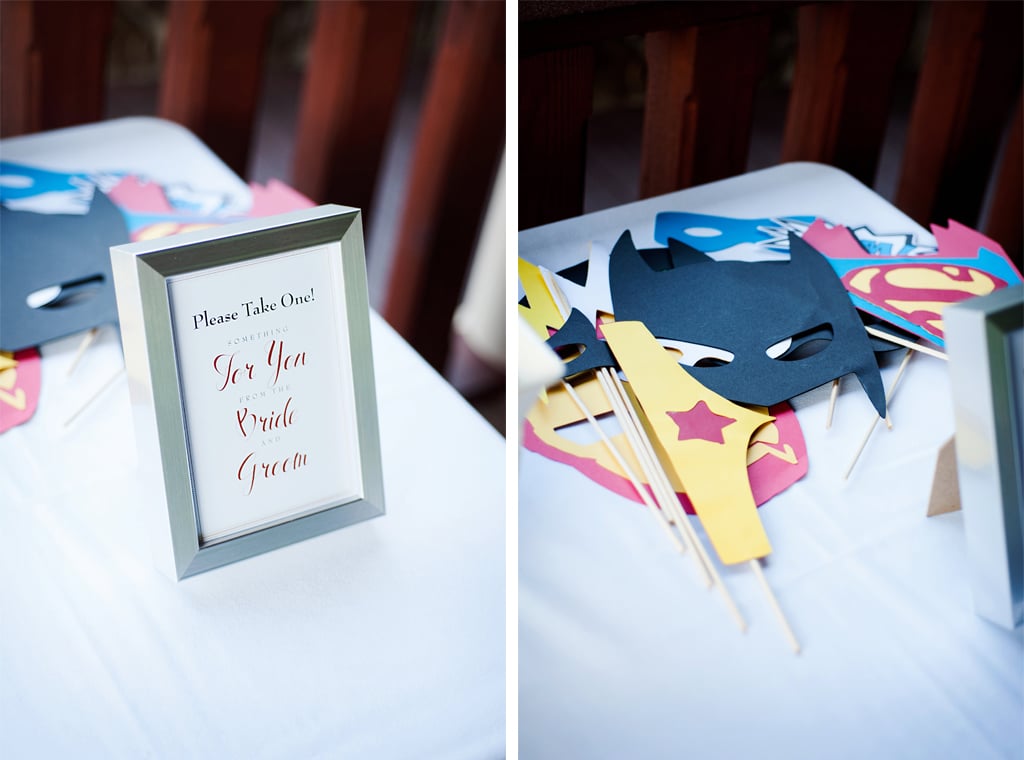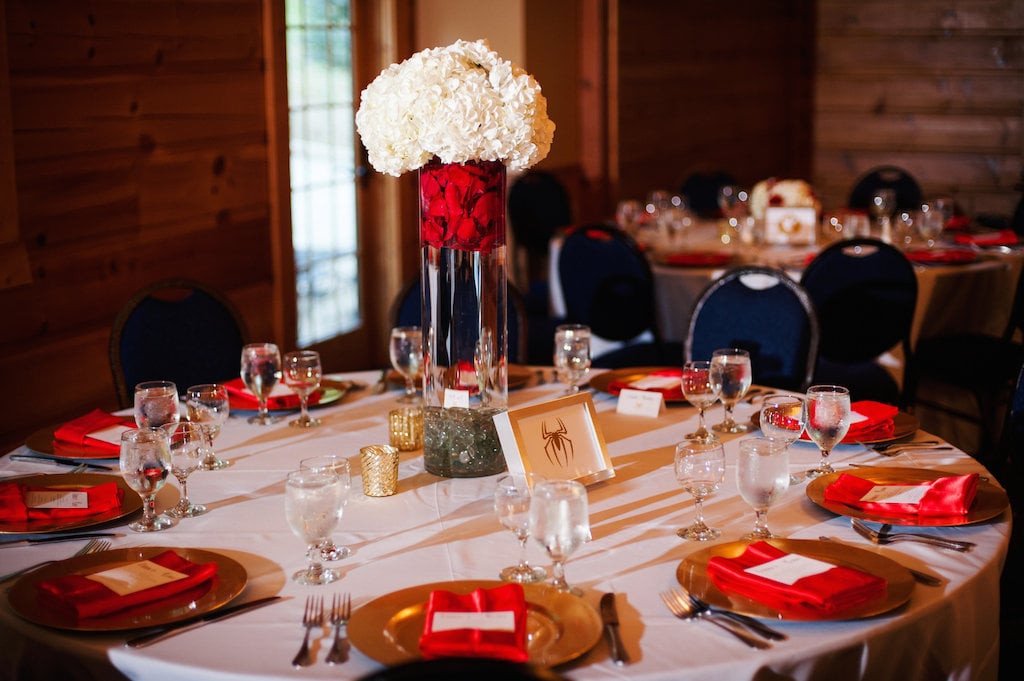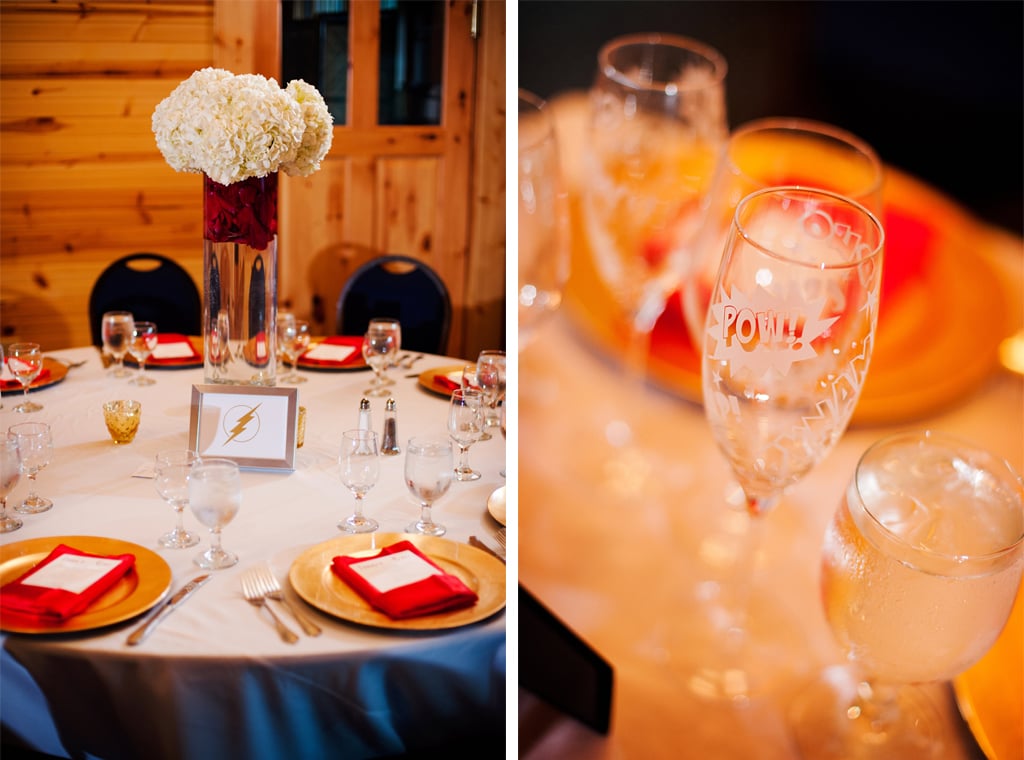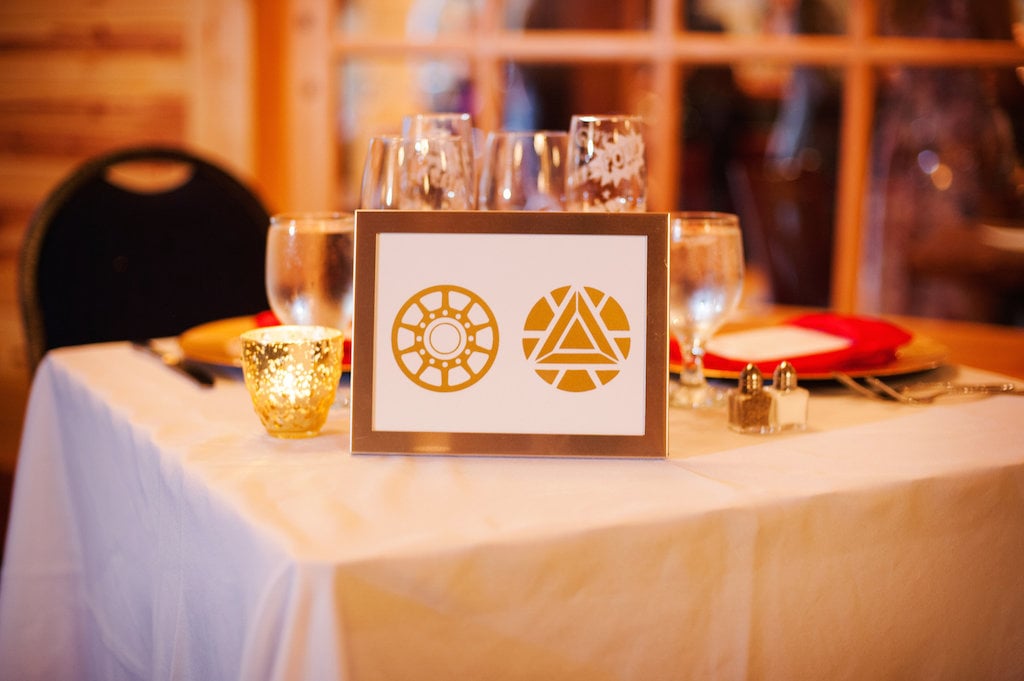 For their wedding, Shannon's jovial personality shined through the superhero theme.  With a red, yellow, and blue color scheme as a base, the bridal party got ready in tank tops with different hero insignias on them, while the bride wore flats with the words "Bam! Pow!" on them under her dress.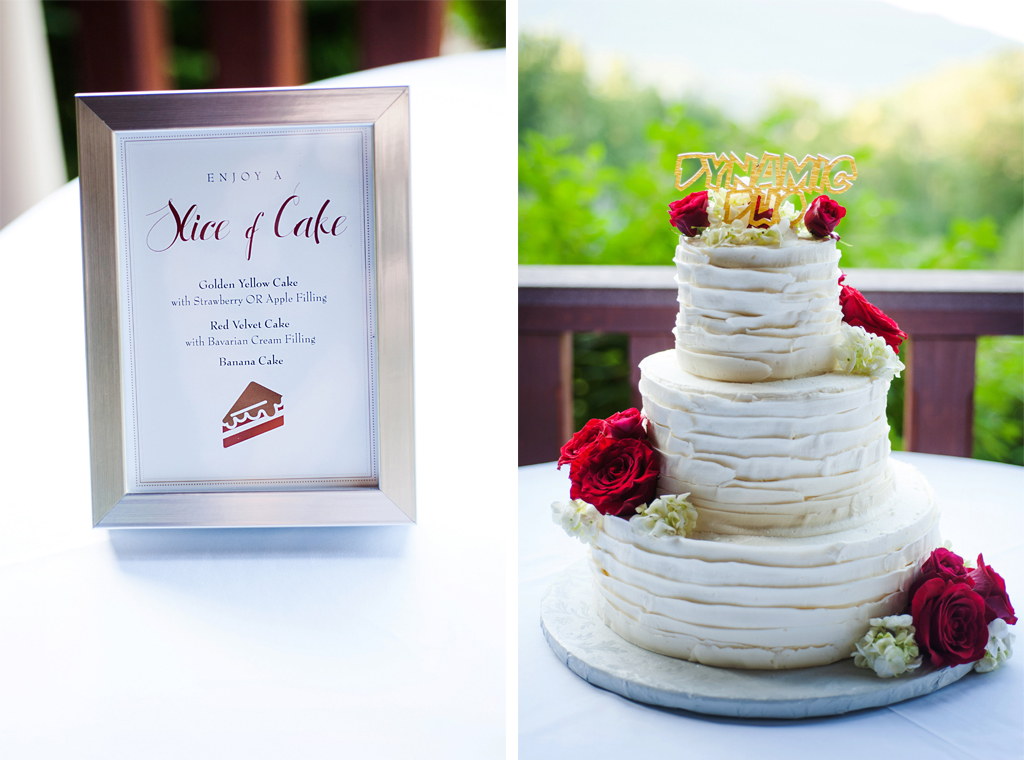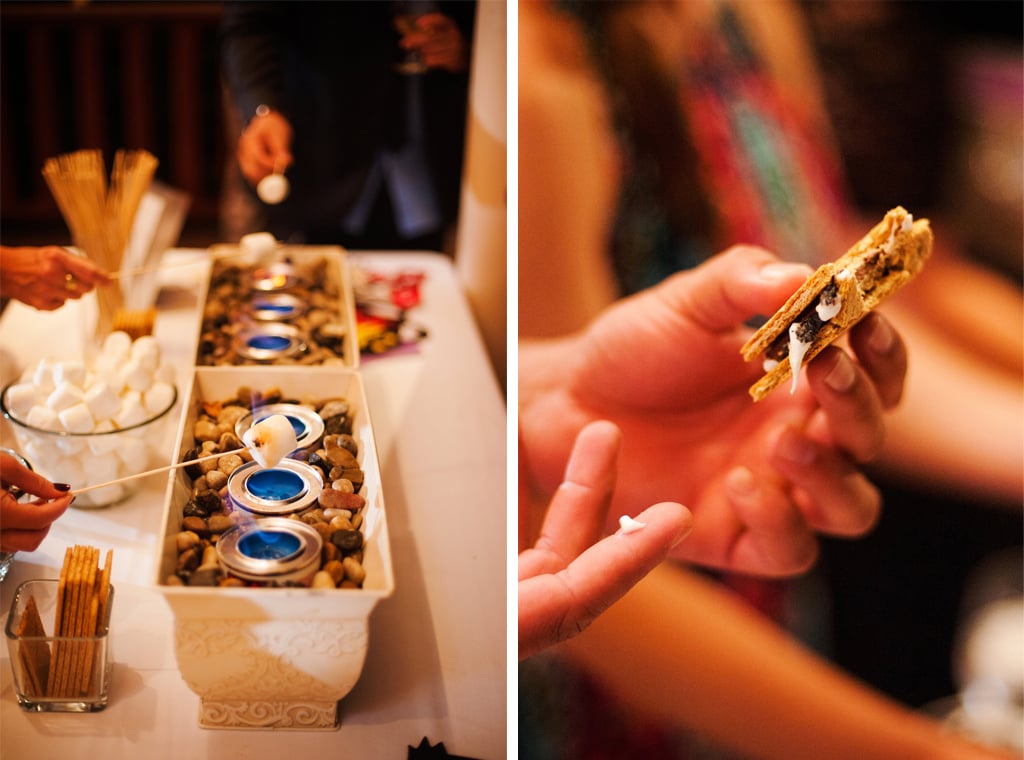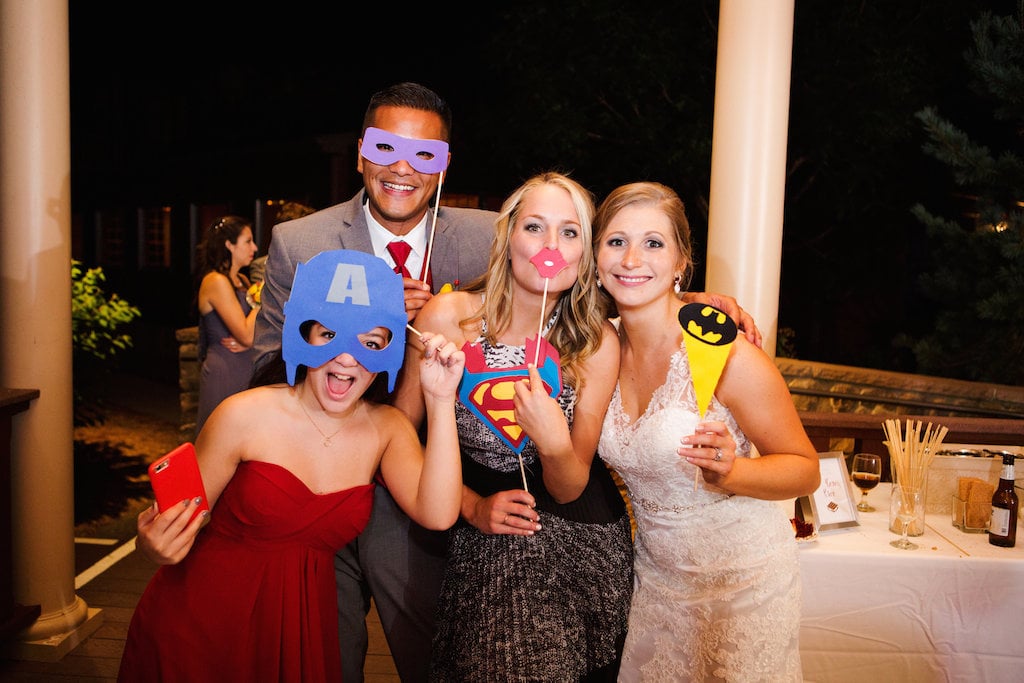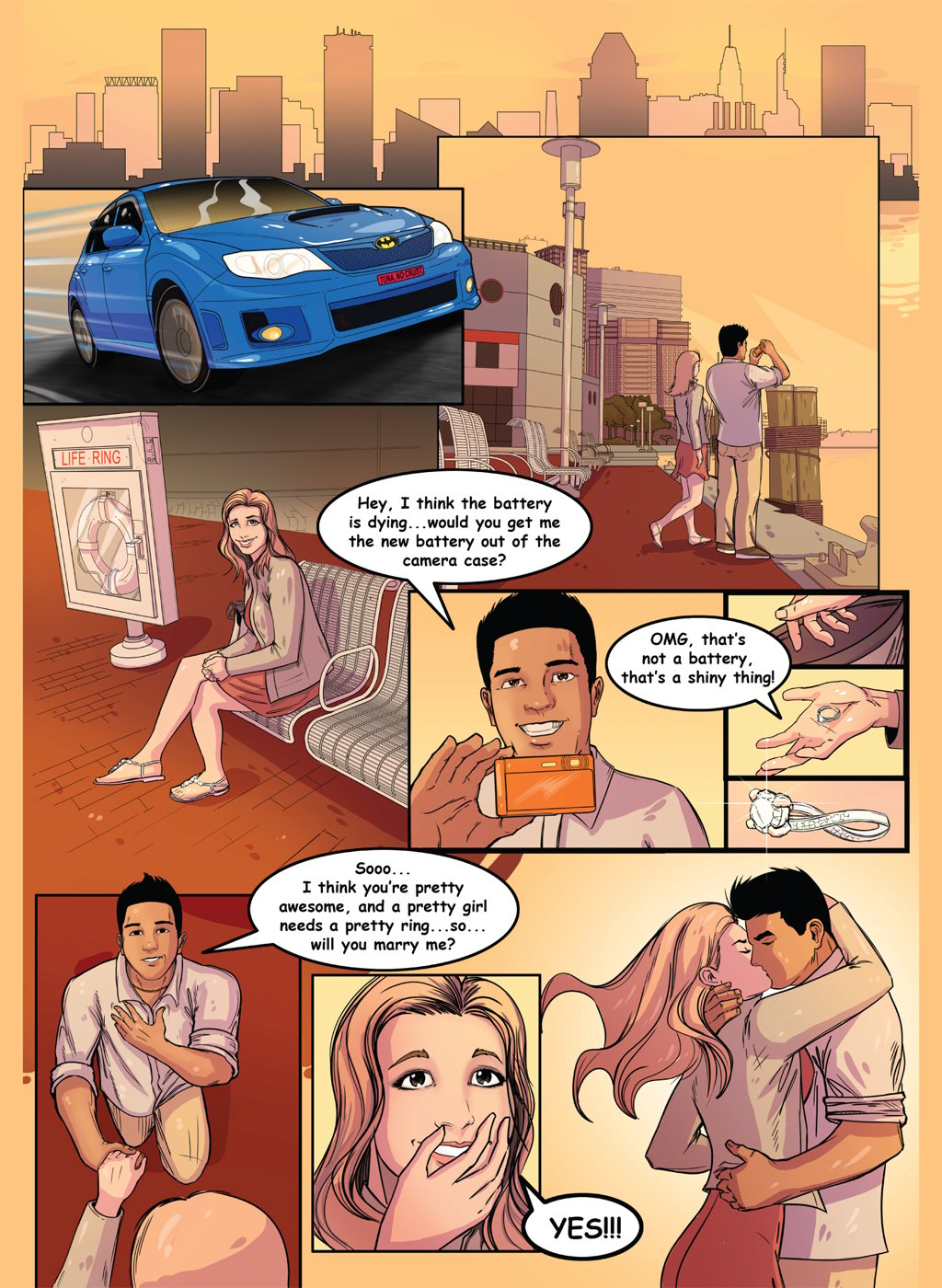 At the reception, superhero props throughout the reception allowed the guests to get in on the fun, while gold superhero symbols served as table numbers. In lieu of  a guest book, the bride and groom had their attendees sign a framed copy of their save-the-date card, which was a comic strip that told their proposal story. Guests ate from a cake topped with a "Dynamic Duo" cutout, and at the end of the night, departed with mini bottles of jack with superhero capes tied around the necks.
VENDORS
Venue: House Mountain Inn | Photographer: Skyryder Photography | Day-of Coordinator: Jamie Grue, House Mountain Inn | Bride's Gown: Maggie Sottero, Couture by Posh Bridal | Groom's Tux: Stephen Geoffrey, Icon Bridal Formal | Hair Dresser: Deanna Cook, Salon DC | Cake: Country Confections | Florist: Stephanie Dasch, Diamond Events | Caterers: House Mountain Inn | Transportation: Lexington Limousine & Transportation LLC | Videographer: Tom Mazzulla | Music/Entertainment: Class Productions DJ Service; Nicole Kirk | Invitations: Admire Boutique | Save the Dates: Andy Bui | PR: Abbie Elliott | Superhero Props: Etsy | Officiant: Tim Cole
Need a wedding planner to bring your creative theme together? Start with our list of the area's best event planners and coordinators.