With six new apartment buildings opening this year, three more under construction, and six more planned for 2018, Navy Yard—which has been open to development only since 2005—will soon be the District's most densely populated neighborhood. There's a major-league ballpark, a smattering of excellent restaurants, and a broad esplanade along the Anacostia River. Navy Yard has quietly become an enviable little city to itself.
Which is also its biggest drawback. The hulking presence of the elevated Southeast Freeway, which runs from South Capitol Street to the 11th Street Bridge, severs Navy Yard's connection with the rest of DC, cutting off anyone traveling by foot, bike, car, or surface transit. Short trips to, say, Eastern Market or to jobs elsewhere on the Hill are particularly hampered by the eight lanes swooping through the neighborhood at the height of two stories.
And it's not just Navy Yard. The entire length of the freeways that ferry drivers across the southern tier of DC threaten the viability of a string of neighborhoods eyeing Navy Yard's revitalization—where current and prospective residents, to judge from the leveling-off of automobile registrations in a growing District, have less and less use for a freeway.
So here's a modest proposal: Let's tear down the Southeast Freeway and use the space to build a new neighborhood.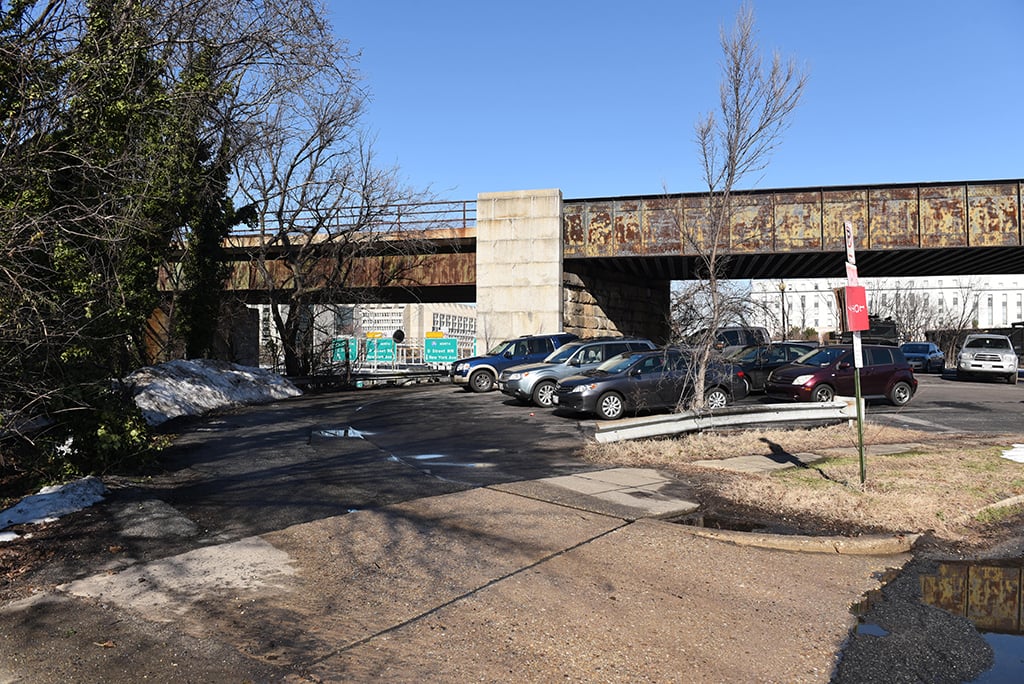 If you haven't thought of ripping down this roadway, you haven't been paying attention. DC's Department of Transportation has already made part of I-695 redundant with the new 11th Street Bridge over the Anacostia River. In its place will go a new Southeast Boulevard, a slightly smaller road surrounded by parking lots for tour buses and some parkland. Capitol Crossing, a major project under way around Massachusetts Avenue and E Street, Northwest, is doing the opposite, burying I-395 where it dips below ground beneath concrete decks and building atop them to reconnect Union Station with Mount Vernon Square.
But what if we took the municipal repair effort a step further? From San Francisco to Milwaukee, Oklahoma City to Rochester, cities have removed entire freeways, releasing acres and acres for open space, housing, or other uses. These thoroughfares were mostly products of President Eisenhower's Interstate Highway System, begun in the 1950s to route cars through depressed in-town neighborhoods. Urban planners thought freeways could help draw suburban shoppers and workers back to cities emptied out by white flight.
In DC, the plan was to wrap downtown in a new "inner loop" by extending the routes that now end at the Beltway (such as I-270 and I-95) or at the District line (I-66) into the city. A broad array of Washingtonians, many of whose neighborhoods lay in the path of these projects, protested fiercely and prevented most of this system from being built; the funding instead went to building Metro. The Southeast, Southwest, and Center Leg freeways—part of a massive urban-renewal scheme that created L'Enfant Plaza and Southwest DC as we know it today—are remnants of that larger plan. Even these, however, are not an asset but a liability, and we need a new plan to get rid of them.
• • •
It so happens I have one. Four years ago, while earning my master's in urban planning at the University of Pennsylvania, I studied the possibilities and impacts of removing urban freeways. My teammates, Susannah Henschel and Matt Wicklund, and I looked specifically at the Southeast-Southwest Freeway, working with the National Capital Planning Commission—a federal body that makes and approves designs for much of DC's historic core—on how to remediate the freeways.
The Southwest Freeway, which carries a significant amount of traffic between the Potomac River and Fourth Street, Southwest, probably couldn't be removed without overburdening the local street network. By the time it changes to the Center Leg Freeway and then to the Southeast Freeway, at South Capitol Street, the roadway carries a third fewer cars and could be replaced with a surface street that handles some of the traffic, with M Street, Southeast, and Pennsylvania Avenue picking up the excess. Biking and rapid transit could take care of the rest.
The neighborhood around Nats Park is booming. But it's cut off from the rest.
The freeway changes dramatically along its path—sunken below street level here, rising onto an elevated there—so my colleagues and I developed three different treatments. At Fourth, Seventh, and Tenth streets, Southwest, the sunken Southwest Freeway is crossed by bridges. We thought about building a big cap over the freeway here, like Boston's Big Dig, but decided it would be too expensive for the limited amount of new space it would create. Instead, we expanded each bridge to create a platform for small retail buildings, sort of like the Ponte Vecchio in Italy. They would help connect the north and south sides of the freeway visually for those crossing the bridges, while new retail could draw more street life to an area that has very little today.
Farther east, where I-395—now the submerged Center Leg Freeway—bends north toward New York Avenue, we'd build a platform, like the Capitol Crossing development, and place new retail, office, and apartment buildings atop it, reconnecting local streets that currently dead-end at the freeway. In the space where the 395/695 interchange now takes up nearly three square blocks, we'd create a grand new public square, similar to Farragut Square, granting this area much-needed open space.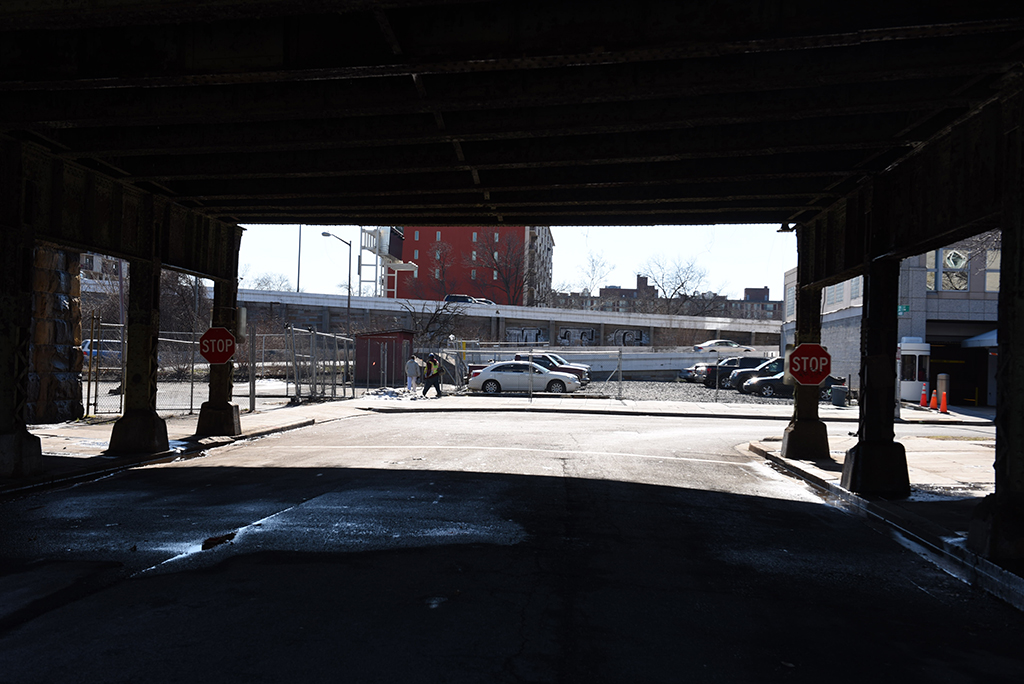 East of there, we'd eradicate the Southeast Freeway entirely. Before the 1960s, Virginia Avenue—which still exists in fits and starts around Foggy Bottom and L'Enfant Plaza—was a broad boulevard not unlike Pennsylvania or Massachusetts Avenue. Our design puts it back. The new street would extend from just east of South Capitol Street to the 11th Street Bridge and all the way to the Anacostia, where it would end in a new waterfront park.
This restored Virginia Avenue would feature wide, tree-lined sidewalks; a generous, landscaped median with a biking-and-jogging path; and six lanes for through traffic. Every local street that used to cross Virginia Avenue would be rejoined, and a new street grid east of 11th Street would help distribute and diffuse traffic. Garfield Park, at Third and G streets, Southeast—part of which was lopped off by the freeway—would become whole again. Where Virginia and Potomac avenues meet L Street, we'd build another square.
Our initial plan envisioned creating 44 city blocks with nearly 8,000 new homes, 14.4 million square feet of office space (about two Pentagons' worth), 1.3 million square feet of retail (about the size of Bethesda's Westfield Montgomery mall), and 1.4 million square feet of hotel and cultural space.
Which answers how the District would pay for all of this work over the 15 to 20 years it would take to execute. A special taxing district for landowners and developers in the area would allow the District to use the revenue to pay for demolition and construction. Our conservative estimate is that about $140 million in public investment could yield some $4.5 billion in private investment while generating $110 million in tax revenue each year for the next three decades.
• • •
But let's not get the backhoes ready yet. For starters, DC is still growing, but not as fast as it once was. There's still a lot of demand for housing in the District, especially in a close-in location like Navy Yard. But changing office environments, coupled with a rise in telework, have reduced the demand for office space. Meanwhile, many brick-and-mortar retailers are either downsizing or shutting their doors as more people shop online.
Since we made our assumptions, too, Washington has developed a sudden streetcar shyness. Our plan—besides counting on major investments such as bike infrastructure to give drivers a way out of their cars—foresaw a streetcar running along Seventh Street and M Street, Southwest. The citywide system now appears to be on hold. In addition, Arlington's Columbia Pike streetcar, which would have pulled some Virginia drivers off of 395, is dead.
But the basic principle is the same. The Southeast-Southwest Freeway, nearly 50 years old and nearing the end of its useful life, would be expensive to replace. Better to repurpose this valuable land for housing, economic opportunities, and open space, and make the city whole again.
This article appears in our March 2016 issue of Washingtonian.