Many dishes these days seem engineered for the express purpose of Instagram immortality. How many times have you seen the wooden platter of radishes at Le Diplomate treated to a gauzy Valencia filter? Or caught the butter-glossed Parker House rolls at Garrison steaming up your feed? If you're me, one too many.
That's not going to be a problem at Convivial, Cedric Maupillier's warmly lit dining room in Shaw. No video-worthy melting chocolate domes here. Maupillier works mostly in a palette of greens and browns that feels almost revolutionary in its homeliness: Witness the eggplant moussaka laden with slices of mud-hued lamb's tongue. It's delicious, it really is. But would you want to tweet that? Didn't think so.
That's not to say his plates are ugly—they're not—but that this is food created to blow away only the diner eating it, not the folks scrolling on their iPhones.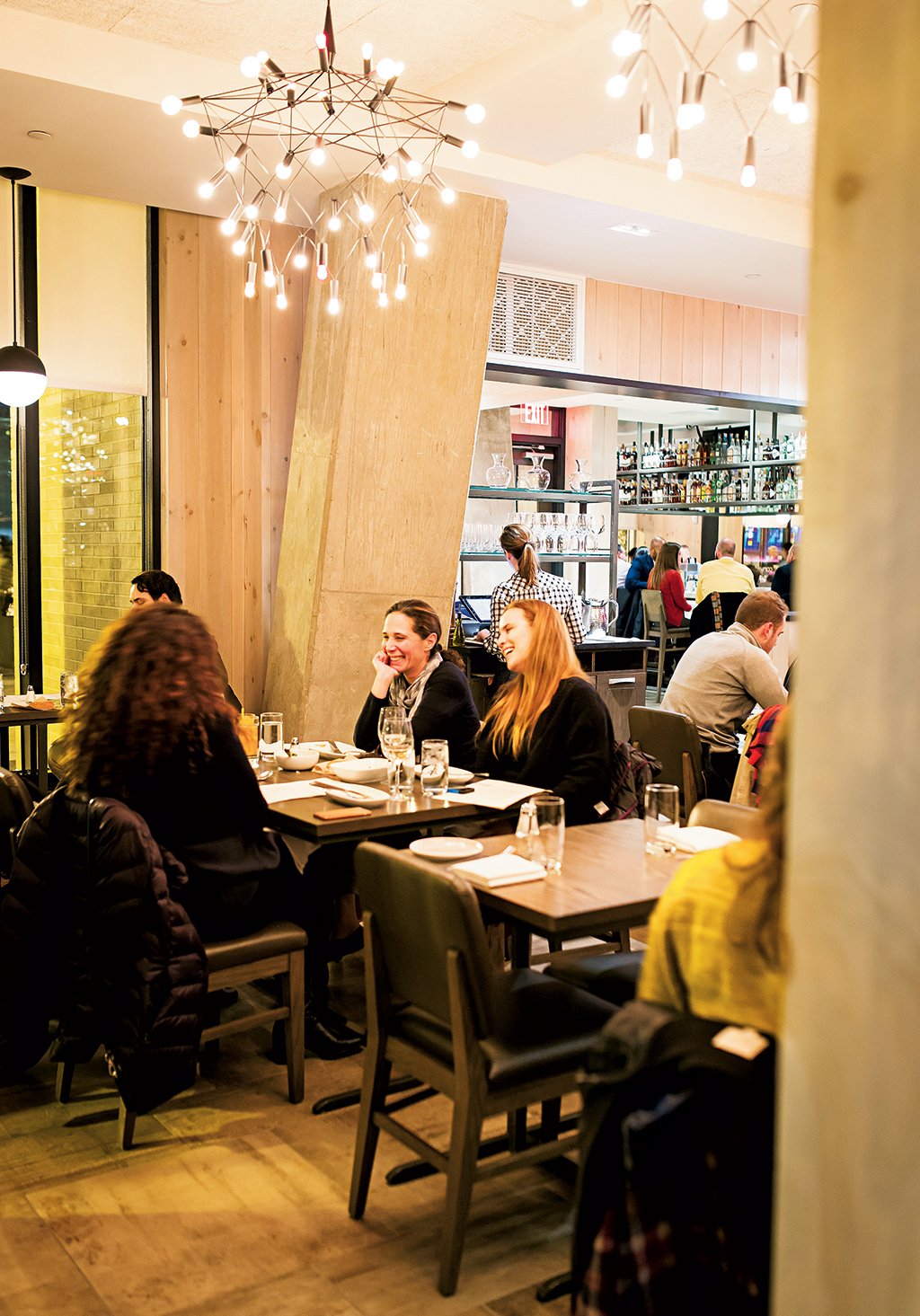 Maupillier, who also heads the kitchen at the urbanely folksy Adams Morgan bistro Mintwood Place, is the owner here. His Franco-American style, which bears the playful influence of his mentor, Michel Richard, is more confident than it's ever been. Convivial is the rare follow-up restaurant that's both more ambitious in scope than the original and more affordable.
The menu opens with a shortlist of "nibbles" that could work as an appetizer for two or as hors d'oeuvres for a larger group. Everything else is considered a medium plate (that is, bigger than a small plate, not as generous as an entrée). The server will recommend two to two and a half per person. Just two and a half per person, with a menu this big and across-the-board terrific? Good luck. Just resolve in advance to over-order and take home what's left.
Fans of Mintwood Place will find a few similarities between the two restaurants. Maupillier has carried over one of his most popular dishes, the bacon cheeseburger that President Obama once tucked into, and winks at some of the more whimsical ideas from his other menu. At Mintwood, escargots are folded into hushpuppies. Here, he does the snails one better, fashioning them into a buttery, garlicky, pastry-encased play on pigs in blankets.
Many plates tend toward the rich and meaty, such as lovely al dente ravioli stuffed with boudin noir and draped with earthy chestnut purée. Some of the best ones feature nods to junk food or the drive-through—a trait passed down from Michel Richard. A superior riff on chicken salad trades bland cubes of breast meat for luscious shreds of confit turkey leg, then tosses them with candied pecans, bitter endive, and a slick of tangy ranch—yes, ranch—dressing. And coq au vin fried chicken, double-fried in the Korean manner, retains an almost magical crunch under its red-wine glaze.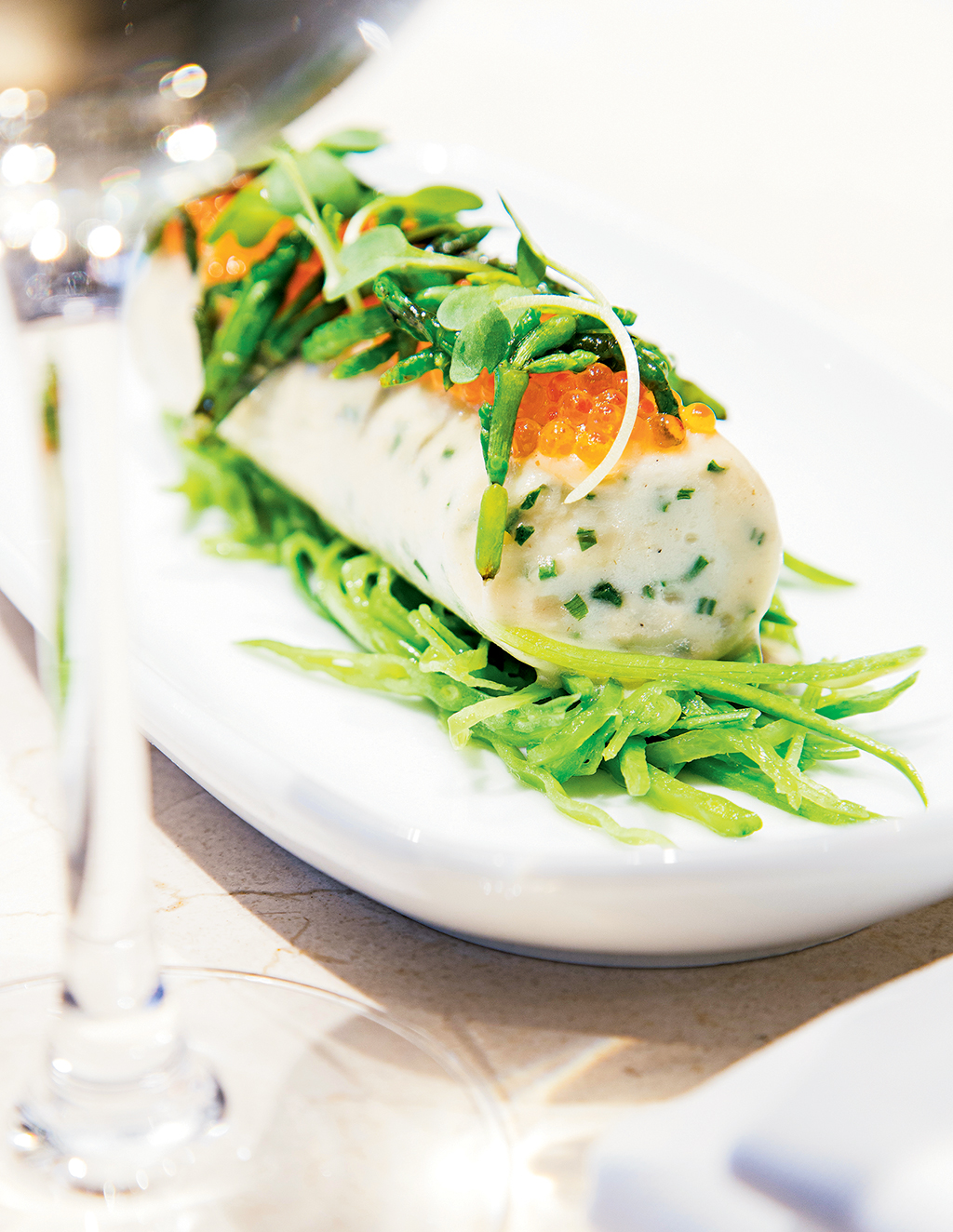 Seafood dishes lean decadent, too. A marine take on boudin blanc, made with puréed scallop instead of veal and pork, marries a cloud-light texture with a satisfying, lightly briny and sweet flavor. Perch—the wonderful, mild white fish that's hard to find in restaurants, unless you're near a Great Lake—shows up expertly grilled and draped with a creamy sauce that tastes like a killer oyster-house chowder.
Mixing in some vegetarian options (and there are some great ones here) won't always help balance the richness. But don't miss Maupillier's reimagining of that bistro standard, leeks dijonnaise. As he does with beets and goat cheese at Mintwood Place, he turns the ingredients—silken steamed leeks, chopped egg, airy croutons, and fried capers bound with perfect vinaigrette—into a sort of pie, and it's fantastic. So is his socca, a chickpea pancake piled with shaved fennel and shredded beets, pomelo (a citrus fruit), and Picholine olives. Even a barley pilaf, which may evoke grad students cooking out of a dog-eared 1977 edition of the Moosewood cookbook, is transformed into something memorable, with the help of goat-cheese curds and plenty of lemon.
The list of desserts is small, but nearly every one lives up to what's preceded it. There's a fabulous bowl of melty chocolate ice cream, graham-cracker crumbles, and salted caramel topped with a disk of bruléed marshmallow. A bar-shaped Key-lime pie is elevated with a speculoos-cookie crust and juicy slices of kiwi. A creamy sticky toffee pudding prizes the salty as much as the sweet. Only a milk-chocolate crème brûlée is merely decent.
The showiest confection of all is a choco-hazelnut creation called a Celebration Cake, which arrives speared with silver fireworks that shoot about a foot over diners' heads. The whole room turns and claps with glee, and just like that, the iPhones come out.
This article appears in our March 2016 issue of Washingtonian.
---