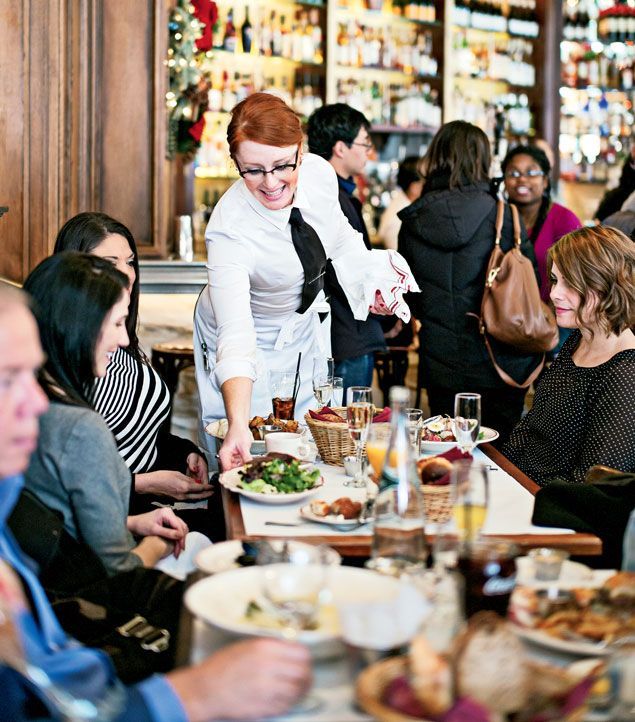 Easter is on the early side this year, on Sunday, March 27. Celebrate with a springtime feast at one of these restaurants.
1201 24th St., NW
The Park Hyatt's airy American dining room serves an Easter feast, beginning with a buffet of cold appetizers, followed by a choice of plated entrees and sides, such as brioche French toast with rhubarb jam, or roasted rock shrimp and grits ($110 per person). The pastry room filled with sweets is the place to end the meal.
2800 Pennsylvania Ave., NW
The Four Seasons steakhouse dishes up more than meat for the holiday, serving a seasonal three-course brunch with dishes like snapper crudo, a Maryland blue crab Benedict, and key lime pie ($95 per person; $50 kids ages six to 12).
3100 K St., NW
A classy Easter brunch on the Georgetown waterfront starts off with a freshly-baked pastry basket, followed by a three-course meal including dishes like grilled asparagus with poached eggs and artichoke dressing, and pasta with langoustine and peas ($85 per person; $35 for kids). Sister restaurants Fiola and Casa Luca–the most casual of the three–are also celebrating the holiday with special menus.
309 Middle St., Washington, Virginia
Chef Patrick O'Connell prepares a splurge-worthy seven-course menu for the holiday starting at 4 pm, with springtime dishes like roasted scallops with sweet pea tortellini and bacon consommé, and parsley-crusted lamb ($198 per person). Guests can also opt for the classic tasting menu, or a vegetarian prix-fixe. 
1734 N St., NW
Chef Tony Chittum serves two special brunch menus, one for Sunday, March 27 and another for Greek Easter on May 1. The first Easter will be served family-style ($50 per person), and includes Mediterranean spring dishes like a tart with greens and eggs, and slow-roasted porchetta for the main event. Ask for a table on the lovely patio if the weather is warm.
2201 14th St., NW; 4000 Wilson Blvd., Arlington
Chef Mike Isabella's Mediterranean restaurants pull double duty for the holiday, celebrating Catholic Easter (March 27) and Orthodox Easter (May 1). Both locations offer a variety of dishes to-go, including tsoureki (a sweet Easter bread), spit-roasted lamb, and sides. You can also dine in for the regular Mediterranean-themed brunch menus.
1601 14th St., NW
Stephen Starr's 14th Street brasserie serves a French Easter brunch and dinner, with special à la carte carte dishes like a roasted leg of lamb served family-style, hot cross buns, and marshmallow eggs for the kids.
301 Water St., SE
This Navy Yard Italian serves a family-style meal for the holiday, with dishes like burrata and grapefruit,  a variety of pastas, and grilled branzino ($55 per person; $25 for kids 12 and under).
1200 16th St., NW
The Jefferson hotel's fine dining restaurant offers an elegant brunch spread, which includes starters for the table like warm pastries and stone crab claws, followed by a choice of appetizers and entrees, and a bounty of shareable desserts ($105 per person; $55 for kids 12 and under).
1190 New Hampshire Ave., NW
Those looking for a different take on Easter brunch can head to Ashok Bajaj's modern Indian restaurant for an à la carte menu of dishes such as crab poha and spinach-egg curry, served 11 am to 2:30 pm. Another great option: sister restaurant the Bombay Club, which offers a buffet with Champagne ($30 to $45).
1226 36th St., NW
This atmospheric Georgetown restaurant serves a special a special Easter brunch menu, with dishes like asparagus and sherried mushroom salad, and eggs Chesapeake.
2941 Fairview Park Dr., Falls Church
Asparagus, radishes, morels, and other springtime ingredients fill chef Betrand Chemel's three-course holiday brunch menu ($75 per person). We'd opt for the chocolate Easter basket for dessert.