It was the best of times. It was the worst of times. It was cherry blossom season in DC.
That sweet, fresh air. … Those crowds of iPhone wielding tourists bent on bagging that "perfect" shot.
The soft pillows of crinkled petals piling up on street corners. … People yelling at you to get out of their damn way.
Those extra-long lunch breaks spent lounging under the branches. … The tour buses. Oh, the dreaded tour buses.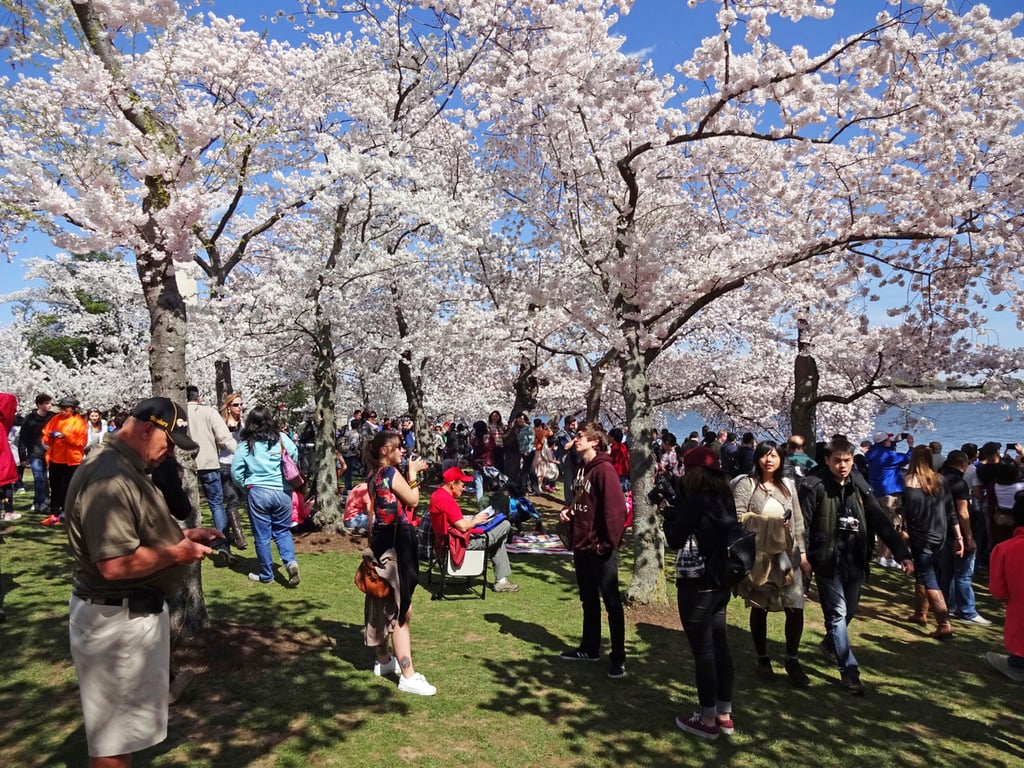 Visiting the Tidal Basin can be a hellish delight, especially in the days surrounding peak bloom. Elbowing your way to an experience that's meant to be serene is an irony that every cherry blossom visitor will recognize—but it doesn't have to be that way. Here are our top three tips for experiencing the full glory of the blossoms, without a slew of random faces photobombing your Jefferson Memorial pic.
Avoid the Tidal Basin Entirely
Instead of dealing with the wall of bodies that is the Tidal Basin, head in the opposite direction. Not only does the National Arboretum have an absolutely charming field of cherry trees (mixed in with some magnolias and electric pink rhododendrons), but tucked out of sight is a slightly overgrown yet wildly romantic grove of them. During a visit there last spring, the grove was entirely un-peopled, but yielded dreamy photos of the slightly off-kilter rows and rows of trees. The Arboretum asks that you don't eat under the cherry trees, but you're free to bring your own food and enjoy it in the National Grove of State Trees.
Read: How to Take Good Photos at the Cherry Blossom Festival
Go Early—Really, Really Early
We're not talking 10 a.m., or even 9 a.m., although those aren't terrible hours to visit. We're talking 7 in the morning, pre-work, pre-workout, pre-everything. Do what I have done year after year and you'll almost certainly have the place to yourself.
I choose a morning just before peak bloom (this year it will be Thursday, March 17) and make a packed breakfast the night before. The morning of my husband and I wake up around 6:15, put on an outfit that works with comfy shoes, and set out to fetch a coffee on our walk down 15th St. Now, we're lucky that we live within walking distance of the National Mall, so we don't need to be up quite as early as suburban commuters or far Northeasters might. But no matter how long your ride/walk/drive, it is entirely worth it to wake up early and rearrange your life for a day to inhabit a nearly human-free Tidal Basin. Once we arrive we take a long walk around the Basin, eventually stopping under an overhanging branch to enjoy our breakfast and have a leisurely chat. It's usually quiet enough to hear the wind rustle the petals, and the glow of the rising sun lends our photos a lovely blush quality. Just as the crowds start appearing, it's usually time to head to work anyway. We've started out morning off with some time together and a couple hours out in nature. Pretty nice little morning, really.
Read: Where to Eat Near the Cherry Blossoms
Don't Let the Rain Dampen Your Plans
I apologize for that pun, but really, don't let some rain stop you from heading down to the Tidal Basin. Be sure to wrap up in waterproof clothing (carrying an umbrella under those branches can be a real pain) and don some rubber footwear—puddles abound—before heading out. Then revel in the unexpectedly enjoyable landscape. The pink petals take on a richer hue when dripping with rain and the wind will whip them off the trees romantically. The branches shield you from most of the falling droplets, and the puddles create small pools coated in fallen petals. Your photos might lack the stark, vivid quality of those taken on a sunny day, but they'll capture a much softer version of the Tidal Basin.