UPDATE: When we wrote about this house for the June 2015 issue of Washingtonian and learned about the painstaking work that architect Carmel Greer put into building and designing it for her family, we thought she'd never leave. Turns out we were wrong. Greer listed the 5,500-square-foot, six-bedroom home last week with Heidi Hatfield of Washington Fine Properties, as reported by Urban Turf—which means it could be yours, if you've got $2,595,000 to spare. How could Greer possibly part with such an amazing property? "I am a crazy construction addict," she explains by e-mail. "I get antsy when I see other jobsites' concrete trucks and wood deliveries. So I have another project in mind . . ."
Buying places no one else wants has proven a successful strategy for architect Carmel Greer.
That's how she landed the U Street corridor headquarters of her five-year-old firm, District Design. "It was supposed to be a grocery store, but it wasn't the right size or layout," she says. The owner couldn't lease it, so he sold it to Greer, who took down walls and traded its yellow/orange/red color scheme for bright white and gray.
It's also how she became owner of the 5,500-square-foot modern home at the end of Hawthorne Place in Northwest DC's Palisades. Until Greer stumbled upon the empty land 2½ years ago, nobody would touch it—in fact, it was nearly impossible to because the lot was separated from the road by a steep ravine.
"You couldn't drive here; you couldn't really even walk," says Greer, a 34-year-old UVA and Yale grad who professes a love for construction sites.
Greer and her husband, Dan Baum, knew that filling in the ravine and connecting the property to the street would require months of fighting through city bureaucracy. But dealing with permitting and building hassles is part of what Greer does daily for her mix of residential and boutique-size commercial-development clients. She and Baum—CEO of the public-relations firm DBC—had already lost a half dozen houses to higher bids. So they decided to go for it.
It ultimately took Greer six months to get the main permit for her home. Construction began in January 2014; the couple's blended family of six moved in last August.
Greer describes the final product as "a simple stone house." In some ways, she's right. Its footprint is essentially a big rectangle: She drew inspiration from the centuries-old stone buildings that line the C&O Canal. But her design choices—leaving the ceiling beams exposed (meaning plumbing and ductwork had to be cleverly rerouted), anchoring 350-pound steel kitchen shelves into the structure of the home, gluing 1,500 tennis balls to the wall of one of the boys' rooms—are far from simple.
The building process involved filling in a ravine and constructing a retaining wall (where the gravel driveway now sits) to connect the property to the street.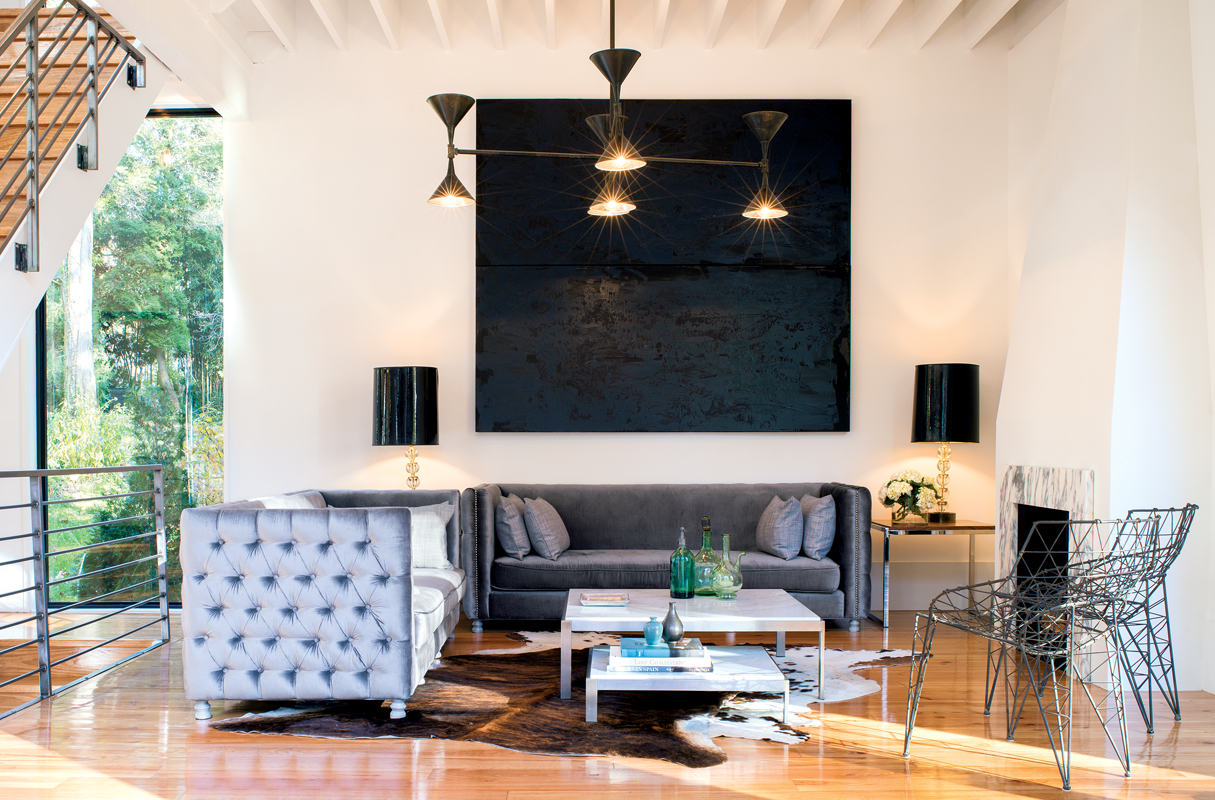 Greer's own artwork hangs throughout the house. She created this oversize canvas with housepaint.
She has owned the Design Within Reach coffee tables for ten years. The chairs look like art but are inexpensive finds from Dot & Bo.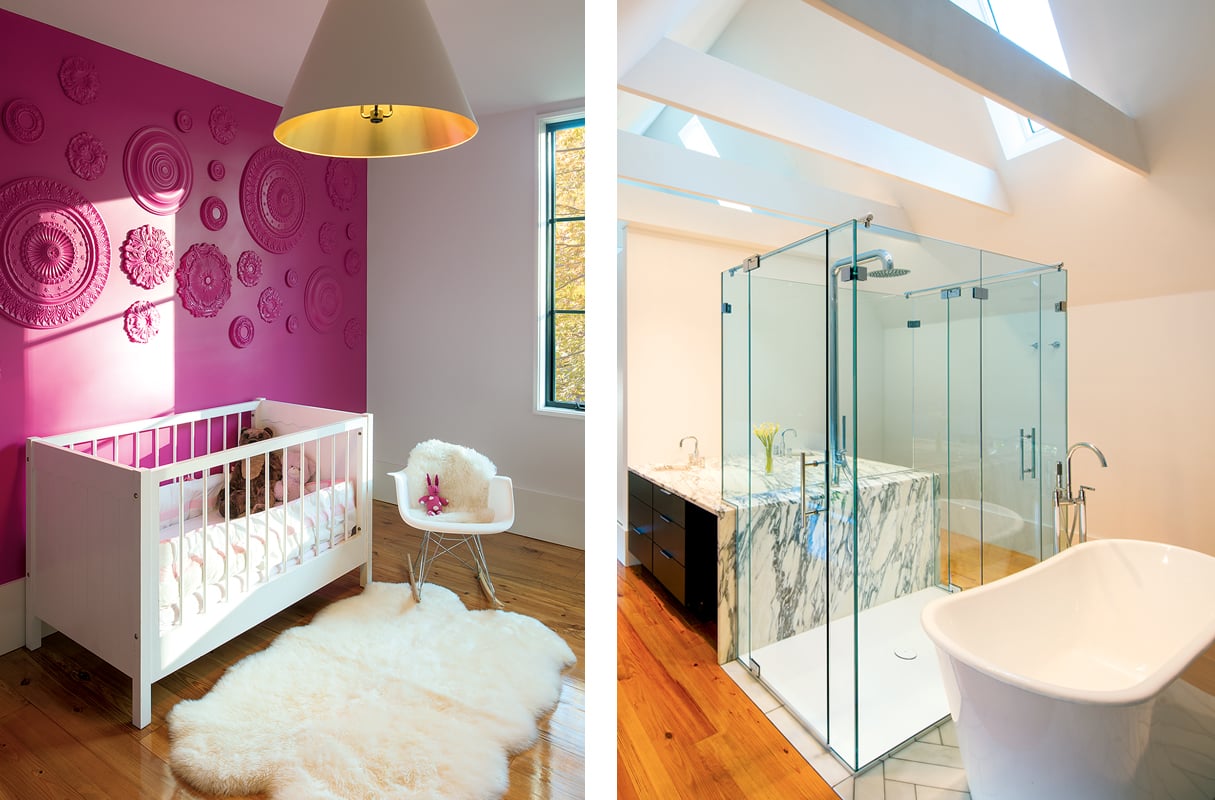 Greer's husband used finishing nails to secure vintage ceiling medallions to a wall of their one-year-old daughter's room. The paint color is Dragon Fruit by Clark & Kensington.
The shower, pictured on the right, is actually an outdoor shower. Its complex construction and special shower pan—which was on back order for months—made it the biggest hassle of building the house.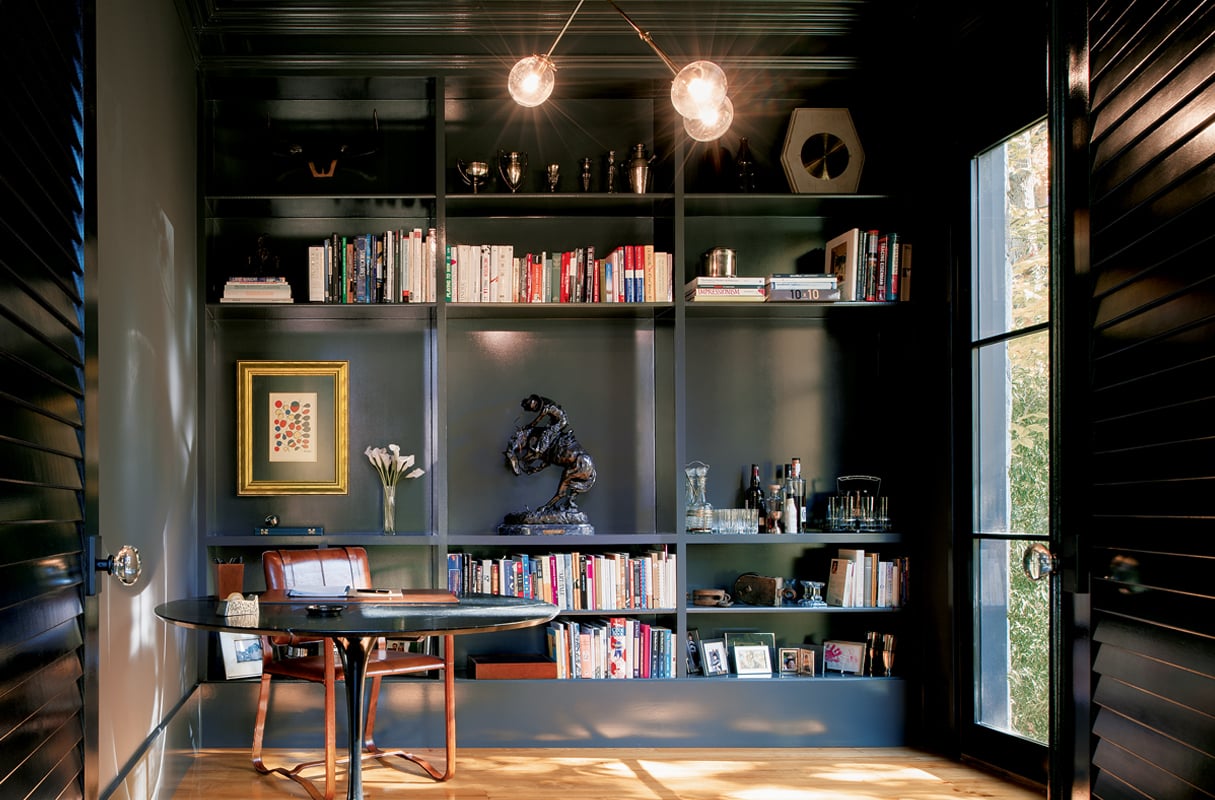 Greer designed the library as a workspace for her husband. The walls and ceiling are Black Chiffon by Clark & Kensington. The light fixture is from Stimulight, and a Saarinen table serves as a desk.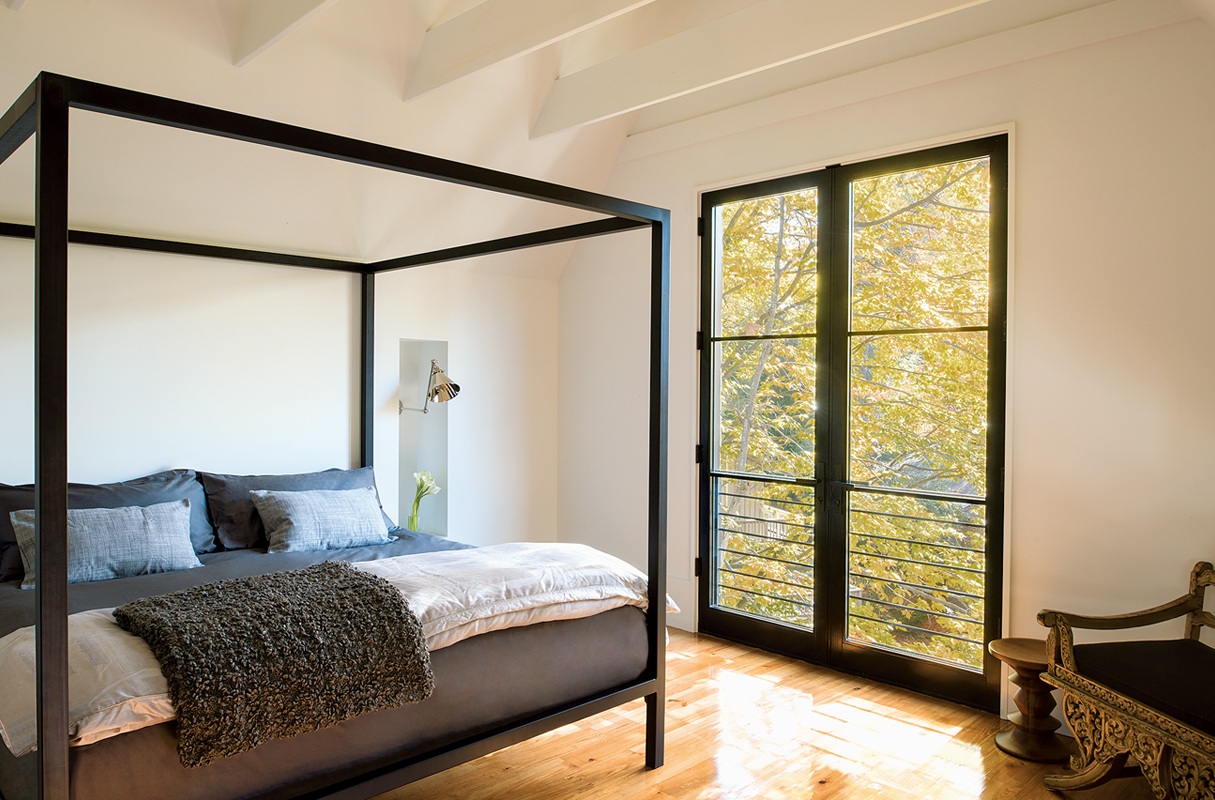 Greer chose heart of pine for floors throughout because it's often the type found in historic rowhouses. A Room & Board bed is the focal point of the minimalist master bedroom.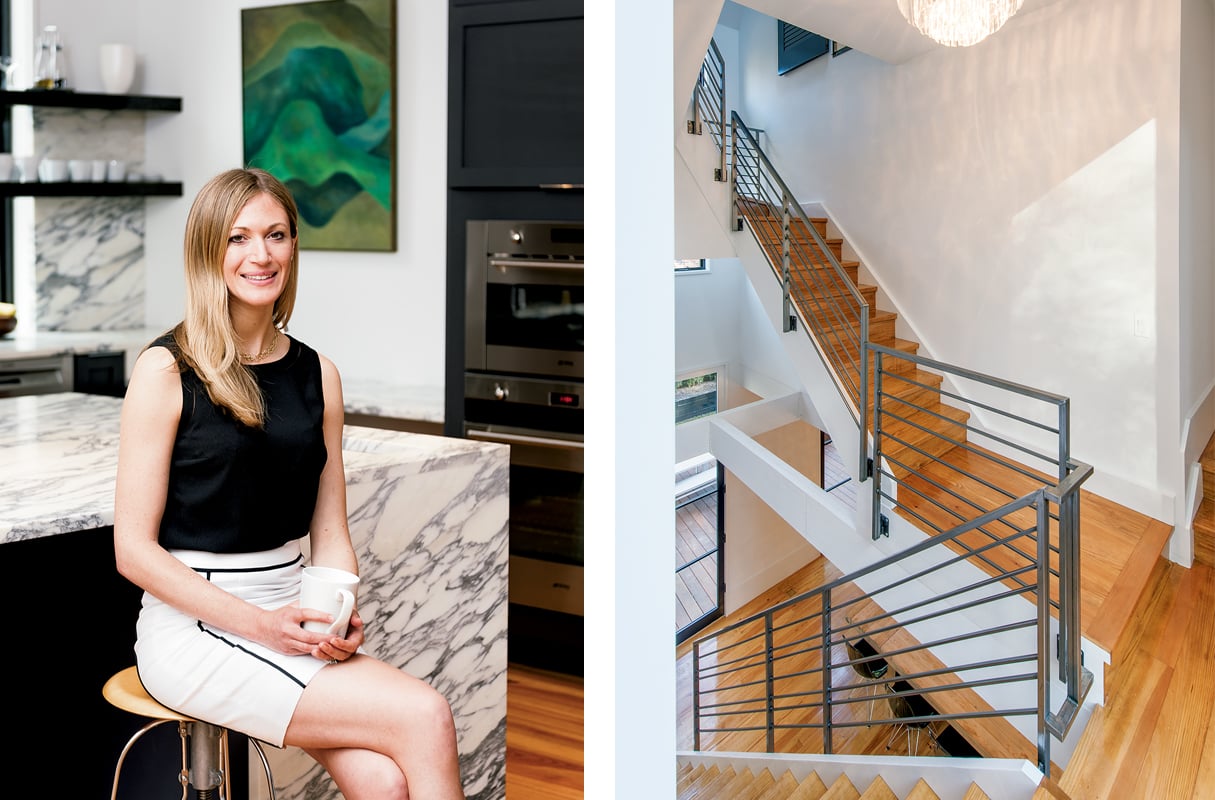 Greer scored the abstract green painting behind her at a yard sale near Dupont Circle. She used Arabescato marble for the kitchen counters and backsplash. (It's also in the master bathroom.)
Local steelworker Jimmy Alfaro—on whom Greer also relies for client projects—made the custom stair railings as well as the 350-pound kitchen shelves, which were bolted into the house's structure.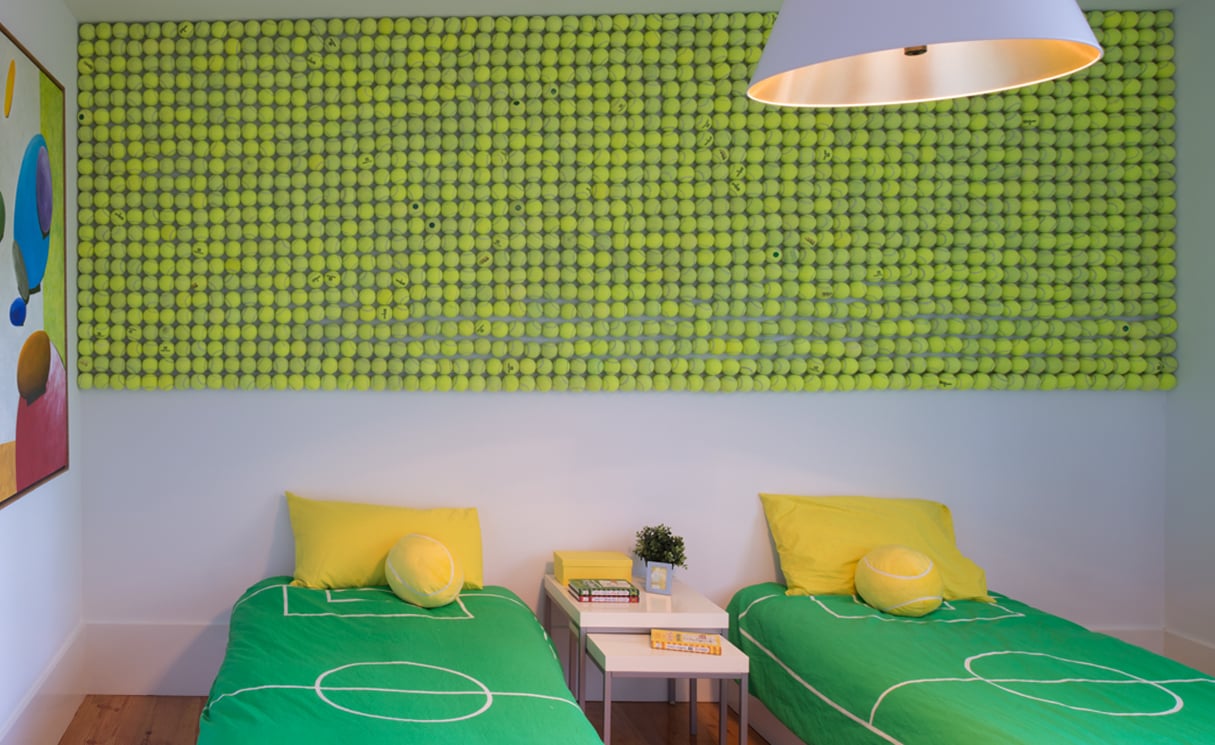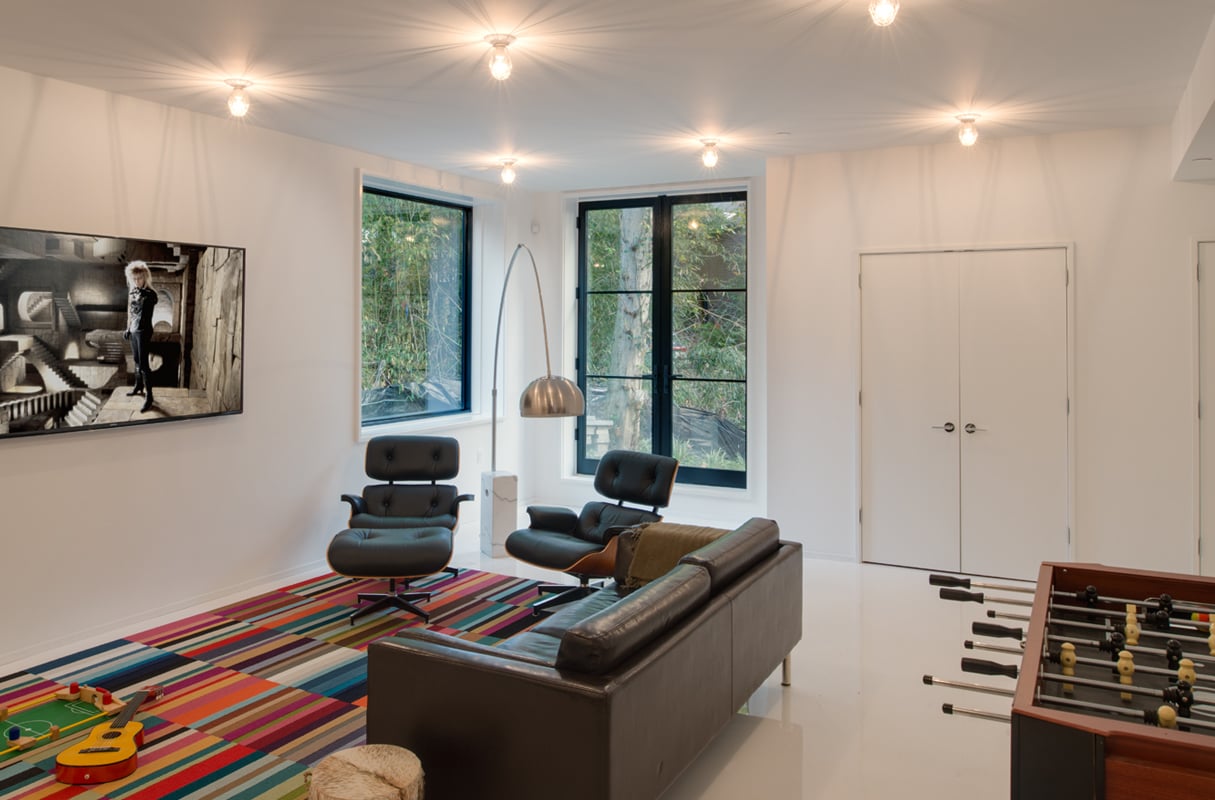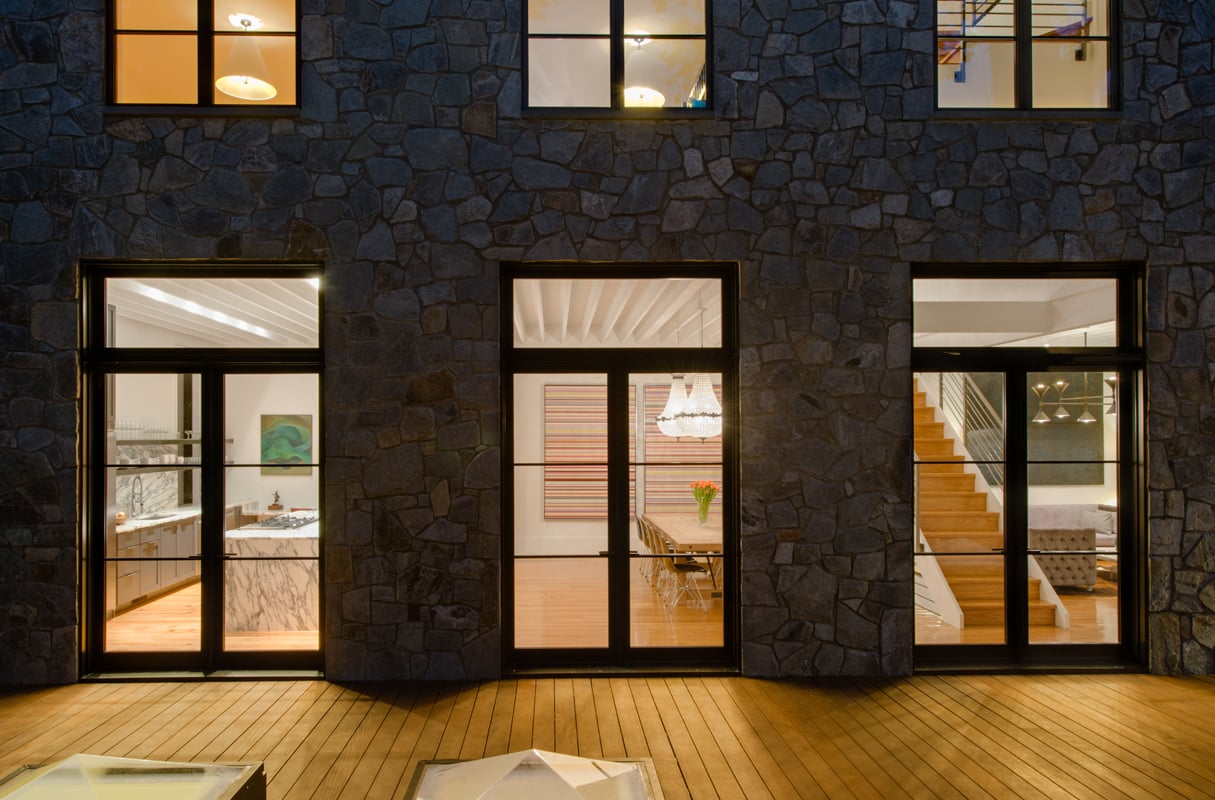 This article appears in our June 2015 issue of Washingtonian.