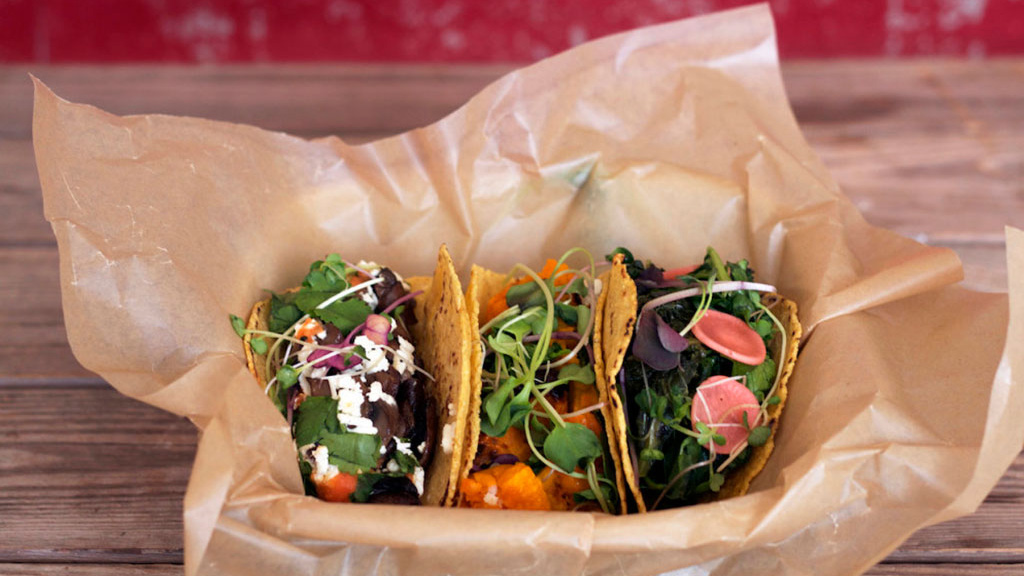 3207 Grace St., NW, Washington, D.C.; 202-333-5222
The breezy taco stands of Tulum were the inspiration for this chic, pale-pink-walled George-town cafe. That means braised and fried meats are ditched in favor of brightly flavored local veggies, and flavor-boosting accessories come in the form of swipes of yogurt and copious handfuls of herbs and micro-greens. Sound a little too much like lunch at a yoga retreat? We thought so, too, until we tore into a pebbly corn tortilla holding a creamy stew of fingerling potatoes and kale enriched with pepperjack. Or another swaddling meaty mushrooms set off with tangy red sauce and briny crumbles of feta. The fillings are, across the board, as wonderfully satisfying as they are surprising. To drink, you can go the cold-pressed-juice route, but tacos and fizzy Lambrusco are an even better match.
Also good: Taco with rainbow carrots, pea shoots, and goat cheese; taco with winter squash, ricotta salata, and caramelized onions; cinnamon-coconut cookies.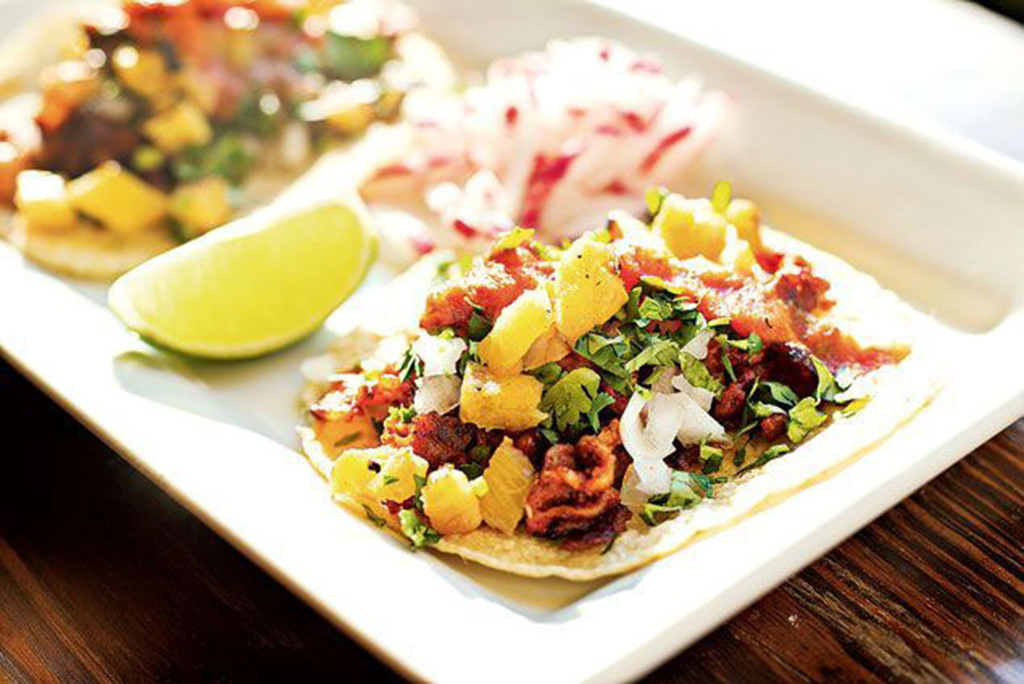 4928 Cordell Ave., Bethesda, Maryland; 240-800-4266
This ongoing margarita-and-nachos party can be a tough ticket—especially on weekends, when waits can top an hour. It's worth holding out. Not only are those cocktails deftly made, but you don't have to spring for a top-shelf rendition. (We maintain that cheaper tequila makes a better marg.) When it comes to your plate, home in on duck nachos spiked with orange and jalapeños, smoky chicken mole poblano, and a spread of tacos—the slow-cooked lamb with salsa verde, Baja-style fish with Sriracha cream, and melty short-rib versions are fabulous. Fixings here are bright and fresh, flavor pileups interesting, and spice levels adjustable. While there are some creative interpretations, much of the cooking is solidly rooted in regional Mexican traditions.
Also good: Guacomole with grilled pineapple; short-rib burrito; barbacoa tacos; carnitas tacos; tacos al pastor; lychee margarita.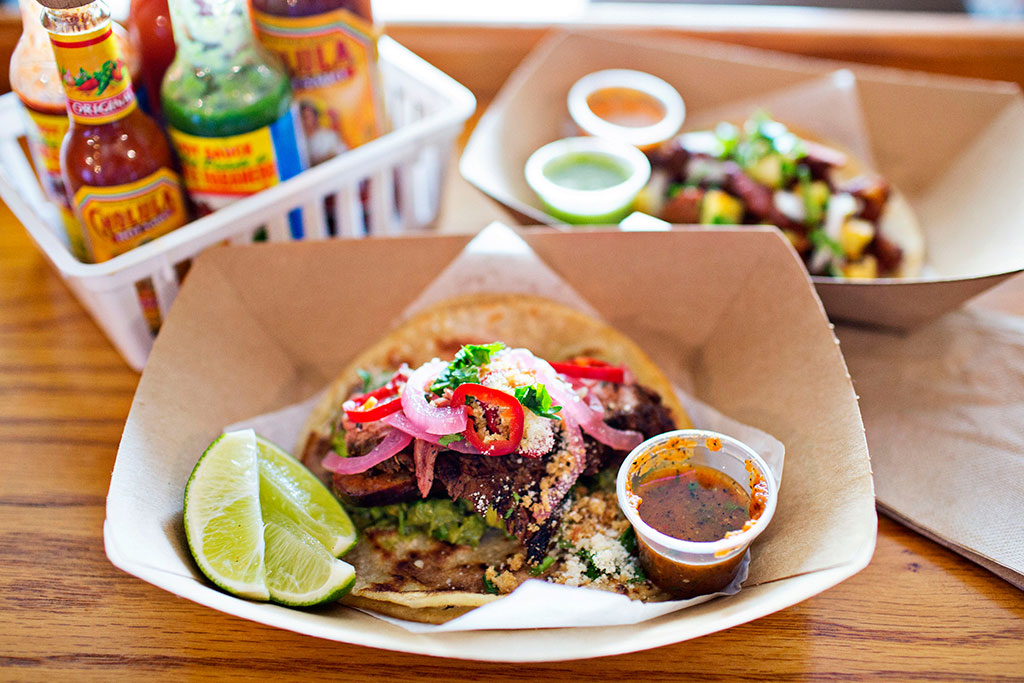 2190 Pimmit Dr., Falls Church, Virginia; 703-639-0505
Victor Albisu—who serves up $128 tomahawk rib eyes at Penn Quarter's Del Campo—is as passionate about feeding the little guy as he is about sating the AmEx black-card set. His often-packed taqueria, where you're lucky if you can nab one of the few barstools, puts out two kinds of tacos: tradicional and nuestro. In the former camp, there are the usual taco-truck meats: terrific lengua (beef tongue), crisp bits of carnitas, and slow-roasted brisket. The latter category is where Albisu lets himself have a little fun—who'd ever have guessed poutine and bacon worked so well inside a tortilla?
Also good: Arabe taco, with chicken and chipotle yogurt; sopes with carnitas; green pork tamale; corn on the cob with mayo and cotija cheese; torta Cubana, with carnitas, ham, cheese, and jalapeños.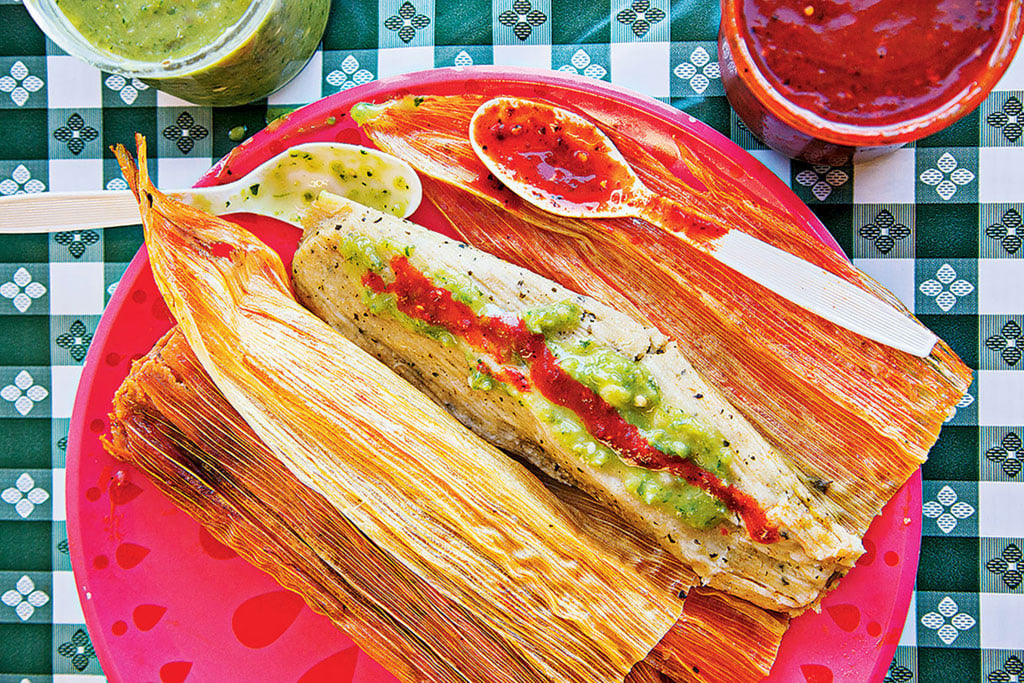 7811 Riggs Rd., Hyattsville, Maryland; 301-434-0104
Tacos you can get anywhere. You're here for an authentic taste of Puebla. That's the ancestral home of owners Bernardo and Clara Vargas, which helps explain the glorious mole poblano, a foundational dish of Mexican cooking believed to have originated in that food-rich region. The complex sauce—of chilies, nuts, chocolate, and more than a dozen other ingredients—that coats the chicken leg and thigh is so aromatic you can smell it from across the table, and so dark you could almost gaze at your reflection in it. Saucing is a specialty here. You see it, too, in the pork in adobo, a frequent special, its tender cut of rib meat drenched in a red sauce so irresistible you'll be tearing off pieces of house-made tortillas to swab up every last drop.
Also good: Posole; sopes al pastor.
5020 Edmonston Rd., Hyattsville, Maryland; 301-277-4477
If your notion of a taco is the ground-beef-stuffed vehicle long associated with taco night, then you're in for an awakening. These fillings are not for the faint of stomach. Pig cheeks and ears are just some of the more chewy and/or gelatinous possibilities. More trepid souls should stick to the pork leg and chorizo, neither of which will feel like a comedown on the authenticity scale, while also providing you with one of the juiciest, richest tacos you'll find in the area. If your Spanish can handle it, ask to have the tortillas griddled before serving. And go light on the salsa roja, a scorcher—though if you can tolerate the heat, by all means go ahead and spoon this marvelously complex sauce over every delicious bite.
Also good: Tacos al pastor (ask for the pineapple), tacos lengua (tongue).
This article appears in our May 2016 issue of Washingtonian.