3103 Graham Rd., Falls Church; 703-205-9300
It's too bad there's no place to sit, because these sandwiches deserve to be lingered over—though just try not to down the whole thing in less than five minutes. The bánh mì, an ingenious mingling of East and West, takes as its starting point the baguettes and pâtés that are the basis of every French picnic, lightens them (the baguettes are made with rice flour, the pâtés thinly spread), and then piles on the ornamentation (cilantro for aromatics, pickled carrot and daikon for tang, chilies for heat). What makes these particular subs so good is that the baguette is as crunchy as it is light, and warmed before assembly. The embellishments are also unfailingly fresh and crisp.
Also good: Bánh mì #1 (cold cut); bánh mì #2 (roast pork).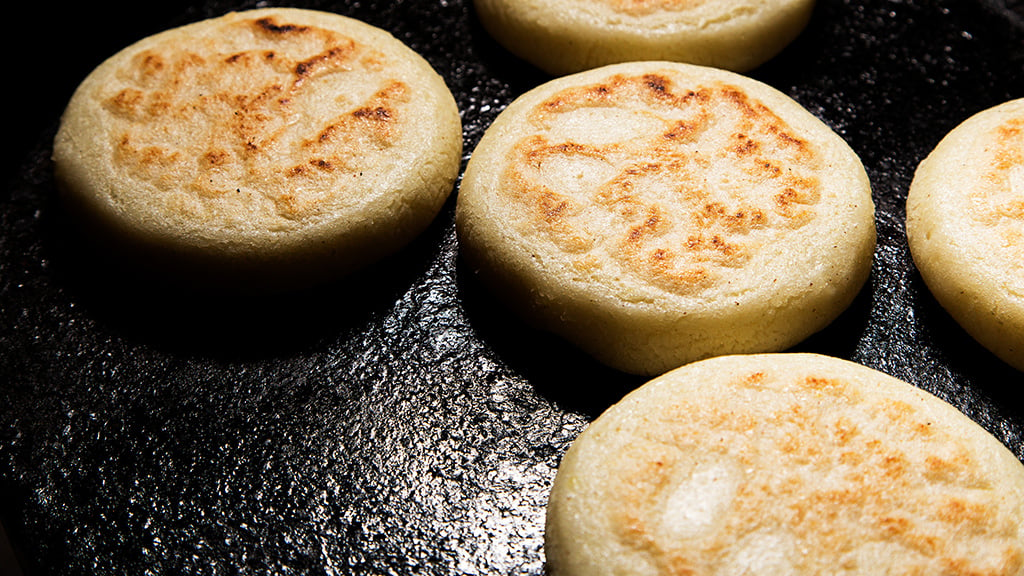 4423 Longfellow St., Hyattsville; 301-209-0049
For the uninitiated, an arepa is a handheld street snack popular in Venezuela. Imagine a palm-size pita made not with flour but with ground white corn, which is cooked on the griddle until the edges turn crispy, then stuffed with a variety of fillings. Arepas have caught on in DC over the past few years, from food trucks to three-star restaurants, and this tiny cafe, run by husband and wife Mickey Torrealba and Monica Serrano, arguably makes the best. The simplest version, with creamy black beans and a thick slice of queso de mano—which has the saltiness of feta but a richer character—is sublime.
Also good: Chicken-and-avocado arepa; beef-black-beans-and-cheese arepa; cachapas (savory pancakes) with queso de mano or queso and ham.
755 Hungerford Dr., Rockville; 301-294-0808
China Bistro is the English name—the Mandarin characters on the sign out front mean "Mama's Dumplings." Not that you should expect Mama herself in the back, toiling over floured balls of dough: The name refers not to a maternal guru of the age-old craft but to the home-style character of the dumpling-making, which eschews elegance and lightness in favor of heartiness and chew. The wrappers are plenty supple, the fillings always fresh and light even when they make use of meat (we gravitate to shrimp-and-chive and beef-and-celery). To maximize the experience, ask for a portion of chili sauce, mix a little into your soy-based dumpling sauce, and dip away.
Also good: Pork-and-chive dumplings; garlic cucumbers; cold sesame noodles; Singapore noodles.
15521 New Hampshire Ave., Silver Spring; 301-879-0044
Karahi is one of the culinary thrills of Pakistani cuisine: Tender chunks of meat glistening with chili oil and tossed with slivers of ginger and garlic are stir-fried in an iron wok and brought to the table still sizzling. And the fiery versions at this counter-service spot—especially the lamb, bone-in chicken, goat, and kofta (ground beef) karahis—are everything they should be. Scoop them up with a wedge of warm, blistered naan or embellish a forkful with a bit of basmati. Spice-rubbed kebabs cooked over an open flame—go for lamb chops or bone-in chicken—are less mouth-numbing but still wonderful. Besides the regular menu, a roster of daily specials is worth checking out—especially the kofta curry on Wednesdays.
Also good: Chat samosa; lamb curry (Mon-days only).
1780 Florida Ave., NW; 202-265-5764
Ethiopian/Eritrean Even rainy weeknights can mean a wait for a table at this cozy Ethiopian-Eritrean restaurant in Adams Morgan. Credit the warm welcome and generous, home-style dishes that rarely edge past $10. You won't find all the staples—there's no kitfo or pricier proteins like lamb—but the kitchen excels with its concise menu. As at the best diners, breakfast is served all day, and you can pick your buzz between potent Ethiopian coffee and a cold St. George beer. The ful—a sort of bean chili topped with jalapeños, tomatoes, yogurt, onions, and two scrambled eggs—is delicious at any hour. Groups should go for the house special: a shareable platter of injera ladled with two kinds of stewed lentils, tomato salad, braised cabbage, and other vegetarian pleasures, with a soulfully spiced heap of beef tibs at the center.
Also good: Fata with egg sisi (chopped injera with eggs and spicy tomato sauce); special tibs with chicken.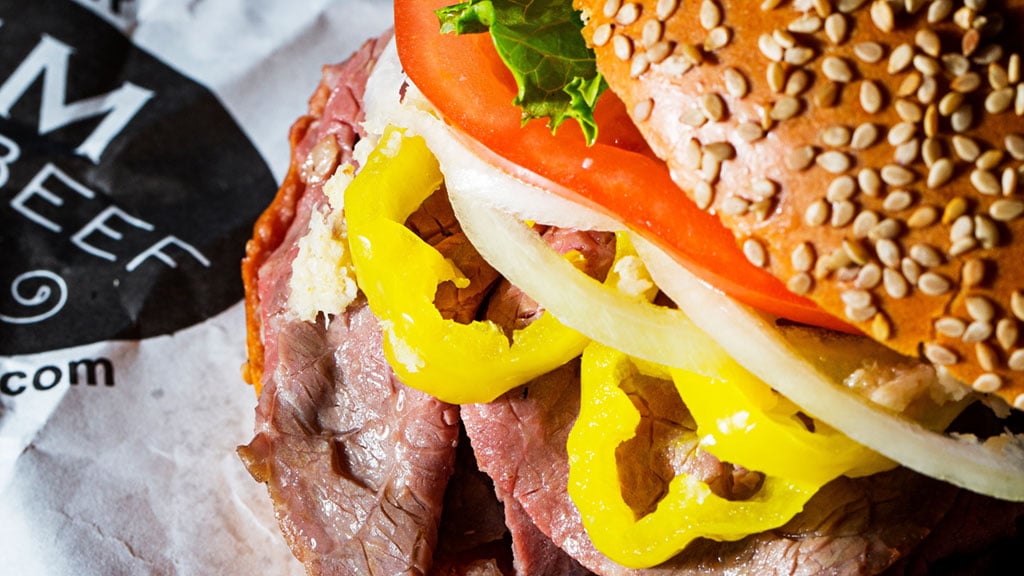 905 Brentwood Rd., NE; 202-248-0389
This glorified lunch counter in industrial Northeast serves sandwiches with no pretensions of being "gourmet." And that's a great thing in a city where too many people equate "upscale" with "quality." This is an order-at-the-counter operation, but unlike the chain sandwich shops, the meats (baked ham, roast beef, smoked turkey, and brisket) are not presliced but showcased, glisteningly, under heat lamps. It's hard not to ogle them as you stand in line, filling out your order slip to customize your creation. The accessories are no-frills and decidedly unfashionable (no Peppa-dew peppers or fancy mayos), and the sandwiches are the better for it. Roast beef is the titular item, but we gravitate to the brisket and ham, with the excellent onion rolls our bread of choice.
Also good: Roast beef with cheddar; brisket with coleslaw and barbecue sauce on an onion roll.
2407 University Blvd. W., Wheaton; 301-929-2822
In this era of abbreviated communications, here's one to remember: M9. That's the designation on the menu at this quick Vietnamese cafe for a gigantic bowl of egg-noodle soup. Don't bother with the thin strips of beef massed near the top—this is not about the meat. It's not even about the tangle of egg noodles, which have great spring. It's about the broth, a tongue-coatingly rich extraction of beef fortified with dried shrimp. Voilà—surf and turf in liquid form! Mi La Cay is no one-hit wonder. You'll also find the best bánh mì outside of Falls Church and a slew of small, simple plates that deliver unexpectedly big flavor—lacquered quail with lime dip, say, or tightly bundled grape leaves packed with beef, onions, and black pepper and plucked hot from the grill.
Also good: Cold-cut bánh mì; egg noodles Phnom Penh with soup on the side; bun bo Hue (spicy beef noodle soup); iced Vietnamese coffee.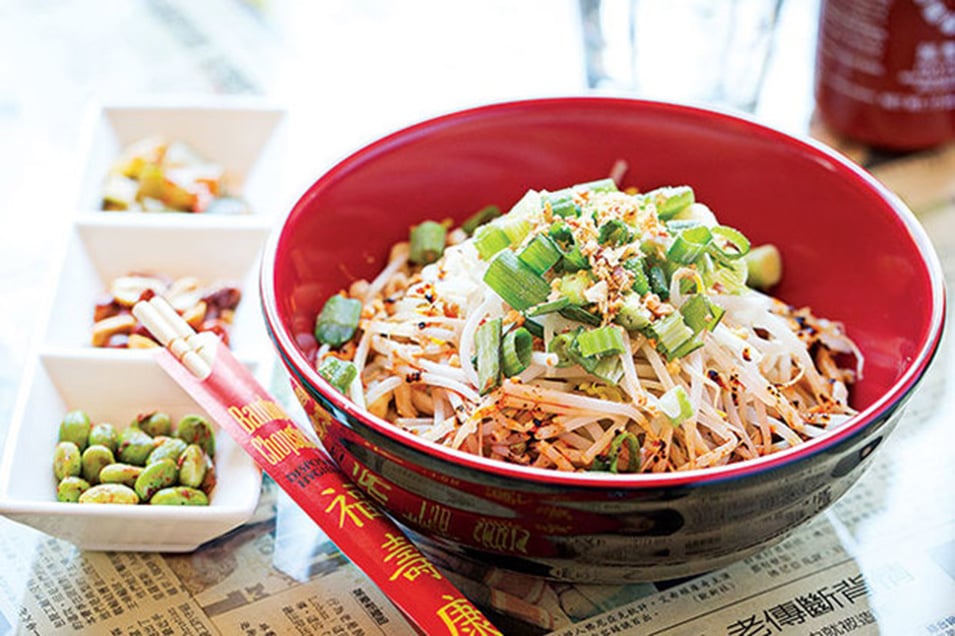 1200 East-West Hwy., Silver Spring; 301-585-6678
This zippy noodle parlor takes a pan-Asian approach to bao, those pillowy steamed buns that keep popping up all over town. Beyond the usual pork-belly and duck fillings (both done with flair), there are rave-worthy takes such as seared teriyaki Spam with mango salsa. The kitchen is even better with noodles. The Streets of Taipei bowl brings together hand-rolled strands with five-spice beef brisket, mustard greens, crispy garlic, and bok choy in a spicy beef broth. And pai gow—a tangle of noodles, ground pork, sprouts, and scallions tossed with soy sauce and chili oil—is lovely.
Also good: Chinese-sausage-and-garlic skewers; soba-noodle salad with nori, edamame, and ginger-wasabi dressing; bao with crispy chicken and Sriracha mayo.
6757 Wilson Blvd., Falls Church; 703-534-1657
Hidden along a dim hallway in the maze-like Eden Center, this folksy Vietnamese cafe is worth taking the time to seek out. The kitchen excels across the board. Bánh xèo, the seafood-and-sprout-studded crepe, is lighter and crisper than most. Summer rolls of barbecue or shredded pork come overstuffed with mint and lettuce. Rice and rice-noodle dishes sport a variety of savory toppers such as lacquered quail and sweet-salty marinated pork. Soups are heady bowls—try the hu tieu with shrimp, barbecue pork, and egg noodles. To drink, there's fresh-squeezed lime soda—we like to get it unsweetened and add just a bit of sugar. When you're done, the herbal-medicine shop across the way makes for a fun detour. You can stock up on items like licorice root, said to be good for digestion.
Also good: Baby clams with rice crackers; young-lotus-root salad; vermicelli with pork-stuffed grape leaves.
10478 Baltimore Ave., Beltsville;301-931-8128
If you haven't eaten a lot of pho, the broth in a bowl of the Vietnamese soup might appear to be not so different from place to place. It's a subtle thing, but take a closer taste and you'll see that some broths are watery or thinly extracted, some are strong with hits of cinnamon and star anise, some are almost consommé-like in their lightness. This one's rich—the most fortified and full-bodied we've come across, testament both to the quality of the oxtails that give up their flavor and fat and to the care of the kitchen in tending the elixir over the many hours it takes to simmer on the stove. It's an addicting bowl, no matter what meats, garnishes, or condiments you customize it with.
Also good: Pho with gau (fatty brisket) and gan (tendon); pho with chin (well-done steak) and nam (flank).
47 State Cir., Annapolis; 410-267-0902
The same principle that underlies all the best barbecue places and pizzerias underlies this tiny shop. It specializes in baked potatoes. Yep, a side dish—ordinarily. The wisdom of this venture is to know that, done right—from sourcing the highest-quality, most mineral varieties to cooking them at just the right temperature and for just the right time—a baked potato is a beautiful, satisfying thing. The simple option—a hot, sliced spud topped with cheddar and butter—is divine, but so are any of the more tricked-out varieties, including one that looks on paper to be disastrous (onions, mango, lime, and garlic butter) but is among the best fast-food plates we've ever eaten.
Also good: Jamaican hot sauce with cheddar, greens, and roasted onions; spinach, feta, and roasted garlic; Cuban chicken; Texas salsa with cheddar.
305 N. Glebe Rd., Arlington, 703-522-6666; 250 N. Glebe Rd., Arlington, 703-816-0222
Any slob with a back-yard grill can cook meat over charcoal. What you get at Ravi, the granddaddy of the area's many kebab parlors, is the skill, knowledge, experience, and patience to turn that simple endeavor into high artisanal craft. These are kebabs to savor and take your time with, from the warmly spiced minced beef to the incomparably juicy bone-in chicken. And don't miss the chickpea stew known as chana, simmered for hours with onions and garlic until the mixture becomes sticky.
Also good: Minced-meat kebab; karahi with minced meat or bone-in chicken kebab.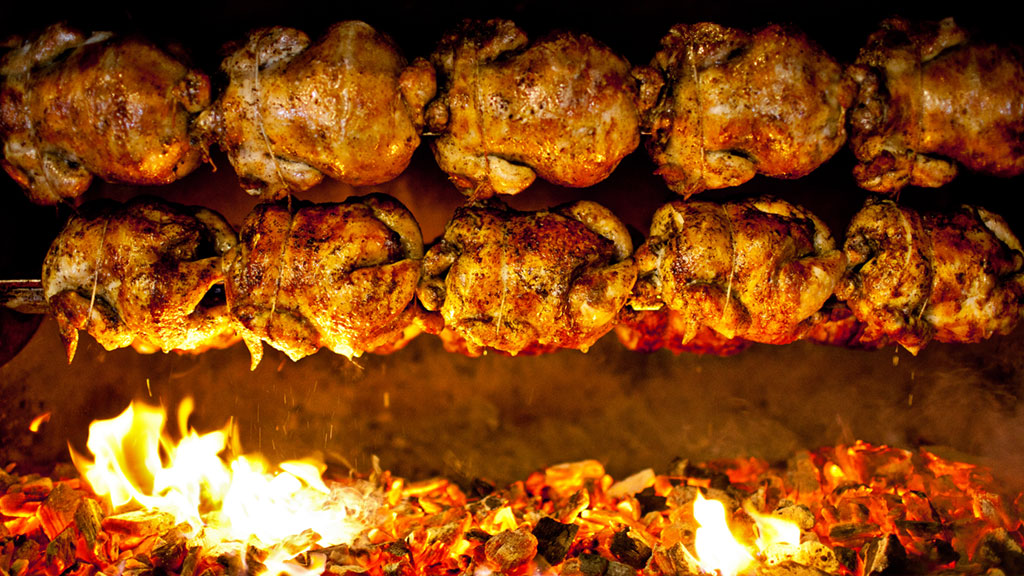 Multiple Maryland and Virginia locations
A busy restaurant isn't always a sign that a restaurant is good. In the case of pollo a la brasa, however, the surest indication that you're in for a terrific meal is a line stretching to the door. What that high volume ensures is that the chickens don't have time to sit in warming ovens, becoming dry. You can be sure Sardi's will be swarmed when you arrive, no matter the time of day, which means you can also be sure that a bird will be plucked off the spit while you wait, hot and dripping with juice and carved to order in front of you. Hard as it is to resist pinching off a taste or three as you move down the cafeteria-style line, getting your plate accessorized with sides (beans, rice, slaw, plantains), there's always the marvelous scent of that dark, pepper-rubbed skin to console you. At the Gaithersburg location, you can get a beer, too.
Also good: pollo parriello (butterflied grilled chicken); ceviche.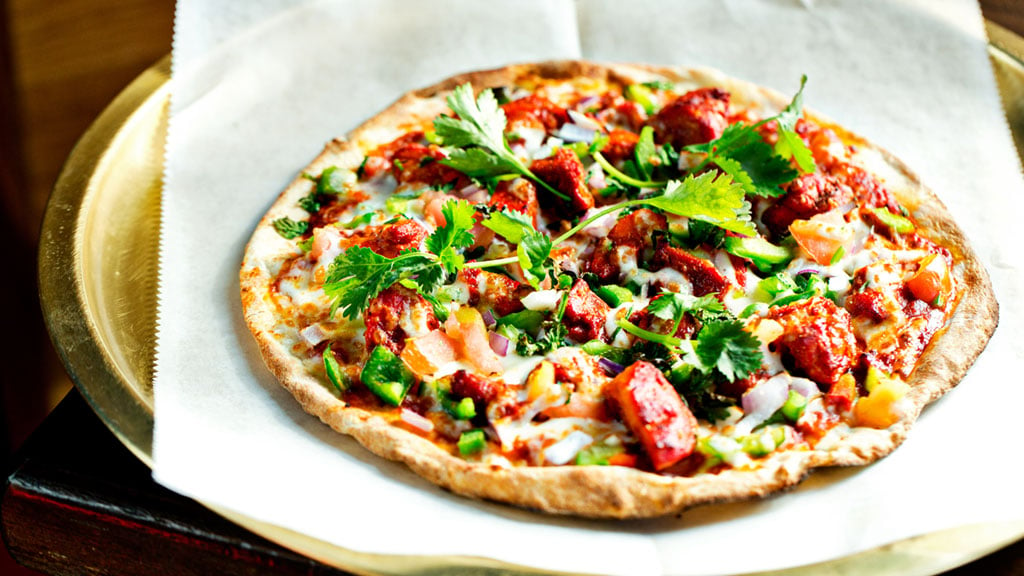 5501 Baltimore Ave., Hyattsville; 301-209-0080
You've been here before even if you haven't—you choose your rice and then your protein, moving down the line of sauces and condiments until you've customized your bowl. The difference between this and Chipotle? It's Indian, not Tex-Mex, and done with an authenticity and punch that the mammoth chain's many outlets can't match. The gravies in particular (including an aromatic kadai, a creamy korma, and a vibrant spinach) show real care and elevate these humble bowls beyond the base pleasures of fast food. The naan pizzas (topped, most memorably, with tender cubes of lamb, tikka masala gravy, grated cheese, and bell peppers) are an even bigger surprise, an East-West merger that doesn't feel gimmicky.
Also good: Vegetarian bowl with chickpeas, brown rice, and either korma or spinach gravy.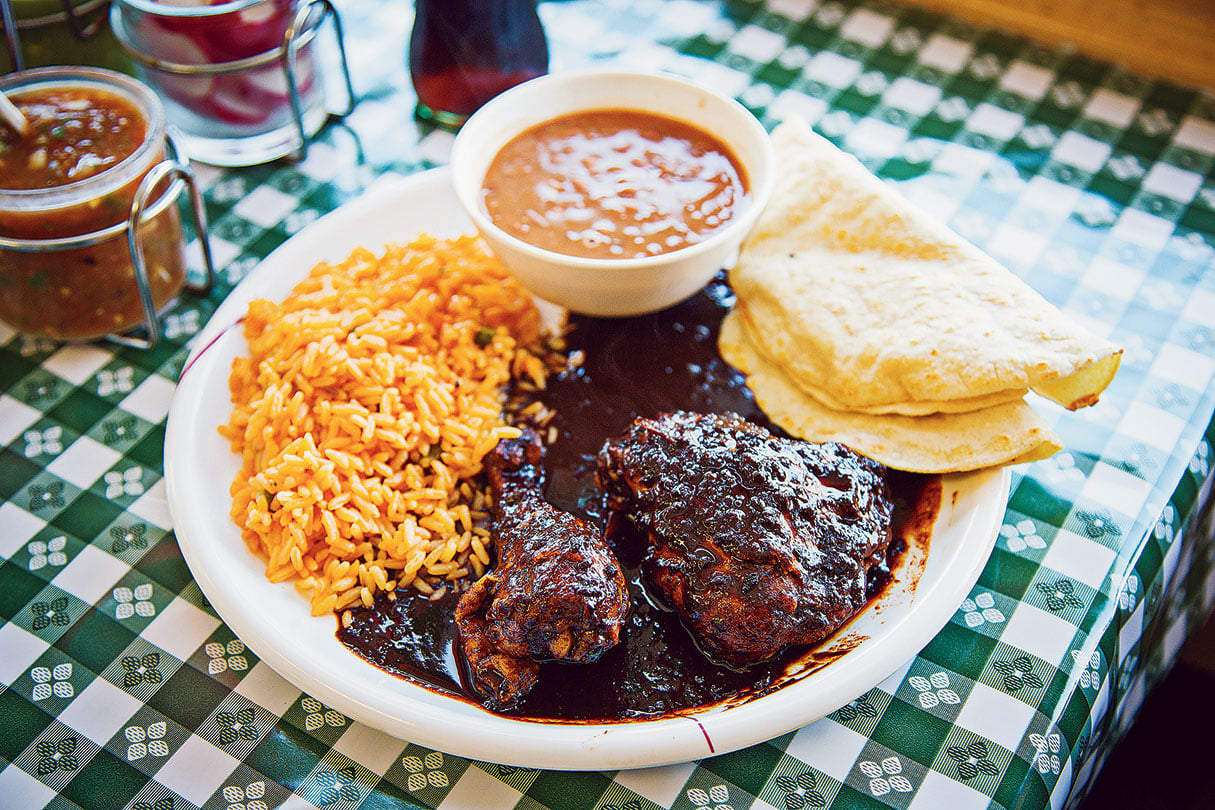 7811 Riggs Rd., Hyattsville; 301-434-0104
Tacos you can get anywhere. You're here for an authentic taste of Puebla. That's the ancestral home of owners Bernardo and Clara Vargas, which helps explain the glorious mole poblano, a foundational dish of Mexican cooking believed to have originated in that food-rich region. The complex sauce—of chilies, nuts, chocolate, and more than a dozen other ingredients—that coats the chicken leg and thigh is so aromatic you can smell it from across the table, and so dark you could almost gaze at your reflection in it. Saucing is a specialty here. You see it, too, in the pork in adobo, a frequent special, its tender cut of rib meat drenched in a red sauce so irresistible you'll be tearing off pieces of house-made tortillas to swab up every last drop.
Also good: Posole; sopes al pastor.
5020 Edmonston Rd., Hyattsville; 301-277-4477
If your notion of a taco is the ground-beef-stuffed vehicle long associated with taco night, then you're in for an awakening. These fillings are not for the faint of stomach. Pig cheeks and ears are just some of the more chewy and/or gelatinous possibilities. More trepid souls should stick to the pork leg and chorizo, neither of which will feel like a comedown on the authenticity scale, while also providing you with one of the juiciest, richest tacos you'll find in the area. If your Spanish can handle it, ask to have the tortillas griddled before serving. And go light on the salsa roja, a scorcher—though if you can tolerate the heat, by all means go ahead and spoon this marvelously complex sauce over every delicious bite.
Also good: Tacos al pastor (ask for the pineapple), tacos lengua (tongue).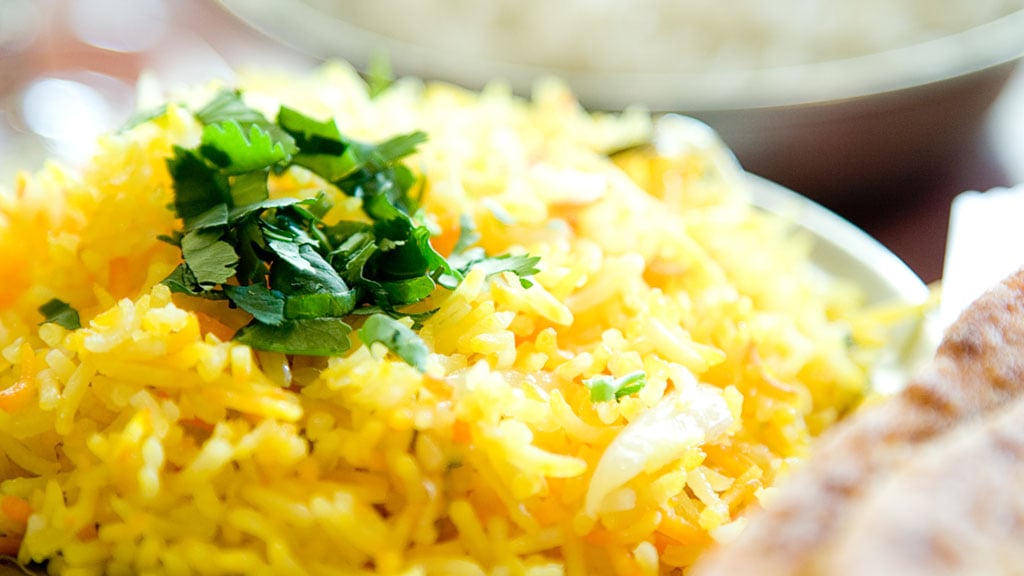 8046 New Hampshire Ave., Langley Park; 301-434-4202
If you've never been to this restaurant specializing in southern India's meatless fare, you have to start with a dosa, a thin, crunchy rice crepe that, in size and appearance, calls to mind a loosely rolled poster. It usually comes filled—say, with a hash of potatoes and onions. Dip a piece into the little cup of coconut chutney. A sublime taste, and the best introduction to what this kitchen is able to accomplish, year after year, without meat or fish. Breads and bread dishes—the tiny steamed rice-flour cakes called idli, for instance— are particular strengths, and you'll also find rewards among the long list of main courses with vegetables front and center, including a good rendition of baingan bharta, its small, blistered eggplants tossed in a heady mix of onions, tomatoes, and chilies.
Also good: Rava masala dosa, a wheat-and-lentil crepe with potatoes and onions; palak paneer (spinach with cheese); aloo gobi (potatoes with cauliflower).
This article appears in our May 2016 issue of Washingtonian.