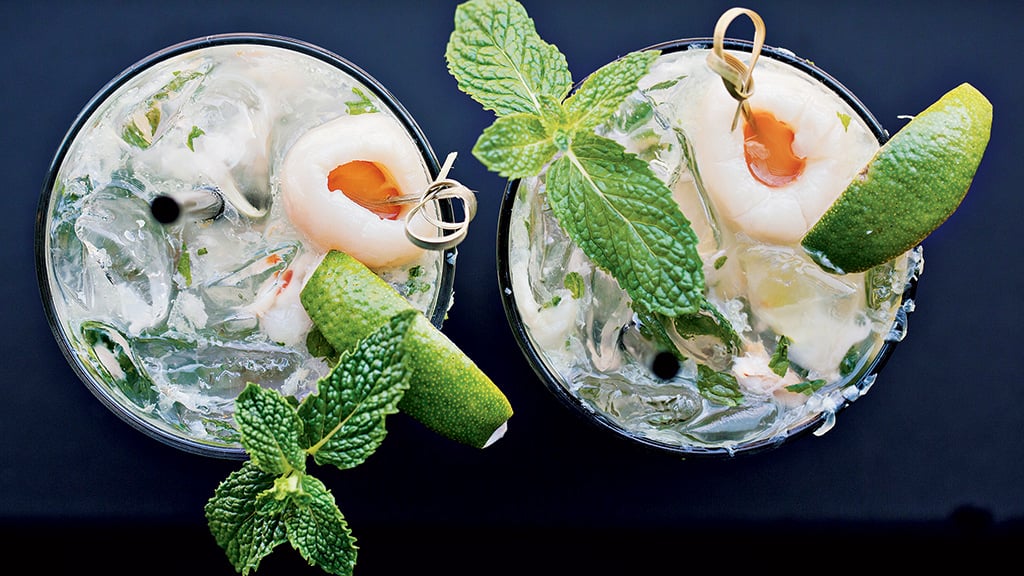 Multiple area locations
Some restaurants are obsessed with playing hip-hop or power pop. At Bonchon, you'll encounter another kind of soundtrack—a symphony of relentless crunching. That's how ridiculously crispy the chain's Korean twice-fried chicken is, even—it defies culinary logic—when doused in sticky-sweet garlic-soy glaze. The famed birds are the number-one reason to visit (or to call for carryout, though waits can stretch to an hour-plus), but some locations such as Arling-ton, Centreville, and Navy Yard serve well-made cock-tails and a short list of starters, too.
Also good: Steamed pork buns; fried-chicken sliders; spicy glazed chicken; lychee mojito.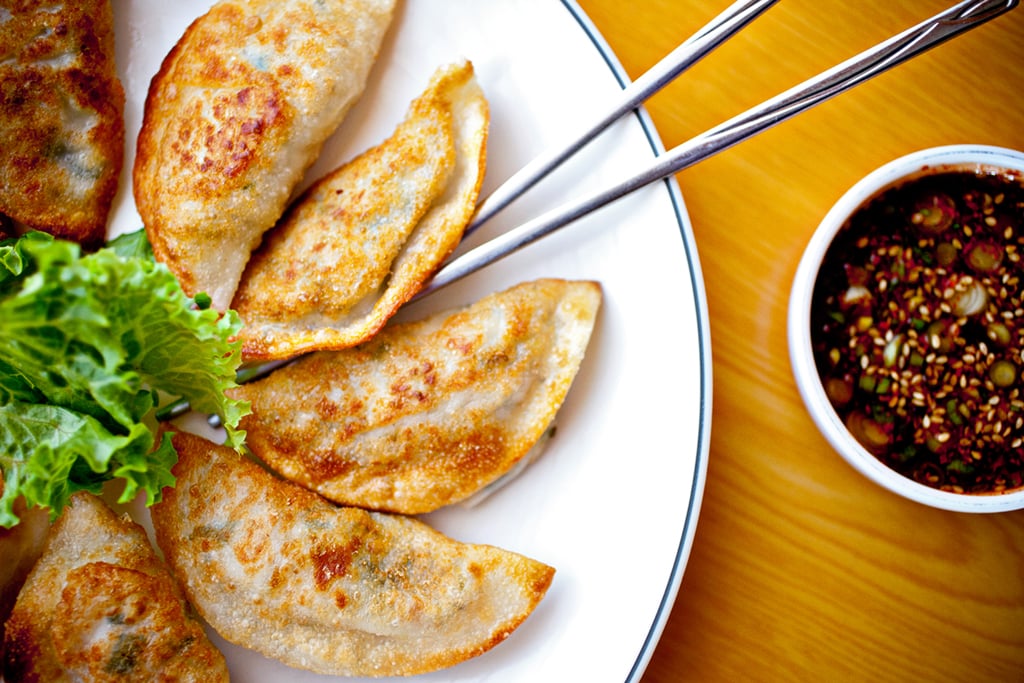 7133-C Columbia Pike, Annandale; 703-642-1577
If you're looking for Korean barbecue, you can find half a dozen restaurants in Koreatown (a.k.a. Annandale) for that, from industrial and trendy to dowdy and traditional. Korean fusion or ramen? Annandale has plenty of those, too. Gom Ba Woo, on the other hand, is a small, cozy restaurant with a self-effacing humility. Its excellence lies in the perfect steaming of its mandu (large, pork-filled dumplings), the crisp edges of its seafood pancake—striped with green onion and studded with bites of octopus—and the delicate sweetness of its lightly glazed short ribs dressed with sesame seeds. Not the subject of breathless blog posts, perhaps, but they'll leave you feeling nourished and sustained, with a quiet sort of joy.
Also good: Spicy pork; bibim bap.
13840 E. Braddock Rd., Centreville, 703-830-1131; 6795 Wilson Blvd., Falls Church, 703-992-0333
What's that giant cauldron billowing steam in the kitchen? At these Korean places, it holds the house specialty, sul leung tang—a milky-white, cooked-for-hours ox-bone soup. Get it with brisket, then dress it up with scallions, garlic, and chilies from the condiments plate. Another pleasure: oxtail soup, which boasts a mahogany-hued broth and gargantuan hunks of meat. Liquid dinners aren't the only reason to visit.Bibim bap comes with a perfectly fried egg atop the mound of rice and vegetables. (Mix it all together with a dollop of the spicy-sweet chili sauce that comes on the side.) And the free bowls of panchan, the array of pickled and spicy embellishments, such as turnips, kimchee, and cucumbers, are more than an afterthought. Eat them solo or add them to pretty much anything.
Also good: Seafood pancake; bulgogi with seasoned salt and pepper for dipping; braised marinated beef.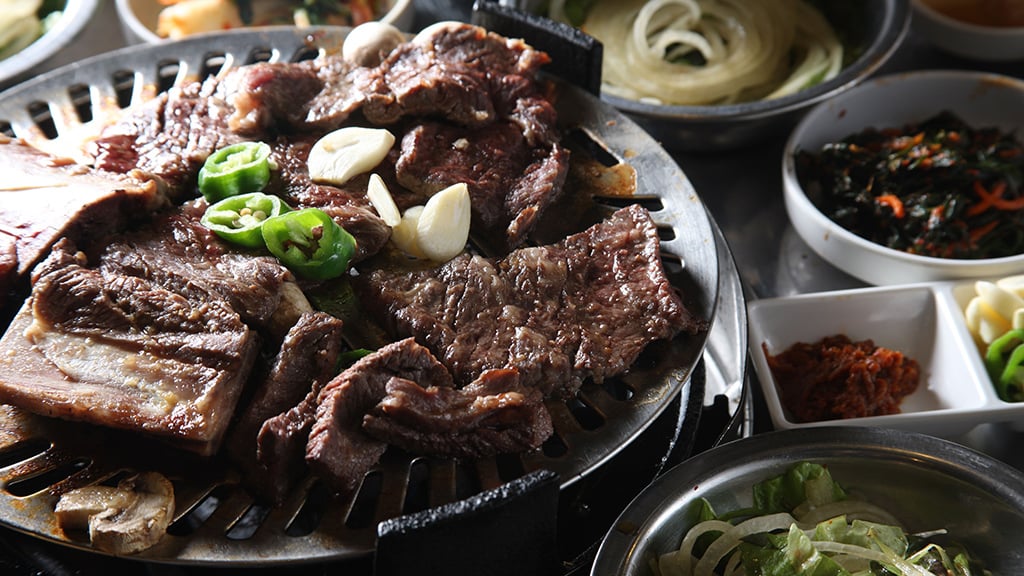 Annandale, 703-256-5229; Centreville, 703-830-5959; Germantown, 301-972-2436; Ellicott City, 410-696-2426
Smoky meat barbecued Korean-style is the obsession at these K-pop-blaring 24-7 hot spots, as evidenced by the vivid photos of various cuts covering the walls at each location. Meaty beef ribs, spicy pork belly, and thinly sliced bulgogi are the classic choices, but it's worth branching out for slices of prime rib and boneless pork neck. All are cooked at the table by a flurry of fast-moving servers who fill your plate to make room on the grill for what's next. The array of panchan—the condiments that add spicy, sour, sweet, and crunchy notes to whatever you're eating—may seem skimpy compared with other Korean restaurants, but each little plate is a gem, whether it holds a dollop of potato-and-egg salad or a chili-shot cucumber salad.
Also good: Pan-fried dumplings; bibim bap; seafood pancake; kimchee pancake.
1054 Rockville Pike, Rockville,301-424-1474; 6023 Centreville Crest La., Centreville, 703-543-7769
Funds are low, but you're in the mood for meat—a lot of it. What to do? Head to these slickly industrial all-you-can-eat Korean barbecue houses. For a set price, choose from a dozen cuts of beef and pork (we love the tender, juicy pork steak, thick-cut pork belly, and beef brisket). Lunch is the best deal ($16) and beers are cheap, too: $4 to $6. Just be forewarned that wastefulness is frowned upon—an eat-what-you-order policy keeps gluttony in check.
Also good: Beef bulgogi; garlic pork belly; spicy chicken; spicy rice cakes.
4220-A Annandale Rd., Annandale; 703-942-6995
Korean barbecue is seldom a bad thing; even mediocre places are still more fun than a night at Benihana. But this Annandale spot is a cut above, a next-generation rethink of the idiom. What distinguishes it? Not the gas grills, which nearly everyone uses. (We can wish for charcoal; one day.) It's the quality and variety of the meats, which run from duck to short ribs and will make you forget all about the Steak-umm–like strips you pry from the cooktop elsewhere. The panchan, the small buffet of snacks that hits the table before the main event, are uniformly strong. So are the supplementary dishes, such as the tender, lightly steamed pork dumplings and the seafood pancake, a delicate frittata with octopus, squid, and green onion.
Also good: Miso pork belly; chadol (thinly sliced beef); brisket.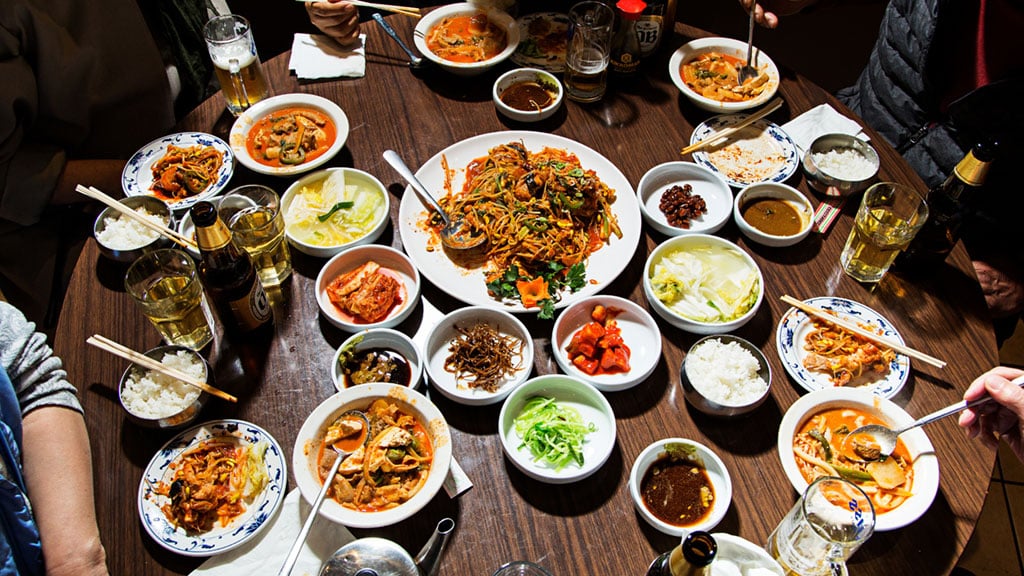 12300 Wilkins Ave., Rockville, 301-881-8880
Usually the meat in bibim bap is the least interesting thing about this savory mix of rice, zucchini, carrots, slivers of seaweed, red-pepper paste, and soft-cooked egg. Not so when it comes to Moa's short-rib rendition of the Korean comfort food, which nearly every table seems to be digging into. We may never be able to eat bibim bap any other way again. Those tender ribs also come Korean-barbecue-style on a sizzling skillet. Wrap the savory meat in a lettuce leaf, then add slivers of garlic. The cooking has a made-by-Mom vibe, and the hominess extends to the dining room, where owner Elisa Choi and her servers are eager to chat at length about more offbeat dishes such as fishcake soup.
Also good: Pork ribs with kimchee stew; dumplings with chili soy sauce; seafood pancake; soju-and-watermelon cocktail.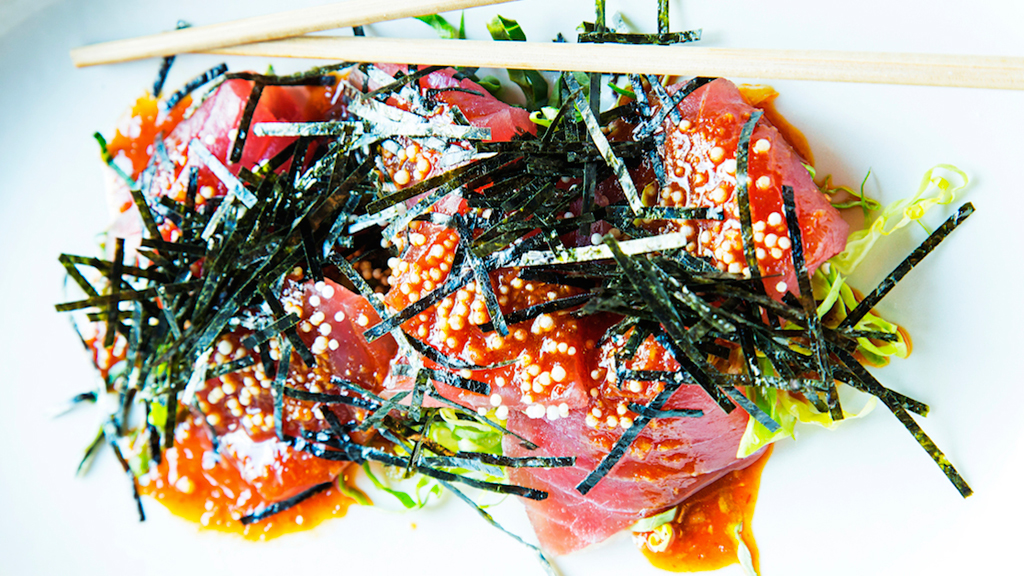 4000 Wilson Blvd., Arlington;703-465-1100
The long, blond-wood communal tables at this Ballston noodle bar look straight out of any 21st-century ramen shop. And while chef/owner Jonah Kim's noodle soups here are satisfying enough, it's the bar snacks and shareable salads that keep us nudging our way into the narrow space. How in the world do Kim's Brussels sprouts stay so crisp? Turns out the chef took a cue from Outback Steakhouse's "bloomin' onion" and scores the bulbs to their quicks before frying them. A chili-flecked bean-sprout salad gets another dose of crunch from a scattering of Marcona almonds. And a small waffle, topped with luscious uni, pops with briny flavor thanks to pearls of salmon roe. Not feeling small-plates? If it's Sunday, go for a communal platter of soy-brined fried chicken served with biscuits and kimchee.
Also good: Tuna poke; oxtail steamed buns; ja-jang noodles with pork belly and squid.
See what other restaurants made our 2016 Cheap Eats list. This article appears in our May 2016 issue of Washingtonian.