13919 Baltimore Ave., Laurel; 301-497-2017
Northern Virginia is home to some of the most rewarding subcontinental cooking in the area. Rasika, Bombay Club, and Indique—which have helped shape the direction of contemporary Indian cooking in the country—all reside in DC. Curry Leaf is in Laurel, far from the vital center or even any sustaining pocket. Yet it attracts crowds nightly, a testament to the consistency and quality of chef Sam Krishnan's cuisine, as well as to an audience that doesn't seem to care if it turns up a good lamb korma in a setting suited for a diplomat or, as in this case, a faceless strip mall. While all the usual suspects are here (butter chicken, palak paneer), it's the obscurities—such as a Hyderabadi egg curry with a thick, peppery gravy or a chili-pepper curry that's not the fire pit you expect but a subtler, more nuanced expression of spice—that give the place its culinary character.
Also good: Goat curry; lamb vindaloo.
243 K St., NE; 202-544-4777
Sensory overload kicks in the second you walk inside this Indian cafe. Its yellow-and-orange walls are inked with more quotes than a high-school senior's yearbook, the ordering window sits atop a sea of discarded bottle caps, and most important, the scents of curry and coriander linger in the air. Everything is amped up when it comes to the Punjabi-style cooking, too. Take the butter chicken—at many places it's sweet, creamy, and above all tame; here it's dominated by a strong whiff of woodsy cardamom. Another typically meek dish, the spinach curry called saag, almost stings the tongue with heat. (Try it as part of a thali, a generous sampler that comes with rice and yogurt sauce.) A Kingfisher helps—it, along with bottles of Glenlivet and Jack Daniel's, can be poured from a self-serve bar tucked into a nook by the window.
Also good: Baingan bharta (roasted eggplant); roti roll with lamb; goat curry; chicken masala.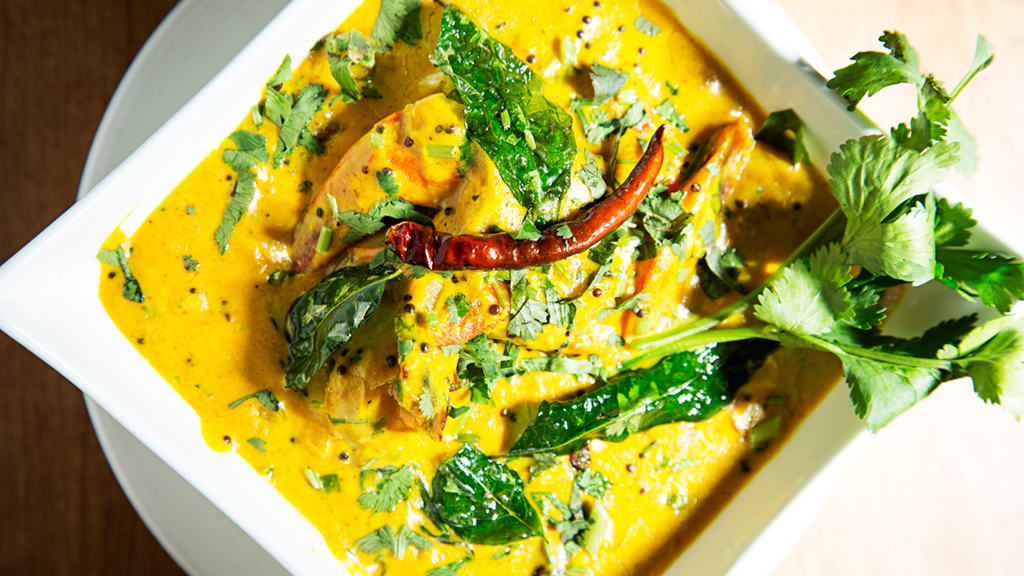 10151 New Hampshire Ave., Silver Spring; 301-408-2200
It's prettier than most suburban curry houses, with a stylish bar and a colorful, low-lit dining room. It's prettier, too, on the plate—but that doesn't mean much if the kitchen can't keep pace with the atmospherics. This one, overseen by the folks behind the vegetarian stalwart Woodlands, can. The menu aims to balance traditional tastes and street foods, classical approaches and more contemporary ones, and has no demonstrable weak spots. It does have a clear strength, and that's in its vegetable curries, carried off with a finesse (and lack of oil) not often found elsewhere. Seafood, too, is handled with care, notably a preparation of shrimp moilee in which prawns are matched up to a creamy, coconut-rich gravy loaded with crunchy mustard seeds and dark, fragrant curry leaves.
Also good: Bhel puri; lamb seekh kebab; tandoori prawns; shrimp jalfrezi; Peshwari naan.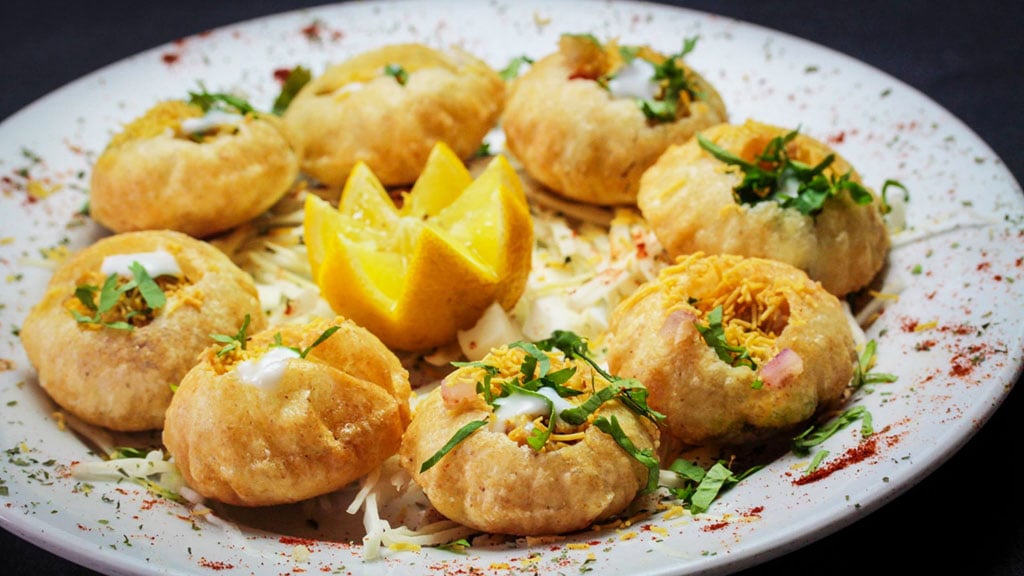 191 Somervelle St., Alexandria; 703-419-3160
With its ornate chandeliers, starched tablecloths, and paprika-red valances, this 125-seat dining room is among the biggest, and most opulent, settings on this list. The food can be equally impressive. Biryanis, served in copper pots, are revealed from beneath their cover of naan at the table. Curries tend to be vibrantly spiced, and salads—such as the cool mix of puffed rice and tamarind known as bhel puri—are well balanced and full of texture. One good way to sample everything: the lavish lunch buffet, $11.99 during the week and $13.99 on weekends.
Also good: Tandoori wings; butter chicken; lamb hara daniya (a cilantro-and-mint curry).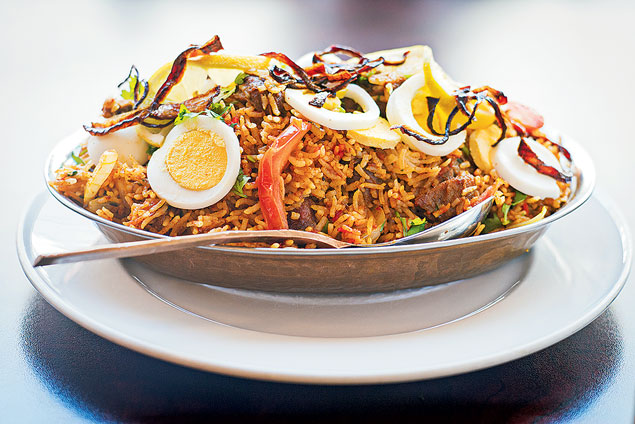 23520 Overland Dr., Sterling; 703-996-8810
"Have you ever had 'Indian spicy'?" our waiter asks when we request that the kitchen go full-blast. He has a right to be concerned. When unleashed, the heat at this otherwise unassuming Indian spot near Dulles Airport can scorch—even pappadams pack serious peppery bite, and tender goat in a chili-laced onion gravy imparts a slow and steady burn. (Chilled raita helps.) Still, the spice-averse won't go hungry. A popular all-you-can-eat lunch buffet offers a milder version of that goat curry, and diners can scale the heat up and down as they please. Given the punches the kitchen is capable of packing, mild dishes can be surprisingly delicate—try a fragrant biryani crowned with onions and herbs.
Also good: Vegetable pakora; tandoori chicken tangdi; baingan bharta (eggplant with ginger and garlic); kulcha stuffed with paneer cheese, onions, and jalapeños.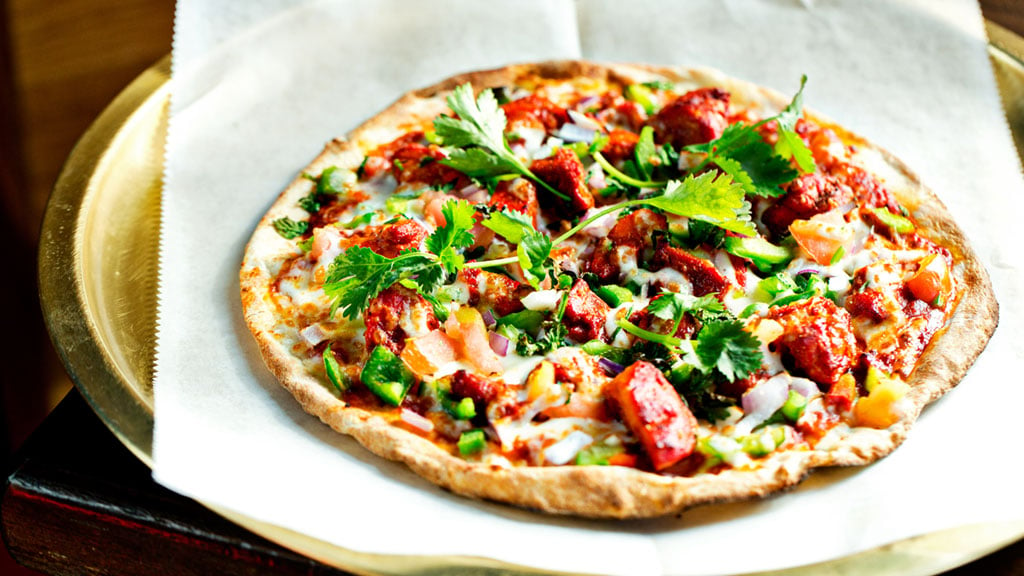 5501 Baltimore Ave., Hyattsville; 301-209-0080
You've been here before even if you haven't—you choose your rice and then your protein, moving down the line of sauces and condiments until you've customized your bowl. The difference between this and Chipotle? It's Indian, not Tex-Mex, and done with an authenticity and punch that the mammoth chain's many outlets can't match. The gravies in particular (including an aromatic kadai, a creamy korma, and a vibrant spinach) show real care and elevate these humble bowls beyond the base pleasures of fast food. The naan pizzas (topped, most memorably, with tender cubes of lamb, tikka masala gravy, grated cheese, and bell peppers) are an even bigger surprise, an East-West merger that doesn't feel gimmicky.
Also good: Vegetarian bowl with chickpeas, brown rice, and either korma or spinach gravy.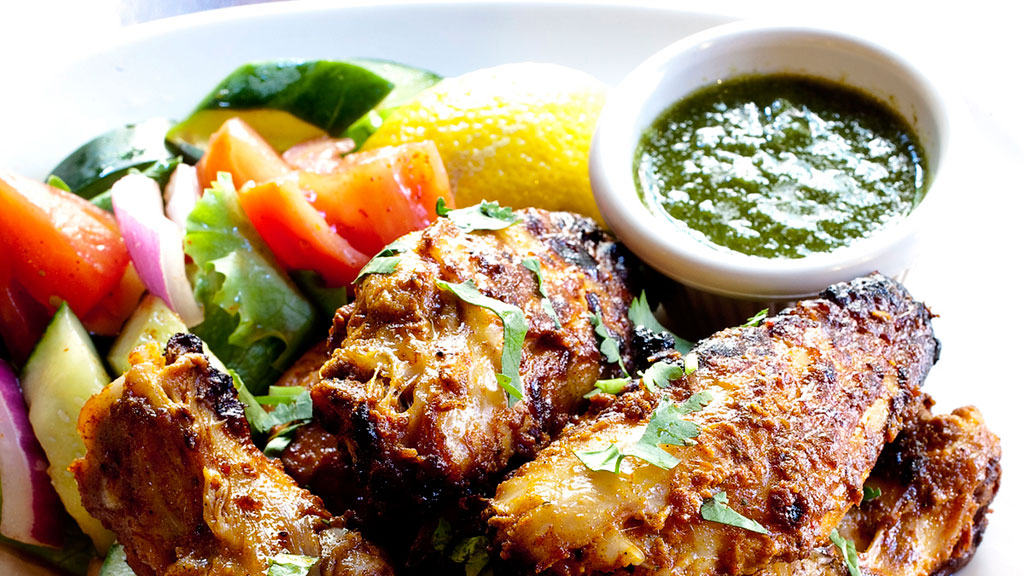 100-B Gibbs St., Rockville; 301-610-0303
Sudhir Seth is the man behind one of the area's best Indian restaurants, Bethesda's solemn, elegantly appointed Passage to India. This is his more affordable place, where he allows his kitchen to loosen up a bit. At both, the spicing in the gravies—witness the aromatic chicken nilgiri—is painstakingly conjured and complex. But here's where you'll find the kind of small plates you might crave after one too many Kingfishers: meaty wings bronzed in the tandoori oven, a chili-cheese toast that tastes like Welsh rare-bit gone subcontinental, and Snugly wrapped kathi rolls. Many are even cheaper on the happy-hour menu, weekdays from 5 to 7.
Also good: Khaman dhokla (pillowy chickpea-flour snacks); papri chaat, a potato-and-chickpea salad with yogurt and chutney; lamb-and-apricot stew; chicken tikka masala; baingan bharta (roasted-eggplant stew).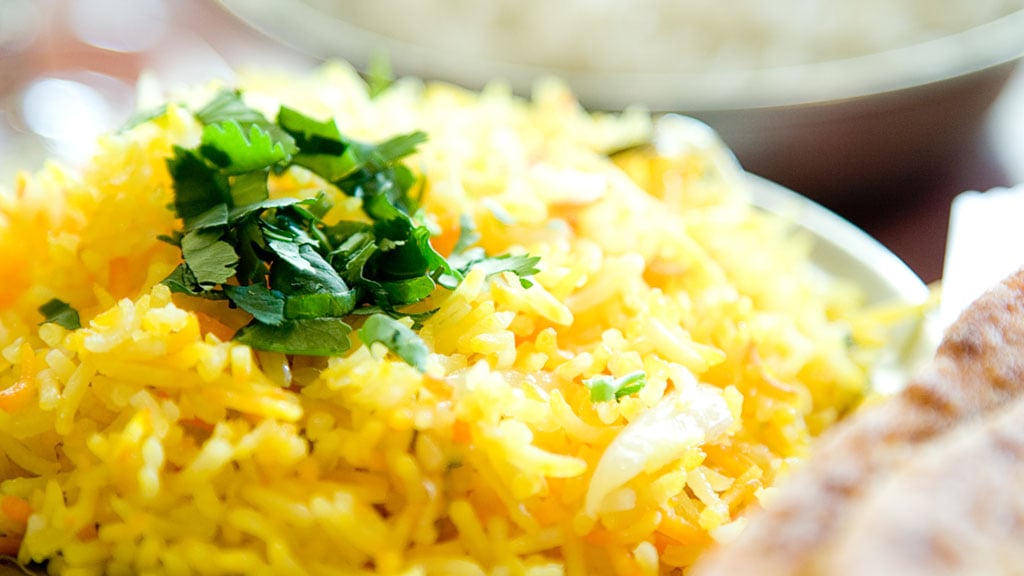 8046 New Hampshire Ave., Langley Park; 301-434-4202
If you've never been to this restaurant specializing in southern India's meatless fare, you have to start with a dosa, a thin, crunchy rice crepe that, in size and appearance, calls to mind a loosely rolled poster. It usually comes filled—say, with a hash of potatoes and onions. Dip a piece into the little cup of coconut chutney. A sublime taste, and the best introduction to what this kitchen is able to accomplish, year after year, without meat or fish. Breads and bread dishes—the tiny steamed rice-flour cakes called idli, for instance— are particular strengths, and you'll also find rewards among the long list of main courses with vegetables front and center, including a good rendition of baingan bharta, its small, blistered eggplants tossed in a heady mix of onions, tomatoes, and chilies.
Also good: Rava masala dosa, a wheat-and-lentil crepe with potatoes and onions; palak paneer (spinach with cheese); aloo gobi (potatoes with cauliflower).
See what other restaurants made our 2016 Cheap Eats list. This article appears in our May 2016 issue of Washingtonian.