In a golden-lit room at Pineapple and Pearls, chef/owner Aaron Silverman gently places a dish of roasted-potato ice cream with caviar in front of me, then asks: "Have you ever gone to Wendy's and dunked fries in a Frosty?"
Um, once or twice.
"Try to remember what that's like when you take a bite."
The ice cream on my delicate spoon is made from cream steeped overnight with darkly roasted potato skins, then hit with a bit of sugar. The caviar isn't pedestrian American paddlefish but osetra. Together with a few finely crisped potato sticks and chive blossoms . . . yup, that tastes like a fantasy version of fast food.
Chefs began stuffing foie gras into burgers more than a decade ago, so throwing a drive-through allusion onto a tasting menu is hardly revolutionary. But few manage to pull off the melding of high and low as seamlessly as Silverman, who burst onto the scene three years ago with Rose's Luxury, which still draws lines that snake down Eighth Street every day at 5 p.m. Besides, he's busy taking other kinds of risks at Pineapple and Pearls.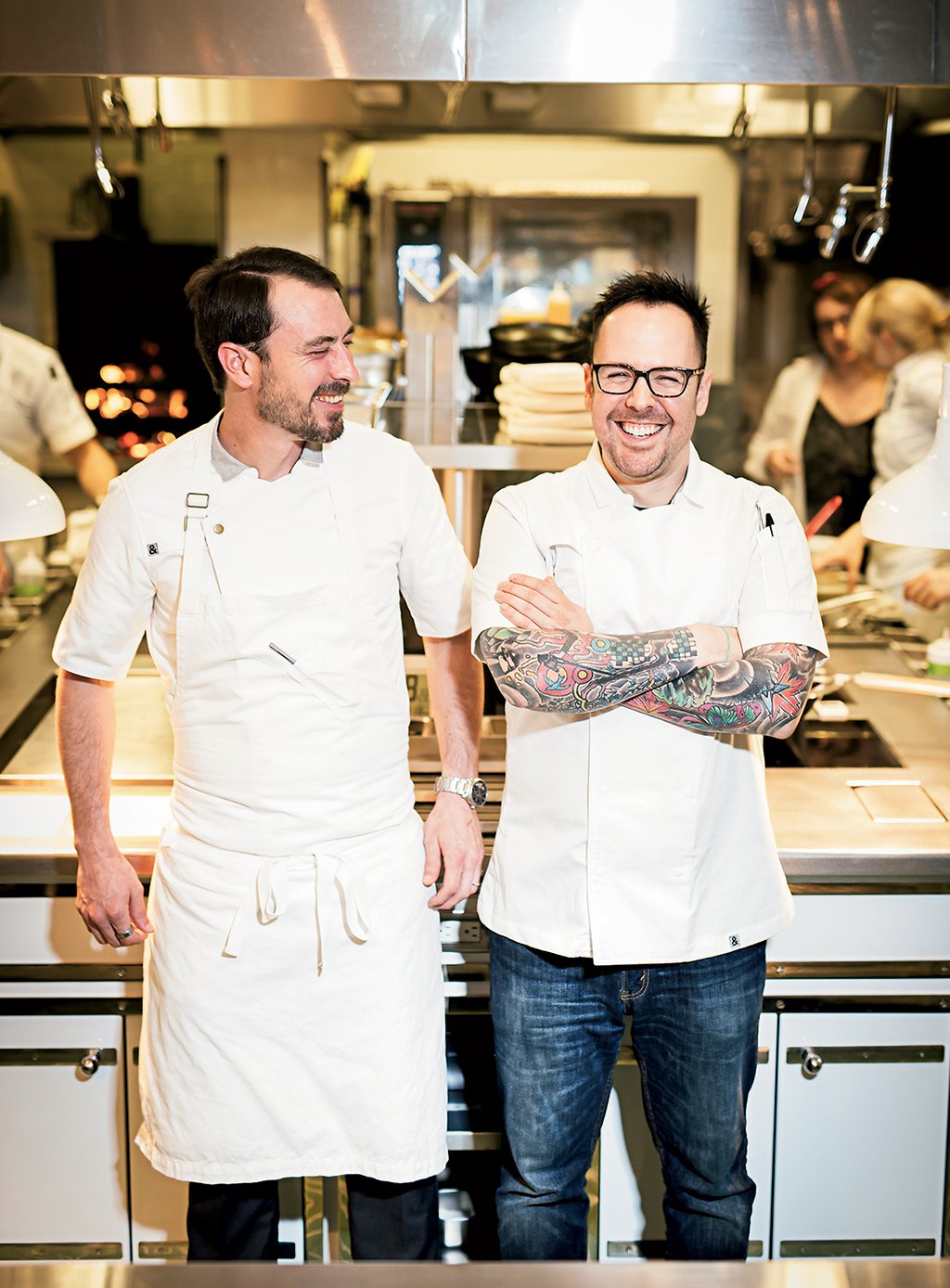 Foremost, he's goosing already sky-high expectations for his Rose's follow-up with a $250-a-head price tag. That's an eye-popping figure for most diners, though slightly less so when you realize it includes 15 courses plus tax, tip, and drink pairings. (You can also eat at the bar for $150 a person, no drinks included, but Jeff Faile's excellent cocktails and wine pairings are worth springing for.)
Not only that, but Pineapple and Pearls is closed three nights a week—including Saturday. By day, it's a coffee-and-pastries shop, and Silverman has said he wants to serve neighborhood residents by keeping the cafe open late into Saturday afternoon, something he couldn't do if he and his brigade were laboring over a night's worth of tasting menus.
Then there's his menu, which, aside from that little quenelle of caviar, is largely free of the expected trappings of luxury. There's no lobster, no foie gras, and not one truffle shaving. I didn't miss them a bit, though, because that also means there are no gilded crutches for Silverman to lean on. What springs up in their place is cooking so joyous that dopamine should be listed as an ingredient in most of the dishes.
Meals kick off with what might be the best bite of guacamole I've ever tasted. "I really just wanted to serve a plate of nachos, but it was too f—ing complicated," Silverman said on another evening. (Like many of the kitchen's cooks, he makes multiple appearances in the dining room to deliver and explain dishes.) Of course, this guac isn't just any guac—it's a verdant, springy mix of leeks, chickpeas, fava beans, and jalapeño piped inside a puffed masa chip. Zippy doesn't do it justice. Electric is more like it.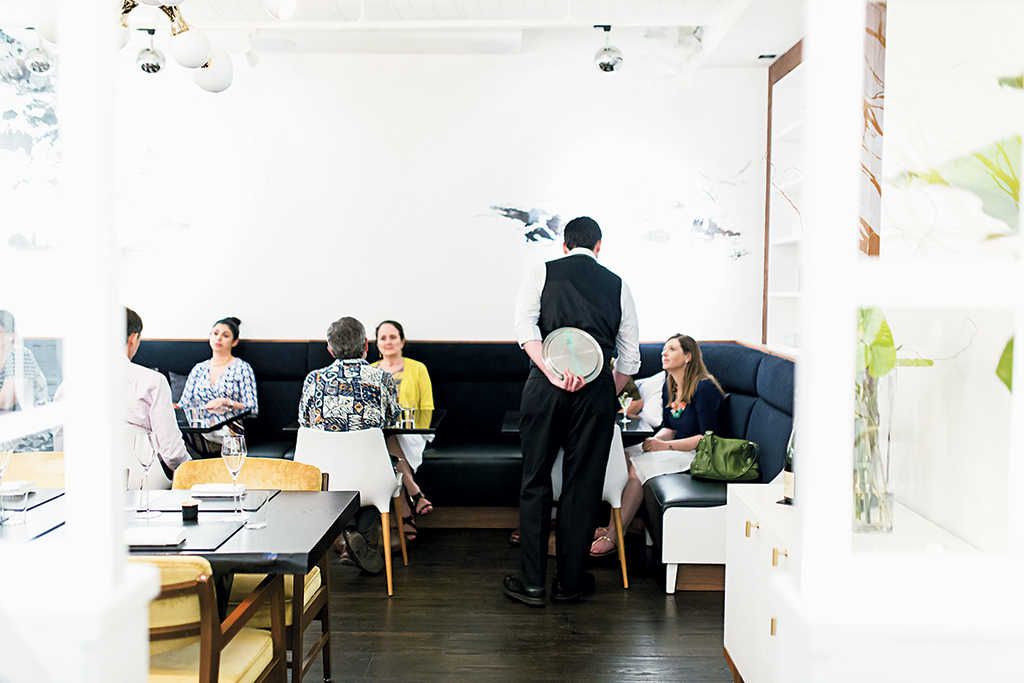 But Silverman's menu is more than an exercise in luxifying the familiar. He pushes boundaries, too: One course is a hollowed-out ice cube filled with green-hued soba noodles laced with matcha tea. On top are a custardy lobe of sea urchin and a hit of wasabi. It's a bite that's aggressively vegetal and briny at once—not easy to pull off, but Silverman does it. Still, every time he coaxes palates into taking a risk, he follows the dish with something that registers as pure comfort. The next course to show up: a lick-the-bowl spring-garlic egg-drop soup ladled tableside from a copper pot set over an open flame. It tasted like the ultra-concentrated essence of Parmesan cheese.
Some dishes lean Japanese, such as a gossamer-light tempura-fried ramp leaf doused in ponzu sauce, or a take on okonomiyaki, a street food typically composed of a cabbage pancake with meat, veggies, mayo, and bonito flakes. Here, the version that sous chef Jonny Black has come up with involves a spear of meaty, dashi-poached white asparagus wrapped with layers of lush chicken mousse and savory mushroom duxelles into a thin, crispy rice crepe. It's served on a ceramic rectangle painted with anime characters.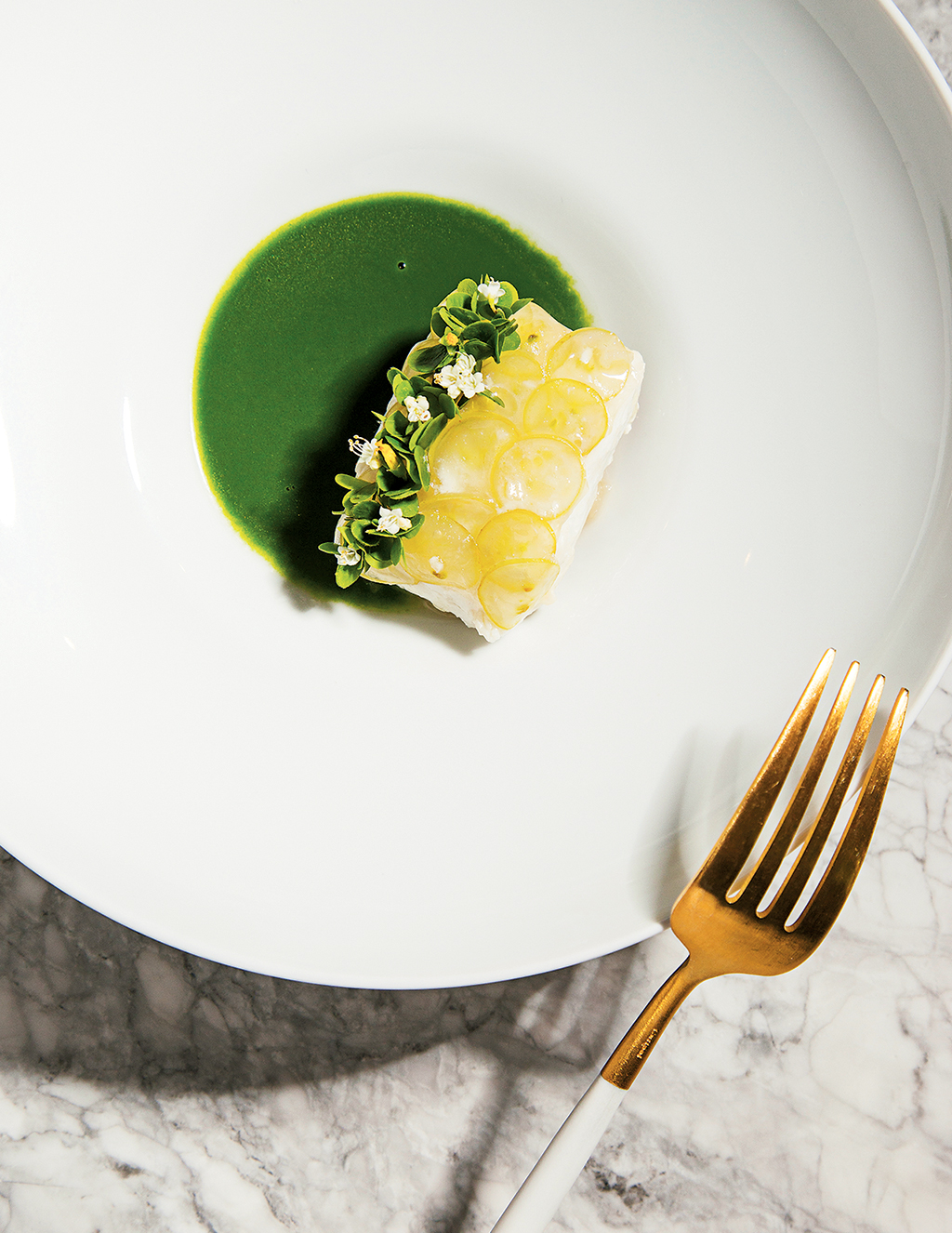 The plates I most fell in love with were faithfully French. A stunningly good fluke Véronique—a take on an Escoffier classic—shows off a gently poached filet of the white fish that's tiled with "scales" of meticulously slivered sour grapes, then scattered with elderflowers and wild sorrel. Later, one of the most perfect chocolate soufflés I've ever had somehow also tasted like the world's best brownie batter.
There's room for improvement, most notably the savory finale. "Yabba dabba doo," said the server as she put down a communal plate arrayed with hunks of beef rib next to a long rib bone. For all that has gone into making the tough cut palatable—a rub with red mole, a 12-hour smoke over avocado leaves—the meat is by turns chewy and tough or unpleasantly fatty. Its accompaniments—charred spring onions; creamy, garlicky grits; and a trio of sauces—perk the dish up a bit, but the whole arrangement comes off as more one-note than crescendo. The four dessert courses include a lovely pecorino cake with strawberries and vibrant basil gelato, but the last sweet—an adorable box of iced doughnuts spiked with different liqueurs (Campari, grappa, Chartreuse)—looks far better than it tastes.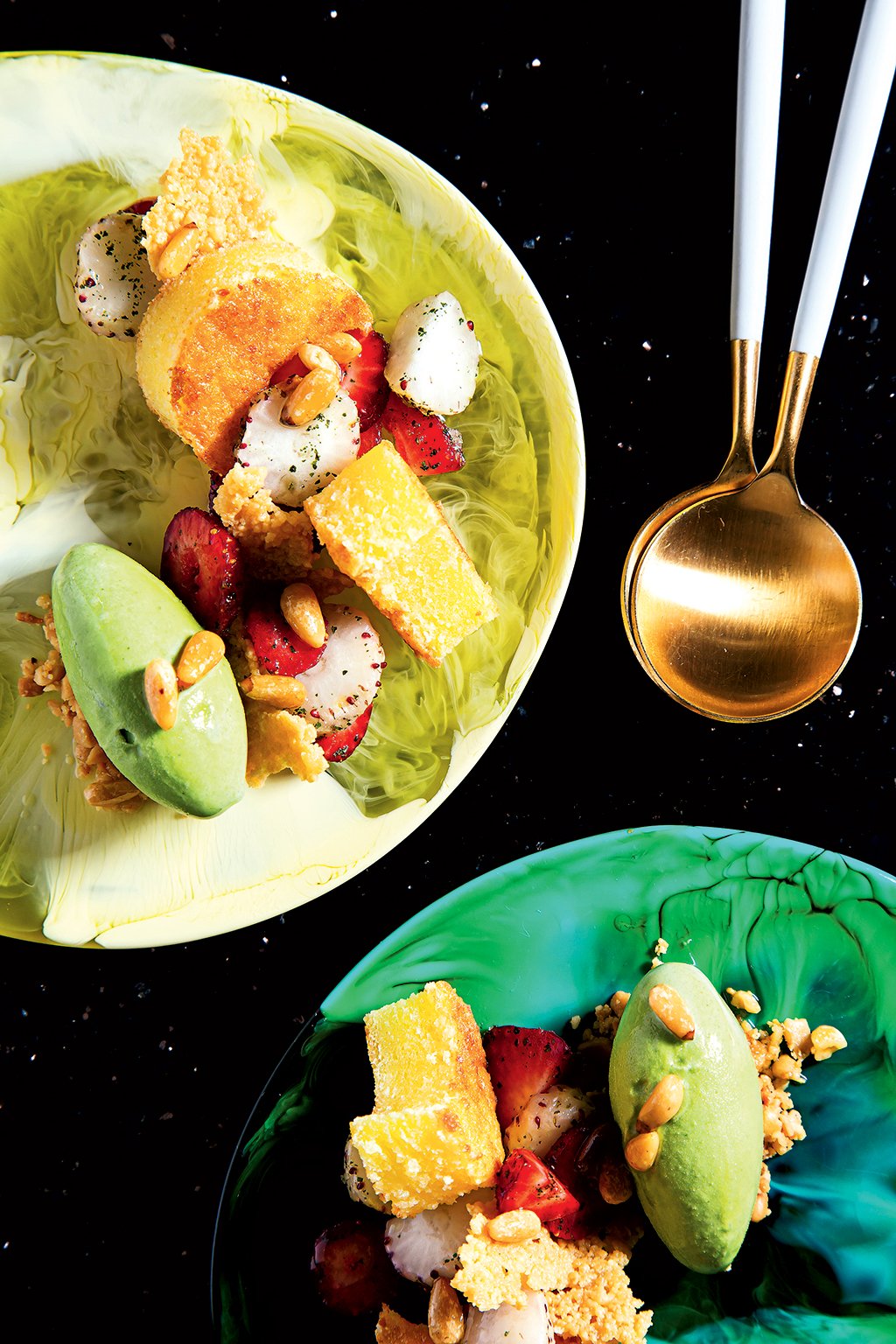 But these are relatively minor details given what Silverman has pulled off. Because here's the thing about tasting menus: They can drag. (Ever heard someone talk about being held "food hostage"?) They often raise a middle finger to dietary restrictions. They can feel starchy and stiff. And they can be a vehicle for chefs both to fluff up their ego and to take advantage of a captive audience. (Never had sea urchin with seaweed and coffee? Now you might have to!)
Here, it's as if Silverman has focus-grouped the genre. He'll accommodate any dietary requirement or allergy. His servers, cooks, and bartenders, as at Rose's, are delightfully warm and chatty. The glimmering, gorgeously designed dining room hums with James Brown and Alt-J set to a civilized volume. And, at least in the dining room, they've got the pacing down to a science. (My dinner at the bar had longer lags.)
There's a neon sign at Rose's that glows with the word "awesome." It applies at Pineapple and Pearls, too, but I'd add delicious—and most important, fun.
This article appears in our July 2016 issue of Washingtonian.
---