When Bucketfeet arrived in Shaw in July, it came with the promise of partnering with a local artist to produce a new custom print. The Chicago-based brand operates by sourcing prints and patterns for their sneakers from artists around the globe, and since they made DC their third brick-and-mortar location, it makes sense that they'd add a Washington artist's design to the mix.
The brand first partnered with DC-area community artist MasPaz when designing their store, incorporating one of his custom murals. Now, Bucketfeet is working with No Kings Collective creative agency founders Brandon Hill and Peter Chang on a brand-new shoe print.
"They're doing big things here and have such an infectious enthusiasm for their city. We're thrilled to be on this journey together," said Bucketfeet co-founder Raaja Nemani of the pair in a press release.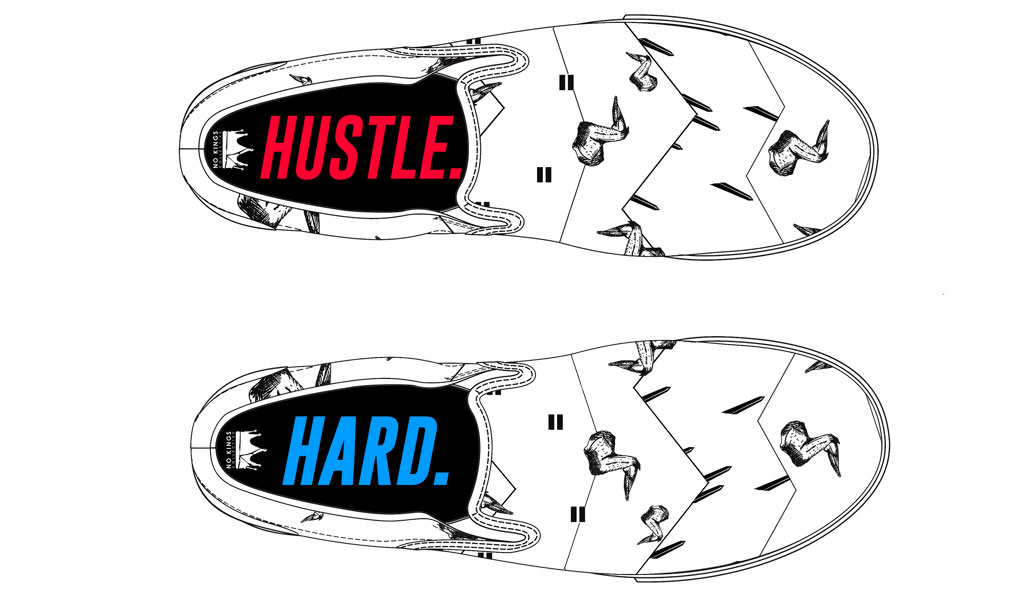 The slip-on shoe—called "7s"—is slated to be released in December, but only 240 pairs will be made. They will be printed with icons of the DC flag's stripes, chicken wings with mumbo sauce, and the Washington Monument, while No Kings Collective's motto "Hustle Hard" is printed inside the shoe. The shoes will sell for $65, and they'll be available both on Bucketfeet's website and in the Shaw storefront, located at 1924 8th St., NW.