Pittsburgh probably will never shed its smoky steel-city rep, though most mills closed in the 1980s. No matter. This city remains proud of its blue-collar roots, even as the number of high-tech start-ups—plus behemoths like Google—set up shop.
Some advice: Washington has nothing on Pittsburgh when it comes to perplexing geography. Its bountiful rivers, towering hillsides, and meandering streets make navigation a challenge. So power up the GPS to explore this ever-changing and always-surprising city.
Three Rivers Run Through It
Pittsburgh's rivers—the Allegheny and Monongahela, which meet to form the Ohio—define its geography. Unlike Washington's waterways, however, these are workhorses. (Tug-propelled barges are a common sight.) But they're also well used by cyclists, joggers, and other recreationalists who flock to 24 miles of waterfront trails. For an alternate perspective, you can rent a boat from Kayak Pittsburgh North Shore (under the Sixth Street Bridge; 412-969-9090).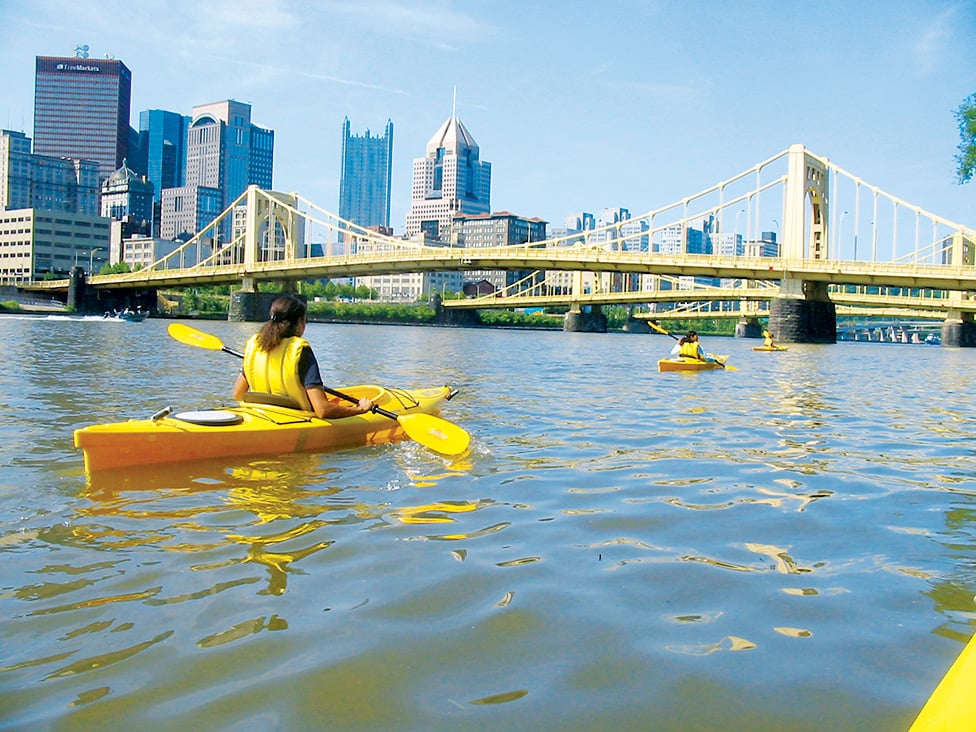 International Flavors
DC has embassies. Pittsburgh has the Nationality Rooms in the Cathedral of Learning, on the University of Pittsburgh campus (4200 Fifth Ave.; 412-624-6000). The magnificent 42-story Gothic Revival tower harbors 30 elaborately designed classrooms highlighting the cultural heritage of various nations; they represent ethnic groups that settled in the area and were financed by those groups. Globetrot through them, then ride the elevator to the 36th floor for sweeping views.
For an actual taste of Pittsburgh's multiculturalism, stroll the bustling Strip District. The gritty but enticing half-square-mile market area is where all of Pittsburgh seems to flock on Saturday mornings. Sidewalk vendors dish out a gastronomic panoply ranging from mung-bean pancakes to "atomic" pepperoni rolls. Check out the fresh—as in live—fish at Wholey's (1711 Penn Ave.; 412-391-3737). And don't miss the dizzying selection of Italian products at Pennsylvania Macaroni Co. (2110–12 Penn Ave.; 412-471-8330).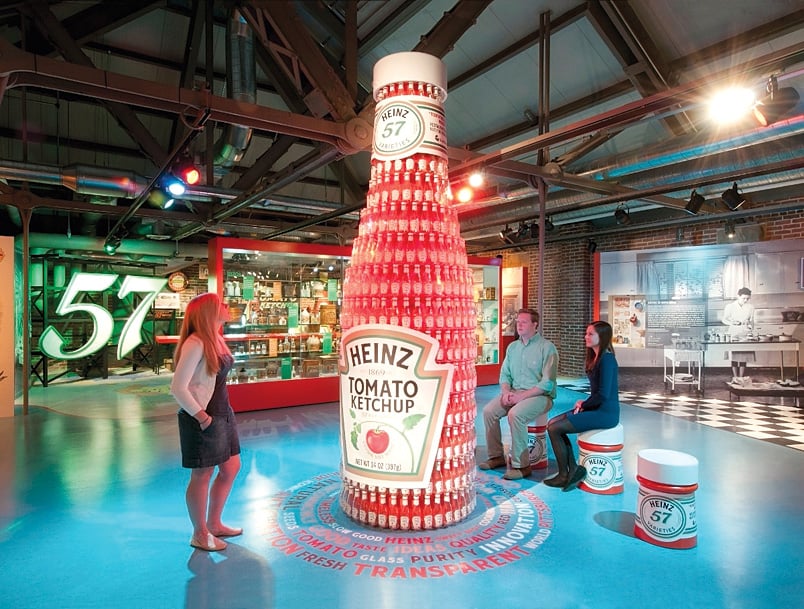 To Dine For
Pittsburgh may cherish its Eastern European roots, but its culinary scene long ago moved beyond kielbasa and cabbage rolls. In December, Zagat proclaimed it number one among the nation's top 17 food cities. (Washington ranked third.) The trendy Lawrenceville neighborhood is ground zero for chefs, with innovative restaurants popping up regularly. Food & Wine best-chef winner Justin Severino's new tapas place, Morcilla (3519 Butler St.; 412-652-9924), features house-made lomo and chorizo on its Spanish-inspired menu.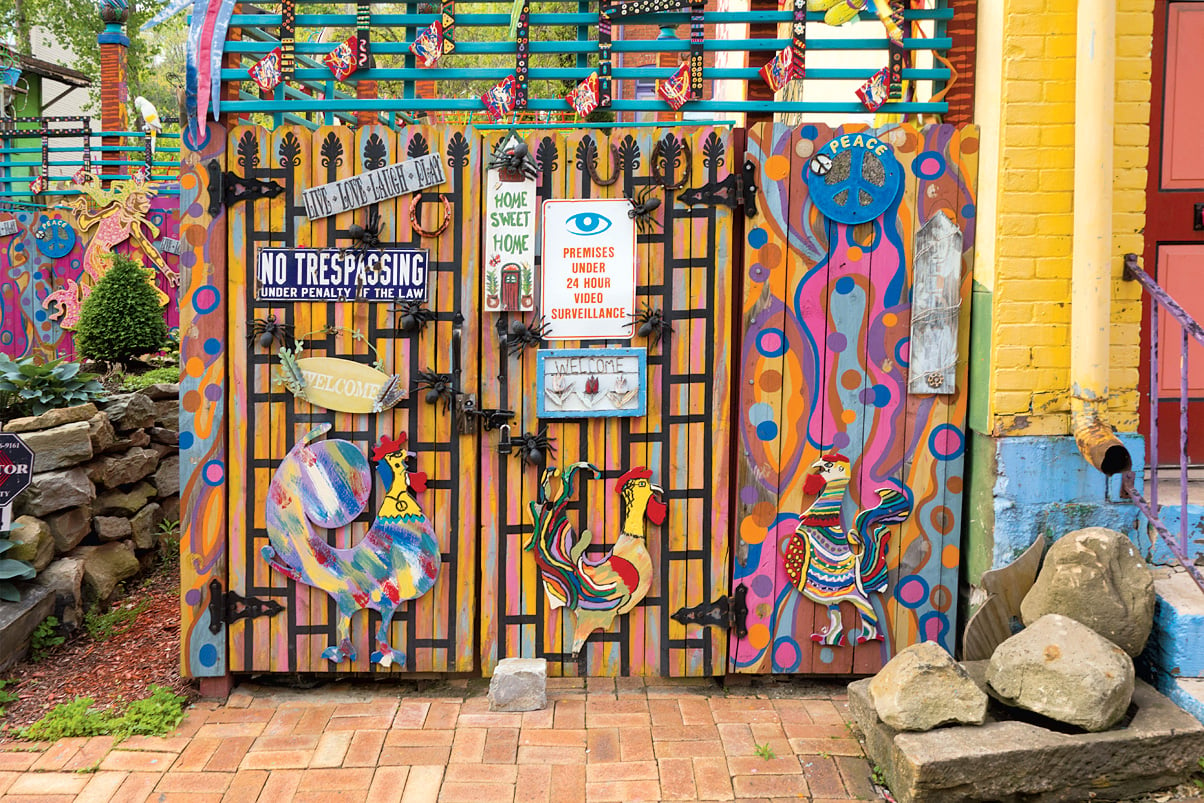 Old Is New Again
Adaptive reuse is king in a city abundant with grand 19th-century buildings. In the once-downtrodden East Liberty neighborhood, the Ace Hotel (120 S. Whitfield St.; 412-361-3300) opened in December in a century-old former YMCA. Its retro lobby and giant gymnasium are hipster gathering spots. Like Northeast DC's H Street corridor, the area is a maze of condo construction, coffee shops, and some art galleries.
Across the Allegheny on the city's north side, an old mattress factory hosts contemporary art installations in the aptly named Mattress Factory (500 Sampsonia Way; 412-231-3169). In Lawrenceville, the Church Brew Works (3525 Liberty Ave.; 412-688-8200) is a raucous brewpub in a century-old former Catholic church. Enjoy a Celestial Gold as rows of stained-glass saints send blessings from above.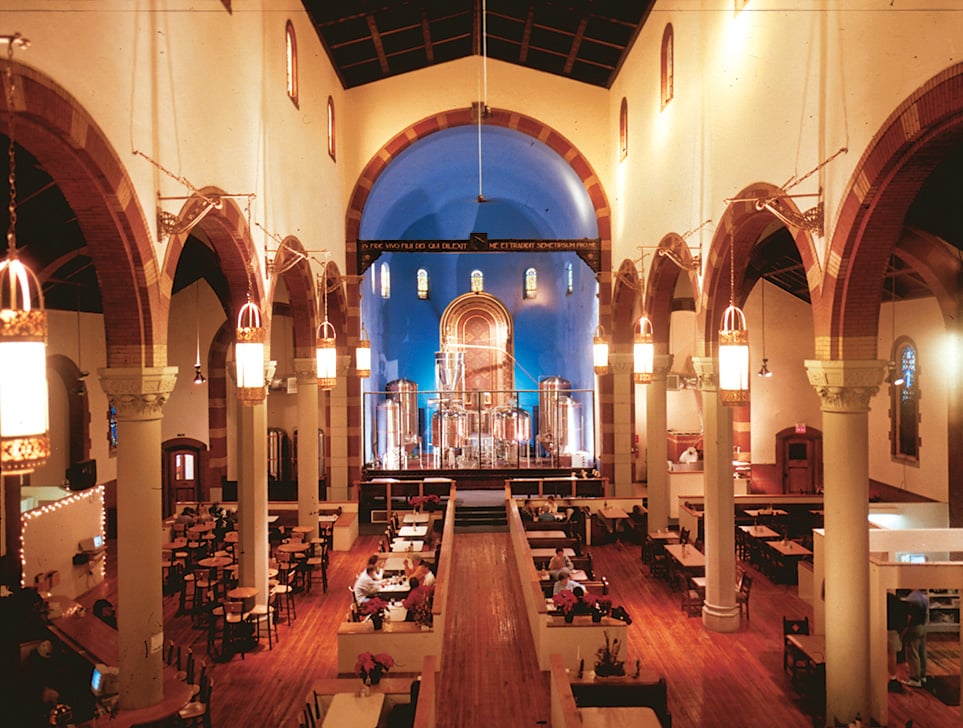 Offbeat Pittsburgh
Randyland (1501 Arch St.; 412-342-8152), on the north side, is 20 years in the making and ever evolving. Randy Gilson's exuberant murals cover several buildings, while his courtyard hosts a psychedelic explosion of castoffs reimagined as art.
You don't have to be a cyclist to worship Bicycle Heaven (1800 Preble Ave.; 412-734-4034). On display are 3,000-plus vintage bikes ranging from an 1860s wooden model to rare 1940s Bowden Spacelanders.
If you're interested in the politics of food, look no further than Conflict Kitchen (221 Schenley Dr.; 412-802-8417), a takeout joint featuring fare from nations the US has issues with. Think Iran, North Korea, Venezuela, and beyond.
Insider Picks
"Pittsburghers line up at DeLuca's for one of the city's best breakfasts. Pair the Italian French toast with the ham. Heaven."
—Robert Bianco, USA Today TV critic and former Pittsburgh resident
"Yes, it's touristy, yes, it's retro—but the Duquesne Incline is worth the trip. Take the red trolley car up for a breathtaking view of the city and then head back down for a drink at the spectacularly rehabilitated train station in Station Square."
—Kathy Kiely, Pittsburgh native and editor for BillMoyers.com
"The Heinz History Center is interesting and fun for adults and children alike. Don't miss the sports exhibits. Then take a tour of Heinz Field, available April through October."
—Susie Farr, Pittsburgh-area native and former director of the Clarice Smith Performing Arts Center

This article appears in our September 2016 issue of Washingtonian.