Ever look at an amazing wedding photo on Pinterest and wonder how it came to be? Here are the behind-the-scenes stories of 16 eye-catching moments from the DMV.
1.
TWO-FOR-ONE SEATING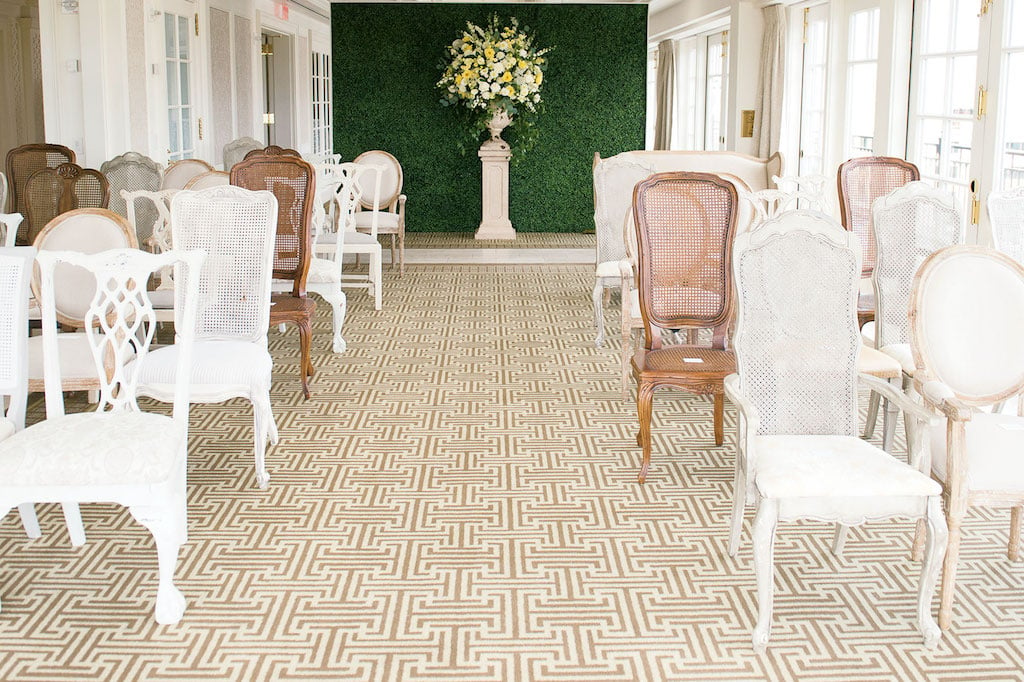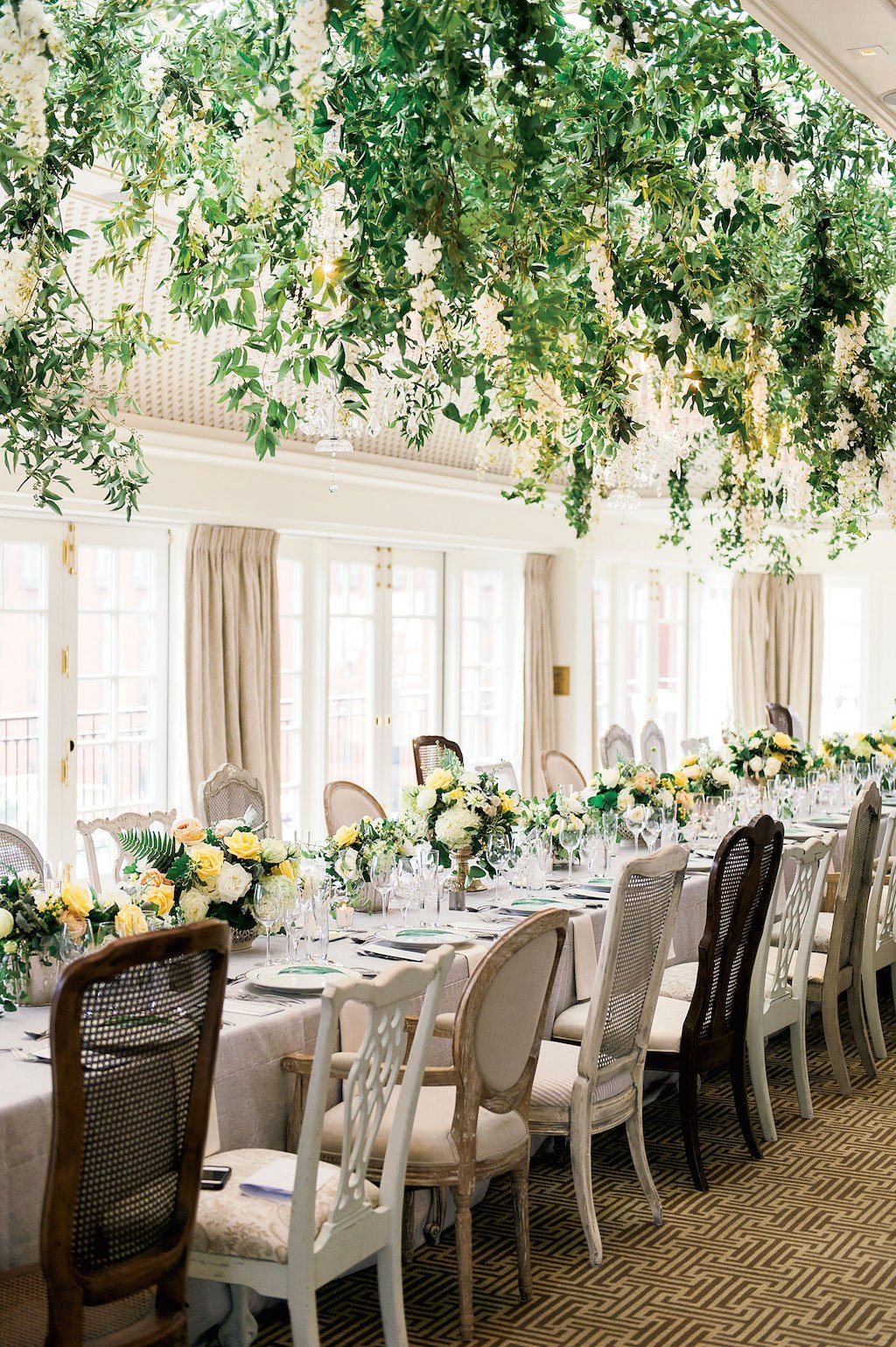 DESIGNER: Elizabeth Duncan of Elizabeth Duncan Events
The bride wanted a garden wedding. The groom wanted to show off the best of DC. Duncan and Amaryllis melded their wishes into a Tuscany-inspired celebration for the Hay-Adams's Top of the Hay event space—which happens to have one of the city's best views of the White House. Duncan rented 45 residential chairs and sofas from Amaryllis for the entire day. The mix-and-match group provided eclectic seating for the intimate 35-person ceremony and cocktail lounge. After vows were said, a dozen staffers quickly moved some of the chairs to line the single dinner table in the adjoining room. There, Amaryllis's custom 25-by-26-foot suspended pergola of Italian ruscus, curly willow, and grapevine completed the alfresco feel of the evening.
2.
ORIGAMI ESCORT-CARD WALL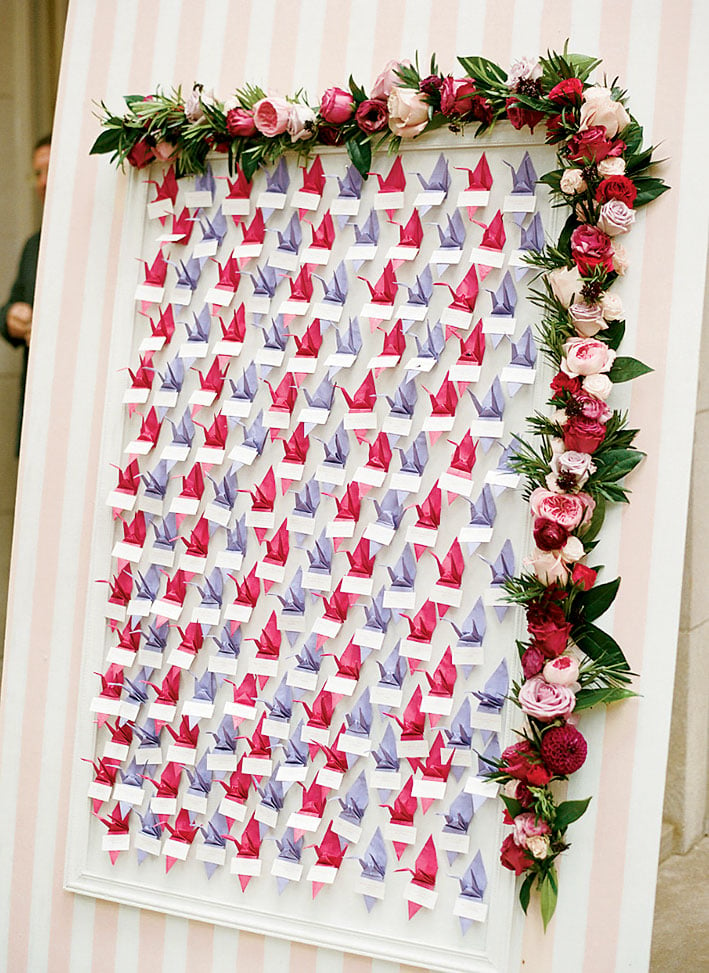 DESIGNERS: Kruse & Vieira Events
Pre-folded paper cranes can be found easily on Etsy, but designer Julie Vieira couldn't locate her desired colors and size, so she ordered origami paper from Amazon. She and an assistant used an assembly-line strategy to fold five of the 153 cranes at a time; the process took about four hours. Vieira's husband built the four-by-six- foot backdrop using plywood and trim from Home Depot, and the cranes were attached using 3-D Zots adhesives. Florist Holly Heider Chapple used three claw hooks to secure the garland of scabiosa, ranunculus, and roses.
3.
LAST-MINUTE MANDAP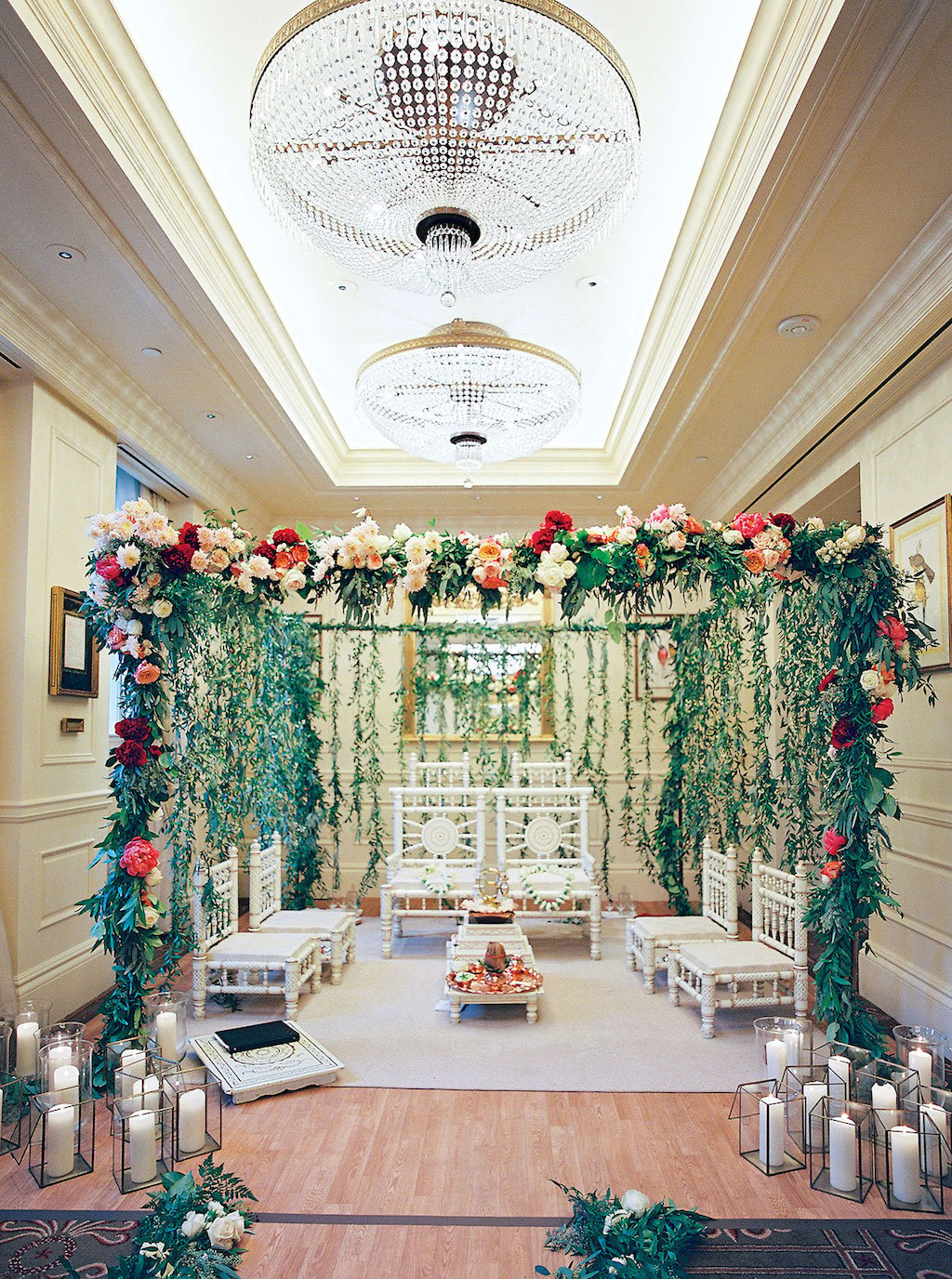 FLORAL DESIGNER: Sidra Forman
Forman had just four days to design, build, and order blooms for this ten-by-ten-foot Indian mandap. The day before the wedding, four staffers assembled the 90 ruscus garlands that would hang from the rear beams; Forman herself rose at 5 am the morning of to weave local heirloom mums, Southern Hemisphere peonies, and California garden roses through a tangle of eucalyptus and bay leaves on the front beam. Once on site, six people had two hours to assemble the structure, hang the side-front garlands, and place groupings of pillar candles—the only sources of light for the ceremony—on each side of the floral canopy. Event planners Laura and Erica Long of Wit Weddings completed the look with ivory chairs and a havan kund fire pit from Imperial Décor, and Design Foundry provided wood flooring and bound sisal carpet as the foundation for the setting.
4.
THE UNDONE UPDO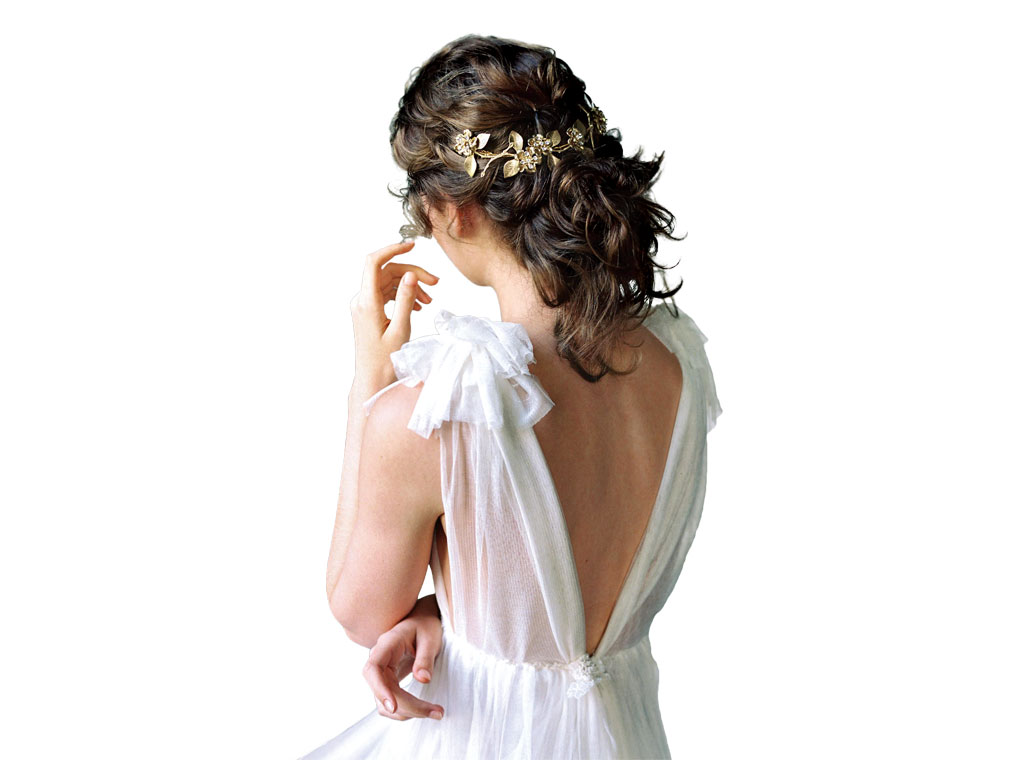 STYLIST: Anna Breeding
Extensions are usually needed for a lush, full-looking hairstyle like this, but Breeding transformed her model's thin, collarbone- length hair the old-fashioned way—with hair spray, bobby pins, and a healthy amount of teasing. Working with the model's natural wave, she curled sections of the hair in different directions, then added texture with salt spray for a beachy effect. Breeding next finger-combed the hair back before teasing it and loosely pinning pieces at the nape of the neck. She hid the bobby pins (there are about 20) by catching the end of each hair section and placing the pin straight into the updo. The gold Enchanted Ateliér by Liv Hart headpiece secures with clips hidden under the flowers on each end. Styling took an hour from start to finish.
"I don't like anything to look too hair- sprayed, but this definitely is," says Breeding, who trained under star Charlottesville makeup artist Lora Kelley and launched her own business in January.
5.
SPARKLER KISS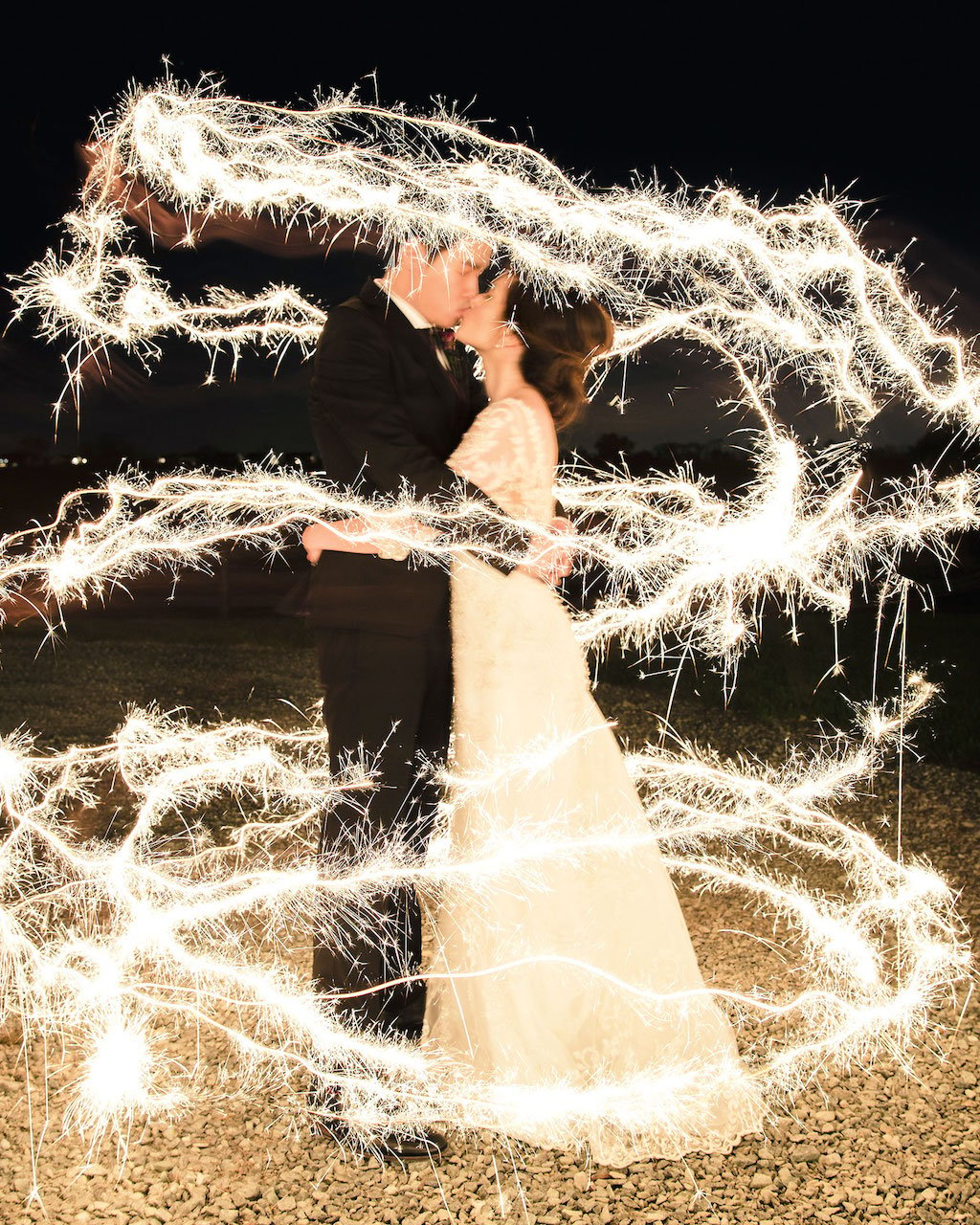 PHOTOGRAPHER: Michael O. Snyder
Snyder used a 24-millimeter lens with an F5 aperture setting at ISO 250 for a 15-second exposure. After securing his Canon camera to a tripod, Snyder and his assistant circled the bride and groom waving sparklers for the full 15 seconds of the shot (the couple held their pose). There's no Photoshop involved in "removing" the photographers—they do not appear in the photo because they didn't hold still long enough to be recorded.
6. CUSTOM CHAIR DECAL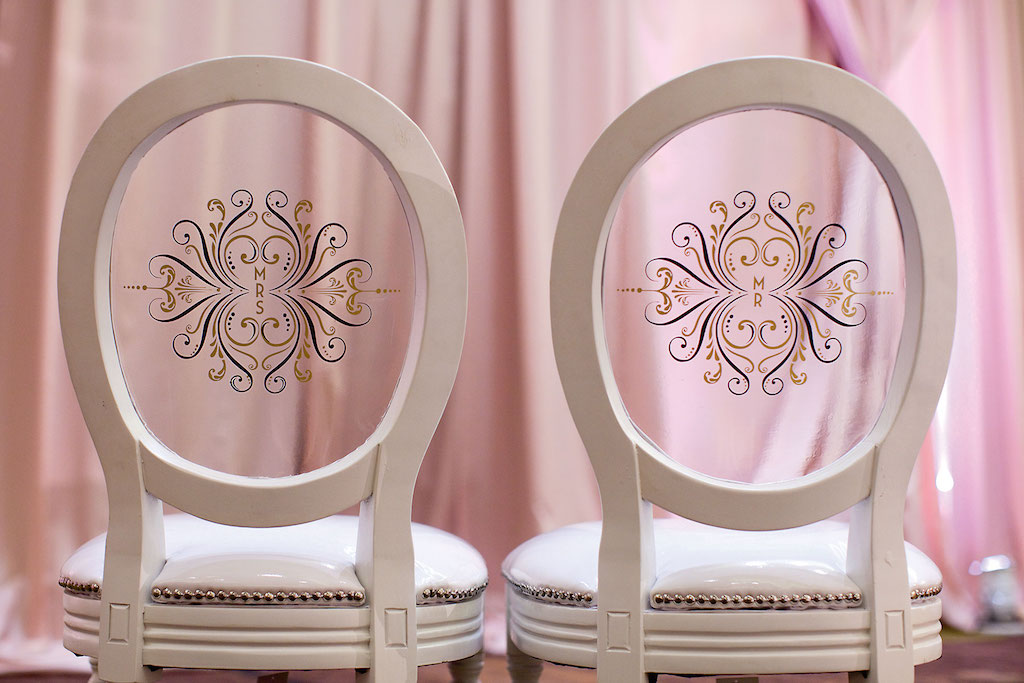 Laura Ritchie of Grit & Grace asked Christina Barbour of Paperzest to design this custom monogram for a black-tie "winter wonderland" wedding stationery suite. For the reception decor, Barbour replaced the couple's initials with "Mr." and "Mrs.", then sent the graphic to Carolyn Clauss at Revolution Events. The Revolution team printed the design on low-tack vinyl, then applied the sticker to their own white Louis ghost chairs.
7. LASER-CUT INVITATIONS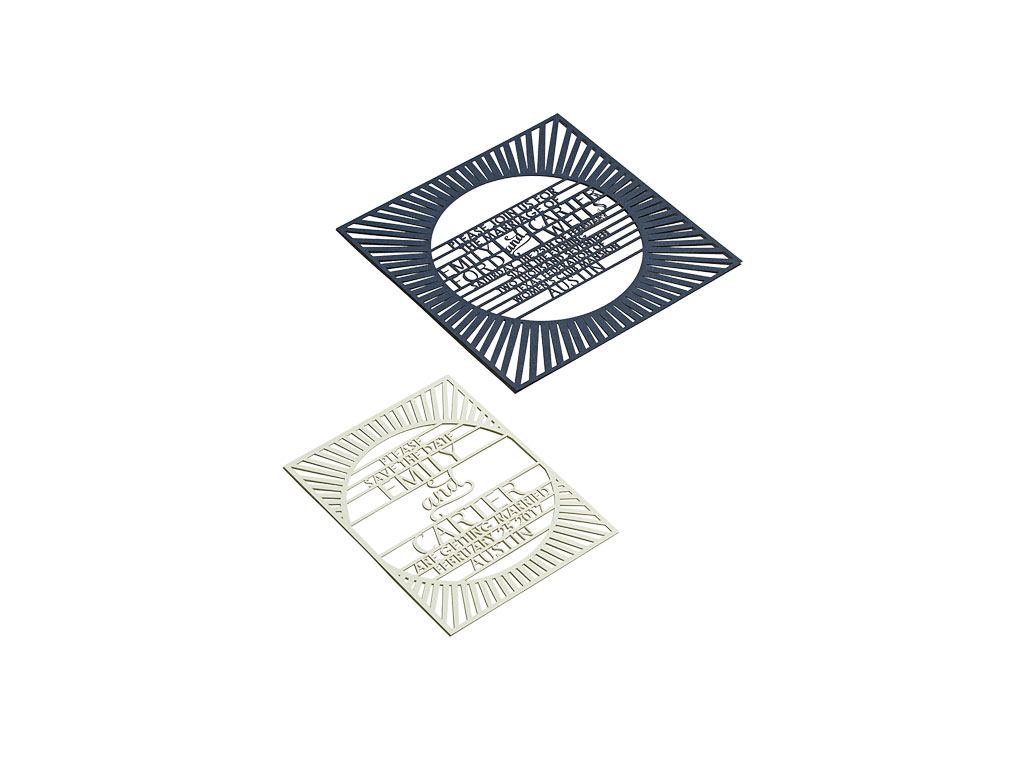 The Dandelion Patch worked with Luscious Verde to turn their clients' wedding-day information into a vector file in which all the letters and design elements are touching. Luscious Verde's laser is programmed to cut the design through one piece of card stock at a time; designs this intricate typically take 15 to 20 minutes per invite.
8. CHERRY BLOSSOM ALTAR PATH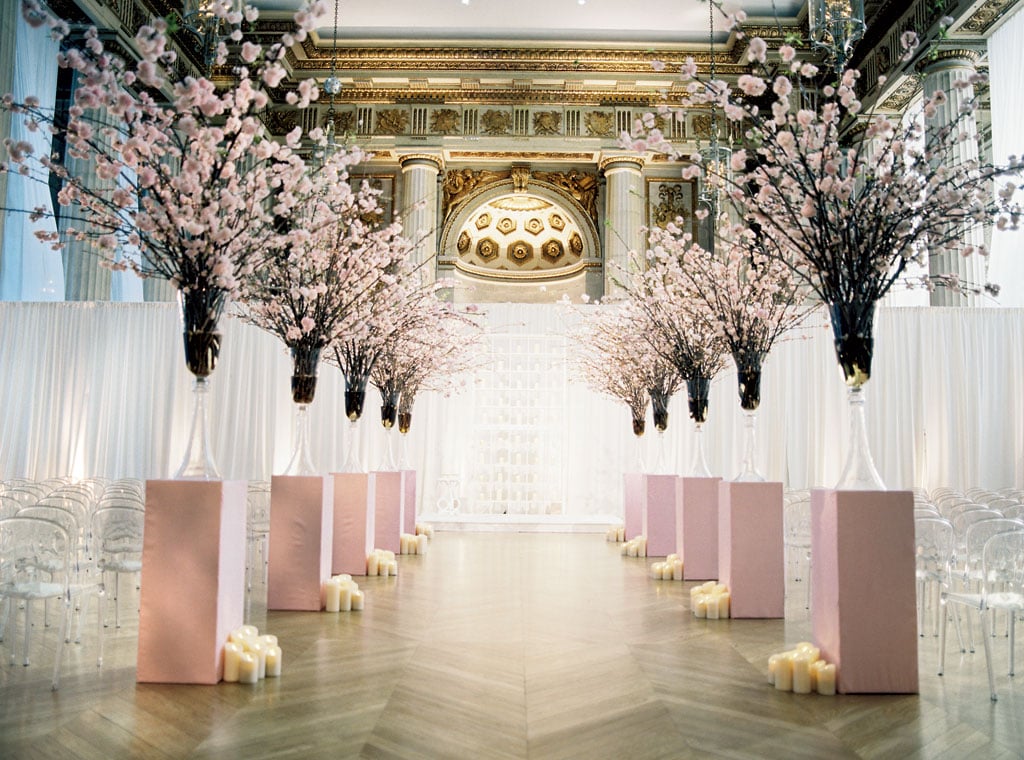 DESIGNER: Aimee Dominick of A. Dominick Events
DC's Mellon Auditorium is big—even for a 250-person wedding—so Dominick sectioned off 4,000 square feet for the ceremony with 16-foot-high curtains from Fabrications Events (this also allowed the band to set up unseen in the reception space). To complement the scale of the room's 60-foot ceiling, the nuptials took place on a riser in front of a 14-foot-tall display of 45 flickering LED candles. For their floral arrangements along the aisle, Amaryllis built 12 custom pedestals and displayed 40 cherry-blossom branches on each. Attendees took their seats in ghost chairs that later were moved to the reception. Load-in and set-up took a crew of 47 five hours to complete.
9. FLORAL CHANDELIER
DESIGNER: Holly Heider Chapple
Chapple's husband built the base for the chandelier in this photo shoot: one five-foot-diameter ring and one seven-foot ring. Fourteen of Chapple's floral-design students then covered the structure in moss, affixed water-retentive floral foam garland to the rings, attached an abundance of East Texas smilax and other greenery, then added the blooms. Three to five designers would need three hours to create something similar.
10. SUGAR-FLOWER CAKE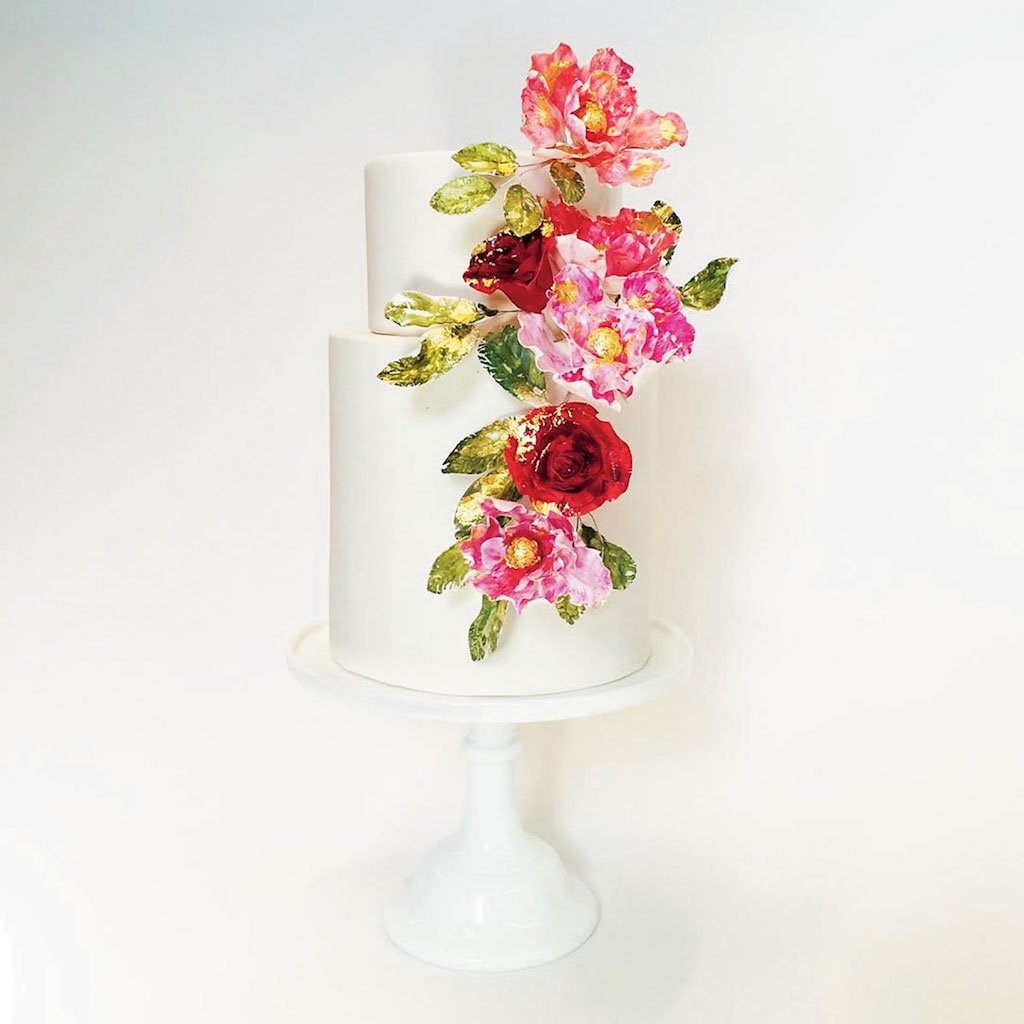 DESIGNER: Catherine George Cakes
George forms each gum-paste petal by hand and paints it with a mixture of food coloring and vodka before assembling the full bloom (the process takes roughly one hour per flower; the leaves are also made of gum-paste). Touches of gold leaf lend a metallic effect, and the wire vine is attached to a white fondant cake. The taller bottom tier is actually a stack of two cakes—a board hidden between the layers makes them easier to slice and serve.
11. RETRO DOUGHNUT TRUCK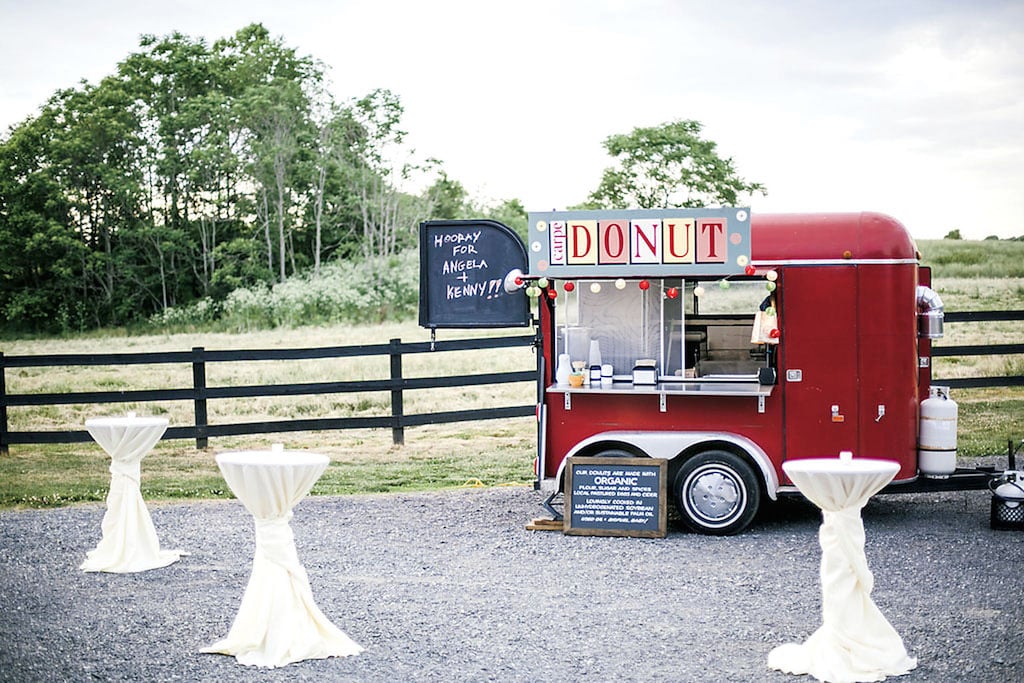 This quirky food cart may look custom designed, but it's not! Charlottesville's Carpe Donut cooks and serves its sugary treats fresh from this six-by-ten-foot red trailer that will come to your wedding looking exactly this adorable. Price starts at $850 for two hours.
12. THE ULTIMATE OUTDOOR RECEPTION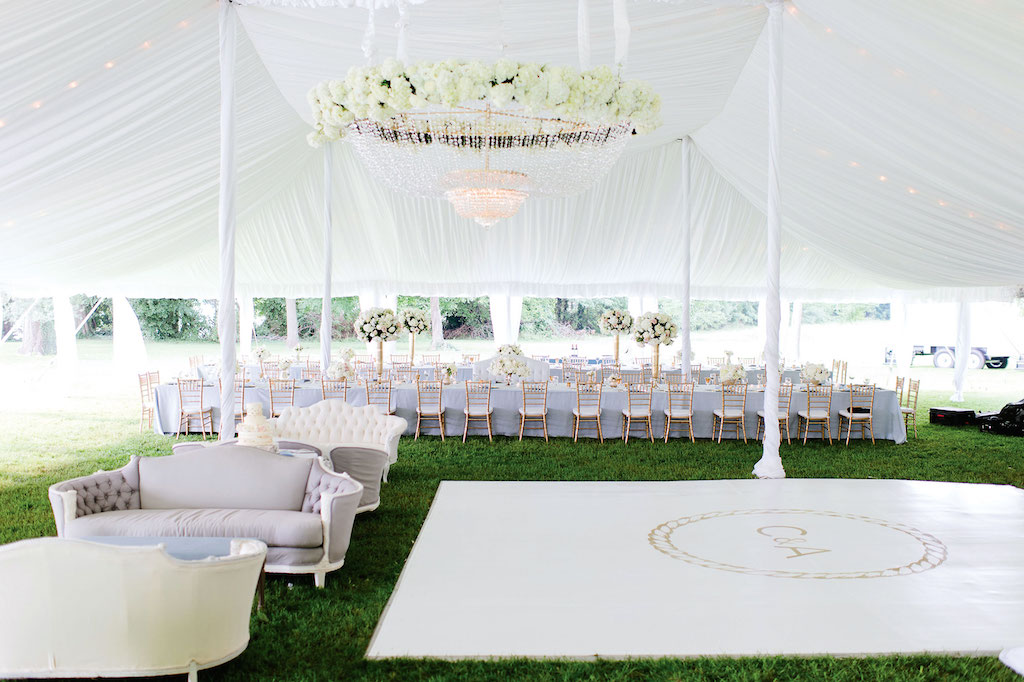 DESIGNER: Elle Ellinghaus of Elle Ellinghaus Designs
Set-up for this waterfront Kirkland Manor reception began on Wednesday before the Saturday event. Eastern Shore Tents & Events first erected the open- air 60-by-90-foot tent; underneath the liner, they rigged 60 strands of twinkle lights to a dimmer for gradually illuminating the party as the sun went down. The 142 guests sat at four long tables flanking the 20-by-20-foot monogrammed dance floor, each topped with a dozen high and low arrangements of hydrangea and garden roses from My Flower Box Events.
The newlyweds relaxed in a sweetheart settee from XOXO Vintage, which also provided four lounge sofas specially covered in a blue-gray fabric just for this event. The nine-foot-wide, five-foot-tall chandelier arrived from Revolution Events in five pieces and took four hours to assemble. After it was attached to a pulley system, four My Flower Box designers added a ring of hydrangeas around the crown (a hidden water tube kept the quick-to-wilt flowers fresh).
13. DIY COCKTAIL FAVOR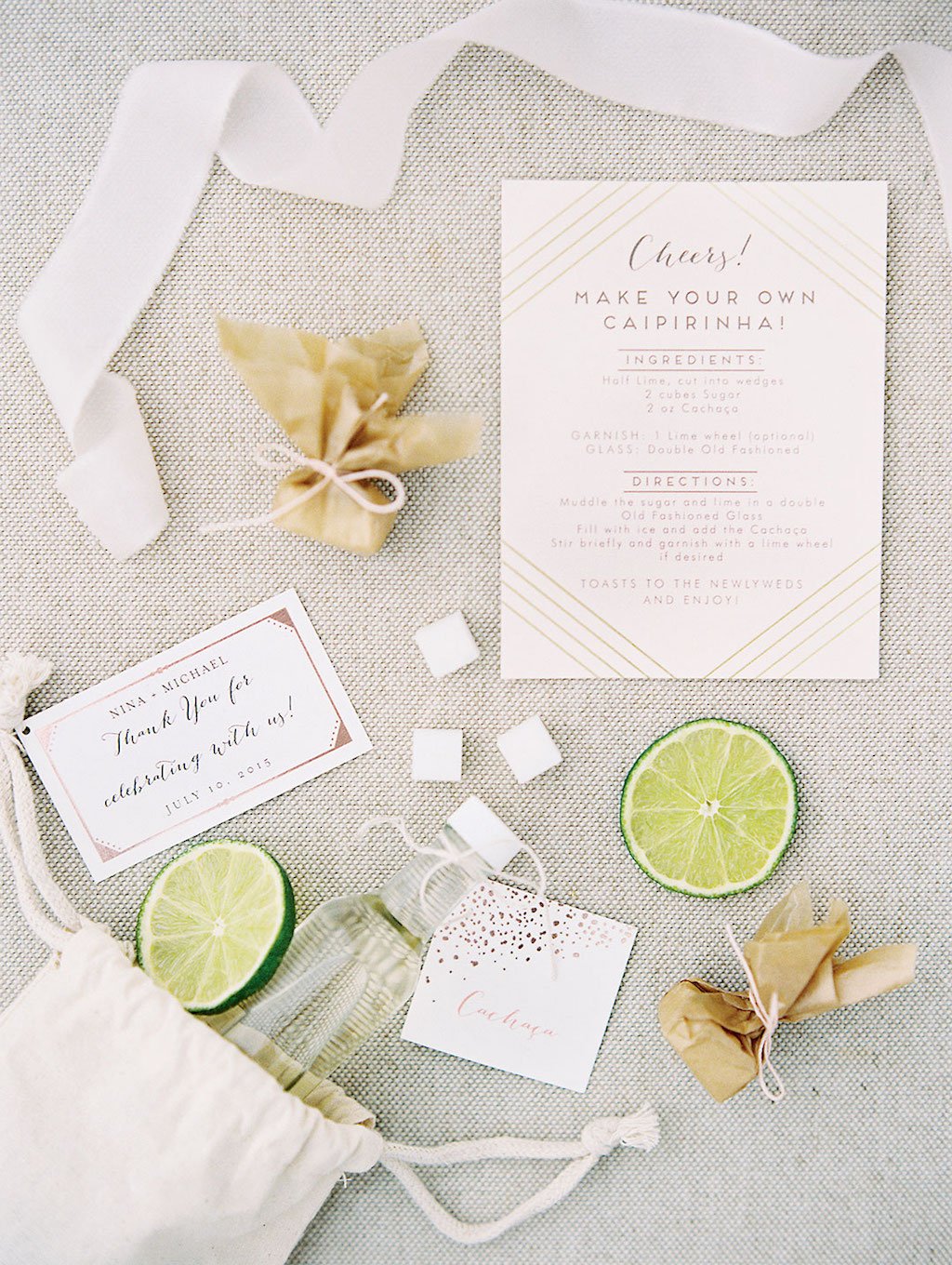 DESIGNER: Karson Butler Events
Karson Butler packaged mix-it-yourself Brazilian caipirinha kits as a way for guests to cheers the couple one last time after a recent Four Seasons wedding. The firm ordered bottles of cachaça from Schneider's of Capitol Hill, funneled single servings into miniature glass bottles, wrapped sugar cubes in parchment, and called grocery stores well ahead of time to ensure they would have enough limes for 80 bags. A few simple edits turned a directions card from Minted into a recipe card, and the cachaça bottle tag is a flat Minted place card cut in half.
14. THE SUNKEN-GARDEN RECEPTION LOUNGE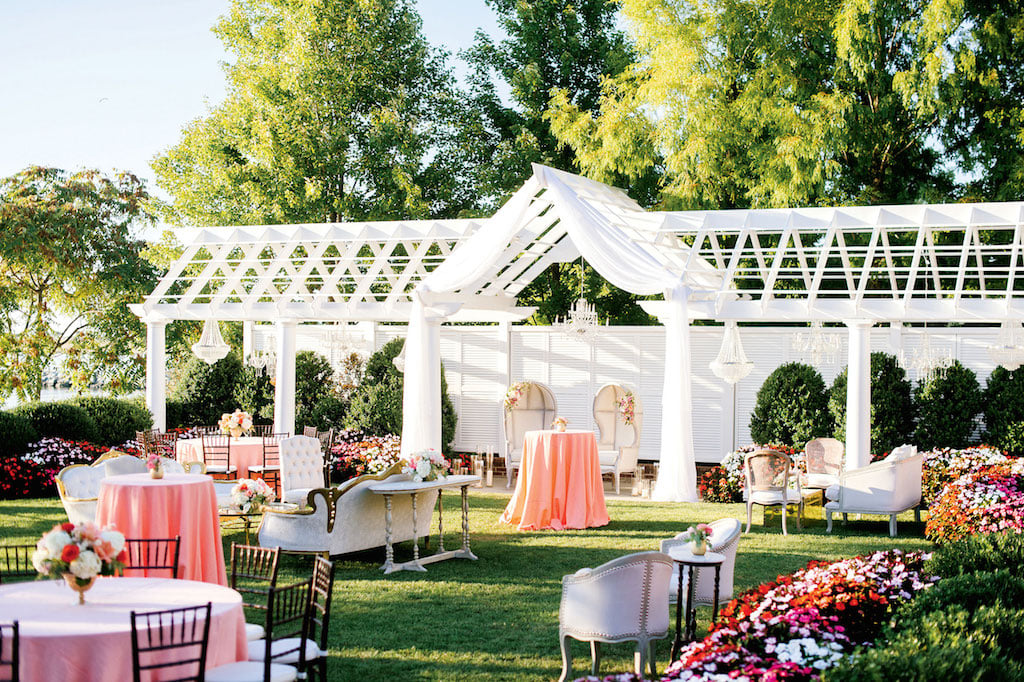 DESIGNER: Lauren Niles of Lauren Niles Events
The groom wanted a modern, Miami-club feel, but the bride loved romantic European vintage. Working with a 20-person crew, Niles combined the two with a "Bay chic" outdoor cocktail-style reception at Chesapeake Bay Beach Club, where, instead of celebrating at assigned seats, 130 guests mingled among seven vintage-furniture clusters and several sit-down tables. The furniture came from two companies, Something Vintage and White Glove Rentals, and because vintage furniture is one-of-a-kind, careful selections were made to achieve a cohesive look. After several electrical tests, EventPro hung eight chandeliers from the venue's garden trellis, and, in a nod to the VIP lounge at a club, a sweetheart table flanked by two throne-like Versailles chairs was put in place for the newlyweds. Tabletop floral arrangements matched the garden blooms, and food stations were set up indoors to protect the meal from the sticky summer heat. The overall vibe: a back-yard party kicked up three elegant notches.
15. THE LIT-FROM-WITHIN TENT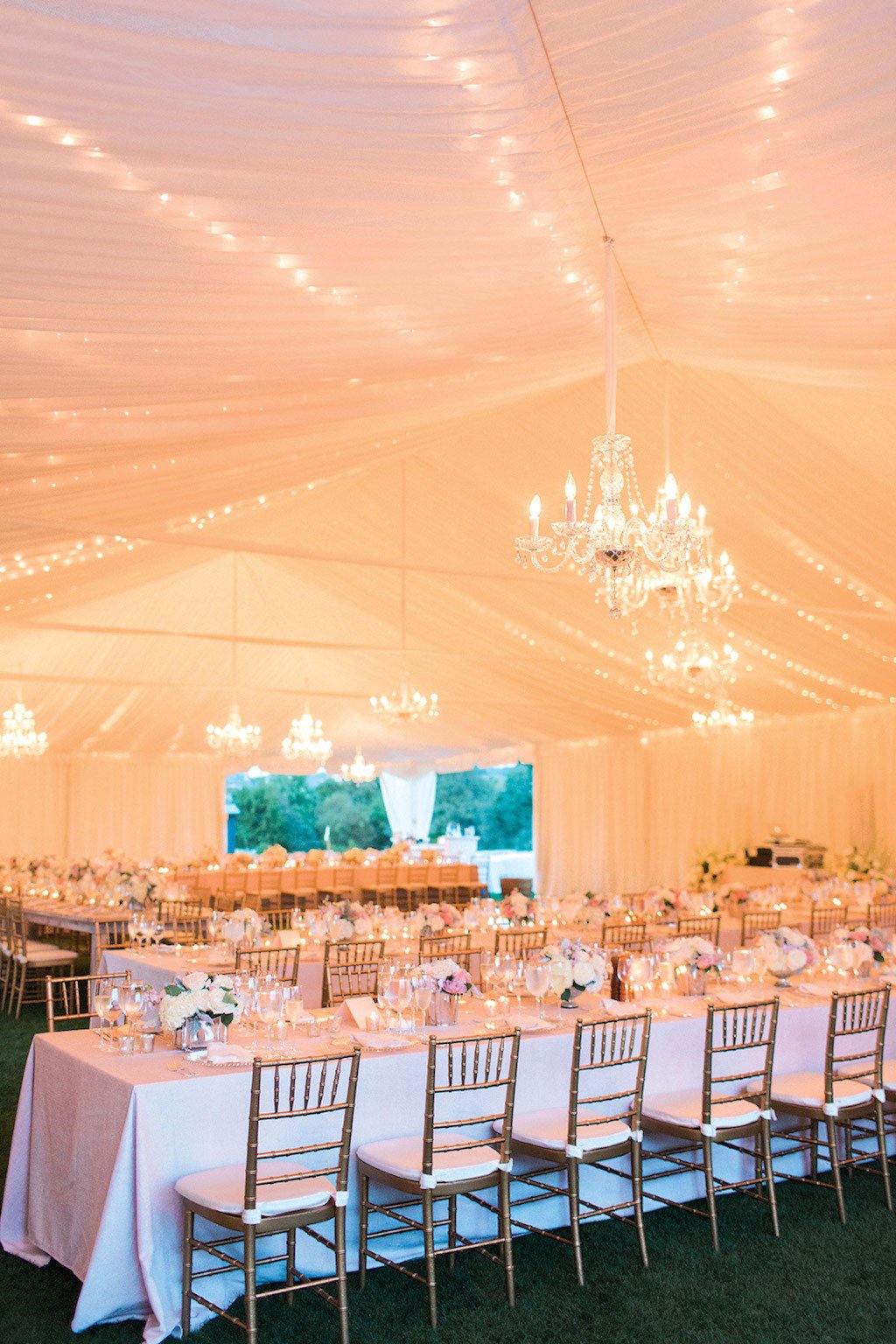 DESIGNER: Grace Everleigh of Engaging Affairs
For this "romantic twilight" wedding, bringing the elegance of an indoor ballroom to an outdoor country-club lawn required three days of set-up. Two hundred twenty guests celebrated under a 50-by-80-foot enclosed structure built by Sugarplum Tent Company. Six Sugarplum staffers draped twinkling string lights at one-foot intervals from the top of the tent before lining it with ruched, semitransparent taffeta for a starlight look, and 12 crystal chandeliers further formalized the space. Everleigh suggested opening just the corner panels of the tent to complete the ballroom fantasy.
16. PAPER-FLOWER BACKDROP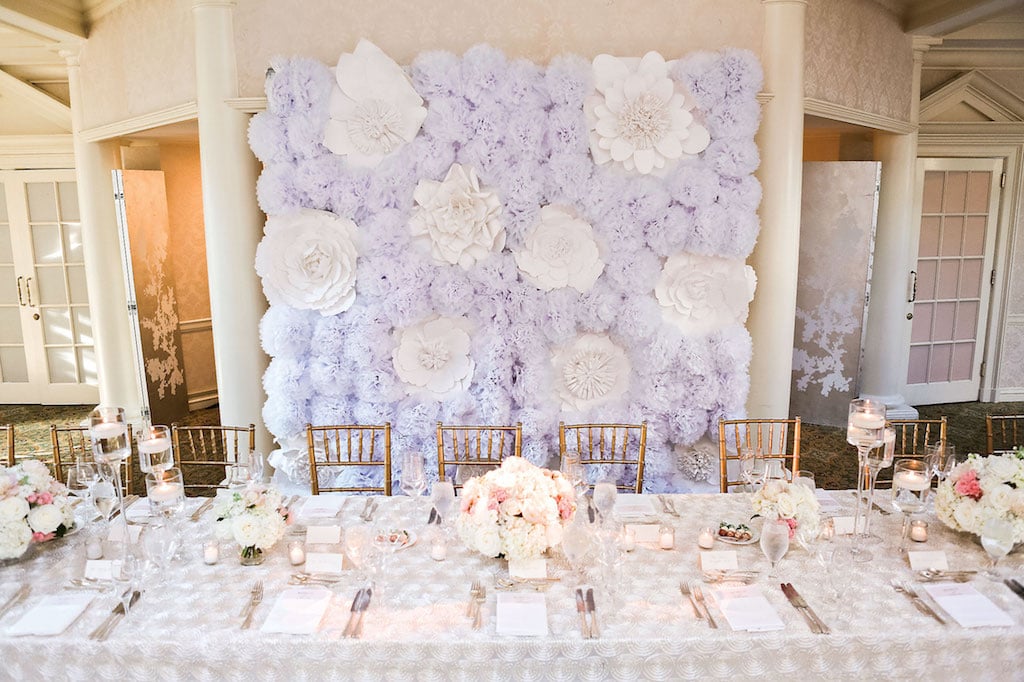 DESIGNER: Bill Enright of Edge Floral Event Designers
Enright's team took ten days to build this eight-by-eight-foot plywood-frame backdrop, which served double duty at a Fairmont hotel wedding: first at the ceremony site and then behind the head table. Houston's Balushka Authentic Paper Floral Artistry made the ten white paper flowers; the 200 tissue-paper flowers are from Cultural Intrigue. All were stapled (very carefully!) to the backdrop.