What to Do
Vineyard Visits
Loudoun is home to more wineries than any other county in the area. Our favorite to visit is Stone Tower Winery in Leesburg (19925 Hogback Mountain Rd.; 703-777-2797), with its stone-and-timber tasting rooms and picnic-friendly lawns and patios. Another great choice is Hillsborough Vineyards in Purcellville (36716 Charles Town Pike; 540-668-6216), a picturesque spot where you can sip wine on a covered stone patio with a mountain view. Zephaniah Farm Vineyard (19381 Dunlop Mill Rd., Leesburg; 703-431-1994), owned by the personable Hatch family, offers an unusual and intimate tasting experience: Seated tastings are in the antique-filled living room and library of the family's circa-1820 manor. For a helpful guide to all the local wineries, check out Virginia Wine in My Pocket, which is both a website and an app.
Like your flights a bit stiffer? A former car dealership houses Loudoun's first legal distillery since Prohibition, where Becky and Scott Harris produce brandy, gin, and whisky (they skip the "e" in a nod to their Scottish heritage) that's all organic and kosher. Every hour, guests are invited to see the inner workings of the distillery—run predominantly on solar power—during a free tour. Tastings are $5 (standard), $10 (premium and cocktails), and $15 (spirits and chocolate truffles). Occasional dinners are hosted by local chefs, with cocktails crafted for each course. 120 W. Main St., Purcellville; 540-751-8404.
You'd think locals wouldn't spend much time at a resort in their back yard, but Salamander has proven to be a mini-staycation for many, thanks to a spa that out-pampers just about every other one in the area and vacationy activities such as ziplining and horseback yoga. A few hours lying by the spa's heated infinity pool (open most of the year, courtesy of a fire pit), soaking in the "experience shower," and being kneaded make it easy to forget that you still need to get home to make dinner. Monday through Thursday, Loudoun County residents get 20 percent off spa services. 500 N. Pendleton St., Middleburg; 844-303-2723.
Oatlands Historic House and Gardens
A favorite place for family portraits and genteel afternoon teas, this 3,400-acre estate, formed in the late 1700s, is home to a historic mansion with a lovely collection of furniture and art as well as gorgeous grounds that can be toured April through December. In fall and winter, the circa-1810 greenhouse hosts monthly Contemplative Yoga, which moves to the garden in spring and summer ($25 cash donation). The Witch's Brew Tea is a favorite in October, followed by the Grinch Tea or more traditional Tea With Santa in December ($29.95 each). On a less frivolous note, the Enslaved Community at Oatlands tour gives a 30-minute glimpse into slave life on the plantation, whose owners were the largest slaveholders in Loudoun, with 133 men, women, and children. 20850 Oatlands Plantation La., Leesburg; 703-777-3174.
History buffs and hikers alike have a soft spot for this park, which also houses the third-smallest national cemetery in the US, with 25 graves in a half-acre plot. The Battle of Ball's Bluff on October 21, 1861, was one of the first conflicts of the Civil War. The defeat of the Army of the Potomac—thanks to embarrassingly bad intelligence—would further alarm Union forces that had already lost the First Battle of Bull Run at Manassas. Free guided tours of Ball's Bluff are available. Even if history isn't your thing, the location—dramatically overlooking the Potomac River—and lots of hiking trails make it worth a visit. Ball's Bluff Rd., NE, Leesburg; 703-737-7800.
Driving range on steroids—that's Topgolf. The 65,000-square-foot venue includes 102 climate-controlled hitting bays on three levels, more than 220 TVs, a rooftop terrace with fire pits, and a stage for live music. What looks like a 215-yard outfield features dartboard-like targets in the ground; the closer to the "bull's-eye" you get and the farther you hit your microchipped balls, the more points you receive as you compete with members of your group. You'll likely have to wait at least half an hour for a bay on weekends, but a lounge offers free use of pool tables, shuffleboard, and Xbox Kinect, while the food is better than you might expect. 20356 Commonwealth Center Dr., Ashburn; 703-763-2020.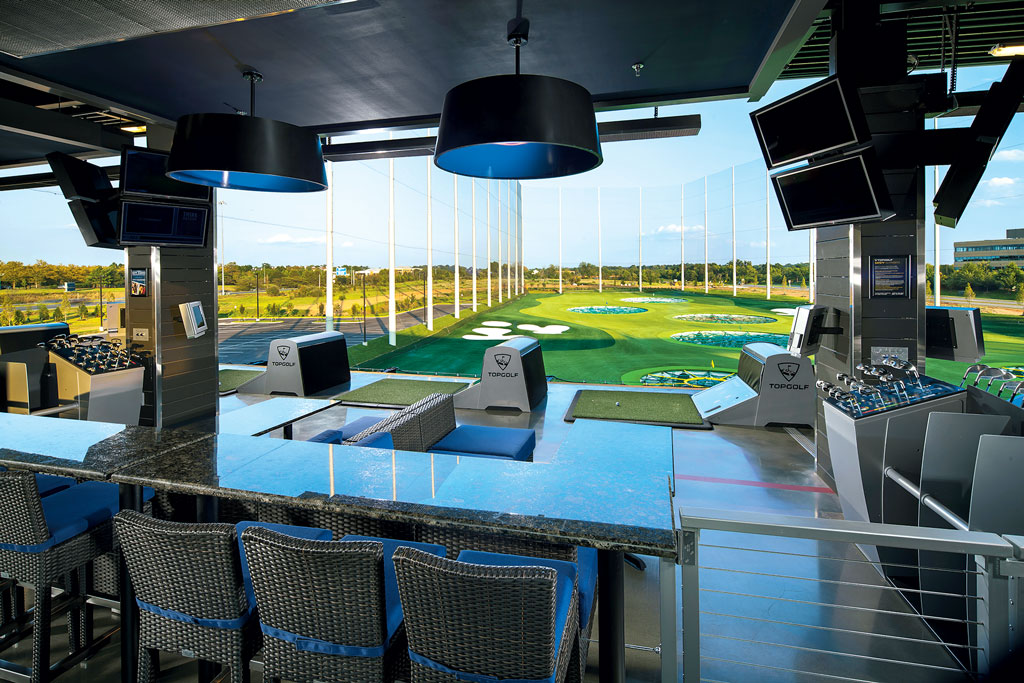 This 84-year-old landmark is a live-music venue reminiscent of the Birchmere in Alexandria and DC's 9:30 Club. It features headliners such as singer/songwriter Shooter Jennings, the Gin Blossoms, and Maggie Rose, as well as tribute bands like Live Wire (AC/DC) and the Glimmer Twins (Rolling Stones). The recently added concession, Tally Ho Taco, sells yummy tacos made from organic and local ingredients, to help keep patrons rocking through the night. 19 W. Market St., Leesburg; 703-777-1165.
Where to Shop
Everything old is new again at this side-of-the-road gem. Built in 1879 but restored by owner Suzanne Eblen in 1996, it's home to the funky wares of more than 35 antique and vintage dealers. Furniture, accessories, clothes, wall decor—it's all here. Special events such as the Door or Drawer Painting Party ($98) teach you how to tackle DIY projects—which may not be as easy as HGTV leads you to believe—while enjoying music and cocktails. The Design House, a monthly interior-design showcase, spotlights beautifully arranged spaces featuring items you probably never would have thought to put together. 42350 Lucketts Rd., Lucketts; 703-779-0268.
Stocked with antiques as well as gourmet goodies such as jams, eggs, and Kickles (bread-and-butter pickles with a little kick), this country store in the historic town of Aldie is the definition of charming. It's also known for carrying hundreds of wines under $10—and good ones at that. The staff is as friendly as you'd expect in a place like this, and they know their way around the tasting room. 39484 John Mosby Hwy., Aldie; 703-327-6743.
Leesburg Corner Premium Outlets
You'll see tour buses parked outside and will probably run across large knots of foreign travelers at this bargain mecca. Besides standard outlets such as Gap, Gymboree, J. Crew, and Ralph Lauren, the complex includes higher-end retailers like Le Creuset, Brooks Brothers, Vineyard Vines, and Armani. A recent trip yielded a butter-soft Burberry leather motorcycle jacket for $400 (originally $2,200) and a Restoration Hardware birdcage chandelier for $775 ($1,900 online)—missing some crystals, which were replaced for $50. 241 Fort Evans Rd., NE, Leesburg; 703-737-3077.
Where to Eat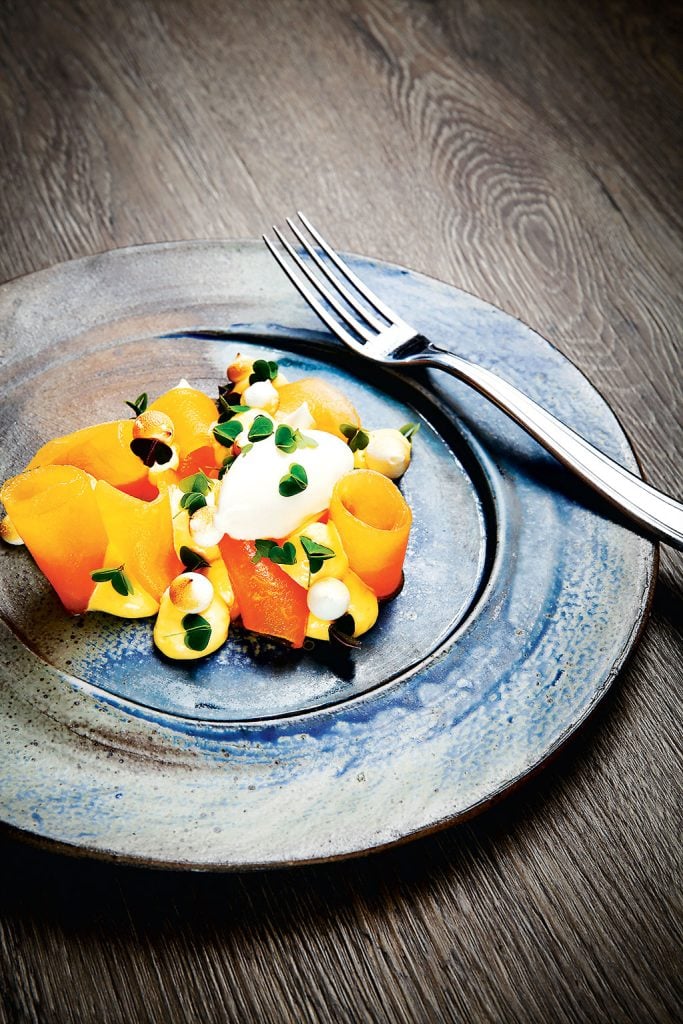 If ever there was a reason to drive out to the country, Patowmack Farm, one of the first farm restaurants in the US, is it. The chef, Tarver King, was a recent semifinalist for a James Beard Award, and after one meal you'll understand why. The prix fixe dinner menu changes daily and includes seasonal creations such as chilled green-tomato soup with ham, fennel pollen, and ricotta, or beef short ribs with grilled polenta, artichokes, and bacon. Because you're dining either in a glass conservatory or a gazebo, you'll catch one of the best sunset views in Virginia. 42461 Lovettsville Rd., Lovettsville; 540-822-9017.
Whether it's lawyers on break from trial at the county courthouse or couples at romantic dinners, Tuskie's—as it's known by locals—is the place to eat in Leesburg and has been for nearly 30 years. Although you can't go wrong with the crispy Chesapeake oysters, pork-belly tacos, or shrimp and grits, you may just want to start with dessert—the dulce de leche cheesecake "beignets" are better than [insert just about any vice you have here]. If you're lunching, ask about the Square Plate Special, which changes daily and is a steal at $7.95. 203 Harrison St., SE, Leesburg; 703-771-9300.
A burger with a big ol' crabcake instead of a patty? Diet-busting creations like that—along with the melted-Brie/balsamic/onion-topped Paris Burger, and the pimiento-cheese/sunny-side-up egg/applewood-smoked-bacon-topped Diner "Blue Plate" Special burger—make this Leesburg joint the best place for your cheat day. Ask about the burger of the month—examples have included Peking duck and a Hawaiian burger topped with griddled Spam (yes, Spam), egg, cheese, pineapple, and more. 525 E. Market St., Leesburg; 703-443-2105.
This article appears in our October 2016 issue of Washingtonian.