You may not have been paying attention, but the Black-and-Red are the winningest local sports franchise, and their new season started March 4. Here are 10 things you need to know about joining the loud side and what to do once you show up.
1. This Is What a Game Looks Like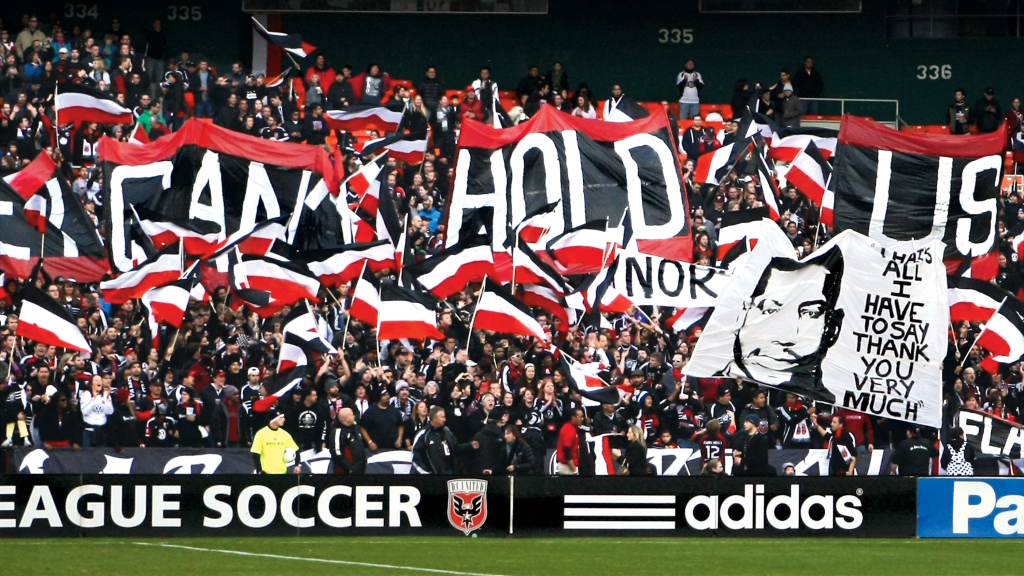 Tifo is an Italian word for fan. Here, it refers to the stadium-scale art that defines the über-soccer-fan experience—the thing that, along with the drums, songs, and chants, elevates the spectacular experience over the slow burn of baseball and the TV time-outs of football. Is it unique to United? Nope. But we're certainly standard bearers; our players have even been known to take home fan-made tifos as souvenirs.
2. United Has Won Some of the Biggest Titles in the MLS

3. There Are Three Rabid "Supporters Groups"—Join One and You'll Be in a Thousand-Member Family, With Drums
La Barra Brava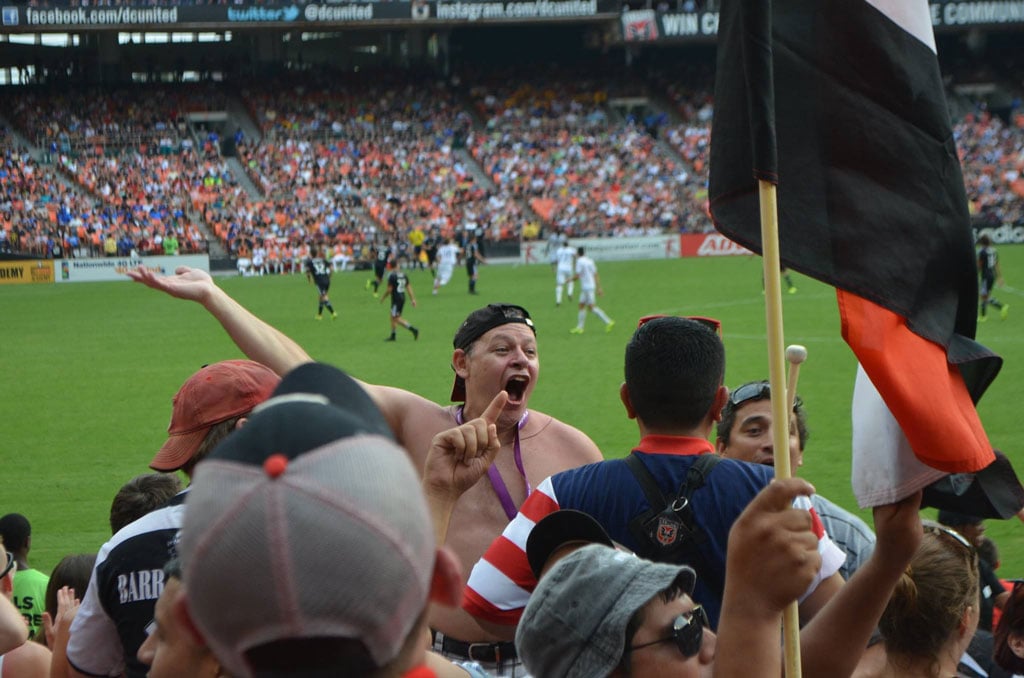 Origin story: Founded in 1995 by Bolivian immigrants and DC locals and inspired by the rowdy South American fan groups, without the violence.
Members: 1,600.
Big on: Drumming—loud drumming; chants in Spanish ("Vamos, vamos, United!"); and jumping that makes the stands shake.
Tailgate culture: Potluck, with a dedicated group of grillers dubbed Hell's Kitchen who cook up meat, all kinds of meat.
Membership: $32, and you drink and eat for free at tailgates.
Where to find them: Sections 135 to 138.
In their own words: "We're like a dysfunctional family. We're not very organized, but we have the heart."
Who should join: Anyone who wants to belong to one of the most passionate fan clubs in MLS.
District Ultras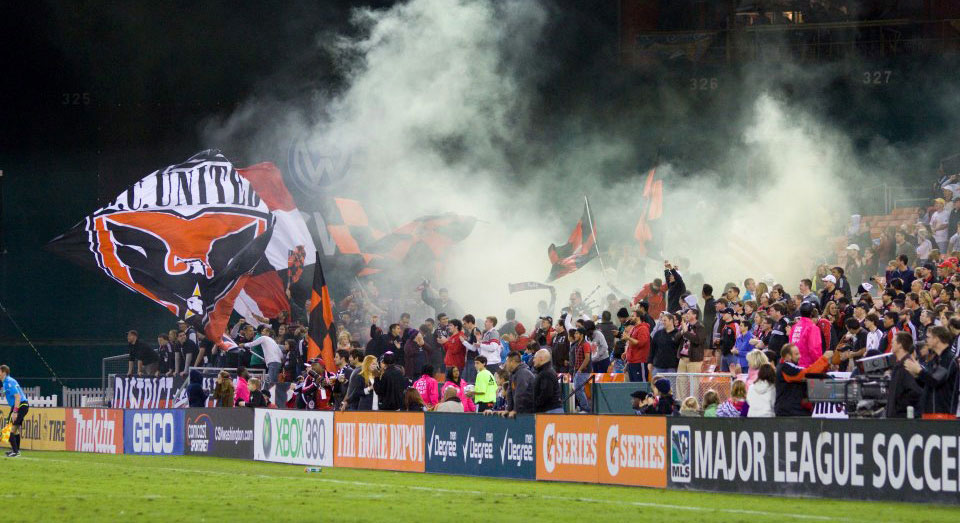 Origin story: They're a splinter group from La Barra Brava, formed in 2010 by Srdan Bastaic, who didn't like the way La Barra was run.
Members: 200.
Bragging rights: They're the tifo kings.
Buzzkill: Last season, a leading member was banned from games for a year for detonating a smoke bomb outside RFK. In protest, the Ultras left their section empty during the first half of the next ten games.
Membership: $20 optional; includes a scarf or flag, and free food at tailgates.
Where to find them: Sections 127 and 128.
In their Own words: "Pocos peros locos"—small but crazy.
Who should join: The highly principled and highly fit. Ultras take their "90-minute mentality" very seriously; they chant and jump for the entire match.
The Screaming Eagles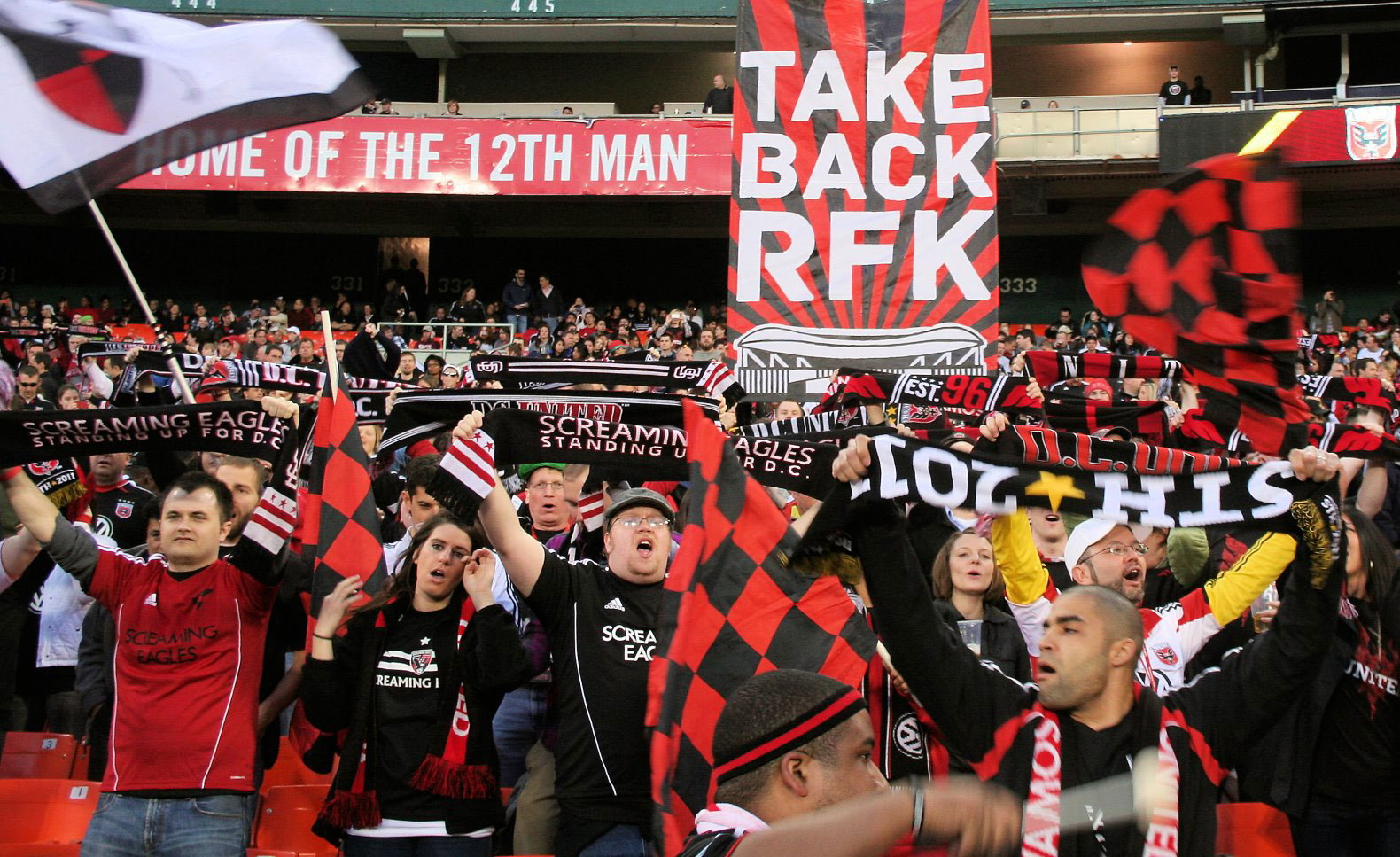 Origin story: Formed in 1995, even before the team was D.C. United, and helped organize the public vote on its name.
Members: 1,200.
Profile: Skews older, slightly more female, and generally tamer than other groups, with a come-one-come-all vibe.
Big on: Logistics and management—nobody would ever get left behind on their road trips to away games.
Tailgate perk: Kegs of local microbrews.
Membership: $30, with jersey (plus extra fees for tailgates).
Where to find them: Sections 132 to 134.
Who should join: Do-gooders. Every supporter group does charity work in the community, but the Eagles are particularly devoted to it.
4. Coach Ben Olsen Is a Badass—And He's One of Us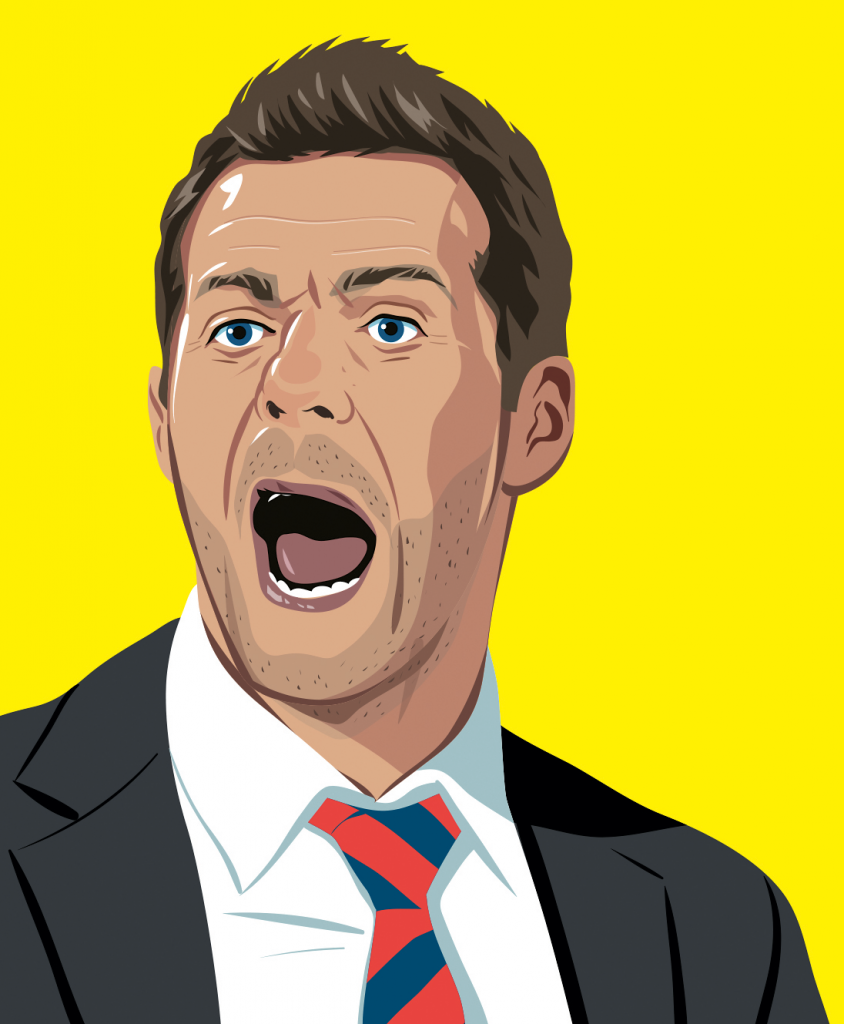 Age: 39.
Backstory: Joined the team after his junior year at UVA. Other than a brief loan in 2000, has spent his entire career at RFK. Hung up his cleats in 2009, became an assistant coach, and by 2010 had the top job, becoming the youngest coach in MLS history.
Ankle surgeries: Ten.
Game suspensions last year: Two.
If he didn't coach DCU, he'd be: A painter. He's putting on an art show for charity and often walks into work on a Tuesday with paint-stained hands.
Lives in: Shaw, with wife Megan and their three kids.
Cause célèbre: DC voting rights. He starred in one of those "Don't Be Silenced" ads with red tape over his mouth.
Says: "I love this city. I told [managing partner] Jason [Levien] in negotiations, 'I want to be here. I want to be part of this club. I want my kids growing up in this city.' Not the best negotiating tactic, but it's true. From day one, I fell in love with this club, and I feel a responsibility about pushing it to the next level."
5. This Scarf Is the Only Game-Day Attire You Need

For $24.99.
6. The Etiquette Is Super Easy to Follow
Don't sit if you're in the supporter sections—veterans will yell, "Get up, stand up, get up off your ass!" to the tune of Bob Marley until you stand.
Don't freak out if a tifo blocks your view of the game. It's only temporary.
Don't be fashionable: You will get showered with beer when we score.
Don't think you can't bring the little ones—just buy tickets in advance for the quiet side. It's full of families.
Don't leave early. Ditching will get you death stares, especially if we're losing. Reminder: This isn't baseball.
7. There Are Fans Called the Original 96ers Who've Been Around Since the Team's First Season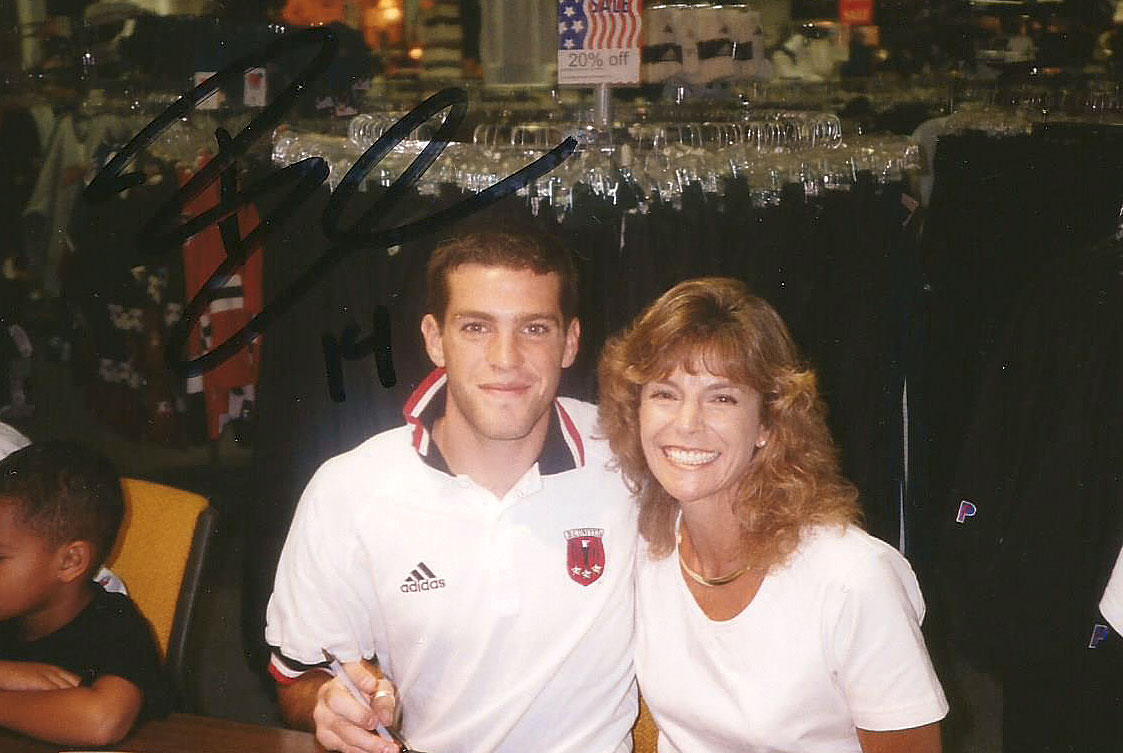 Meet JoAnn Keller of Fairfax, and section 107, who has missed fewer than eight home games in the team's history:
"I've been in the same section for 21 years. I like being behind the players' bench, so I've always sat there. Most of the players are wonderful. A lot live in Northern Virginia—I see them in grocery stores. A couple of years ago, I ran into John Harkes, an original player, at Costco. I've been in hospitals when Chris Pontius has walked by me and in a doctor's office when another player walked in. If I see someone I recognize, I say hello. One player used to say to me, 'Is your cute daughter here?'
"I spend five hours shopping for the tailgate. I buy all the hamburger and hot-dog buns. When David Beckham was coming, I had to buy, like, 70 packages each.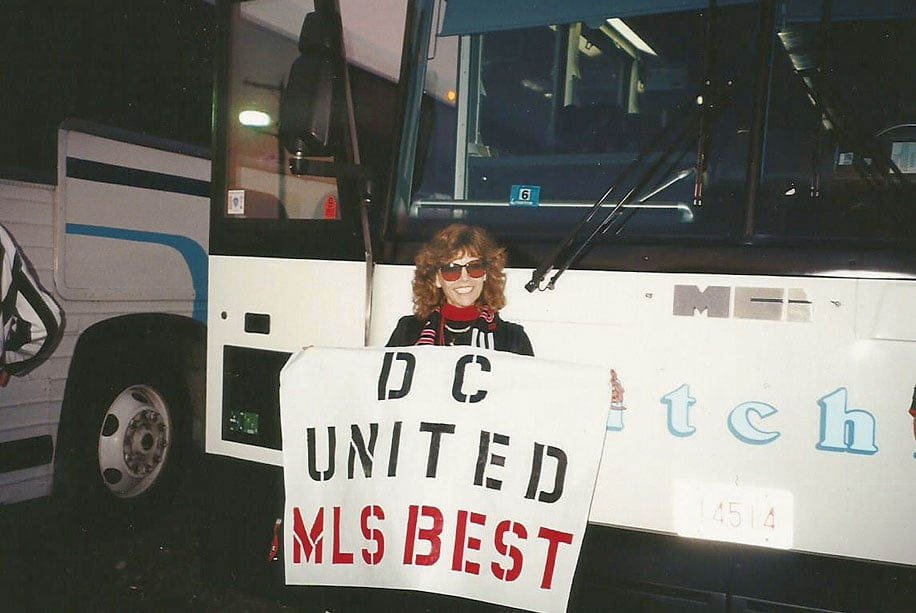 "I always wear a solid-gold soccer ball and chain that I bought for my daughter when she was 12. I have a couple pairs of D.C. United earrings, and I just look lovely! My license plate since '96 has been MLS BEST.
"After every goal we score, I throw red, white, and black confetti. Everybody around me knows to cover their drinks. Maybe someday I'll grow up."
8. We Have an Epic Rivalry With New York
DC vs. NY since 1996: 43(w)–30(l)–14(d). Here, five of our most memorable victories:
October 1996

In the first Eastern Conference semifinal, DC prevails over the NY Red Bulls (then known as the NY/NJ MetroStars) with a penalty kick in the 89th minute of play. Our greatest rivalry is born.

April 1997

With two minutes left in our home opener, a DC fan shoots a bottle rocket across the field and hits the NY equipment manager in the face. Okay, not so classy, but surely the loyalist didn't mean to hurt anyone.

July 2004

Fan favorite Jaime Moreno returns to DC after a quick stint with NY and humiliates his former squad when he steals the ball from their goalkeeper and rolls it past him into the net. The northerners are destroyed, 6–2.

April 2006

After scoring at Giants Stadium in NY, DC forward Alecko Eskandarian runs to the bench, takes a swig of Red Bull, and spits it out in comedic disgust. To NY's great pleasure, MLS fines him $250.

November 2012

Roughly 350 DC fans go north, but the match is postponed due to snow. Our squad storms the stands to thank fans, while NY doesn't acknowledge theirs. When the teams eventually go head to head, guess who wins.
9. These Players Are Among the Best in the League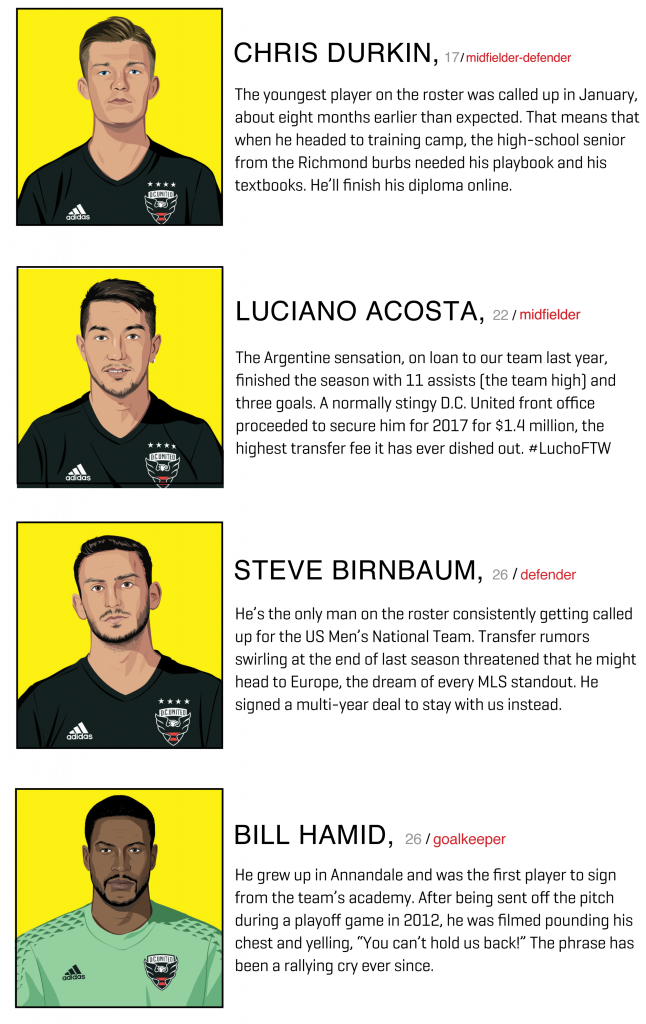 10. If You Start Now, You Can Say You Were a Fan When They Used to Play in Good Old RFK
In June 2018, the team moves to the most expensive stadium in MLS history: a $300-million 19,000-seater at Buzzard Point. Awesome as progress may be—the new digs are expected to bring thousands of new fans, allowing the team to hire even better players—clearly you'll have more cred if you can say you were around way back when the fanciest concession was jerk chicken.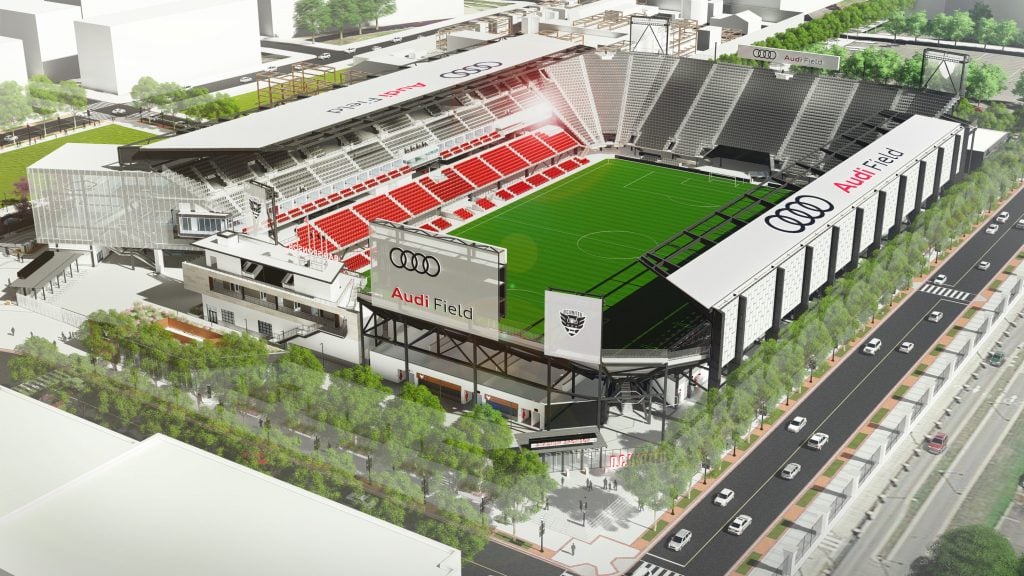 This article appears in the March 2017 issue of Washingtonian.