1. Ruffles and Flourishes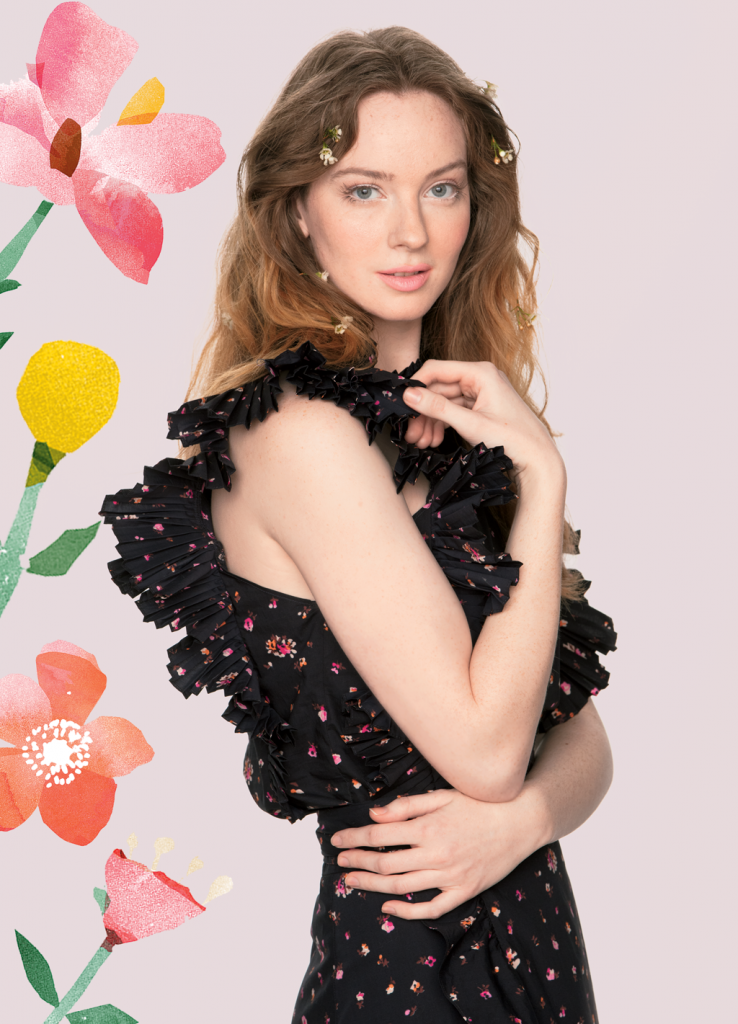 Floral prints are even more playful when coupled with oversize ruffles. For more flower power, take the printed look head to toe with a matching skirt or trousers.
Sleeveless "Mia" top, $275, and wrap skirt, $395, at rebeccataylor.com.
2. Soft Crop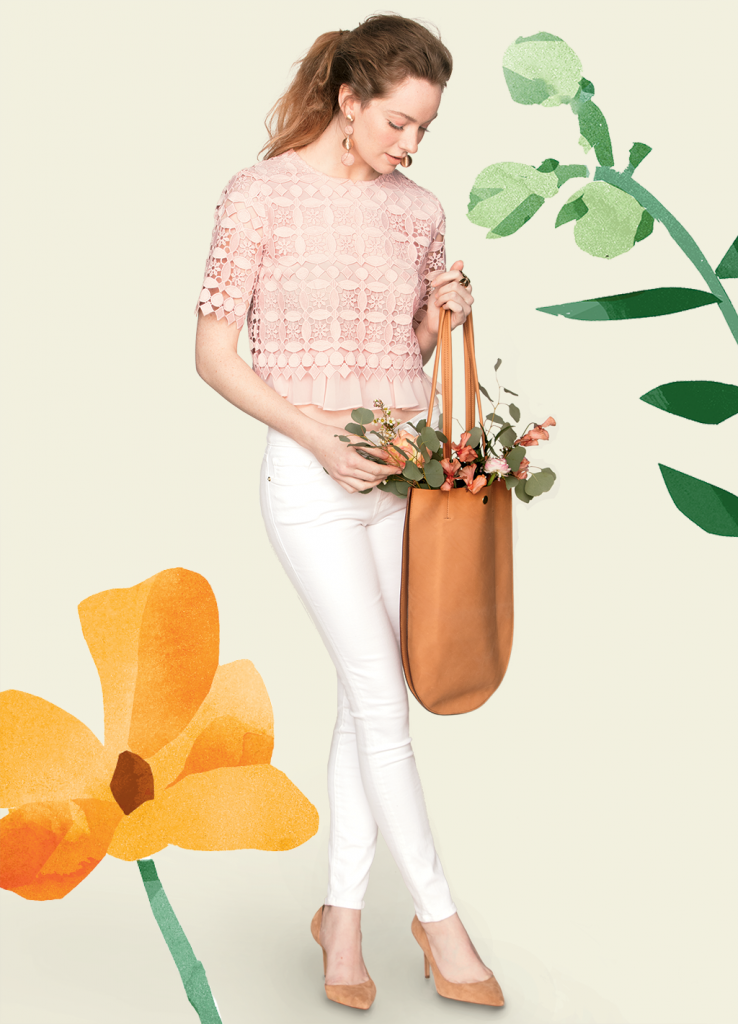 Boxy crop tops are showing up for spring in delicate fabrics and pale pastels. Leather accessories in rich caramel tones complement the look.
"Claude" cropped lace top by Sandro in rose, $265 at Bloomingdale's; Minor History "Holborn" tote, $295 at moderncitizen.com; Frame Denim "Le Color" skinny jeans in white, $184 at Ruth Shaw in Baltimore; "Ima" gold-leaves wrap ring, $155 at Tabandeh in Friendship Heights; gumball drop earrings in blush/rose gold, $220 at suzannadai.com; suede "Felipa" pumps by D'Orsay in caramel tan, $138 at Ann Taylor.
3. Bell Weather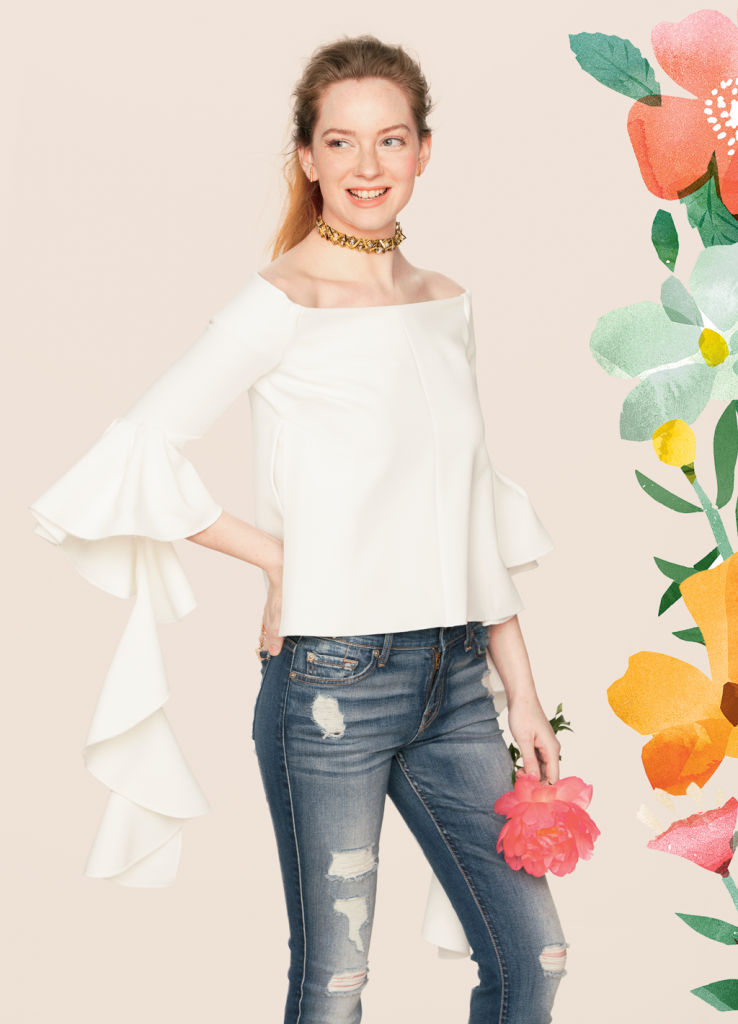 The boho bell sleeve is bigger, bolder, and more refined. In this off-the-shoulder design, extra fabric unfurls at the elbow to dramatic effect. Pair with a glam metallic choker and distressed jeans for a night out, or with pumps and satin pants for formal occasions.
Ellery "Delores" top in split ivory, $890 at Curio Concept in Georgetown; 7 for All Mankind ankle skinny jeans in distressed authentic light, $225 at Bloomingdale's; Erickson Beamon "Third Dimension" gold crystal choker, $665 at Tabandeh; gold-and-crystal ring, $265, at Tabandeh; 14-karat-gold vermeil "Reign"earrings, $108 at Sophie Blake.
4. Sheer Beauty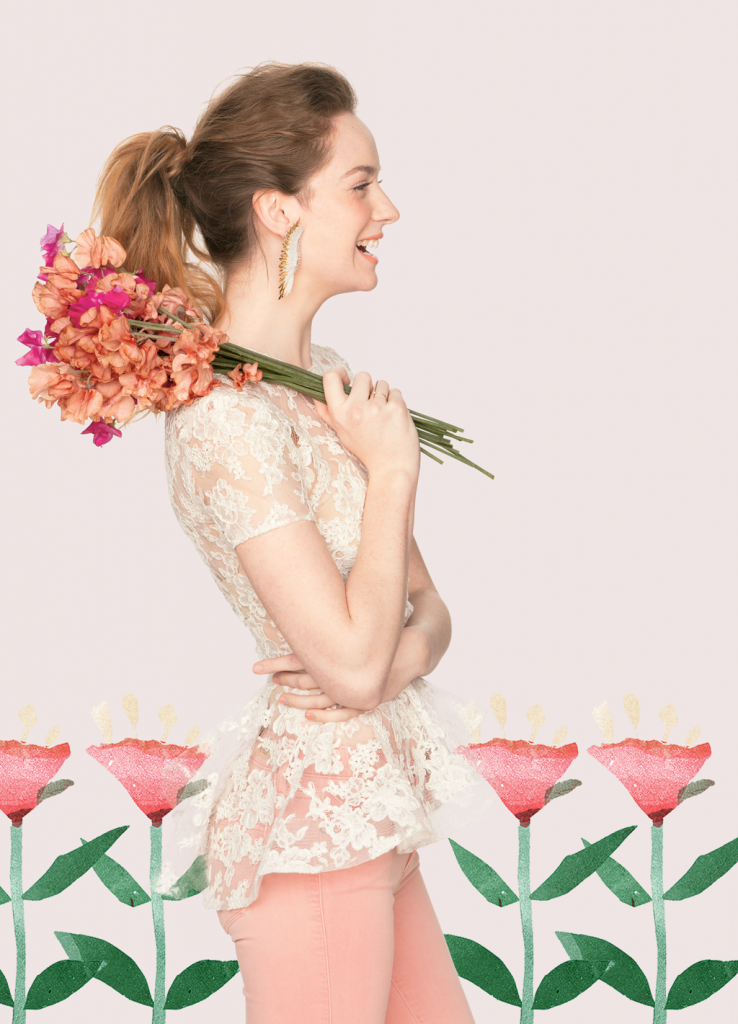 With warmer weather, chiffon, organza, lace, and other barely-there fabrics will be out in full force, such as the embroidered lace in this feather-light peplum blouse.
Reem Acra ivory lace top, $1,995 at Rizik's in downtown DC; Paige Denim jeans in faded petal, $199 at Bloomingdale's; rose-cut diamond pin ring in yellow gold, $595 at roseywest.com; Mignonne Gavigan "Madeline" earrings, $245 at the Hive in Alexandria.
5. Pin-terest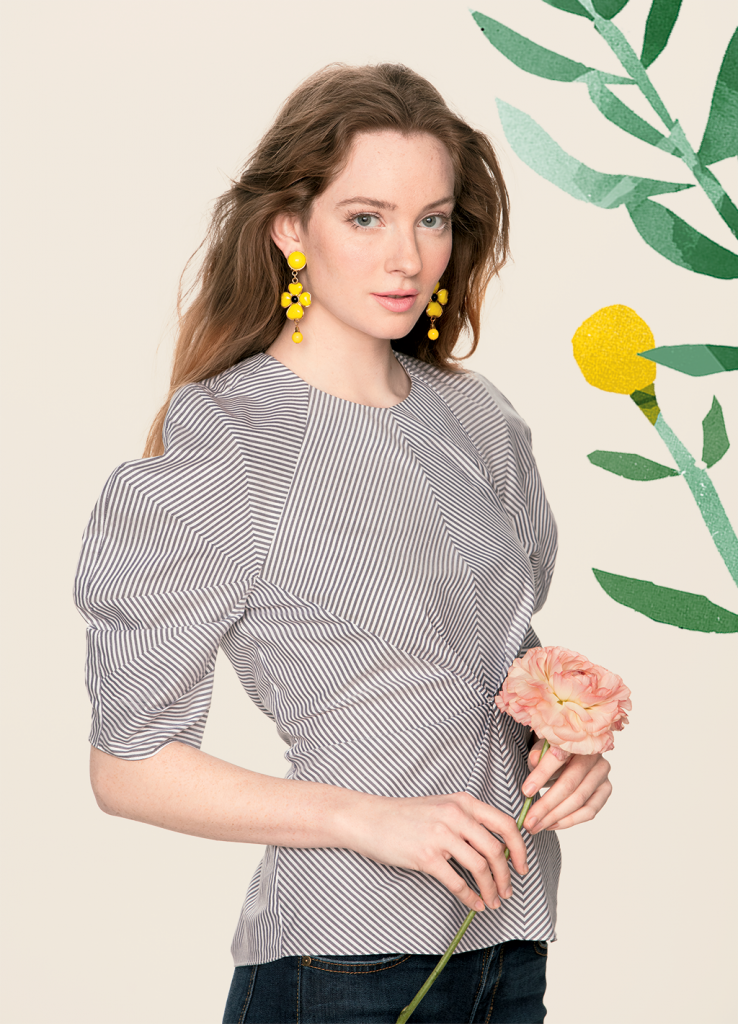 The striped button-down is being reimagined in new silhouettes, such as this pin-tucked blouse that can go from cubicle to cocktails. A pop of this season's sunniest hue—yellow—plays nicely against classic shirt hues of gray, blue, and chambray.
Roksanda "Colter" top, $940 at Hu's Wear in Georgetown; Just Black basic skinny jeans, $96 at Violet Boutique in Georgetown; Robert Goossens "Amalfi" yellow enamel earrings, $435 at Tabandeh.
__________
Illustrations by Chris Ballasiotes, Photographs by Cade Martin, Styling by Pascale Lemaire, Hair and makeup by Janice Kingopoulos, Model by Modelogic Mid-Atlantic, Flowers by Kruse & Viera events.
This article appears in the April 2017 issue of Washingtonian.