Following a seven-month search, local leather craftsman Jon Wye has finally found a location for his new workshop, but it's not your typical artisan's studio.
After he clears out boxes, sweeps up loose hops, and rolls out the kegs, Wye's new 2,000-square-foot, multi-level workshop will open inside DC Brau's brewery at 3178-B Bladensburg Road in Northeast DC. The industrial nature of the space will allow Wye to build up separate areas for an office, a manufacturing space, and inventory storage for the colorful belts, wallets, guitar straps, and other leather goods and accessories in his line. The space is significantly larger than his former workshop at Art Enables, which he had nearly outgrown. 
"My last shop was approximately 1,200 square feet but one level," Wye says. "We were so packed in that at the end of our time in Art Enables space we were piling bins of leather on top of machines to clear space. So every time we needed to get to one machine we'd have to junk up the adjacent machine."
"When I found out my former landlords were thinking of expanding and my lease wouldn't be renewed, I started looking for a new location, but nothing seemed to be a good fit," he explains in press release sent out on Wednesday. "After almost seven months of looking, I started thinking of non-traditional spaces. DC Brau was kind of my Hail Mary shot… Pre-DC Brau move my leads were storefronts, which I didn't want."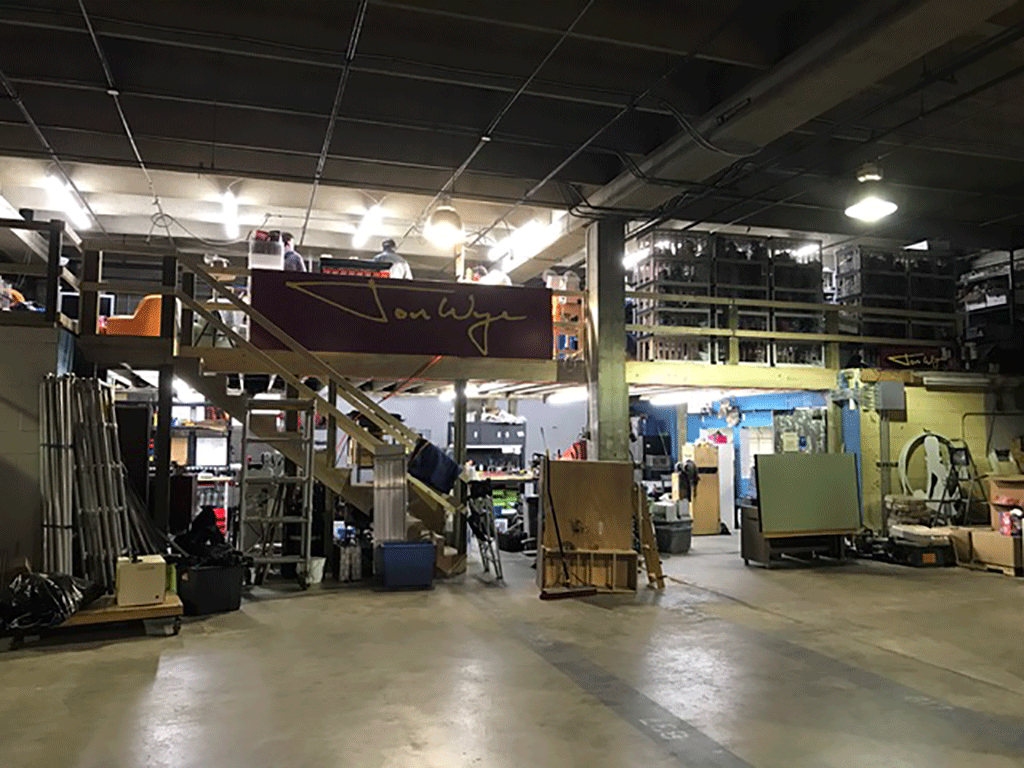 This isn't the first time that Wye has worked with DC Brau. He's been a regular at the brewery's annual Made in DC Holiday Marketplace; he's also released a printed belt and t-shirt bearing the likeness of DC Brau's co-founders Brandon Skall and Jeff Hancock. Still, a permanent shared workspace between a leatherworker and brewers both marks a new level of cross-branding for DC artisans and the beverage community, and could also be indicative of what Wye sees as a problem with availability.  
"It was very hard to find workshop space in D.C.," he says. "Show me where D.C. has truly affordable old-cement-floor-exposed-conduit-no-amenities maker spaces.  They don't exist and it's what people need… I lucked out that I had my parents garage in 2004 when I started."
The arrangement could also prove mutually beneficial beyond the conventional landlord/tenant relationship and the branding opportunities the shared space creates. The workshop will double as a commercial space for the wares and accessories Wye produces, and eventually the studio will become a stop on the weekend brewery tours.
"[The space is] already the last stop, can storage, so we don't take away from the Brau focus, which is important to me," says Wye. For now the shop has irregular hours, which Wye hopes to smooth out by the end of April, so prospective shoppers should be sure to call ahead for a visit. As for product collaborations between the Jon Wye brand and the DC Brau folks, further projects may be in store, though Wye is mum on exactly what.
"It involves leather, beer, and something that hasn't been done with the two before," he says.