Suzy Dodge and Justin Cook knew they wanted something different for their wedding. Rather than wed indoors, they chose the West lawn of the Jefferson Memorial. Rather than invite a crowd, they each brought a sole friend or family member to witness. And rather than wear white, Suzy chose a bold pink floral gown that perfectly matched the cherry blossoms blooming along the tidal basin where they exchanged their vows. Check out the inspiring images by Amelia Johnson Photography below.
Follow B&G on Instagram | Like B&G on Facebook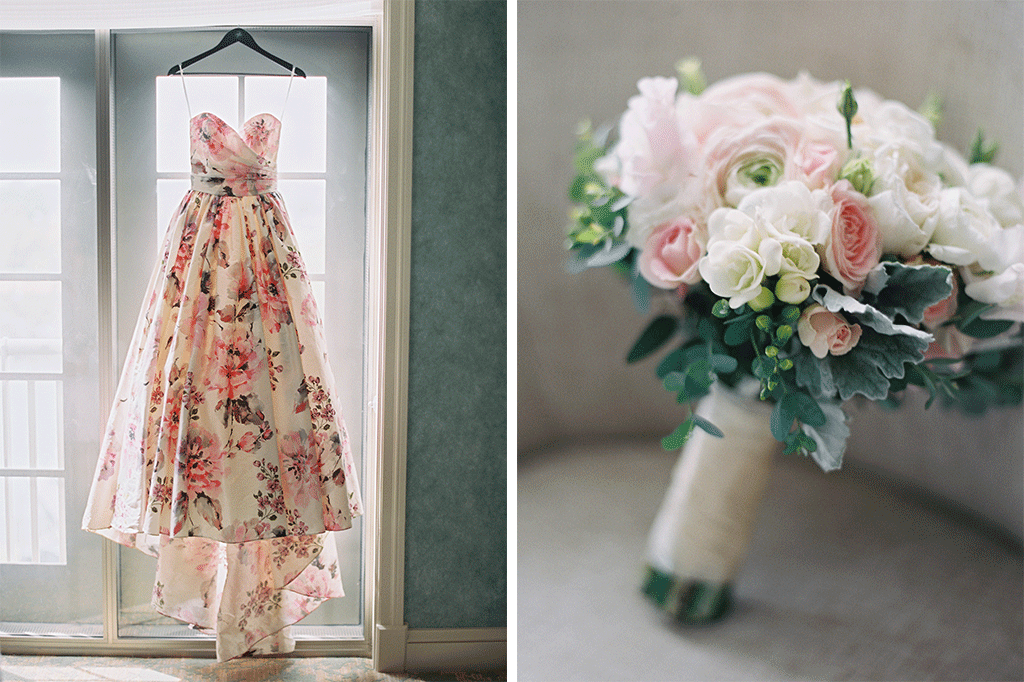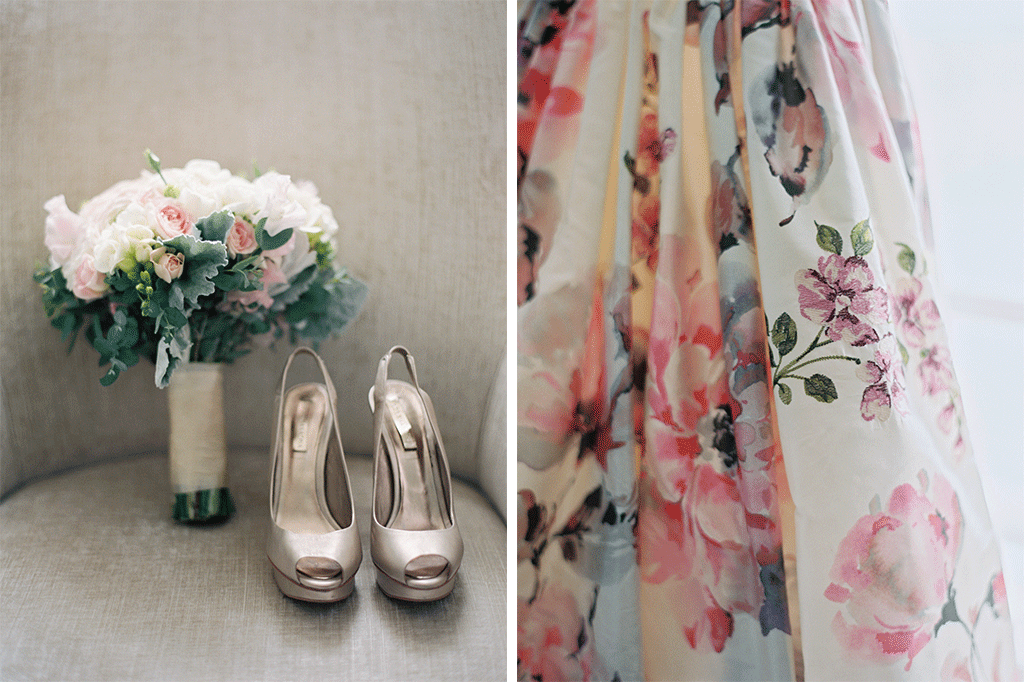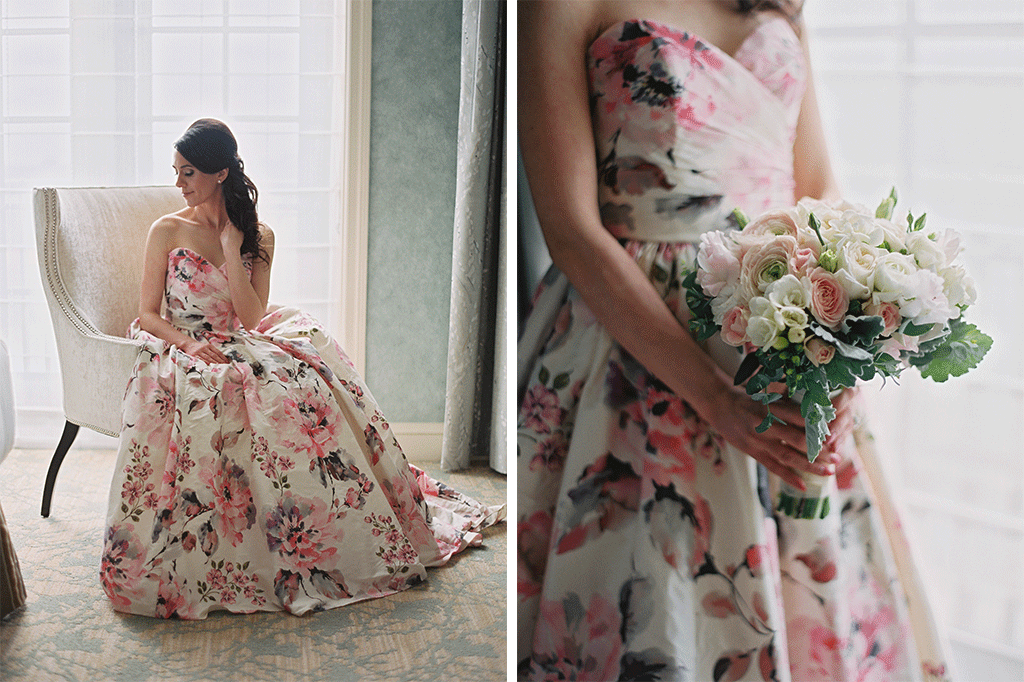 It can be hard to pull off a nontraditional wedding dress, but when Suzy Dodge spotted the strapless flower-printed 'Katelyn' gown by designer Wendy Makin on Pinterest, she instantly fell in love with the floral print.
"I knew I wanted a non-traditional dress, and it was far and away the most beautiful one I had seen," she explains. Since the dress was only available in Australia, New Zealand, and the UK, Suzy tried to find something similar that was made closer to home, to no avail. Eventually she contacted the designer, based in Australia, and they were able to custom make the dress to her sizing and ship it internationally.
"It was even more beautiful than I anticipated," says Suzy, "and it matched the cherry blossom theme of the wedding to a tee."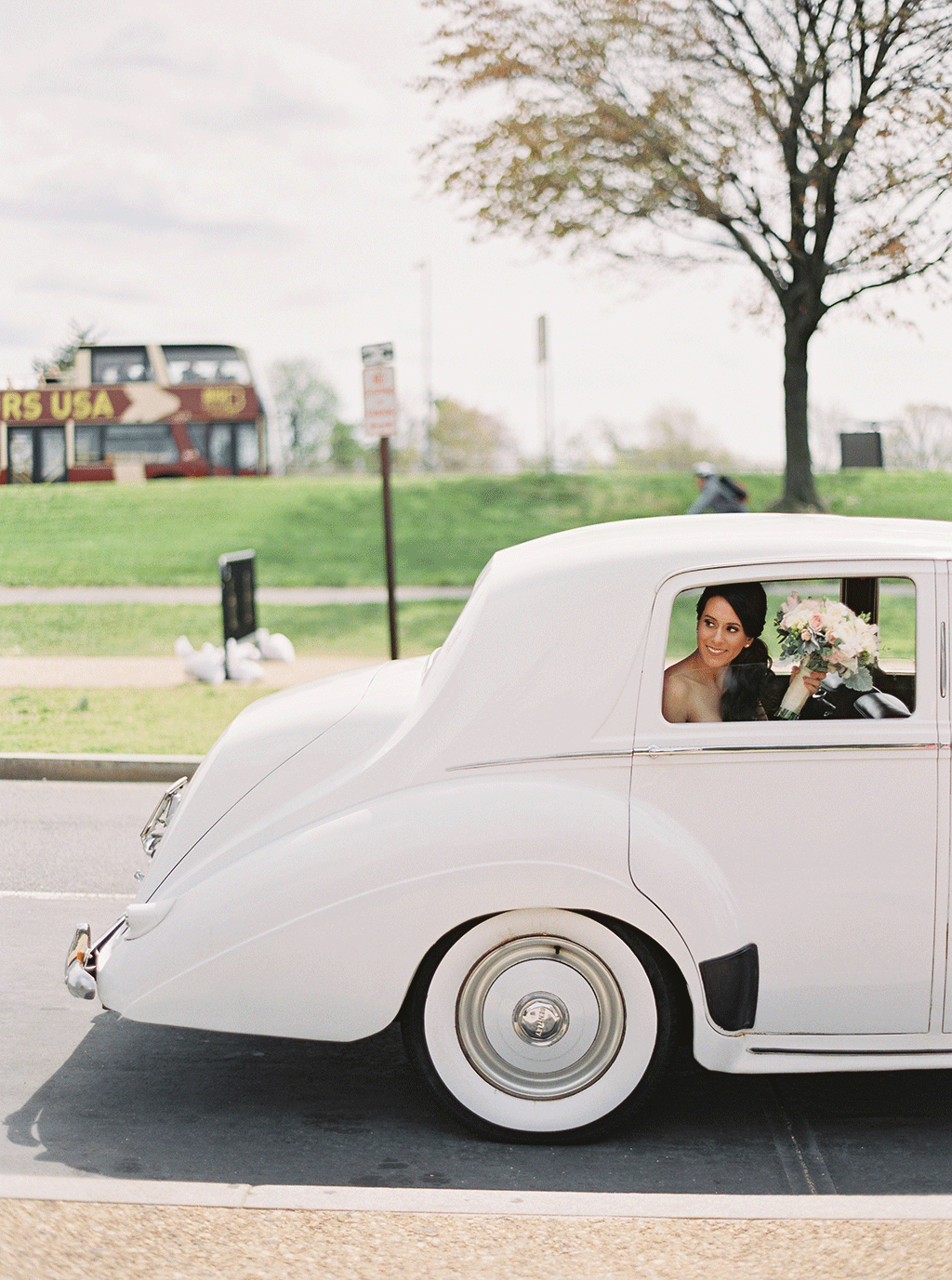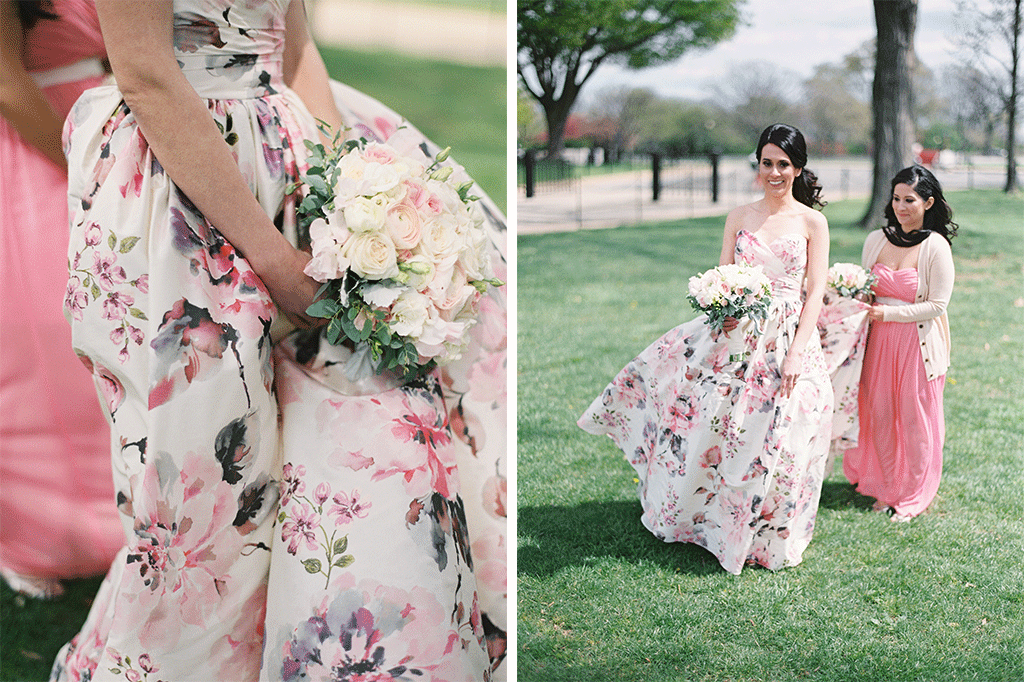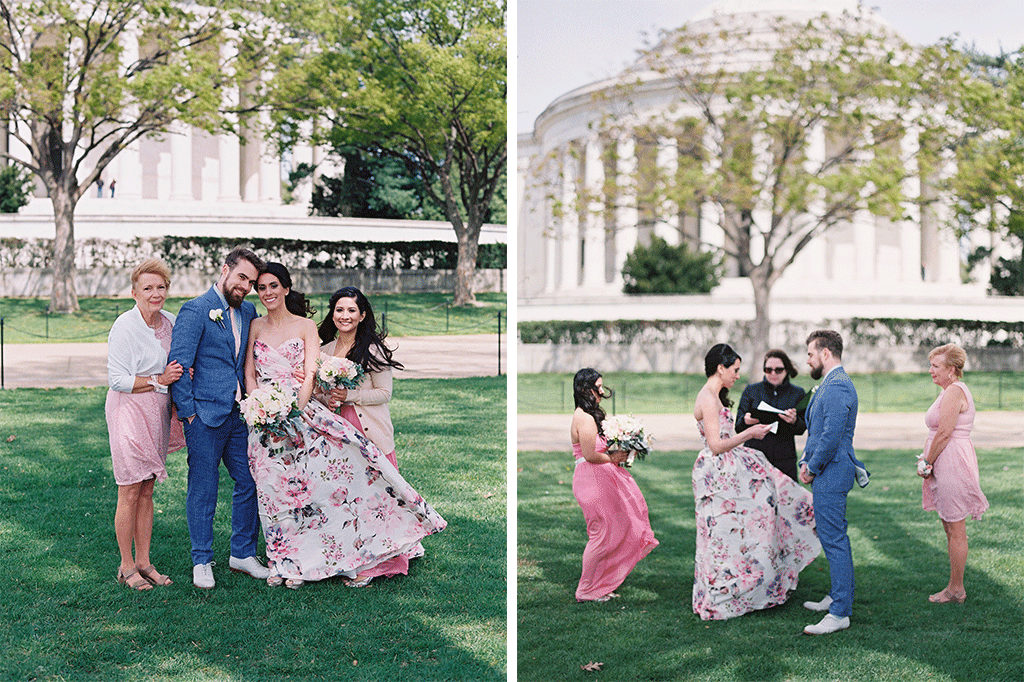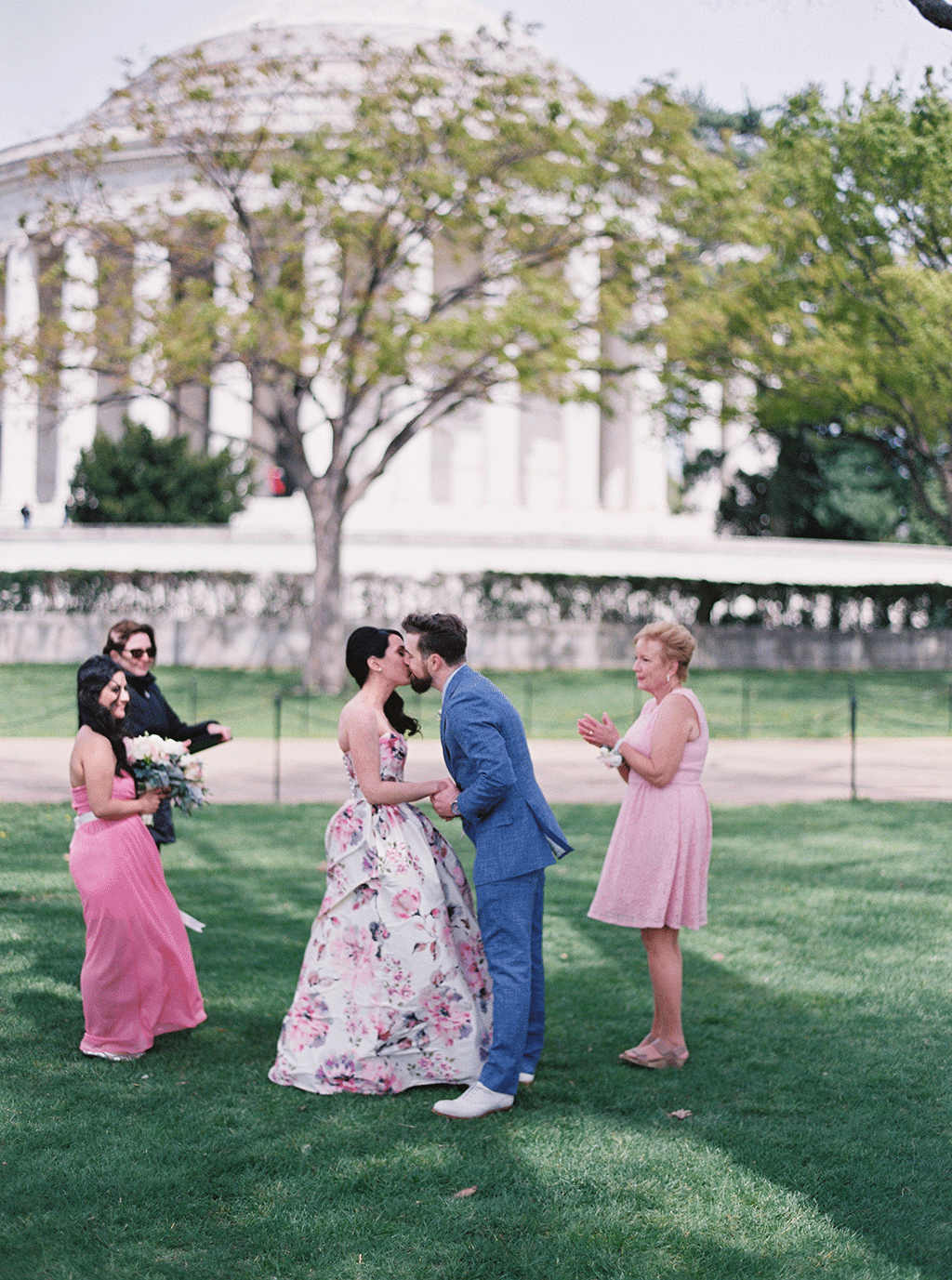 Suzy and Justin first met at a New Year's Eve pub crawl in 2011, but it wasn't until they came across each other's dating profiles online that they arranged a date. They went to Society Faire in Alexandria for charcuterie and wine, then strolled Old Town for a while chatting before going for a full meal at Columbia Firehouse.
"My first impression of Suzy was her striking wit," says Justin, "and her willingness to say whatever was on her mind even if it was socially unconventional. In a city so full of people who think liberal, but act conservative because they are afraid to offend someone, it was refreshing to hear someone really be themselves."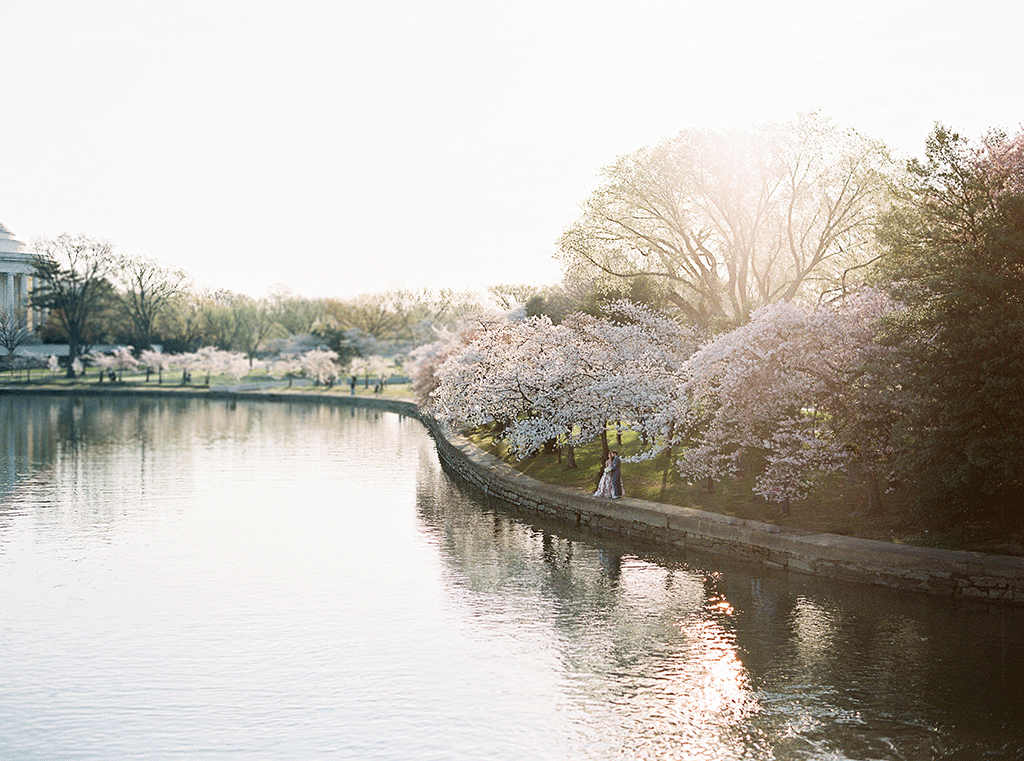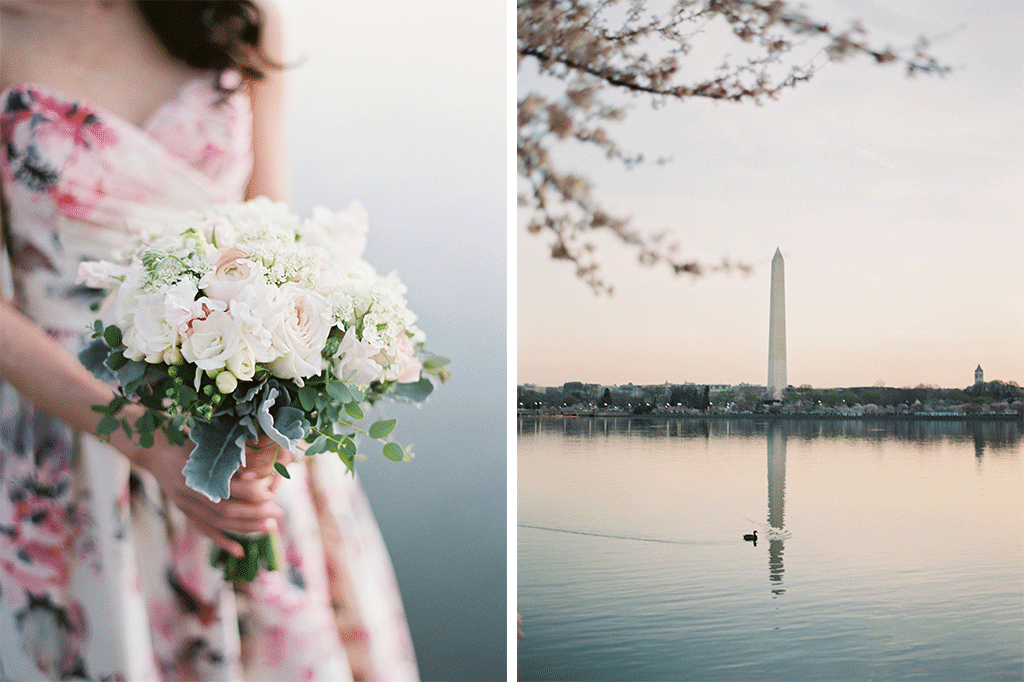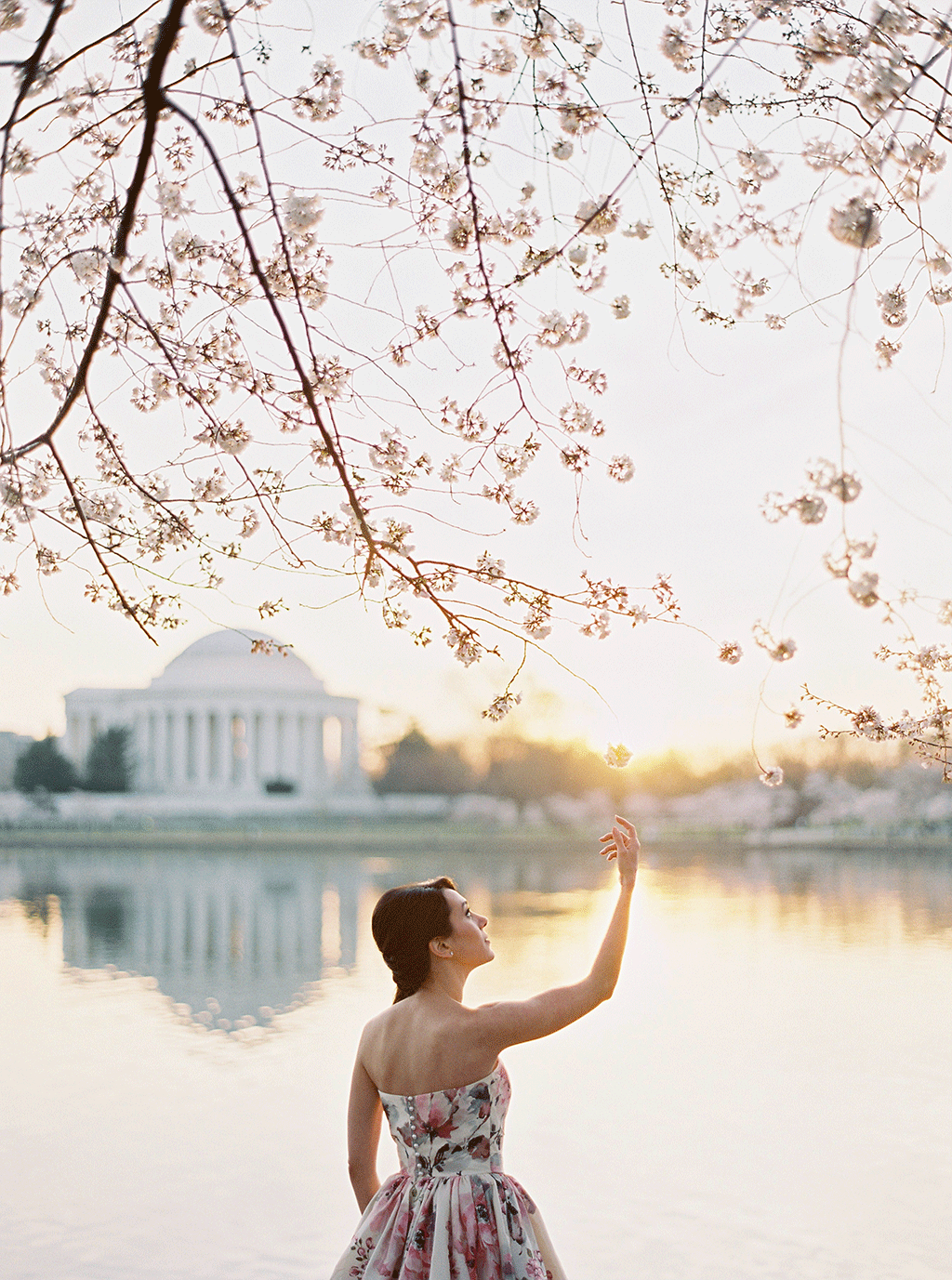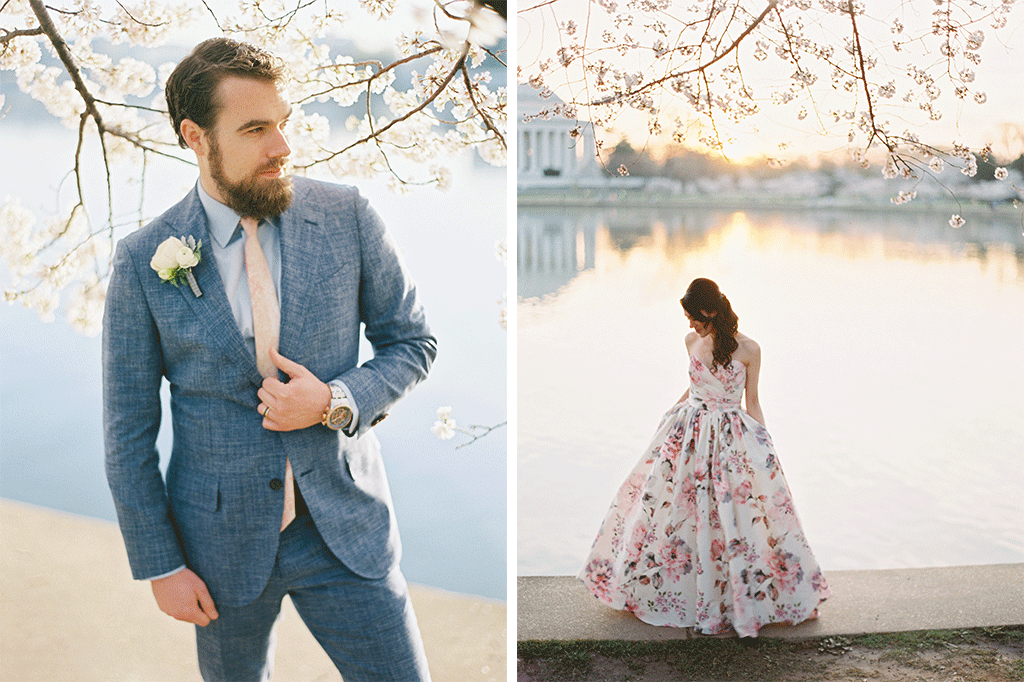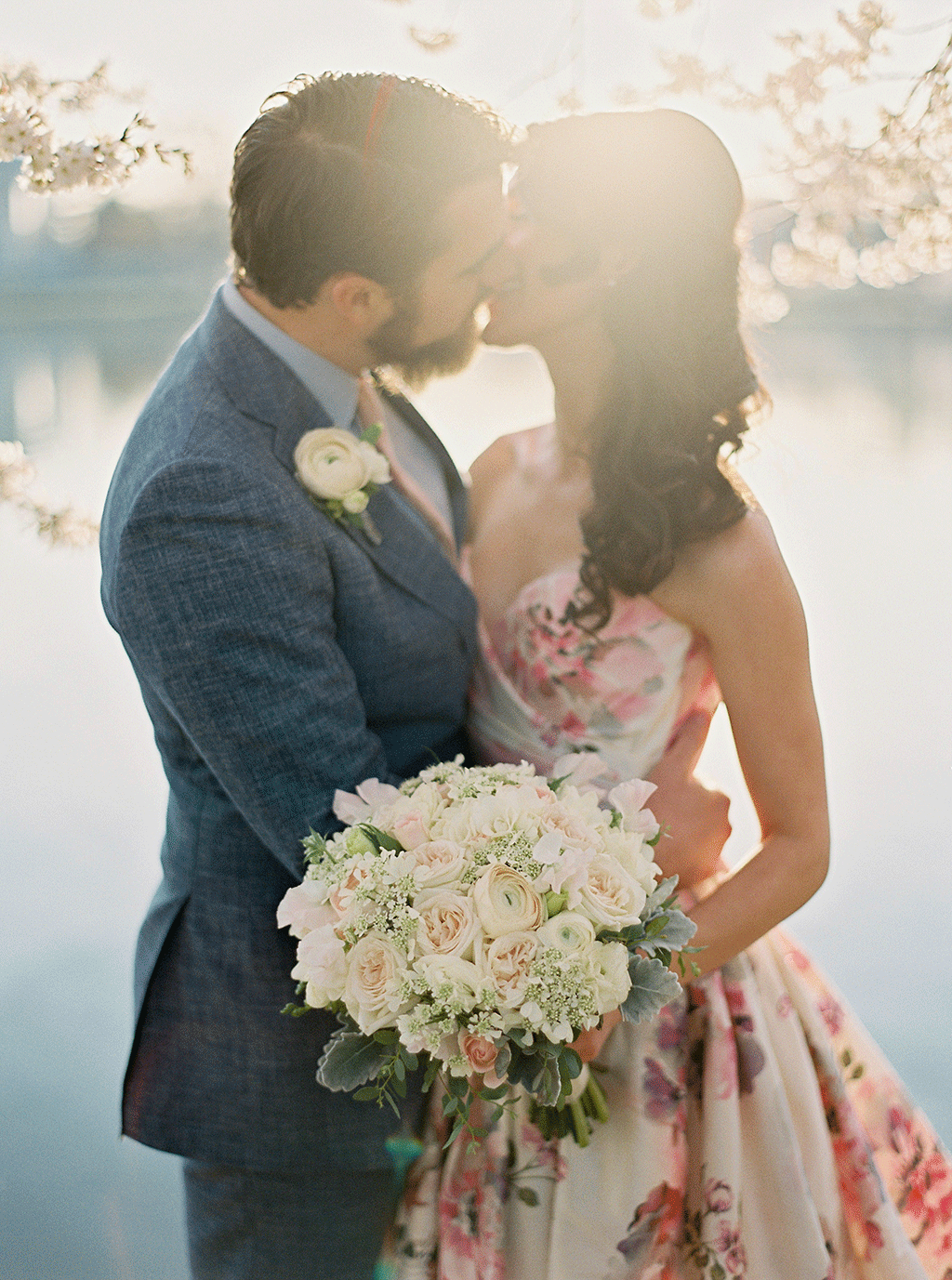 The pair quickly became a couple. They dated for three years before Justin proposed while they were on a trip to Morocco. They had ridden camels out into the Sahara desert and climbed to the top of a dune to watch the sun set. There was no one around for miles except for two German tourists, who Justin approached with his phone. "Will you take our picture?" he asked, gesturing to his phone. On his screen he had left up a single line of translation from German to English that read: "I'm about to ask her to marry me."
"I thought we were posing for a photo until he dropped to his knee and handed me a ring," recalls Suzy. "I was so surprised (and afraid I'd drop the ring in the sand) that I almost forgot to say yes!"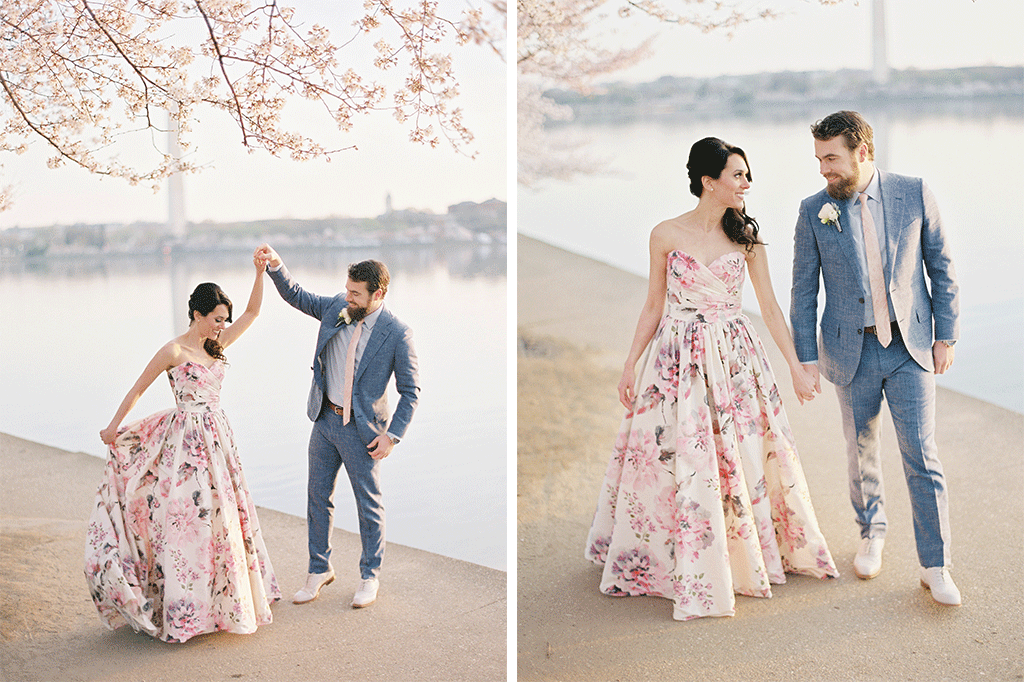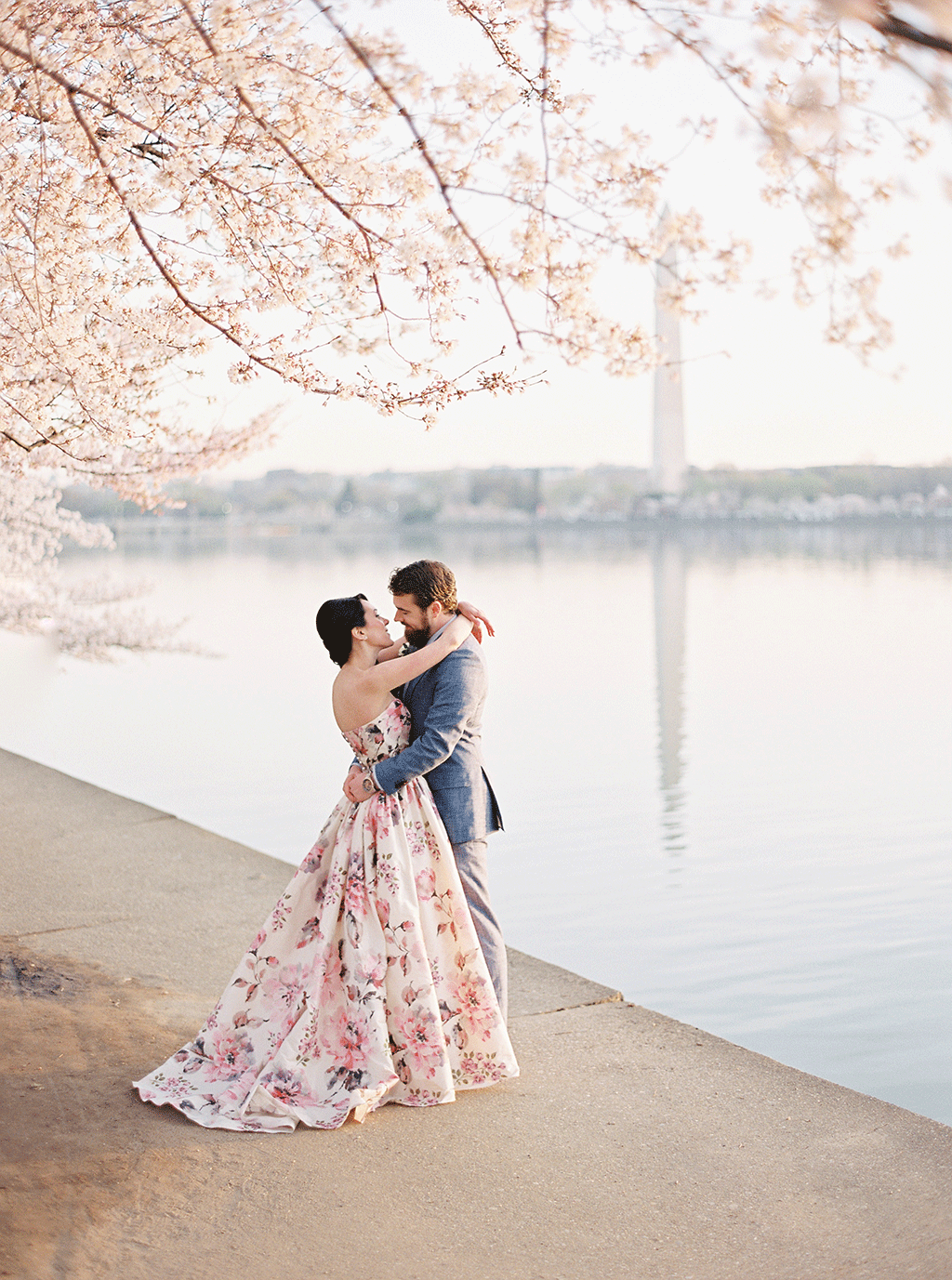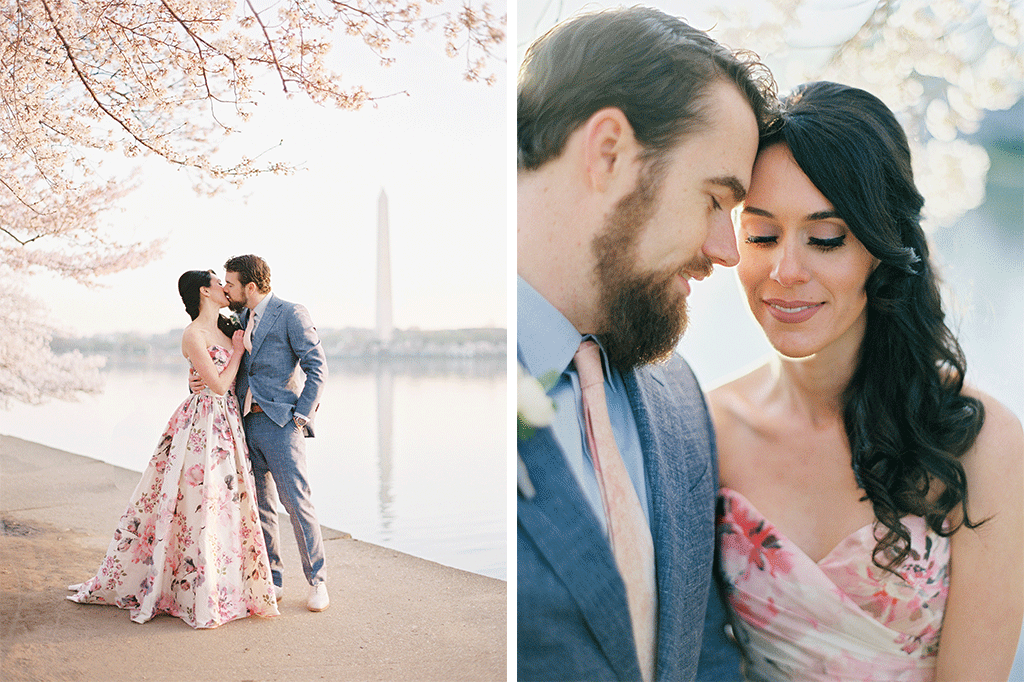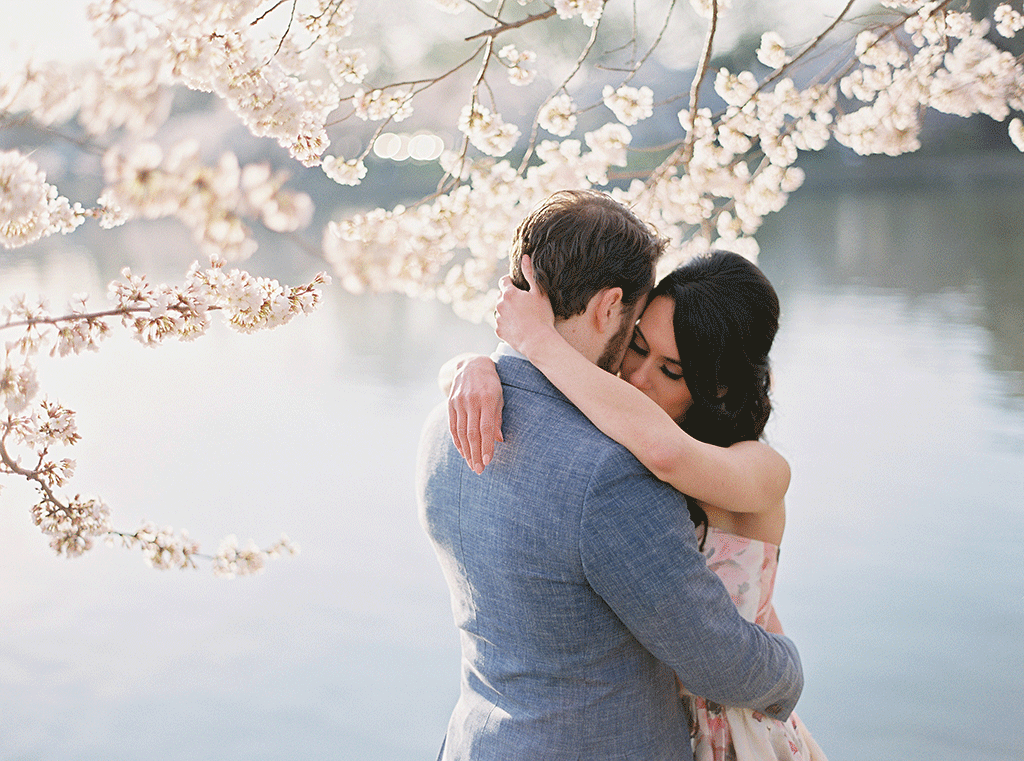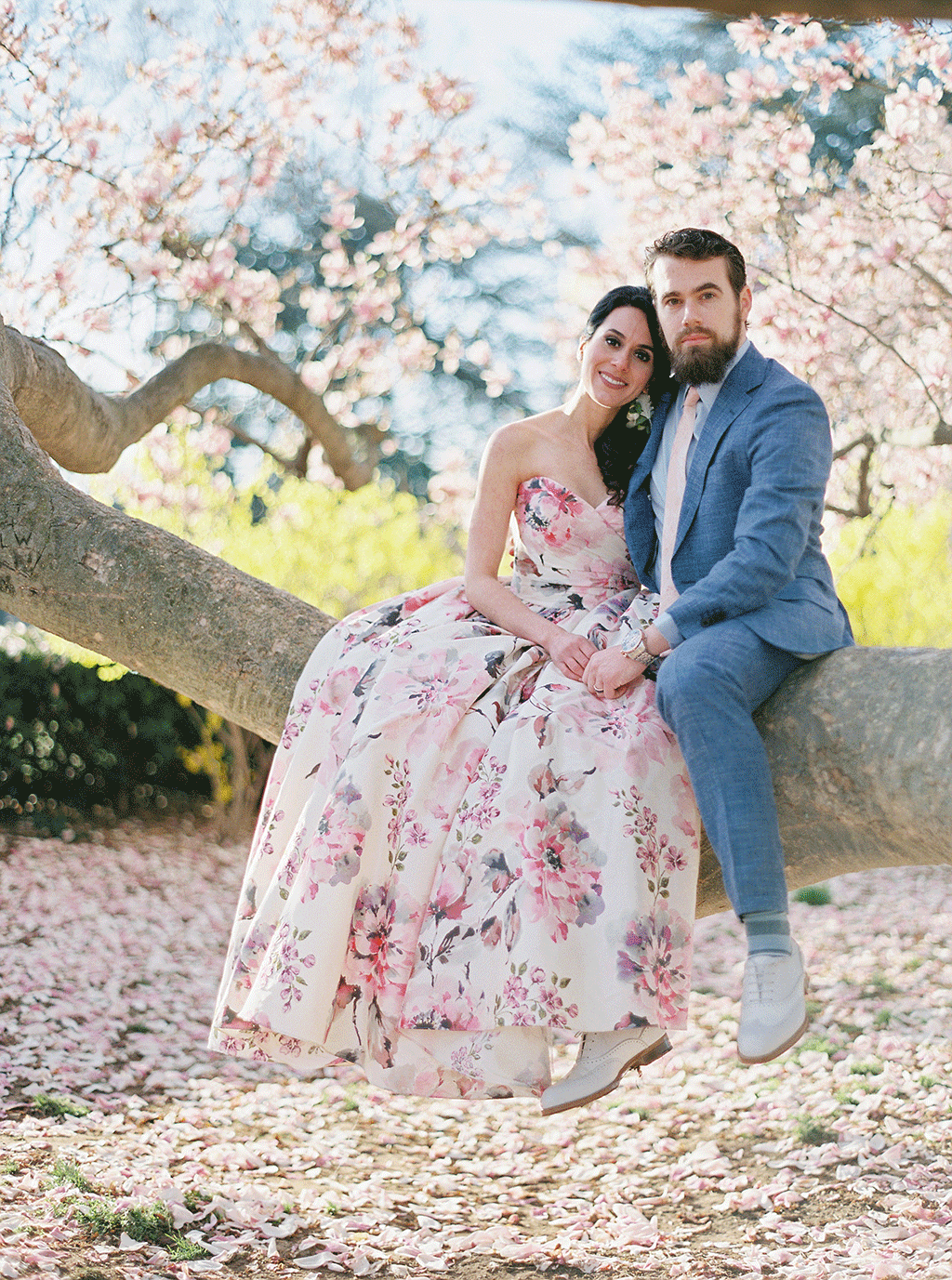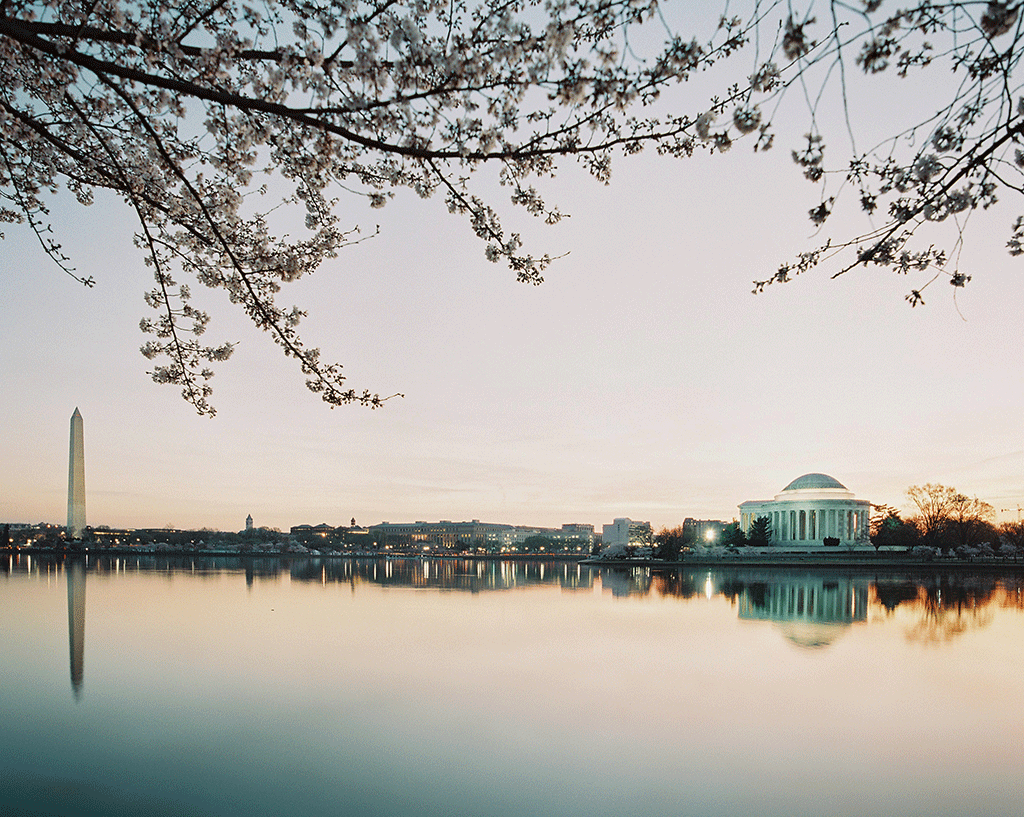 Justin and Suzy held their wedding fourteen months later, timing it to the peak bloom of the cherry blossoms. Though their ceremony was intimate, they held a large reception afterwards at Bluejacket Brewery. True to form, rather than go on a tropical escape the newlyweds decided to take a road trip out West around the National Parks for their honeymoon. They flew to Albuquerque, rented a car and hit up Red Rocks in Sedona, the Grand Canyon, the Valley of the Gods and Monument Valley, Bryce Canyon and Zion Canyon, Yellowstone, Big Sky, and then made it to their final destination in Jackson Hole, where they took in views of the Grand Tetons.
VENDORS
Photographer: Amelia Johnson Photography | Florist: L'Artisan Lily | Reception Venue: Bluejacket | Bride's Gown: Wendy Makin | Bride's Hair: Hair by Giselle | Bride's Makeup: Nicole Manley | Groom's Tux: Suitsupply | Groom's Shoes: Ferragamo | Groom's Hair: Barber of Hell's Bottom | Wedding Treats: Ice cream sandwiches from Ice Cream Jubilee | Caterers: Bluejacket | Rings: Dominion Jewelers | Invitations: Minted