Where to Eat
1. Gina's Cafe
This tiny Tex-Mex spot serves up big flavors—quesadillas stuffed with blackened salmon or tacos with ahi tuna, burritos filled with crabmeat, and fresh tortilla chips overflowing with vegetarian toppings. Watch for 99-cent sangría nights. 601 S. Talbot St.; 410-745-6400.
2. Justine's Ice Cream Parlour
A town mainstay since 1987, Justine's is known for its "wall of shakes," a handwritten menu of creative concoctions ranging from chocolate-marzipan (chocolate sauce and pistachio ice cream) to a German-chocolate-cake shake made with butter-pecan and chocolate ice creams, coconut, and hot fudge. 106 N. Talbot St.; 410-745-0404.
3. Lan's Tapas and Wine Bar
If the weather's nice, grab a seat under the strings of lights on Lan's deck and tuck into small plates of grilled-octopus salad or lamb "lollipops." There are more than 25 varieties of wines by the glass, plus live music in the winter. 103 S. Freemont St.; 410-745-8001.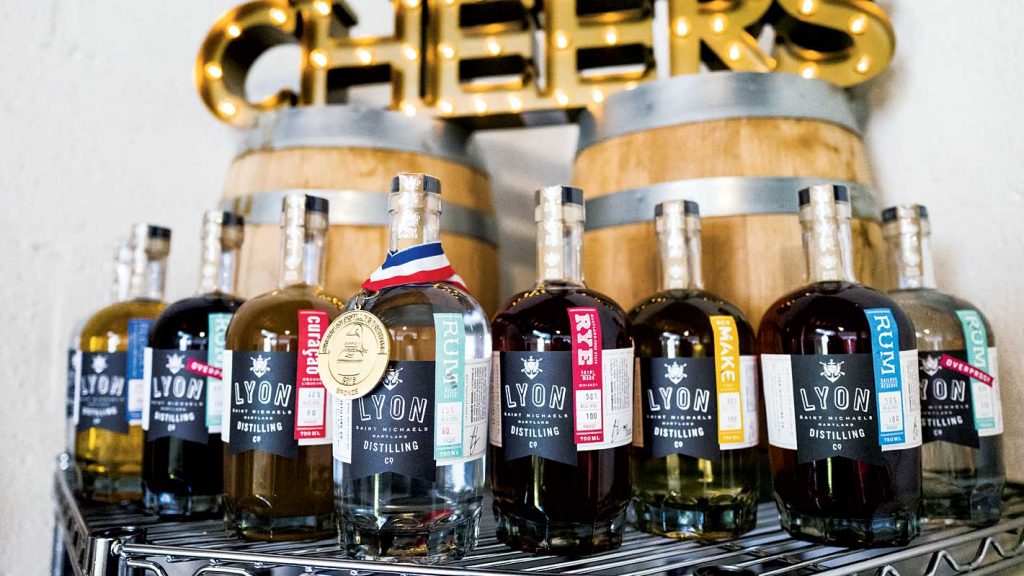 4. Limoncello
This cheery Italian eatery on St. Michaels' main drag makes a tasty lunch stop. Try the flatbread "pizzettes" or risotto spiked with fat Gulf shrimp and asparagus. End your meal with a glass of the house-made limoncello liqueur. 200 S. Talbot St.; 410-745-3111.
5. Stars
Even if you're not a guest at the luxe Inn at Perry Cabin by Belmond, you can take in the glorious Miles River views from its restaurant, Stars. The scenery doesn't come cheap, however—crabcakes run $42 for dinner. Swing by for lunch and you'll be rewarded with lower prices and the same great scenery. 308 Watkins La.; 410-745-2200.
Where to Shop
1. Gatsby's Collection
It's hard to miss this shop as you approach St. Michaels. Just look for the statues of lions, elves, and topless mermaids out front. The goods inside are just as eclectic—a mix of antiques, furniture, and decorative items, from taxidermy to Gothic chandeliers to a marble bust of Ernest Hemingway. 1007 S. Talbot St.; 410-745-3700.
2. Iron Will Woodworks
Owners Mark and Tracey Miller scour the country for interesting finds for their home-decor shop. You'll find vintage Coke coolers, ancient wagon wheels, wood and leather trunks transformed into coffee tables—and every item comes with a tag describing its history. 605 S. Talbot St.; 267-221-5107.
3. Ophiuroidea
This jam-packed boutique, also known as "The O," offers coastal home decor, boho beach clothing, and a wide selection of jewelry made from sea glass. The tiny shop is in an old mill building sandwiched between the St. Michaels Winery and Eastern Shore Brewing. 609 S. Talbot St.; 410-745-8057.
4. Simpatico, Italy's Finest
A touch of the Old Country in St. Michaels, Simpatico sources items such as Cipriani pastas from Venice, hand-painted ceramics from Gubbio, Busatti table linens, and Murano-glass jewelry straight from the Mediterranean. 106 Railroad Ave.; 410-745-0345.
What to Do
1. Chesapeake Bay Maritime Museum
Get the scoop on 400 years of bay culture, ecology, and history at this waterfront museum where you can also explore a screwpile lighthouse and a working boatyard (aspiring boat builders can apprentice for a day) or cruise the Miles River aboard the Winnie Estelle, the museum's 1920 workboat. 213 N. Talbot St.; 410-745-2916.
2. Classic Motor Museum
Opening April 22 and set in an Amish-style barn, this addition to the Eastern Shore will showcase up to 20 automobiles. You'll find pre–WWII classics such as a Model T, plus Nixon-era muscle cars. Placards relate the stories behind the cars, including a 1920 Buick convertible, one of the first cars to cross the Bay Bridge in 1952, with Maryland's governor Theodore McKeldin aboard. 102 E. Marengo St.; 410-745-8979.
3. Lyon Distilling Co.
"Buzz for booze" reads the small sign above the doorbell at this tiny distillery, now in its fourth year. Inside, you can sample several rums, corn and malt whiskeys, a rye, and, if it's available, something called "beersky," a whiskey made with hefeweizen. 605 S. Talbot St.; 443-333-9181.
4. Sail Selina II
A trip on the Selina II is a throwback to the Gilded Age, when elegant wooden boats plied the Chesapeake. These days, the 42-foot-long yacht—the largest surviving vintage catboat in the world, according to its owner and captain—takes passengers on sunset Champagne cruises, beer-tasting tours, and monthly moonlight cruises. 101 N. Harbor Rd.; 410-726-9400.
This article appears in the April 2017 issue of Washingtonian.