Katelyn Mancini and Jordan Coffman's five-year relationship culminated in an over-the-top celebration at Keswick Hall near Charlottesville, Virginia. From topiary animals and a deer antler theme, to a Duck Dynasty-inspired suit, an ice sculpture bar, an infinity pool with floating florals, and an insane dance party, their wedding featured one jaw-dropping feature after another. Follow along their fun-filled day of adventure with the images from Jen Fariello Photography below.
Follow B&G on Instagram | Like B&G on Facebook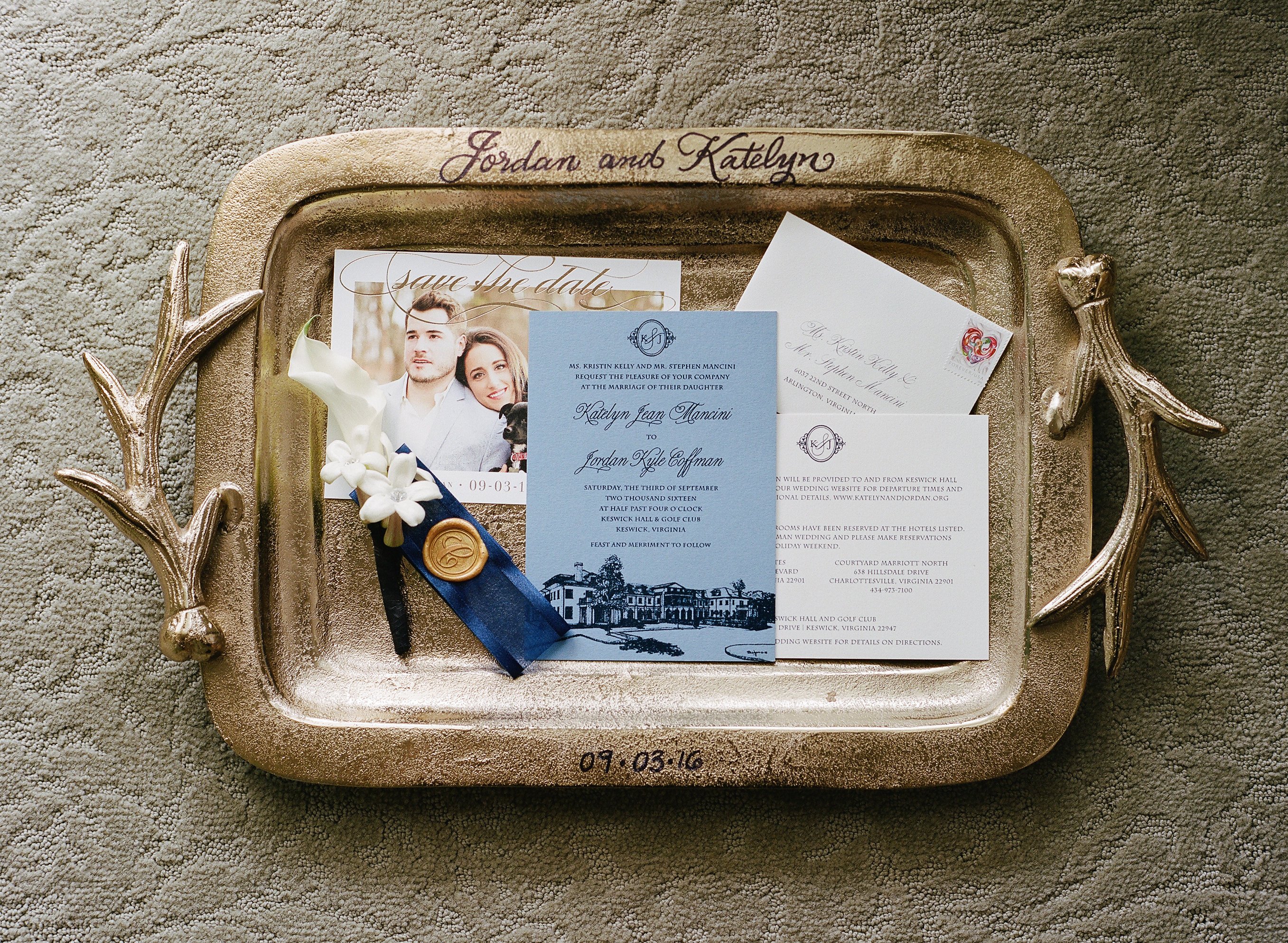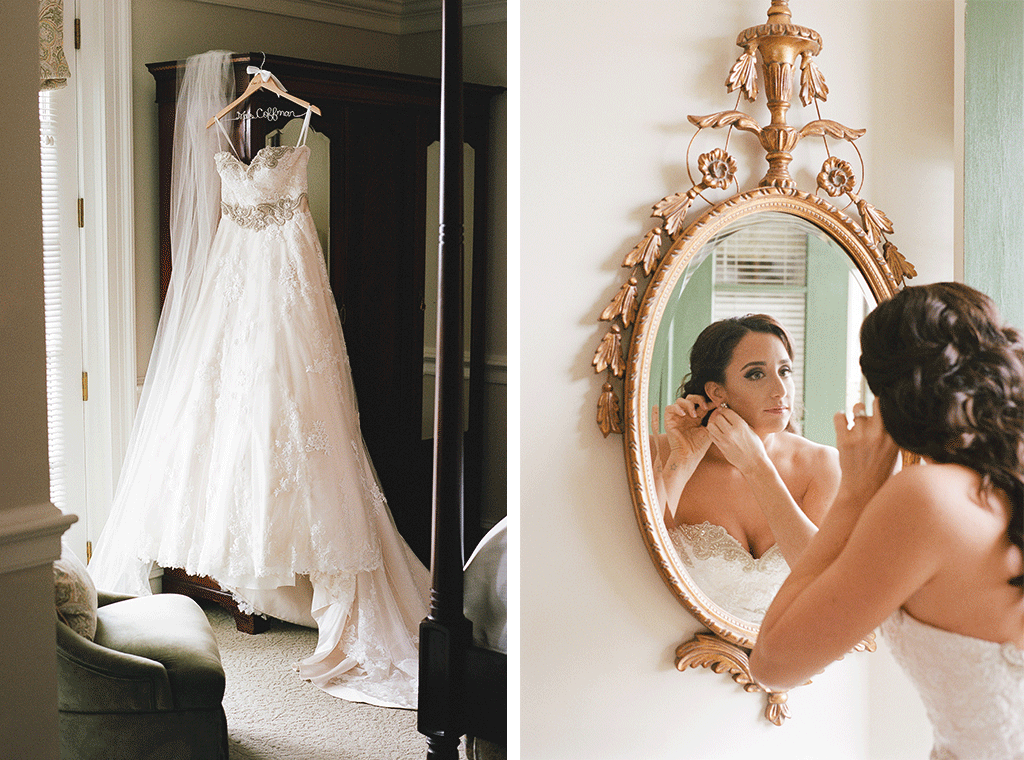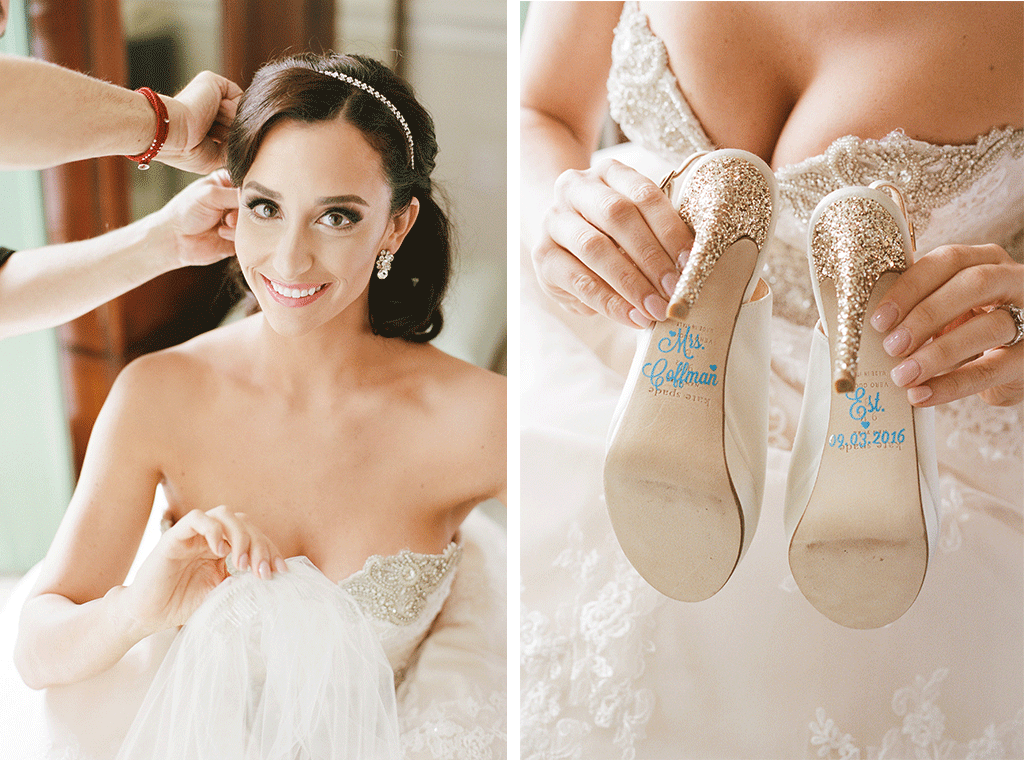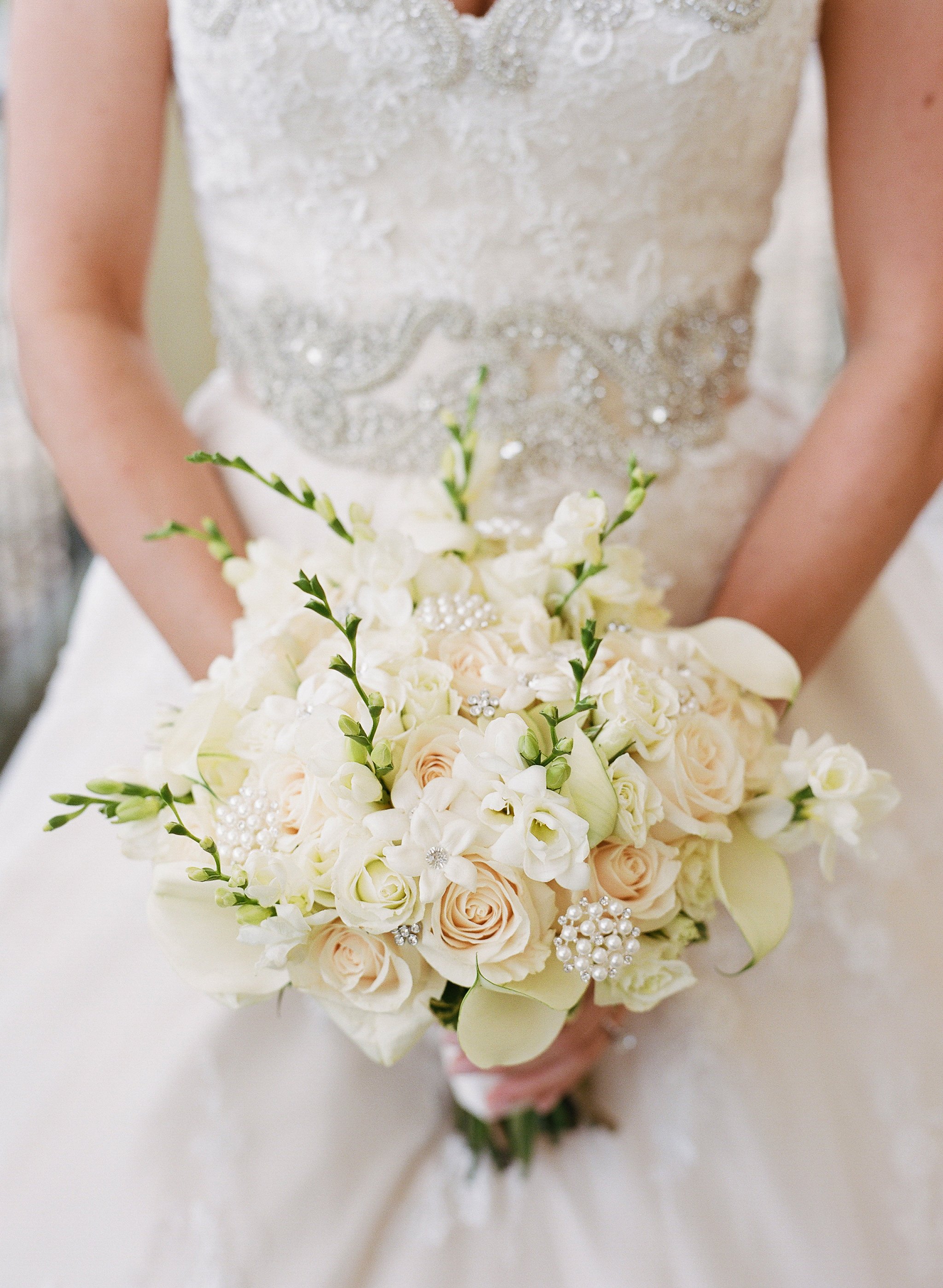 When Katelyn Mancini first met Jordan Coffman it was love at first sight—at least on his end. They were both undergraduates at Bridgewater College and attended the same math class.
"He was blocking the stairwell leaving class so I said 'Um, hello, can I get by?'" Ah, young love. They followed their first flirtation up in true collegiate fashion with a date at Ruby Tuesdays.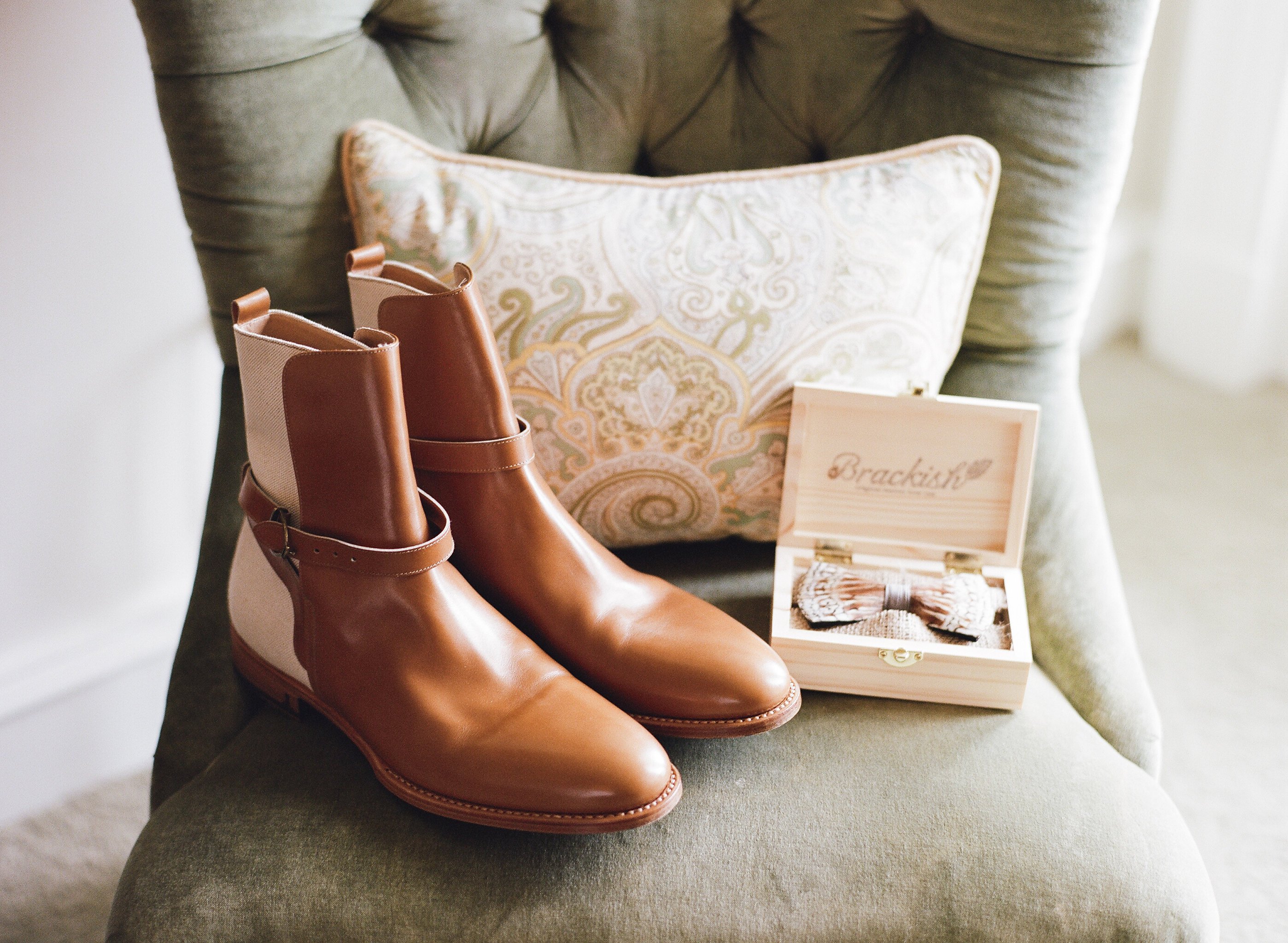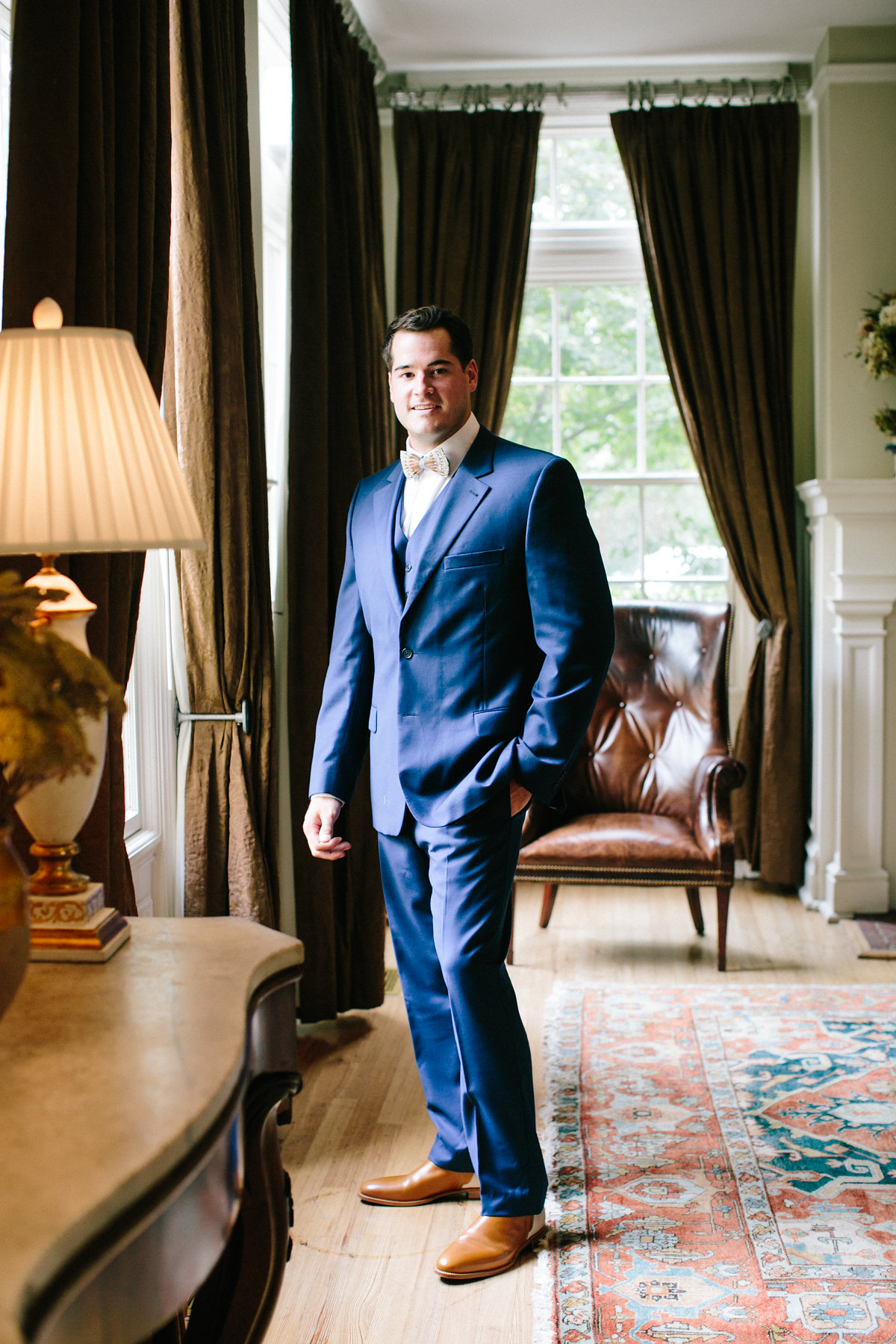 Katelyn and Jordan dated for five years before, at Ellen's Stardust Cafe in New York City, Jordan proposed while aspiring actors and actresses (a.k.a. the waitstaff) serenaded them with Bruno Mars' "Marry You." Katelyn said yes, and the couple began preparations for what would come to be an over-the-top celebration at Keswick Hall.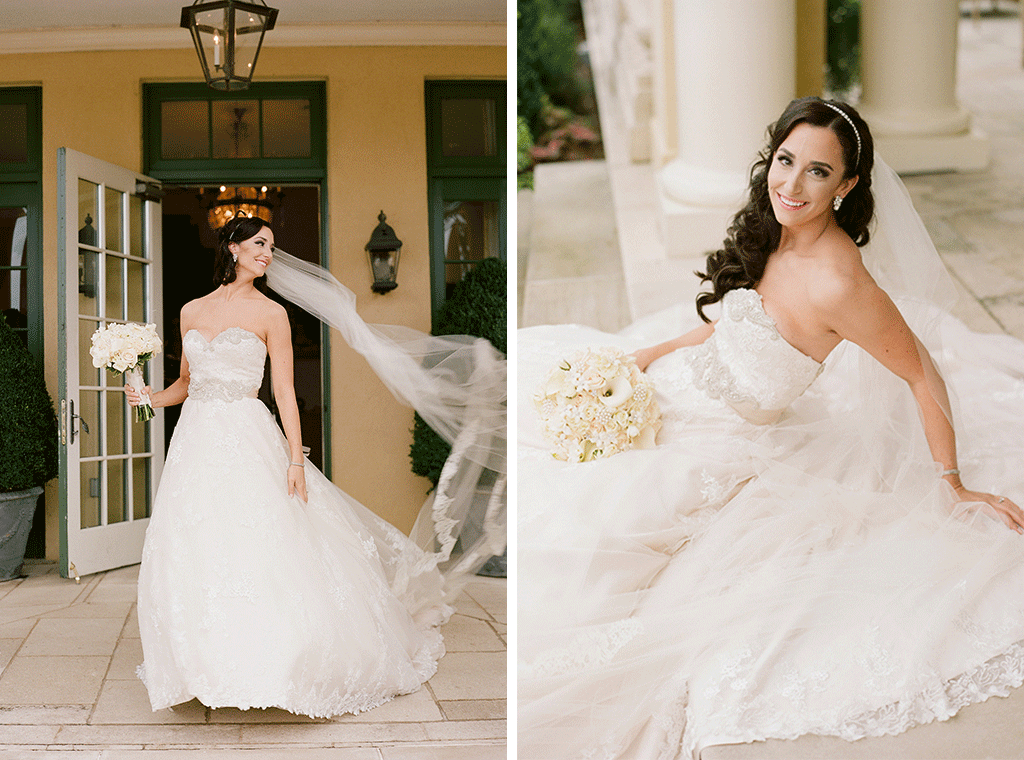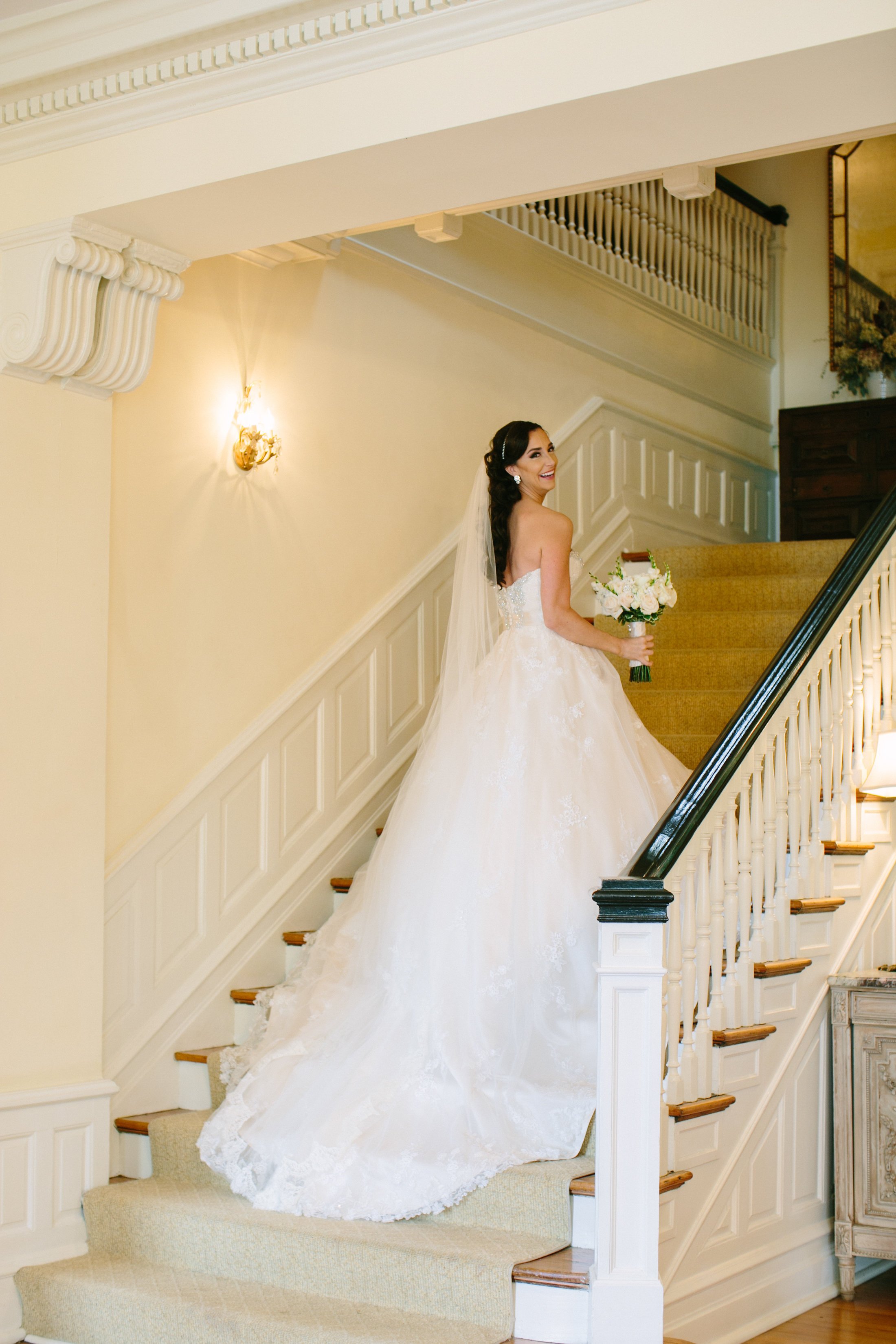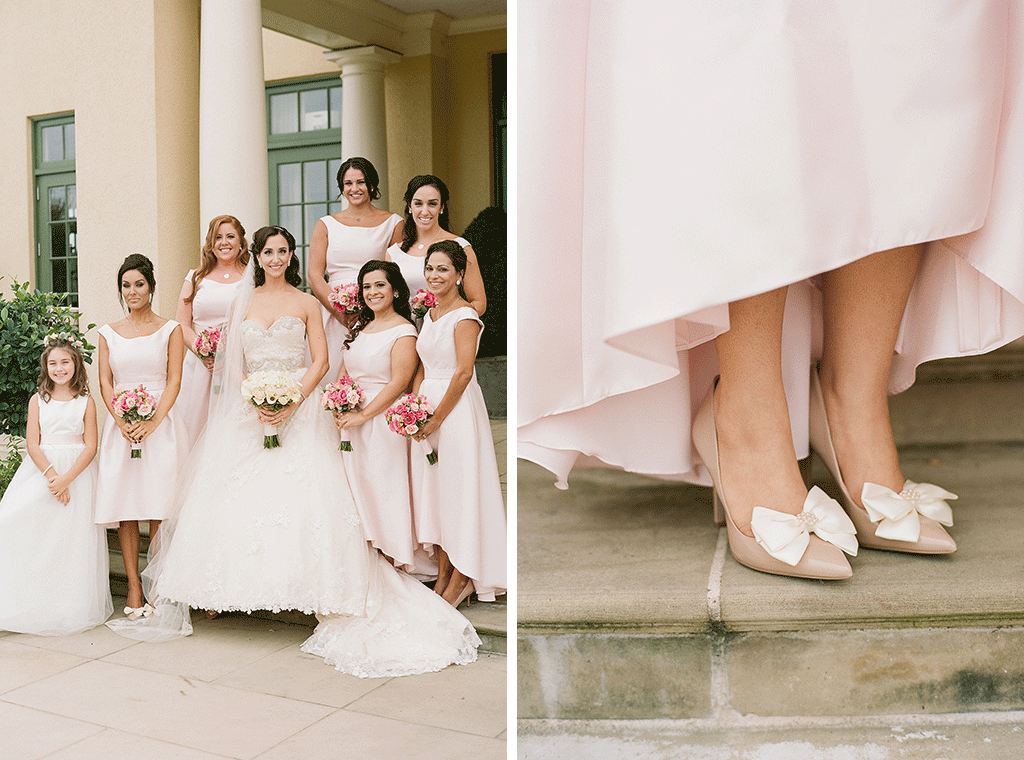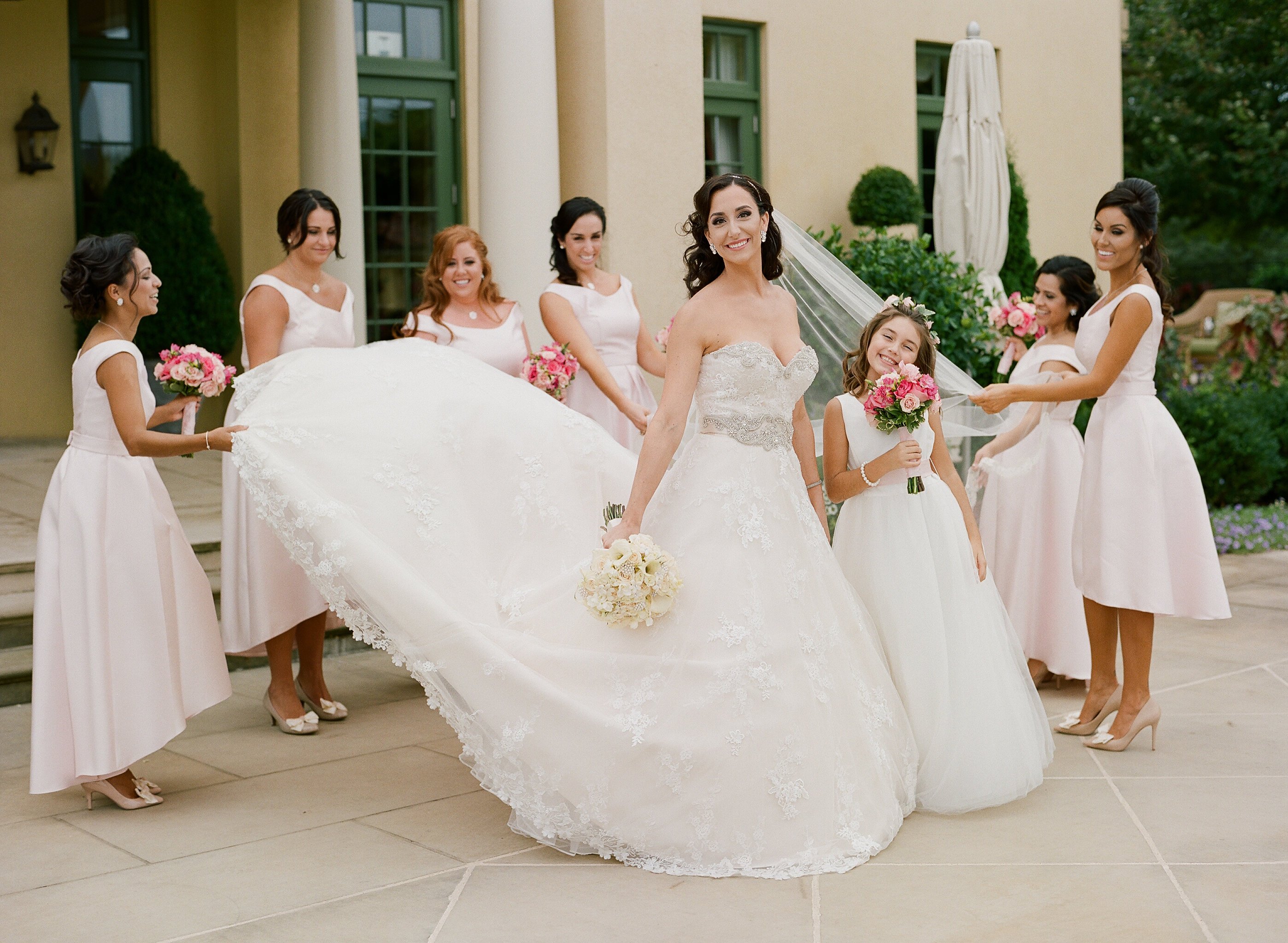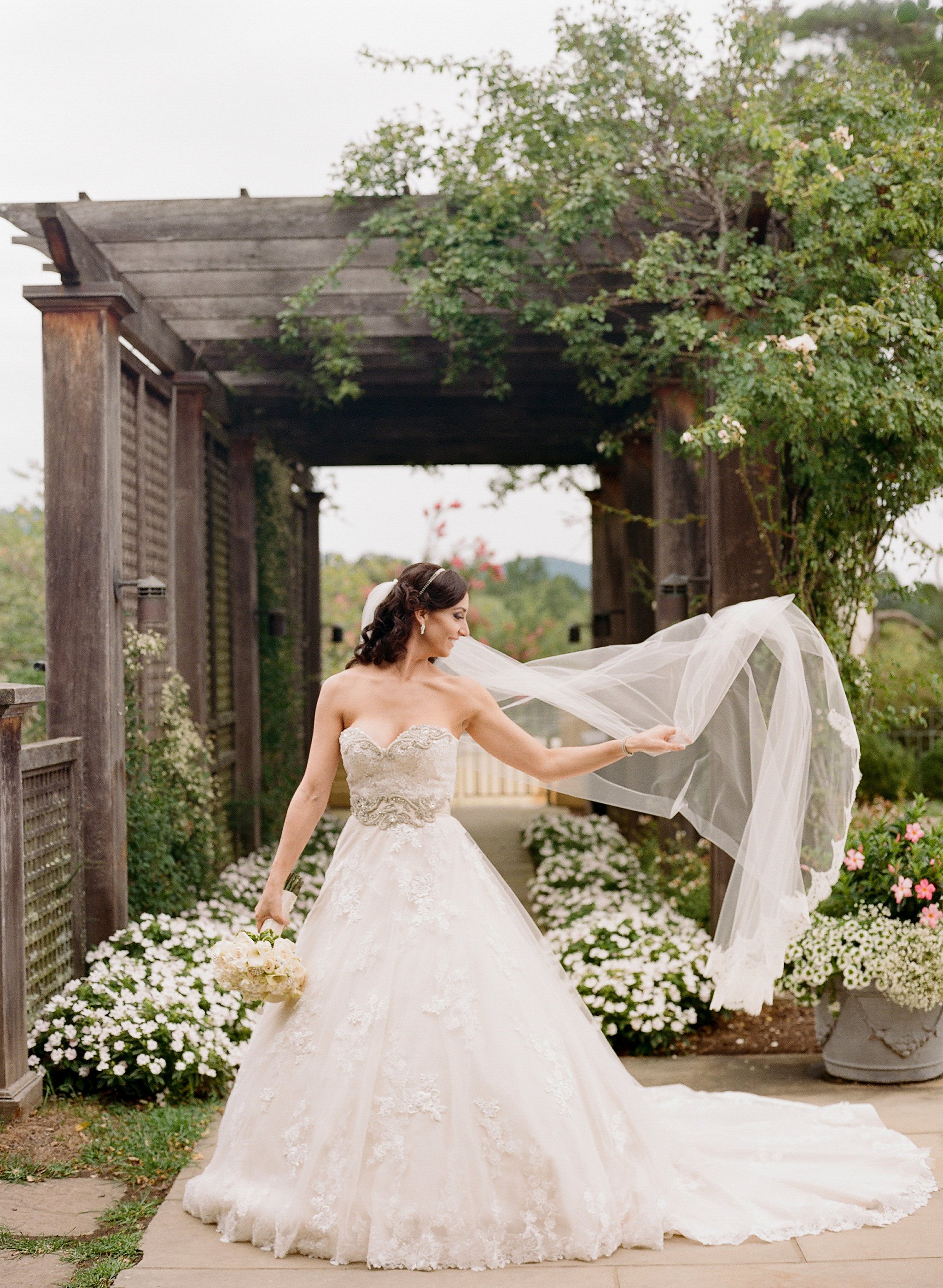 "It's all in the details," explains Katelyn, who DIY'd much of the wedding. Guests were greeted with an adorable gold-painted tandem bike at the entrance to the wedding ceremony, with a basket of flowers and a welcome sign strapped to the handlebars which read, "Welcome to Our Wedding — K + J."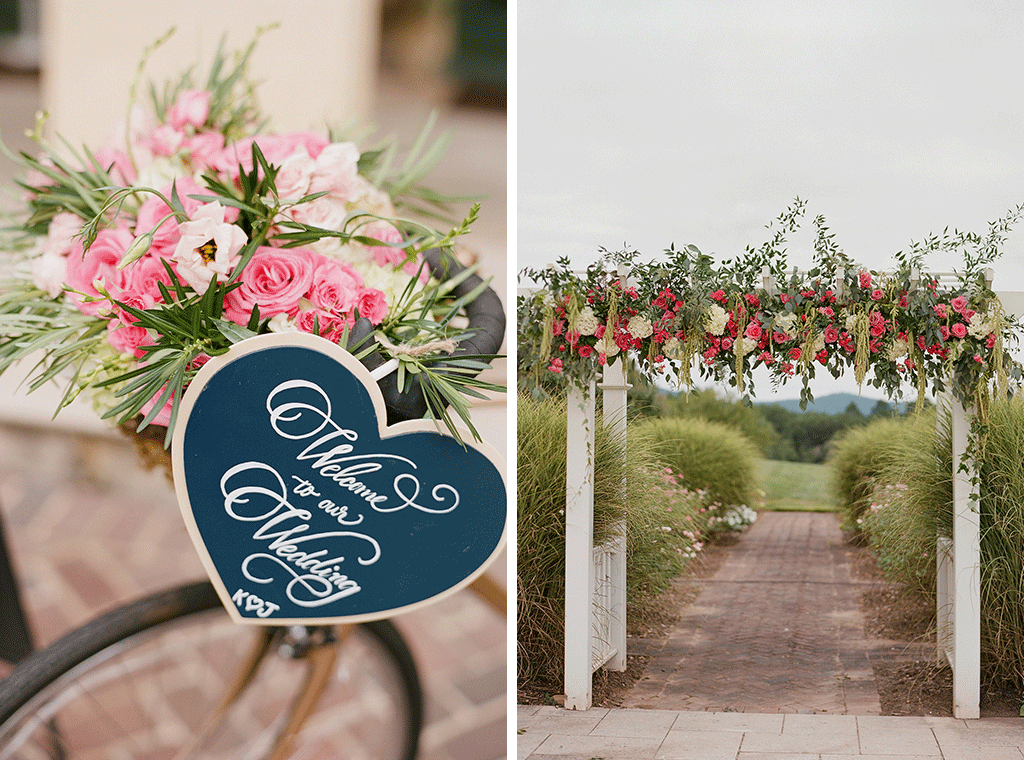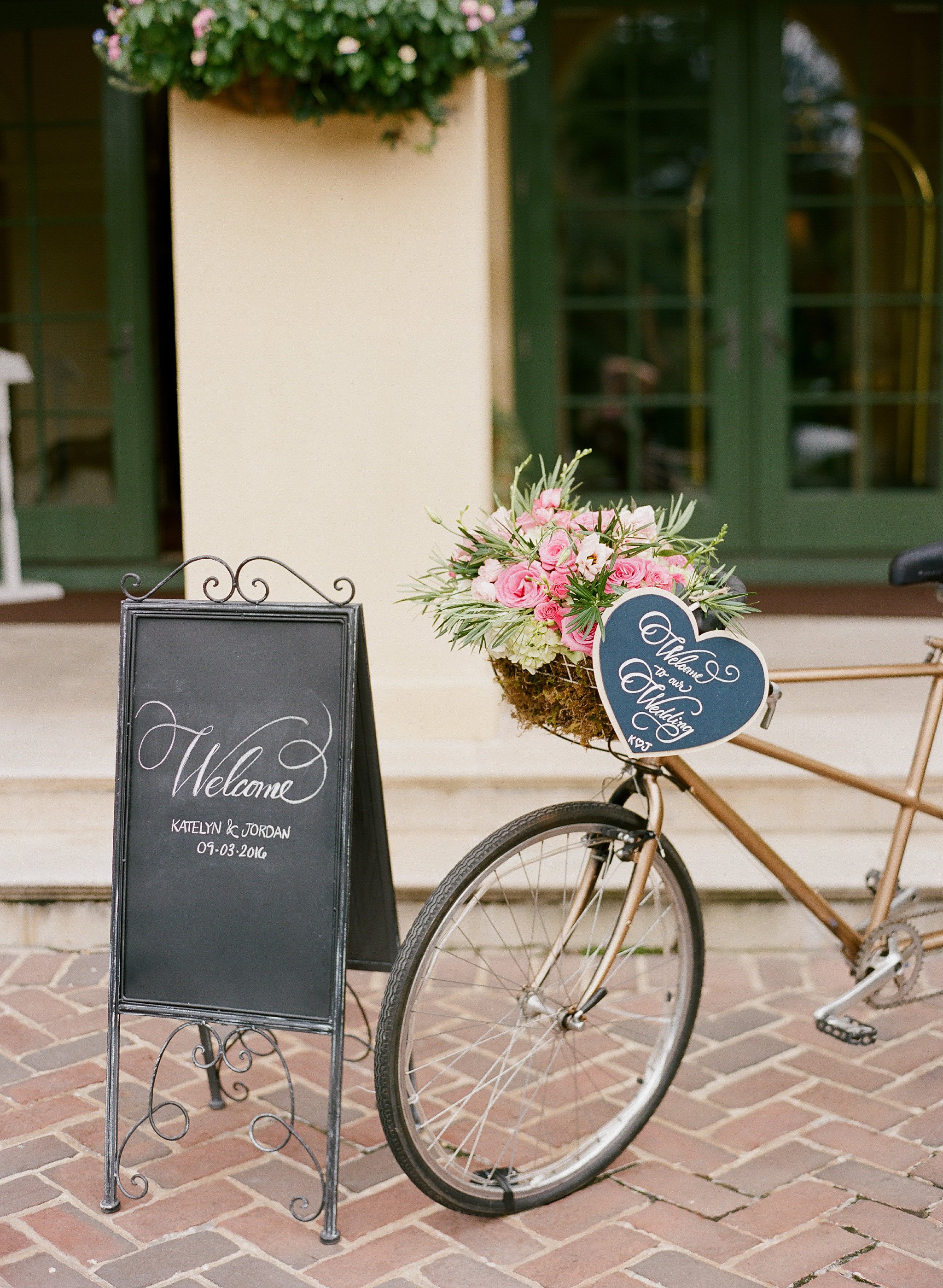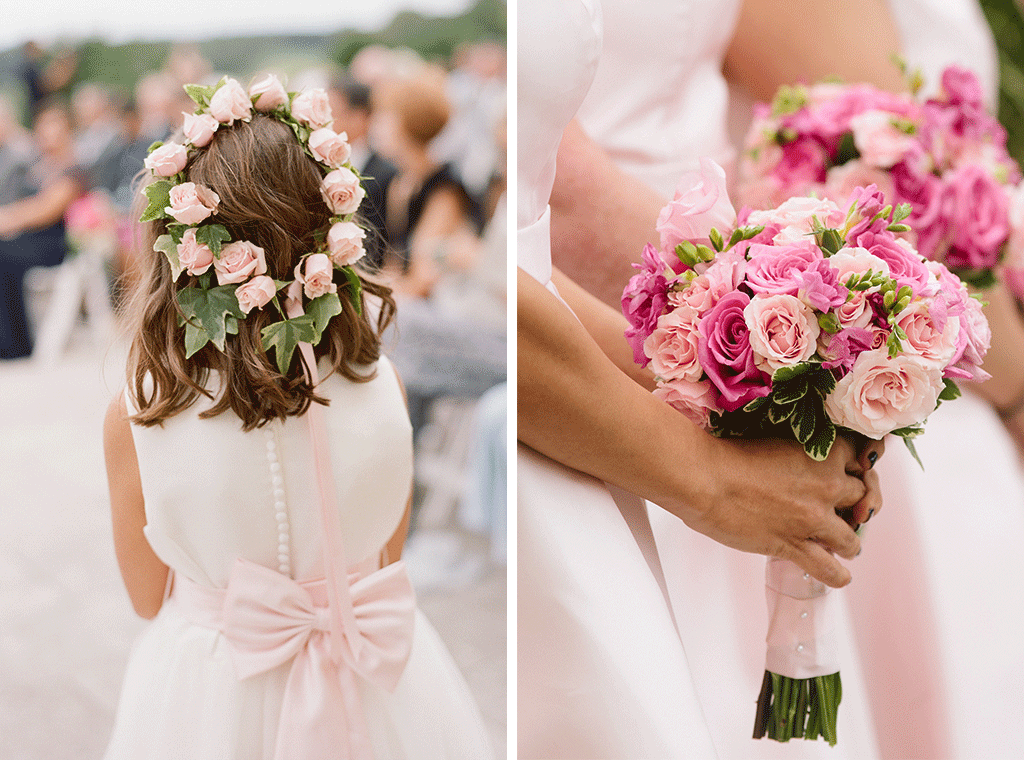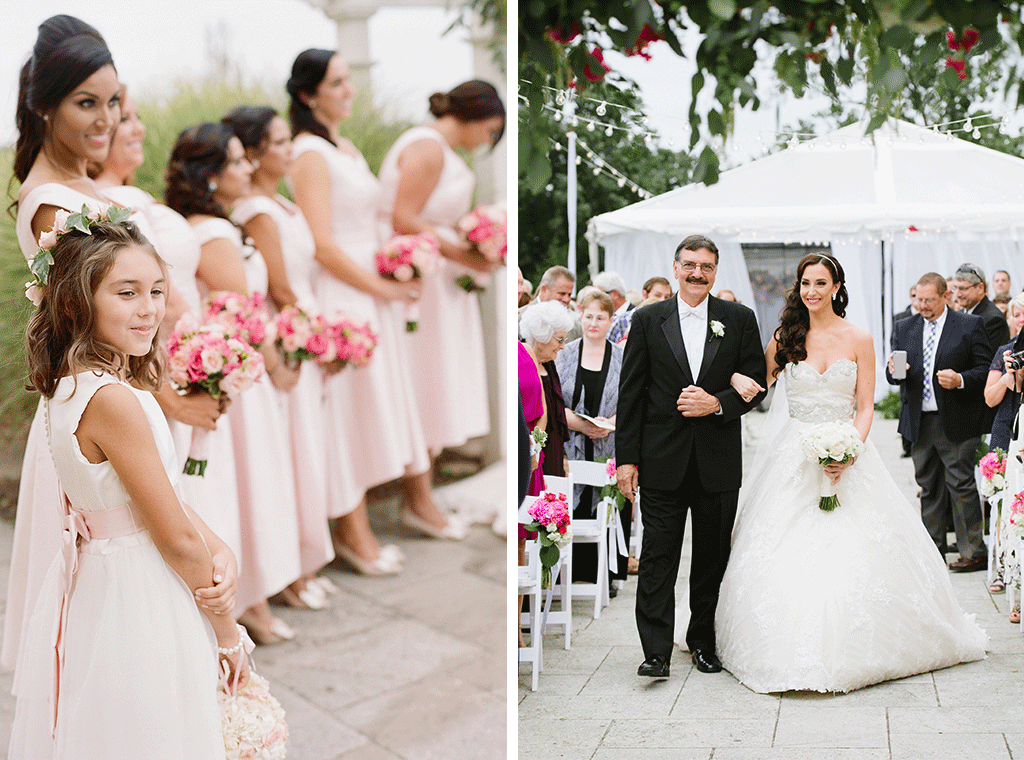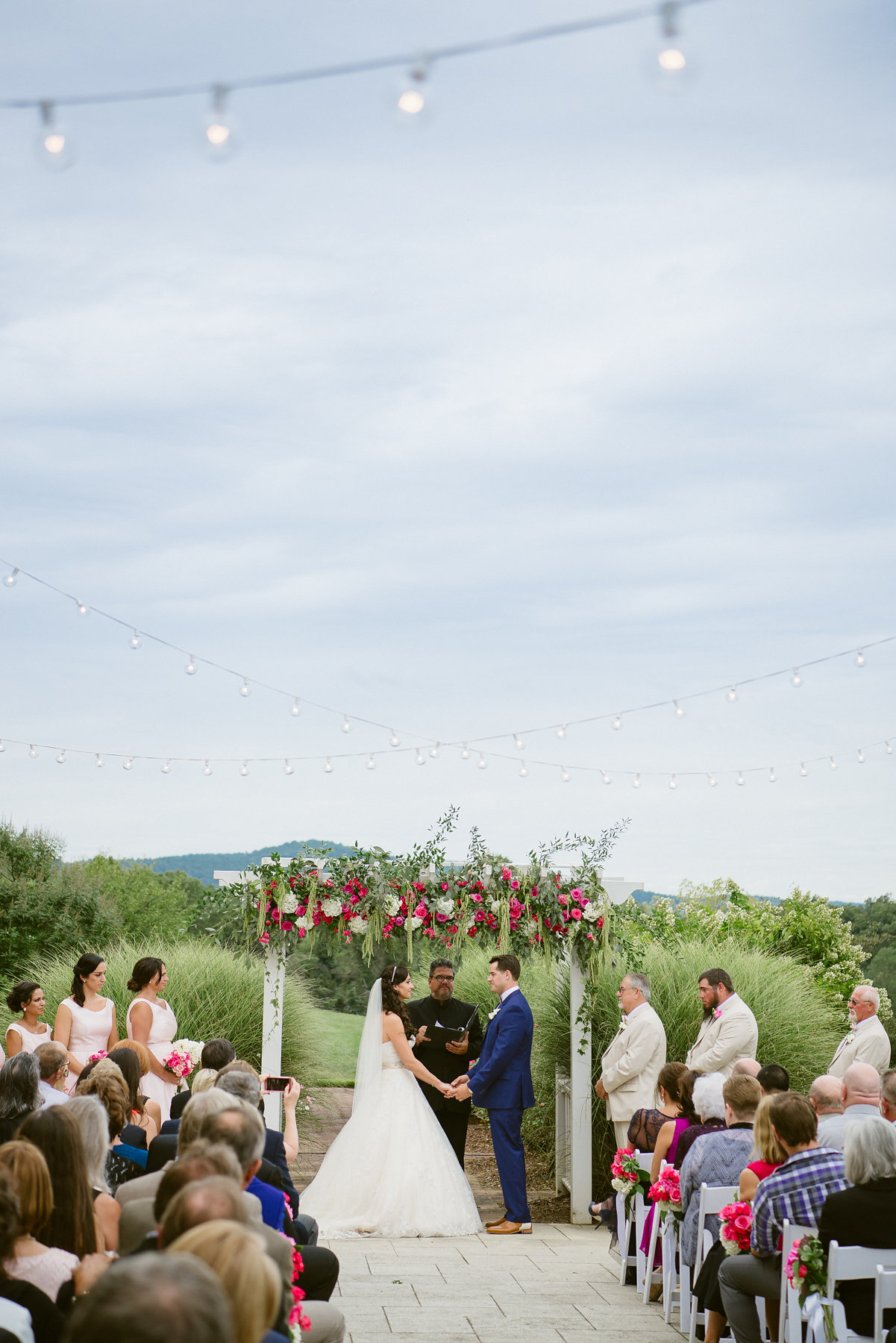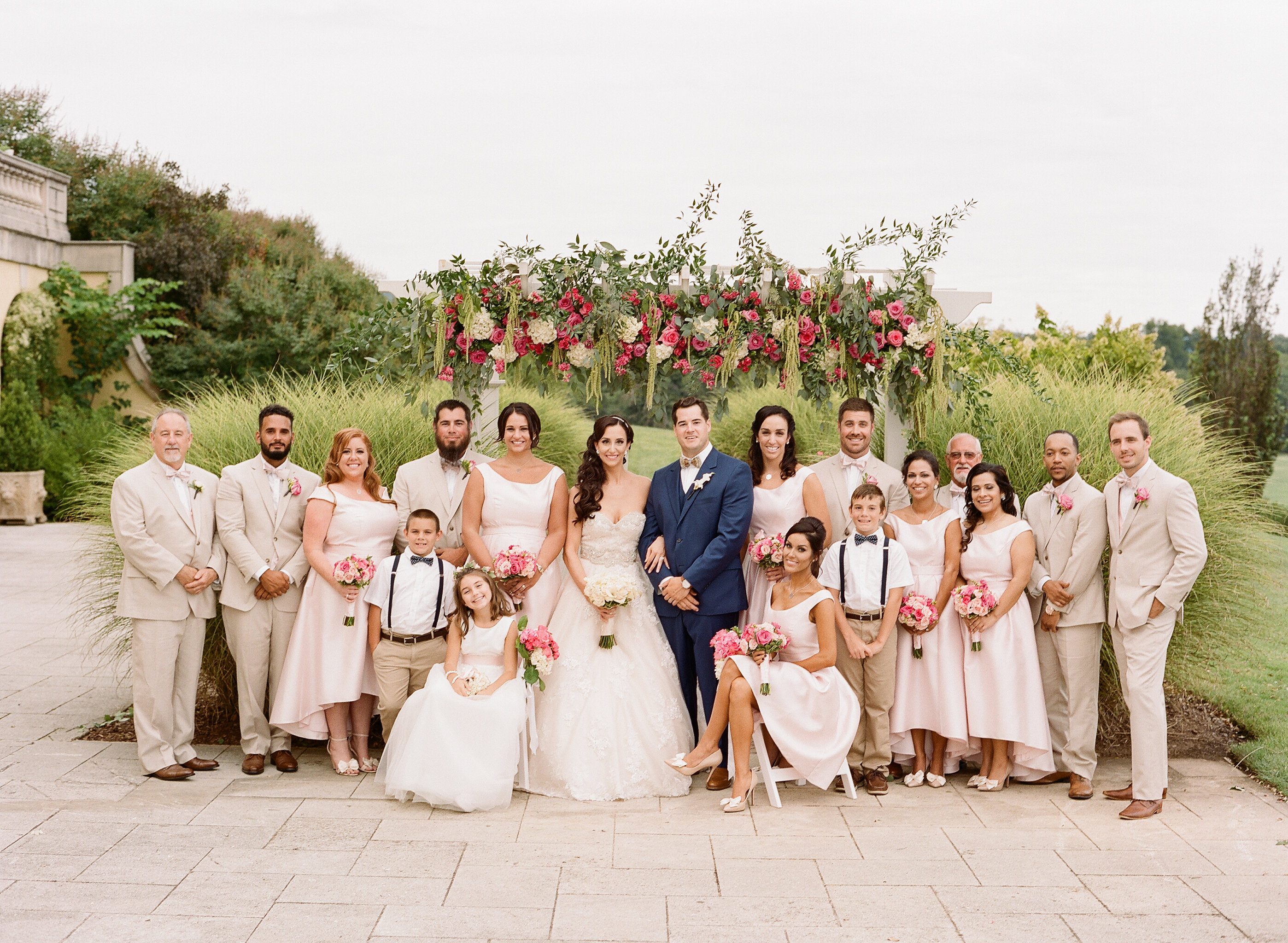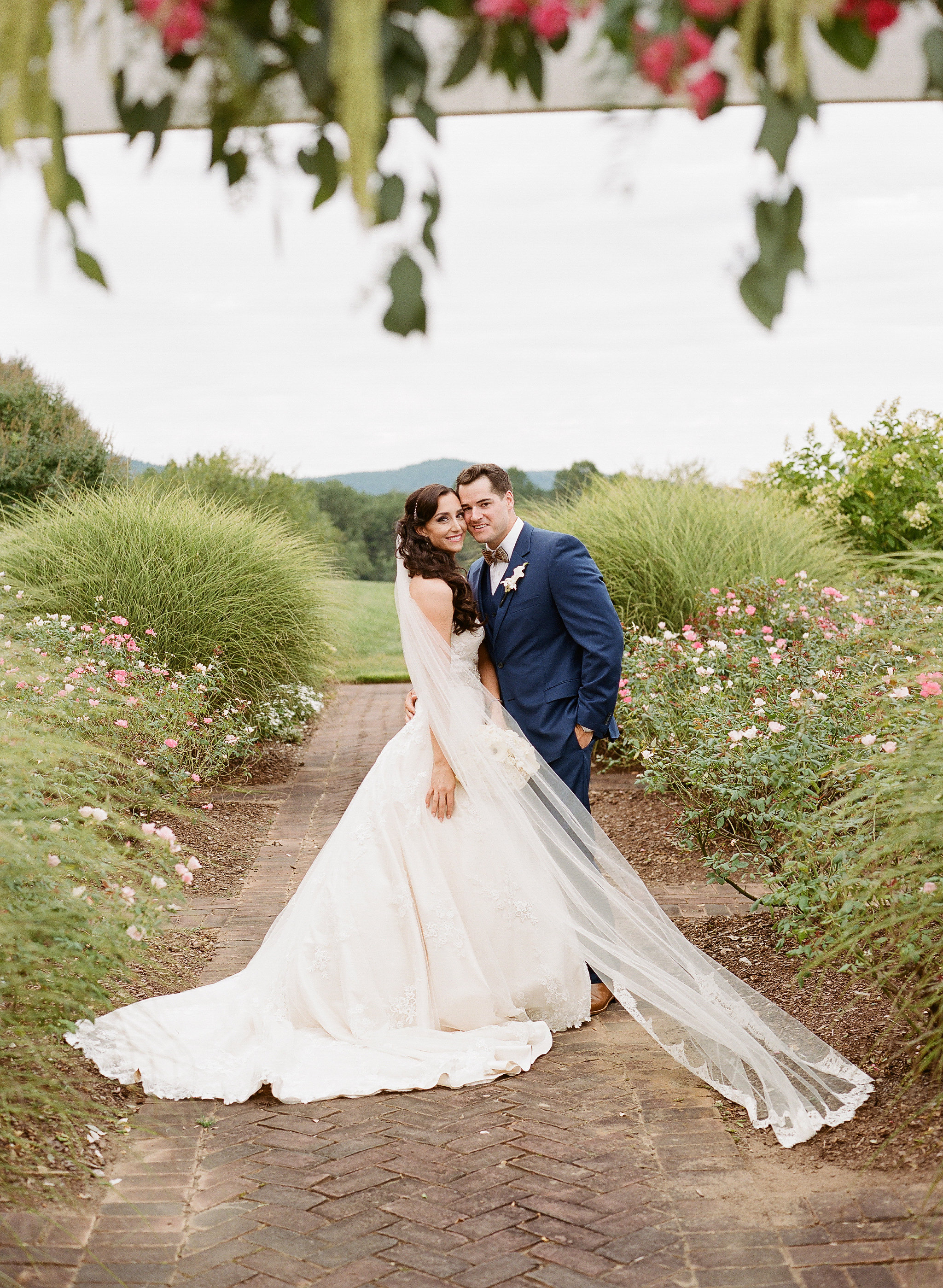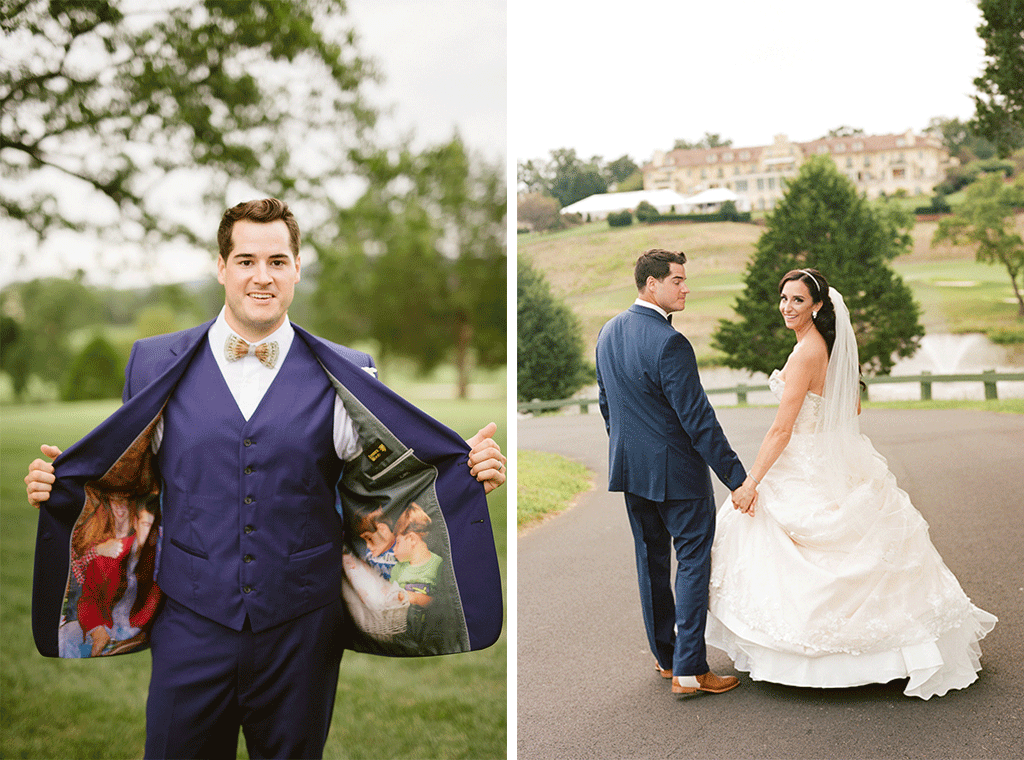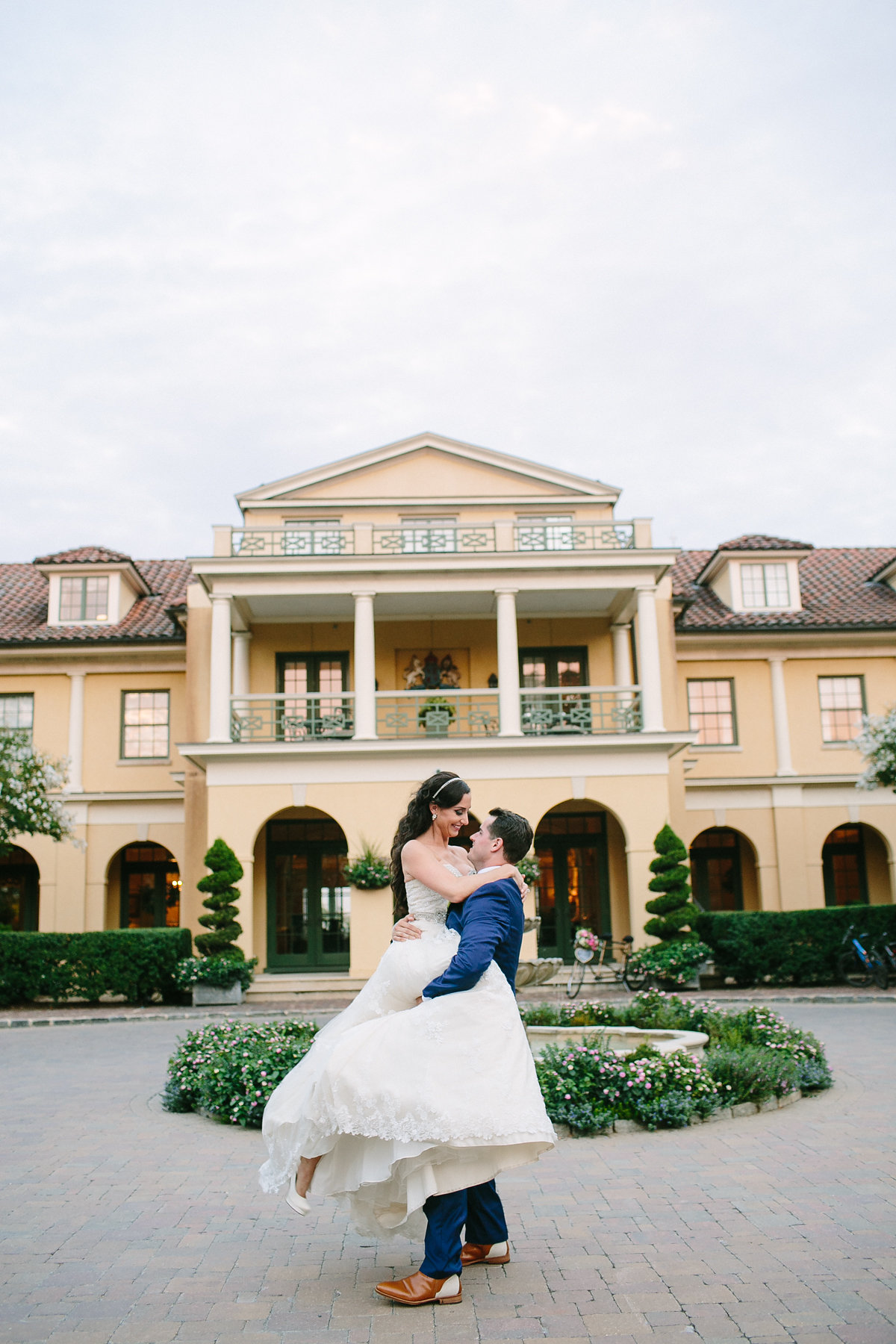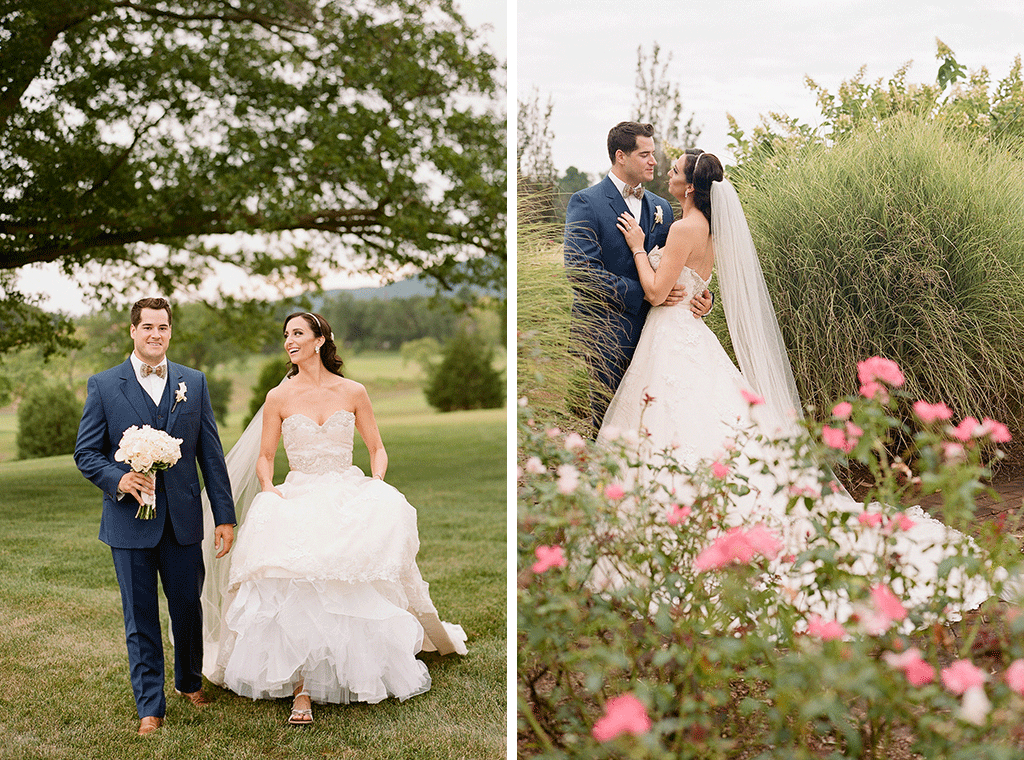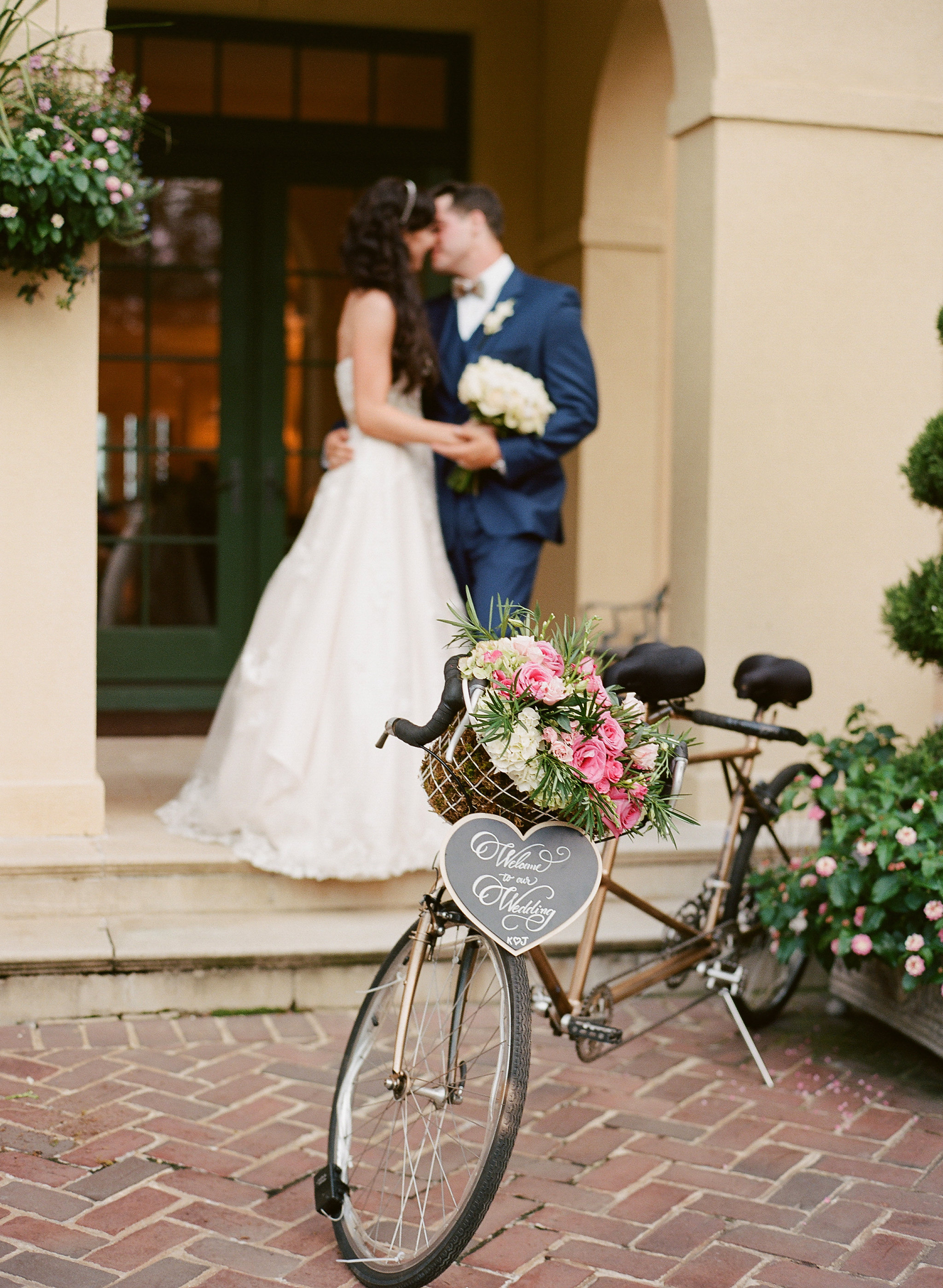 Guests were invited to sign a guest "log" (literally a cross section cut of a log) and throw a best wish in a miniature "wishing well." The bride had put together programs in the shape of fans tied with navy and gold grosgrain ribbon, one of the color schemes of the evening. Jordan had his outfit custom made after being inspired by a suit worn on Duck Dynasty. He had the interior lined with a memorable childhood photo of his late sister, Evanne, himself and his brother.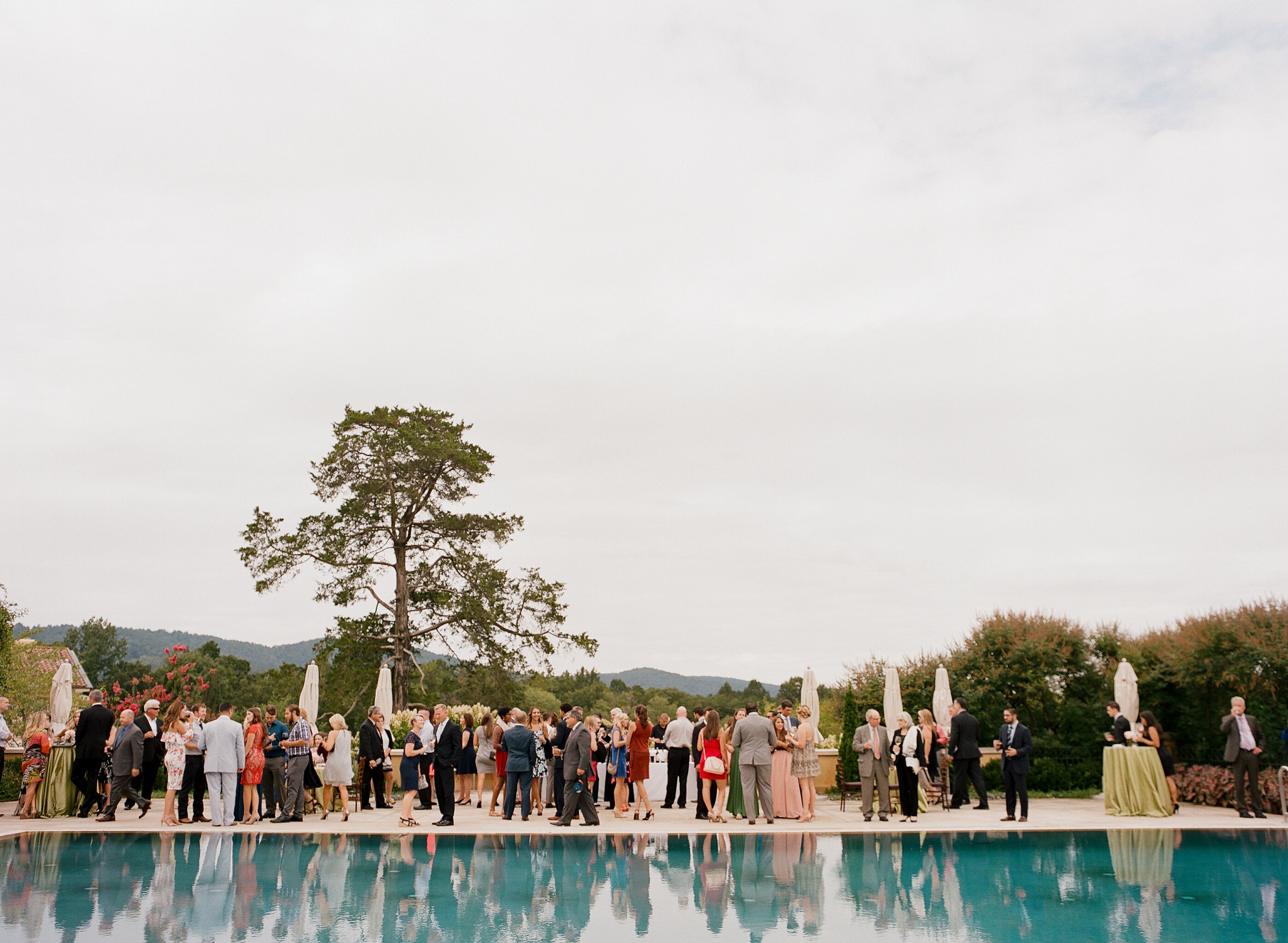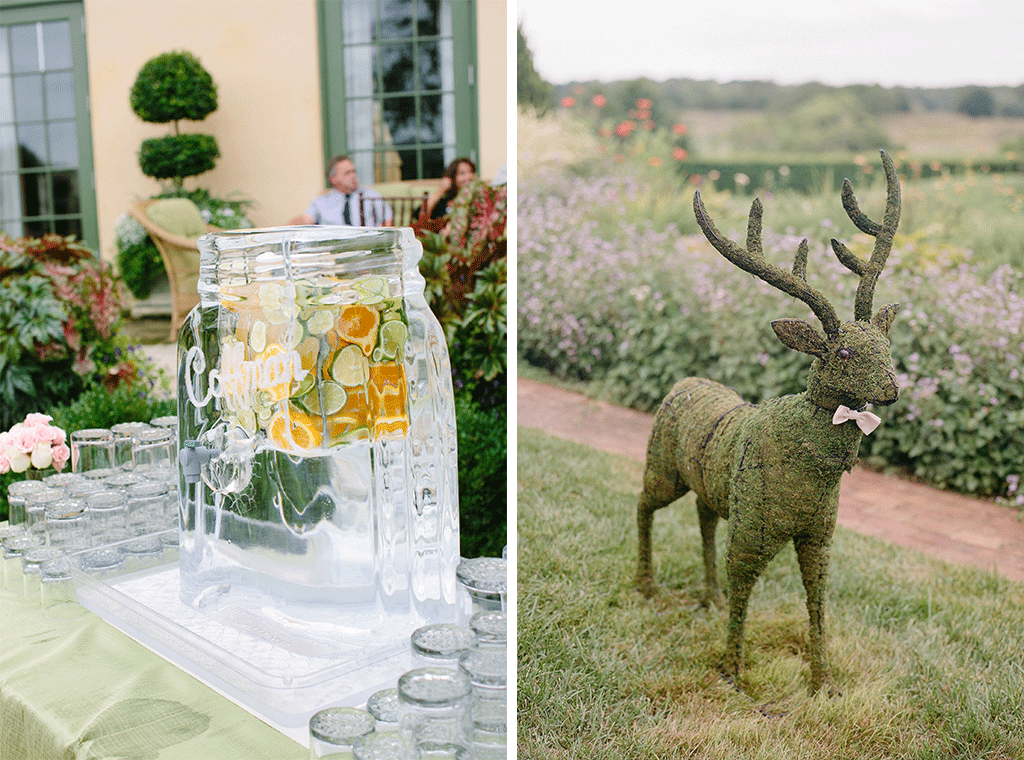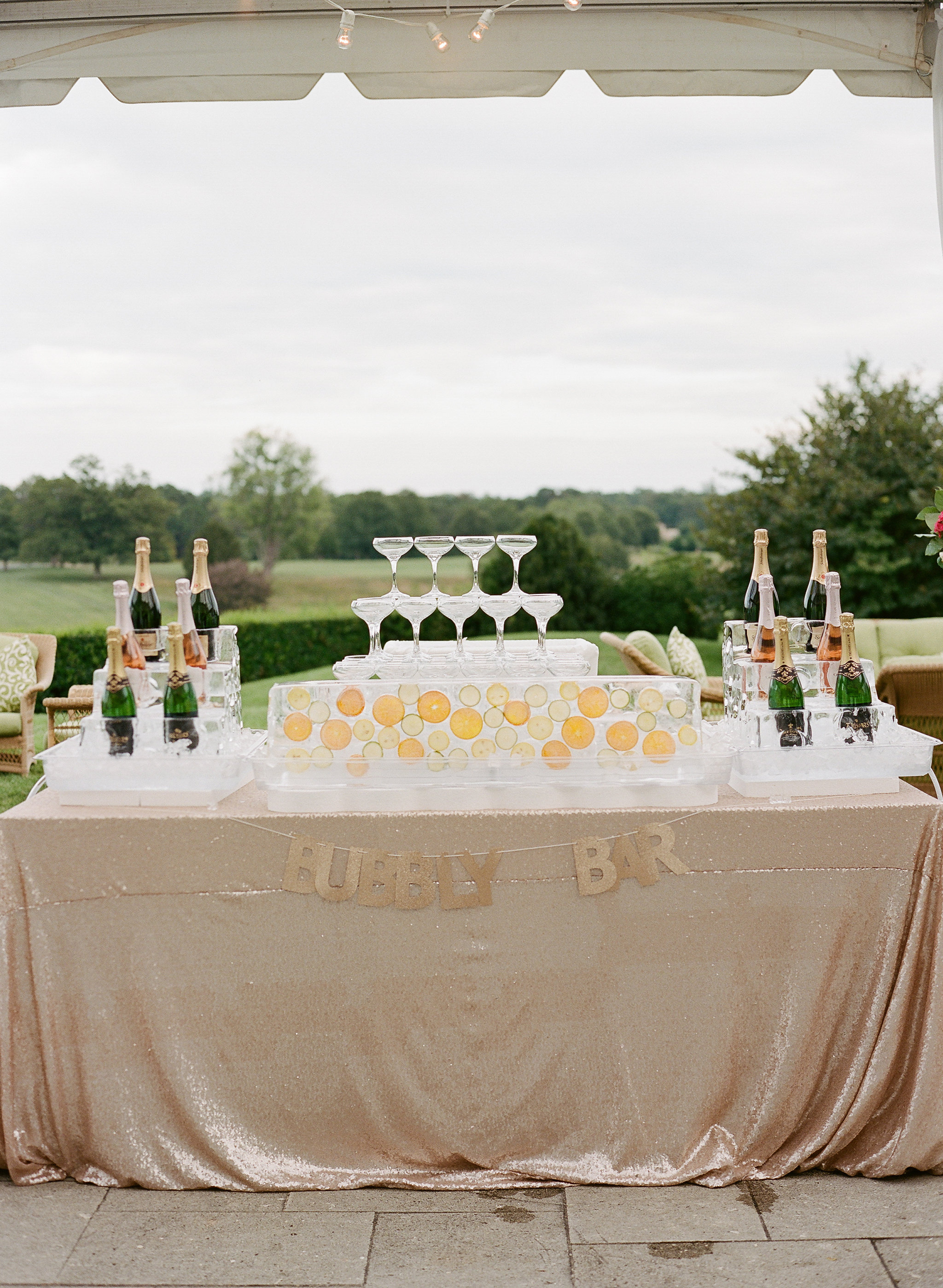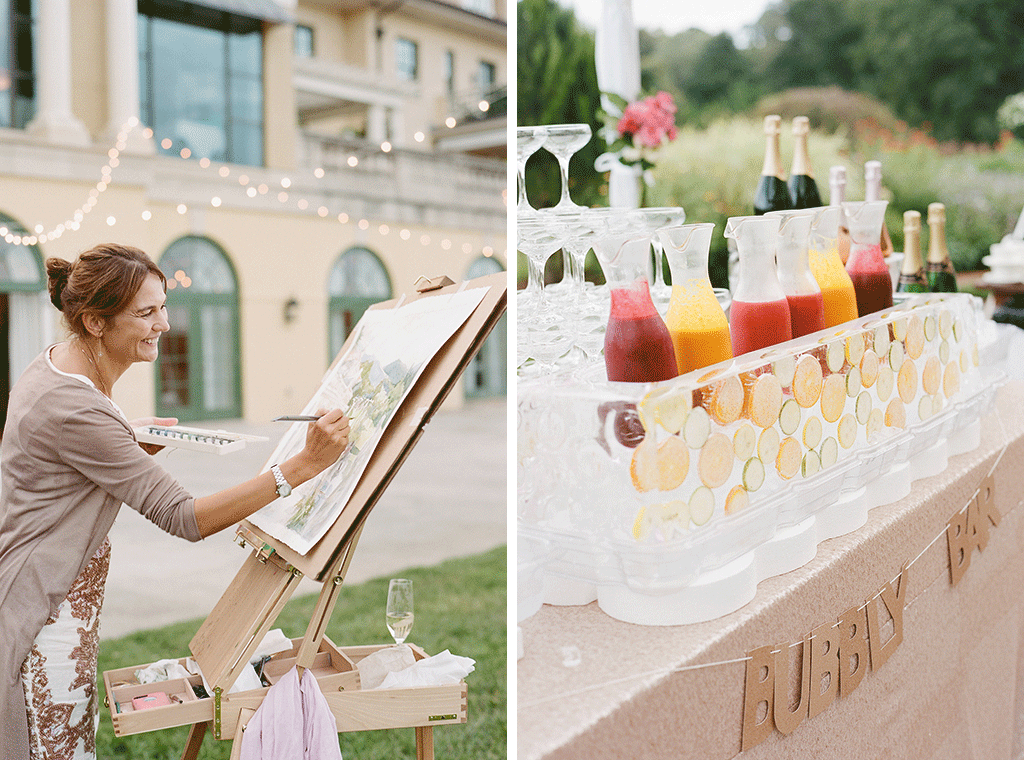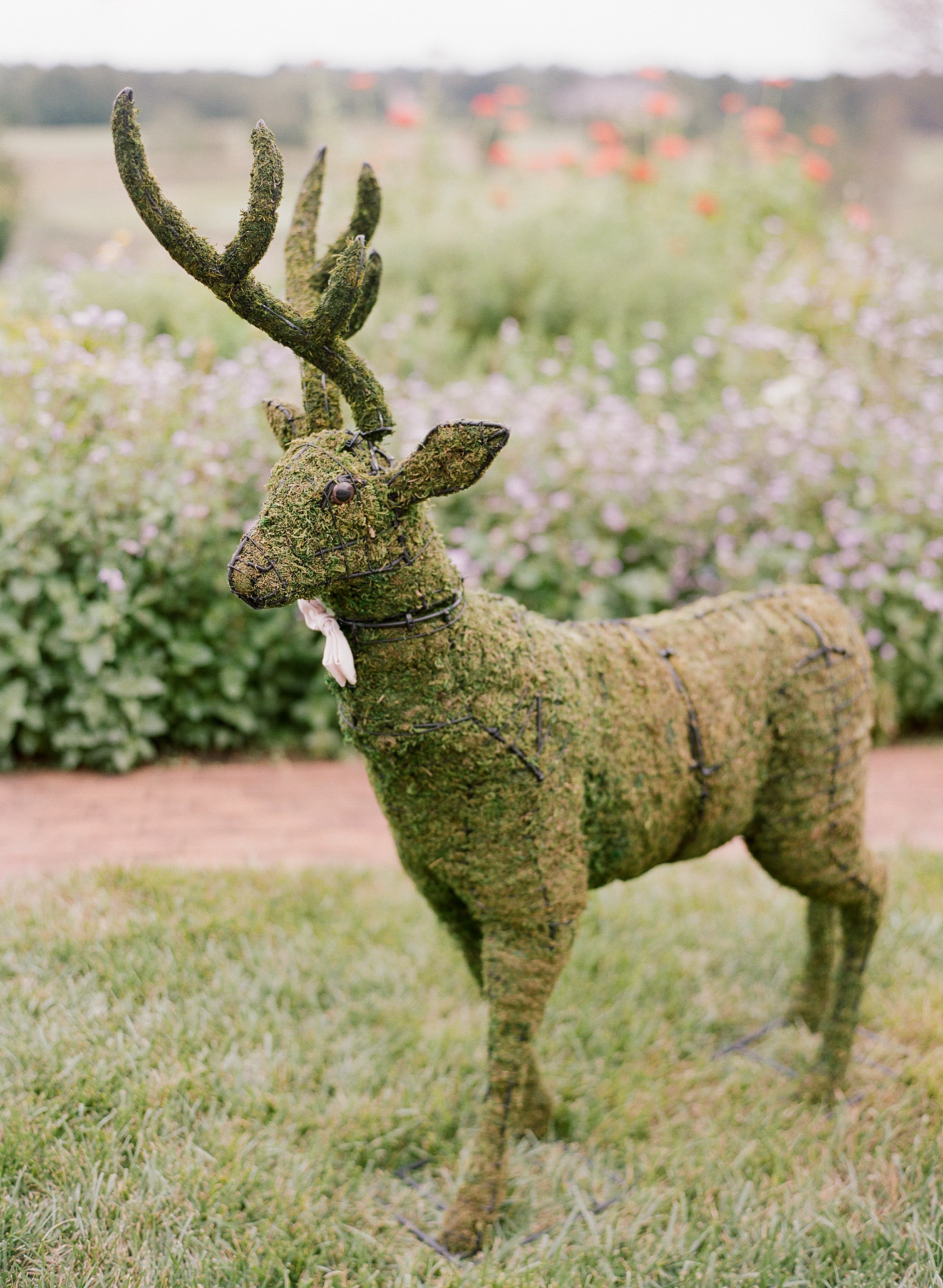 Afterwards the couple toasted with their guests, clinking glasses with their own twist on a Moscow Mule. The soiree was located next to a sprawling infinity pool in which a giant "C" monogram composed of flowers floated in honor of the couple. The bar was constructed out of large ice sculpture pieces, and as guest headed from the cocktail hour to the reception—set on a terrace overlooking Keswick's manicured golf courses—they were greeted by a life-size buck made entirely of moss. Other miniature deer-themed topiaries awaited inside, including deer place setting cards, and guests banqueted under an enormous chandelier made out of antlers.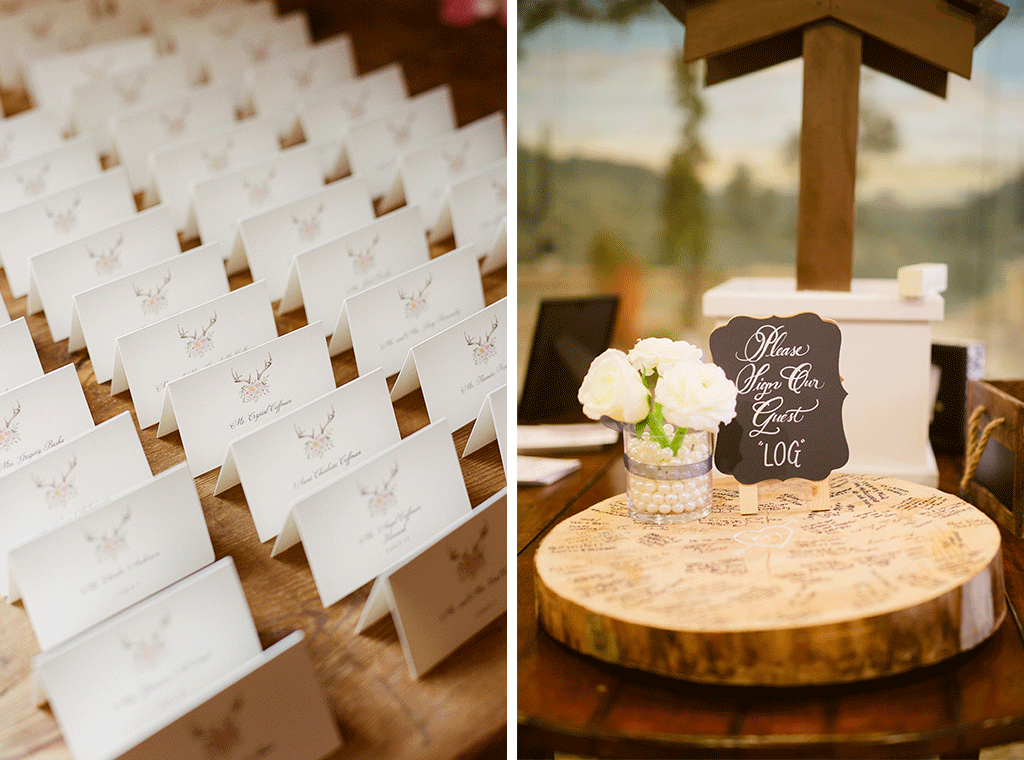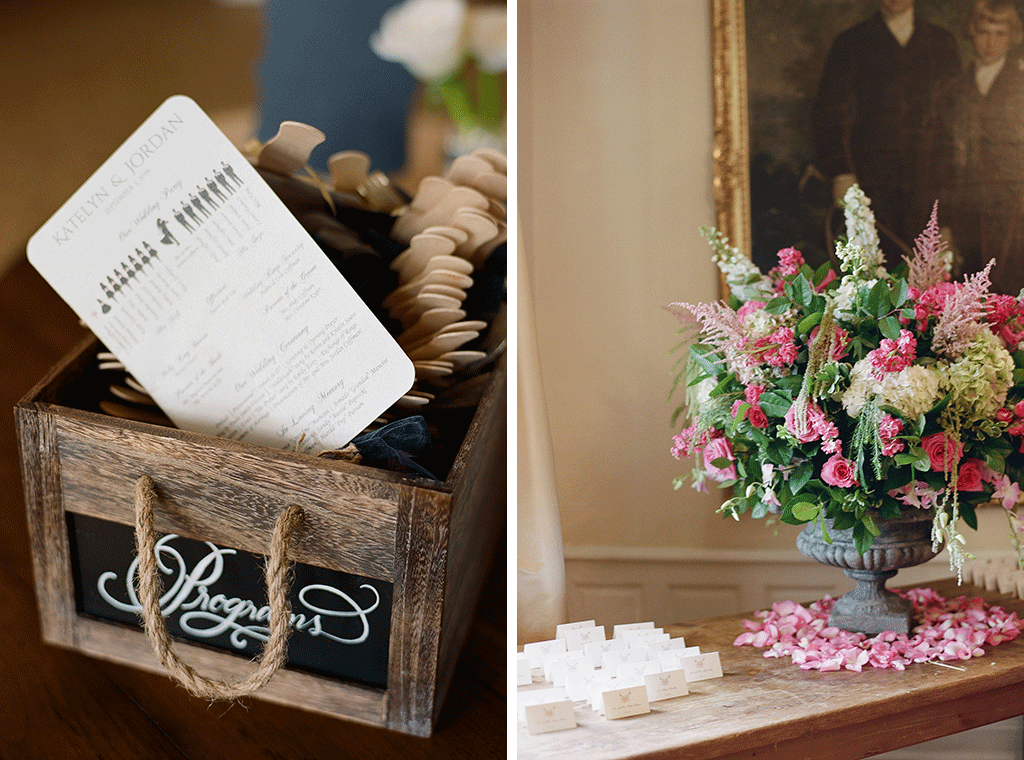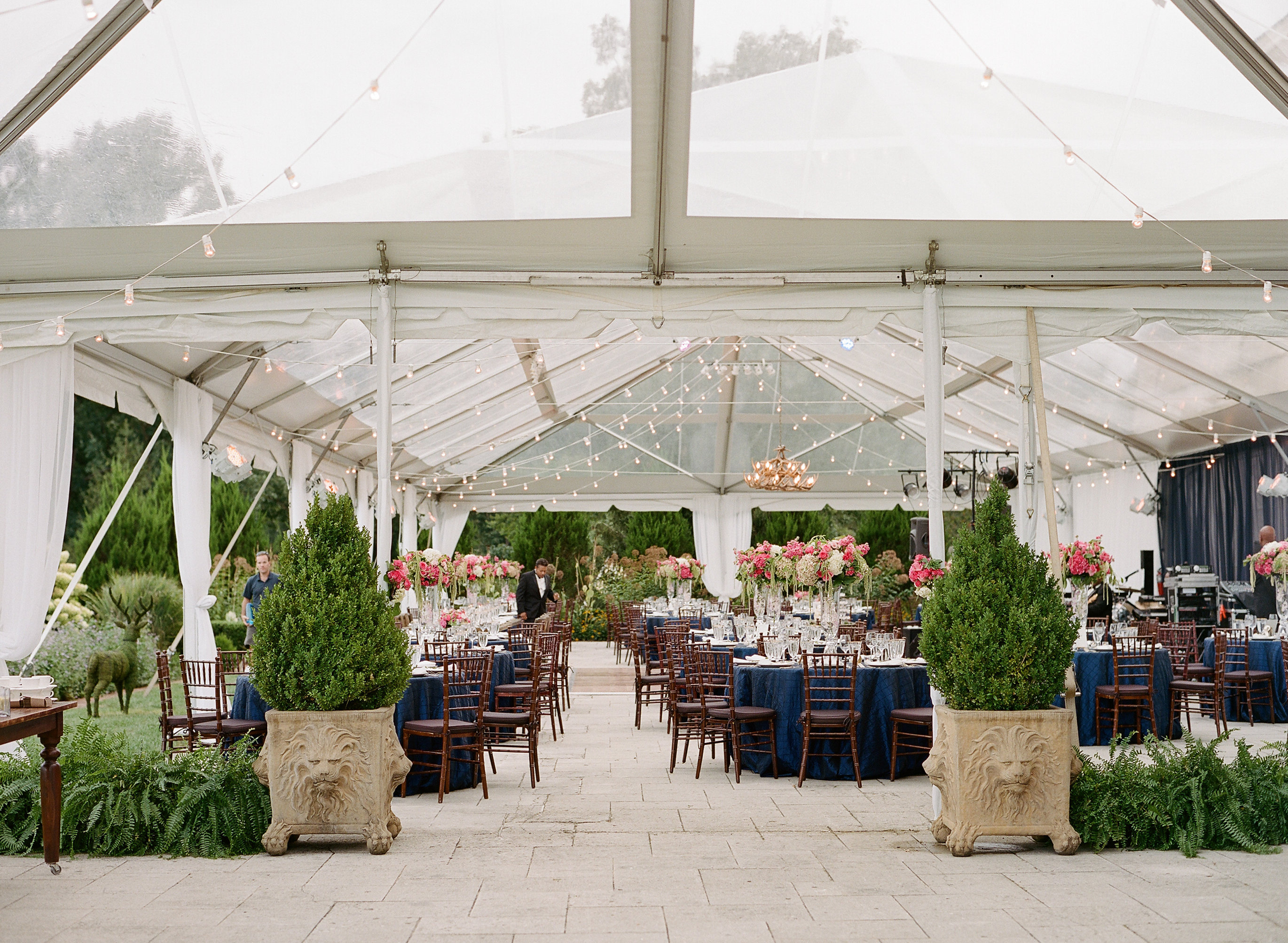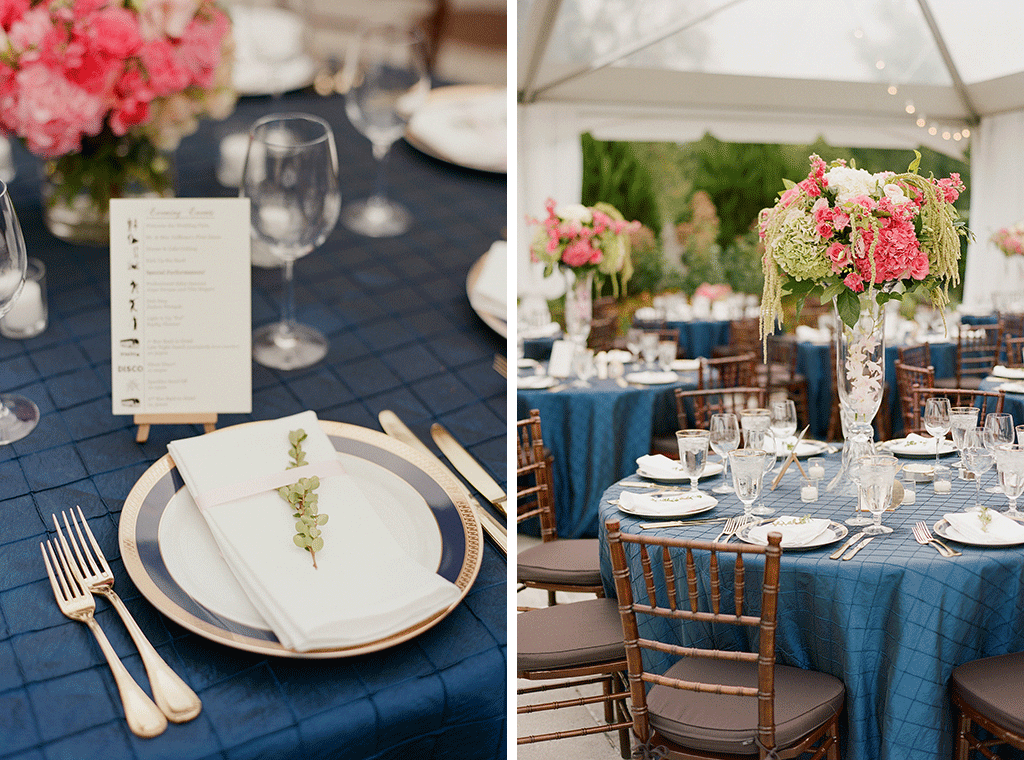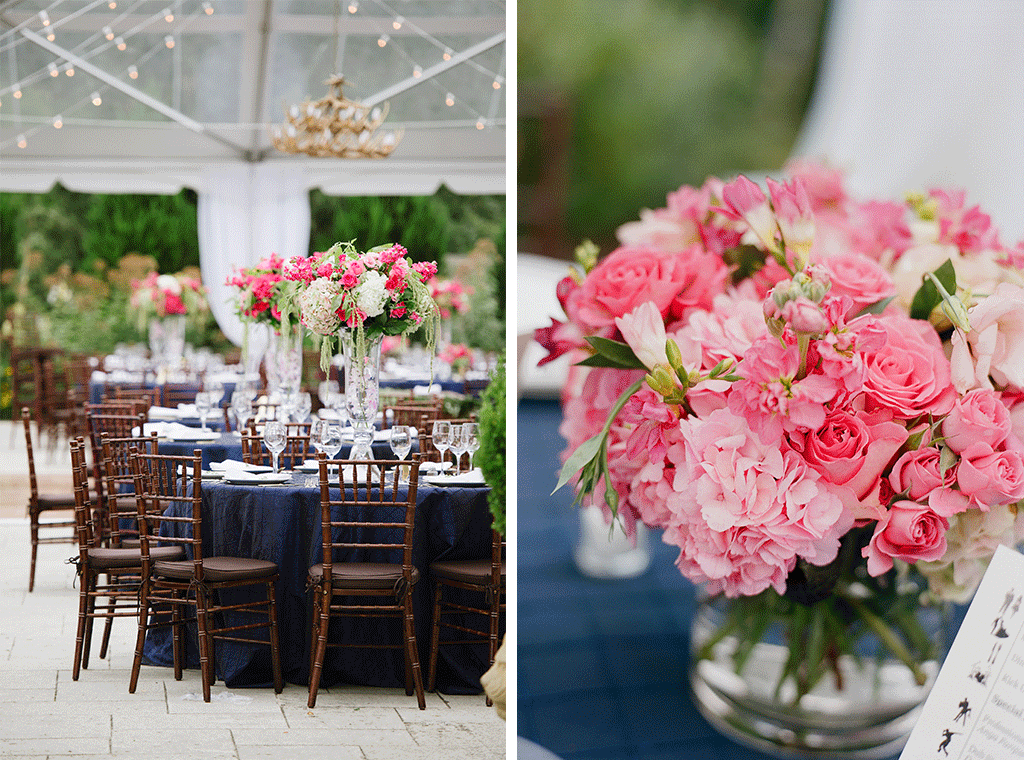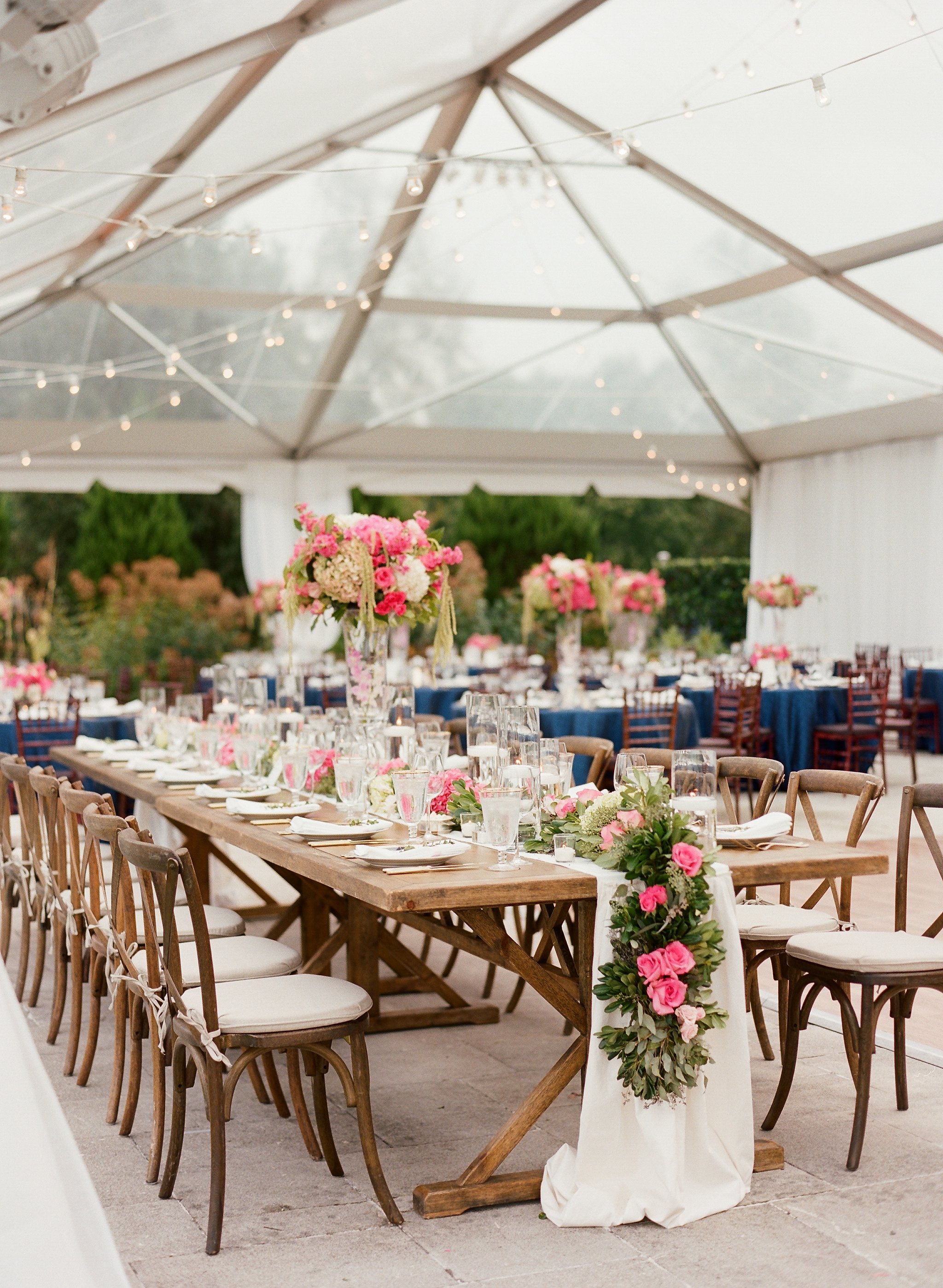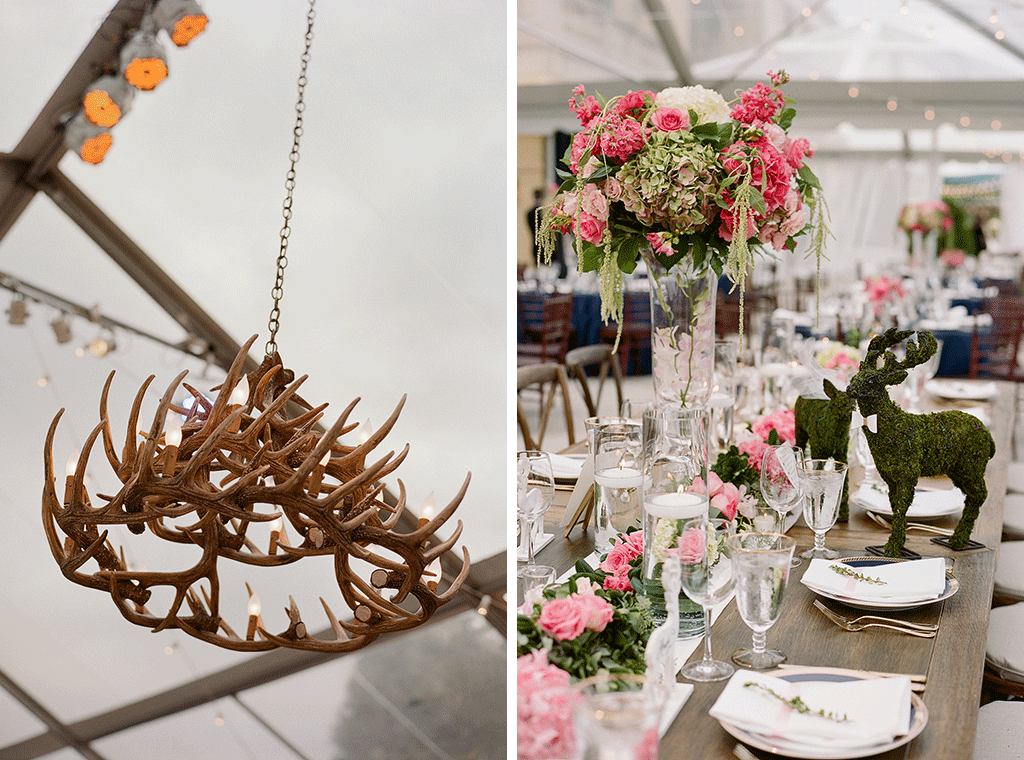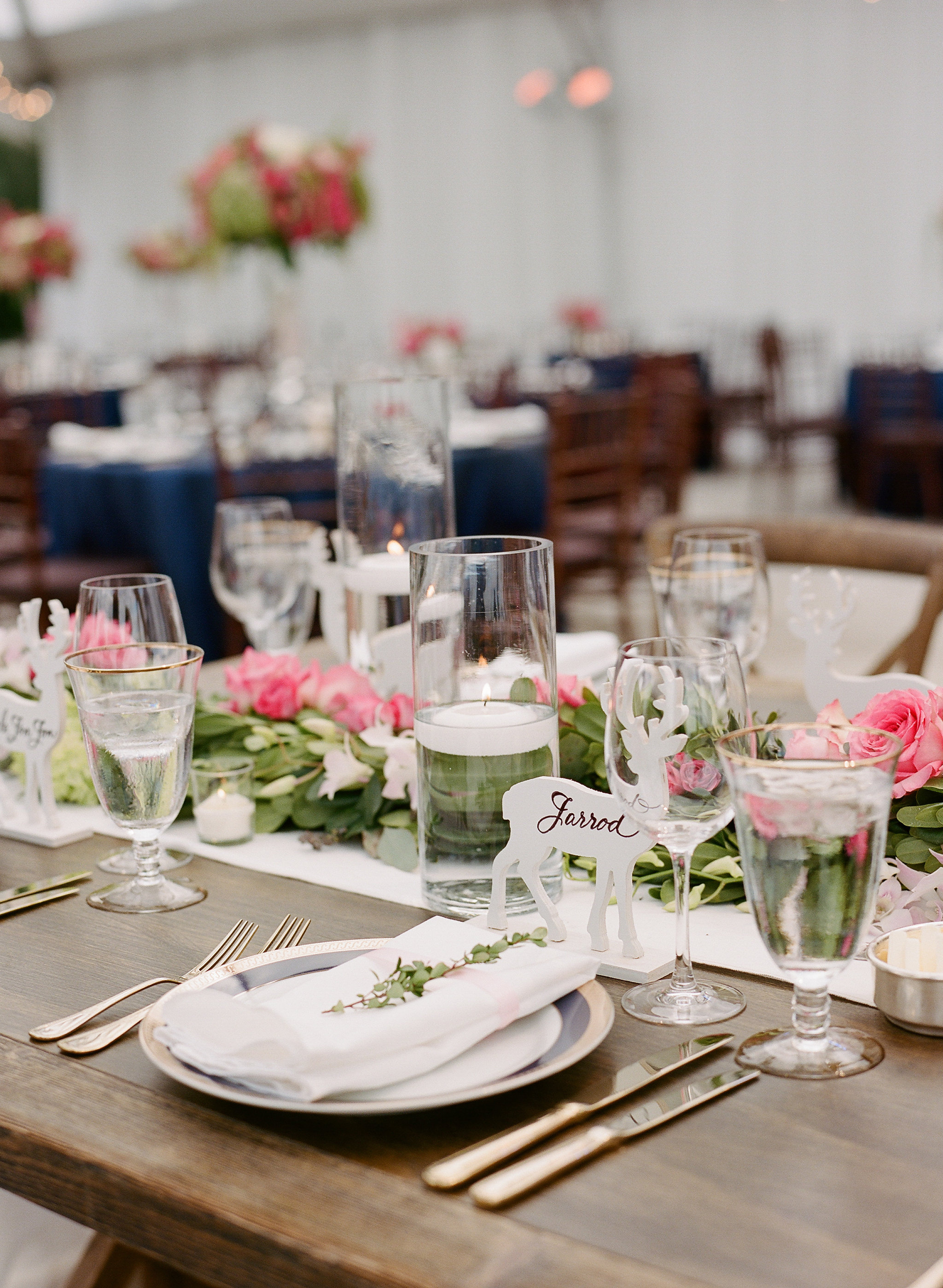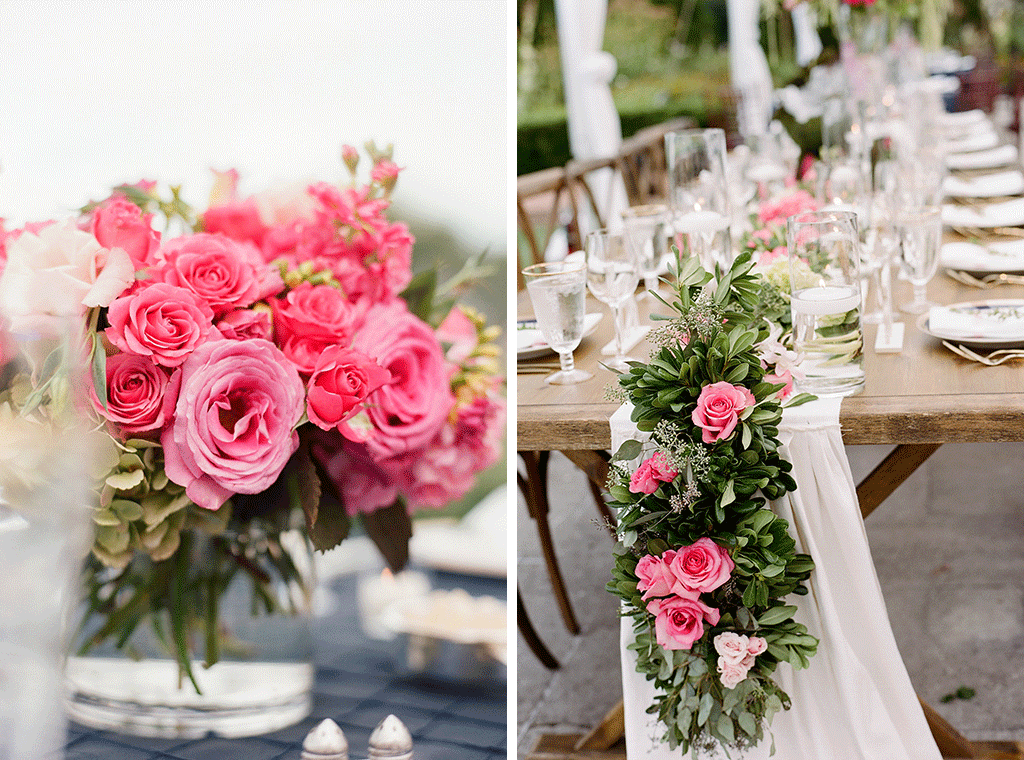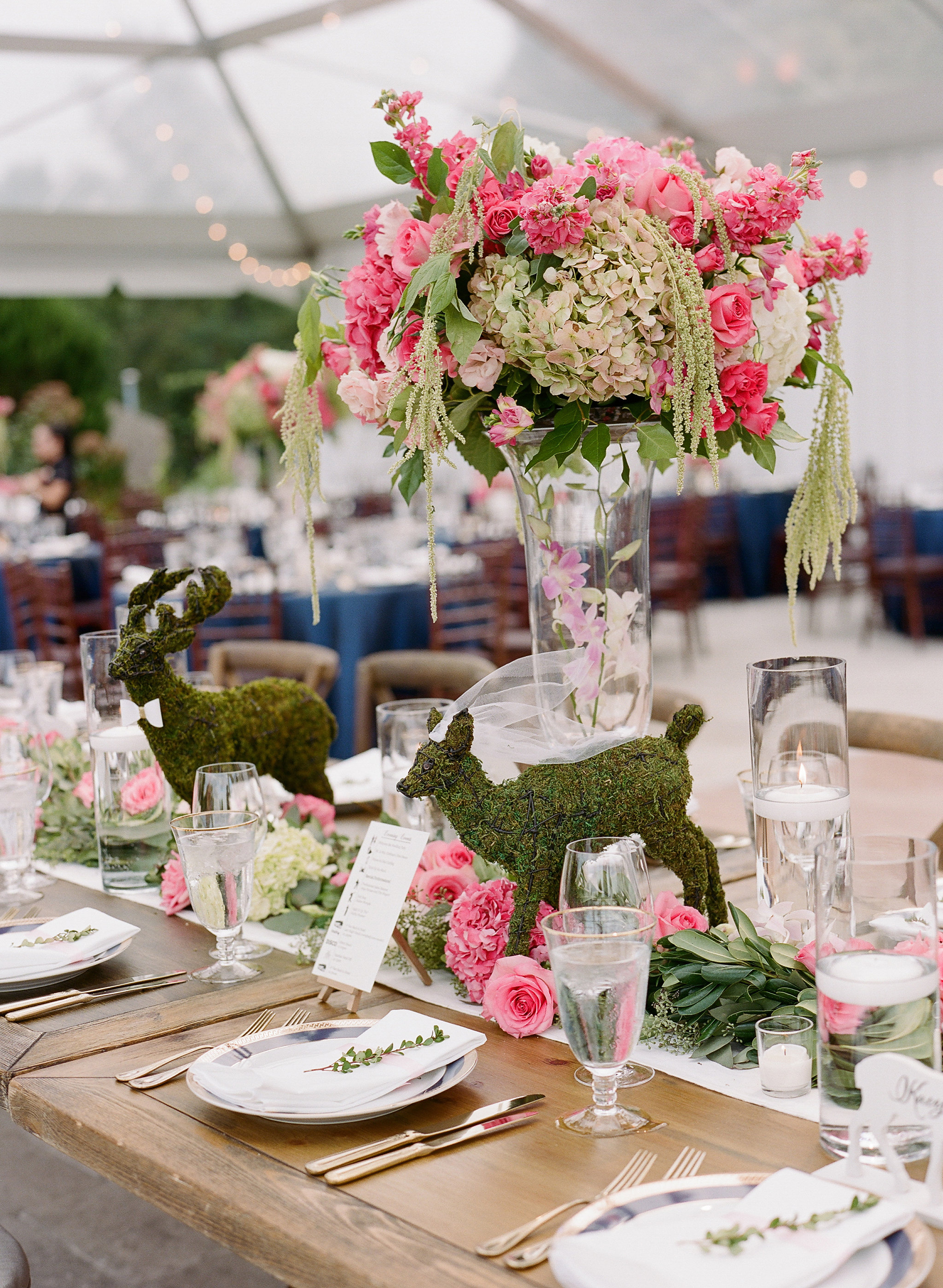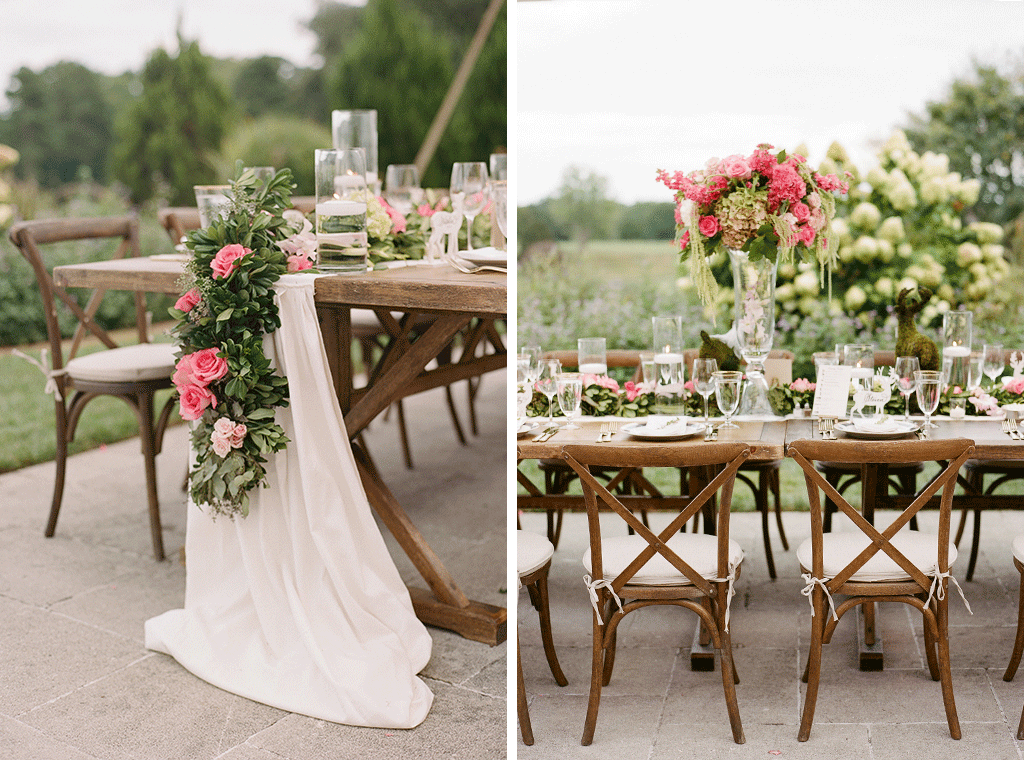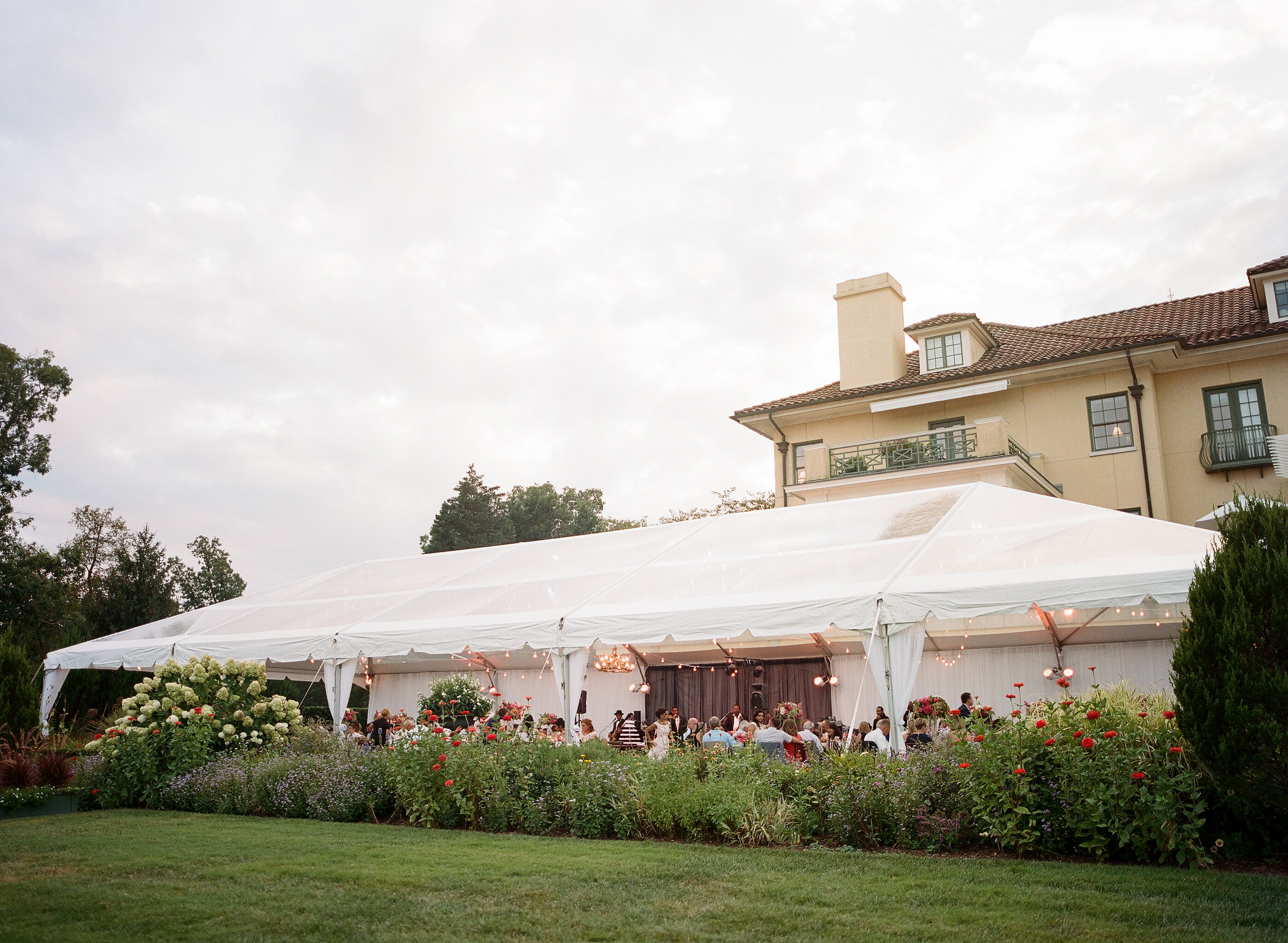 But the party was just getting started. "We wanted for this to be an event, not a typical traditional wedding. We had a schedule of the evening's entertainment professionally printed with vignettes performed throughout the night" says Katelyn. First up on the agenda? Professional dancers, including a pair of salsa dancers, a dub step performer, a Poi hula hoop performer, and a Michael Jackson impersonator. Tubs of flip-flops were put out for the ladies, so they could cut a rug to the ten-piece band.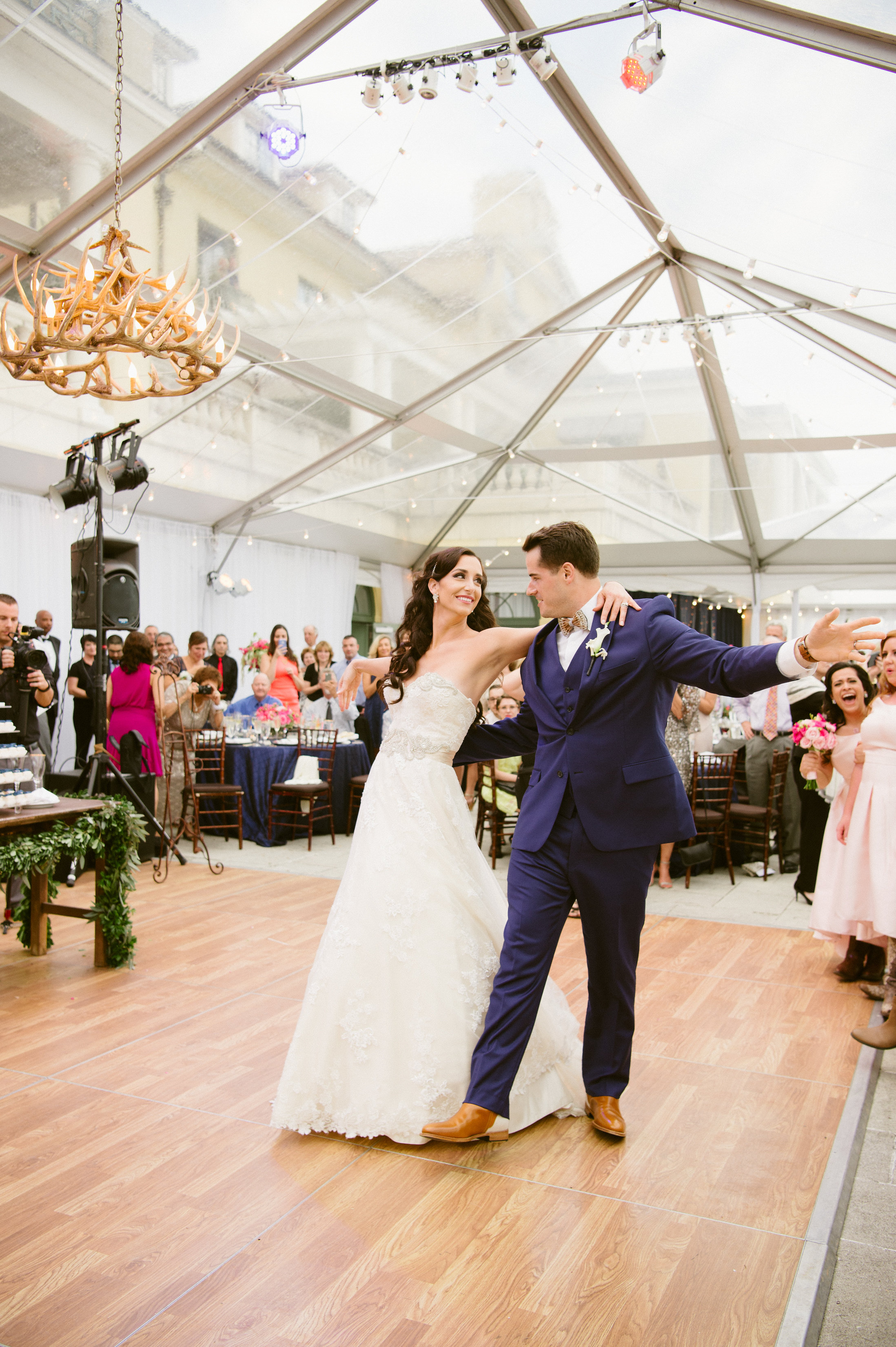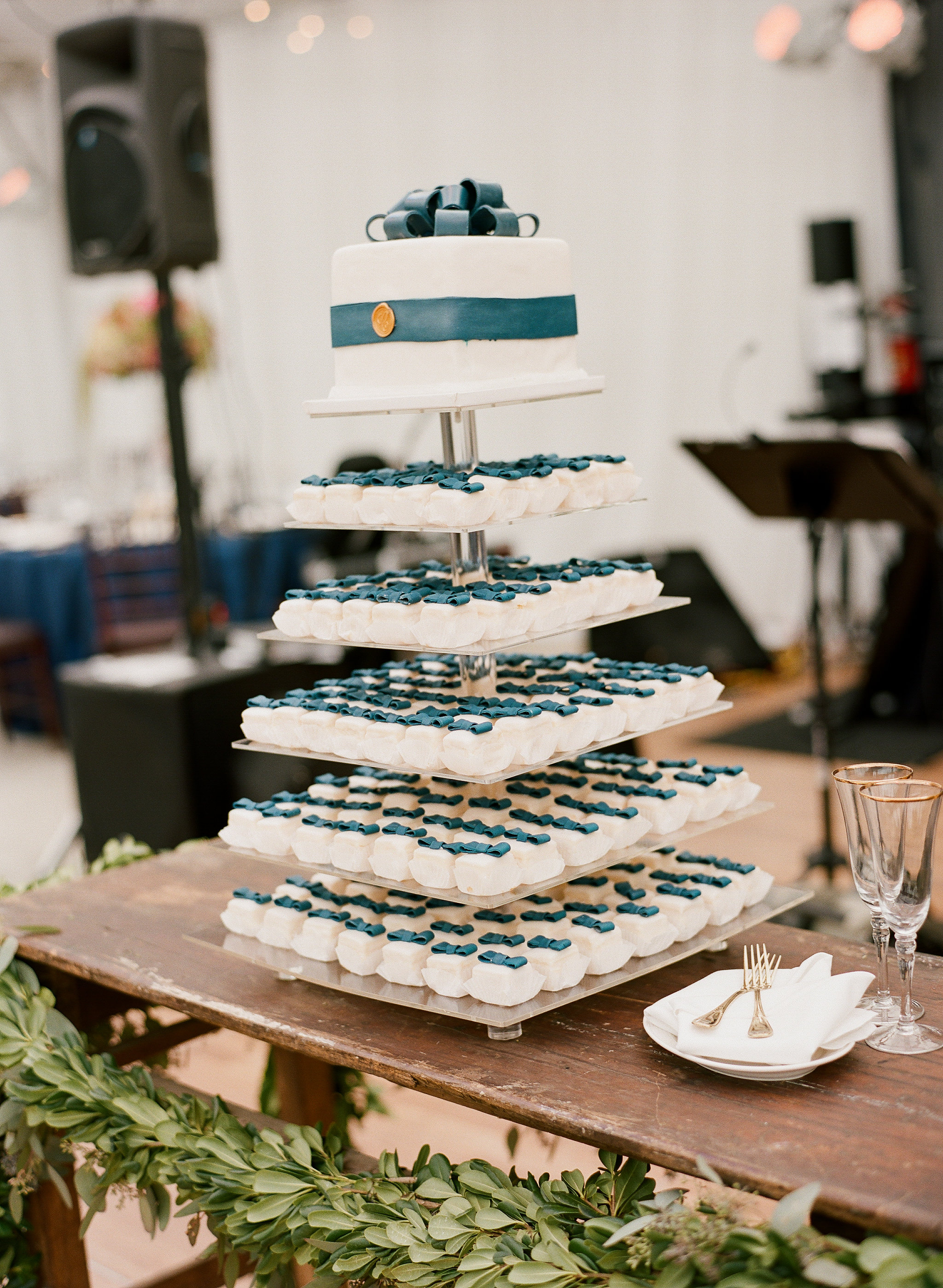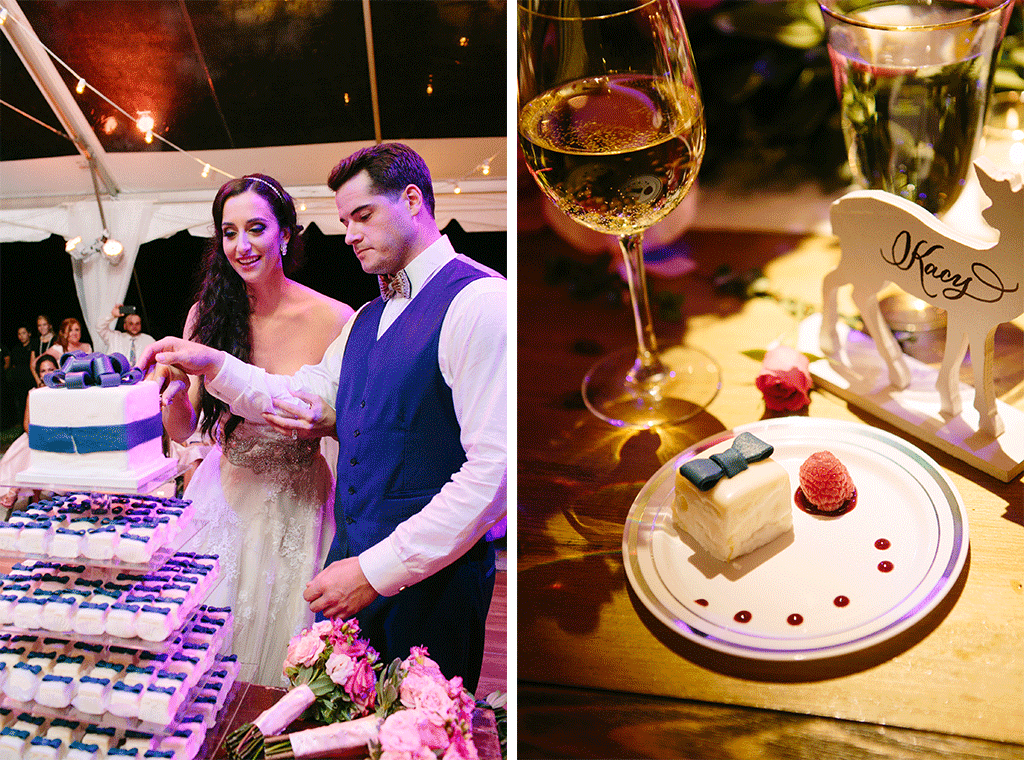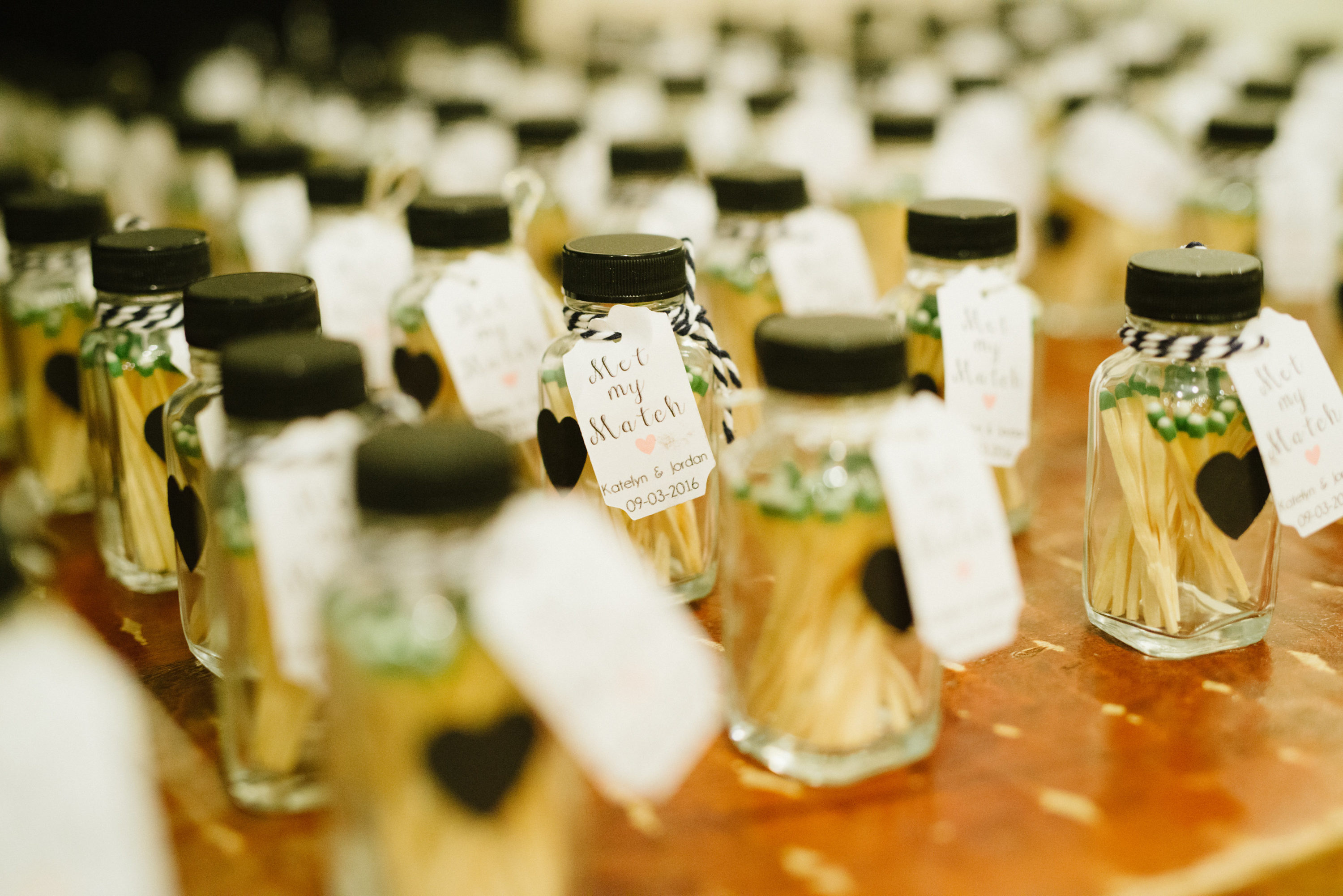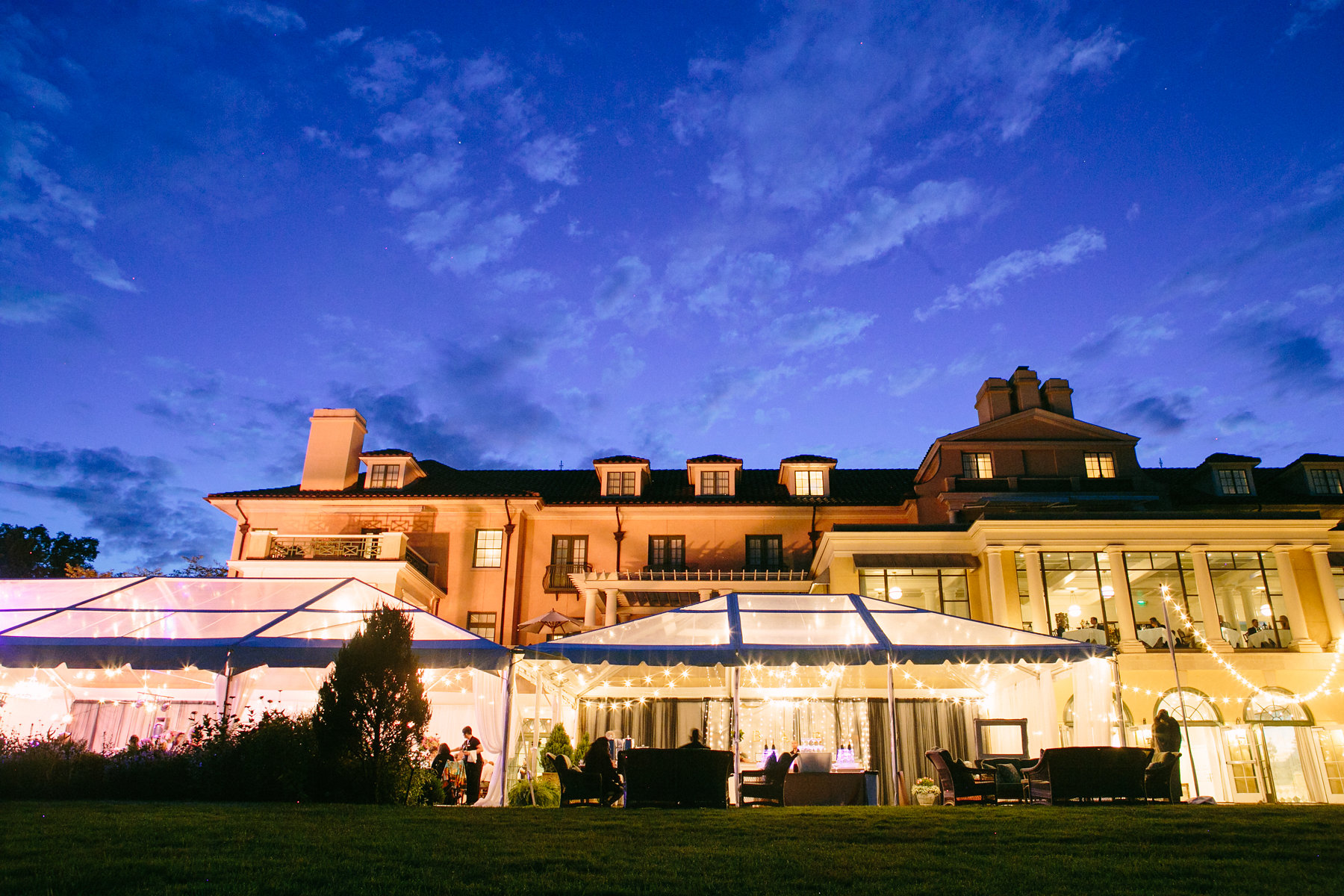 As it got later, the live tunes concluded. But though the live performance was over, the party was not. The wedding coordinator and his staff passed out headphones to each guest along with plastic blow up instruments and neon glow sticks. It was silent disco time. Guests (silently) jammed out to three different music stations and late night snacks were circulated.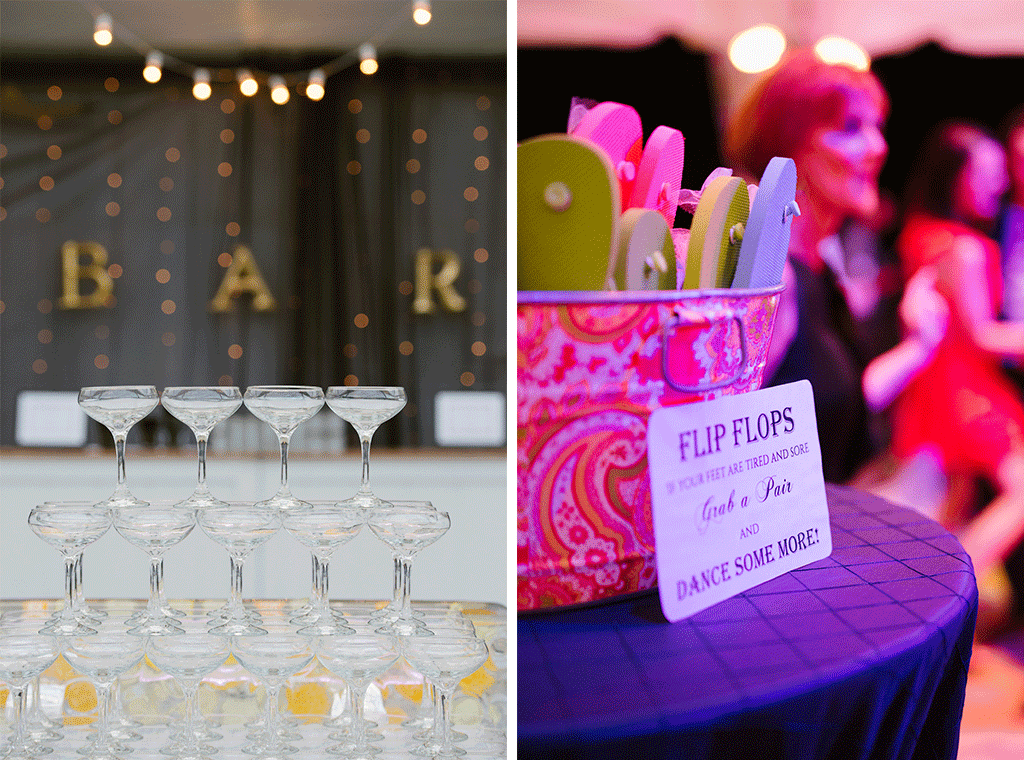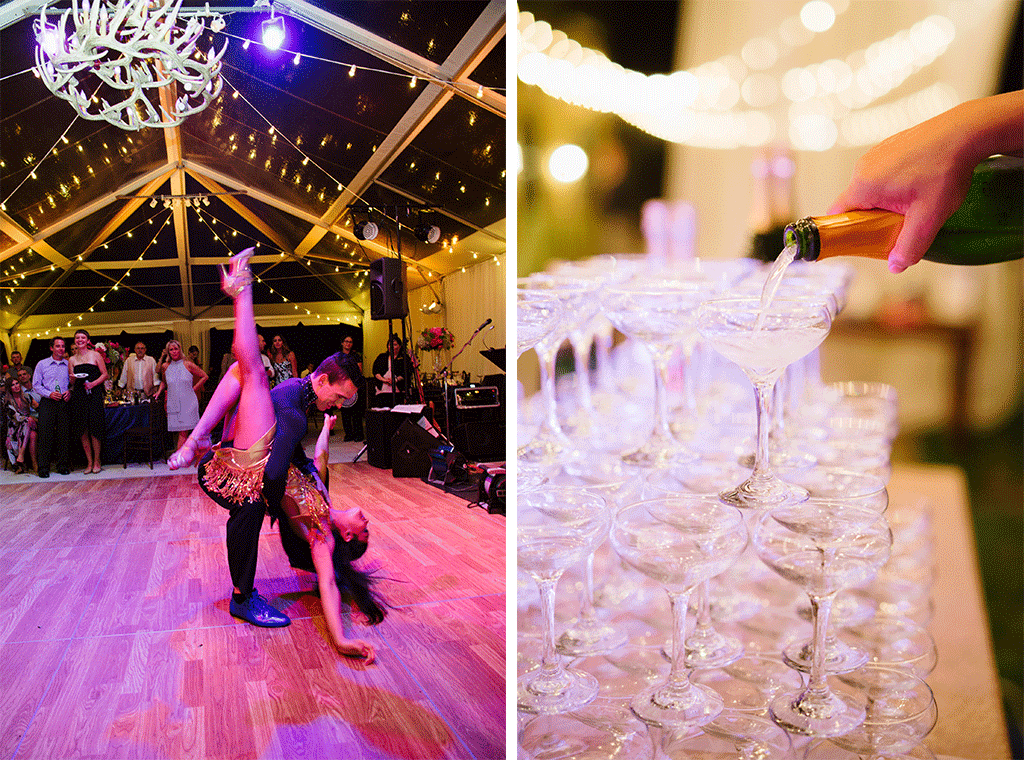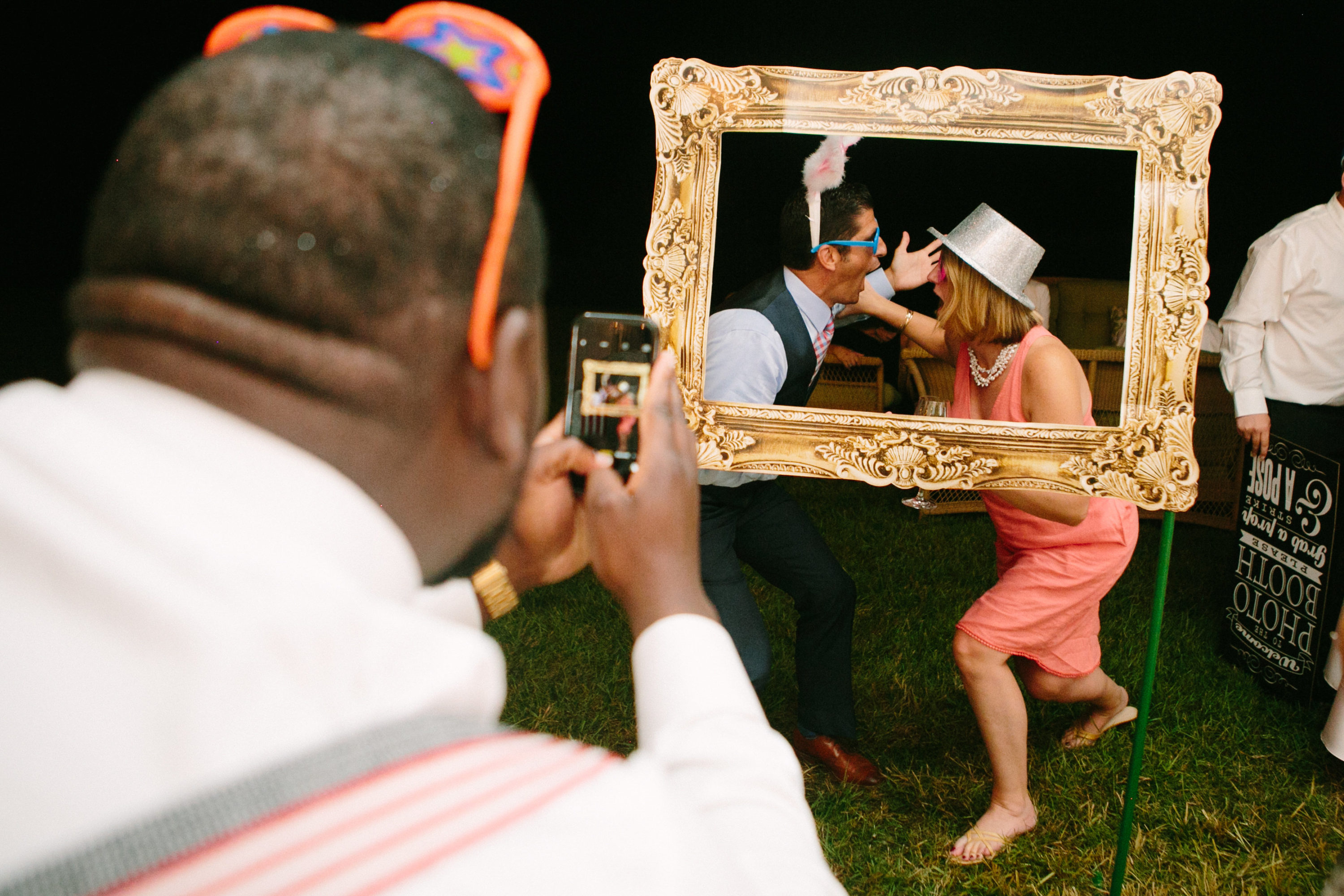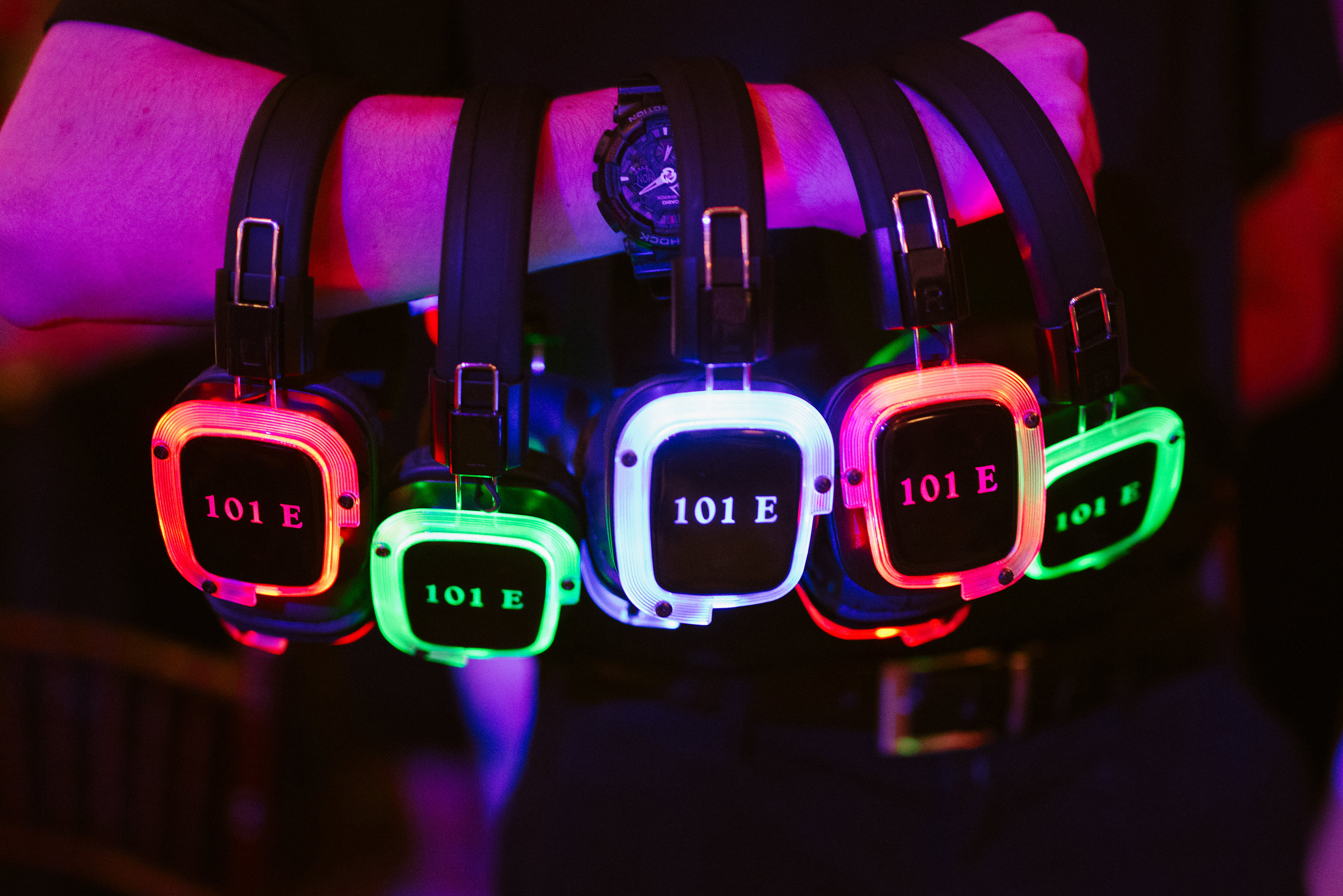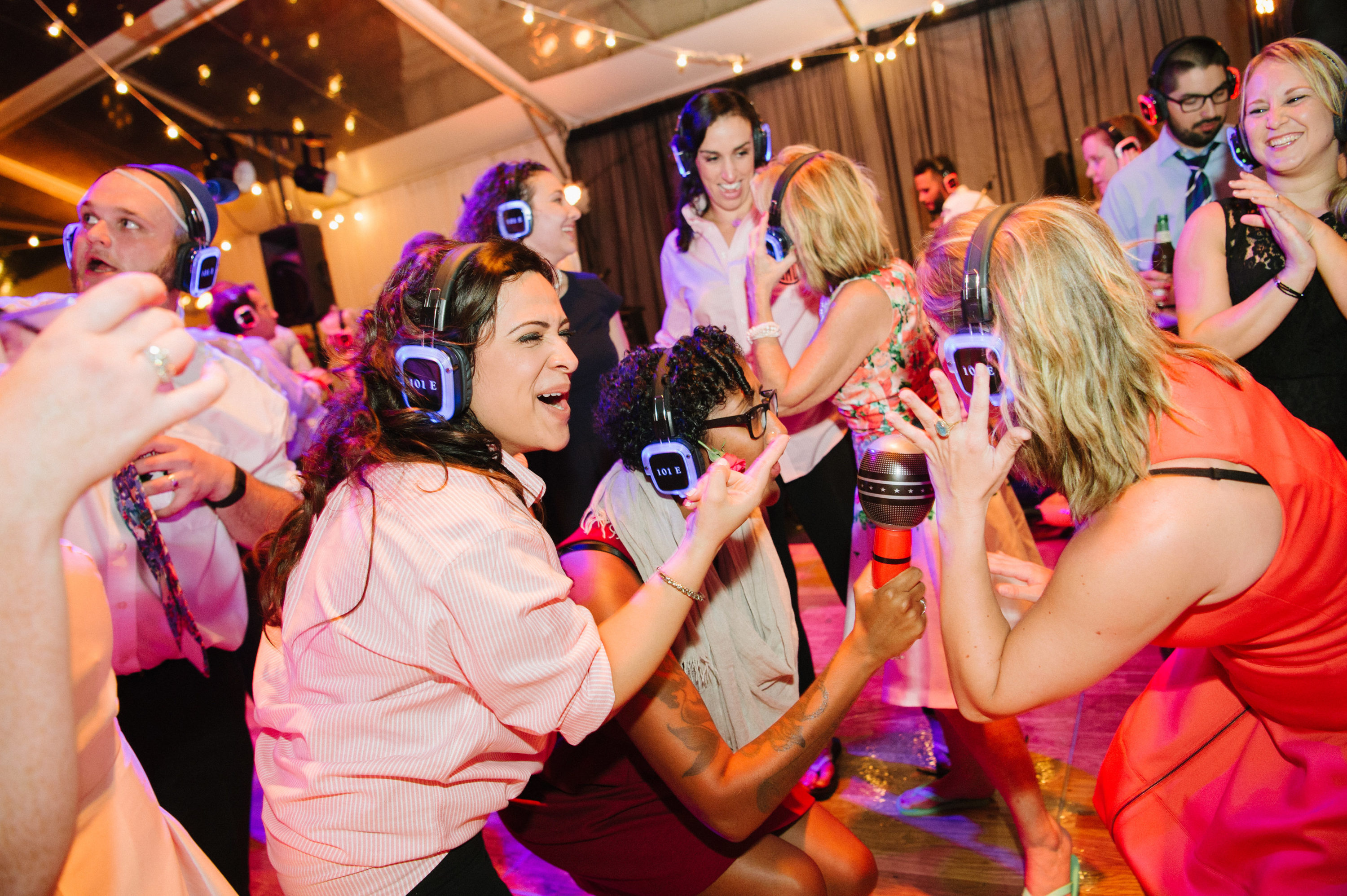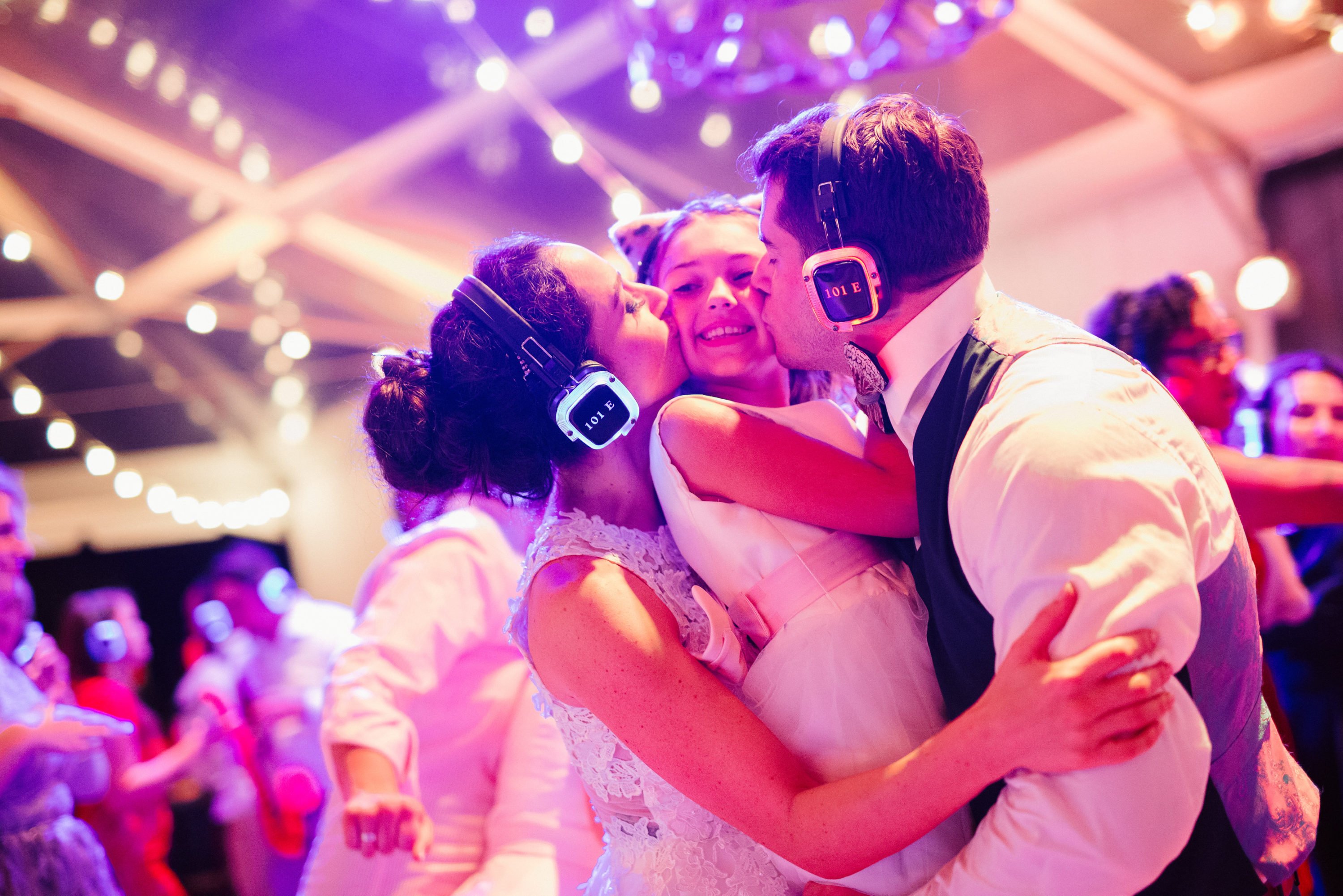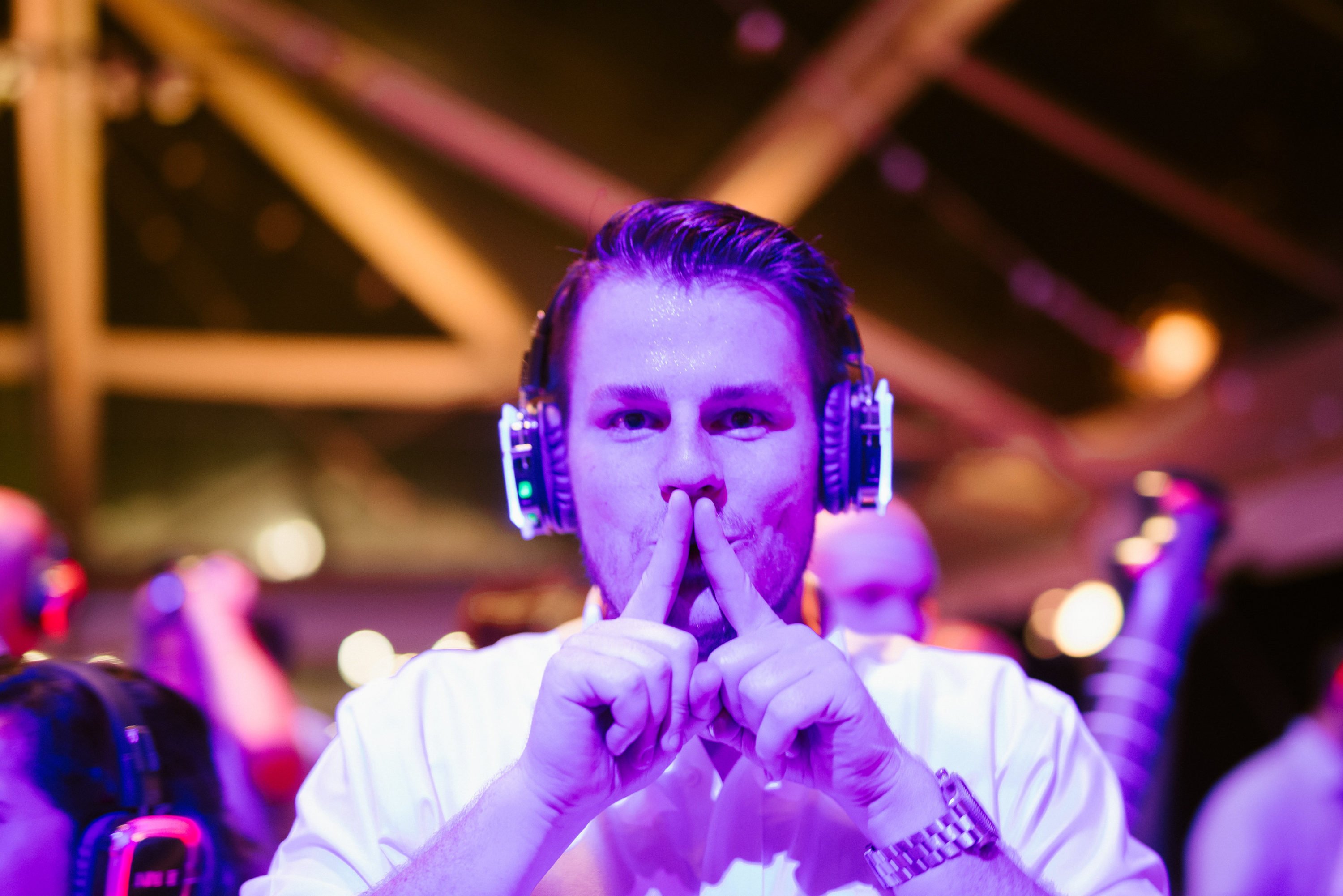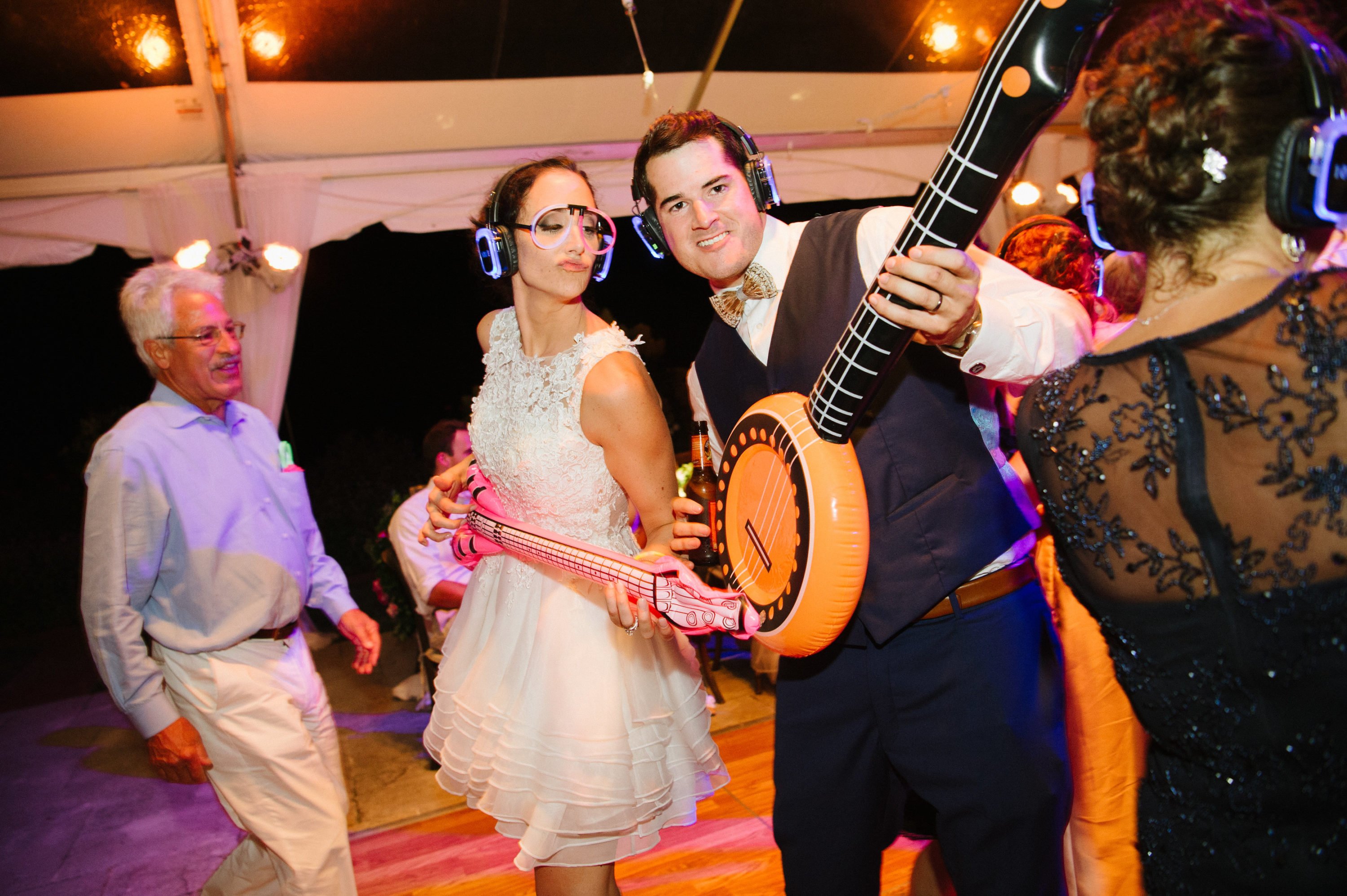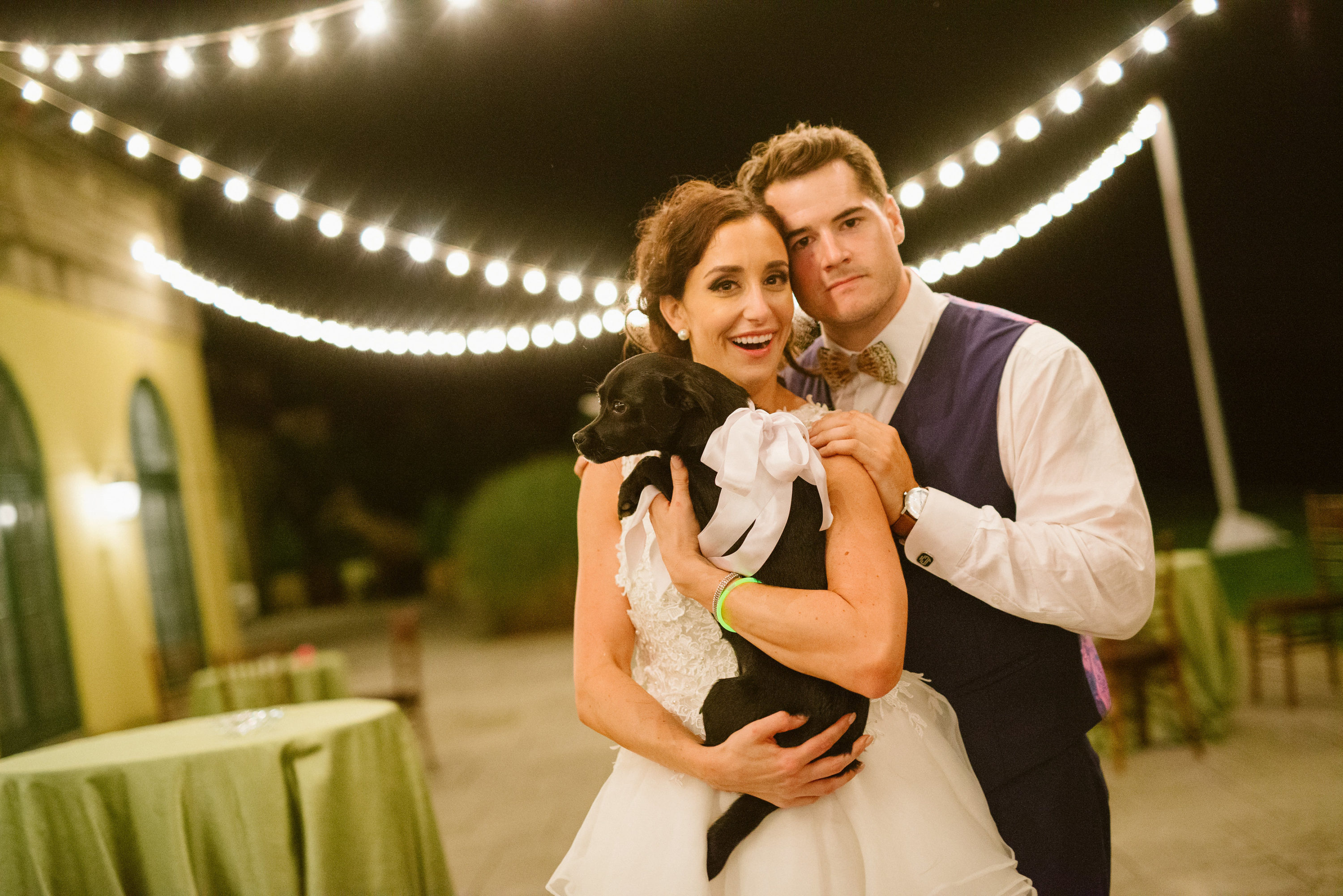 As the party wound down guests snapped a last photo at a selfie station where they posed with props behind a gilded frame. The evening ended with a traditional sparkler sendoff as Katelyn and Jordan made off in their "carriage"— a Keswick golf cart.
VENDORS
Photographer: Jen Fariello Photography | Wedding & Event Coordinator: Adam Donovan-G roves, Donovan-Grove Events | Wedding & Reception Venue: Keswick Hall & Golf Club | Florist: Distinctive Floral Design | Bride's Hair: Lucas Shaffer of Short Pump Salon | Makeup Artist: Ashley Boland | Bride's Dress: From Sealed With a Kiss Bridal | Groom's Tux: From Leviner Wood Custom Tailors and Shirtmakers | Caterers: Keswick Hall & Golf Club | Transportation: Quick Bus | Invitations: Rock Paper Scissors | Calligraphy: Jen Maton | Petit Fours: Heidelberg Pastry Shoppe |