A guide to the newest places to eat and drink.
If you've ever waited half an hour for a beer at a bar crowded with people waving $20 bills in the air, Peter Bayne can relate. With his latest venture, Franklin Hall, the co-founder of restaurant group Tin Shop DC and his business partner Geoff Dawson are setting out to ease your pain.
The new beer hall opening today in the old Manhattan Laundry building at 1348 Florida Ave., Northwest features a 60-foot bar capped on either side by tablet stations for ordering.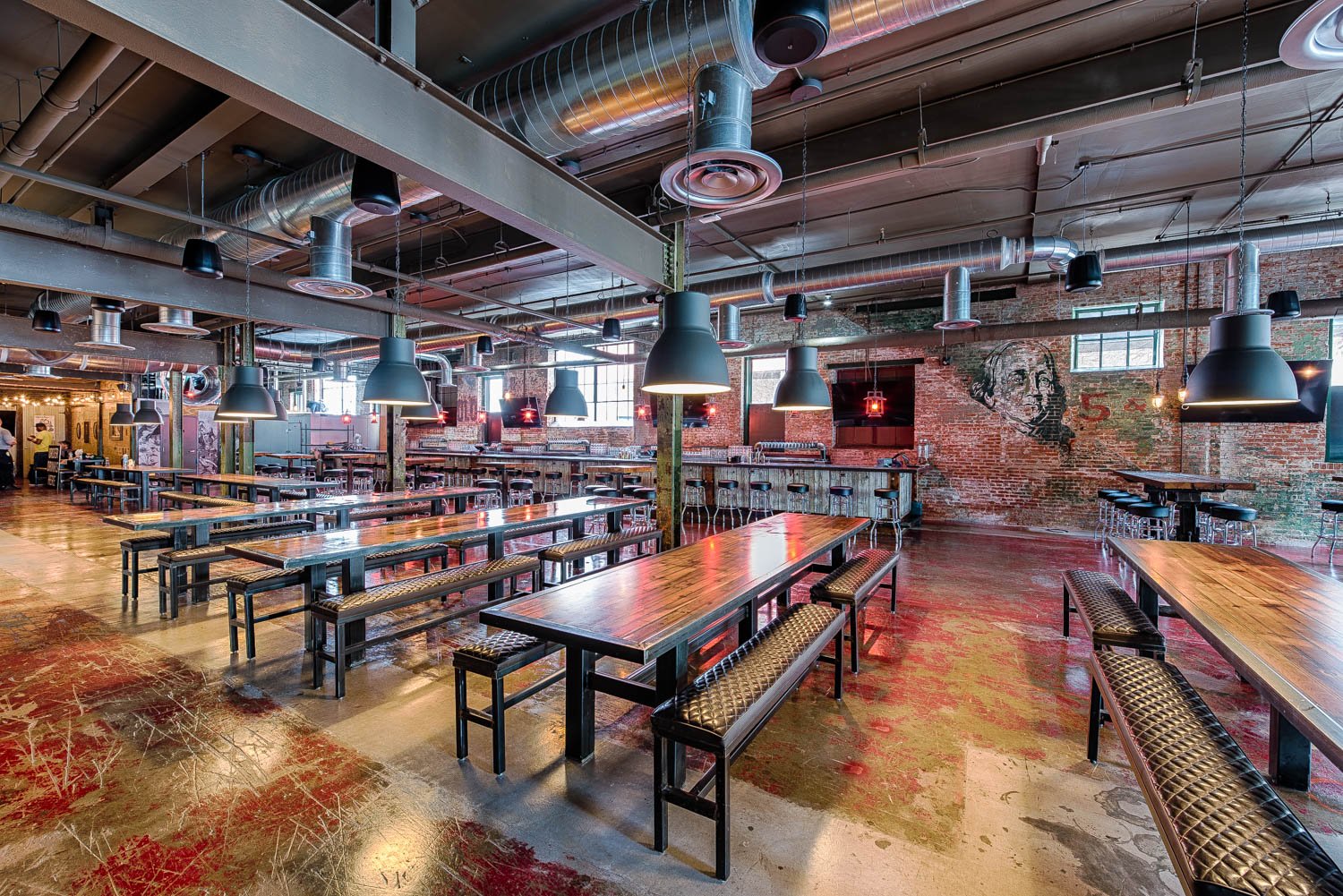 The idea was to combine a bar with a fast-casual model, Bayne says. The stations are equipped with screens that swivel, so a bartender can quickly punch in your order and then turn the screen around. You plug in your credit card chip or tap your phone (the system takes both Apple Pay and Android Pay), choose a tip amount, and sign. Because there will always be two to three bartenders manning the stations, you'll be handed your drinks just a few moments later and can head back to your table. If you choose to sit at the bar instead, though, it's full service—so you can order directly from the bartender.
An added bonus: if you decide to open a tab, you also won't have to get the bartender's attention at the end of the night to close it. Just head for the door, and the hostess will have a handheld tablet to close you out.
The bar boasts 24 draft lines: 20 for beer, three for wine, and one for a cocktail. The on-tap Hemingway daiquiri is poured through a nitro spout to make it ultra creamy. Beer-wise, the selection balances between approachable pale ales or wheat beers and the "harder stuff for beer nerds," like sours and meads, Bayne says. 
The food menu is meant to be equally speedy: every dish is designed to be ready in three minutes or less. Think hand-breaded chicken tenders, homemade mozzarella sticks, and five different types of sausage (served up "naked" or "dressed"). The menu, created by Chef Matt Baker of the forthcoming Ivy City restaurant Gravitas, also includes a few healthier options like lettuce wraps made with Brussels sprouts and apple as well as a black bean veggie burger.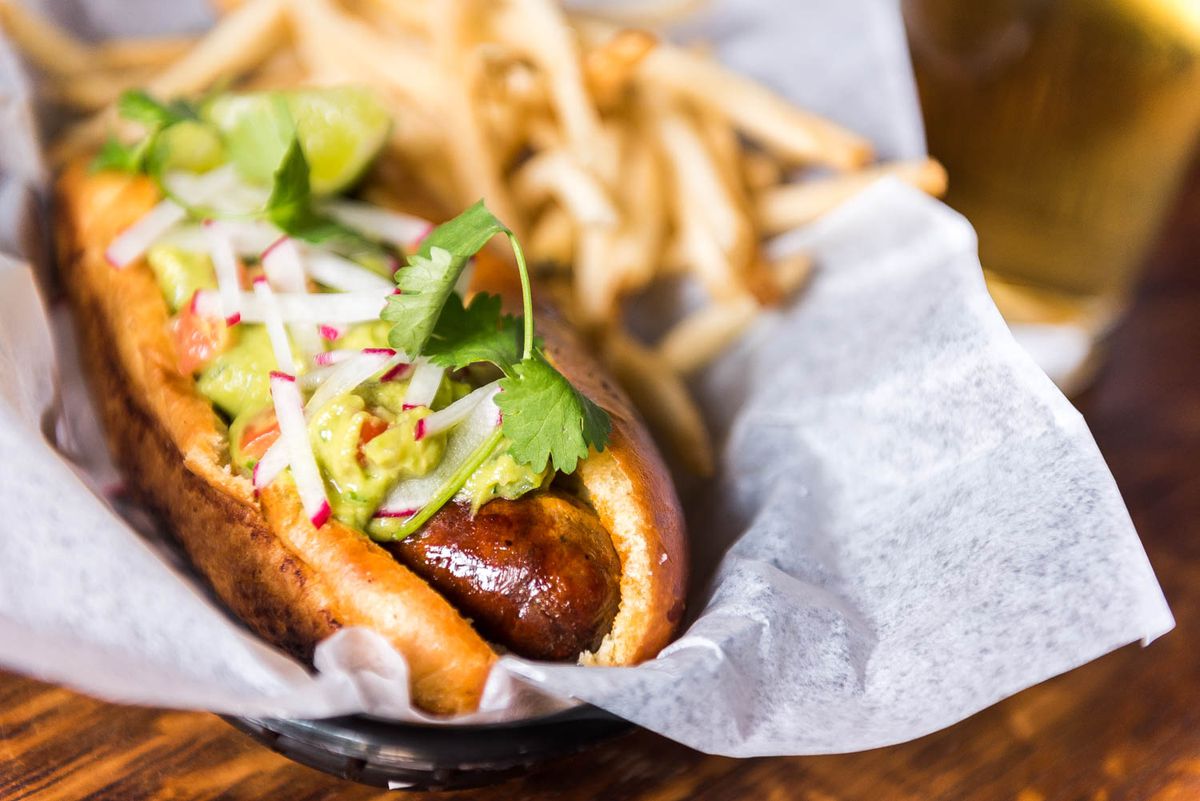 The food station has the same self-service ordering platform as the bar. In addition to increasing efficiency, Bayne says the system will encourage customers to mix and mingle while they gather by the screens to place their orders. In fact, that goal was central to Franklin Hall's design overall: the 5,600-square-foot space is outfitted with long communal tables, a row of high-top cocktail tables, and a cozy lounge area in the back with couches and love seats.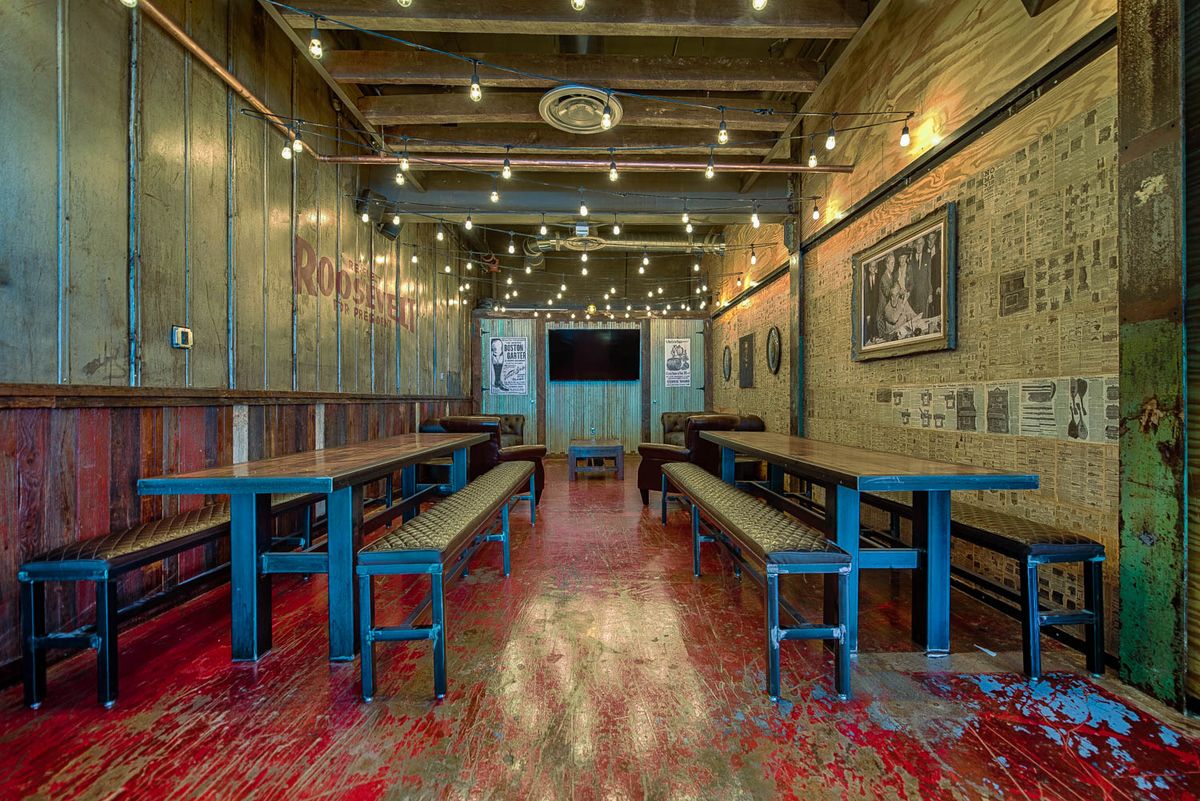 The look is something of a cross between industrial warehouse and German biergarten—but with cushioned benches that far outpace the traditional wooden ones in terms of comfort. Adding to the vintage vibe are tinted windows from a condemned public school near Philadelphia and hanging lantern-esque lights from Hersheypark.
And the name? An ode to both Benjamin Franklin, America's original entrepreneur, and Franklin Roosevelt, President during the repeal of prohibition.
In a few weeks, the beer hall will be serving up brunch, too. Highlights from the menu, also designed by Baker, include breakfast tacos prepared four different ways, a breakfast Frito pie, and chicken and waffles.
Come fall and cooler weather, Bayne says they'll be bringing in two refurbished 1880s stoves—"big steel cauldrons"—to serve as fireplaces.
Franklin Hall. 1348 Florida Ave., NW.