When Maryland-born makeup artist Ryan Kelly first posted a goofy photo on Instagram of her lips painted like viral phenomenon "Left Shark" (a character from Katy Perry's Superbowl halftime show) back in 2015, she could hardly have predicted the popularity that would ensue. But people loved the image, and someone tagged it as #lipart.
Three years later, Kelly has amassed a following of 70,000 Instagram followers. Her feed? All lips. Lips painted like donuts dripping with icing. Lips swirling with French impressionist landscapes, or covered in reflective sequins. In one shot, Edgar Allen Poe stares eerily from Kelly's pursed lips, birds taking flight across her cheek. Another shot shows her lips painted purple and covered in tacos. Another shows the silhouette of the four main characters of Stranger Things. Yet another simply reads "Okay? Okay"—a reference to the book, The Fault in Our Stars.
Enter the weird and wonderful world of Kelly's lip art. We caught up with the artist (who runs a very normal bridal makeup service by day, Blend Makeup Artistry, through which she's done work for Washingtonian) to hear about her inspiration and her favorite looks. You can check out more looks on her Instagram at @ryankellymua.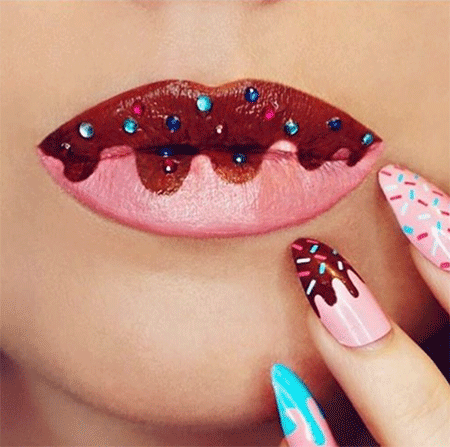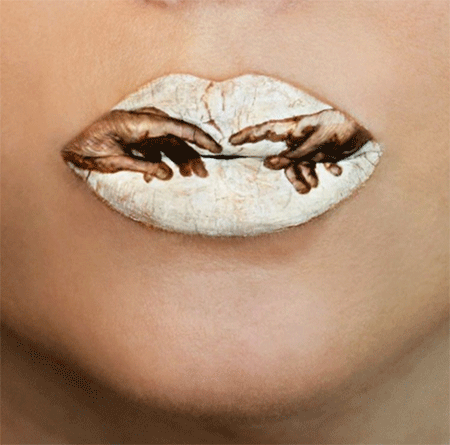 Where are you are from?
I grew up in Annapolis and then we moved to Columbia, which is near where I live now, almost Eldersburg. Out in the boondocks. I grew up doing musical theatre, which is how I got started with makeup: I had to take stage makeup classes in college. Also, my mom is a makeup artist. She and I have a freelance makeup company called Blend Makeup Artistry and we do lots of weddings and events in like the DMV area, so that's my quote-unquote day job, if you can even really call it that.
So obviously, you do full makeup but it seems like your Instagram feed is like mostly lip art.
I know. If I showed it to a bride they'd probably be like "You are not going to do that on me."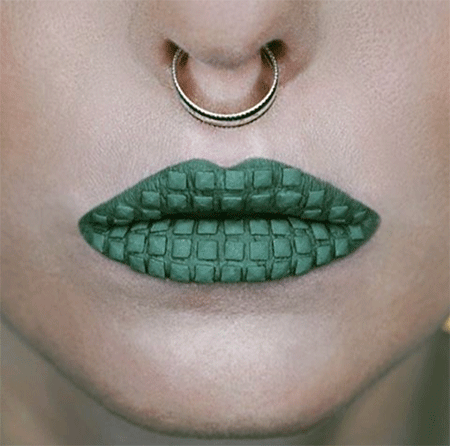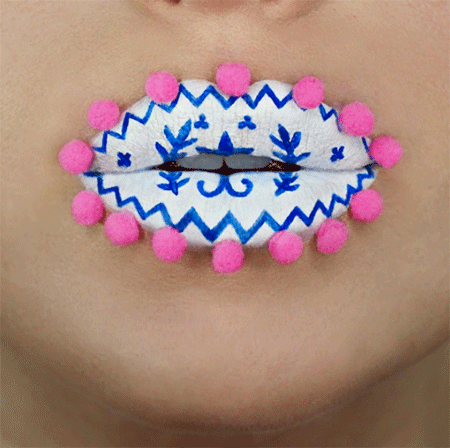 So how did you get into this?
It's kind of a funny story, actually. When my Instagram feed was starting out it was just brides, clients from events— just a typical makeup artist's feed. Then, do you remember "Left Shark…" that whole phenomenon with Katy Perry at the Superbowl where she had those backup dancers dressed as sharks? And one of them like completely messed up the choreography but he kept going? It became a viral thing; everybody was Left Shark for halloween. My husband and I were watching it one time a couple of beers in, and we thought it was kind of funny. My husband said "you should totally paint Left Shark on your lips." So I did it, and posted it on Instagram. Completely as a joke.
It went crazy. People loved it and a couple people called it lip art in the comments. I'd never heard of lip art at the time, so I browsed the hashtag. It was sort of like nail art, but on your lips. From there I thought "well, let's see what else I can do." That's how it started.
I can't believe it all started with Left Shark.
I know, left shark is basically responsible.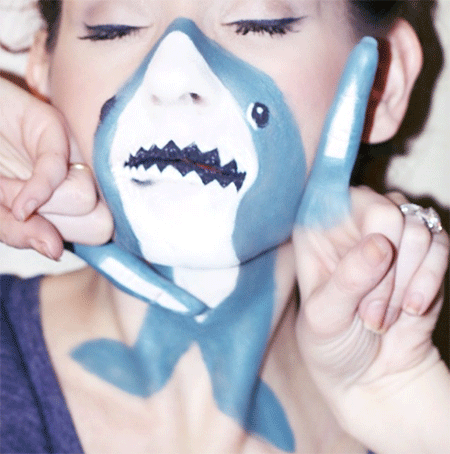 What did you like about coming up with these ideas and executing them?
That is probably a two-part answer. The creative challenge, thinking "well I wonder if I could do this…" It just started out as mostly designs. I guess because of the way I started, it was always pop culture-based. If there was a movie coming out I'd try to do something referencing it. From there I thought "I wonder if I could do portraits." I just kept challenging myself. If it works it works, but there are a ton that I never posted. That's one big part of why I love it, but I also love it because its just taking a break from basic beauty makeup, which is an art in of itself.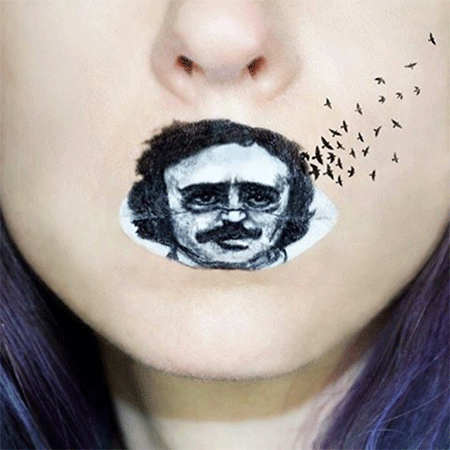 Do you practice on your friends or on yourself?
Everything I do, I do on myself. As I've grown people have asked me to do workshops or makeup shows and I've done it on other people, but it's harder because it feels backwards. I prefer to just do it on myself, because some of the lips take a long time—it would probably be super boring for someone else to sit there forever. But I have done other people.
What have been some of your favorite looks that you've done so far?
My favorite probably of all time was a long time ago when I did Starry Night. I think, for whatever reason, that people feel so personally connected to that piece of art. It was one of the first times that I had had other companies share my post and one of the first times I realized I could really challenge myself and try to recreate something that already exists, which is sort of a different animal. If people recognize [the inspiration] then they have an opinion and they feel connected or disconnected from it. It's challenging because they either tear you to shreds or they love it—there is nothing in between.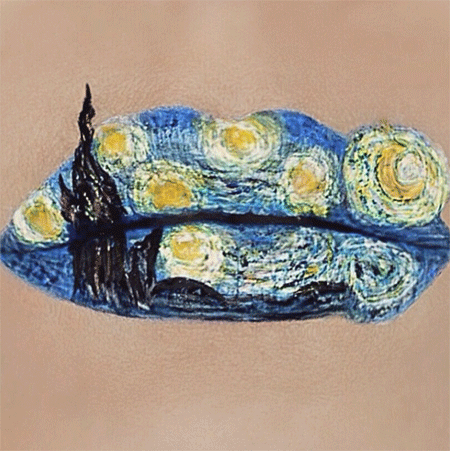 Do you have any favorite current lip trends outside of lip art? Natural makeup trends?
There are definitely elements I can take to day-to-day clients. Lip ombre is kind of cool: you can use that to contour your lips. There are certain products I would never have discovered if I didn't do lip art. For example, liquid lipstick is the best thing ever, and that translates over to brides because they are always looking for something that's long-wearing. But then it's a lot of trends like the geode lip, something you aren't going to wear to the grocery store.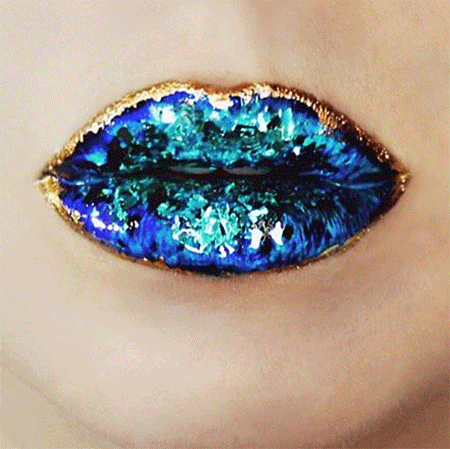 Are there any concepts that you are thinking of right now that you want to try?
Oh my gosh, yes. I have a secret board on Pinterest of inspiration and it ranges from like, the weird and creepy stuff (because I'm obsessed with Halloween) to stuff like Wonder Woman being out right now. That's something I'll probably try to touch on. I like the concept of mixing nail art and lip art, so I'm always looking at different nail designs and what people are liking so that I can do posts and lend those a little bit of love. But I don't have anything super-specific in the works… it's just whatever feels right at the time.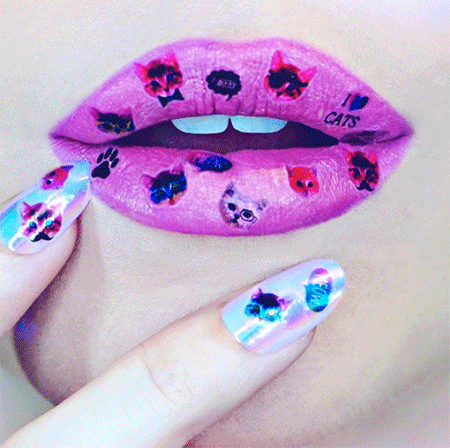 Okay, if you could do one celebrity's lip art who would it be and what would you paint for them?
I've never been asked that question, but that is such a good question. I'm not even the biggest Rihanna fan in the world, but I feel like she could rock it and make it almost seem normal. She's so outside of the box with her look anyway, that we could do something really cool. We could throw spikes on there, or I feel like she would be cool with having chains hanging down, or crazy red-and-black ombre. I wouldn't draw a picture on her lips, but just do something really really weird and edgy. And she would rock it and people would love it and hate it.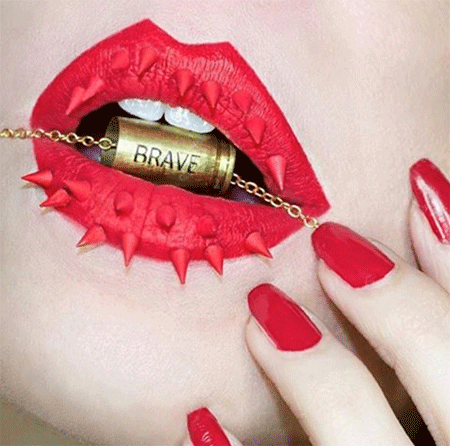 Do you get a lot of feedback from your fans and followers? Do they send you pictures of trying your looks at home?
They do sometimes! That was a really crazy turning point, the first time someone recreated something that I had done. When we first started there were really only four or five of us [lip artists], and everybody, at least on the surface anyways, was really supportive of each other. When it started becoming much more commonplace, people started to recreate each other's stuff all the time. It's really cool because it just continues to get the word out there.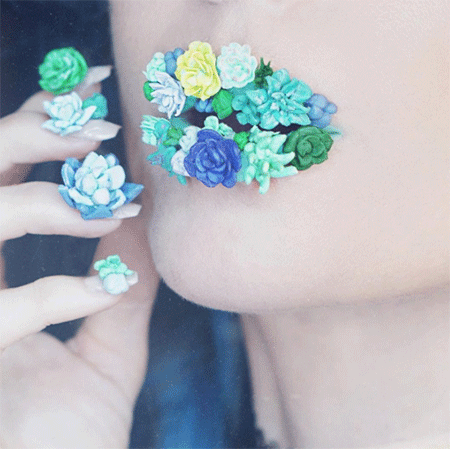 See more of Ryan Kelly's work on her Instagram @RyanKellyMUA.