Whenever I see a treehouse, I'm eight years old again, lying awake on a warm summer night with my brother in the perched platform my dad hammered together in our Silver Spring back yard. After bravely defending our clubhouse from enemy attack, we'd curl into our sleeping bags, listening to the chirping cicadas and mysterious hoots that lay just beyond the reach of our flashlights.
There's something magical to me about treehouses. I guess I'm not alone. Lately, thanks to shows such as Treehouse Masters and The Treehouse Guys, these wooden wonders have become trendy and sophisticated. In the decades since leaving my parents' nest, I've spent many nights in leafy lodgings, from Seattle to Southeast Asia. Conveniently, four great options are relatively near Washington—starting with Trillium Treehouse in Linden, Virginia.
On a 220-acre vegetable-and-herb farm bordering the Appalachian Trail, Susan Leopold's year-old "tree-pothecary" is for guests who want to reconnect with the forest. The two-story structure was made from pieces of fir, cedar, and poplar planks Leopold salvaged from 19th-century log cabins on her property.
Guests ascend a ten-foot ladder to the front porch and then enter a rustic retreat bursting with personality. Antique apothecary bottles preside over a stained-glass window showing medicinal plants, while a notch-log ladder leads to the upstairs loft and full-size bed. The back deck, with a railing woven out of grapevines, overlooks a fire pit and two chairs.
After hiking the property's three miles of trails and raising a glass at Linden Vineyards just down the road, you can cool off in the outdoor spring-fed shower, fire up the gas stove, and peer at the heavens for a light show that's out of this world.
Trillium Treehouse, Linden, Va. Rates start at $154 a night.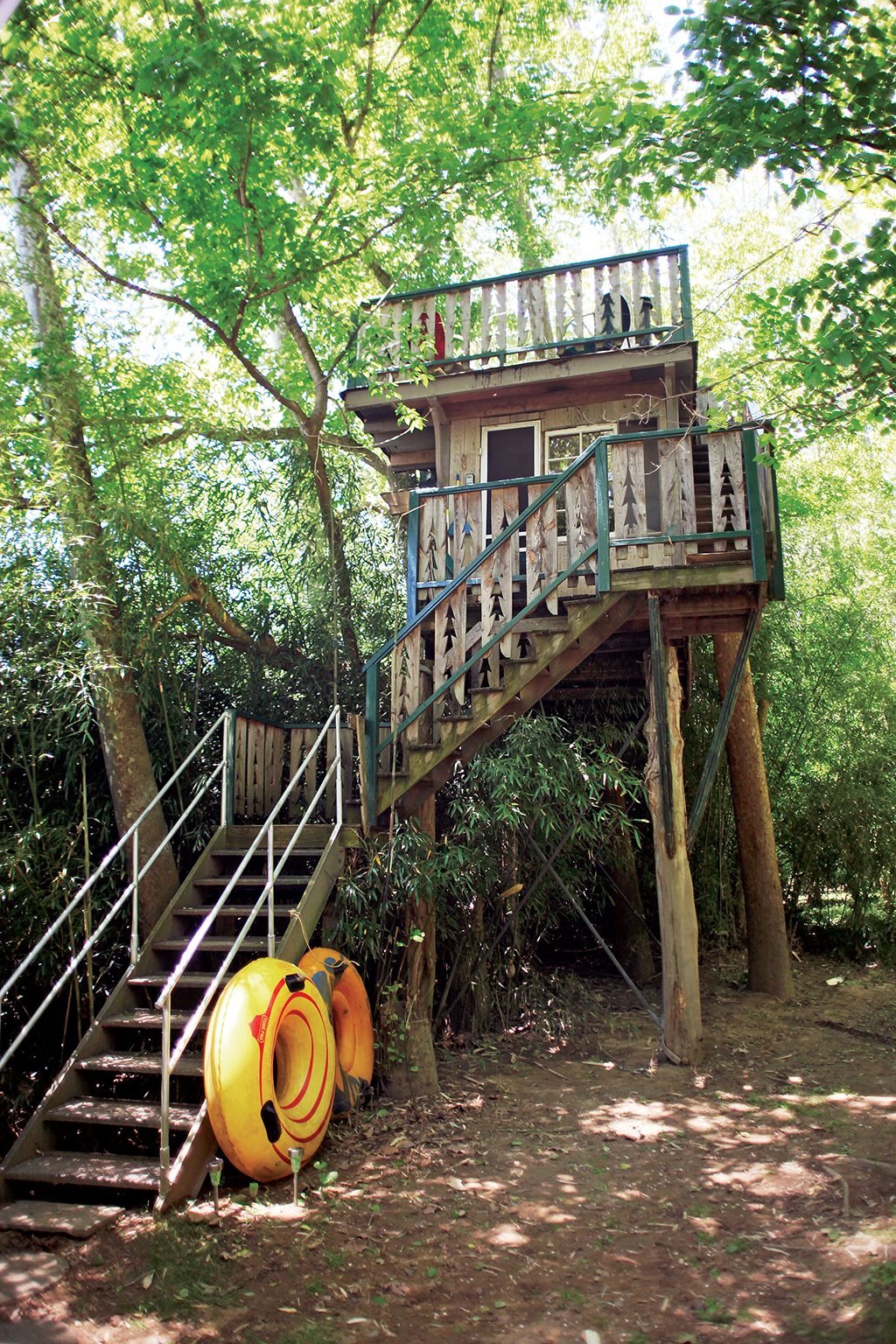 This screened-in studio is beside the South Fork of the Shenandoah River. Who needs electricity when you have a canoe, inner tubes, a grill, and a fire pit? $245 per weekend for two guests. $195 mid week two nights for two guests. $100 additional nights; $550 week. 
Countryplacecabins@gmail.com; 540-743-4007; countryplacecabins.com 
At this "treesort" in Virginia, a twinkling LED-lit skywalk leads into the canopy castle, with its four-poster bed, wi-fi, and flat-screen TV. Should you ever descend, a sauna, a dipping pool, and a paddleboat-friendly pond await. $125 and up a night.
This 20-acre property along the Appalachian Trail in Maryland boasts ten primitive treehouses. (Book the Hawk or Robin.) Bring an air mattress and sleeping bag, and s'mores for the fire pit. Starts at $43 a night for up to four people; $10 each additional person.
This article appears in the August 2017 issue of Washingtonian.