The wind is shrill and gusty. And here comes some spitting rain. A nor'easter is on tap before the weekend is out. What better time for some open-boat coastal sightseeing?
Assuring us it's more uncomfortable than unsafe, Captain Meriwether Payne of Seaside Ecotours backs her skiff out of its Wachapreague, Virginia, slip. The wife and I huddle in our rain gear—excitement trumping apprehension—as we swing in-to Bradford Bay. Our destination: an unprepossessing line of scrub some four miles in the distance, barely discernible amid the whitecaps. Cedar Island.
It's easy to view the Mid-Atlantic coast—from Rehoboth to Virginia Beach—as an endless stretch of taffy stands and sun-blanched condos. Yet the region is also home to one of the country's longest undeveloped strings of barrier islands. Assateague, the pony-inhabited National Seashore straddling Maryland and Virginia, is part of it. But you can drive there. For the true desert-island experience, you must head into the less trampled corner of the Delmarva Peninsula—in Virginia—and take to the waves.
The waters off Wachapreague—self-proclaimed "flounder capital of the world"—can teem with recreational anglers, but not today. (Anyone else of a certain age remember seafood dinners at Silver Spring's old Wachapreague Restaurant?) Bird life is abundant: Arctic-bound whimbrels fattening up on fiddler crabs, red-billed American oystercatchers furtively pairing off in the marsh grass, terns and gulls wheeling overhead.
After some bumpy open-water stretches, Payne gingerly runs the boat into Cedar's sands and we step off. Dry land. Well, for now. Erosion is whittling away the island. Nearly 30 beach houses stood here in 1997. The last one slipped into the surf in 2014.
Today, ours are the only footprints to be seen. What is visible is a beachcomber's fever dream of shells and driftwood. Intact whelks are everywhere. We fill our pockets and revel in the exhilarating wildness.
During clement conditions, you could hunt shells for hours, spread a towel, crack open a picnic basket. On this day, we're a bit weather-beaten after 90 minutes.
Soon after, we're reflecting on it all at Wachapreague's waterfront Island House restaurant, where the Bloody Marys are strong and the island views come warm and dry.
Seaside Ecotours, 34 Atlantic Ave., Wachapreague, Va.; 757-710-2454. Tours: $100 for the first hour, $25 each additional hour. Beach-taxi drop-off on Cedar Island with later pickup: $125.
Three more to explore along the Virginia coast:
Many of Virginia's nearly two dozen barrier is-lands are under Nature Conservancy purview. For visitation rules, go to nature.org. Rent a boat or kayak on the mainland and head that way.
Look for traces of a village on Hog Island, where more than 200 hardy folks lived until storms and erosion drove the last of them out in the 1930s.
Cobb's Island is the onetime home to a 19th-century resort hotel. Now just a decaying lifesaving station remains.
Not to be confused with the Maryland isle famous for its cake, Smith Island, Virginia, doesn't have a baked good named for it but does sport a lighthouse.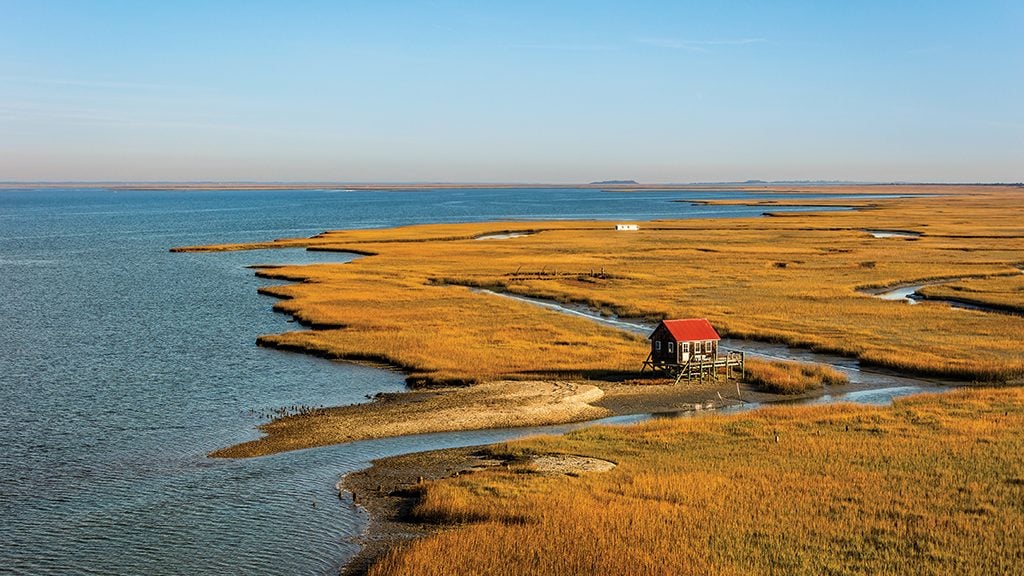 This article appears in the August 2017 issue of Washingtonian.