District Oktoberfest
Multiple locations around Chinatown
The District Oktoberfest kicks off this Saturday, September 16, with a bar crawl in Chinatown. Check in at 10 Tavern by 3 PM to enjoy drink and food specials, as well as live Bavarian music. Your ticket ($24 if you use the promo code "cheers") includes free 12-ounce Oktoberfest beers at Iron Horse, Rocket Bar, Fado, and other participating venues.
BLT Steak
1625, I St., NW
Executive chef Michael Bonk almost started his own sausage company before joining BLT Steak, so he's excited to add a special menu of classic Bavarian sausages to the steakhouse mix. The menu will run from September 16 to October 3, and include bratwurst with Bavarian mustard, bierwurst (made with pork, pretzel, and beer cheese), and jaegerschnitzel, a breaded cutlet of beef tenderloin with wild mushroom gravy and spätzle.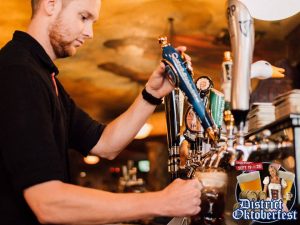 City Tap House
901 9th St., NW
If you wait all year for Sam Adams to release their Oktoberfest beer, you don't want to miss brunch this Saturday, September 16, at City Tap House in Penn Quarter. They will be serving $12 liters of Sam Adams Oktoberfest from 11 AM to 3 PM. If Sam Adams isn't your Oktoberfest drink of choice, don't worry. There will be several other seasonal beers like Spaten Oktoberfest, Sierra Nevada Oktoberfest, and Brooklyn Oktoberfest on draft. Along with beer and brunch, you can also partake in a Sam Adams Stein Hoisting contest at 2:30 PM for the chance to win a City Tap gift card and swag. (For Oktoberfest newbies, stein hoisting competitors hold a one-liter beer in front of them, parallel to the ground, with no arm-bending or spillage. The person to hold it out the longest, wins.)
Wunder Garten
1101 1st St., NE
Wunder Garten will host its 3rd annual Oktoberfest weekend on September 22, with the tapping of the first Spaten Oktoberfest keg—a tradition that, in Munich, is usually carried out by the mayor with a hammer and a loud "o'zapft is" (it's tapped). There will be games, live music by "Dei Drei Band," and activities for kids (only on Saturday). Bavarian food, such as grilled bratwurst and bauernwurst, provided by Café Berlin. Märzen-style beers like Spaten, Weihenstephaner, and Hofbräuhaus will be on tap. Looking for more grub? Stick around for Café Berlin's German pig roast (Sunday at 3 PM).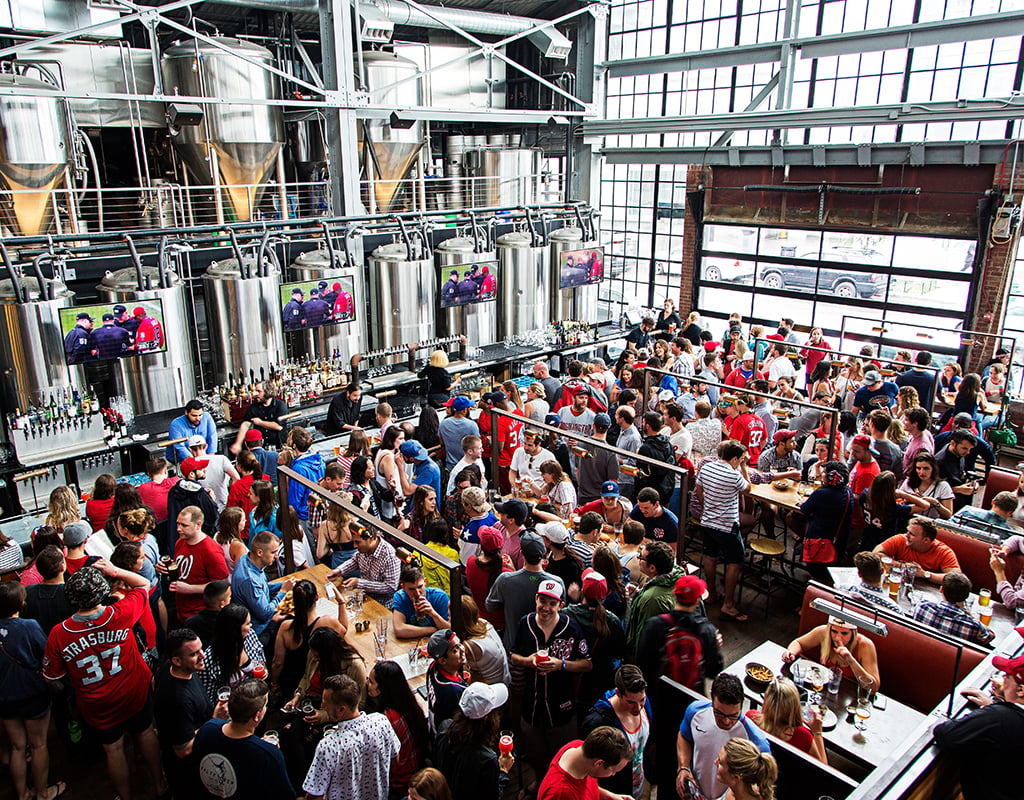 Snallygaster
First and N streets, SE
Though not an official Oktoberfest celebration, beer lovers won't want to miss the 6th annual Snallygaster festival thrown by the Neighborhood Restaurant Group near their Navy Yard brewery, Bluejacket (they're also behind brew-centric ventures like ChurchKey and the Sovereign). Doors open at 1 PM on Saturday, September 23, and Snally-goers can sample over 350 beers and ciders curated by NRG brew guru Greg Engert. The festivities also include food trucks, games, and live music. Tickets are $35 for general admission, and $60 for early admission at 11:30 AM.
Oktoberfest at National Harbor
300 Waterfront St., National Harbor
National Harbor's Oktoberfest celebration on September 30 features all-you-can-taste beers, wines, and schnapps. Also at the event: a Das Beer 5k Run starting at 11:30 AM, oompah bands, bratwurst, and fingerhakeln (a finger-wrestling tradition in Bavaria—yes, it's exactly what it sounds like). Bring your beer belly or Dirndl dresses for the best beer belly contest and Miss Oktoberfest competition. Regular admission tickets cost $39 with advance purchase. VIP tickets include an extra two hours of festivities and start at $49.
Claude Moore Colonial Farm's 2017 Oktoberfest and Fundraiser
6310 Georgetown Pike, McLean
Join Claude Moore Colonial Farm in McLean on Saturday, October 7 for an evening of Bavarian fare and live polka music. The event will double as a fundraiser, with proceeds supporting operations in the local National Park and farm. Guests can partake in a silent auction with items like gift baskets, admission to local museums and restaurants, and other goods. Tickets range from $12 to $35 and are available for advance purchase only.   
18th Annual Mid Atlantic Oktoberfest
4280 Campbell Ave., Arlington
Drop by The Village at Shirlington on September 30 for Capitol City Brewing Company's 18th Annual Mid Atlantic Oktoberfest. From 12 to 7 PM, attendees can dance to live german music, watch traditional alpine dancing, feast on oktoberfest food, and, of course, enjoy over 65 regional breweries. Notable breweries participating include DC Brau, Hardywood, Heroic, Port City, and Heritage. Capitol City's own fall beer selections, Grumpkins & Snarks Pumpkin Ale and Oktoberfest Lager, will be available to sample as well. The brewery will also hold their annual Best Fest Competition, where a panel of judges will crown one Oktoberfest brew as the best at the festival. Tickets will be $30 and will include an official wristband, a Capitol City branded tasting glass, and 10 drink tickets. Get there sooner rather than later, though, because taps will close at 6 PM.