Get ready to line up for egg nog shots and sleigh selfies. Miracle on Seventh Street—the pop-up better known as "the Christmas Bar"—will return for its third year from November 24 to December 31. After rotating through Game of Thrones and Halloween themes, the holiday-themed pop-up from Drink Company aims to be the glitziest yet.
The Shaw bar is recycling some decor from years past—they already had four (shiny!) bins of Christmas lights in storage, after all. Expect a lot of new stuff, too. The former Mockingbird Hill bar will be transformed into a snowy winter wonderland complete with a toy train that runs around the room. In the back, you'll feel like Hansel and Gretel inside a gingerbread house.
Another section of the pop-up (previously Eat The Rich) is decked out in garlands and 6,000 ornaments. It looks like "inside of a Christmas tree," says special projects director Matt Fox, who leads the design of the space. Patrons can fuel their Instagram feeds with photos inside a vintage 1890s red sleigh next to a real 12-foot Christmas tree.
"The guy that we got the sleigh from his name is Dan The Reindeer Man," Fox says of the New York purveyor. "I called him Dan once, and he corrected me immediately." While Dan The Reindeer Man also rents real-life reindeer, no live animals will make an appearance at the bar. "If people want to pretend to be reindeer, I think that's totally cool," Fox adds.
If you don't celebrate Christmas, there's something for you too. The sequel to Miracle on Seventh Street's "Hanukkah Hangout" will be a room dubbed "Chinese and a Movie"—a nod to the Christmas day ritual of many Jewish families, including Fox's. The space is filled with red lanterns and local Chinese takeout menus. The owner of Chinatown Express—the staff's favorite spot for duck noodle soup—gets some wall real estate, alongside movie posters featuring actors and actress like Adam Sandler and Barbara Streisand "who are members of the Tribe," Fox says.
There are also some more overt references to Hanukkah, including menorahs and dreidels aplenty. "For a bar that's Miracle on Seventh Street, Hanukkah is about a real miracle," Fox says.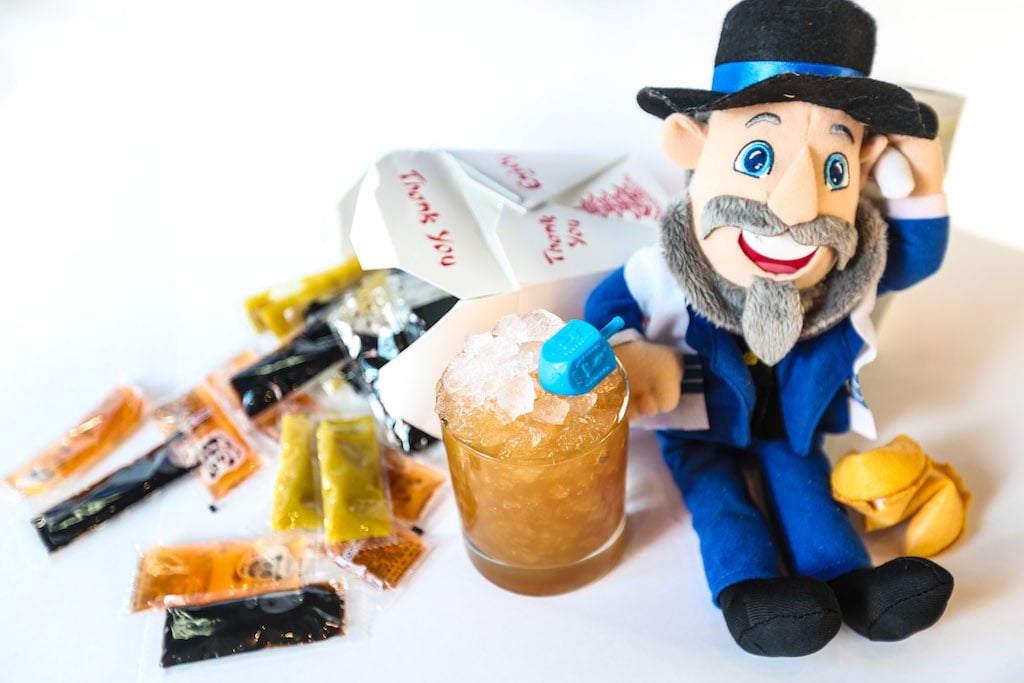 To go with the Chinese-Hanukkah theme, one of the cocktails called "Maccabeats By Dreidel" will play off the tiki-style scorpion drinks found in some Chinese-American restaurants. Instead of a simple syrup or orgeat, senior bar manager Paul Taylor created his own plum sauce that incorporates dates, Chinese five-spice, star anise, and other spices. Also added to the rum and Cognac drink: apple cider vinegar, manzanilla sherry, and soy sauce. It's garnished with a dreidel.
Other cocktails (mostly $14) play off holiday flavors like gingerbread or peppermint. A clarified milk punch tastes like the leftover milk from Cinnamon Toast Crunch—the kind of thing you might scarf down on Christmas morning. A salted whiskey hot chocolate comes with aquavit whipped cream and sprinkles. A buttered popcorn Manhattan uses Maker's Mark bourbon infused with salt, butter, and dried corn. There are also egg nog shots and mulled Manischewitz shots for $5.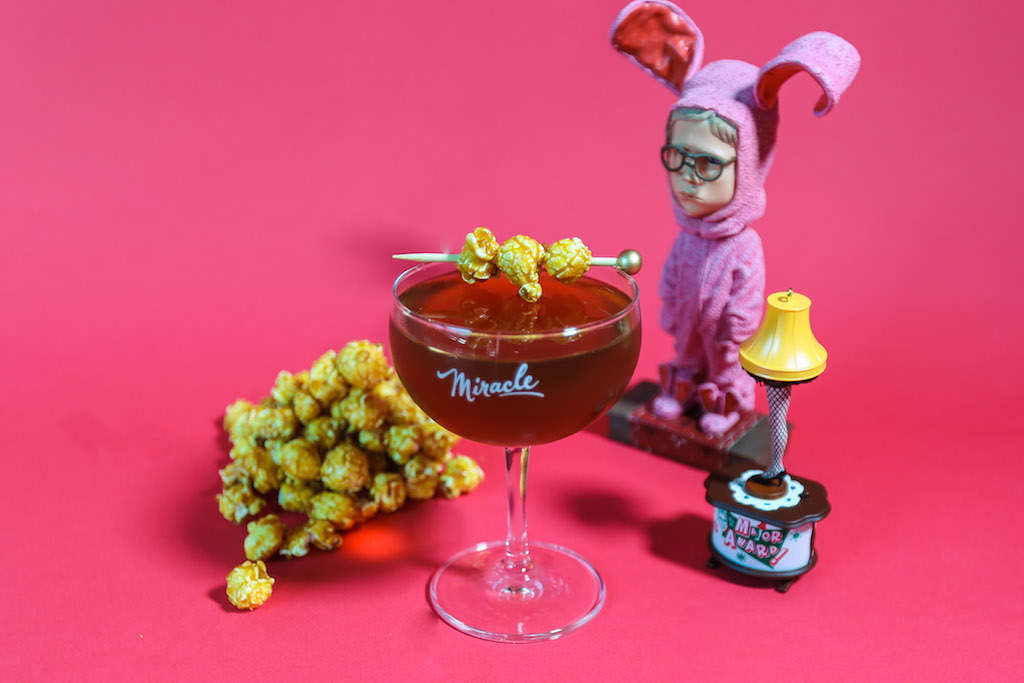 The one cocktail that will make a comeback from last year is a cookie dough cocktail called "Snow Angels, Ice Skating, Cookie Dough, and Snuggles" (a reference to this scene in Elf). The White Russian riff includes a butter- and brown sugar-infused vodka, Frangelico for nuttiness, creme de cacao, and a cookie dough bite as garnish. Be prepared to exchange your ID for the Santa mug it comes in. That's the best way the bar has found to prevent theft.
Hopefully, the general holiday spirit will keep people on their best behavior, too. Look for carolers on Sundays and maybe, just maybe special guest appearances from Santa himself.
Miracle on Seventh Street. 1839-1843 7th St., NW.