Hosting the holidays at your house this year…where do you start? Well, with your turkey of course. But after you've bookmarked the recipes and finalized the guest list, there is still the big question of how to decorate. Put down the wax cornucopia, and yes, the ceramic turkey, too, and take a peek at this table presentation from some local pros—all the tips, included.
"Autumn is a time to reflect and be grateful for all that the year and the season has brought," says photographer Lisa Blume. "Instead of using the typical red, yellow, and orange fall palette, we highlighted the contrast of the darker days with the energy and vibrancy we experience from chilly air, cozy evenings, and comfort food."
Using a Marigold theme, Kaitlin Przezdziecki of Cheers Darling Events, Vicky Theodorou of Heirloom Catering, and Sweet Root Village collaborated to create this harvest-inspired tablescape perfect for thanksgiving. They enlisted Lisa Blume Photography to capture the setting in the gorgeous photos below.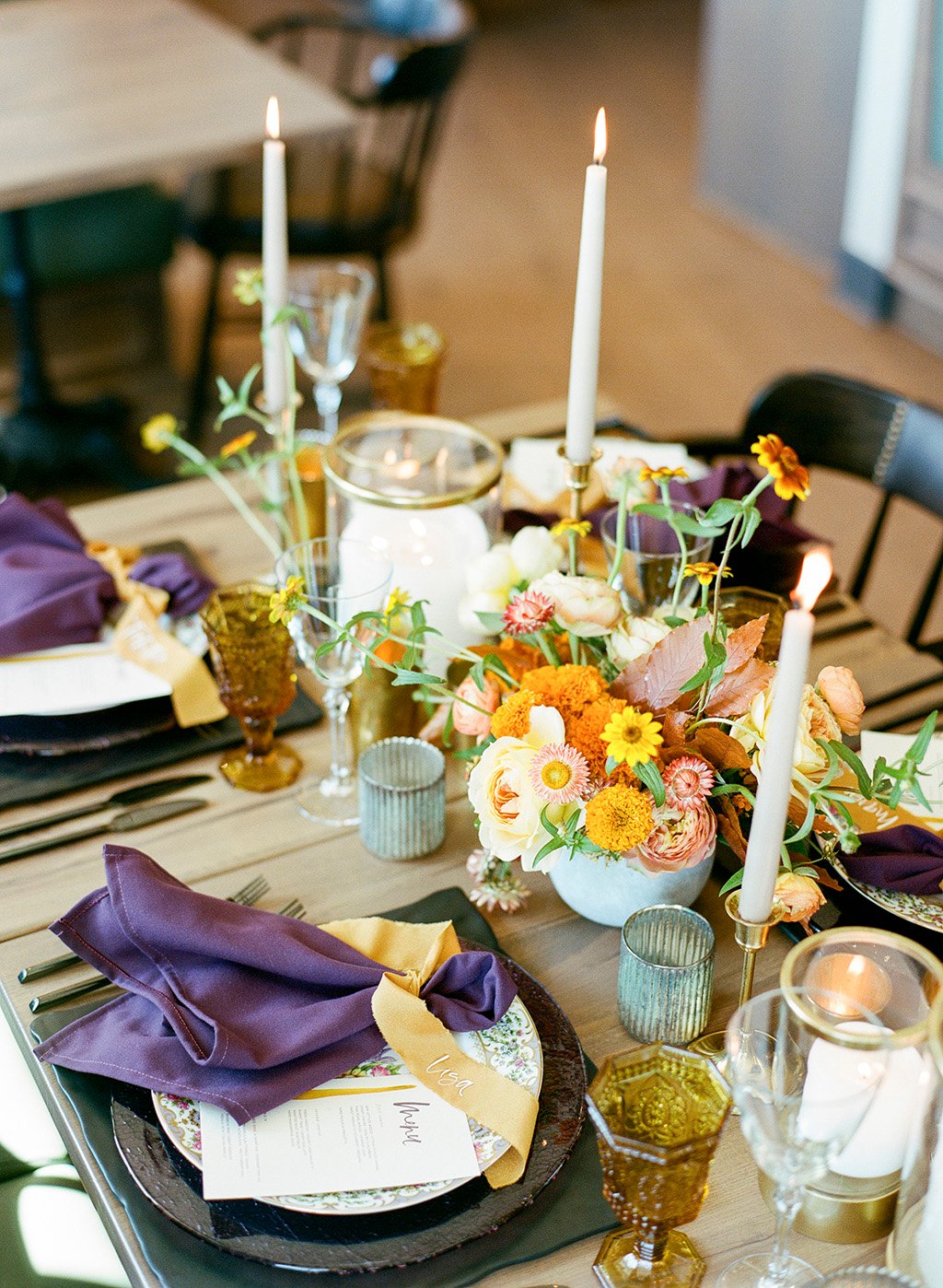 The Palette
"Pick a color palette and work within those parameters, for all components, including the food. For this collaboration we used the warm tones of fall with pops of unexpected colors that matched well with the natural colors in the food. At home, you can use what you have, along with flowers or other decor props, to bring out the colors in the dishes being served." —Theodorou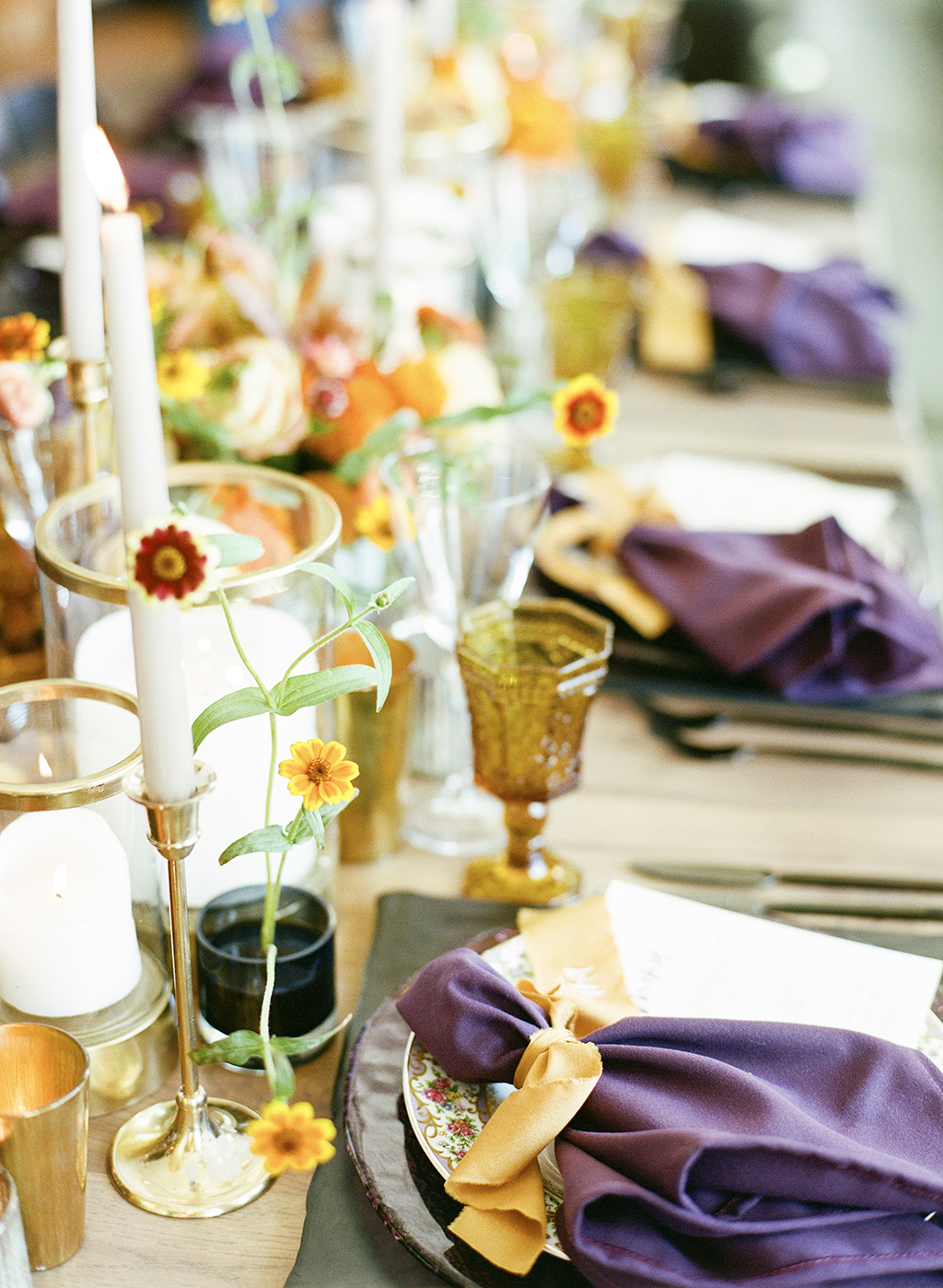 Choose a Charger
"Give your vintage or heirloom china an update by pairing it with more modern chargers from stores like Crate & Barrel, CB2, Williams Sonoma, One Kings Lane." —Przezdziecki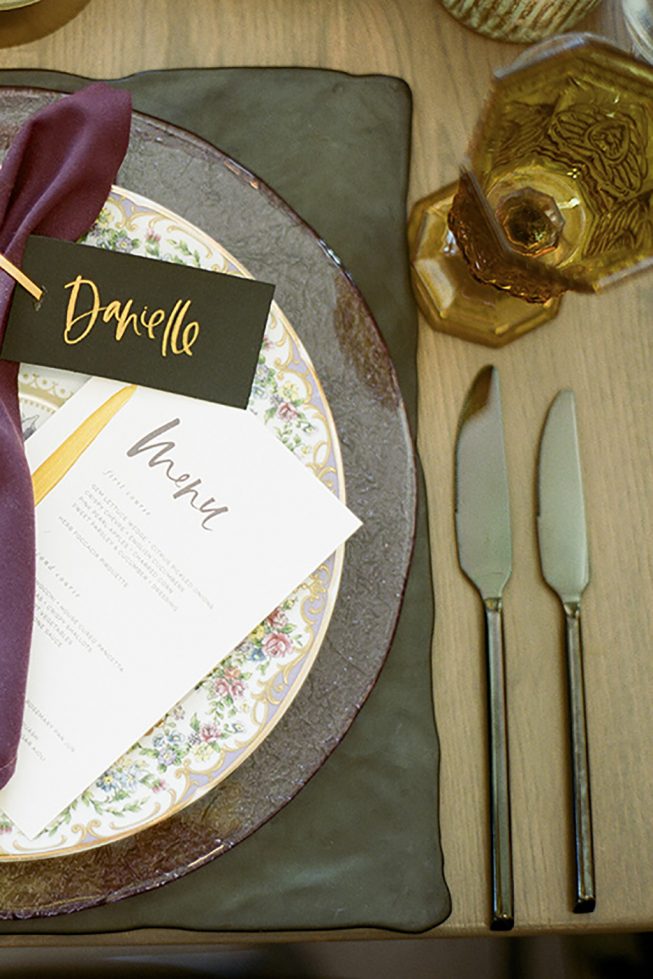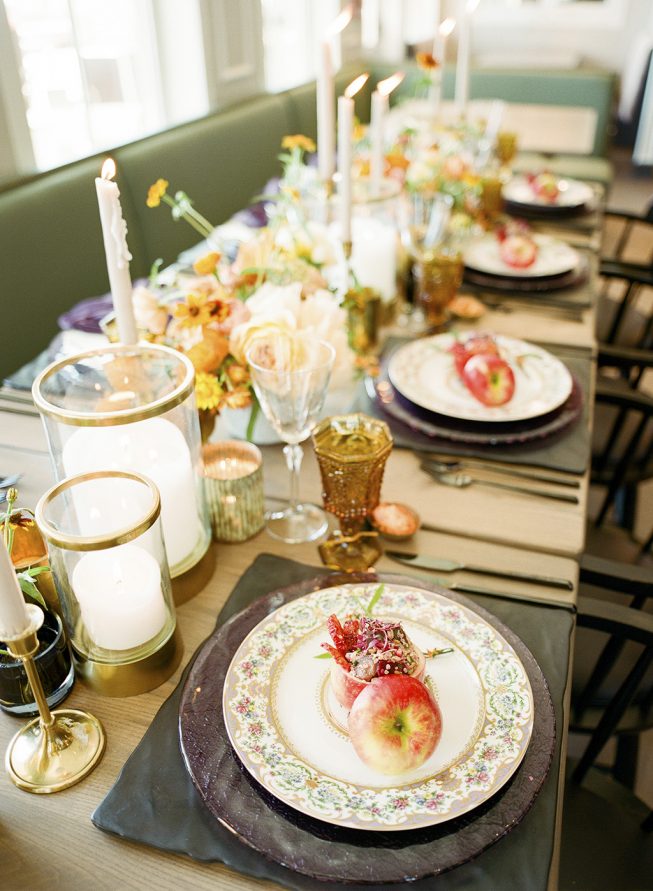 Layer Up
"Layers, layers, layers! An aesthetically pleasing design has multiple layers for more of an impact."—Theodorou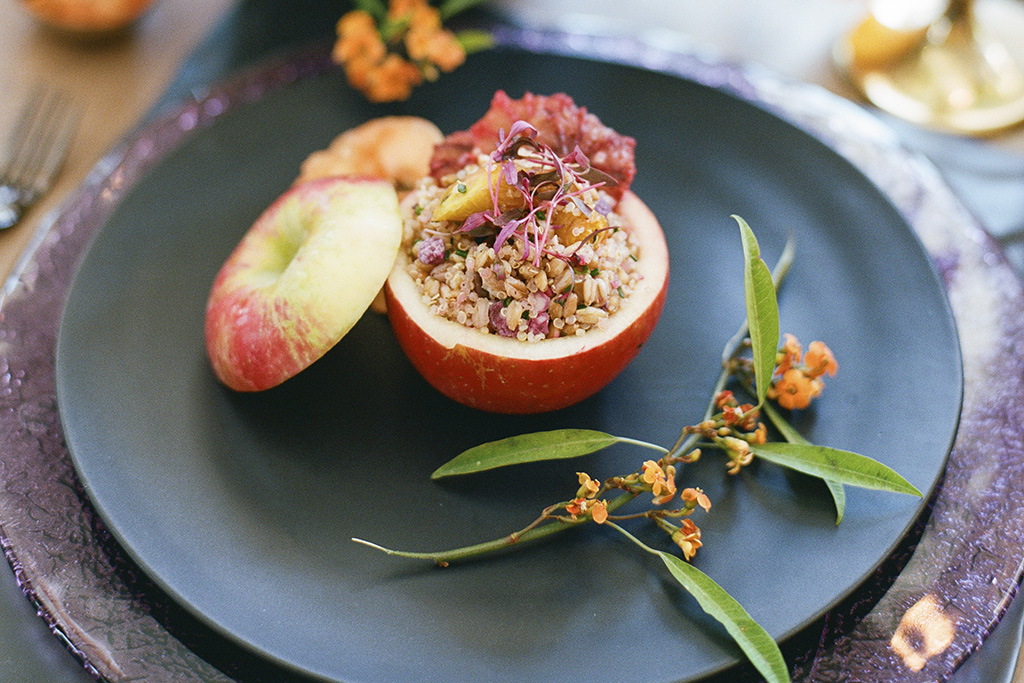 Candles and Lighting
"Mix and match candle elements to give the space a nice glow. Cluster candles in odd numbers (three or five) rather than even numbers for a more aesthetically pleasing presentation."— Przezdziecki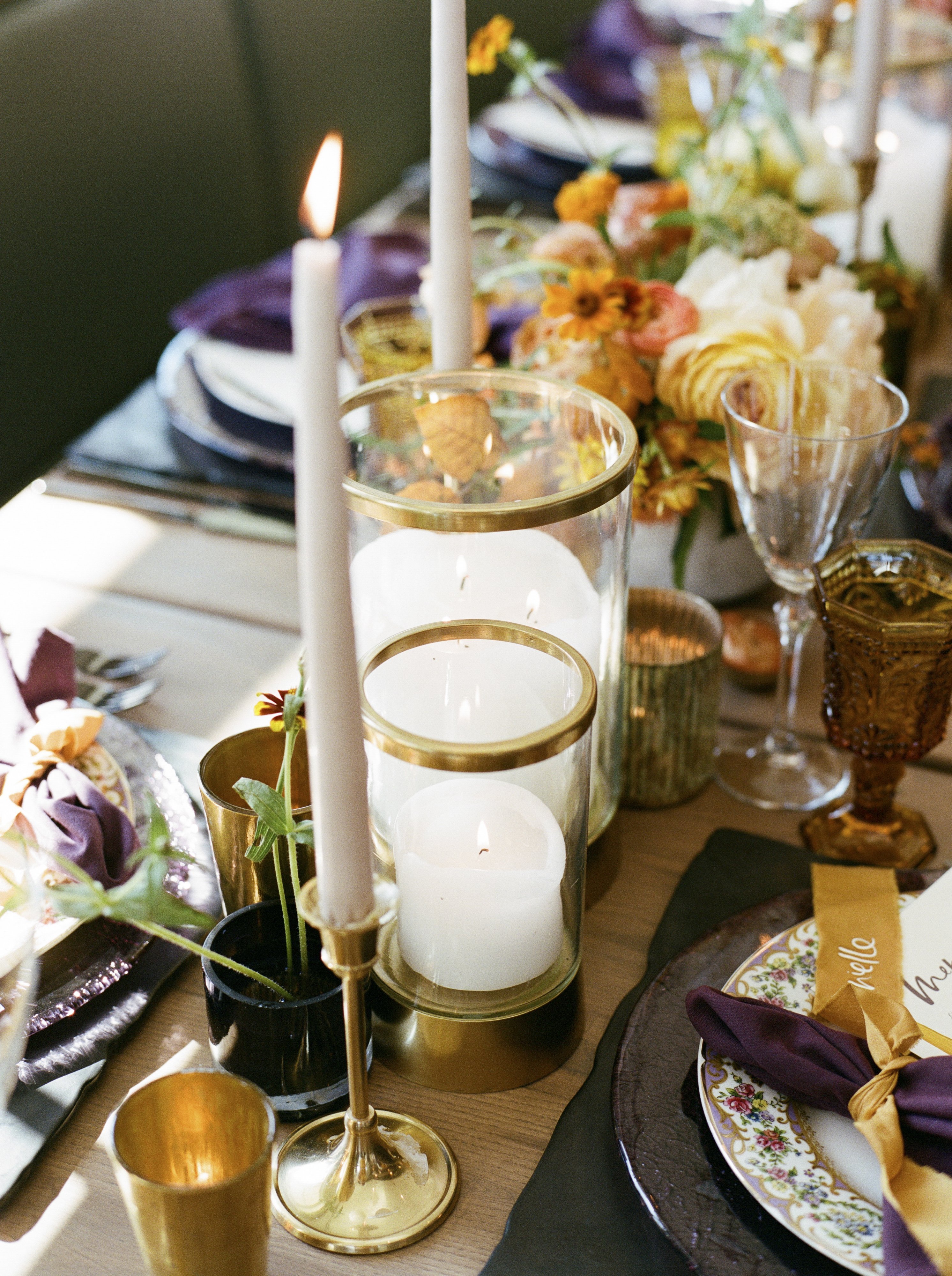 Placecard Play
"Instead of place cards, write names on ribbon tied to napkins at each setting for an extra touch of color. Or, get creative by writing on seasonal items, such as apples, mini pumpkins, gourds."—Przezdziecki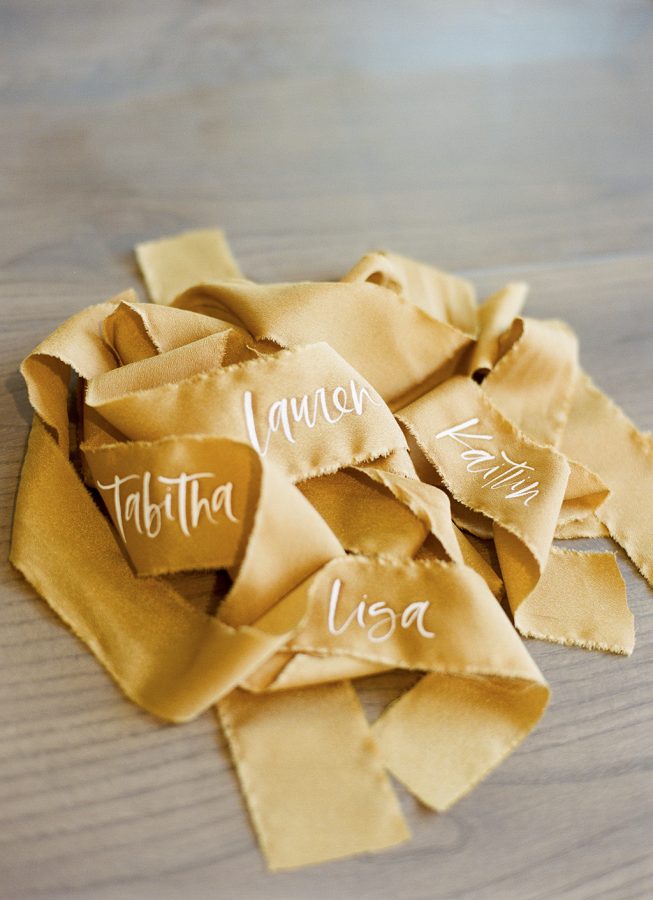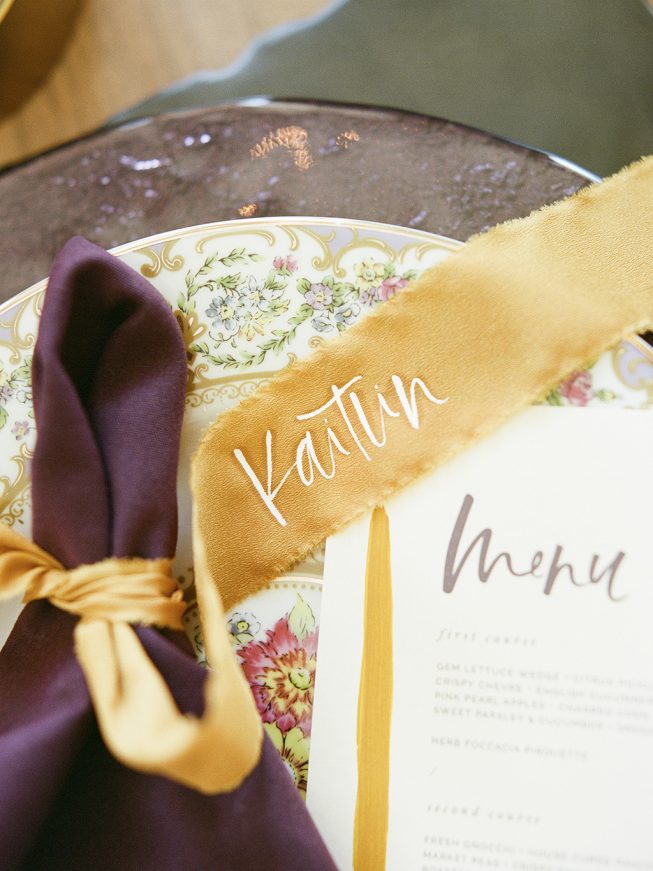 Menus
"Elevate guests experience (and the look of your table) by printing menu cards for each place setting." —Przezdziecki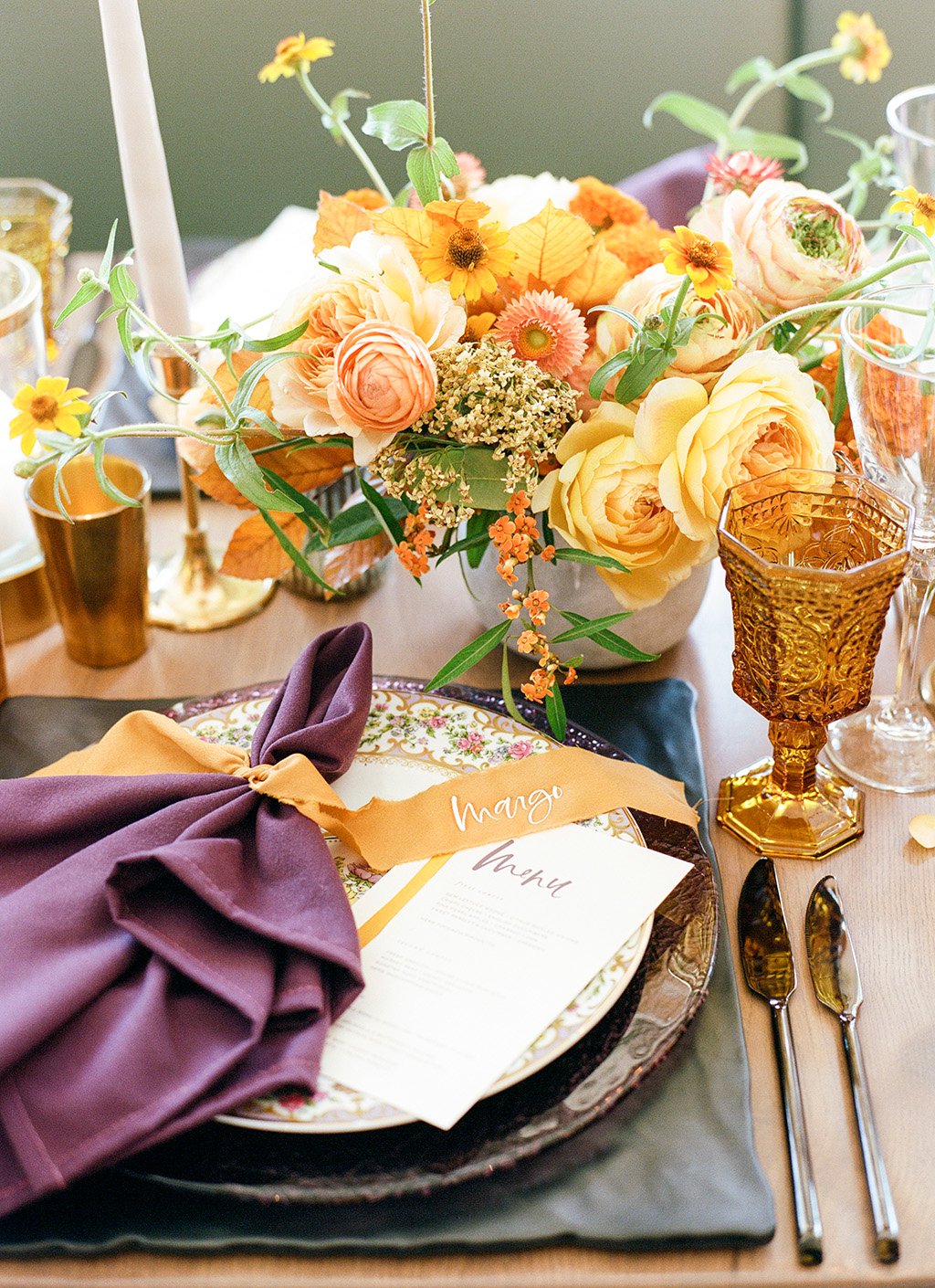 Florals
"Buy your flowers fresh a few days before the event—it allows them time to open up by dinnertime."—Przezdziecki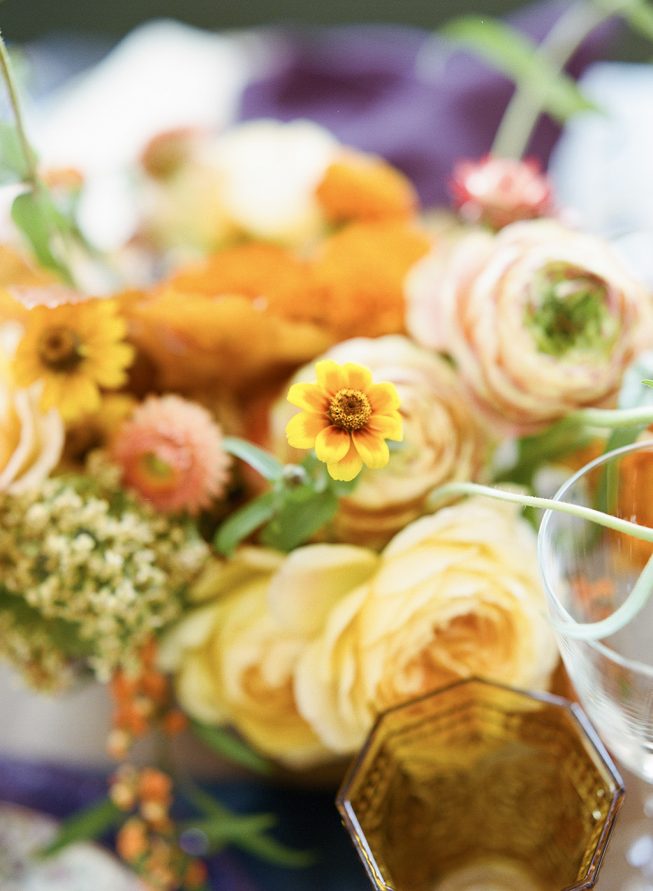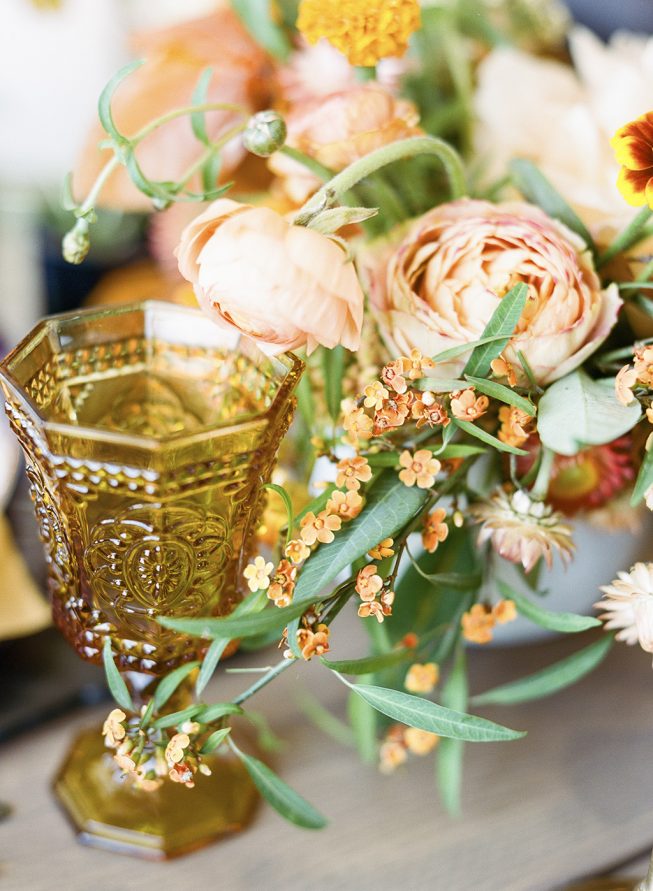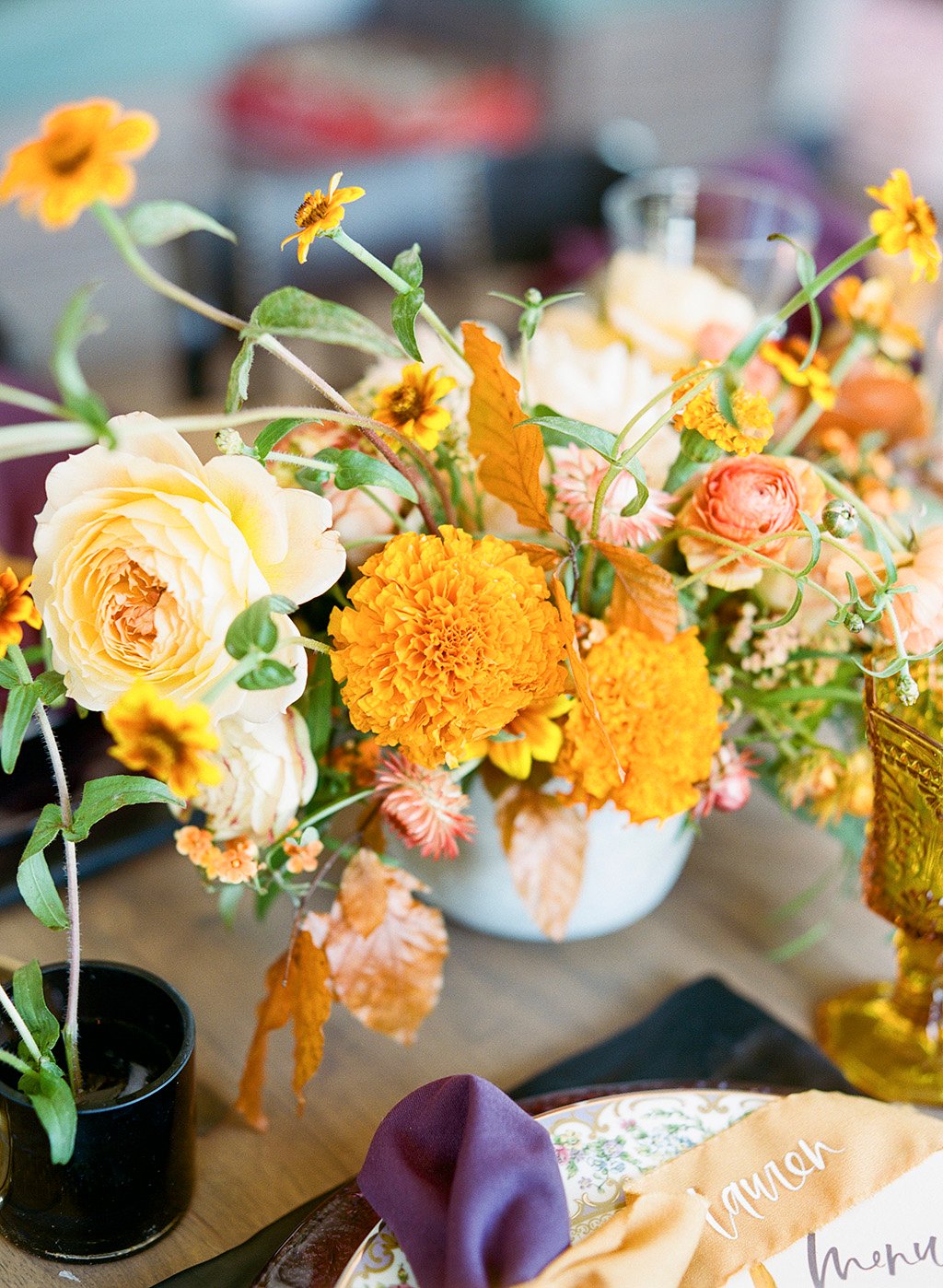 Menu Tips
Vicky Theodorou Talks Fun With Food
"Serve food people love, uniquely: If you've got macaroni and cheese on the menu, try serving it in miniature cast iron pots at each place setting. Instead of serving salad in a bowl, carve out a pumpkin if that complements your theme. (Pro tip: Refrigerate the carved pump for a day and then add mixed greens and seasonal vegetables just before the party.)"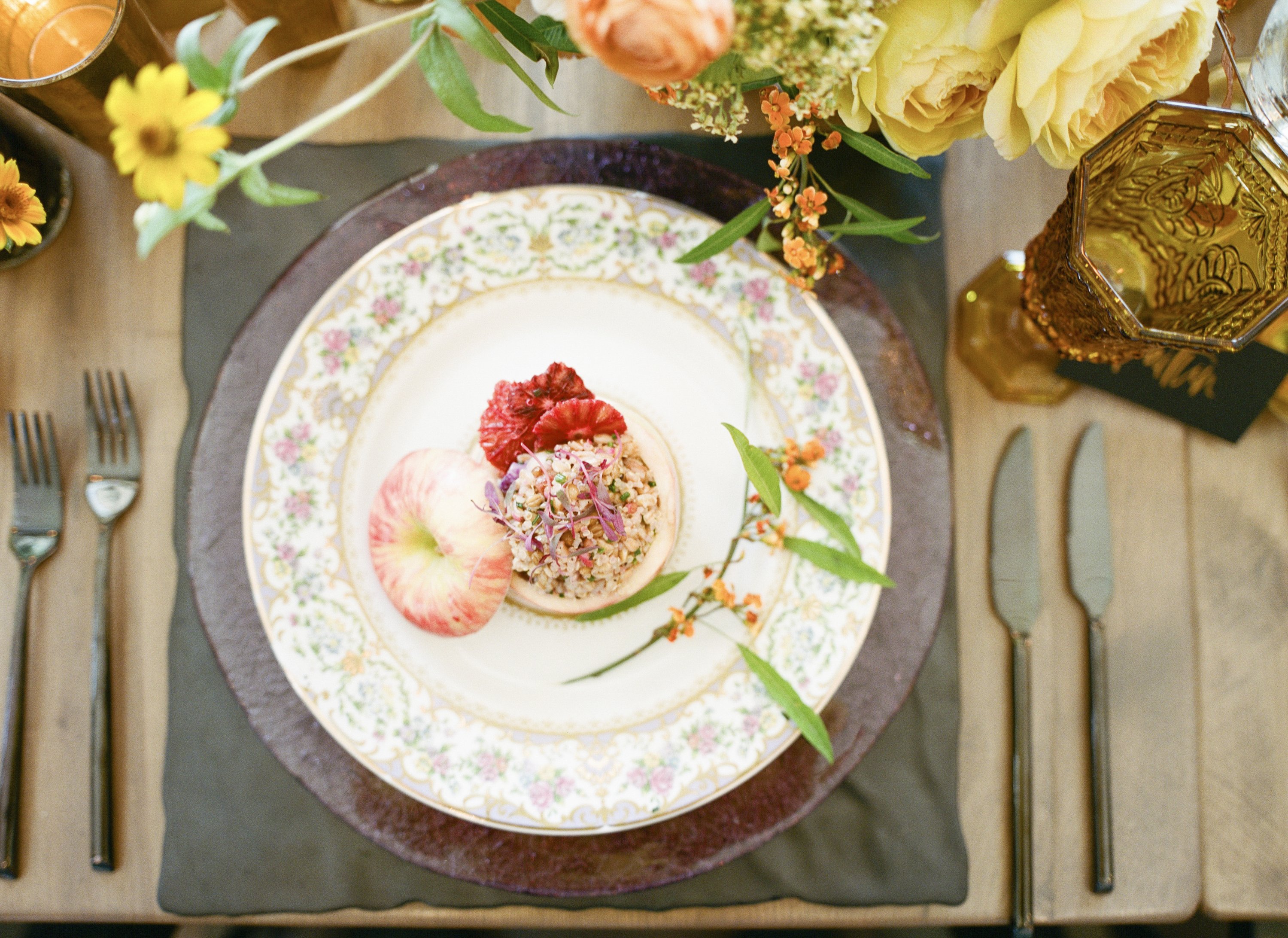 Stay Organized
"Plan ahead! Map out your day-of game plan and categorize everything into action lists. Your table look is one category, Your food is another, drinks, etc. Get everything you can gathered, setup and prepped the day before so the day-of you are just putting all the pieces together while being able to enjoy your guests and party! The apples for example, hand-pick them out from your local market a few days prior to the Thanksgiving, then the day before, hollow them out and place them floating in some citrus and water (to keep from browning), then make the rest of the items that will serve just the same if not better the next day like the quinoa & farro salad so all you're doing before guests arrive is scooping and placing! Calm, cool and organized."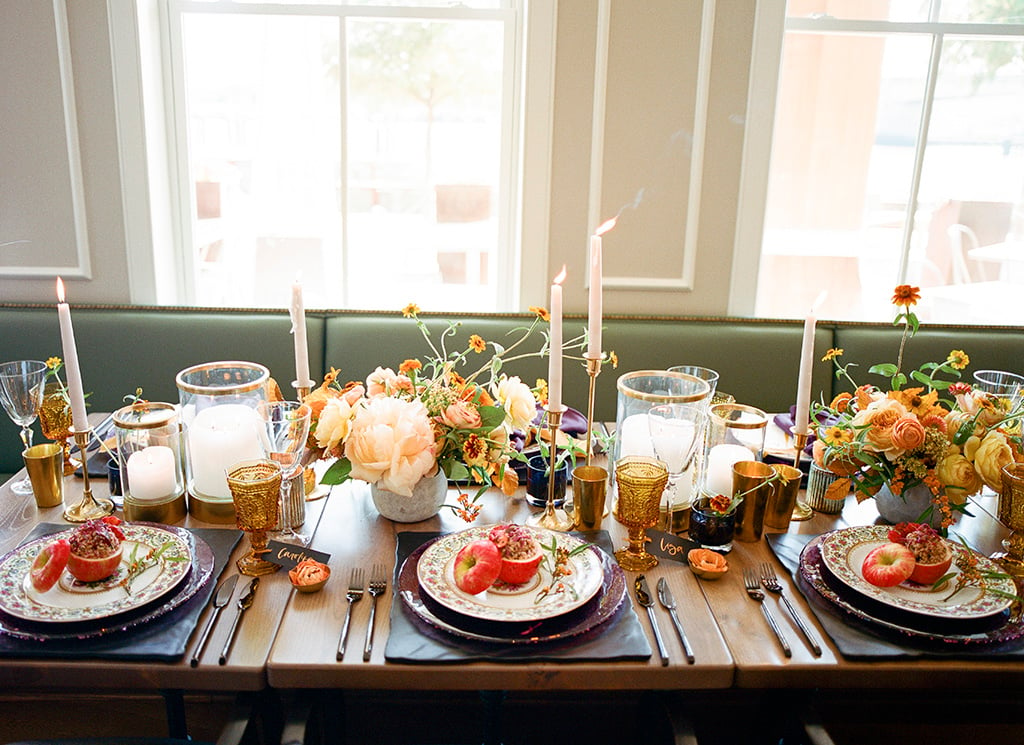 Drink Up!
Don't forget the Libations! Another perfect way to incorporate your color scheme and mix-in flavors of the season like persimmon, apples and pear.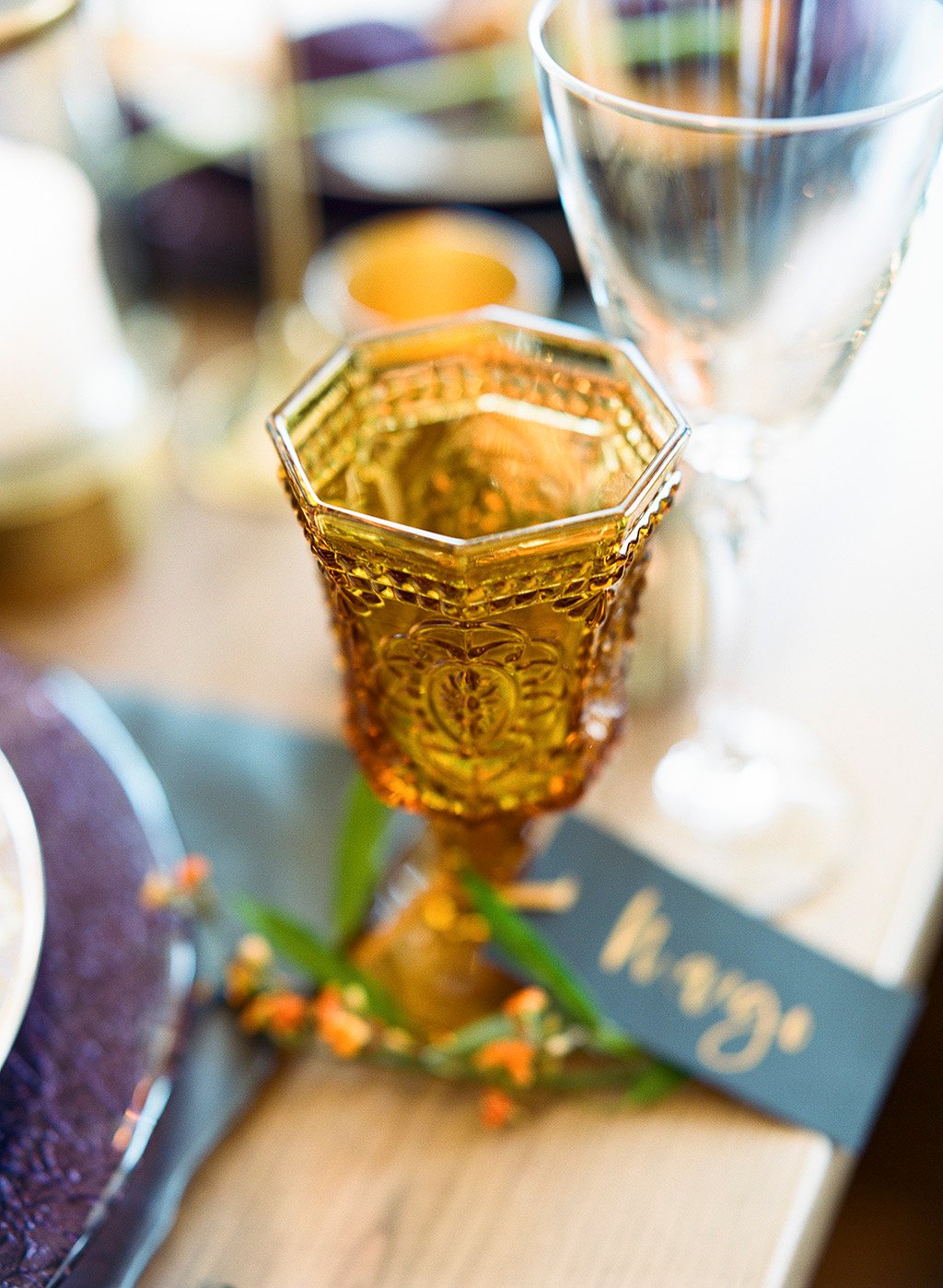 VENDORS