One might say it was the stars that brought Dara Zeehandelaar and Anthony Shaw together. While a running group containing mutual friends lured each of them to the same bar in Huntington Beach, California, it was their astronomy-themed tattoos that caused one of those friends (later, a bridesmaid) to suggest they meet each other.
Dara wasn't part of the group run on that particular night—Anthony was—but yet she said "yes" when folks asked her to join the after-party, which was a whopping 40 miles away. Anthony saw Dara walk in, and was immediately "captivated and intrigued," he remembers. Eventually, the eclectic pair wed in a punk-rock-prom themed wedding Continental Pool Lounge in Arlington. Photos by Mason Photography.
Follow B&G on Instagram | Like B&G on Facebook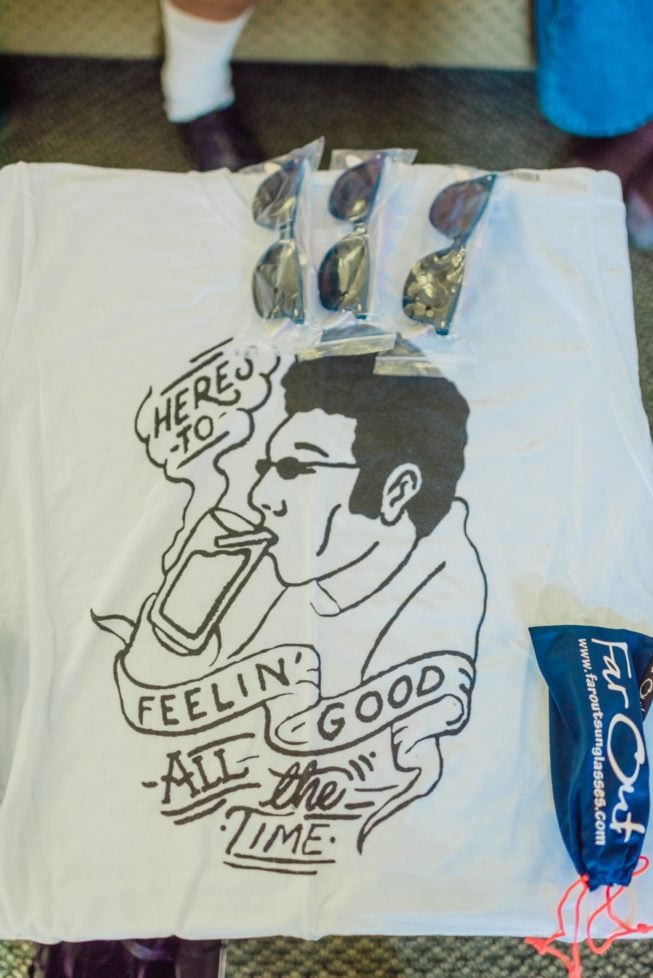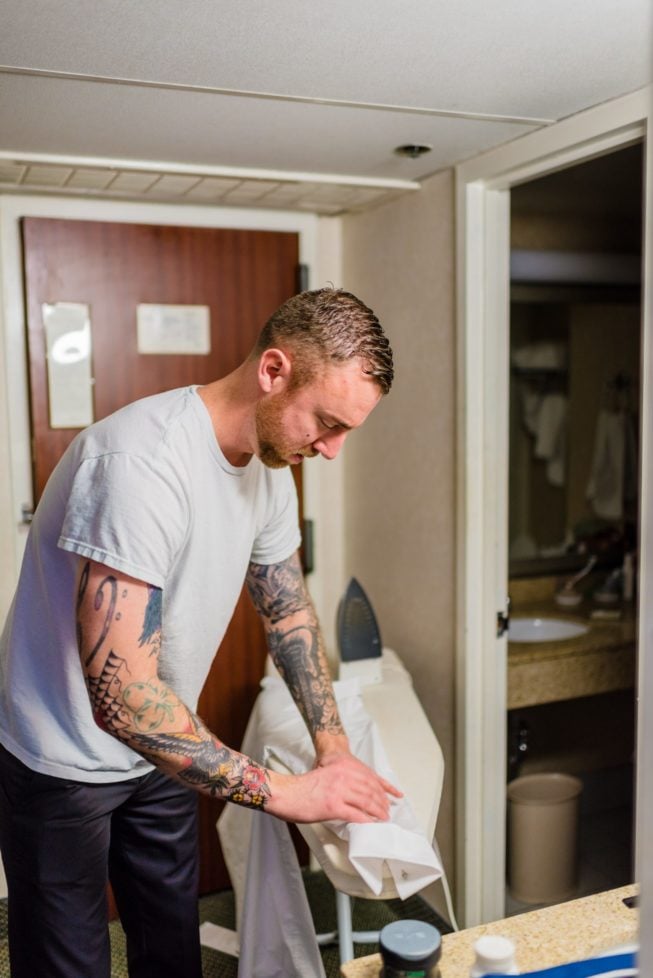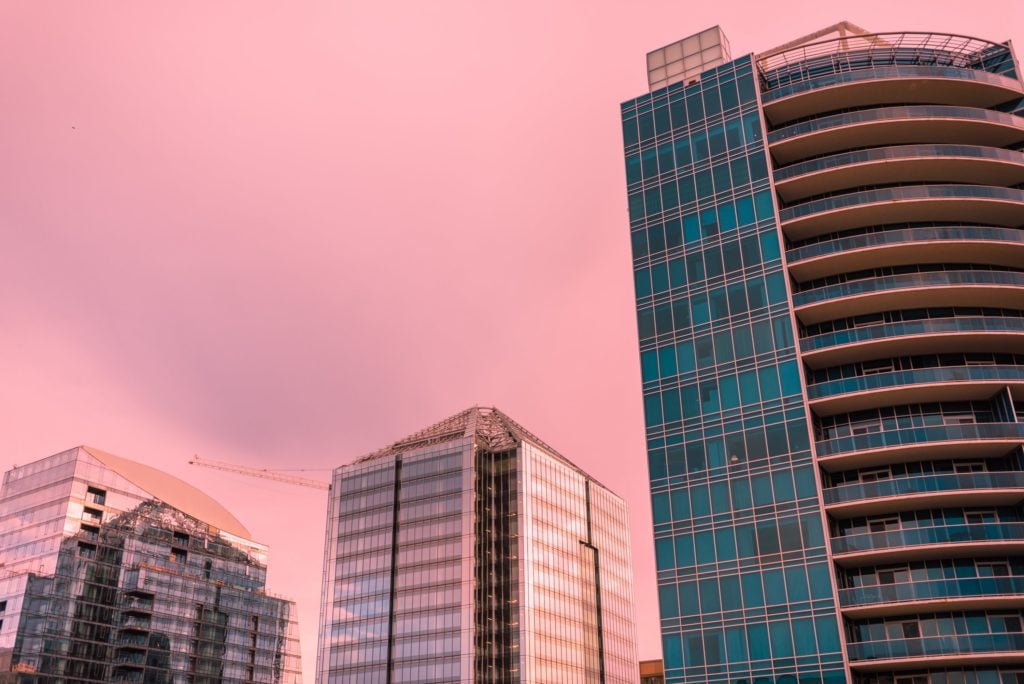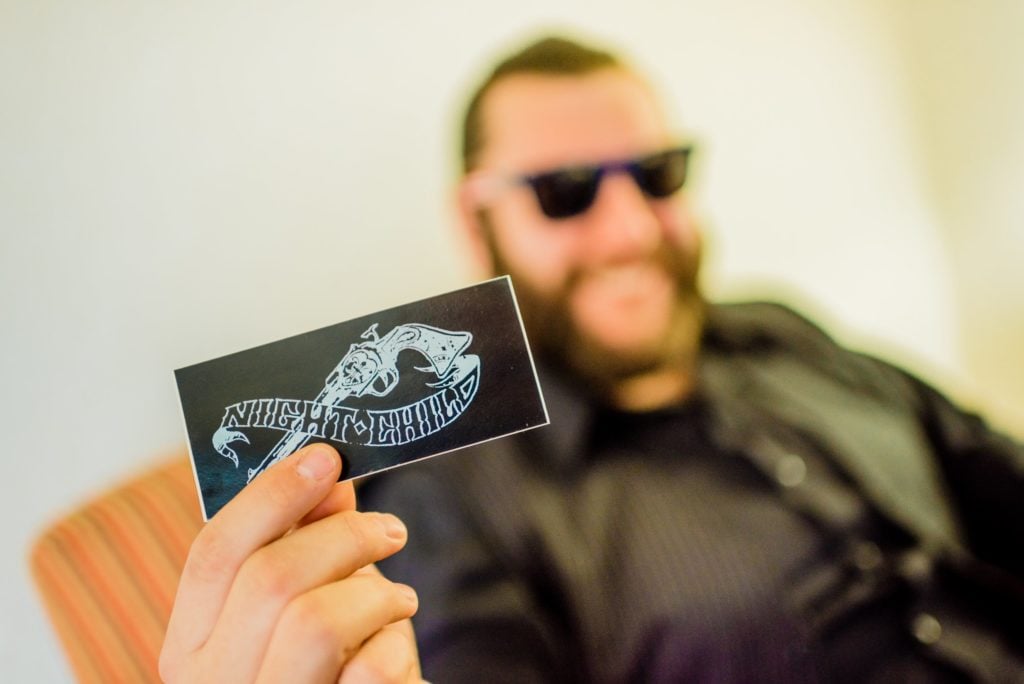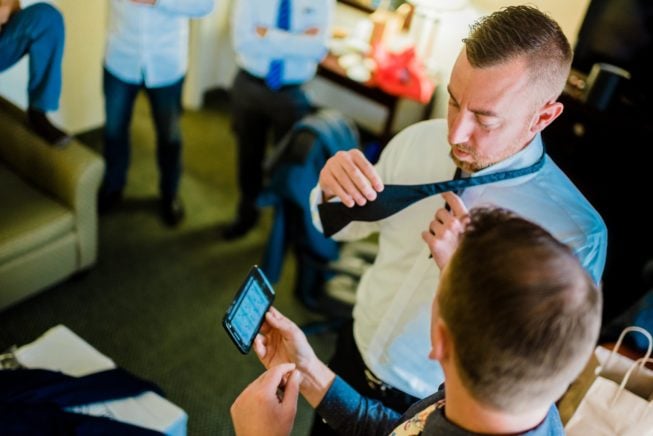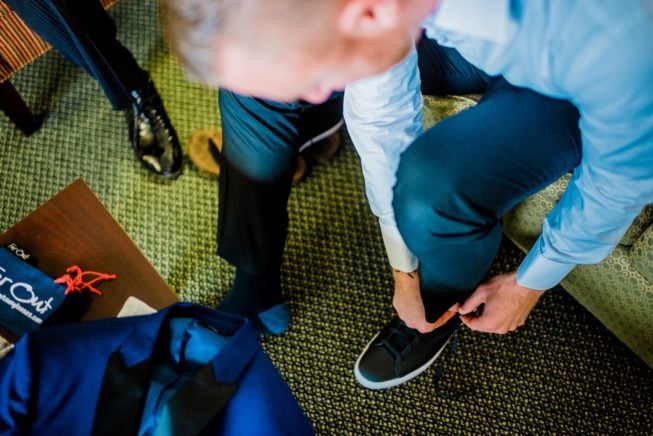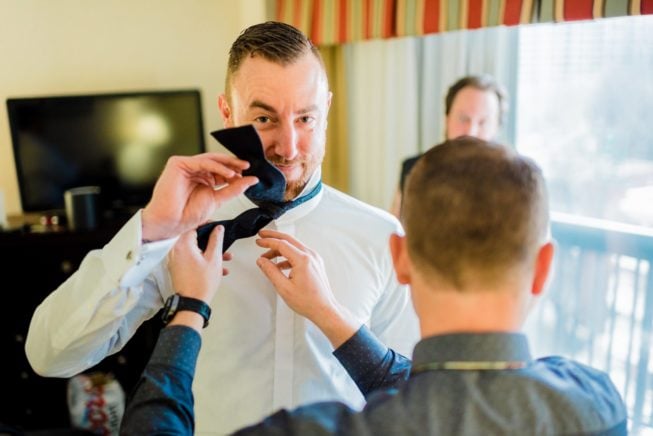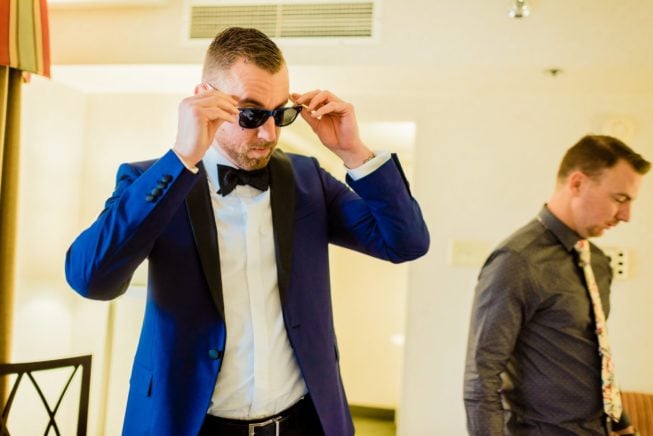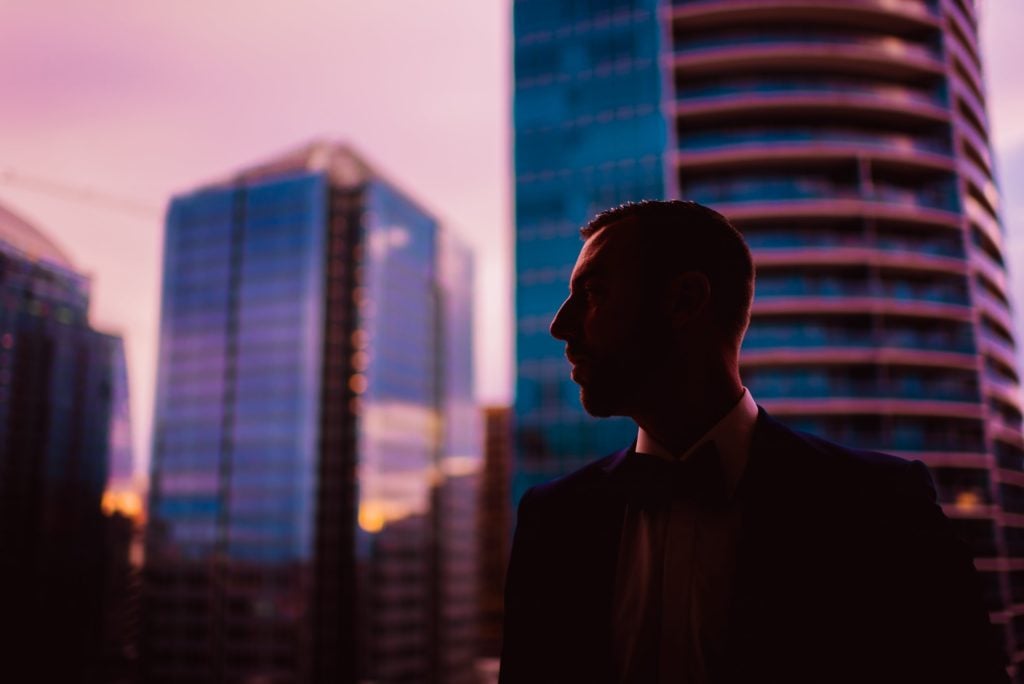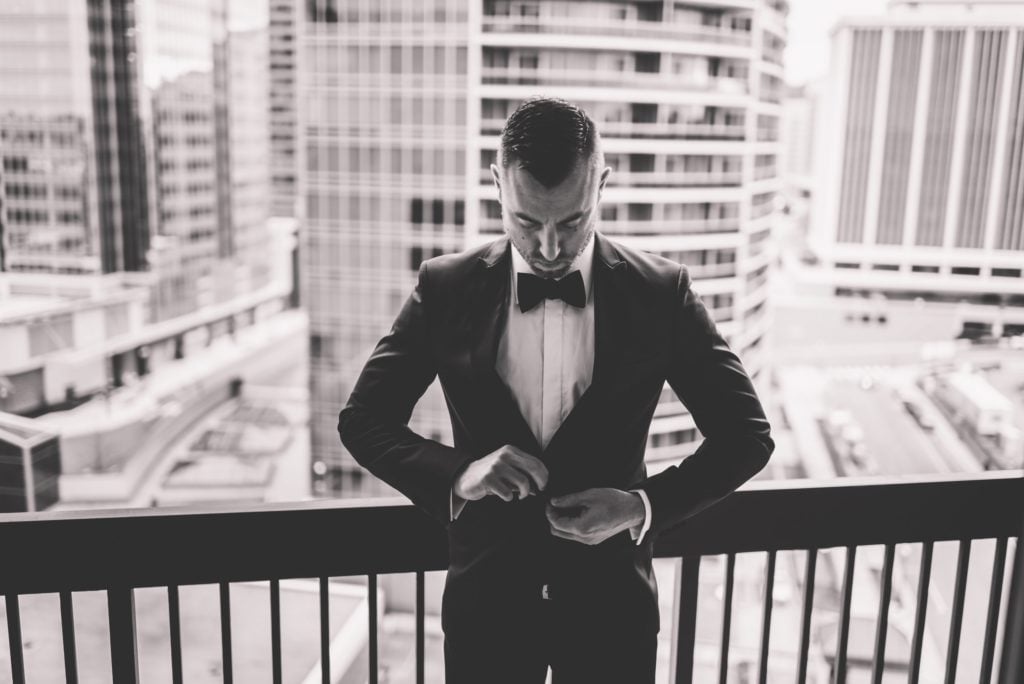 Anthony, now a government consult, was quick to ask Dara, who works for the Maryland State Department of Education, for a dinner date. They didn't have to wait for the official date to meet again, though, "accidentally" both showing up for another group run the day before.
"I hadn't run with the group in months," Dara admits. "Kind of hoping he'd be there was probably the reason I went!" The next day, Anthony (a carnivore) took Dara (a vegan) to a meat-free cafe for dinner and, after, they cruised around an indie record store.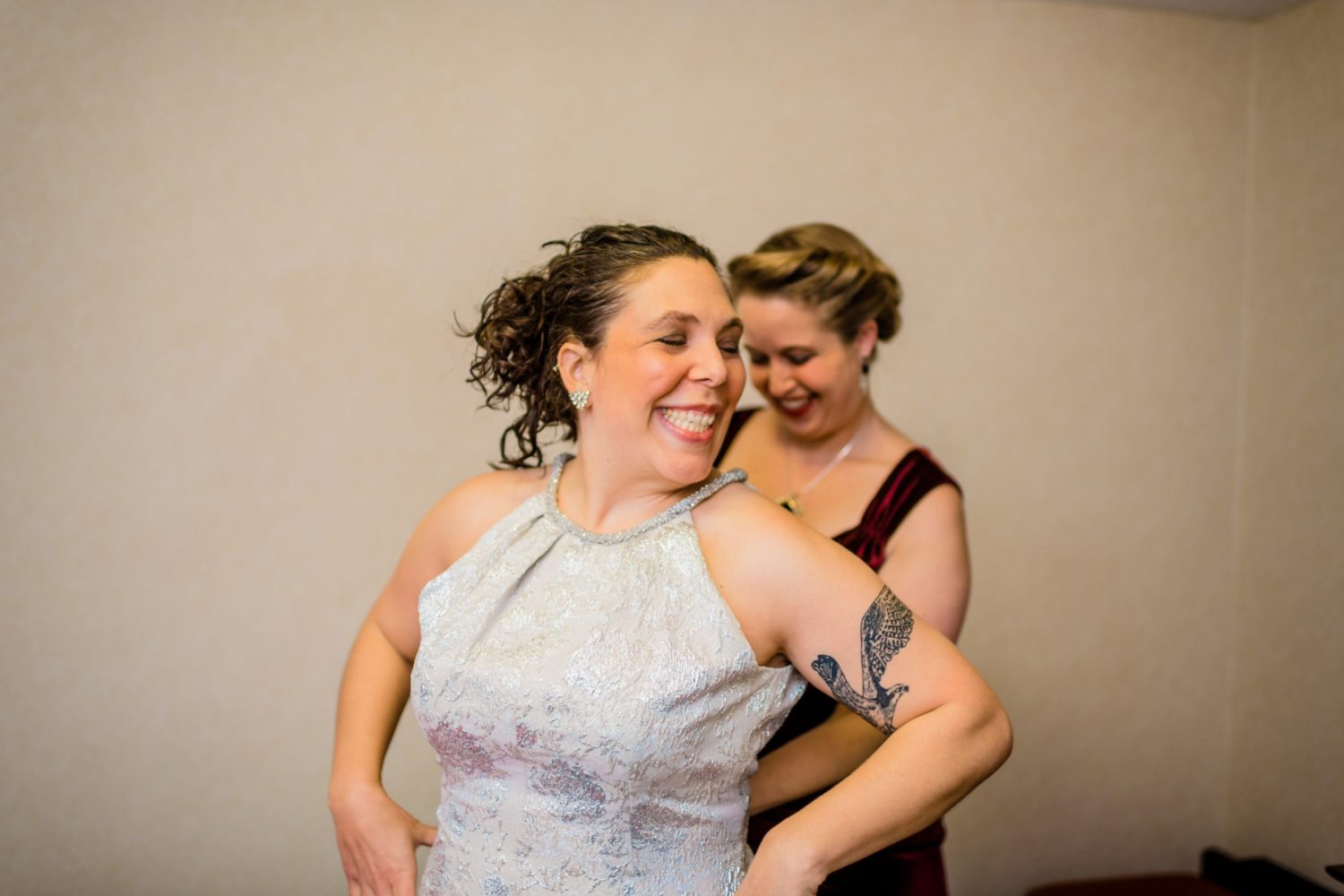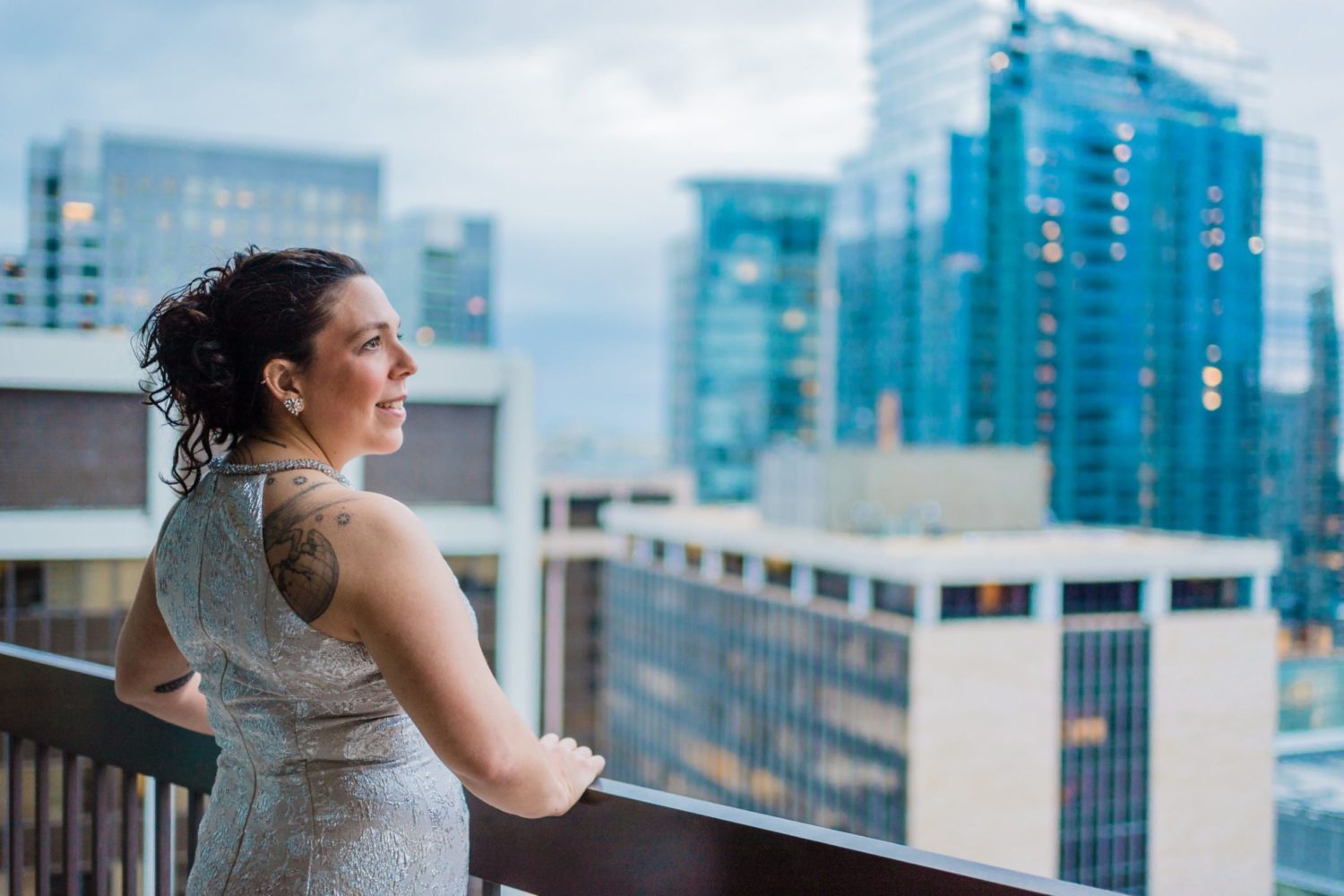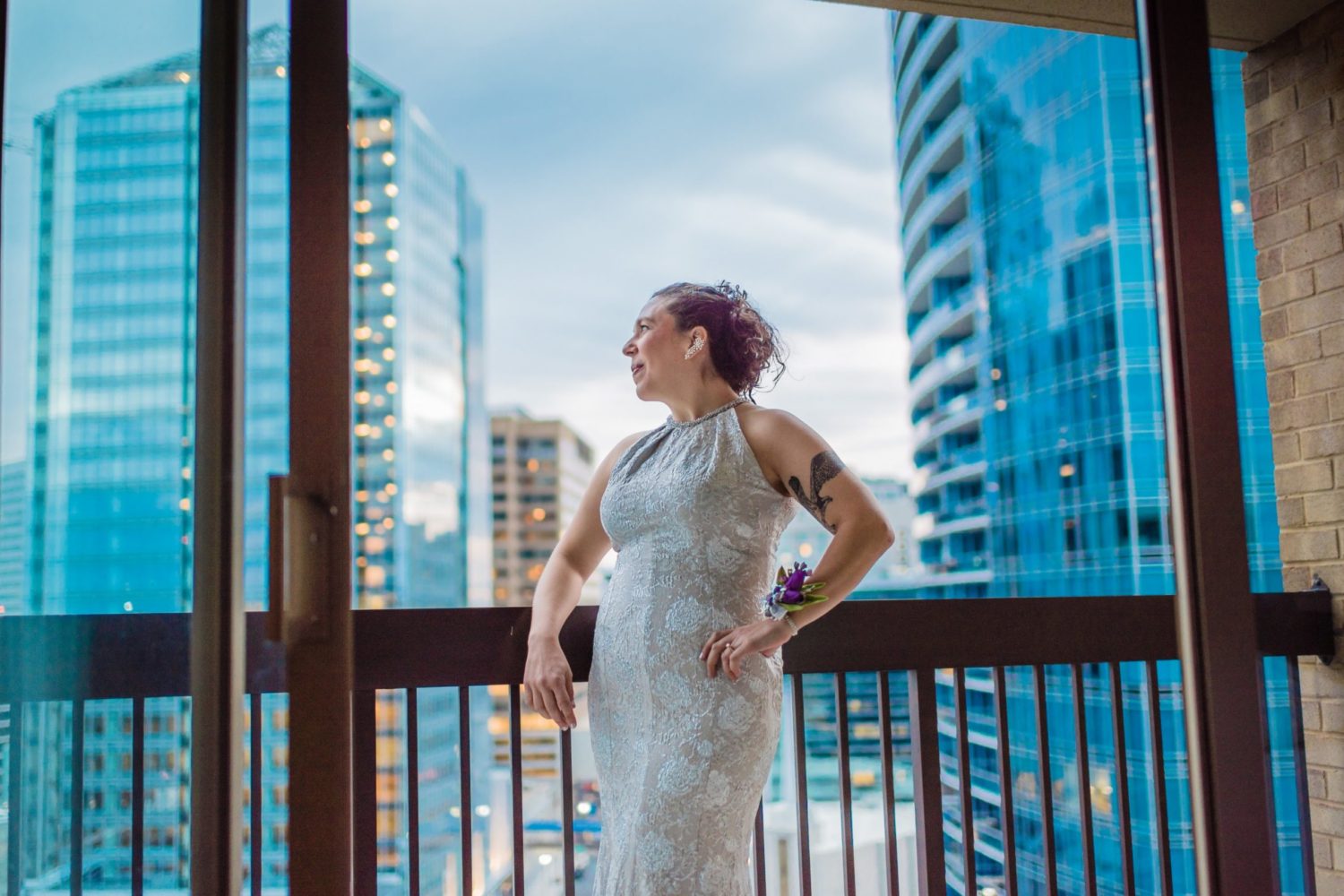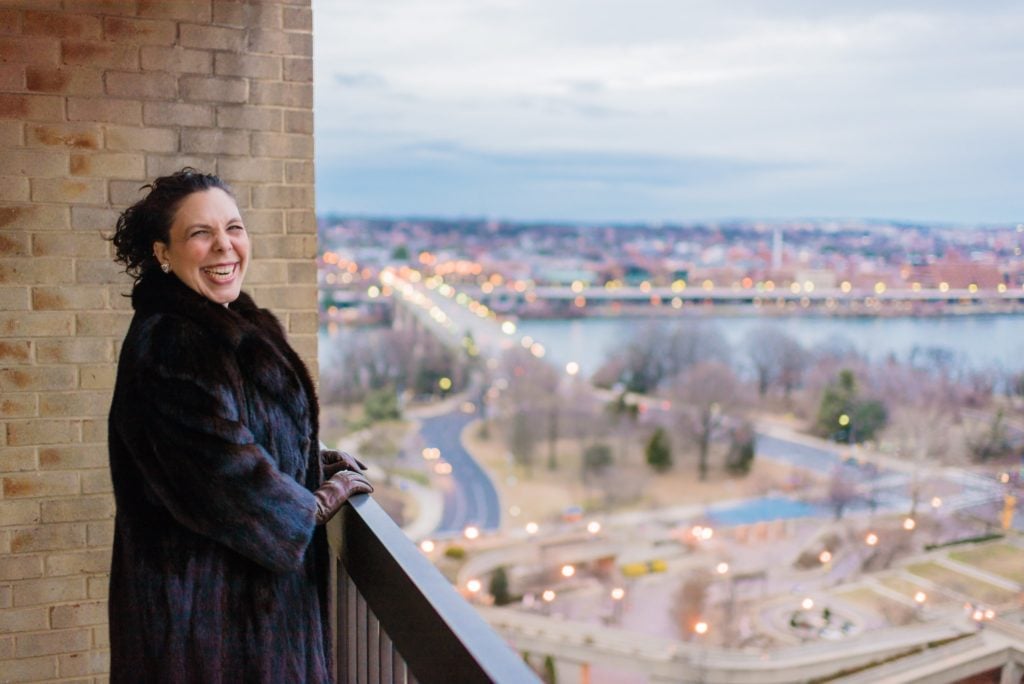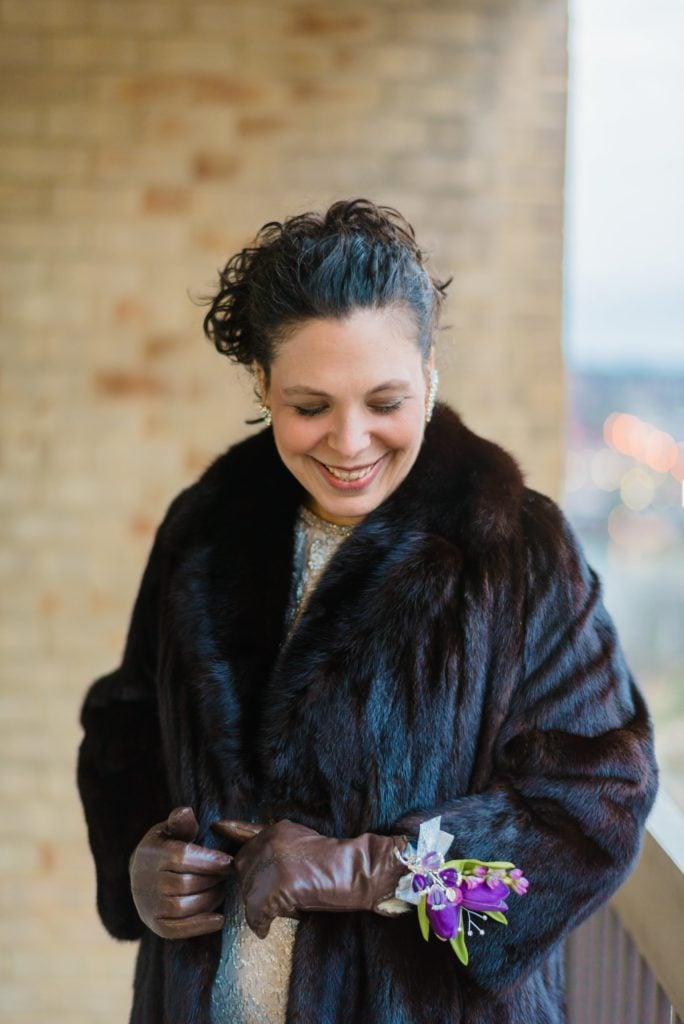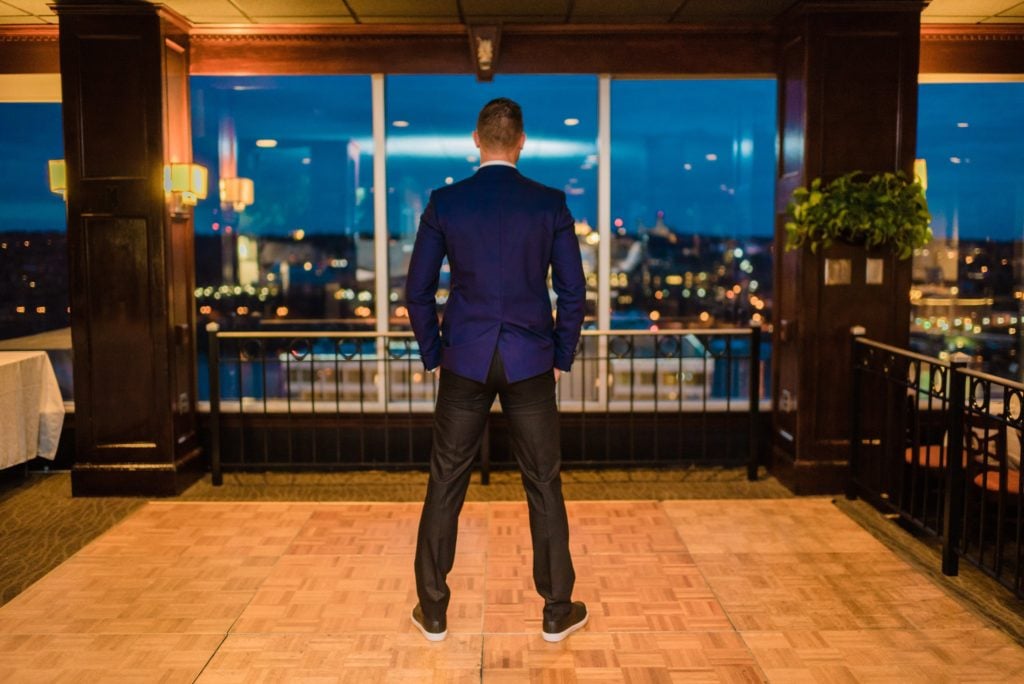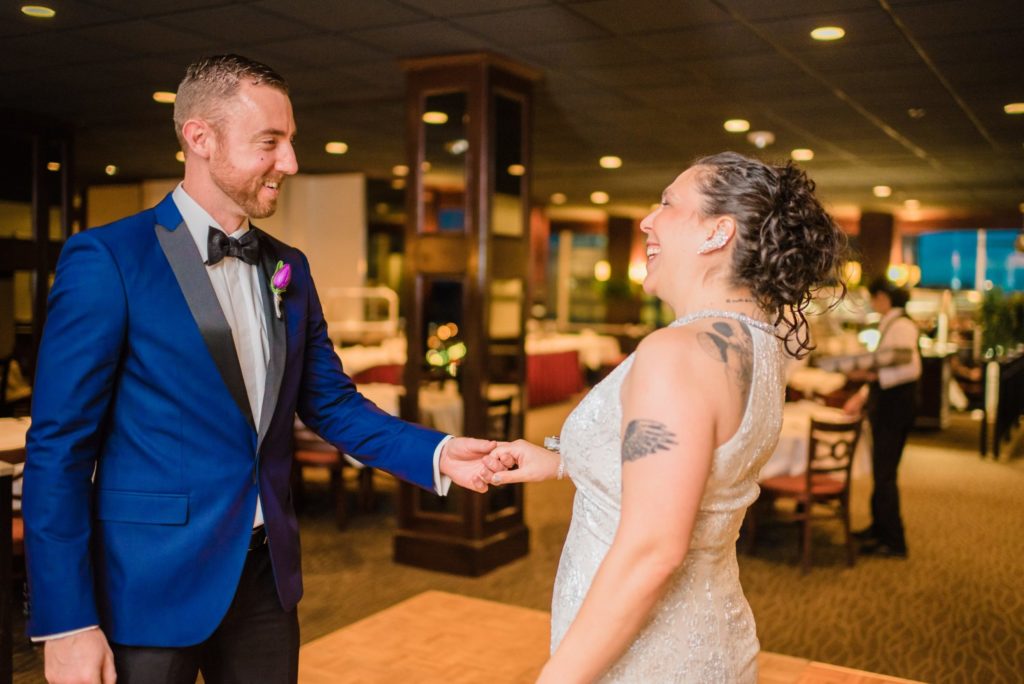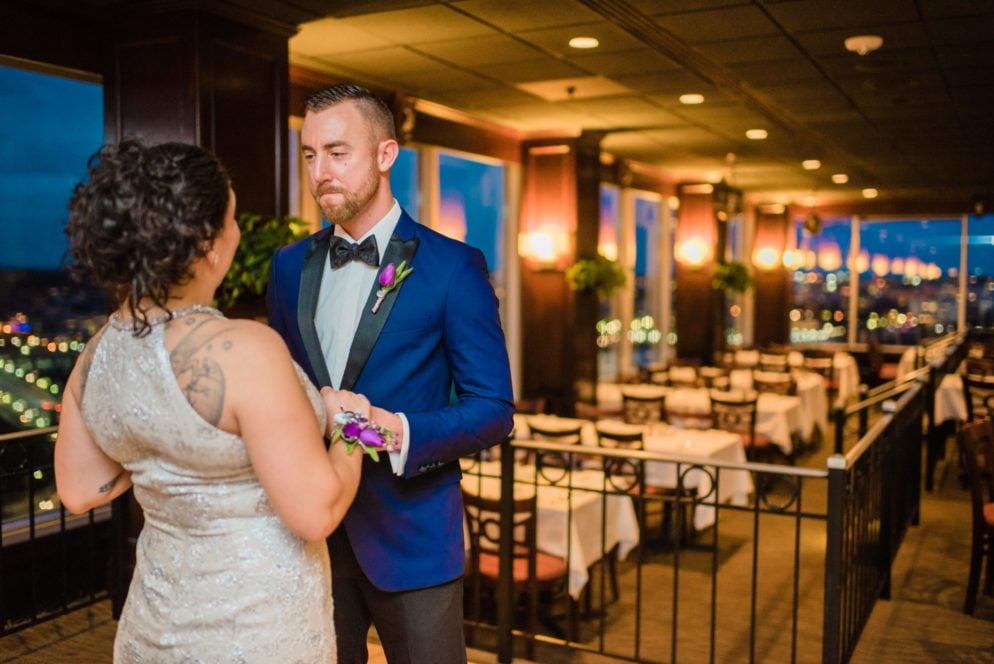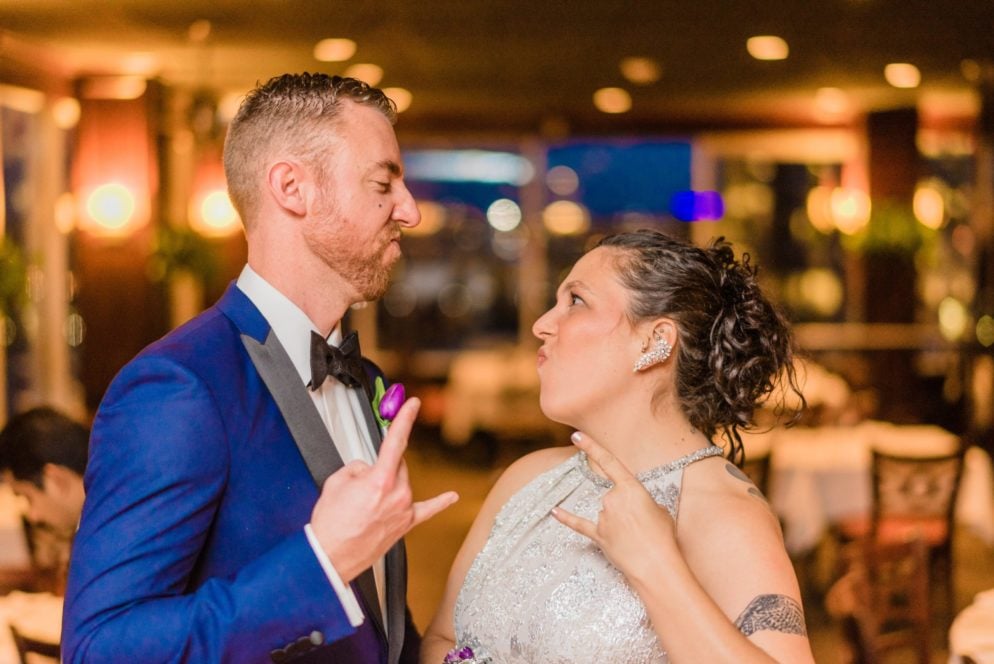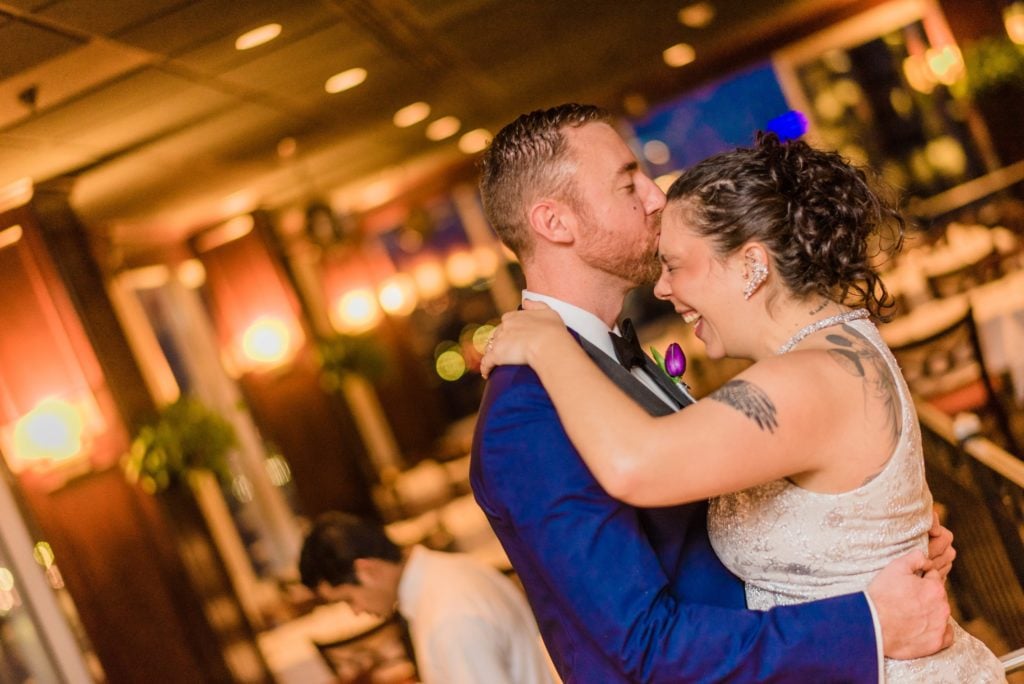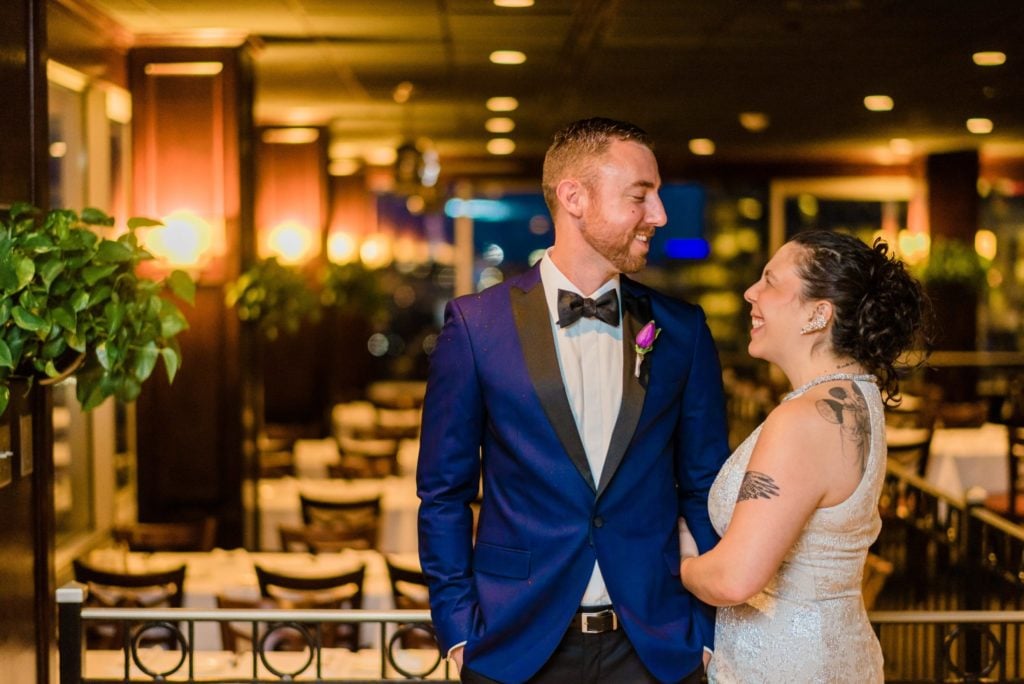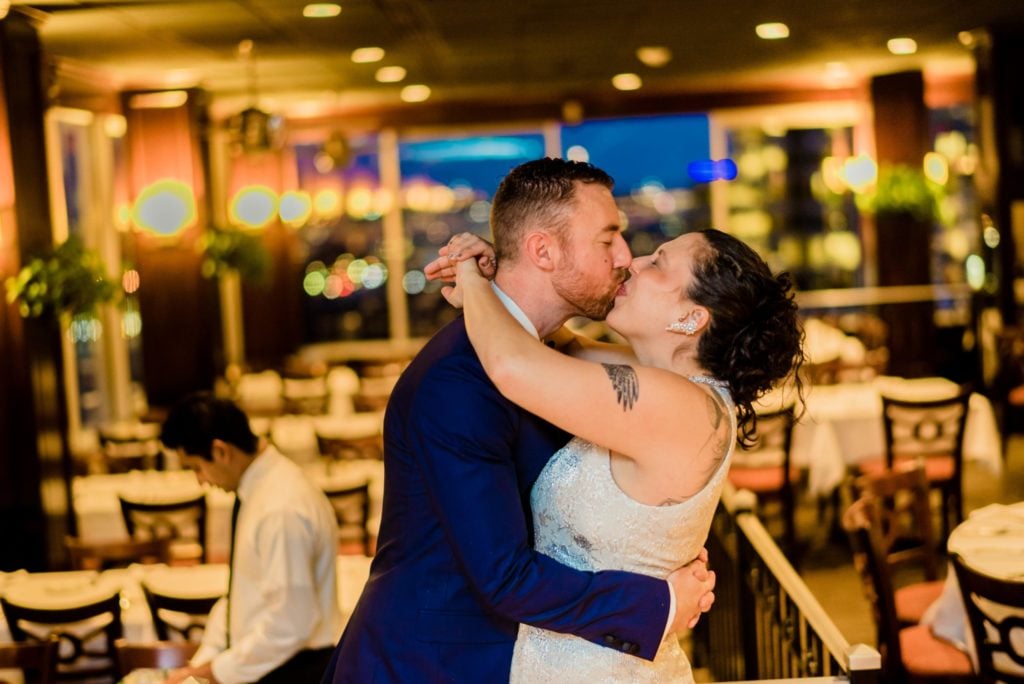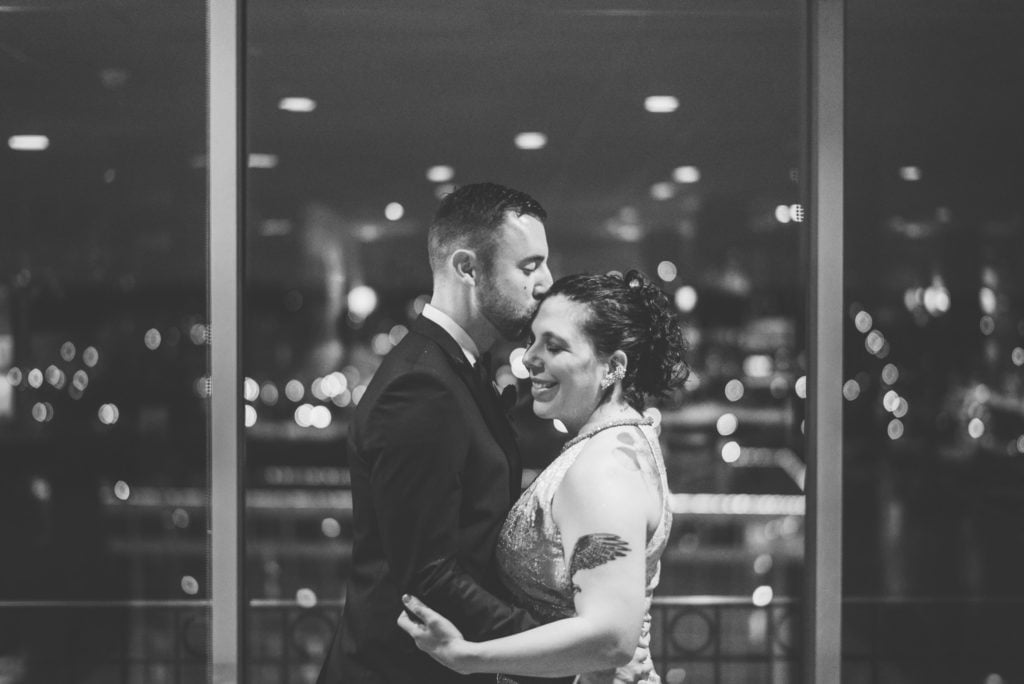 They dated for four years before Anthony proposed at his parent's Long Beach, California, home on Christmas morning. A year later, the couple tied the knot in a delightfully nontraditionally location.
The couple says it didn't feel right to say their "I do's" at a standard venue, and instead they opted for a punk-rock-prom theme at the Continental Pool Lounge, a billiards and game hall, on New Year's Eve. "There's always a lot of build-up" for the holiday, Anthony says. "So we wanted to throw a good party for all of our friends—that we'd want to go to ourselves—that just happened to have a wedding in the middle."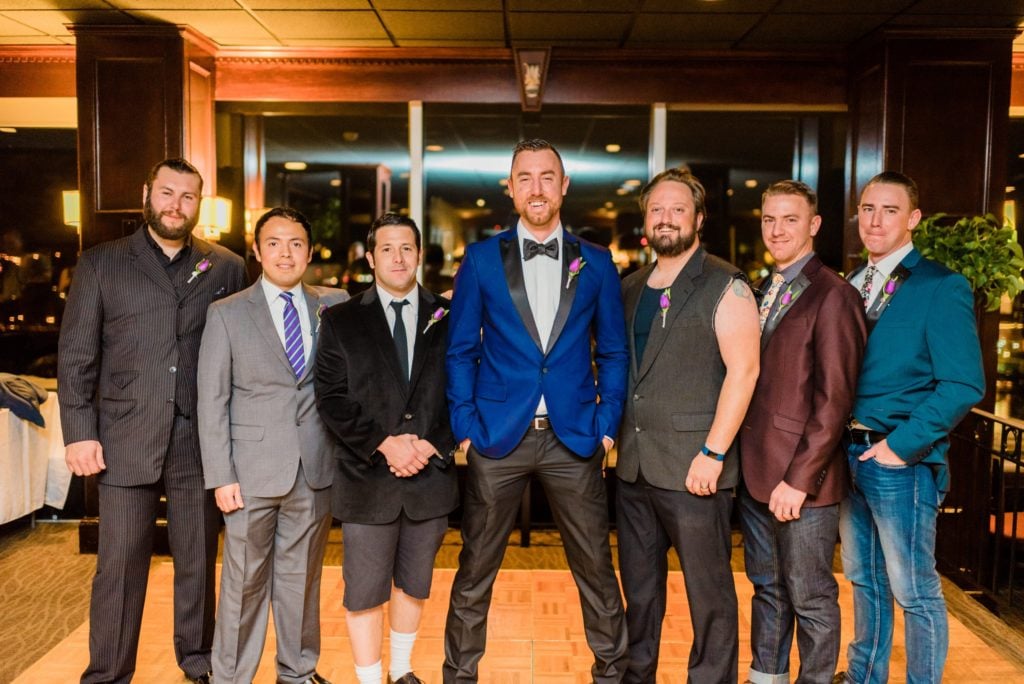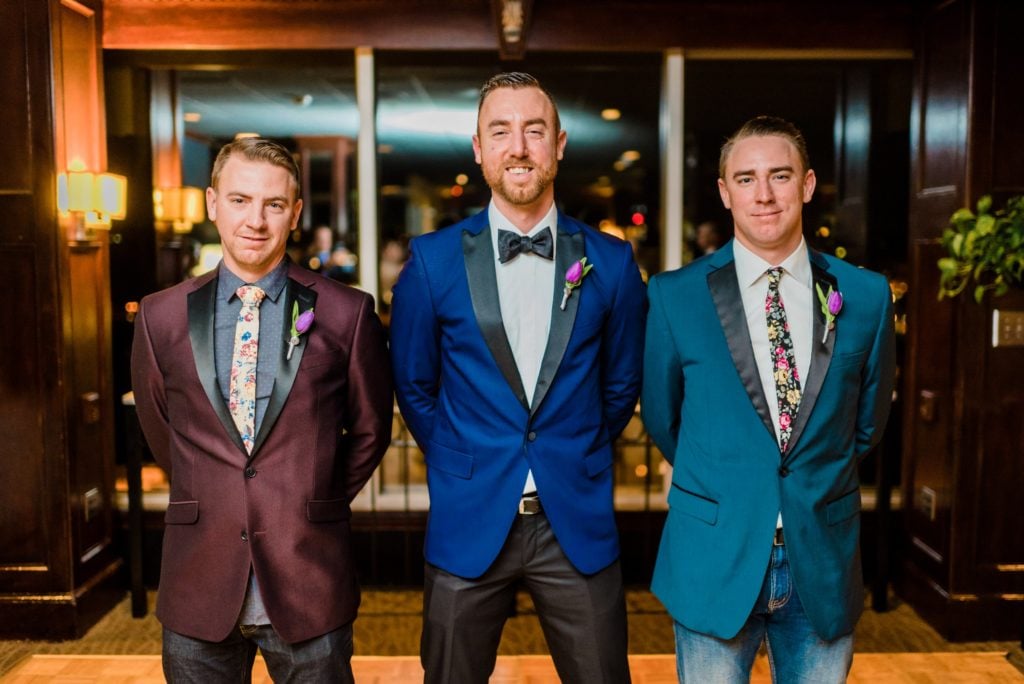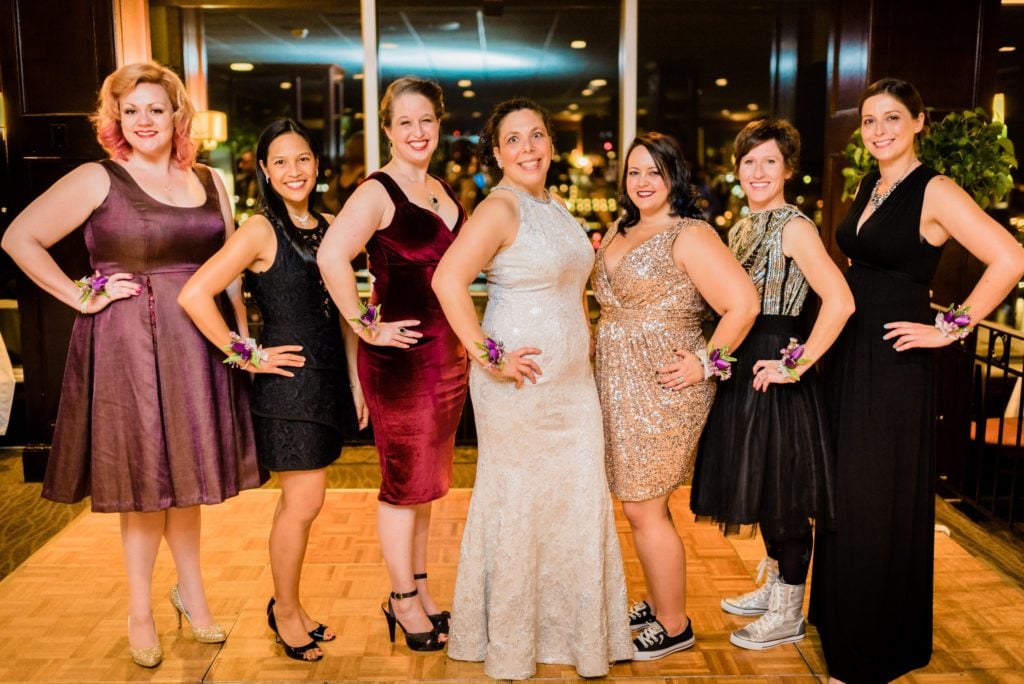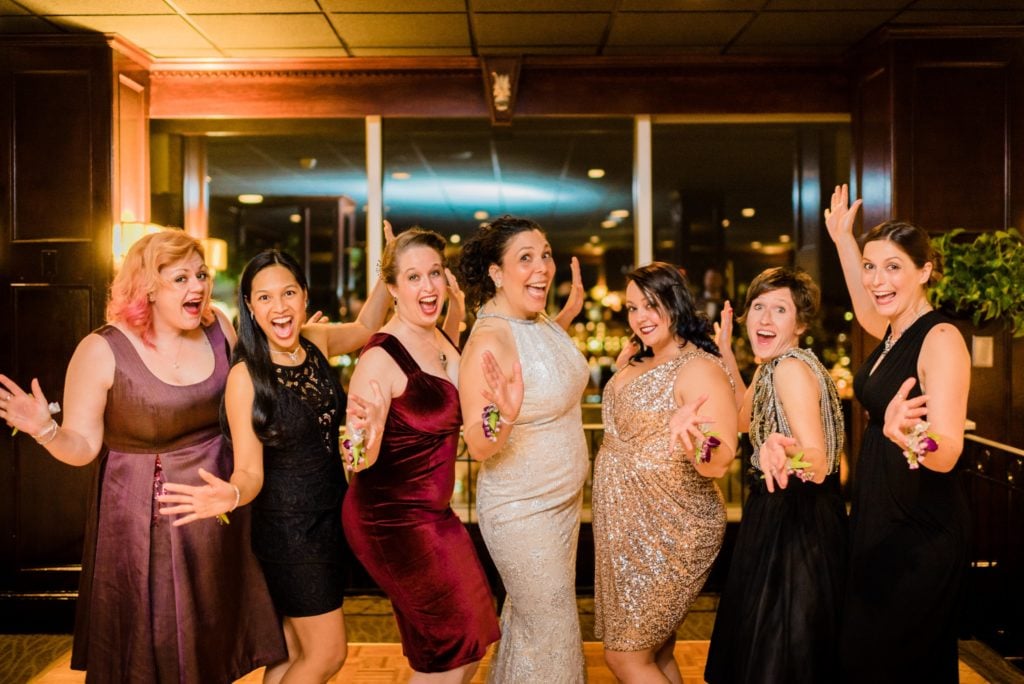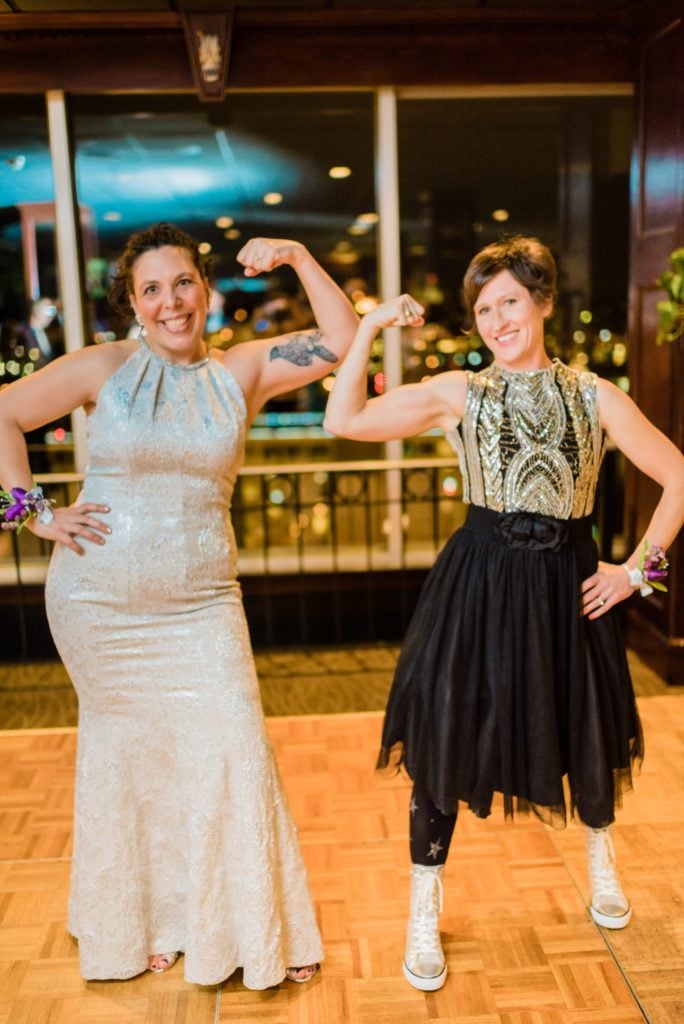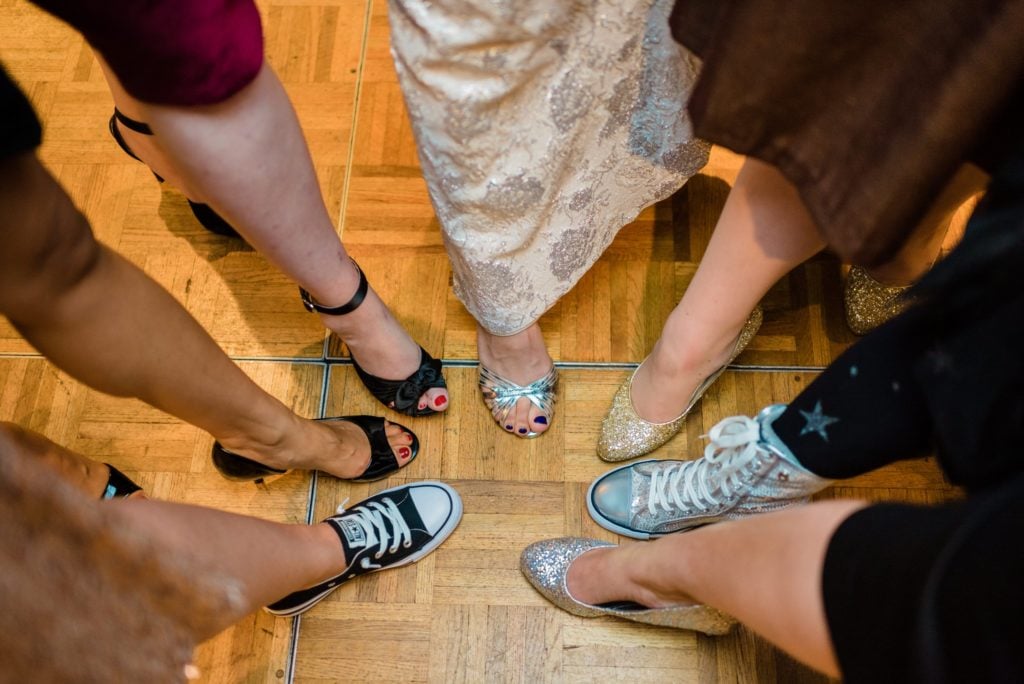 The couple was thrilled with their guests interpretation of the punk-rock-prom theme dress code. It was "exactly as we hoped," says Dara. "We had little black dresses and tutus, kilts and light-up bow-ties, t-shirts with tuxes, and sequins and glitter and eyeliner on everyone. One groomsman ripped the sleeves off his suit, and another one cut his pants into shorts. Between them they had a full suit."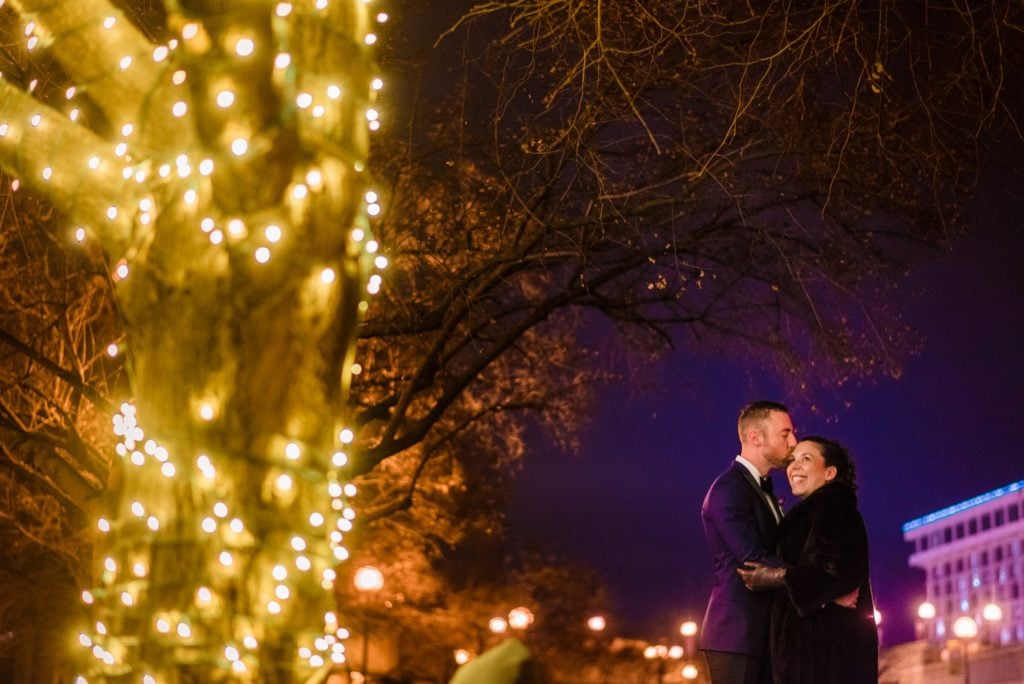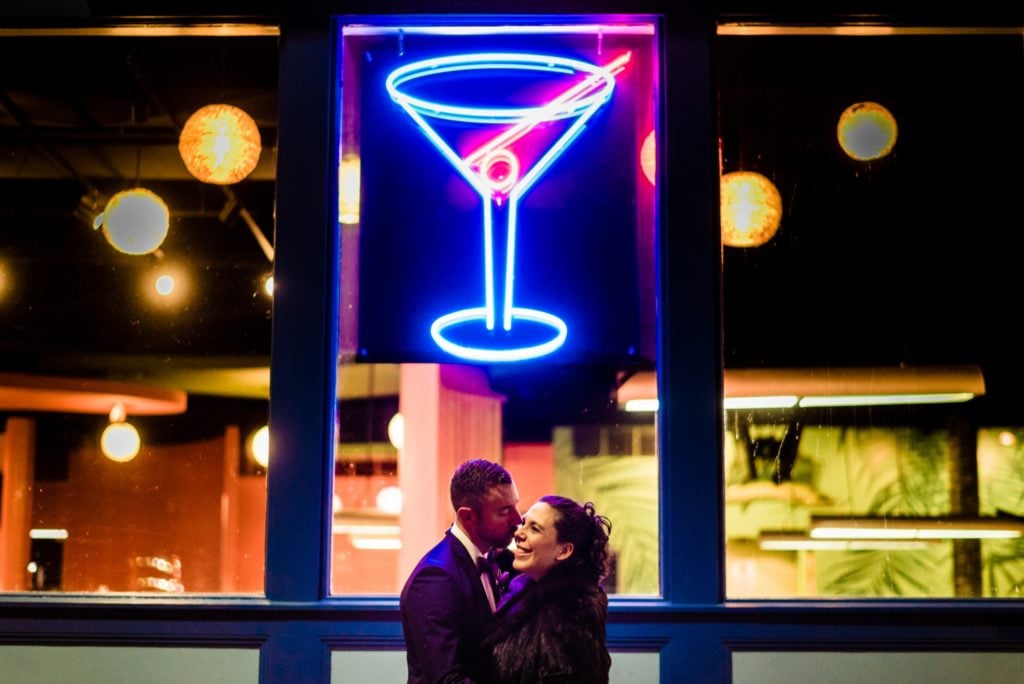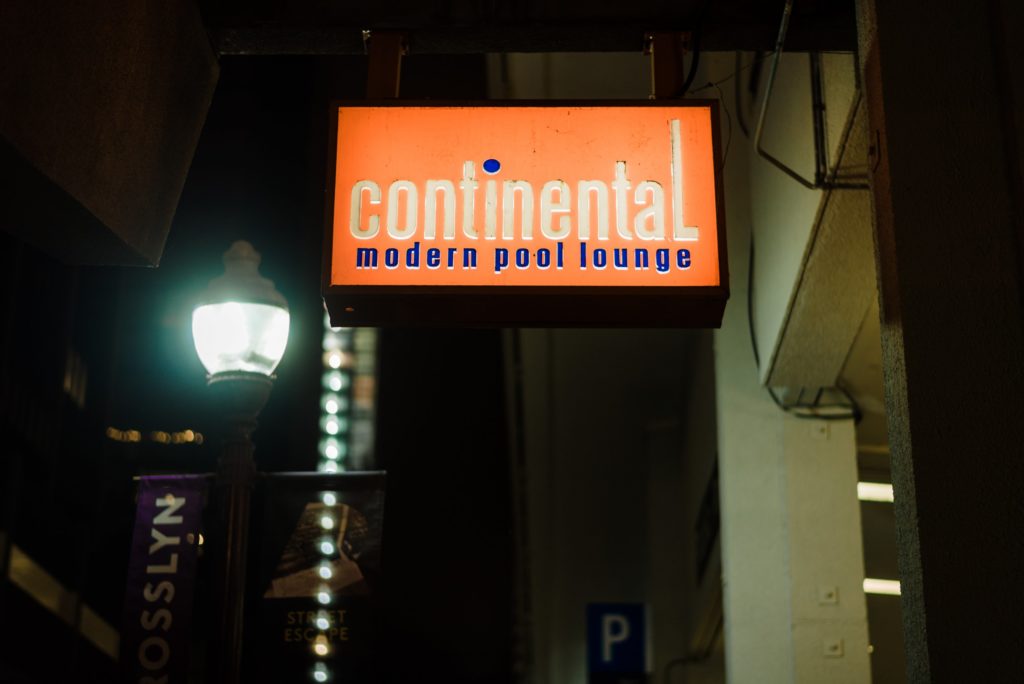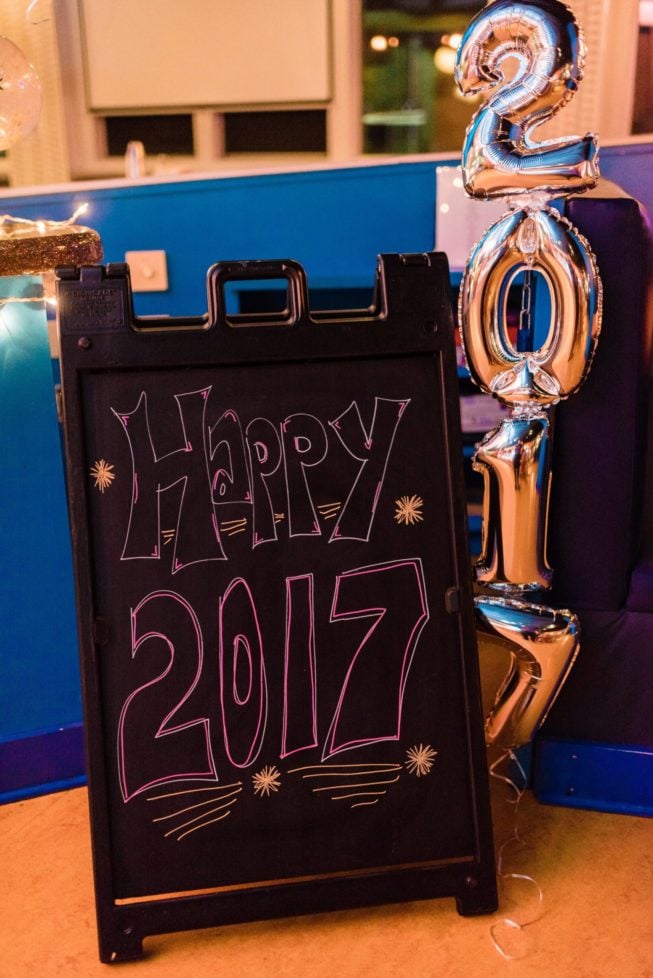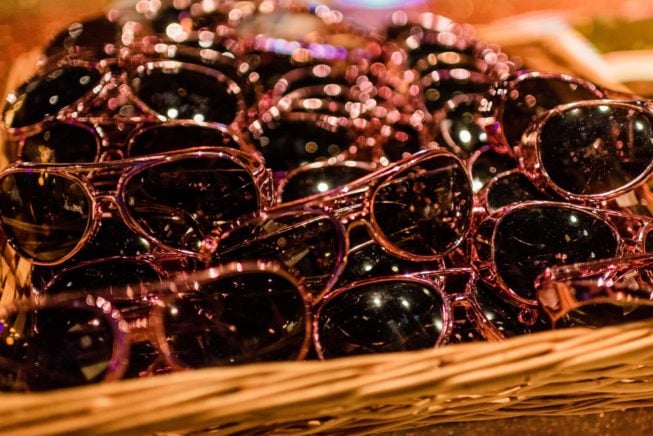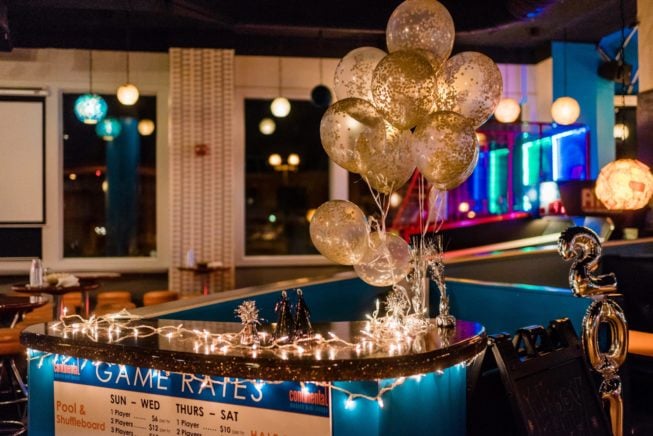 The night was full of surprises, starting with the newlyweds' entrance. As the attendants walked down the aisle, the couple played Canon in D—"our friends were probably pretty confused because we're big music fans, but not exactly super-traditional people," Anthony says. Anthony knew the music would switch when Dara appeared, but he didn't know to what. As she approached the aisle, the music changed to  "Little Angel," by Night Child—Dara's favorite song from the band that Anthony was in.
"Our friends went nuts over the loud rock song, and Anthony's bandmates and brothers, who knew immediately what it was, love it," they say. Dara's cousin, "a DC improv genius," she says, was their officiant, and the bride and groom's grandparents (with more than a century of marriage experience between them) read their vows for the couple to repeat.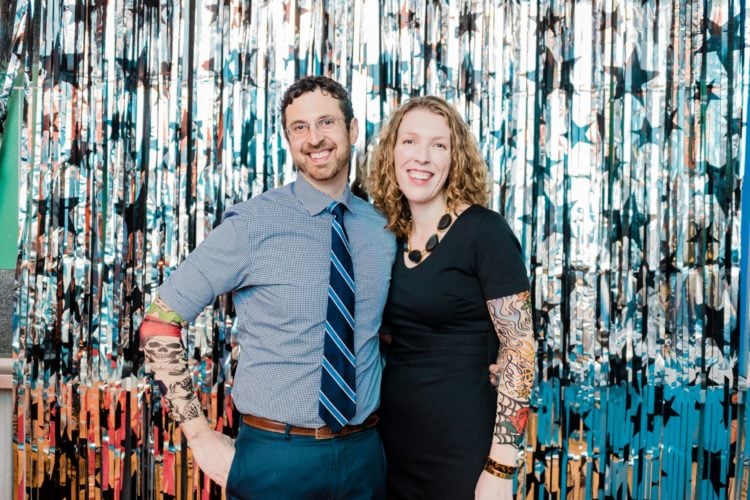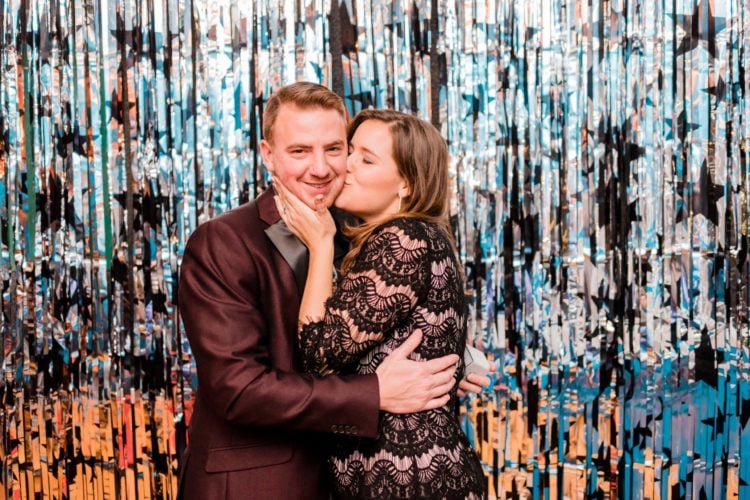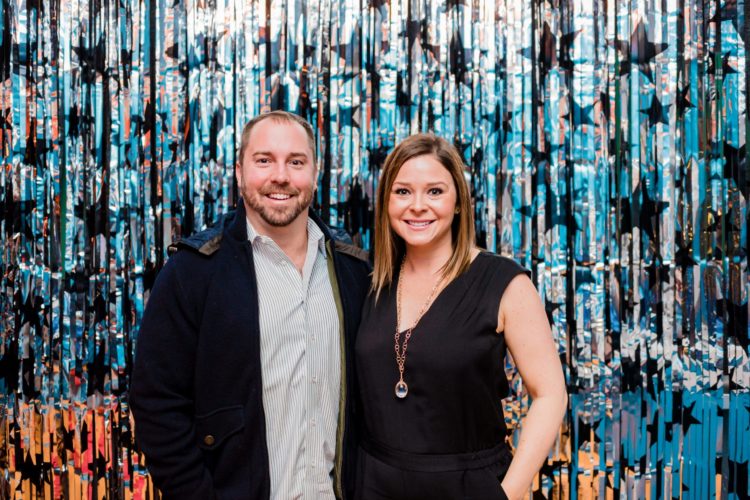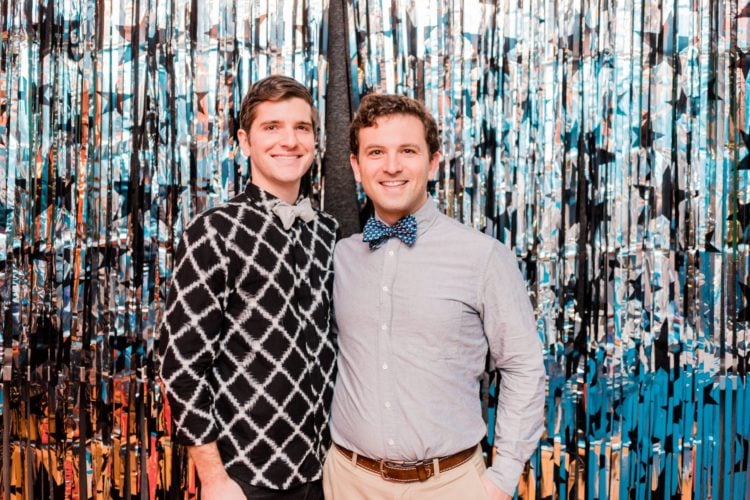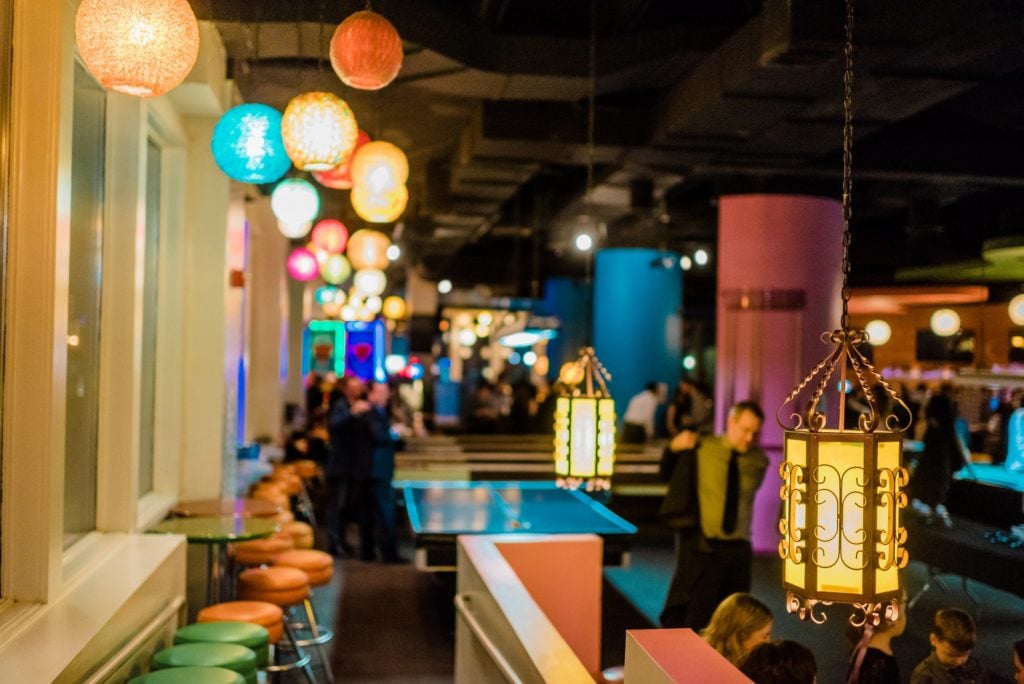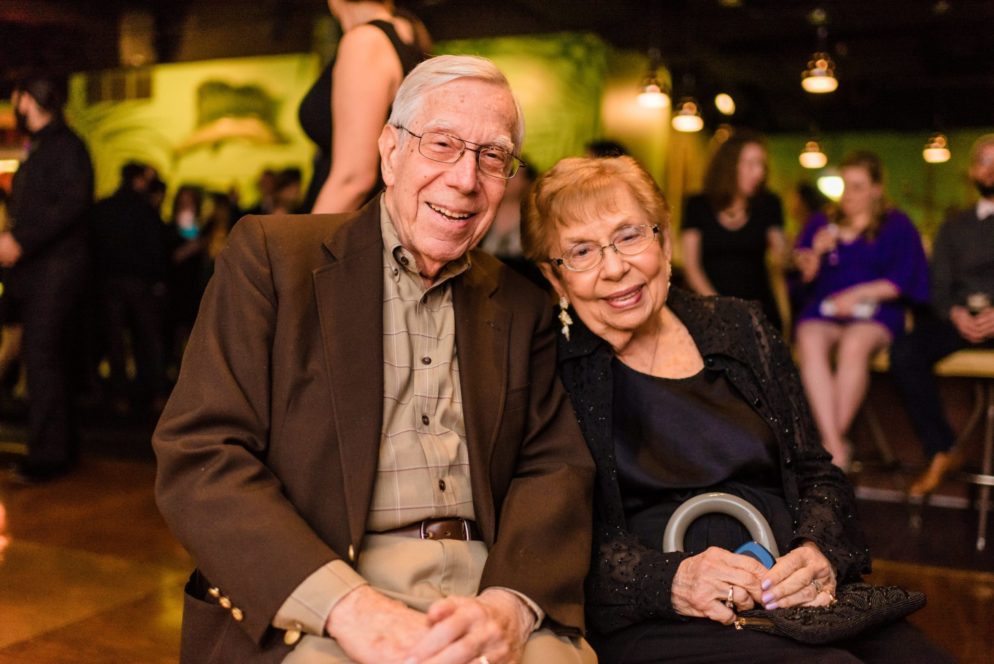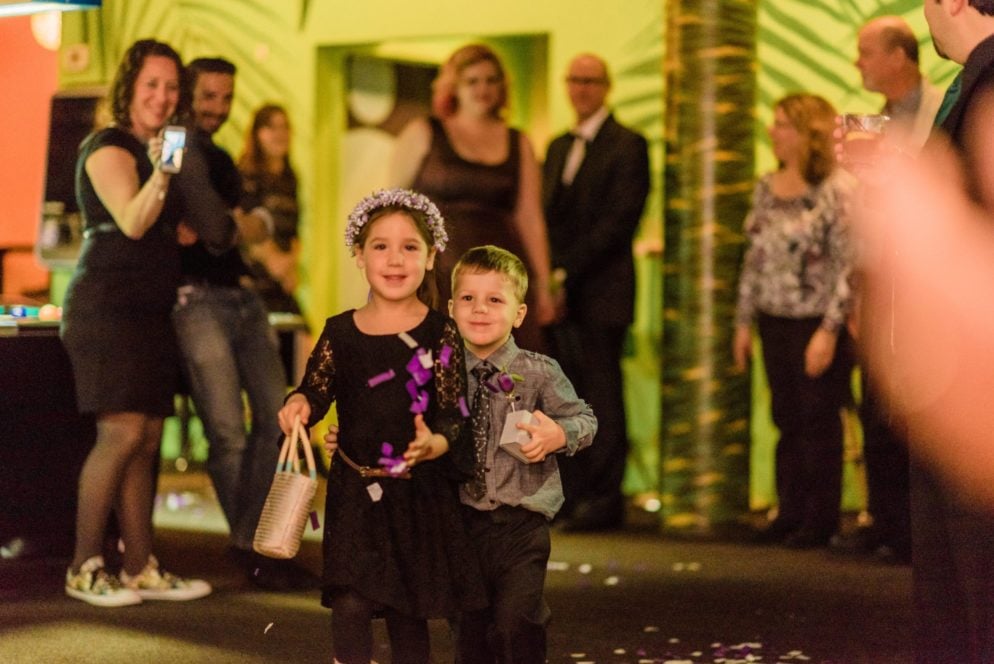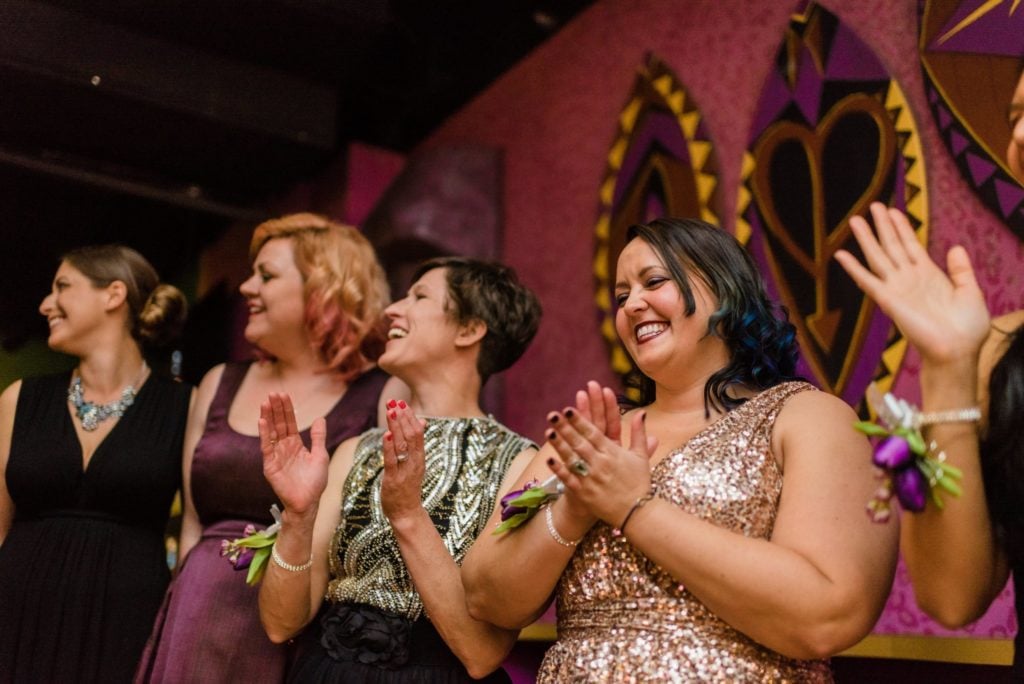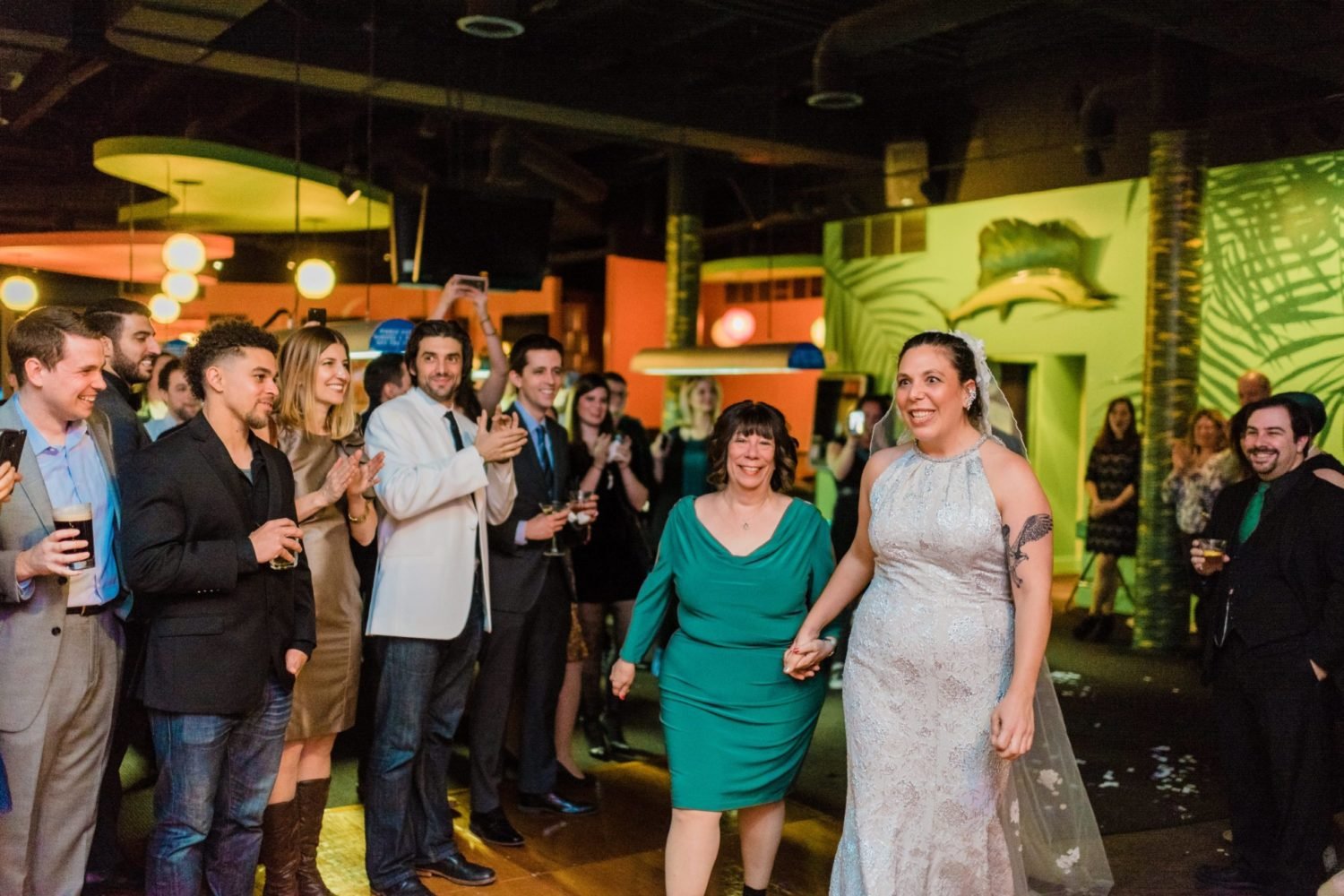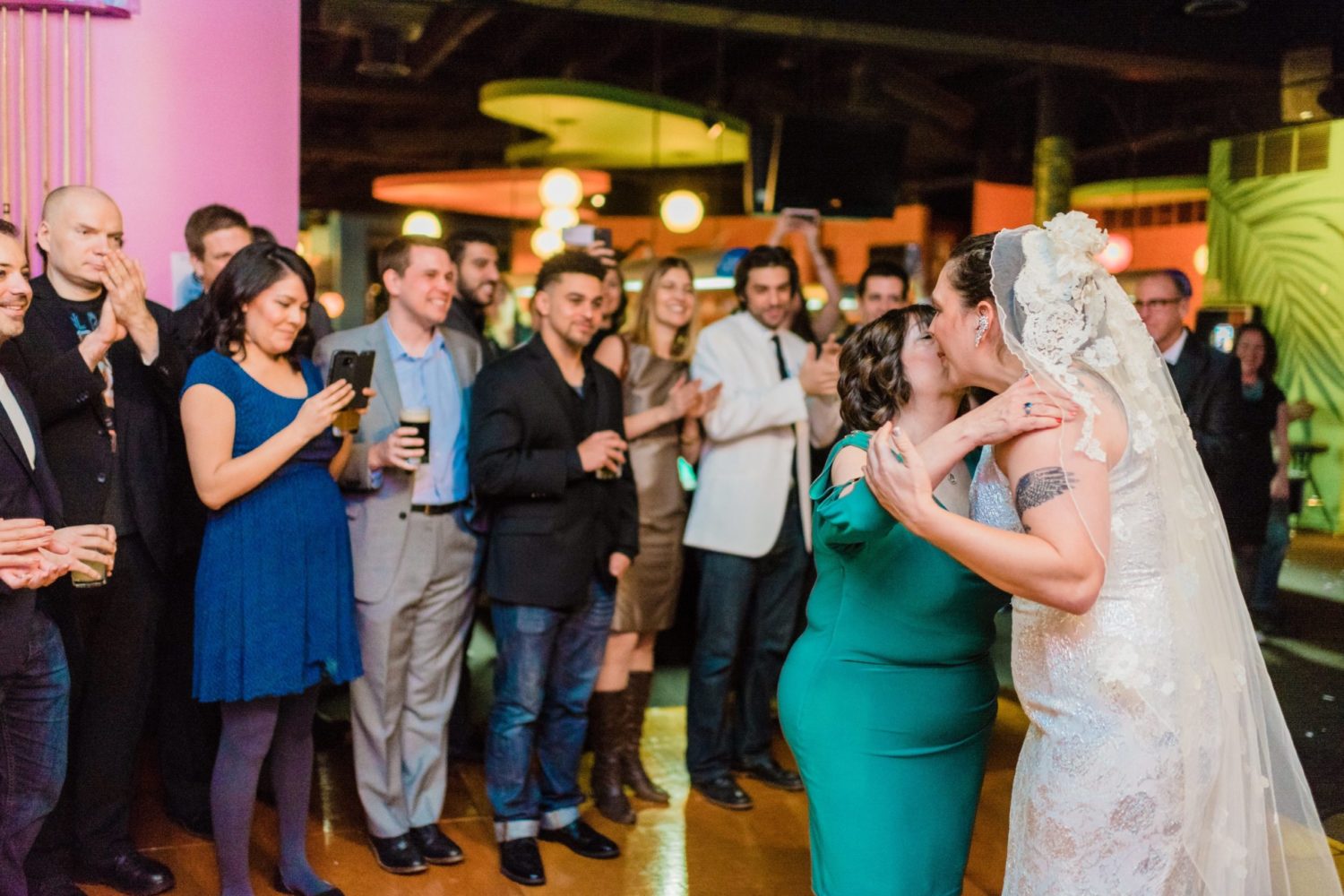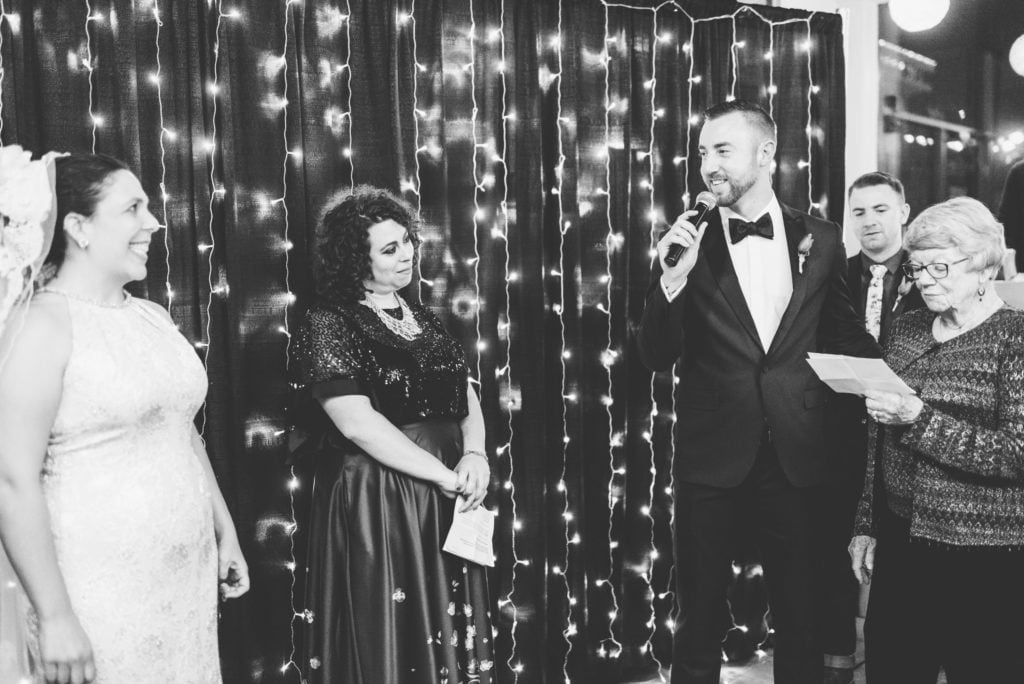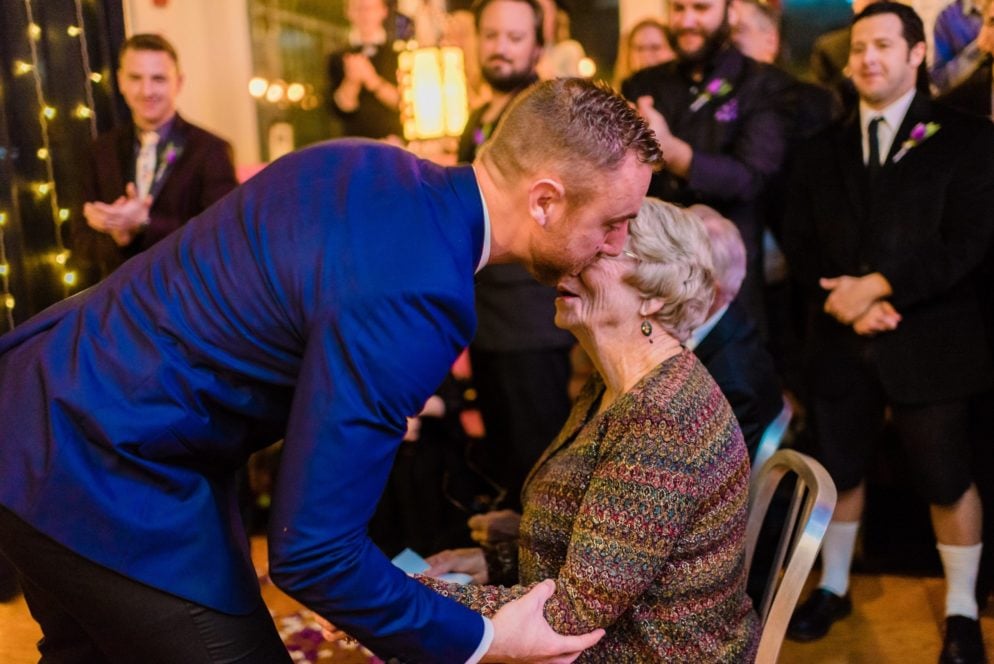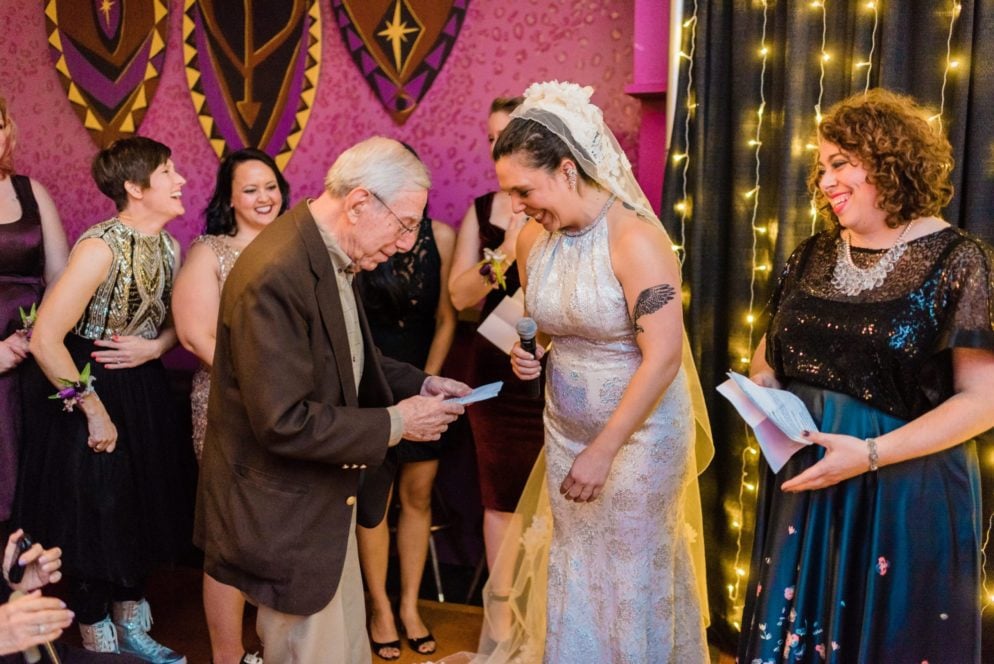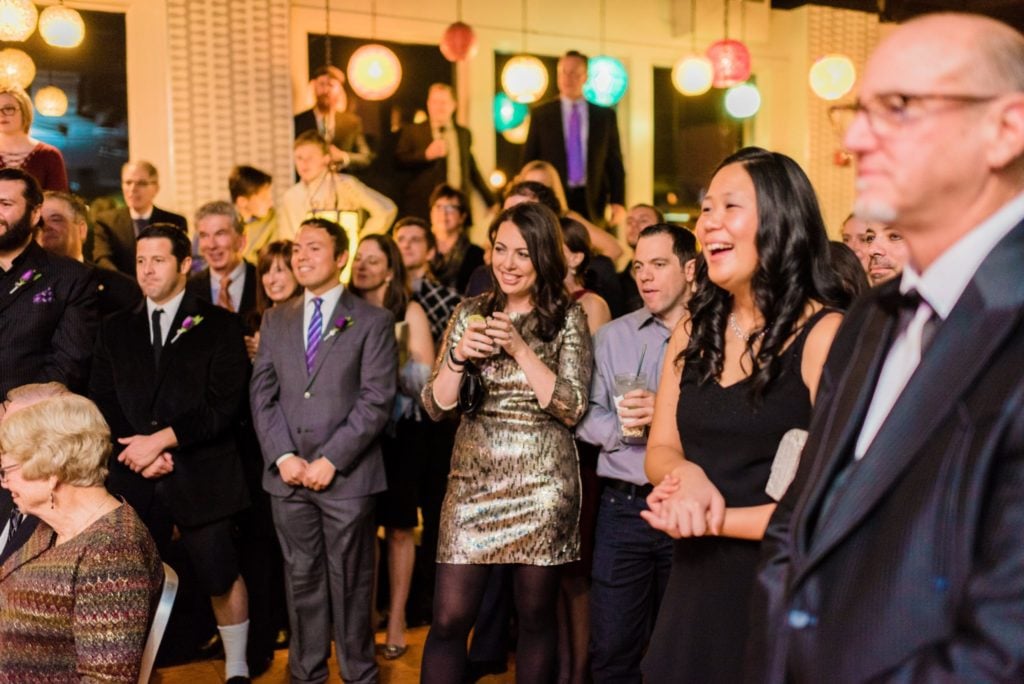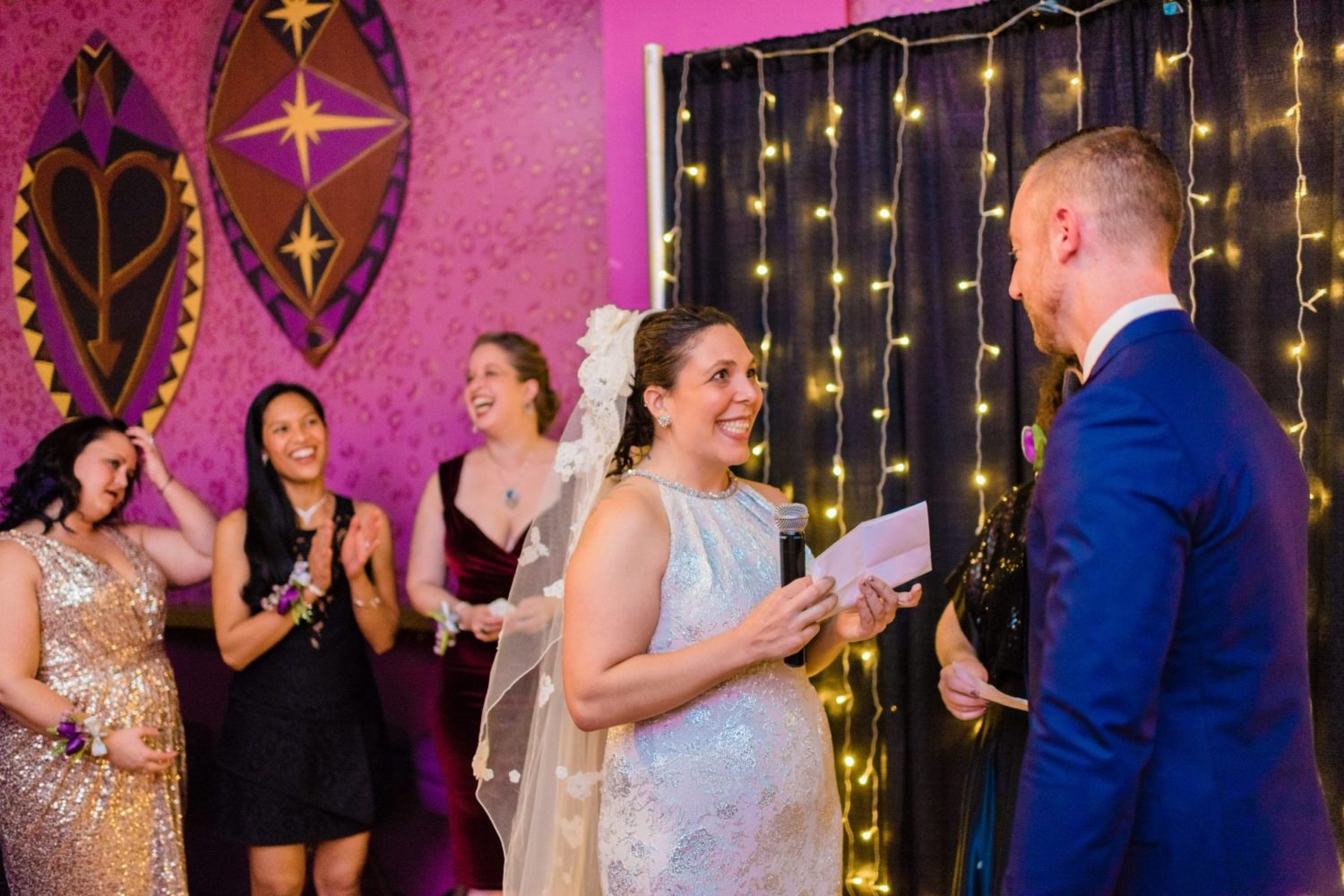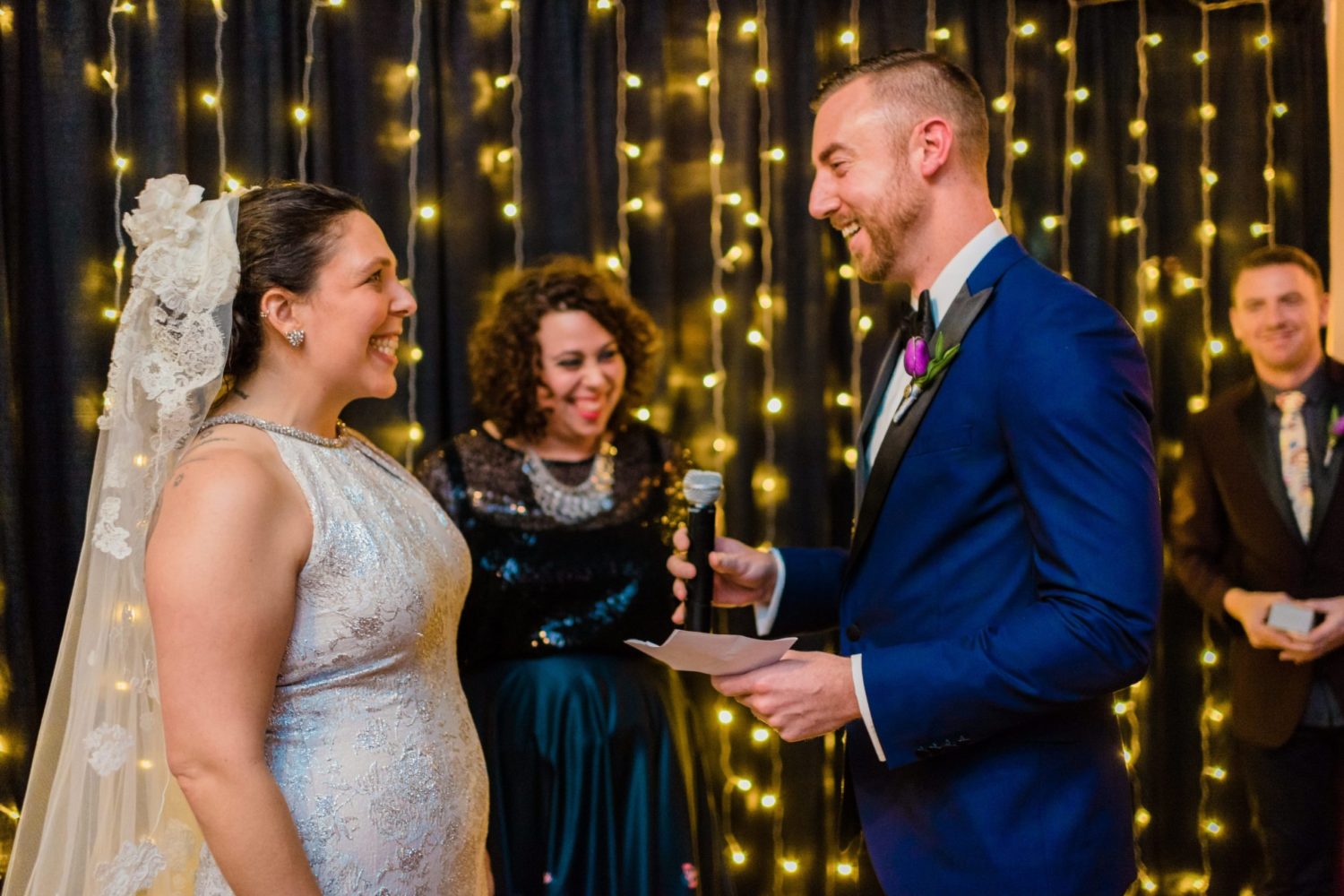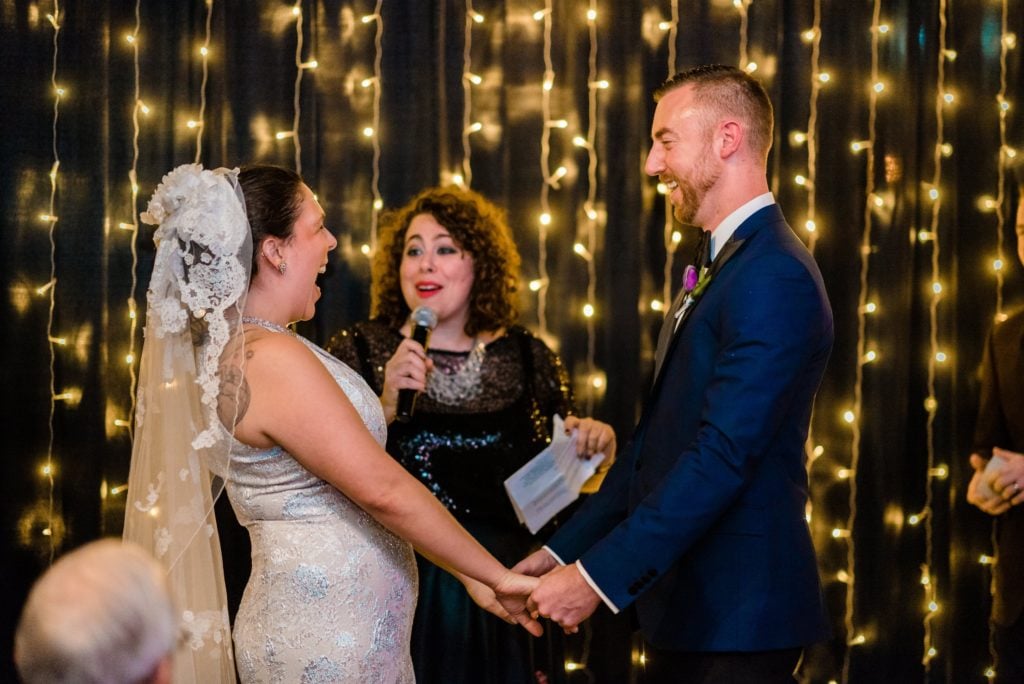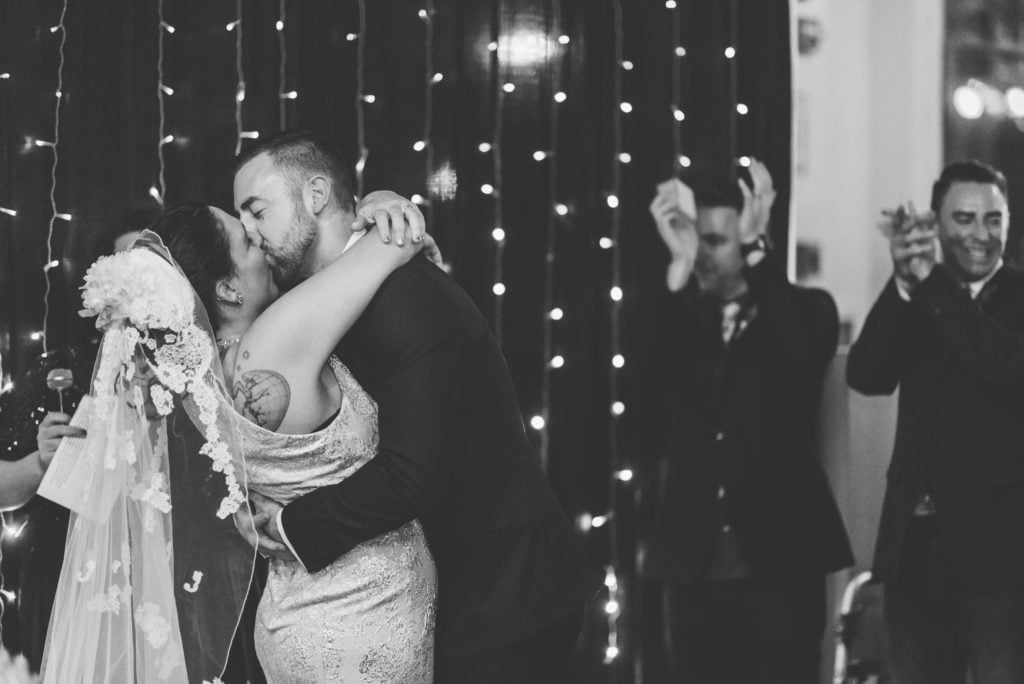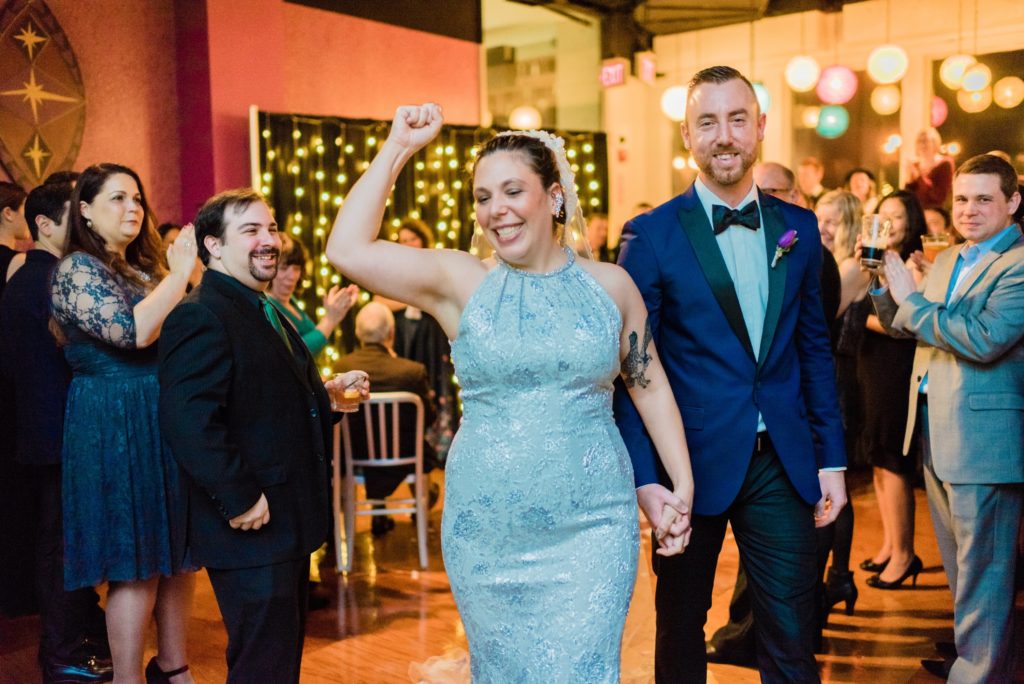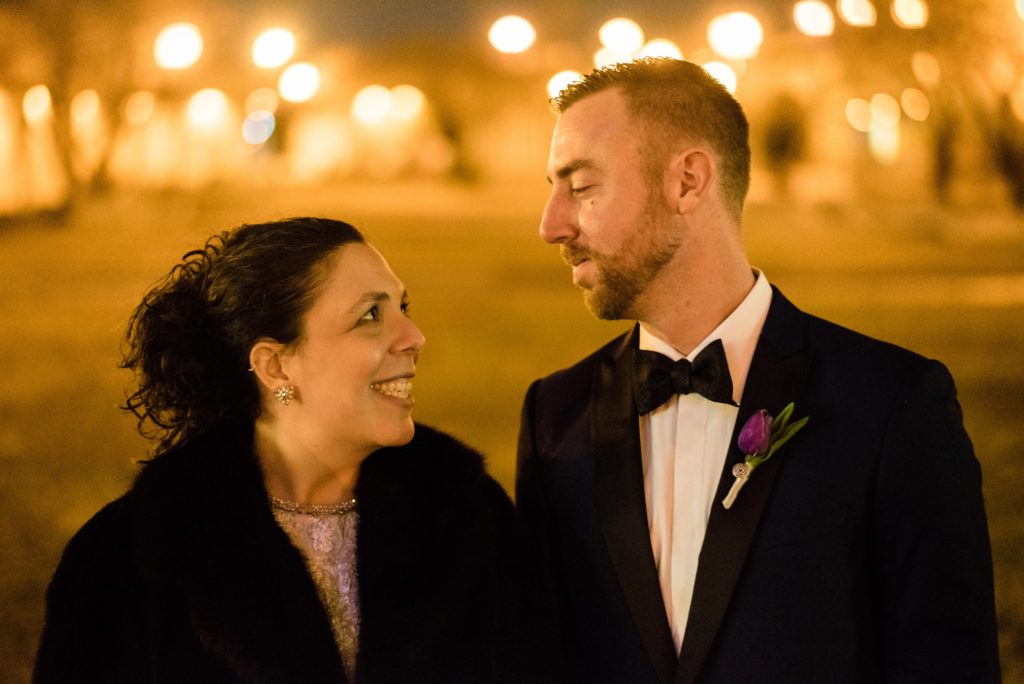 During the dance party, the bride swapped her long gown for a short, sequined party dress and unicorn-shaped light-up high-top sneakers. The cake wasn't really a cake; rather, Anthony and Dara cut donuts from Dunkin Donuts, topped with dinosaurs (a surprise from the groom's mother). And the music playlist: handpicked by the bride and groom.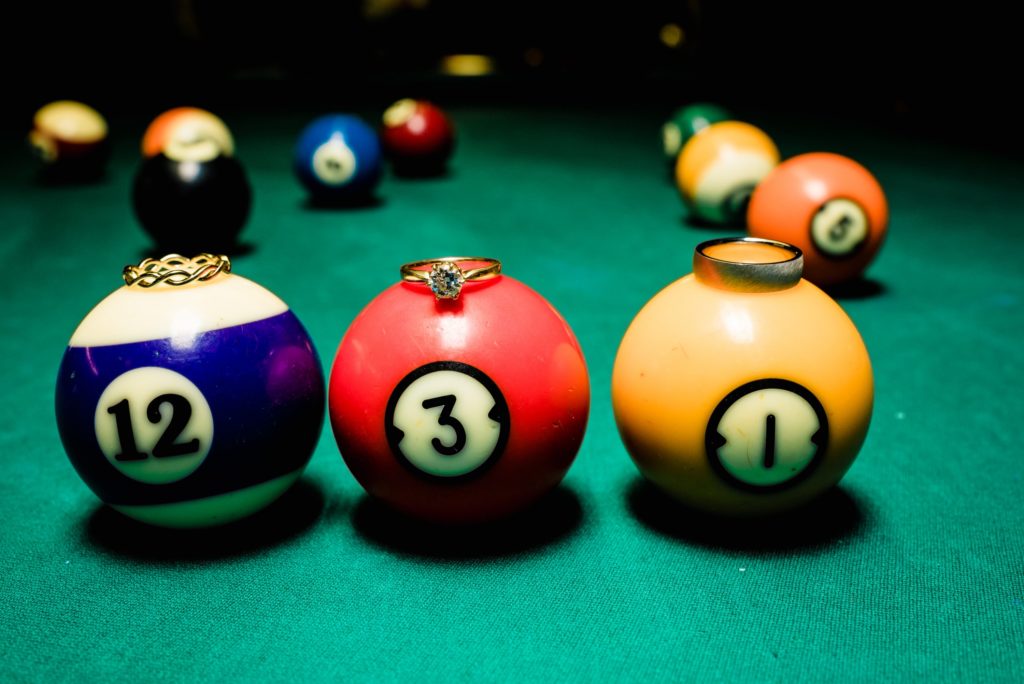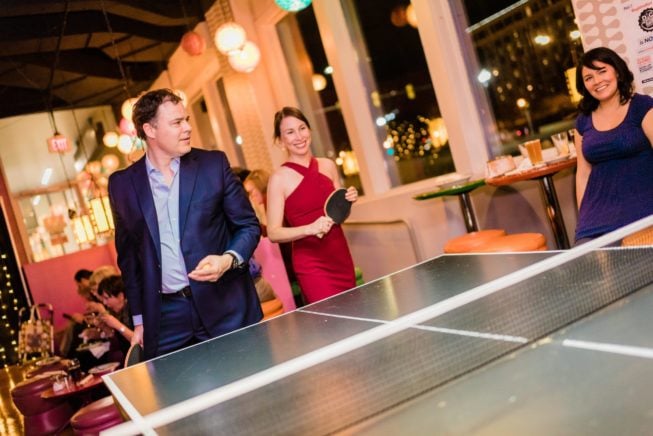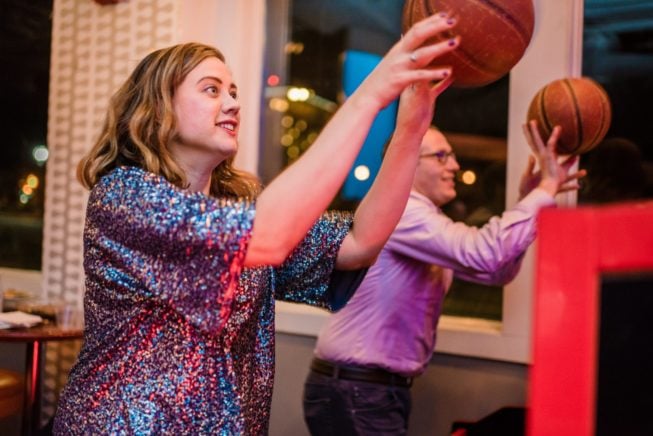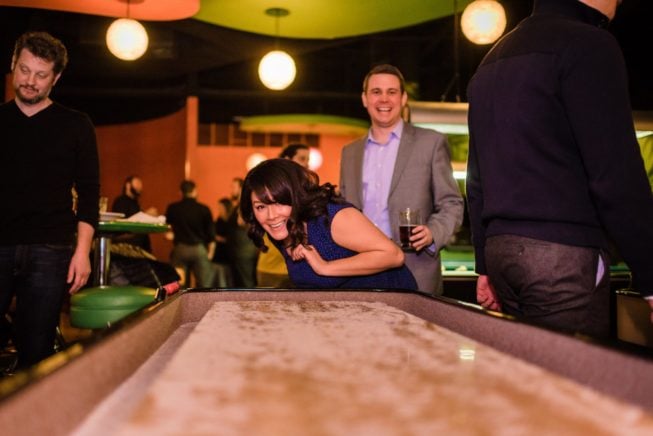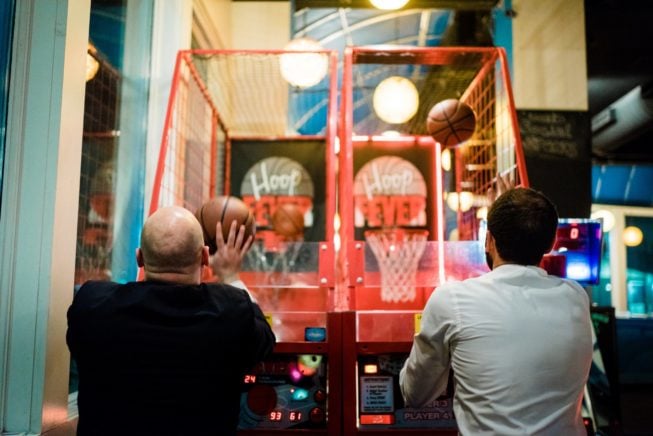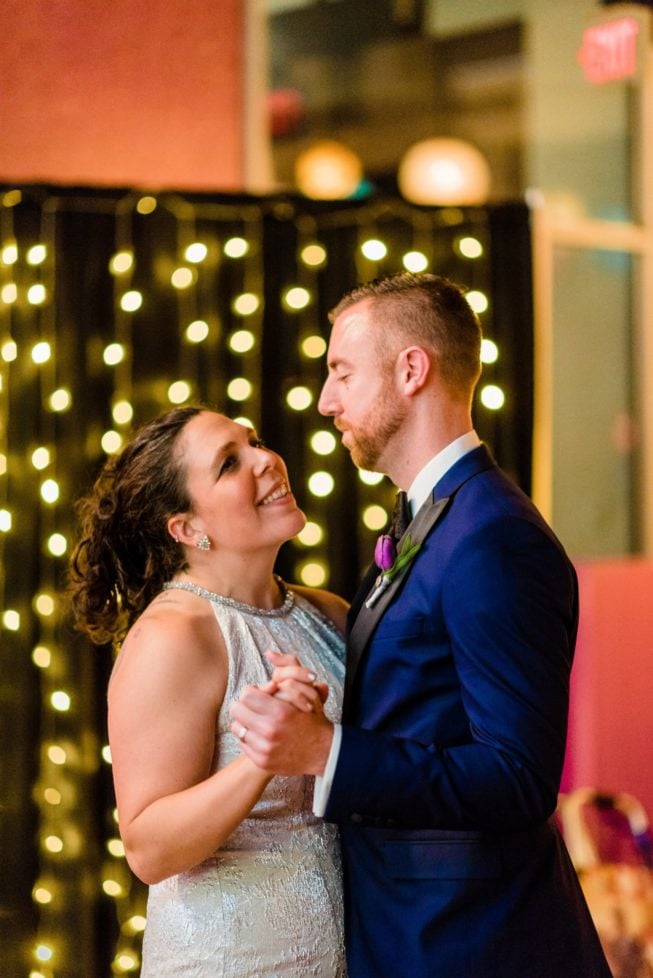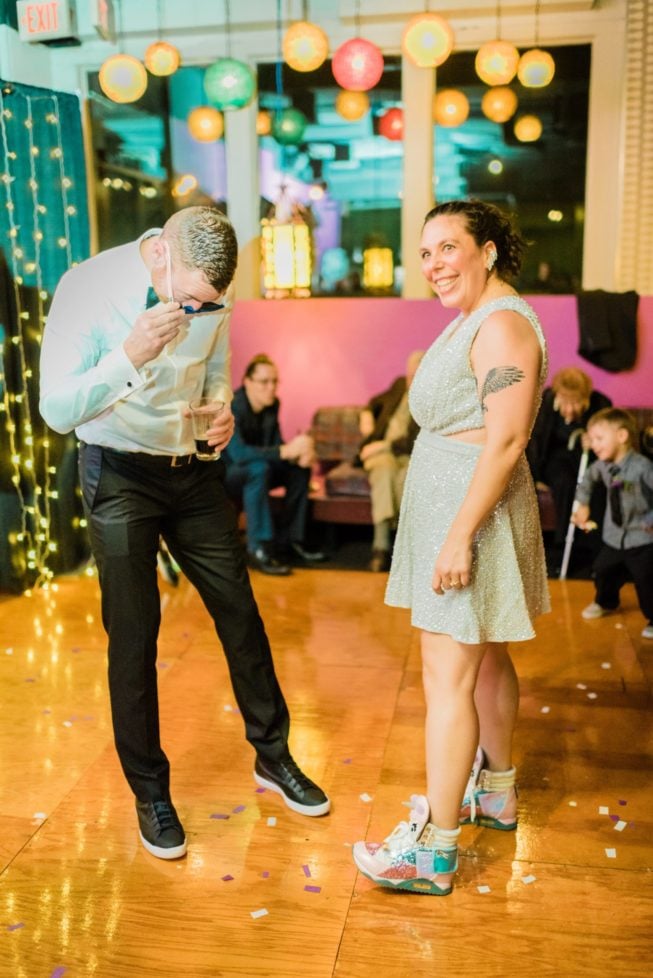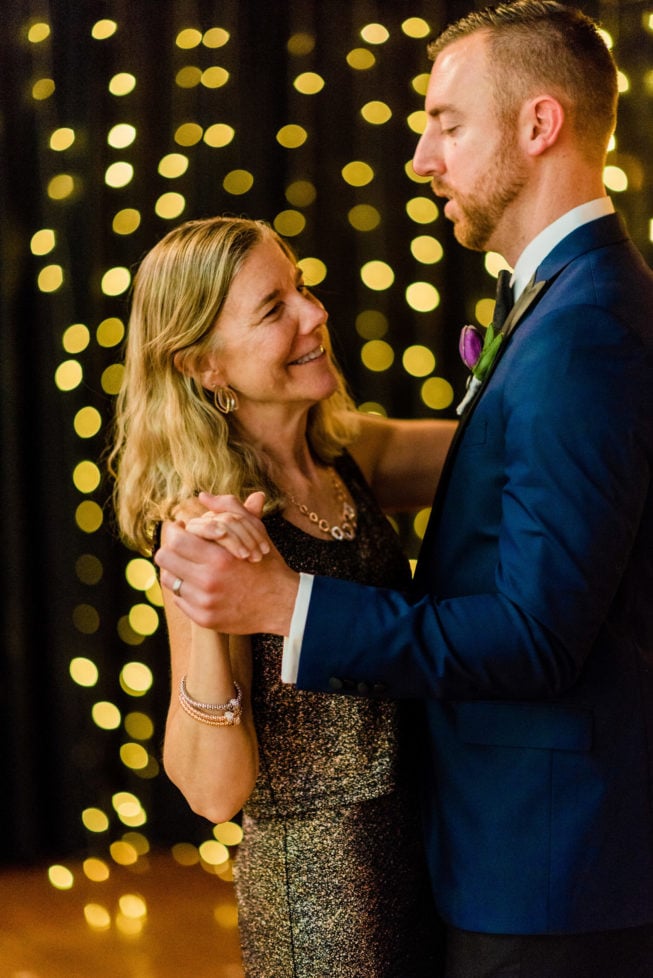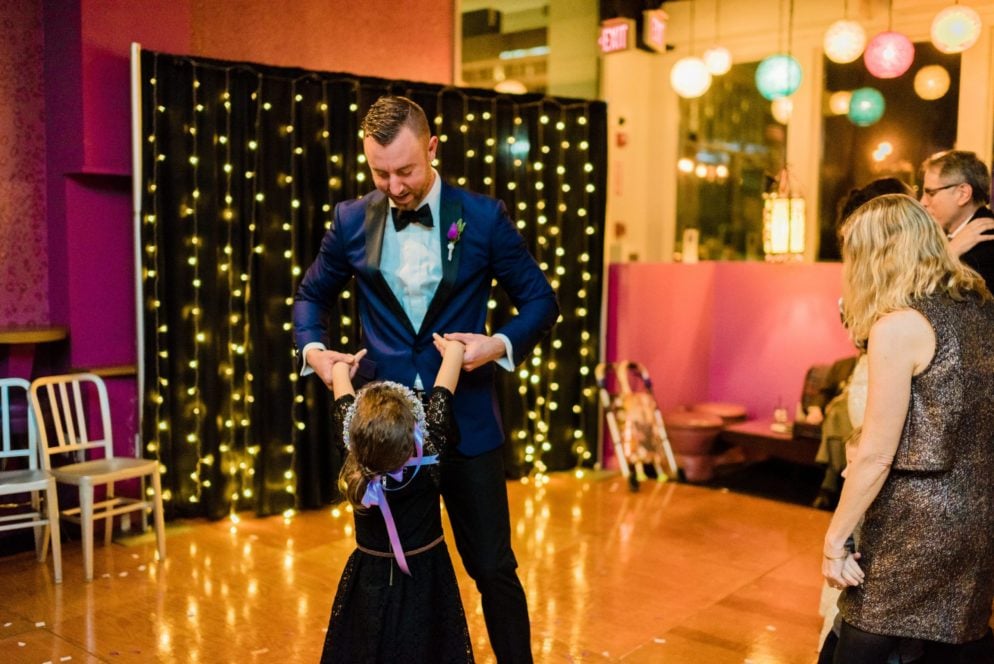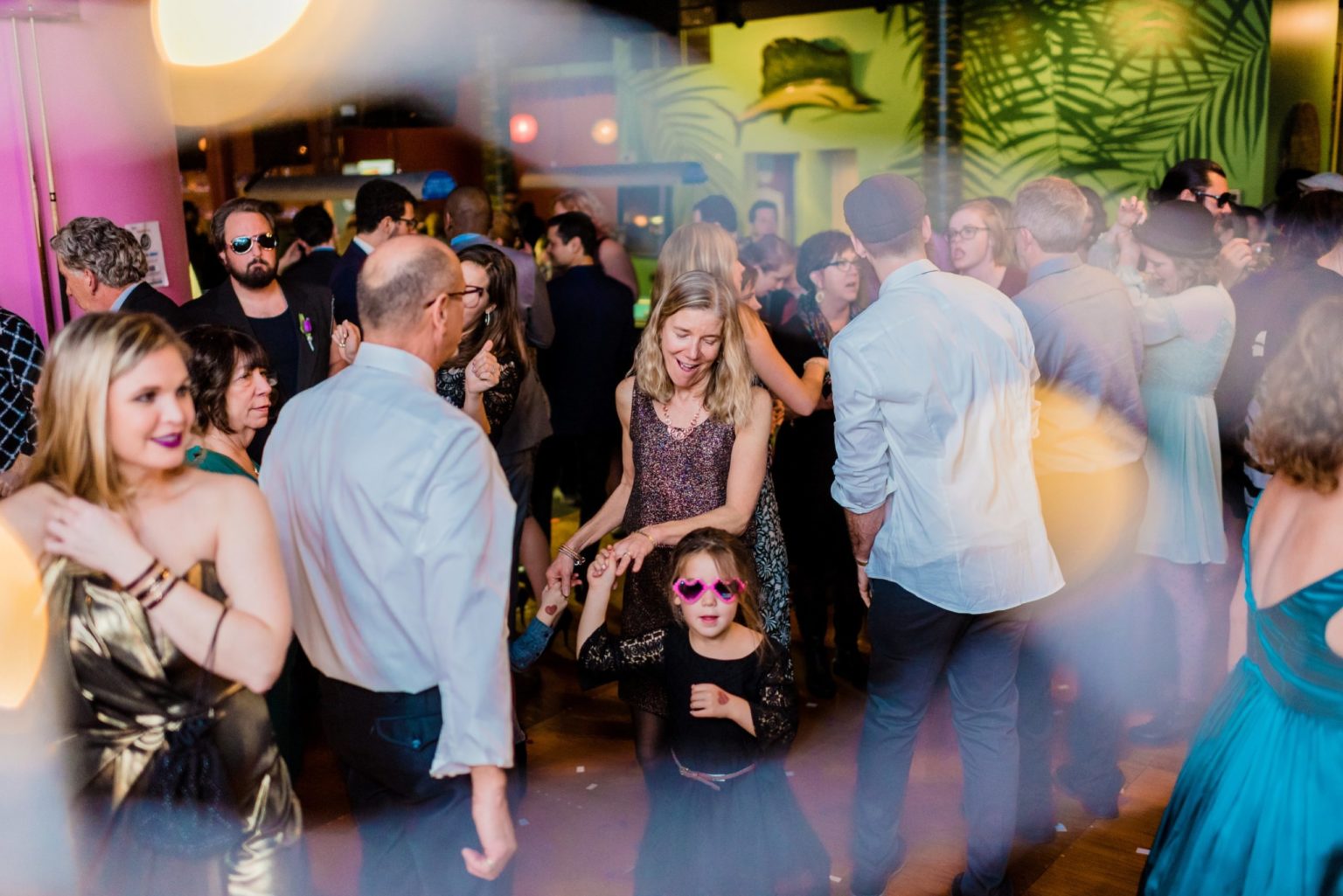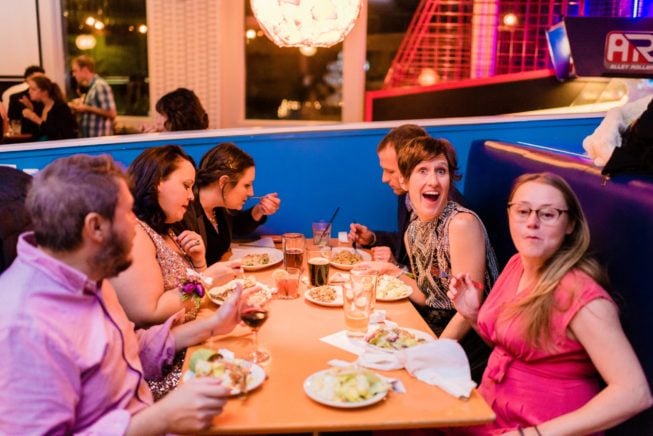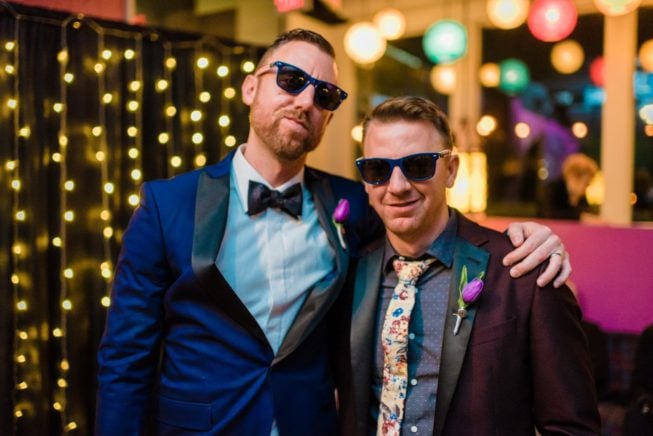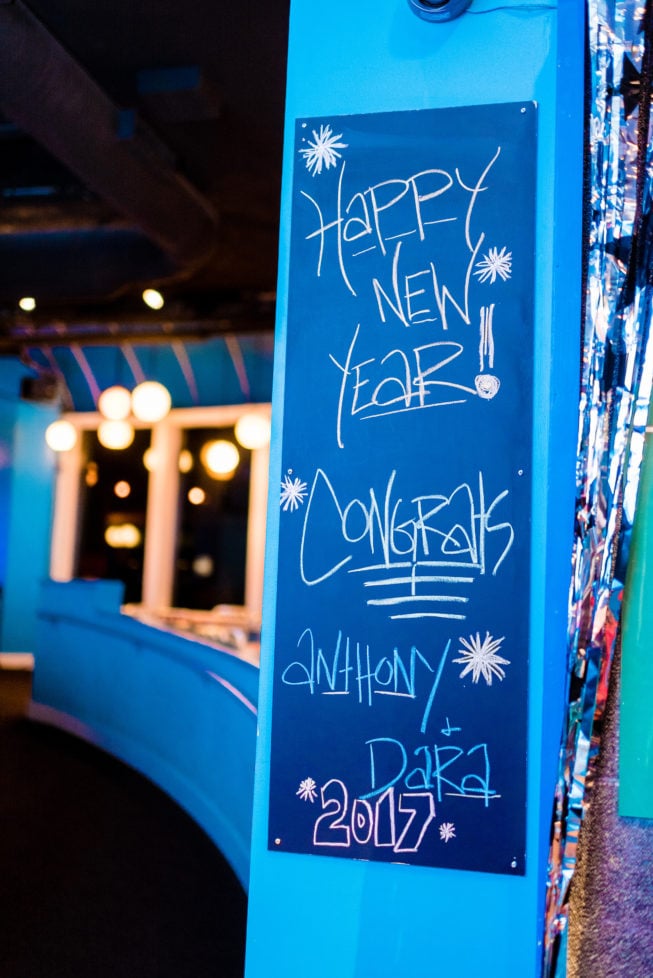 After their big night to ring in 2017, the couple honeymooned at the Dogfish Head Inn in Lewes, Delaware.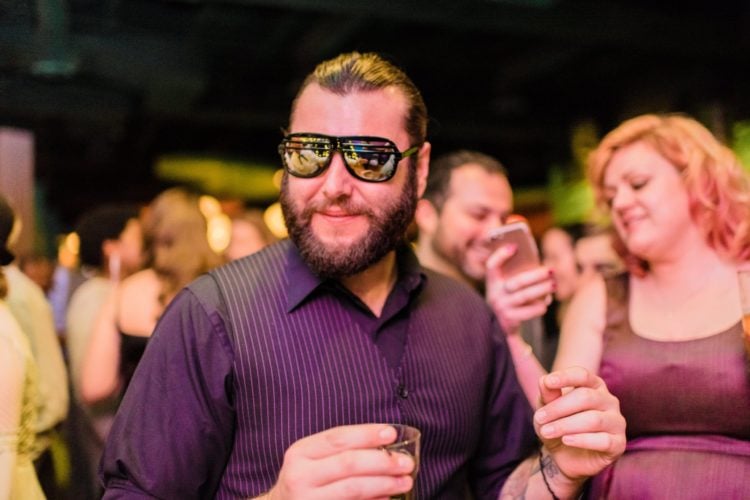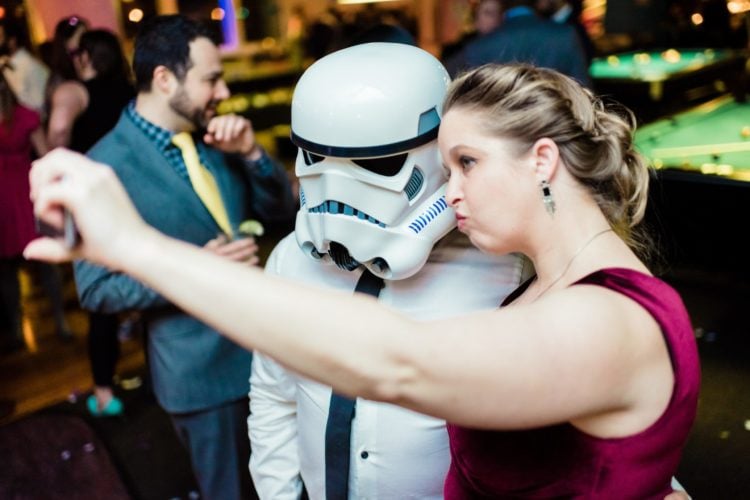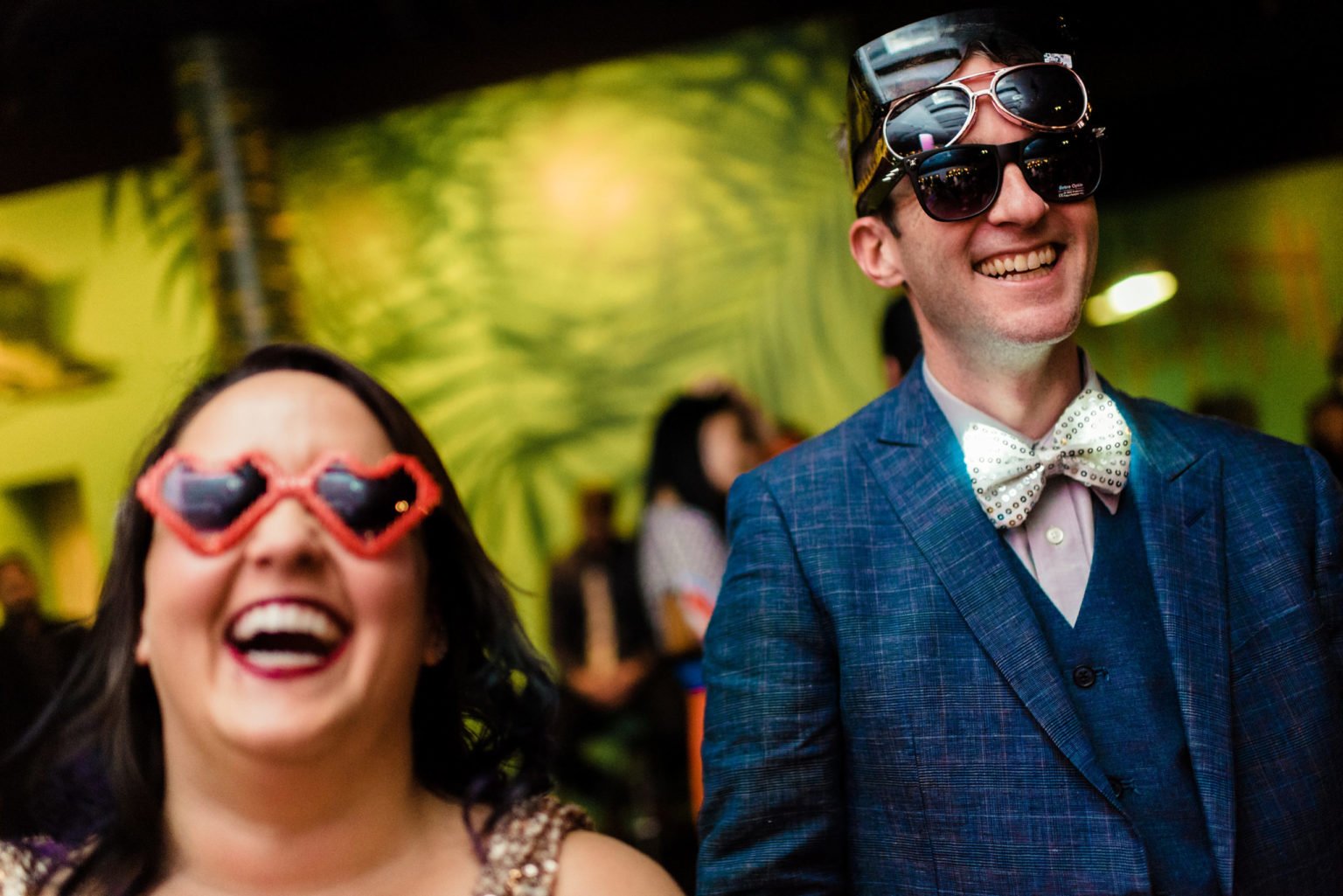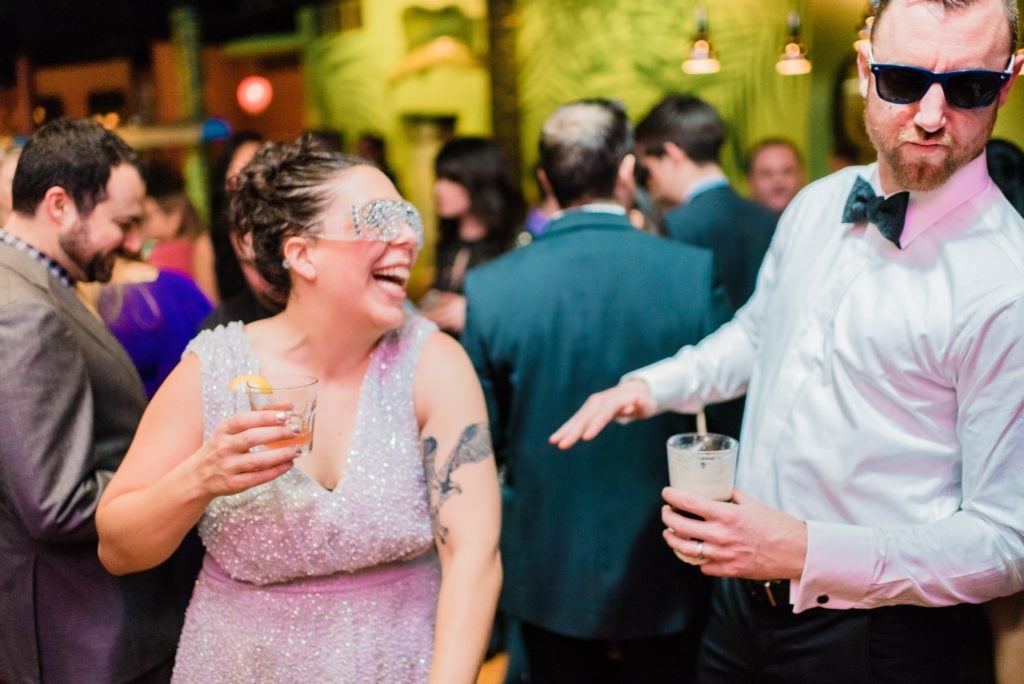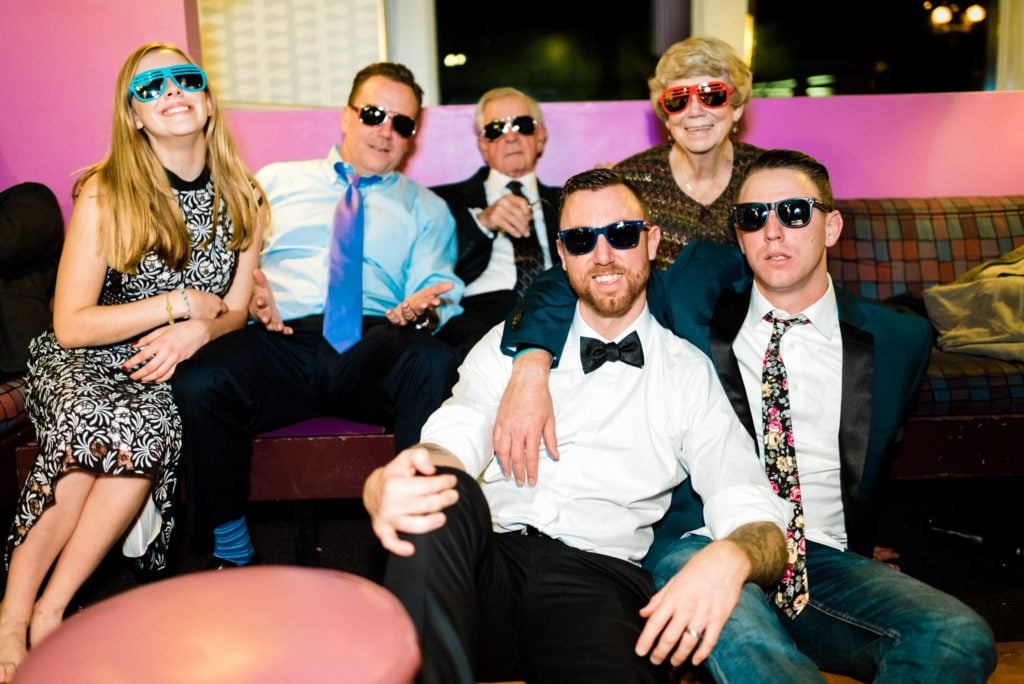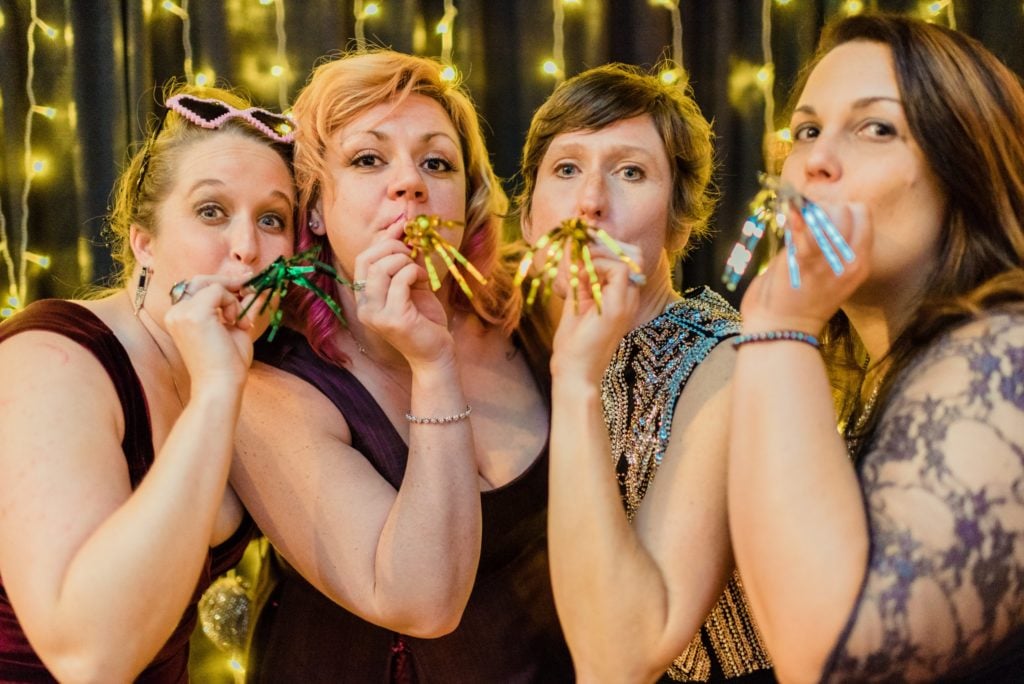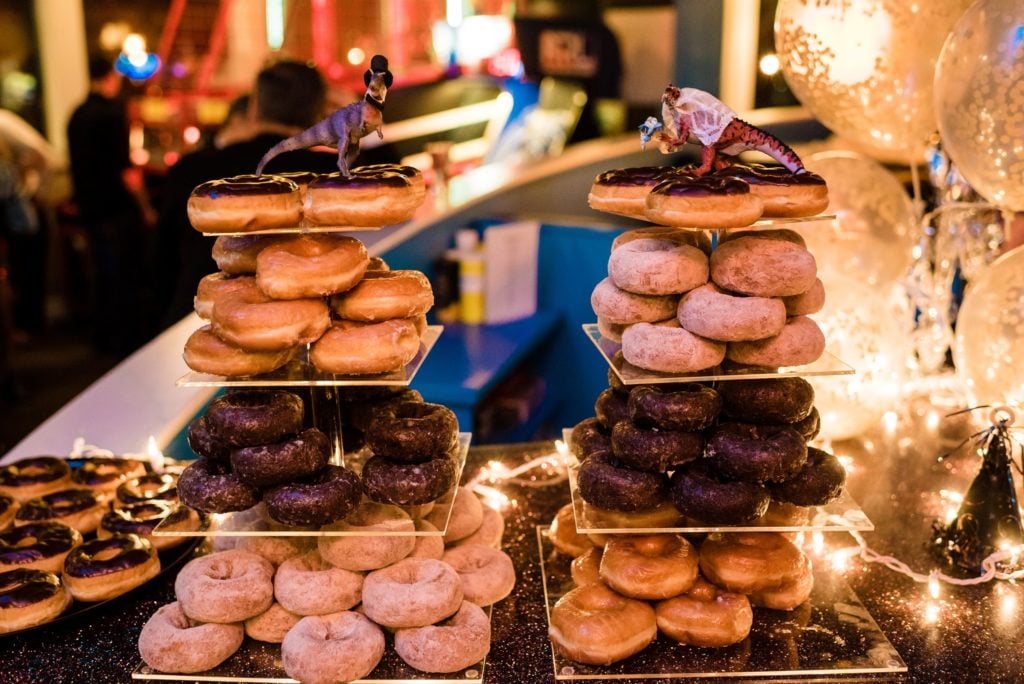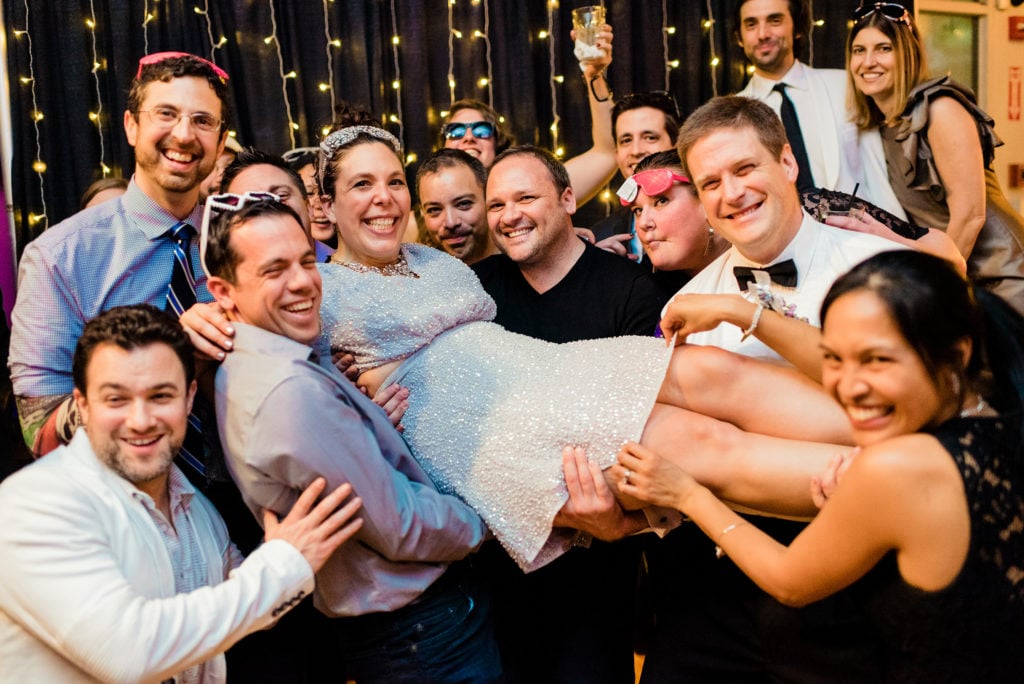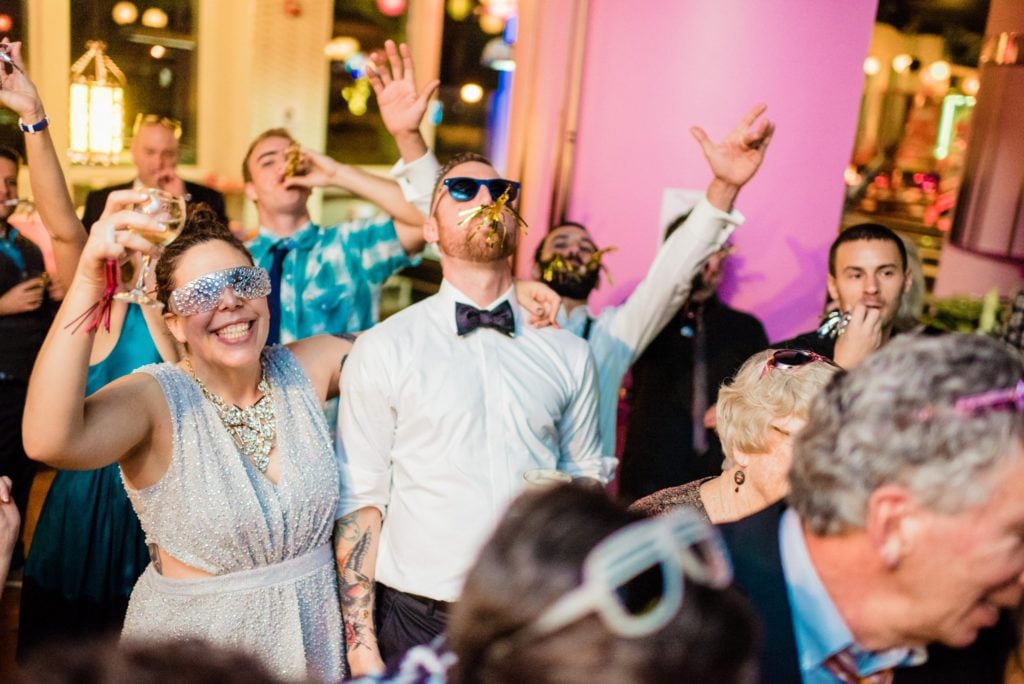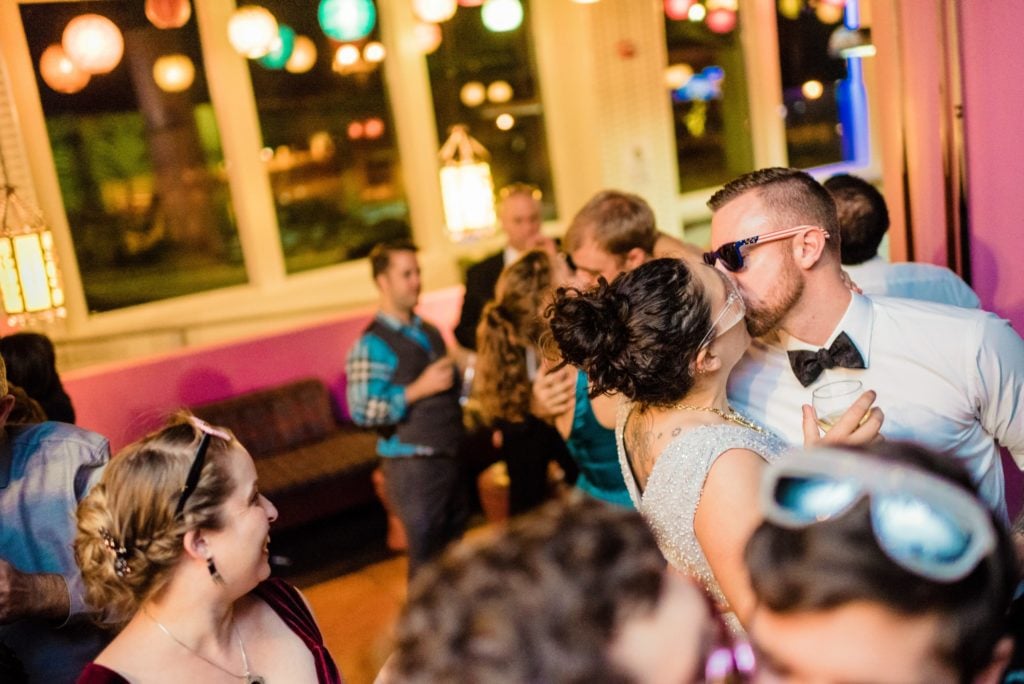 Details:
Photographer: Mason Photography | Venue: Continental Pool Lounge | Bride's Gown: Neiman Marcus (ceremony), ASOS (reception) | Groom's Tux: Sarar |
Catering: Continental Pool Lounge | Invitations: Paperless Post | Wedding Rings: Pave Jewelers | Bride's Shoes: Irregular Choice | Dessert: Dunkin Donuts
Engaged?! Tickets are on sale now for our wedding showcase, UNVEILED. Happening January 28th at the Mandarin Oriental Hotel in Southwest DC. UNVEILED is the perfect place to meet dozens of our most recommended wedding vendors, watch live demonstrations, relax in the groom's lounge, and see this season's most gorgeous gowns at our runway show. New this year, attendees can also sit in on panels discussing such topics as the year's top trends, budgeting, and how to choose a photographer, all featuring leading wedding vendors and moderated by Bride & Groom magazine's editor in chief.