Handry Tjan, half of the talented team of brothers behind Sushiko and Kōbō, is leaving the Japanese restaurant and tasting bar. The executive chef, who shares the leading role with brother Piter Tjan, announced that he's leaving the Chevy Chase eatery via Facebook.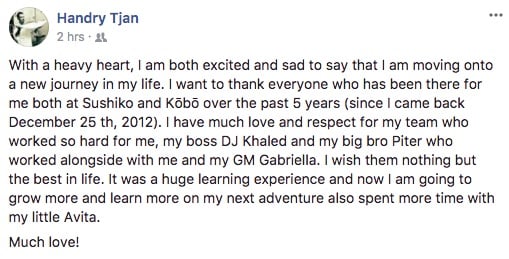 Handry Tjan started cooking at the original Sushiko location in Glover Park—one of Washington's first sushi restaurants, now closed—and worked with his brother as a sous chef until 2011. He joined the Chevy Chase location in 2013 and launched Kōbō in late 2016. The modern omakase counter earned high marks from the start, including the #11 spot on our 100 Very Best Restaurants list for 2018. (Sushiko lands at #61).
Washingtonian has reached out to Tjan and the restaurant and will update accordingly.