Don't know your skin-contact whites from your Marsanne? Read on.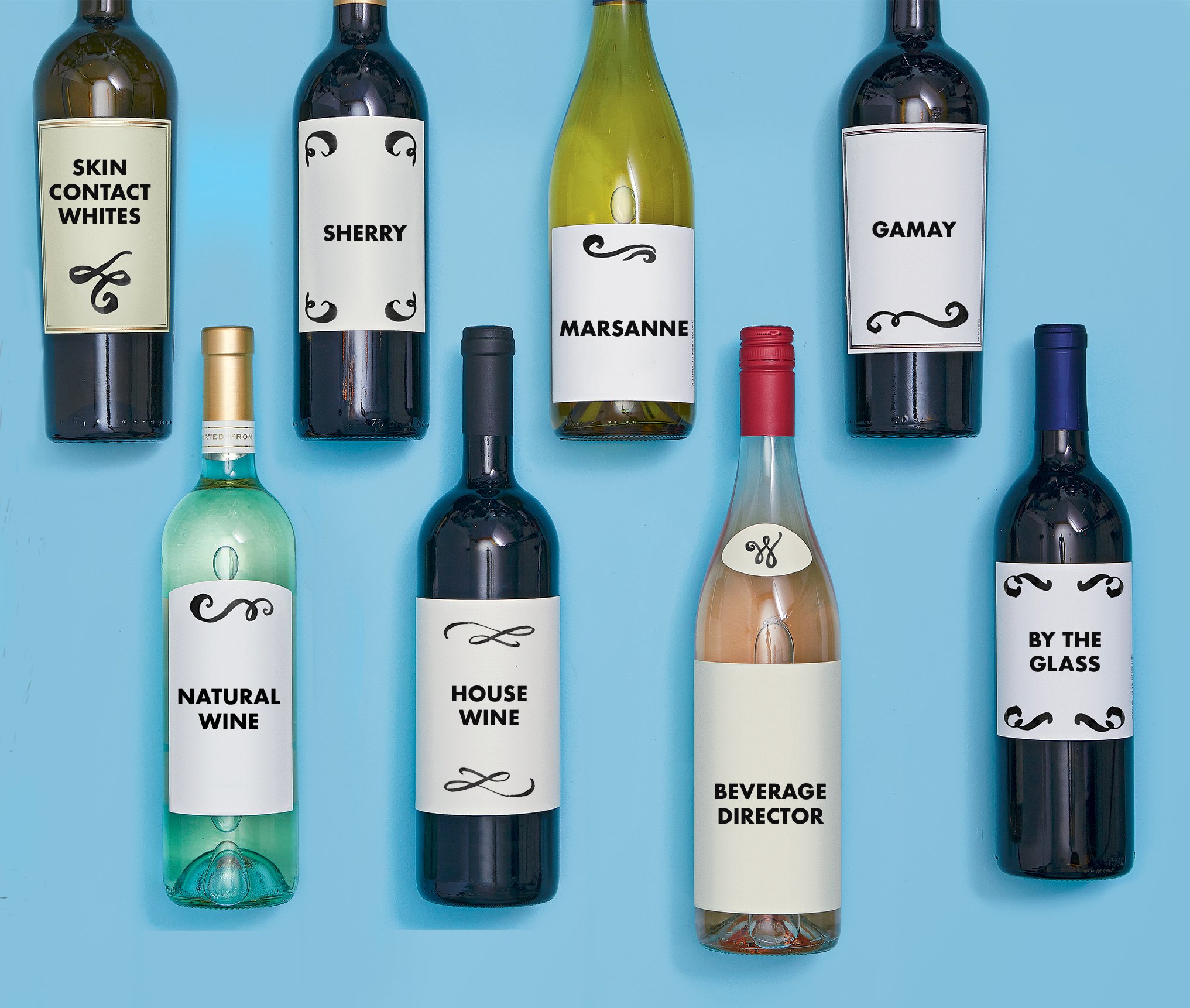 Skin-contact whites
Trendy wines whose juice was in contact with the grape skins for an extended period, imparting varying degrees of color, texture, and flavor. It's not an accident that modern wine lists run heavy on esoteric terms like these, and are often light on explanation. Many intentionally read like puzzles to prompt questions. At Tail Up Goat, beverage director Bill Jensen's seasonal menu is accented with quirky titles and classic poetry. "I want you to talk with someone who can speak passionately."  
Sherry
Dry Spanish fortified wines are now matched with everything from steak to sushi. Their popularity is partly tied to the rise of Asian eateries. "Our menu is punchy, acidic, full of funky flavors," says Himitsu's Carlie Steiner. "Sherry brings out those umami flavors." Ditto for Riesling, which Steiner says gets a bad wrap for "sweetness," (sommeliers prefer the term "residual sugar"). Balanced with the right acidity, they're the perfect pairing for spicy foods.  
Marsanne
Industry types tend to hate buttery California Chardonnays—but consumers love them. The solution: a wine like Marsanne, which mimics Chardonnay flavors but still fits into a menu of offbeat, indie bottles. "I introduce Rhone varieties like Marsanne that have that full body, and often have baking spice tones without using oak," says Requin general manager Jennifer Knowles.
Gamay
Lean, bright, acidic reds such as this French varietal, along with Italian Nebbiolo, are in favor as food-friendly wines. "Back in the day, everybody was drinking 15-percent-alcohol Zinfandel, and modern wine lists have gone full-throttle in the other direction," says Primrose's Sebastian Zutant. "People are looking for stuff that's more palatable and clean."
House Wine
Forget cheap carafes—the house pour is now often a thoughtful collaboration between a restaurateur and a winery. Take Zutant's own label, Lightwell Survey, which he produces with Early Mountain Vineyards in Madison, Virginia and serves at Primrose.
Natural Wine
Unfiltered, unprocessed, unordinary. As the wine world grows and a higher premium is placed on access to unusual finds, more natural wines are making their way onto Washington lists. "I like the band of characters that are involved—everyone is sort of wily and creative," Zutant says.
By the glass
The bottle list was once the oenophile's treasure trove, but a strong selection of small pours can be a hallmark of more ambitious programs. "It lets me feel more comfortable taking people out of their comfort zone—if they don't like it, no big deal," says Himitsu's Steiner, who offers all of her 20-odd bottles by the glass.
Beverage director
What happened to sommeliers? The word, meaning "wine steward," no longer matches the scope of the job, which can entail curating ciders and sakes.
A version of this article appears in the February 2018 issue of Washingtonian.