Not all couples immediately agree on a wedding theme. In fact some, like these two WWE/Star Wars fans, go with two themes on their big day. But For Alyssa Montanaro and Adam Rice, they shared instant chemistry from the very first moment they met—in chemistry class. Five years later, the two wed in a chemistry-themed wedding complete with lab test tubes, shoutouts to the periodic table, and science-themed cocktails.
Alyssa was a chemistry major at Carnegie Mellon University when she learned about a particular department tradition at the school: each year, all the chemistry majors would write an original murder mystery play, then perform it for the rest of the science department. The narrative usually followed the typical "whodunnit" plot arc, with one major twist—the addition of plenty of science puns.
There were only about 40 students in the chemistry department at any given time, so the class was fairly small. Once the roles were finally cast, Alyssa found herself face to face with Adam, an attractive second-semester senior.
"I decided the first day that I laid eyes on him that we were going to be boyfriend-girlfriend," Alyssa recalls.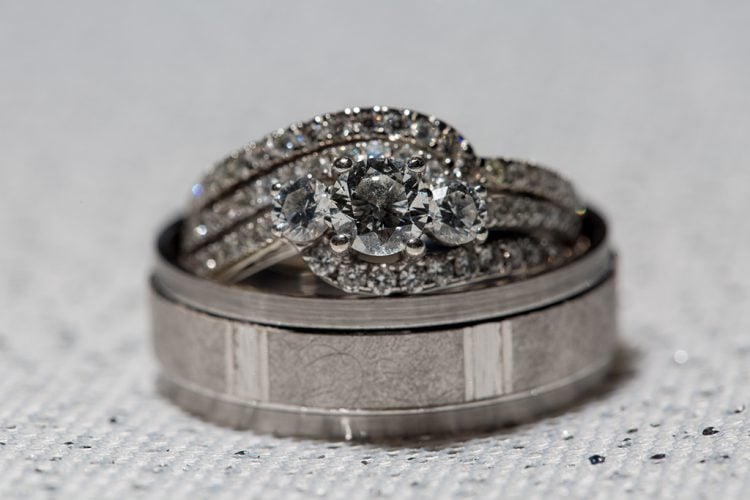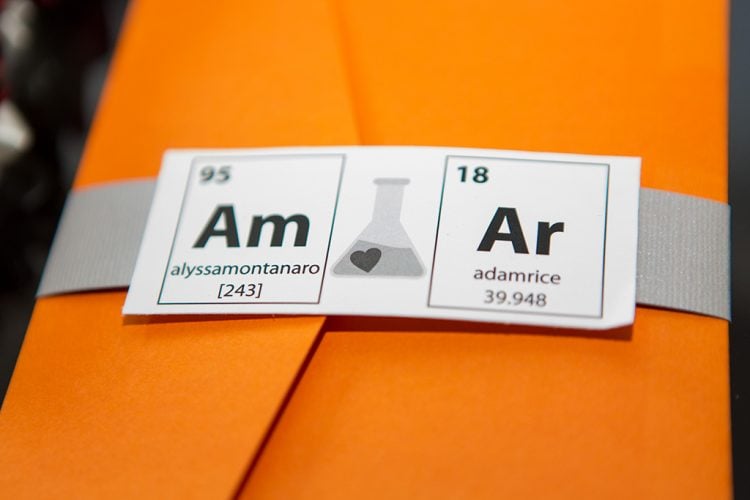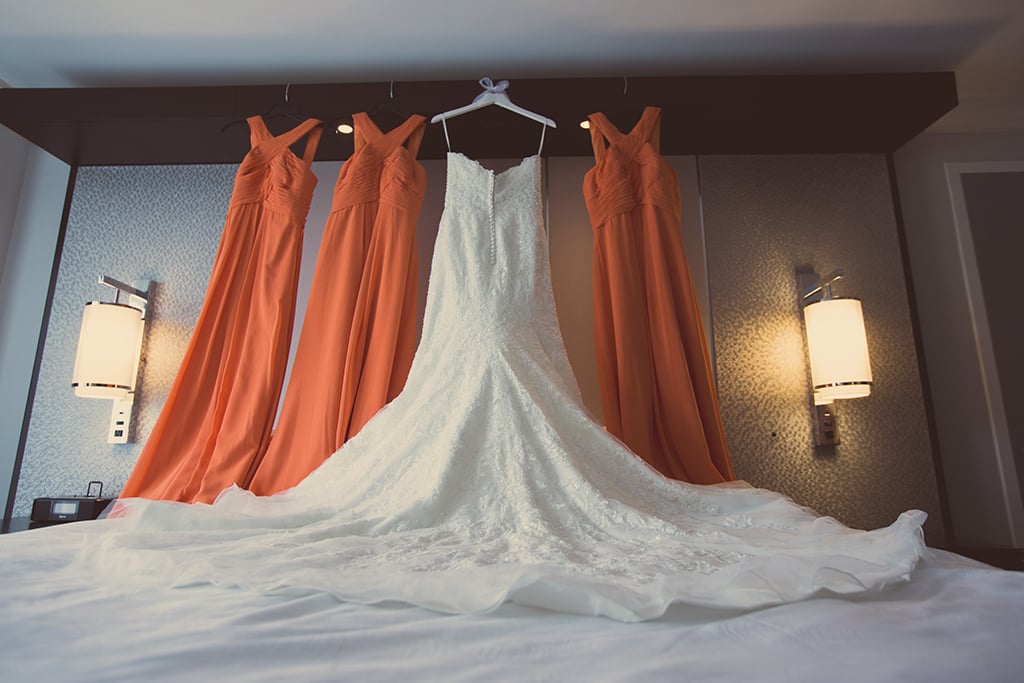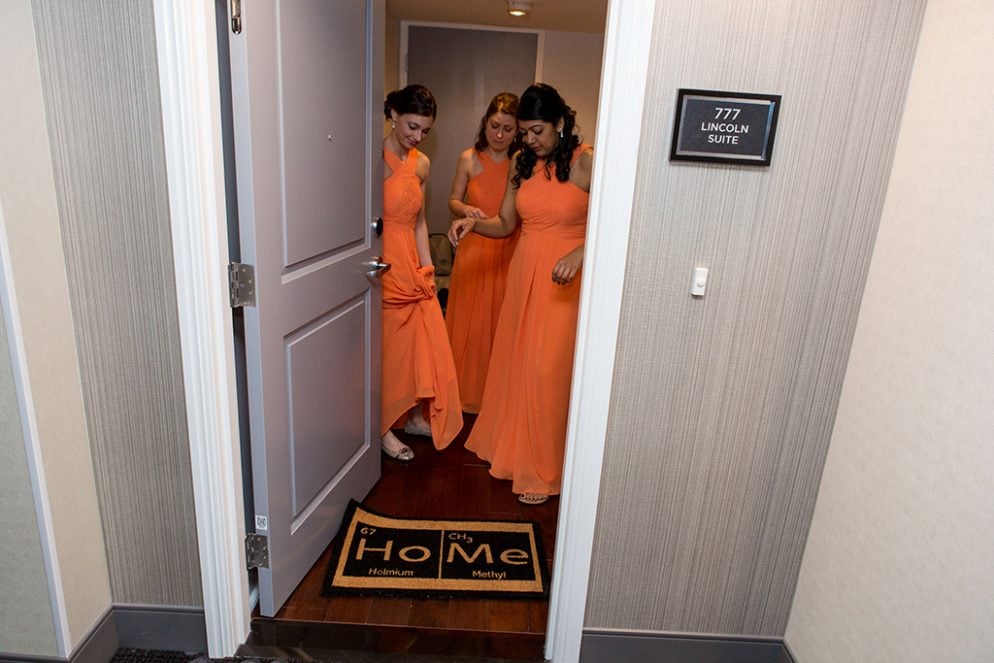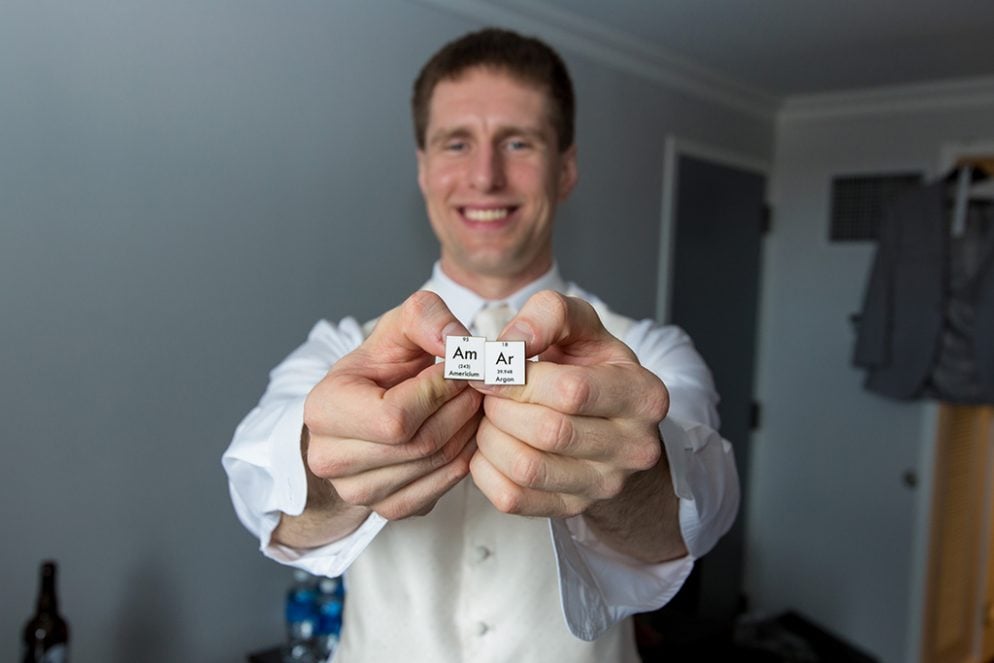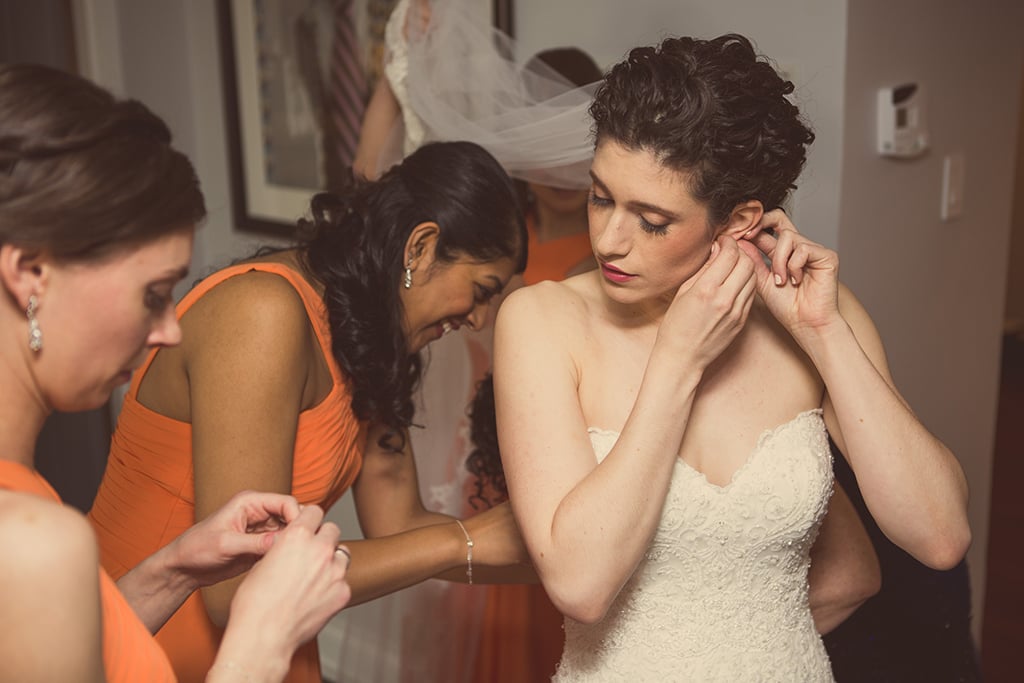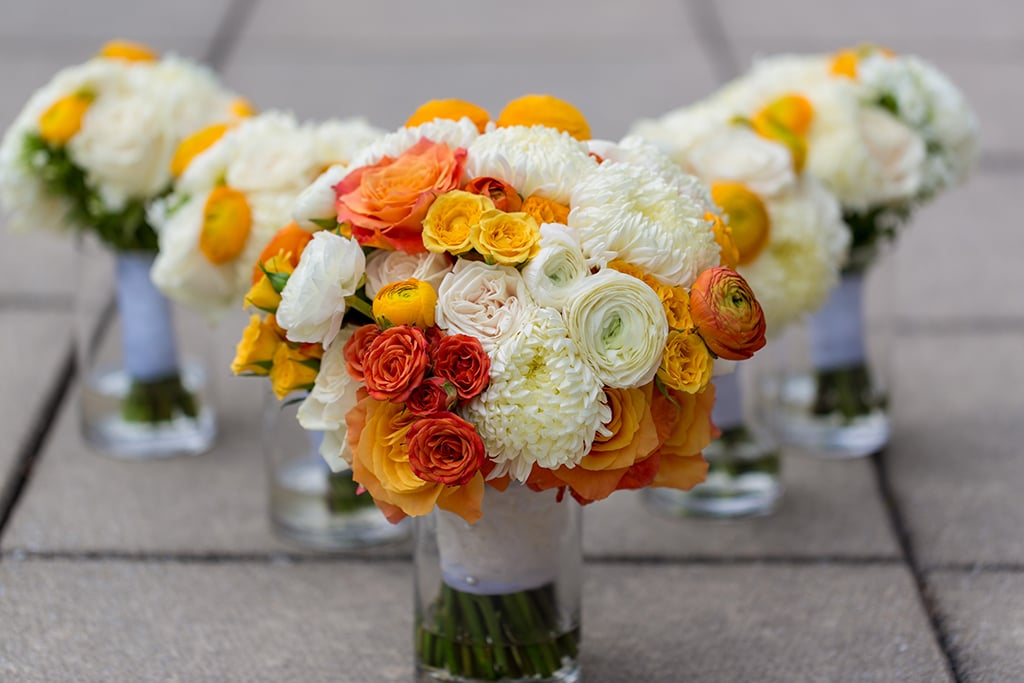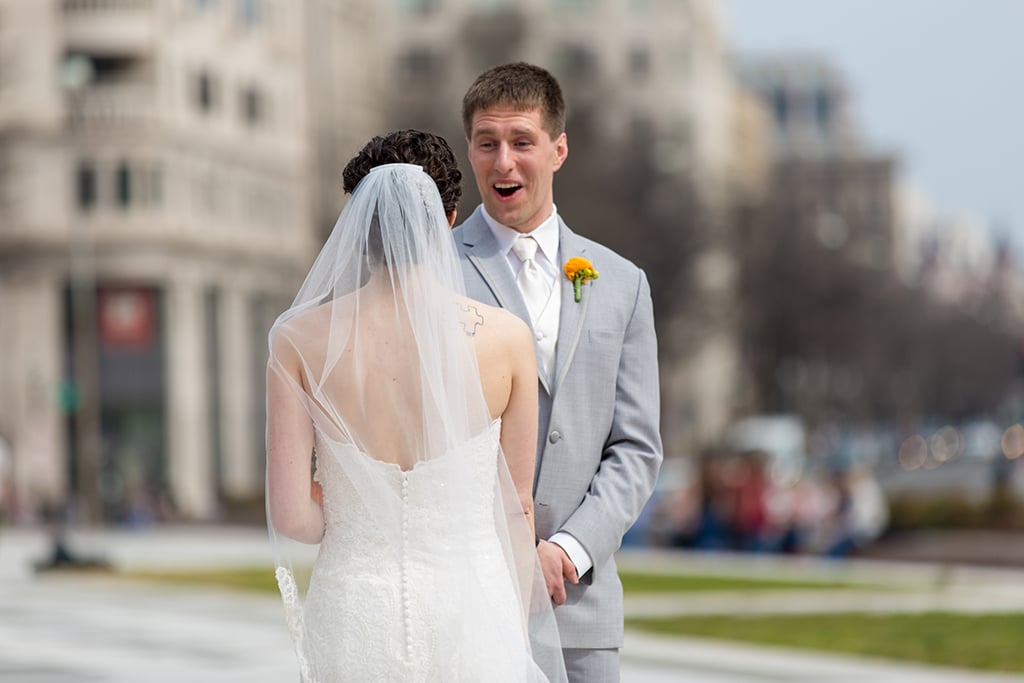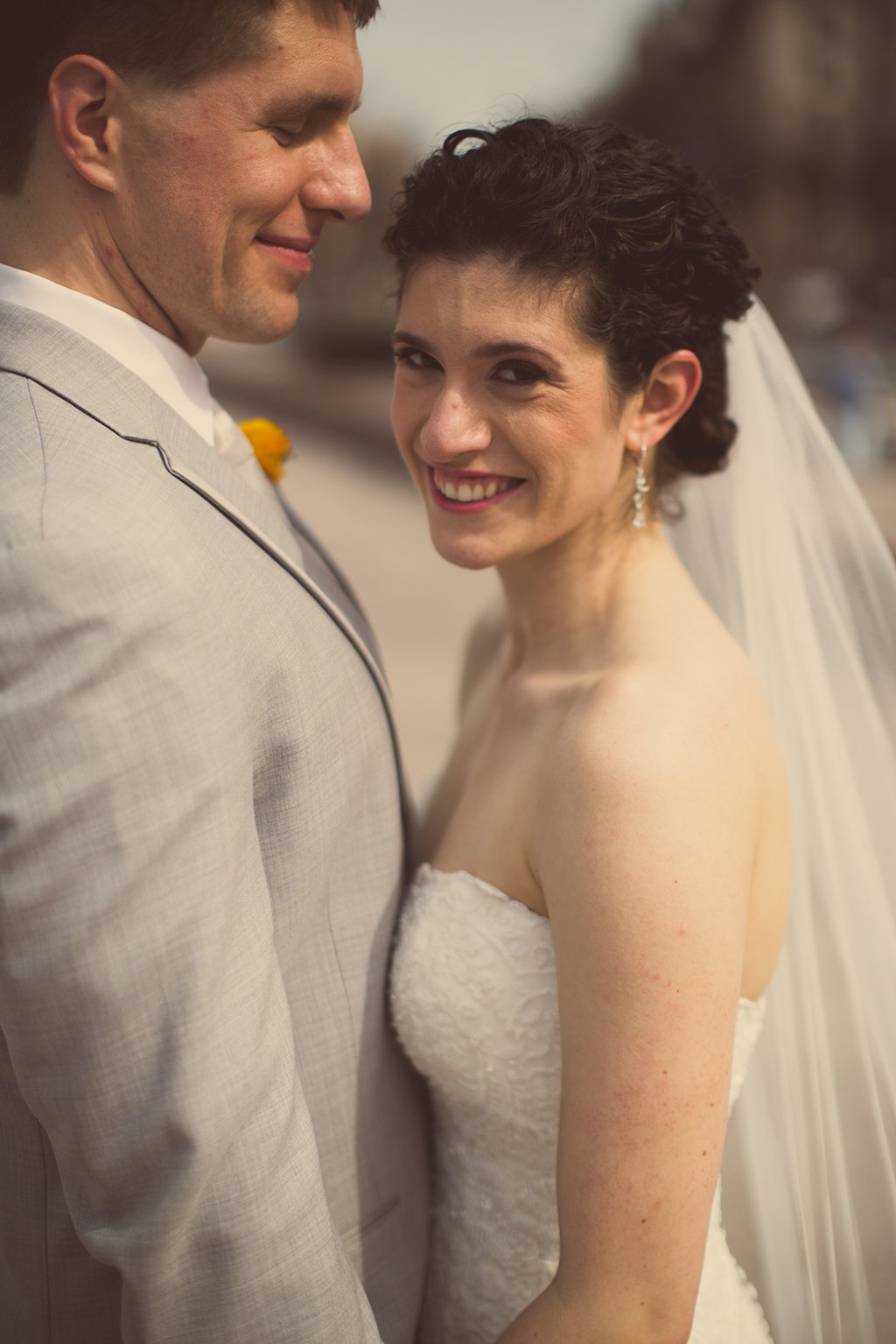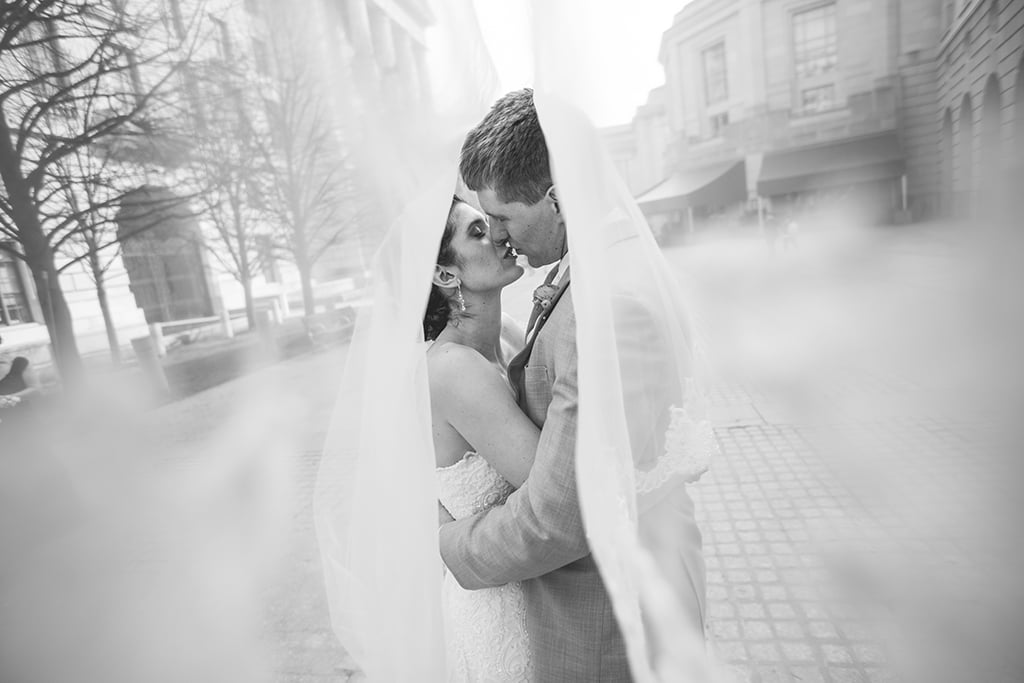 In the beginning, Alyssa initiated everything. She remembers thinking that, though Adam was "not a man of many words," he was cute, but more than that, he was also smart and kind. After a few weeks of attempting to charm him, Alyssa went bold with a kiss. By then, they were hanging out often during school and meeting each other's friends, but they still hadn't gone on an official first date. So when they discovered they both were headed to the same chemistry department party one evening they made a night of it with a formal dinner at a nice Thai restaurant and then watched a movie together (Alyssa remembers it was "John Tucker Must Die,") before heading to the party.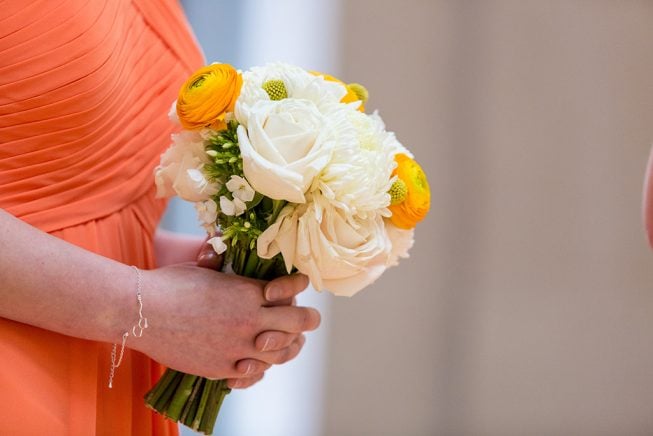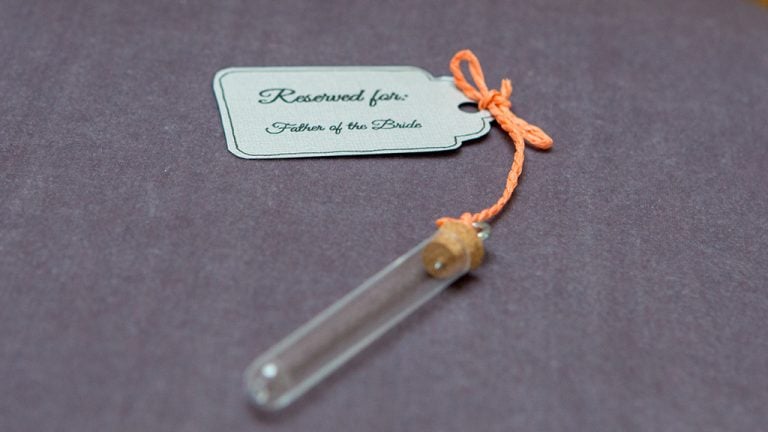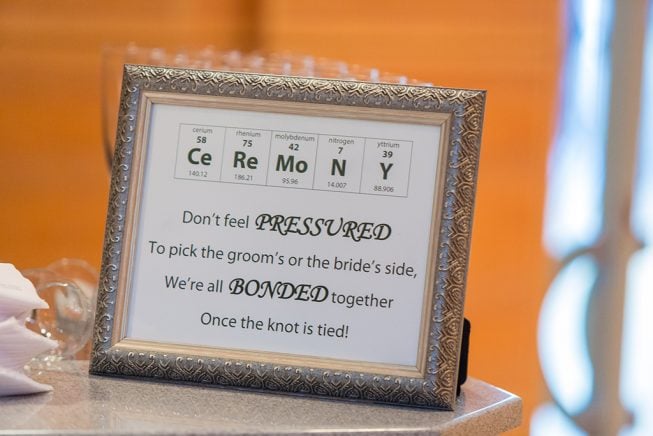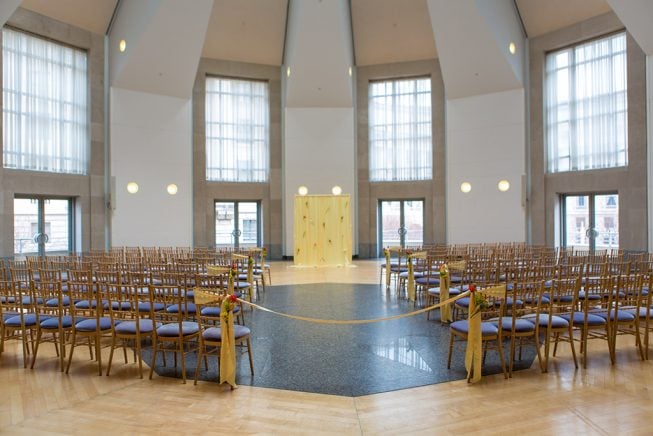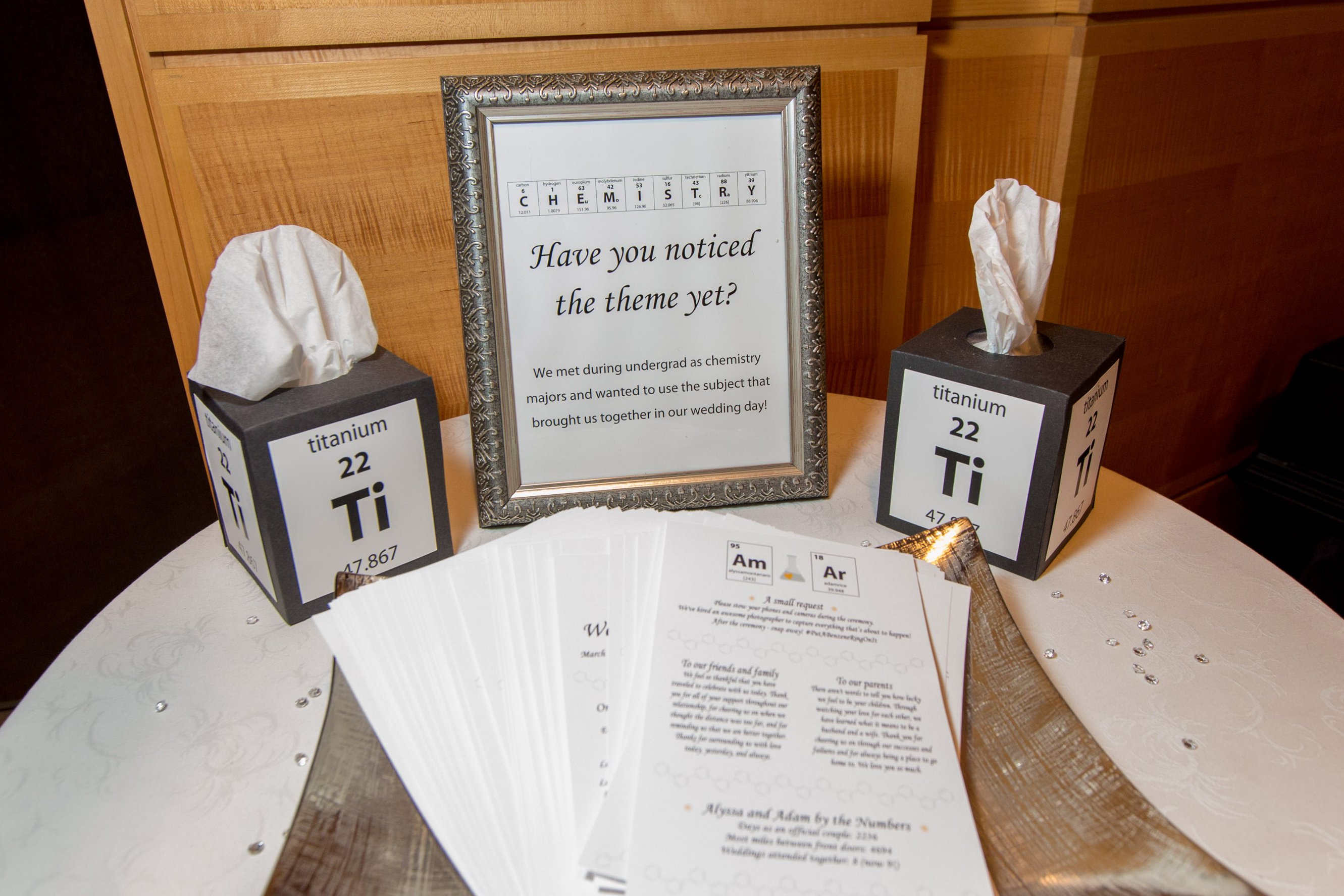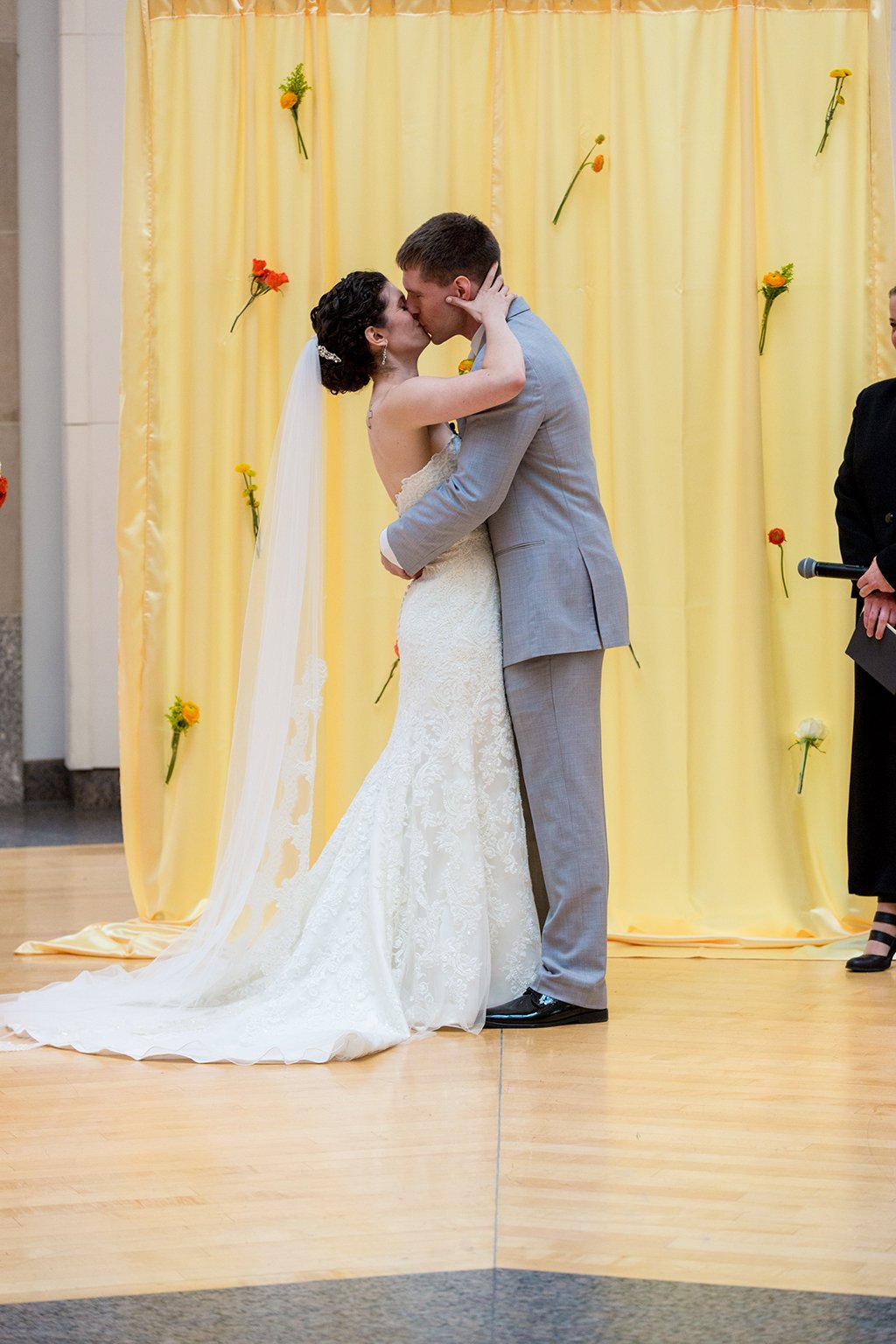 Not long after they met, however, Adam graduated and moved away. For four years the couple continued to date long distance, only seeing one another about once every three months. When Alyssa finally graduated from physical therapy school in 2015, she moved to Arlington where Adam had settled.
"I had always kind of known that if we could make it through four years of a long distance relationship, we could do anything," says Alyssa.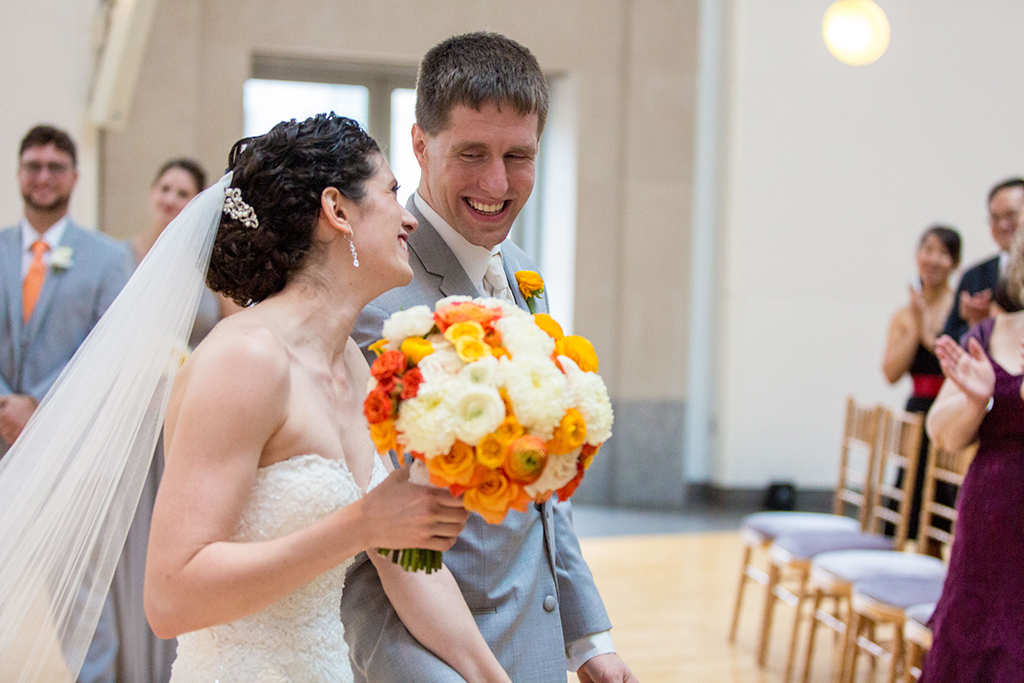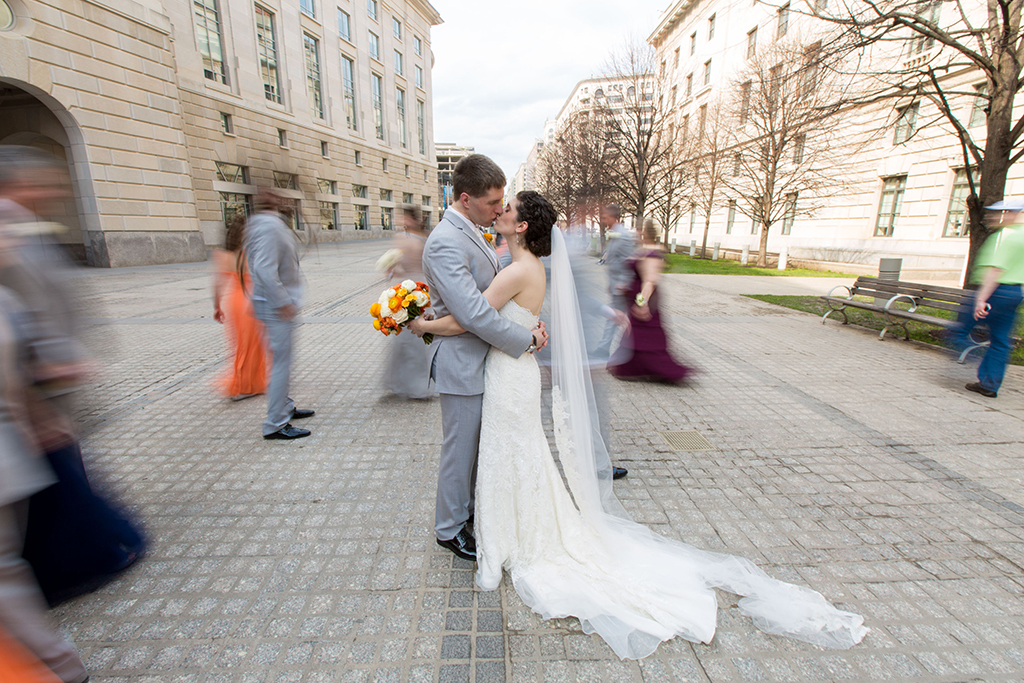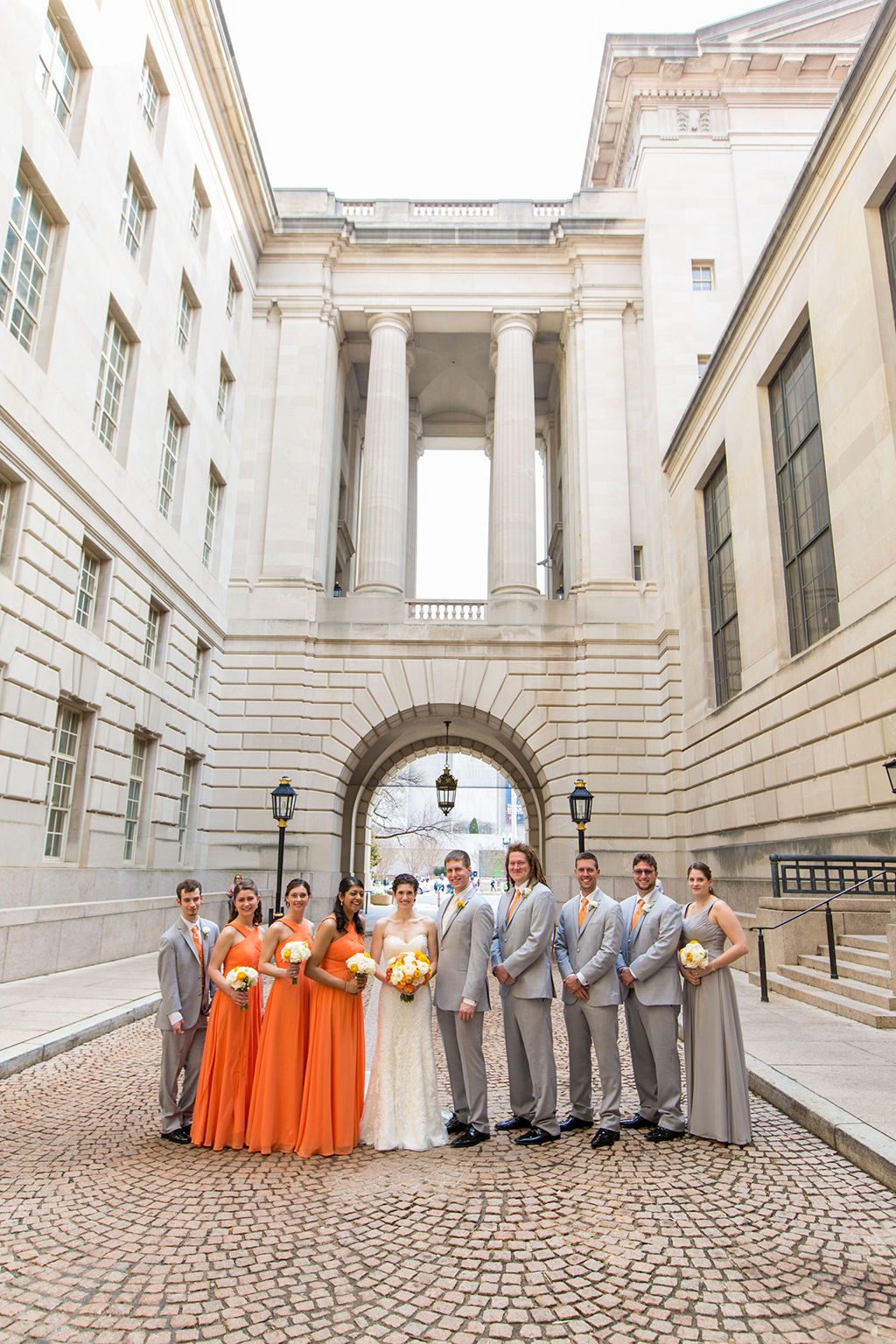 It was not long after she moved in that Alyssa and Adam went out for a date night in the city. They headed down to the Sculpture Garden at the National Gallery of Art on the National Mall for a multi-hour skate.
Towards the end of the evening, Adam pulled Alyssa towards the center of the ice (despite her protests that they stay near the safety of the walls, as Alyssa was "not the best" on skates). The couple had talked marriage before, and had poked their head into a few ring shops, but Alyssa had no idea whether Adam was actually planning to propose or had any sort of timeline. As Adam got down on one knee, Alyssa was confused: "I actually thought 'Is he falling?'" she recalls. "He said 'I knew you were joking when we talked about getting married, but I wasn't.' Then he held out this glowing diamond ring."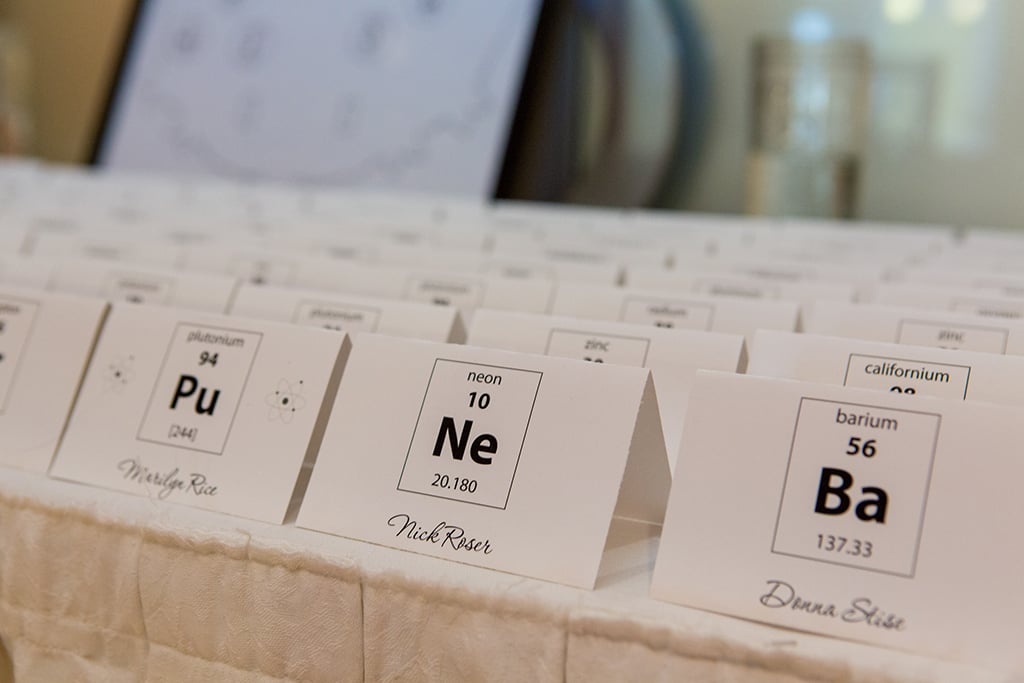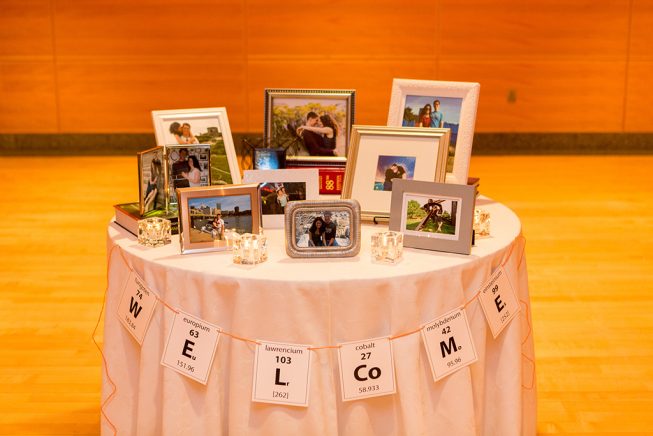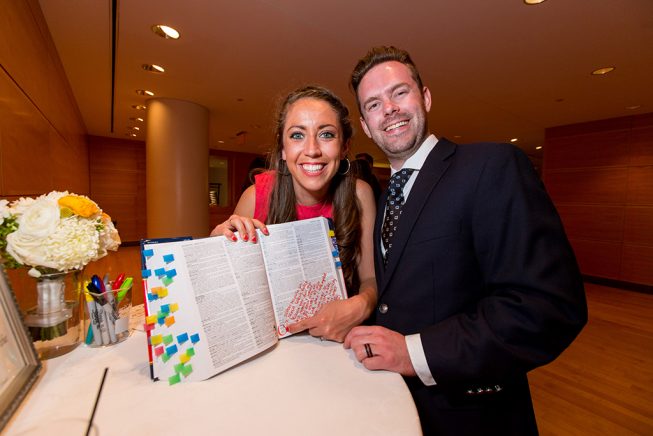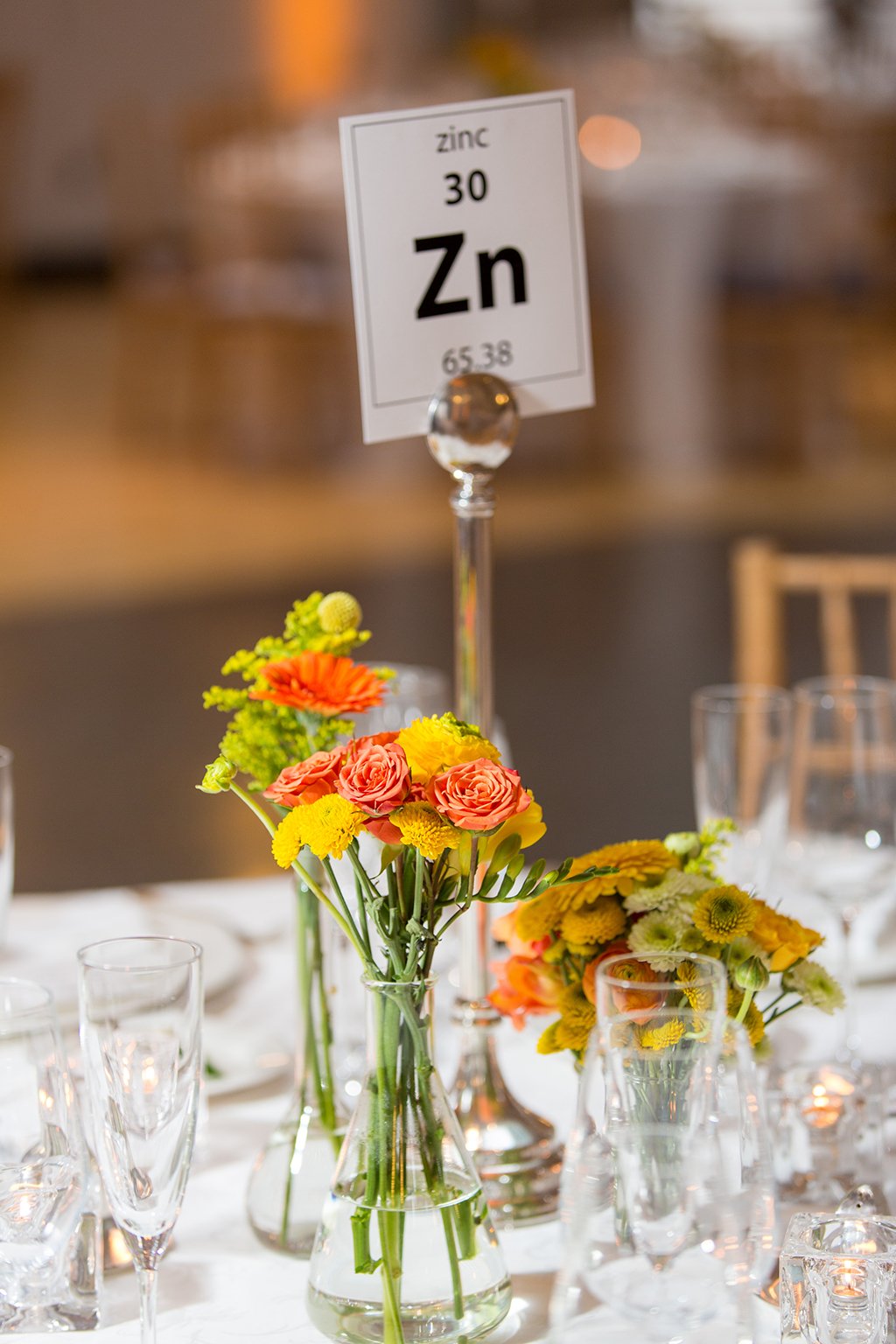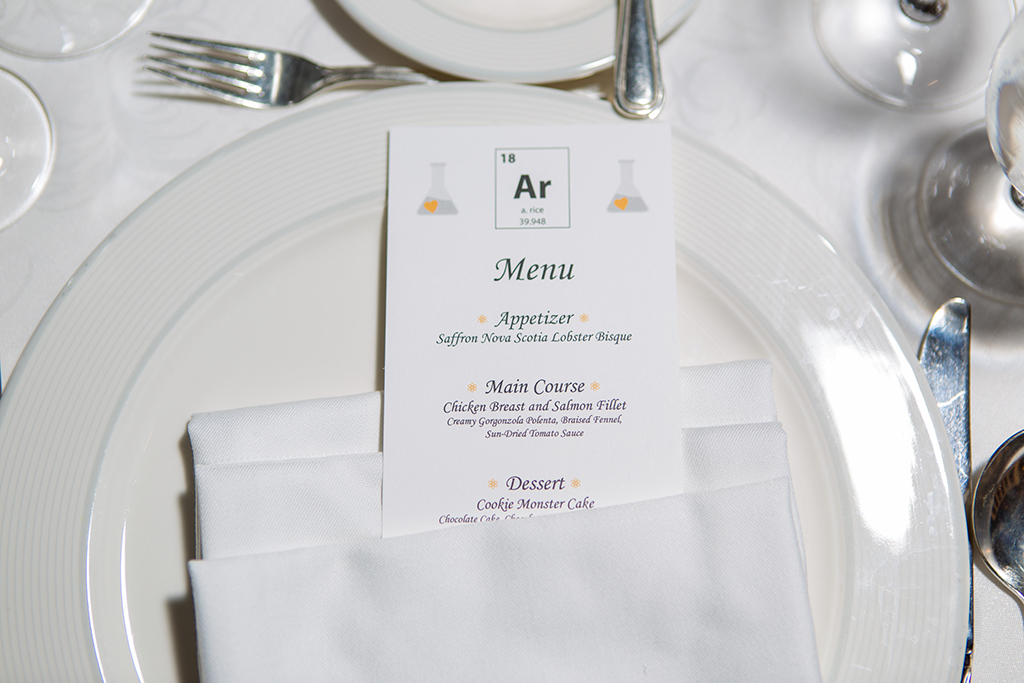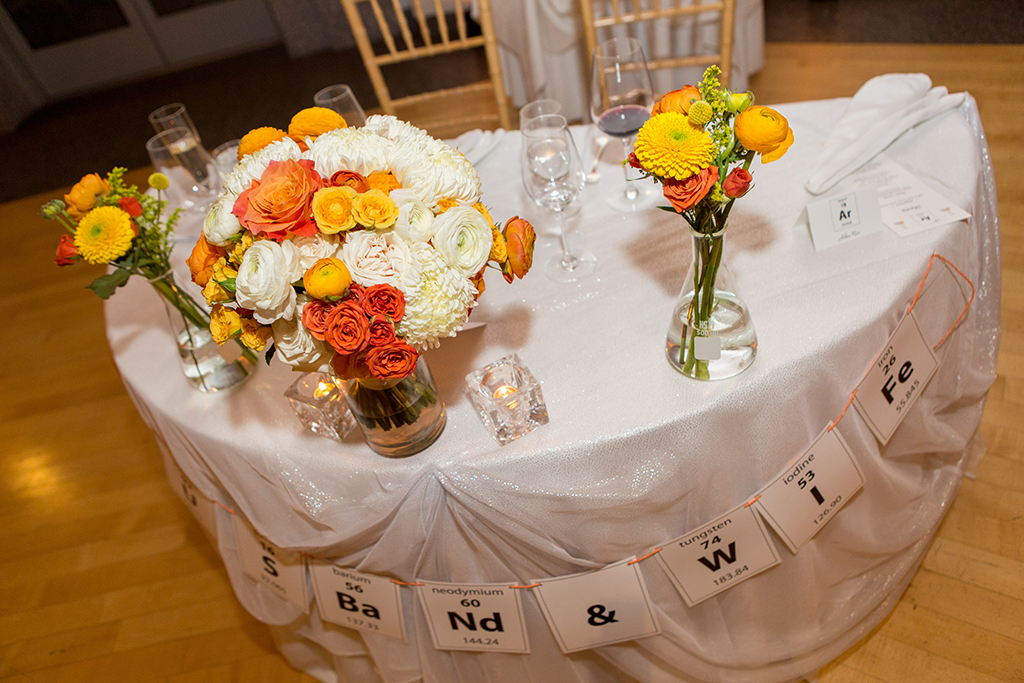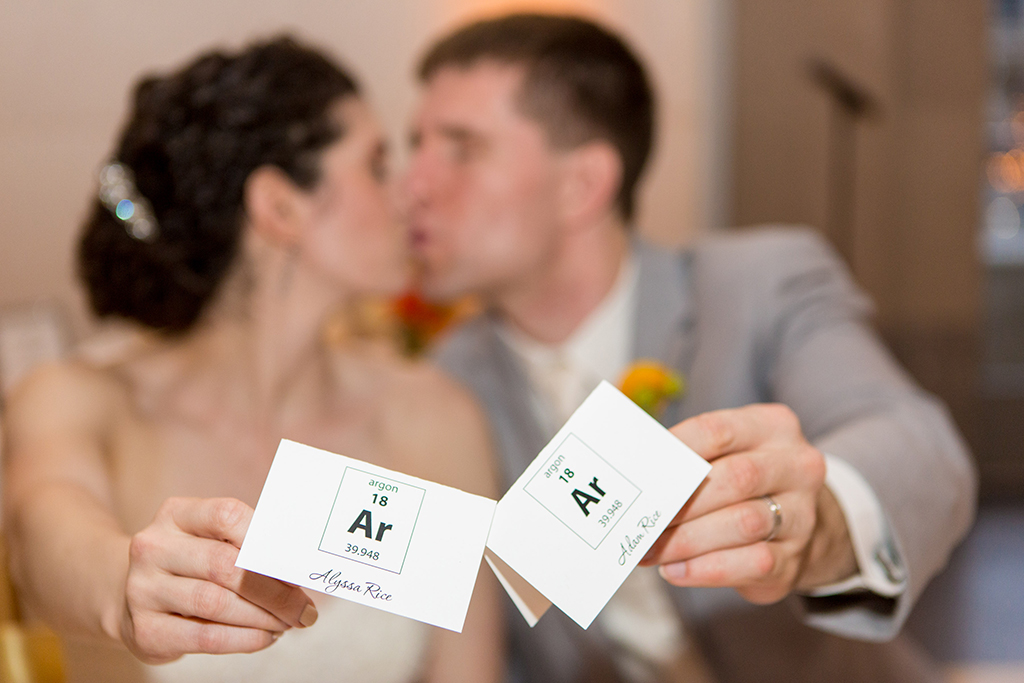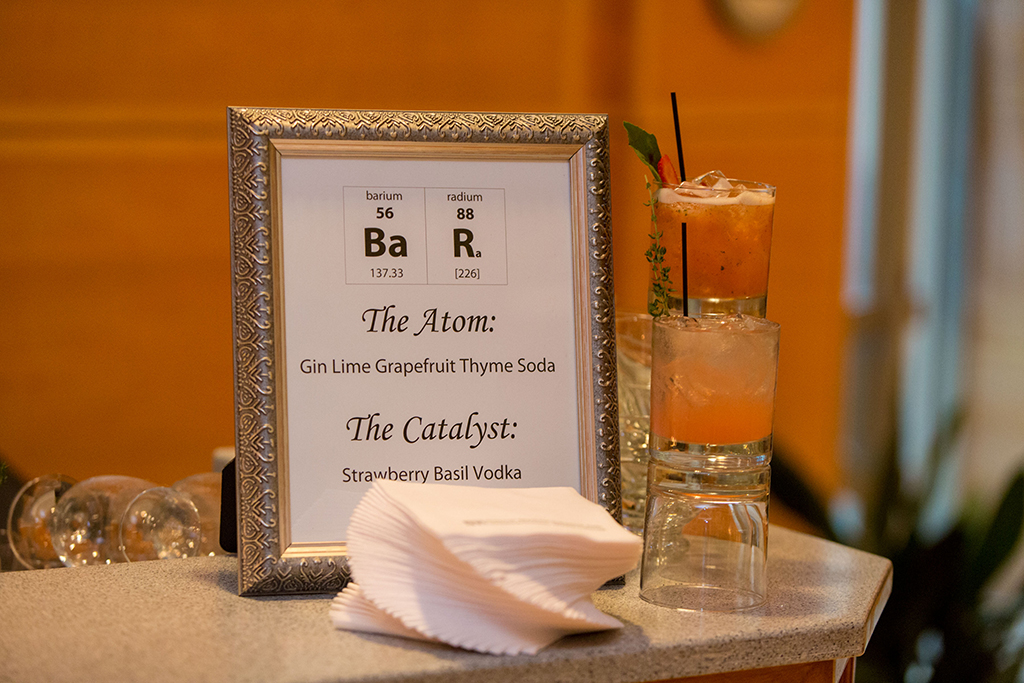 For their ceremony, Alyssa and Adam chose the Ronald Reagan Building and International Trade Center as their venue. Holding a bouquet of ranunculus, football mums, roses, white ornithogalum, spray roses, and pop mums, Alyssa said her vows while surrounded by her bridal party, who were decked out in eye-popping orange.
Staying true to their roots, Alyssa and Adam decided to incorporate chemistry into their wedding in a number of ways, beginning with a few chemistry puns during their ceremony. Guests were greeted with custom signage spelled from the periodic table, and toasted specialty his-and-hers cocktails 'The Atom' (Gin, Lime, Grapefruit, Thyme and Soda Water) and 'The Catalyst' (Strawberry, Basil, Vodka, and Lemonade) respectively. Table numbers were elements from the Periodic Table. The evening closed on a sweet note with a tiered layer cake topped with a custom cake topper in the symbol of Argon complete with its atomic number and the couples shared initials: A.Rice.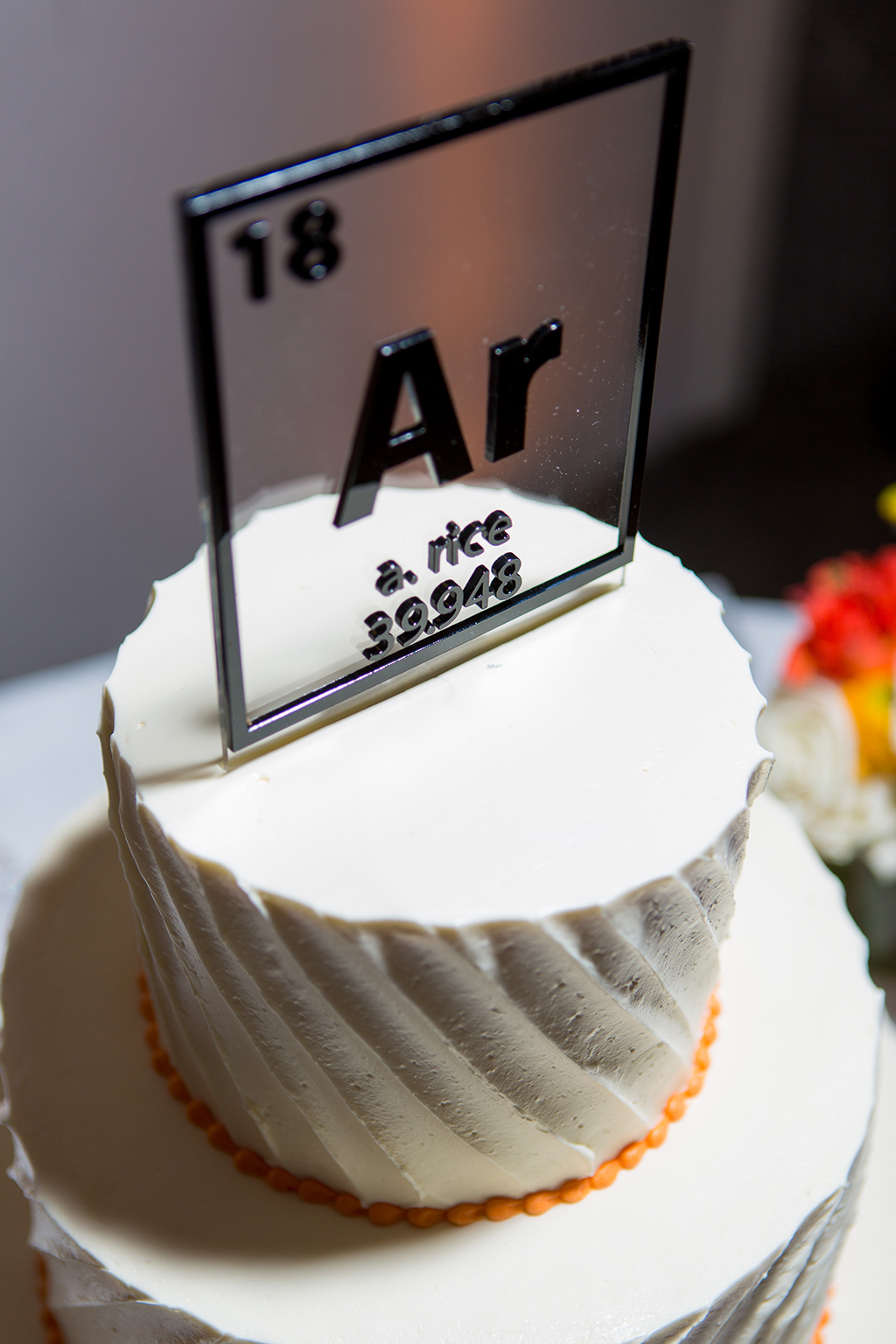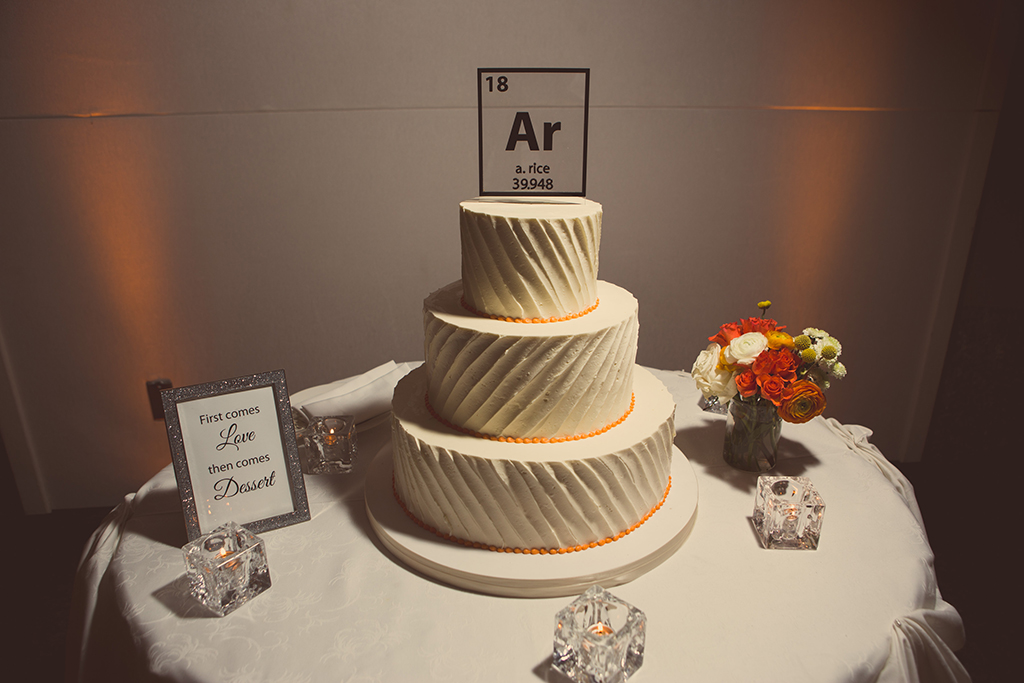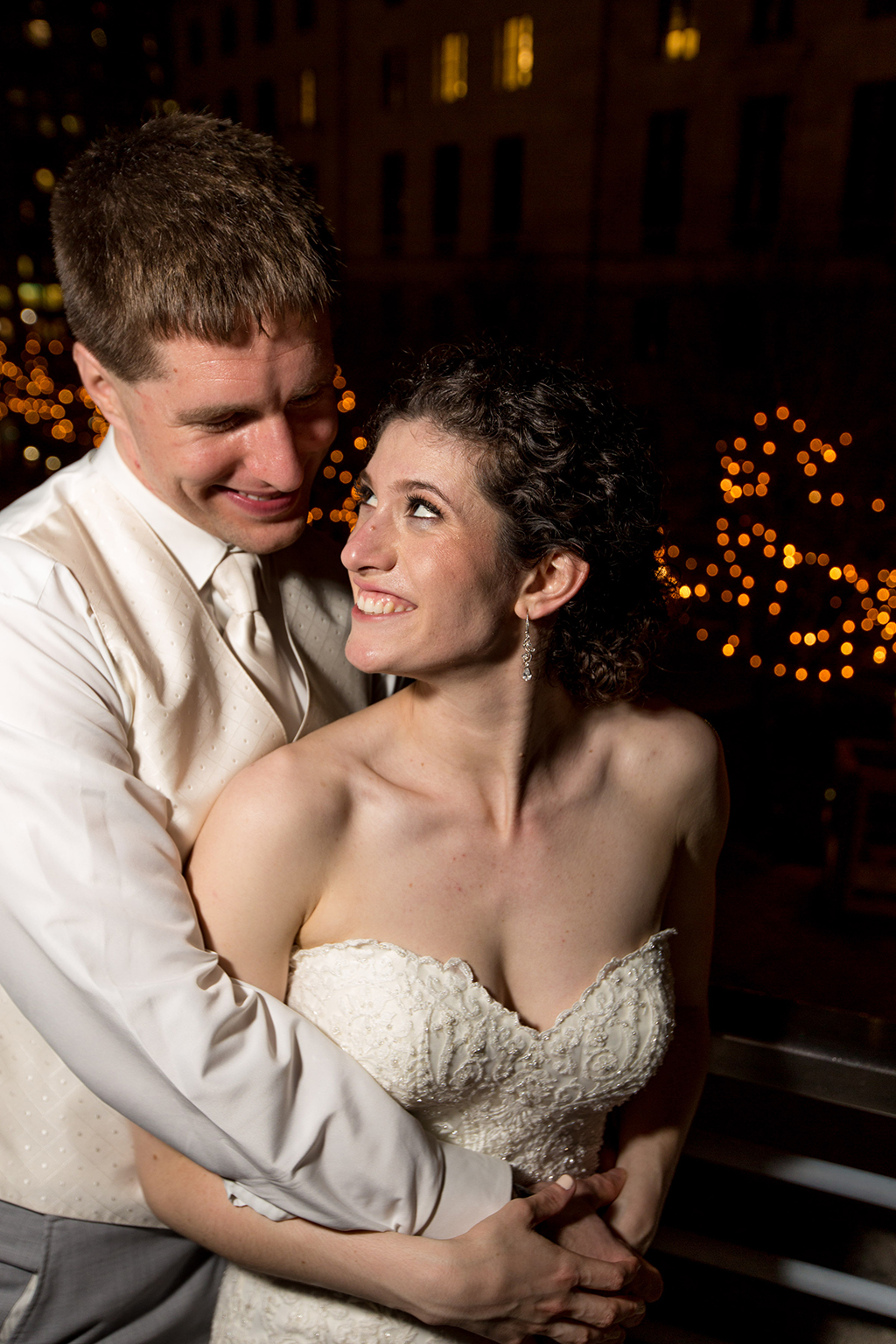 "It was just so personal and so us," recalls Alyssa of her wedding day, "I'd never seen a ceremony like ours."
The Details
Photographer: Sokolov Photography | 
Event Coordinator: Laurel Miller |
Venue: Ronald Reagan Building and International Trade Center | 
Cake: Fluffy Thoughts | 
Bride's Gown: Aire Barcelona from Elegance by Roya | 
Groom's Tux: Joseph Abboud from JoS. A. Bank. | 
Hair Dresser: Bridal Beauty Associates | 
Makeup Artist: Bridal Beauty Associates | 
Transportation: Metro | 
Videographer: Bella Vista Wedding | 
Music/Entertainment: DJ Max Powers | 
Uplighting: Max Powers DJ and Lighting | 
Officiant: Tamara Riley of No Ordinary Ordained