Emily Russell, a doctor of audiology, met David Martinson, who works in in biodefense, at a mutual friend's Halloween party in DC in 2014. Emily remembers thinking how kind David, who goes by 'Dave,' was. "If only I could meet someone like him," she thought. Little did she realize that Dave was thinking the exact same thing.
Before long the pair arranged to go on a first date—dinner at Zoe's Kitchen, followed by ice cream at Coldstone. On a cozy Christmas Eve three years later Dave proposed by asking Emily to open one of her Christmas gifts early. The box she opened contained a sparkling ring, and Emily said yes.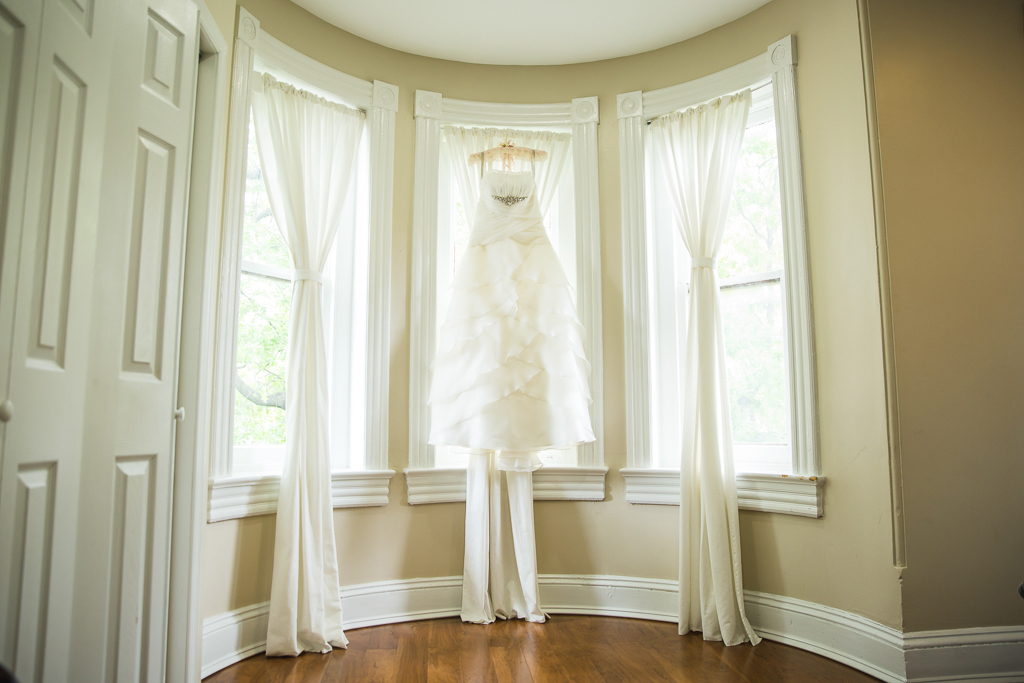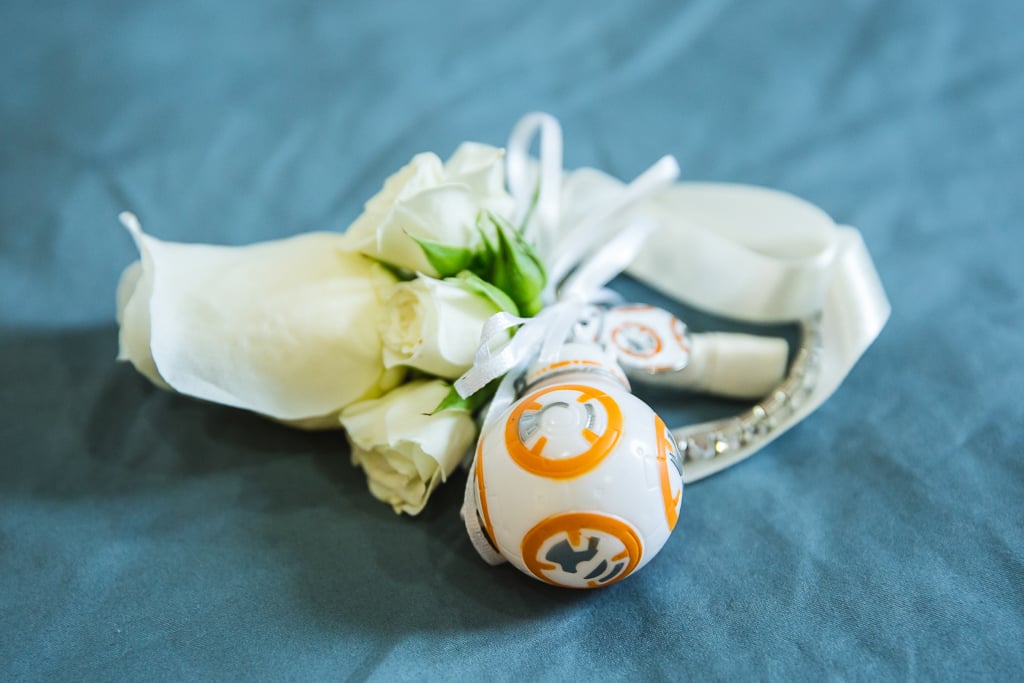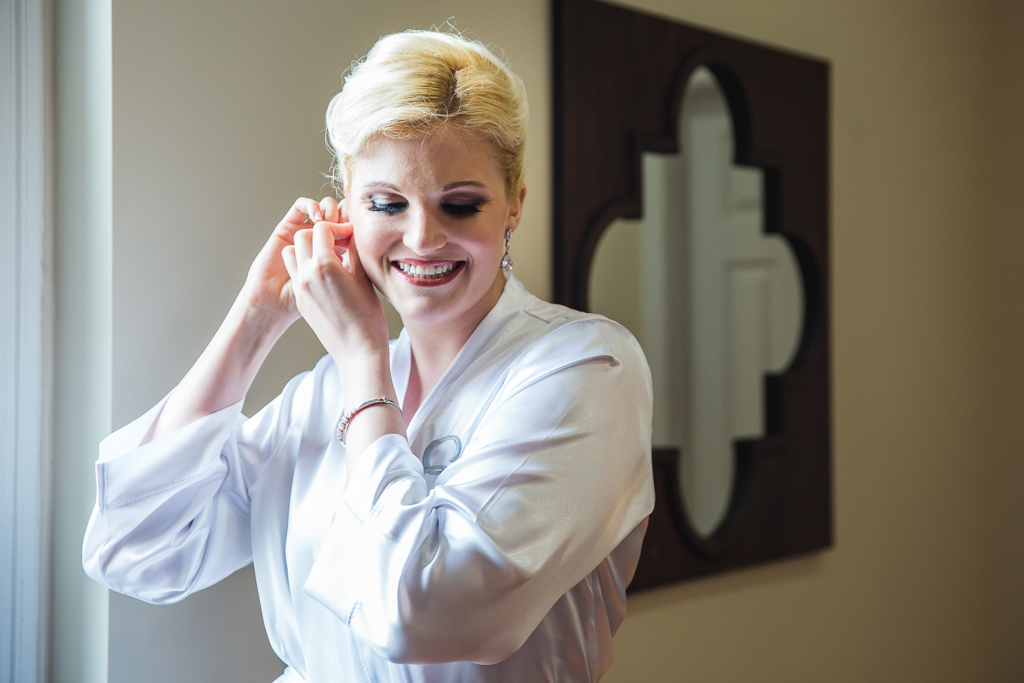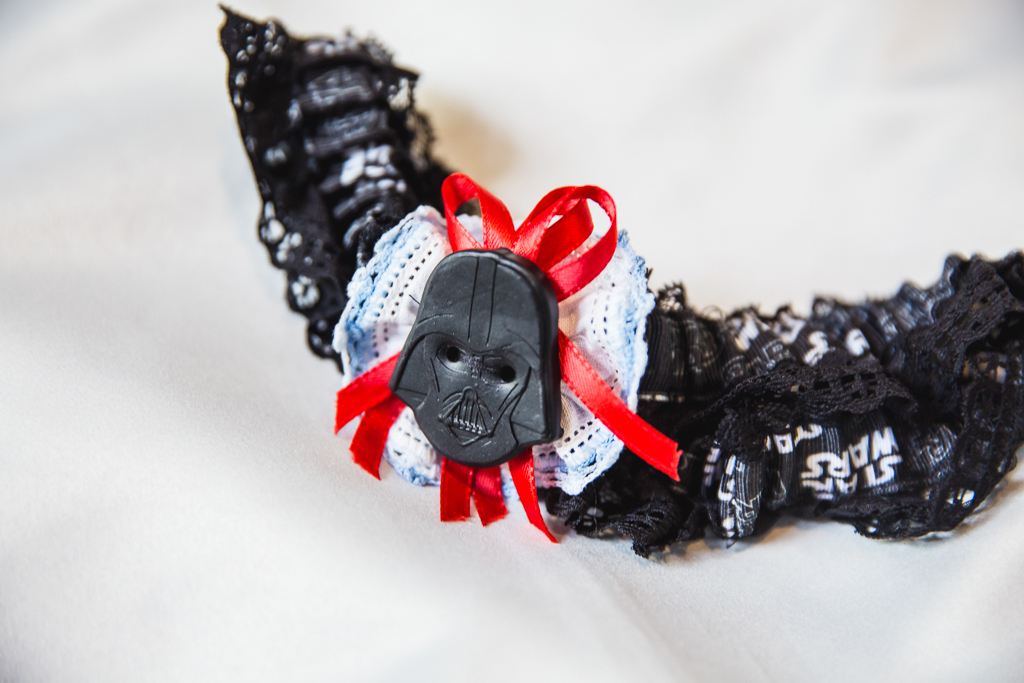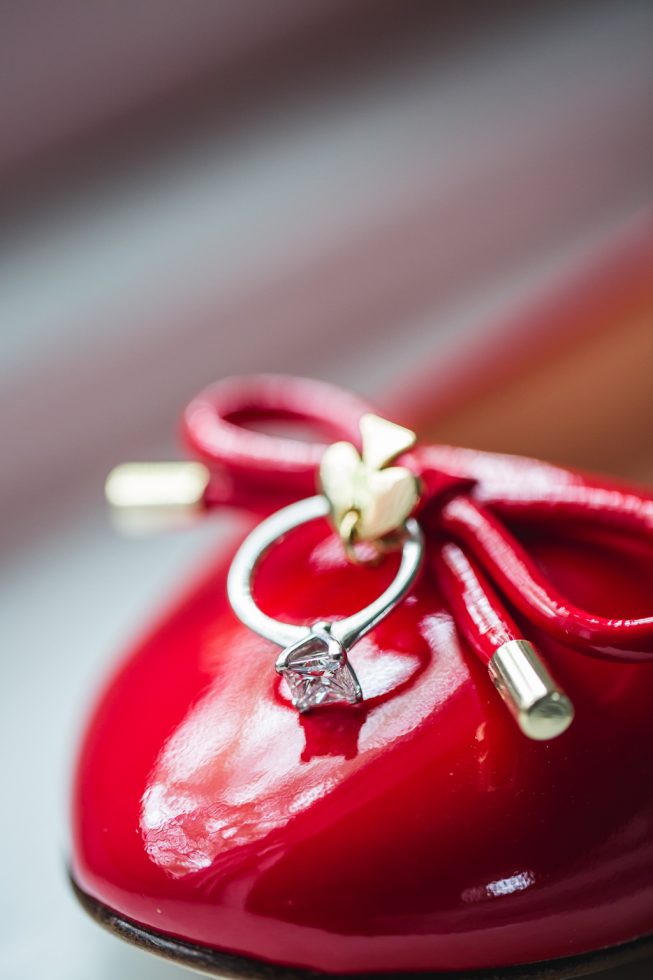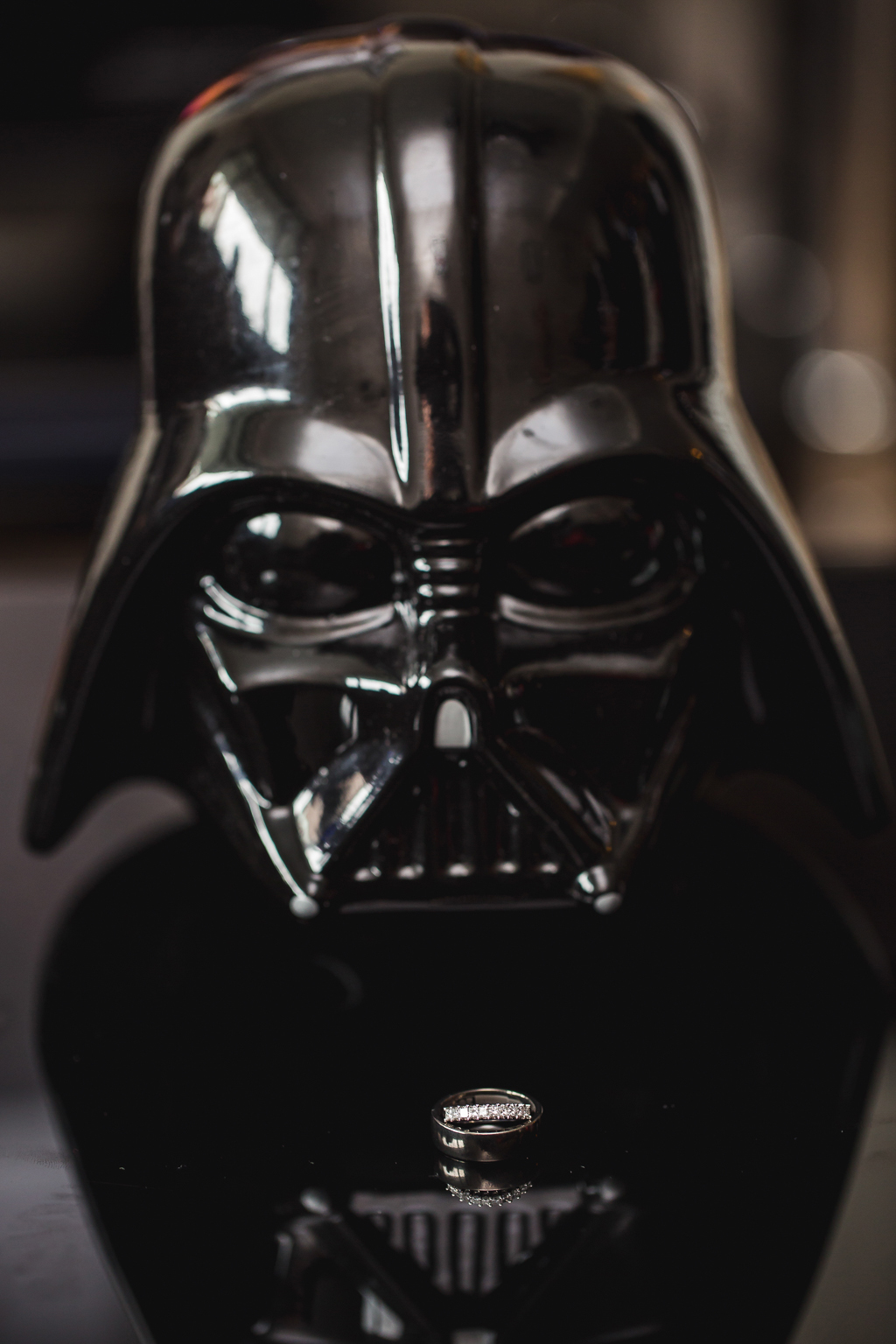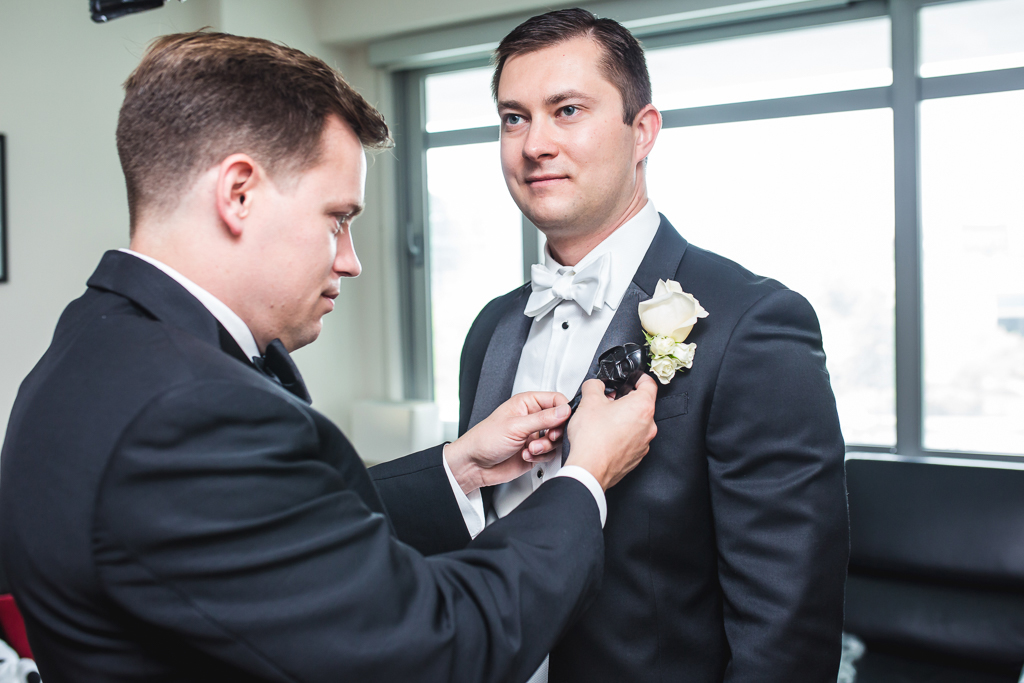 Emily and Dave had many things in common, one of which was a deep love for both Star Wars and World Wrestling Entertainment. When it came time for the couple to pick a theme and color palette for their spring wedding, they couldn't decide between the two. Emily was a slightly bigger fan of WWE, while Dave was the more passionate Star Wars aficionado. In the end, they decided to go big and commit to both.
"We have always loved WWE and Star Wars, and knew that we wanted something that reflects who we are," says Emily. "We wanted to share that with our family and friends."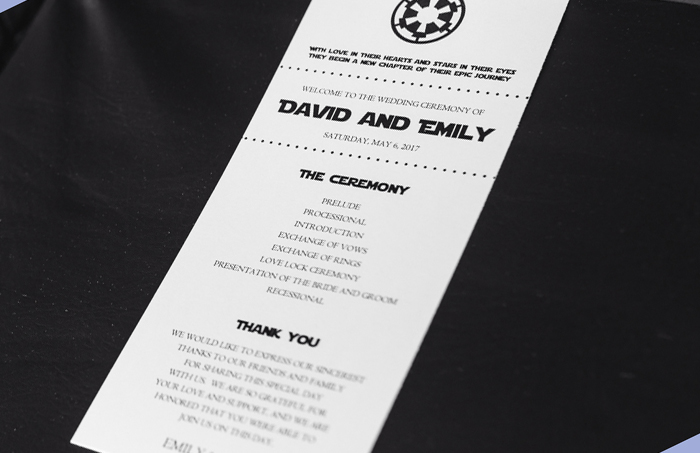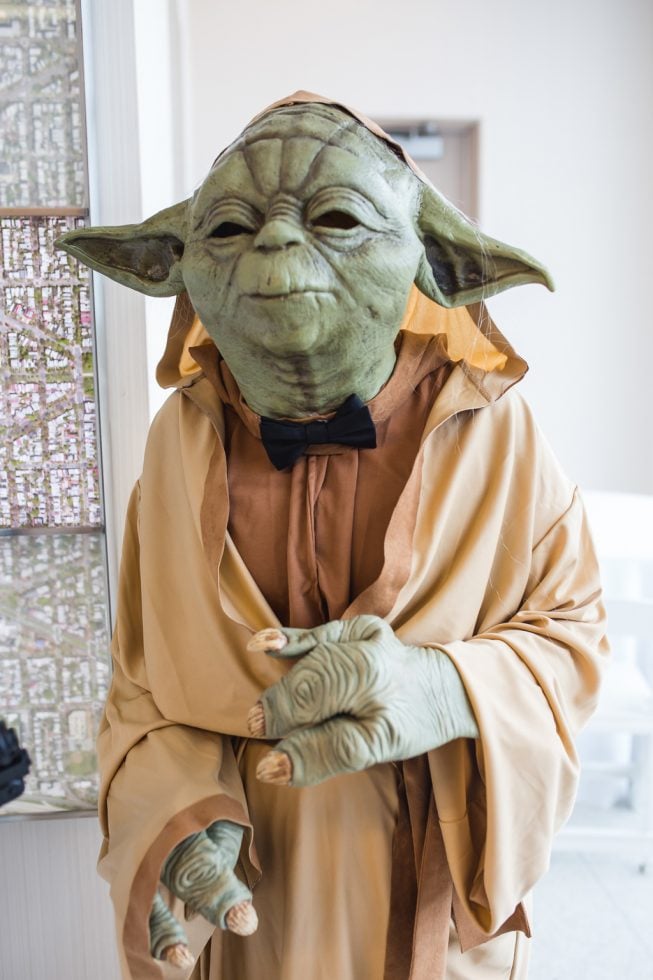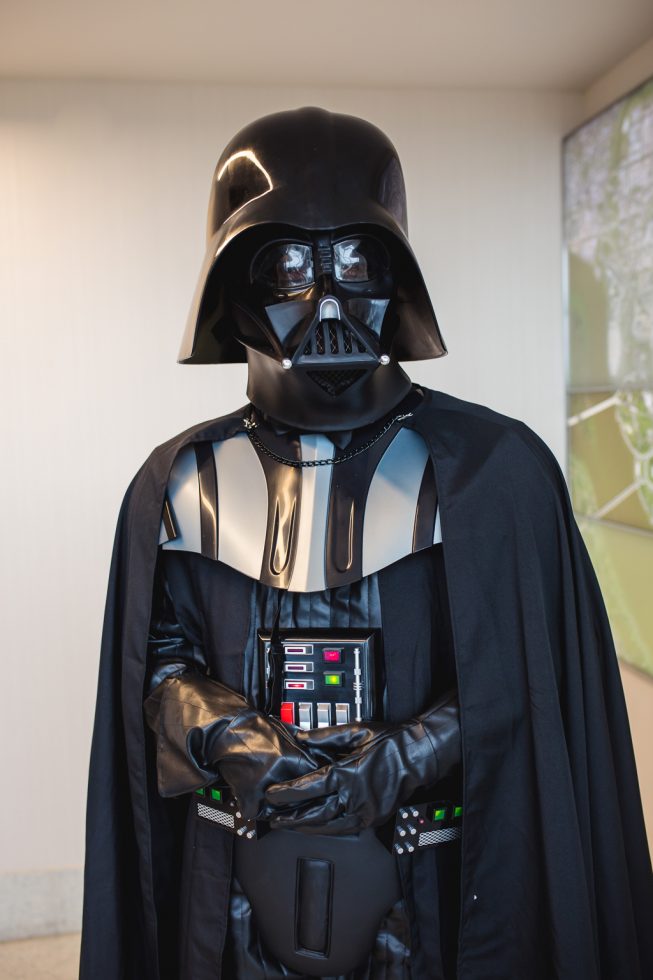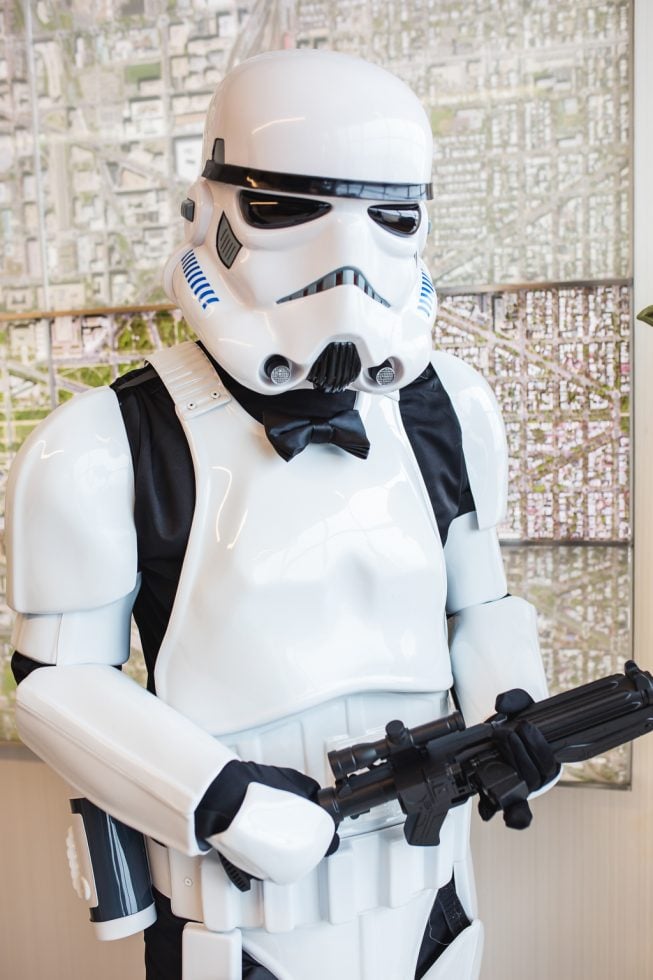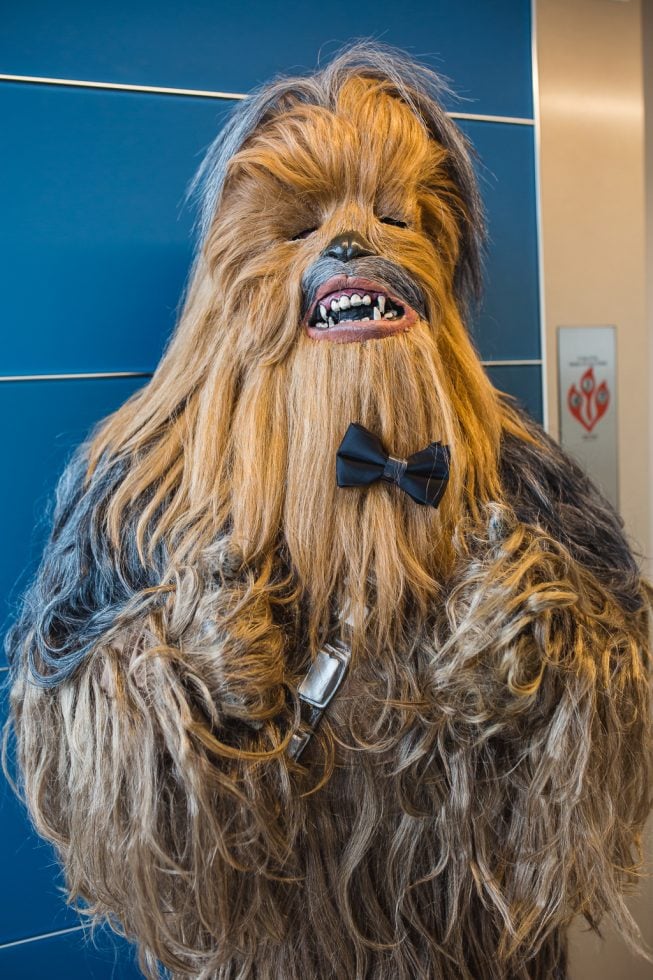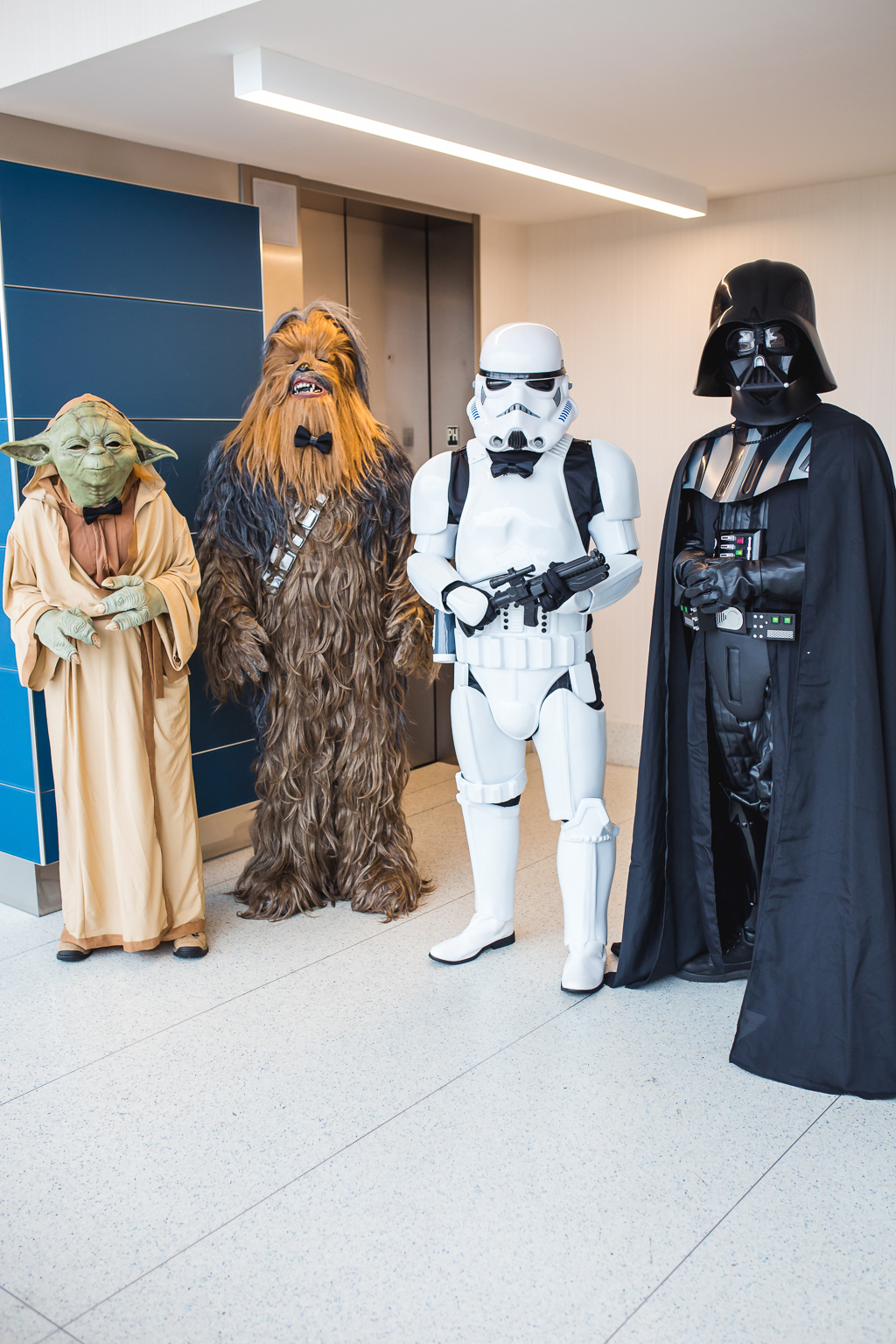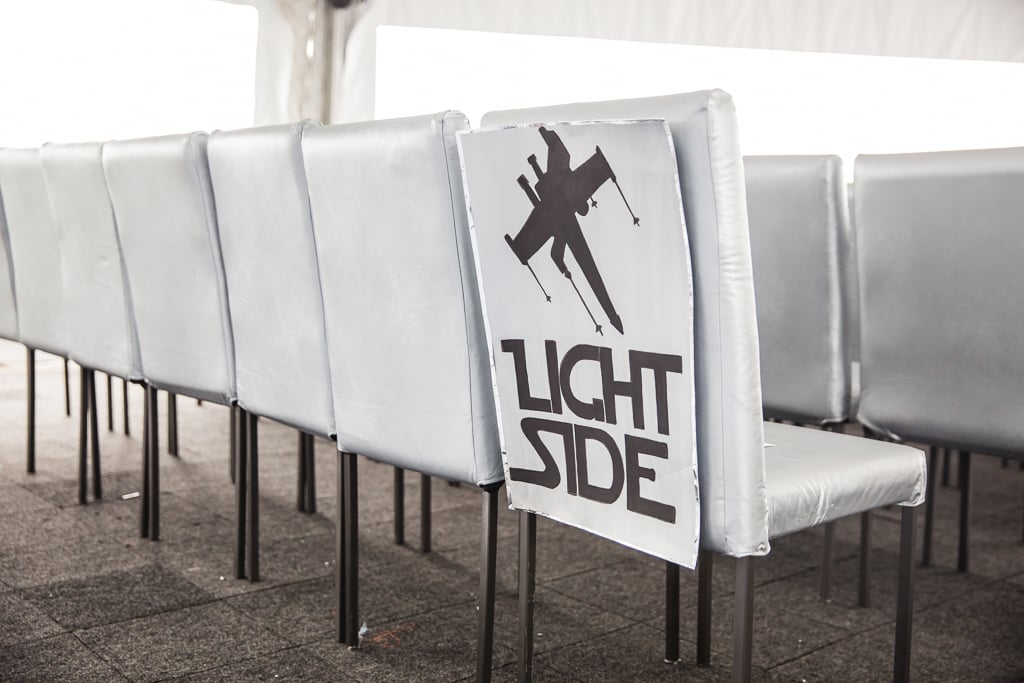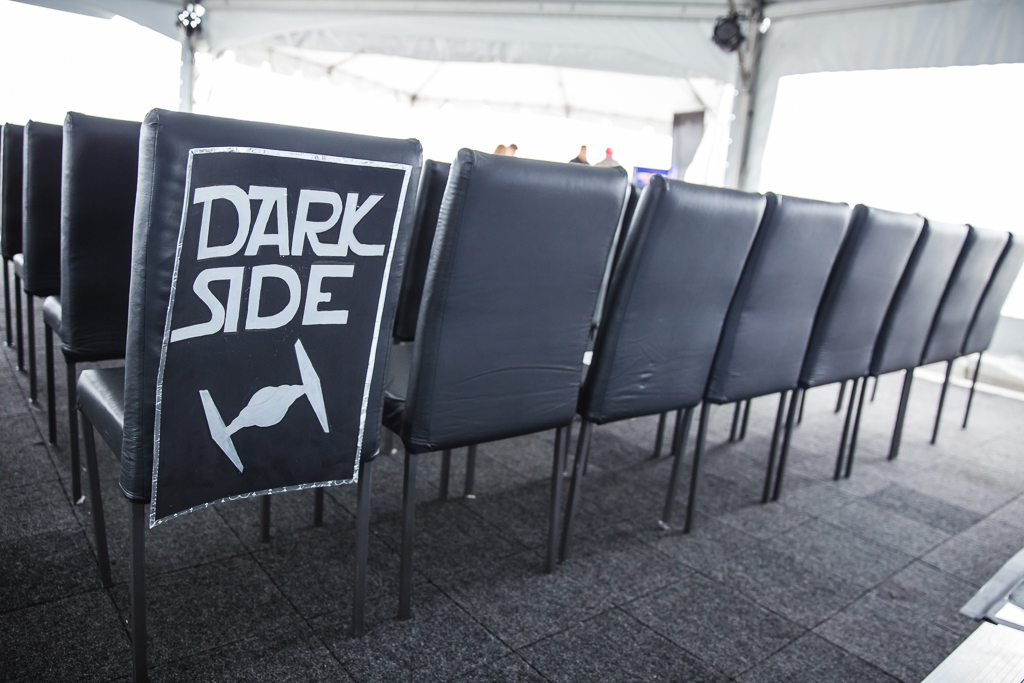 Emily and Dave worked with event planner Troyal Events, to make their vision come true on the rooftop of Charlie Palmer Steak at 101 Constitution Avenue. They began with the paper goods: Star Wars-themed invitations and save the dates went out. For the actual wedding setup, the ceremony program would also be Star Wars-themed, and guests would select from either the bride or groom's side of the aisle, divided into the 'light side' and the 'dark side.' (This was not an issue for the couple, as Dave's favorite Star Wars character is Darth Vader).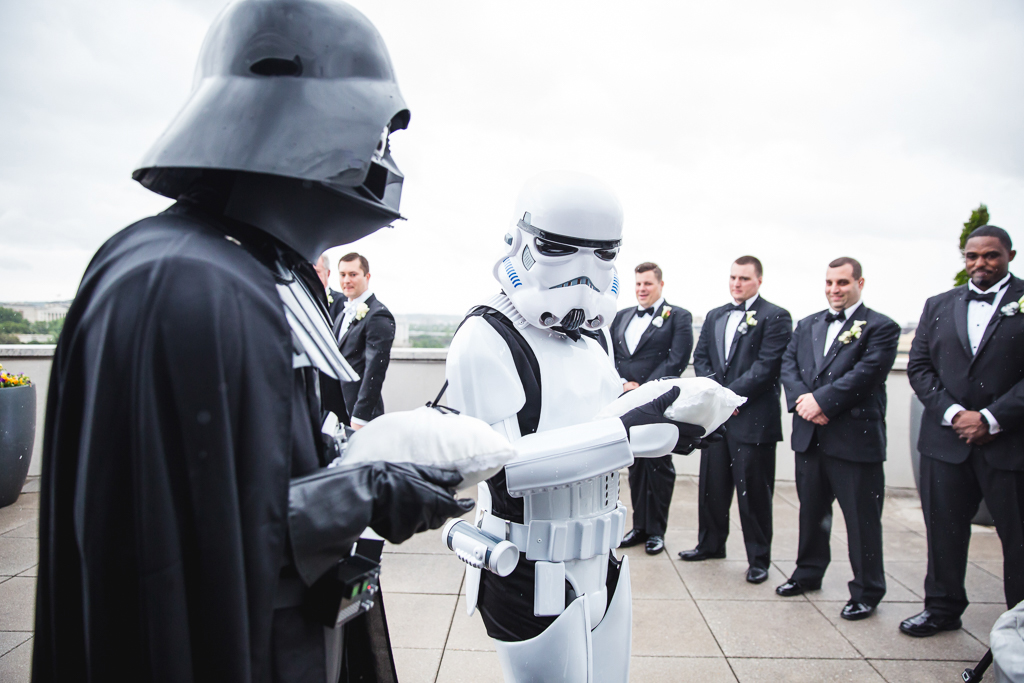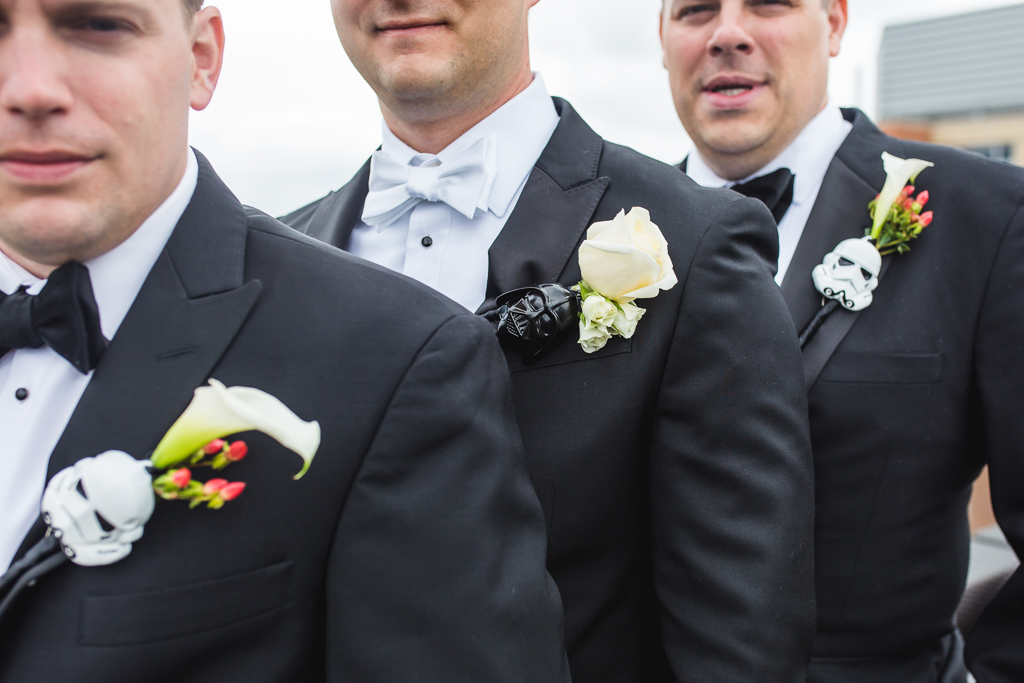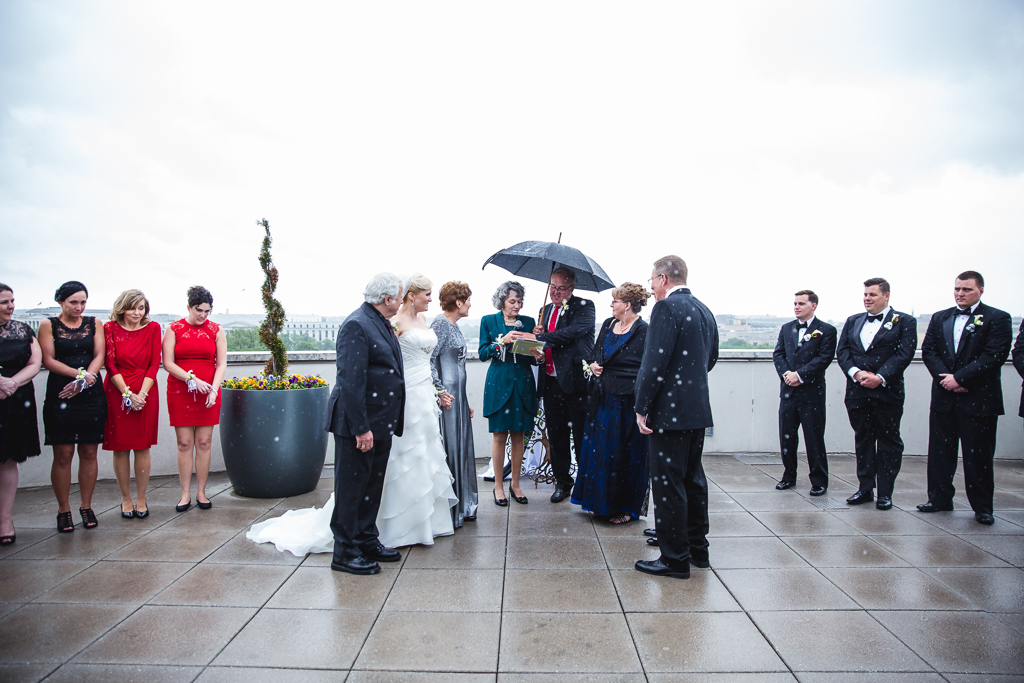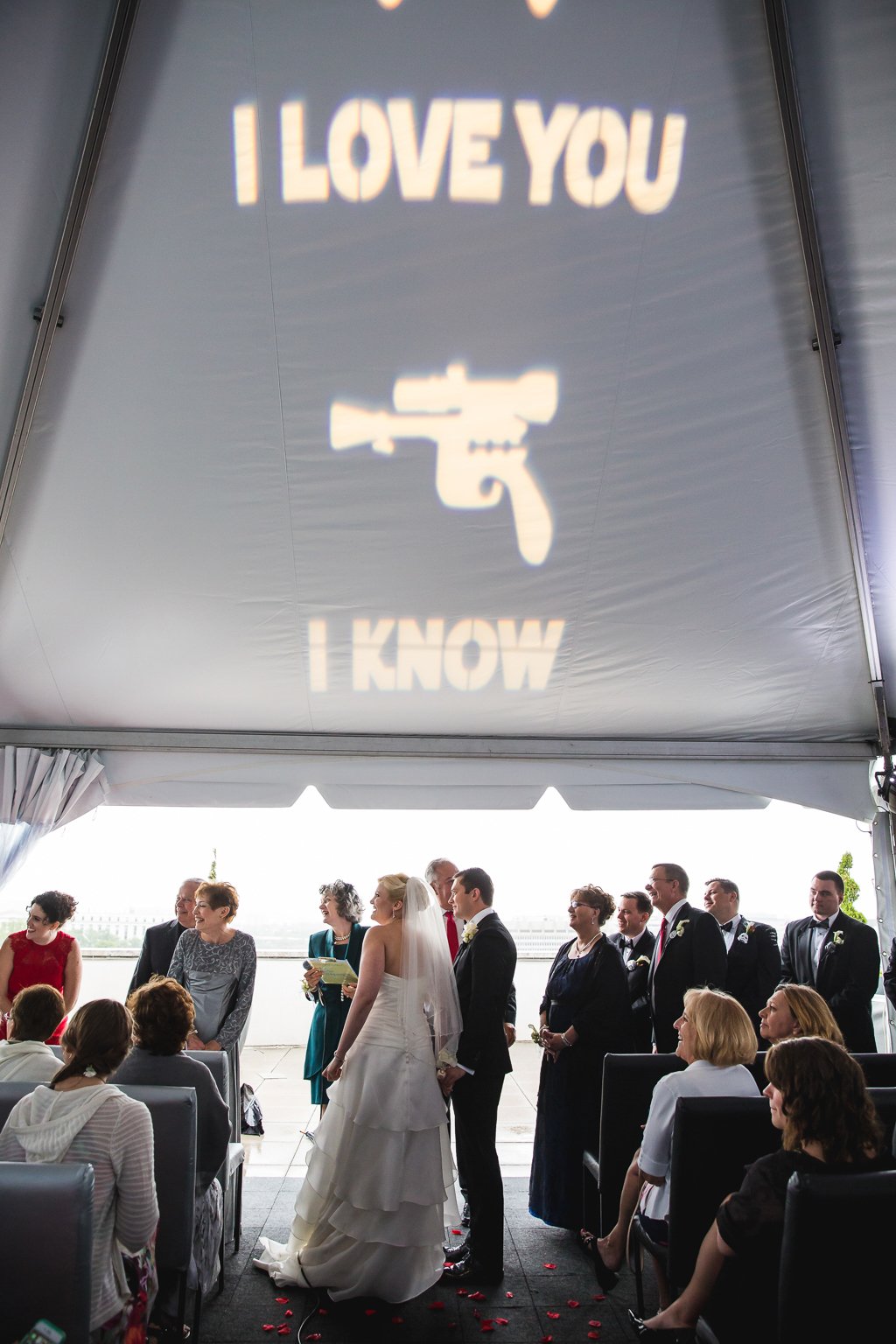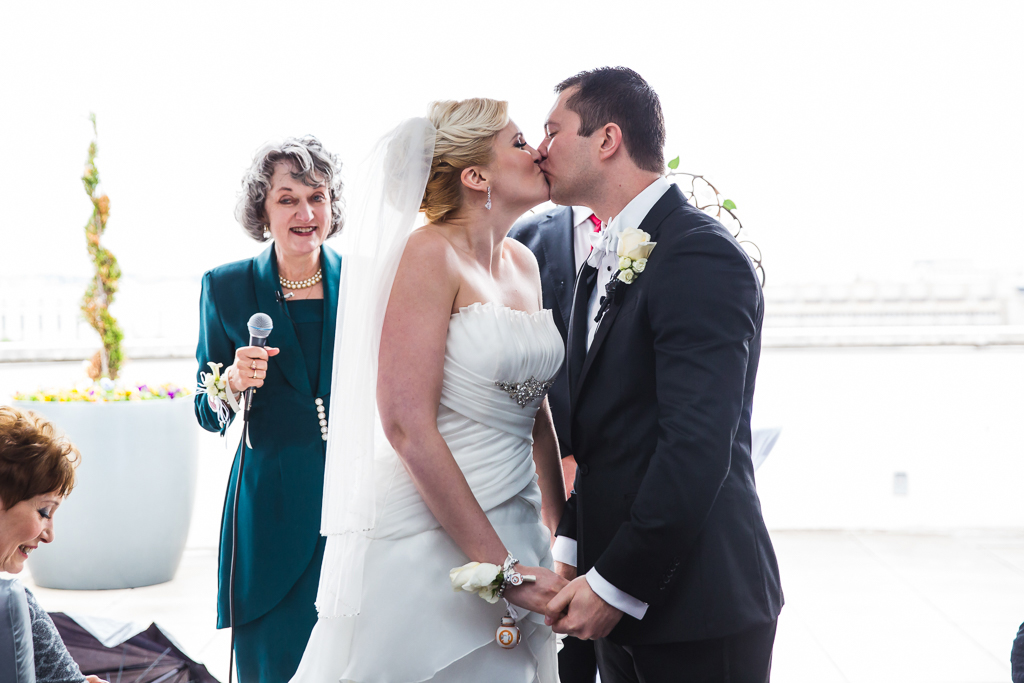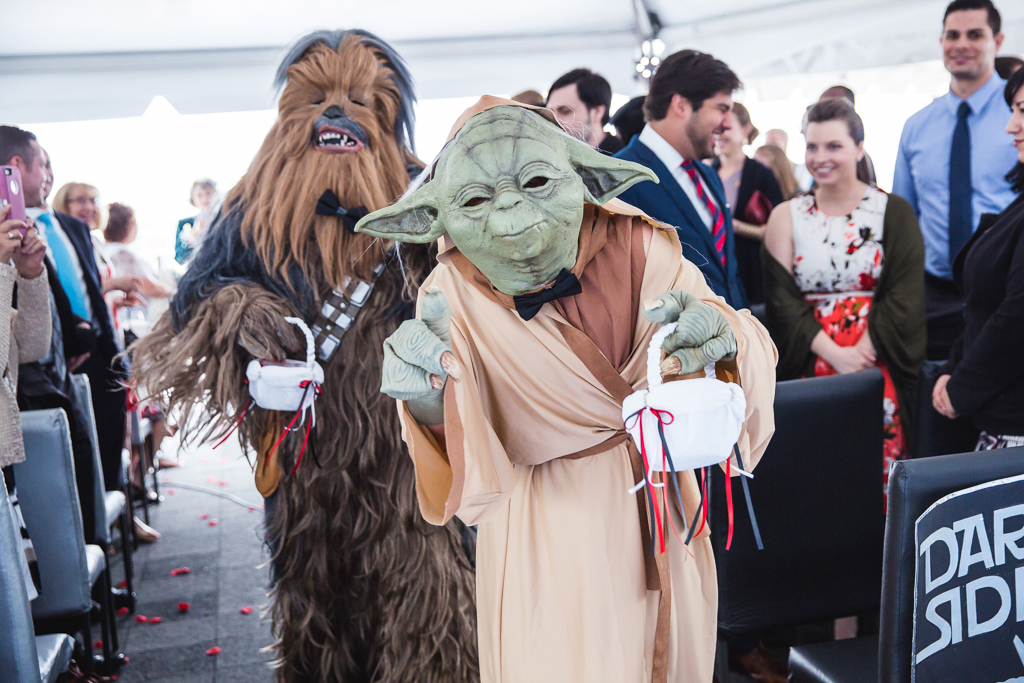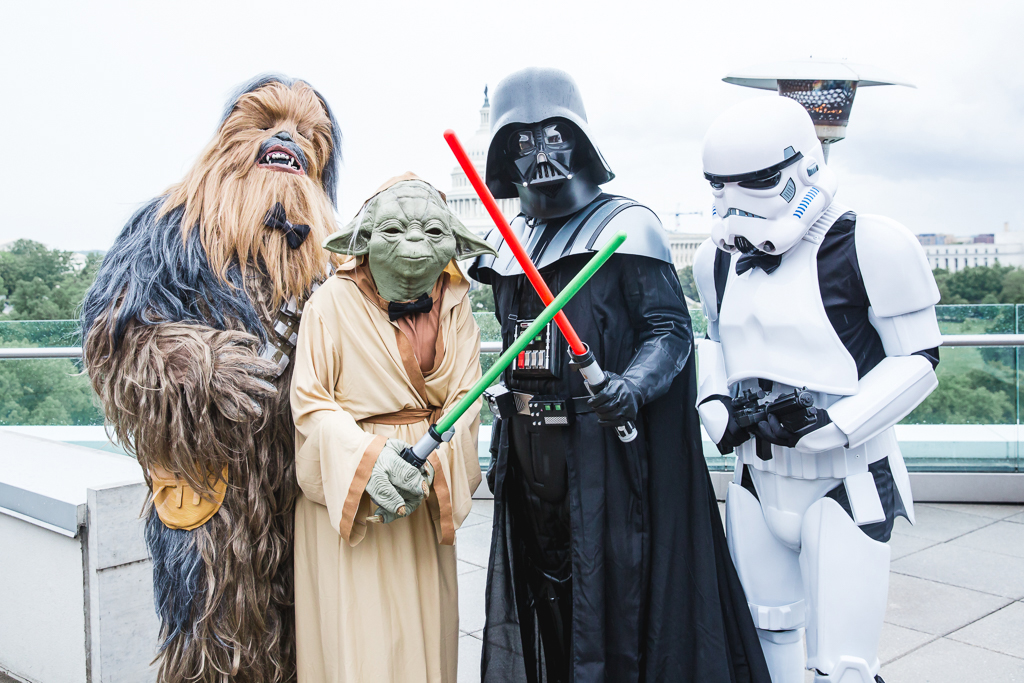 Next, their event coordinator procured professional actors to take on roles from Star Wars. Darth Vader and his accompanying Storm Trooper served as ring bearers, while Chewbacca and Yoda served as the "flower dudes." Dave walked down the aisle to the "Imperial March," while Emily chose Ben Folds's "The Luckiest." As soon as Dave walked out, it began to rain, then proceeded to pour as Emily made her entrance. But the rain cleared up quickly and left behind a stunning rainbow.
The couple exchanged vows under a projection of one of Han Solo and Princess Leia's iconic moments from the original Star Wars trilogy, in which Leia says "I love you" and Han Solo responds "I know." In a later episode, the lines get reversed. The quote held special meaning for the pair and stayed illuminated on through the reception.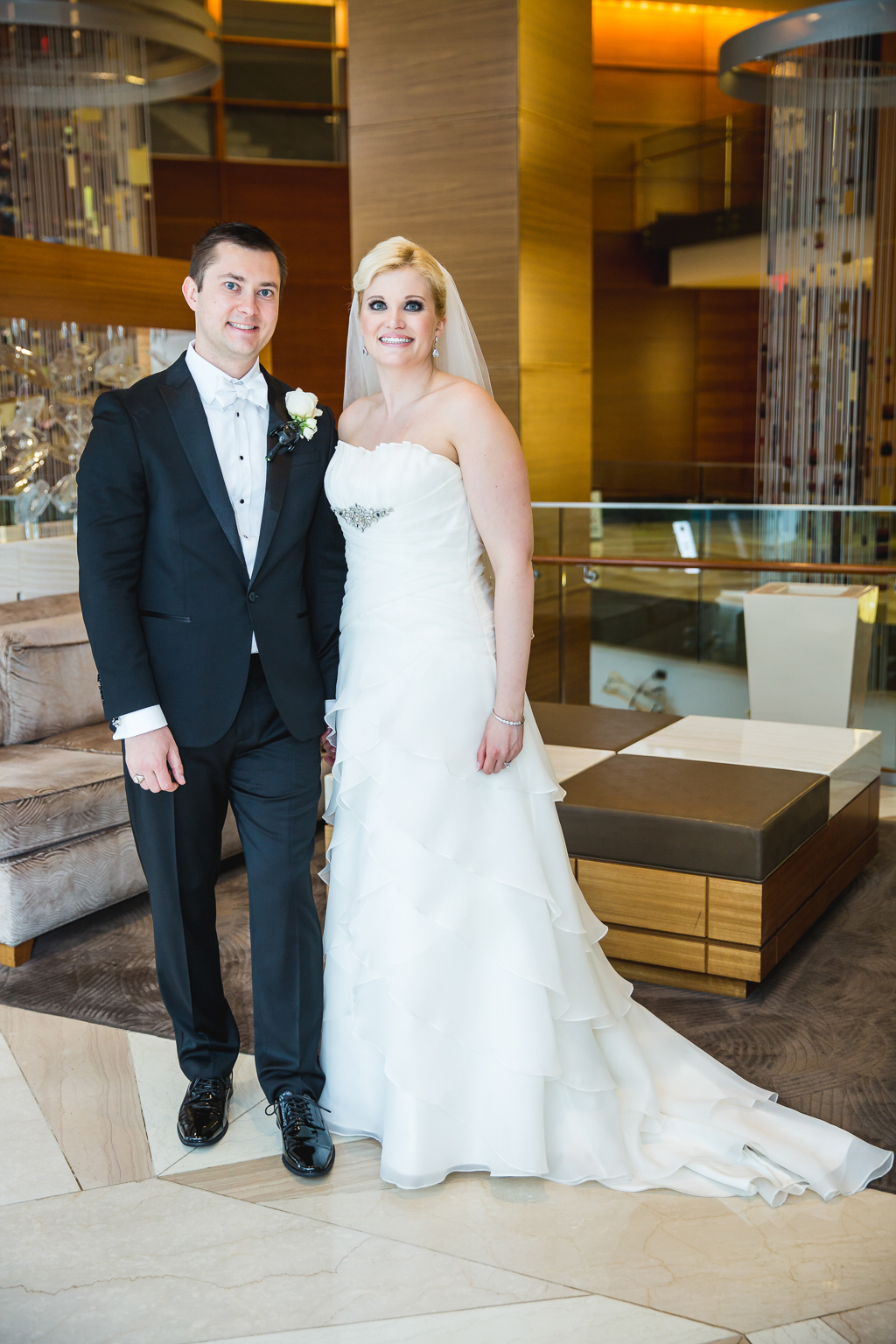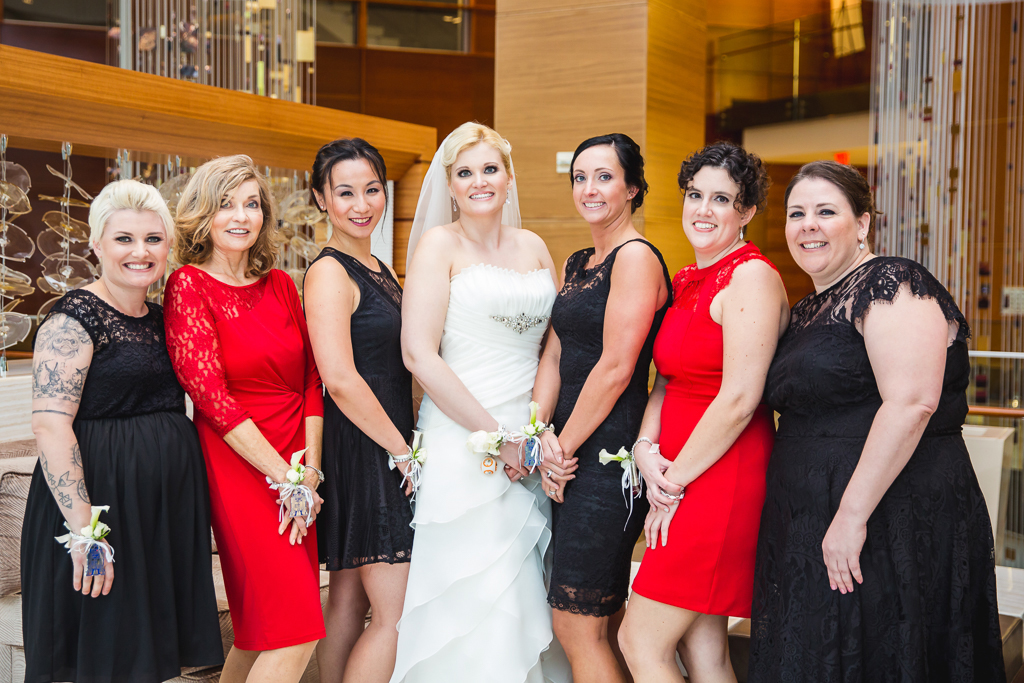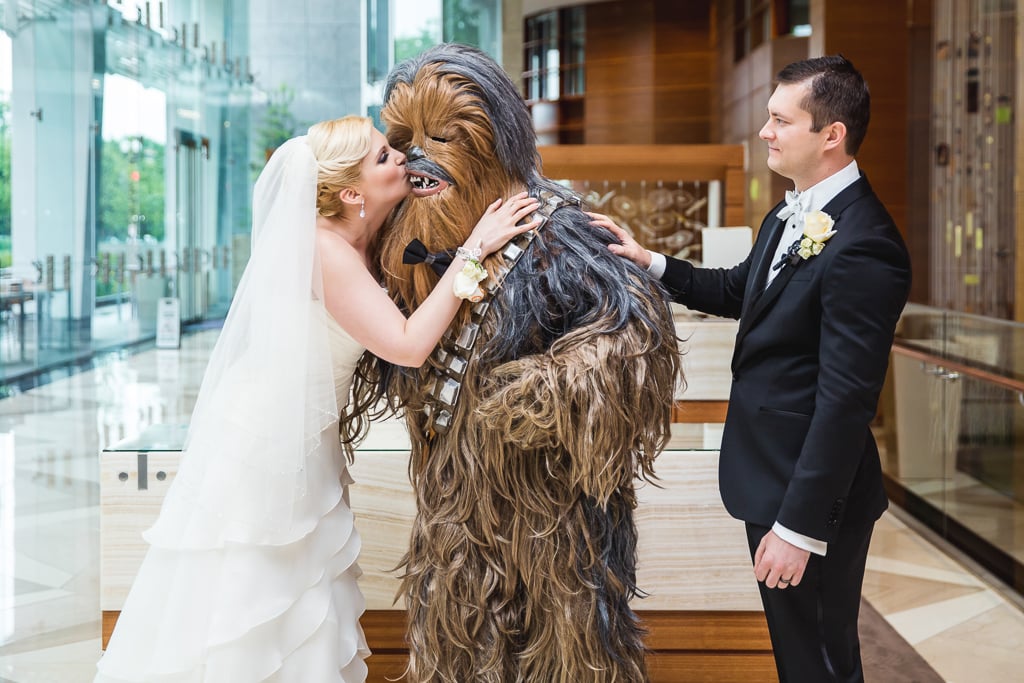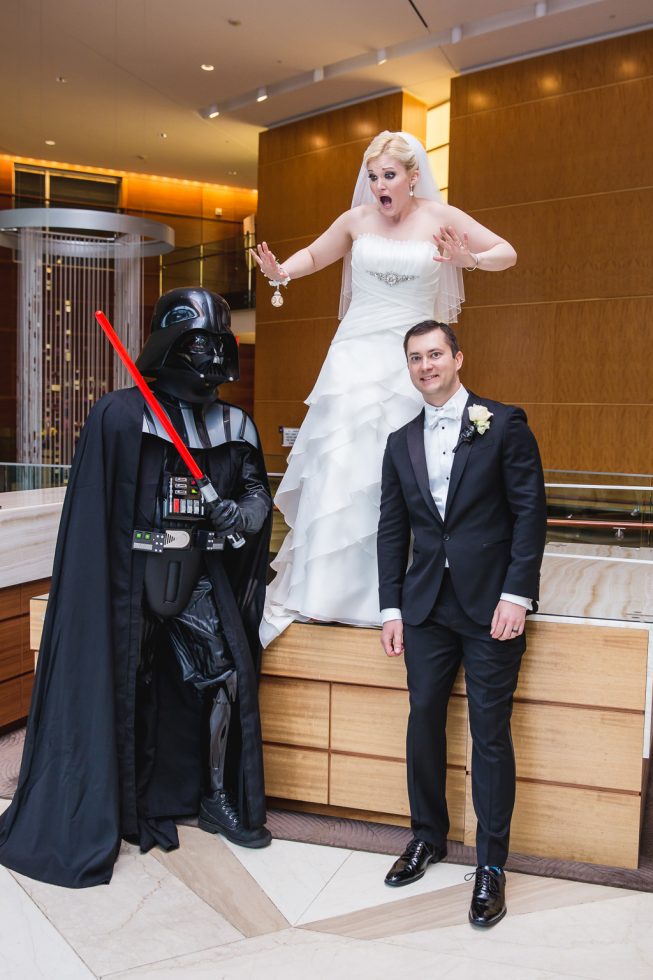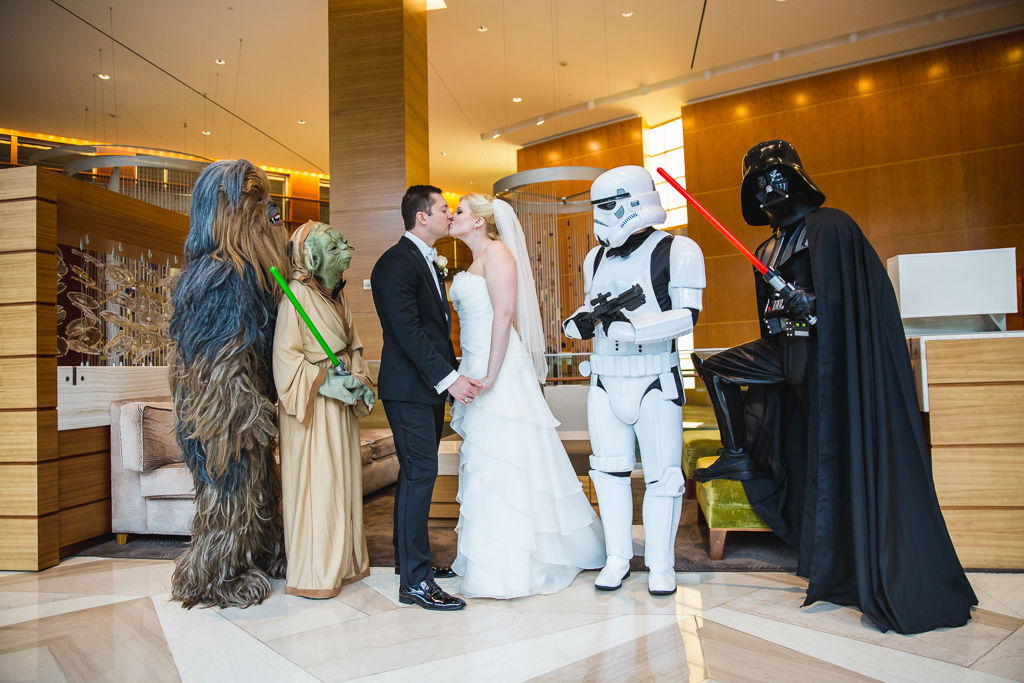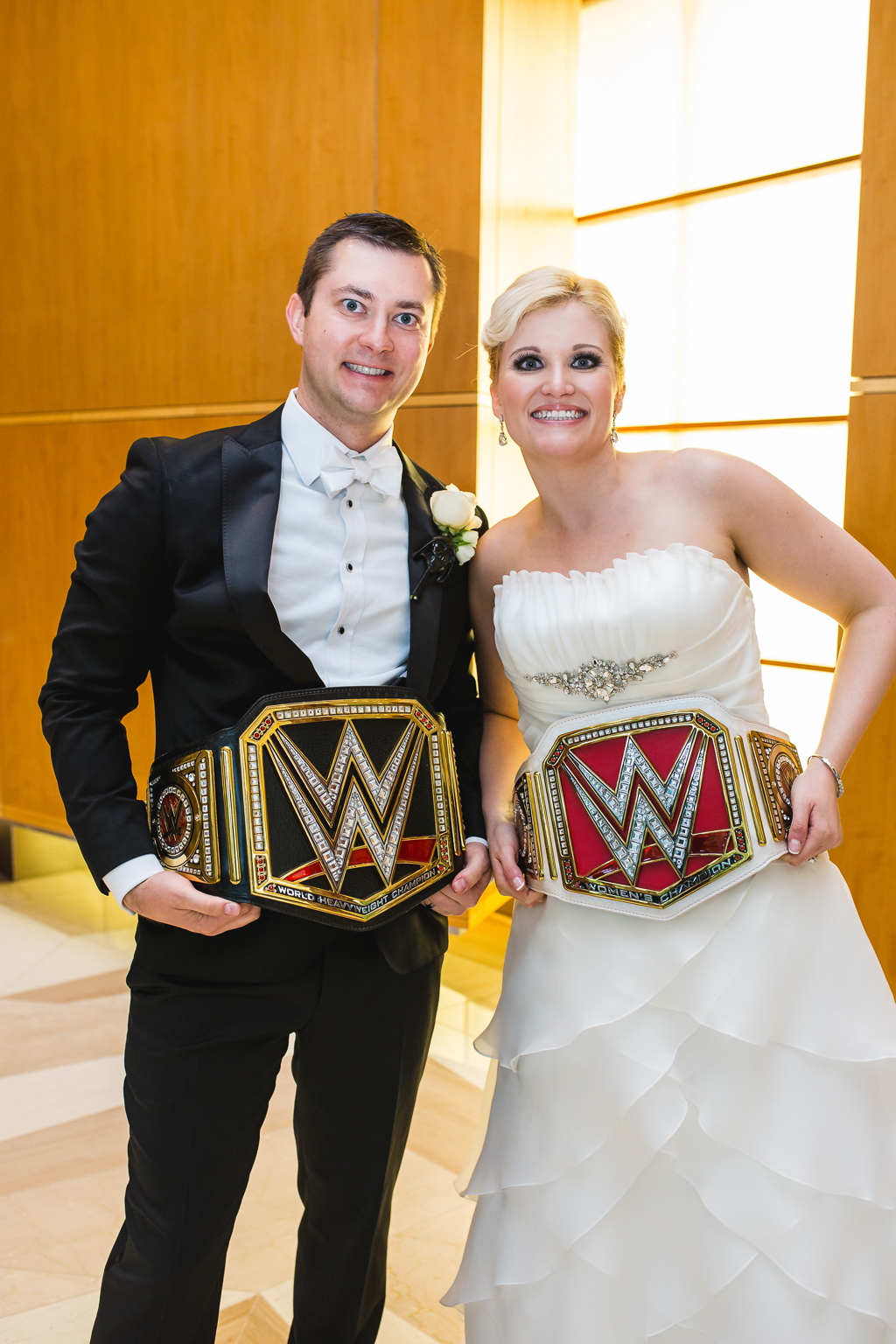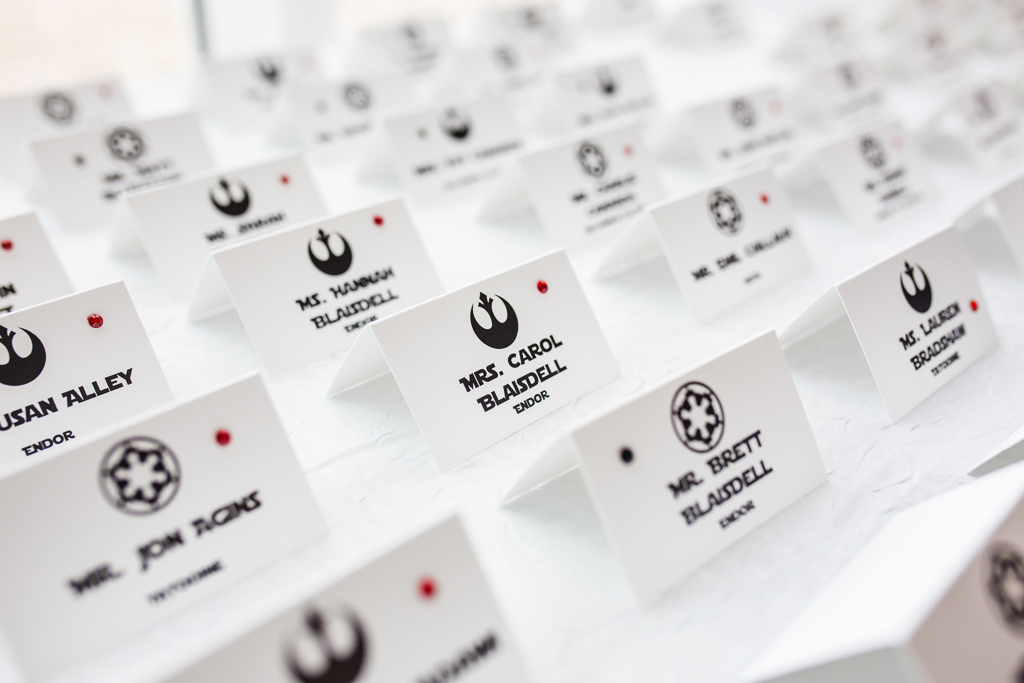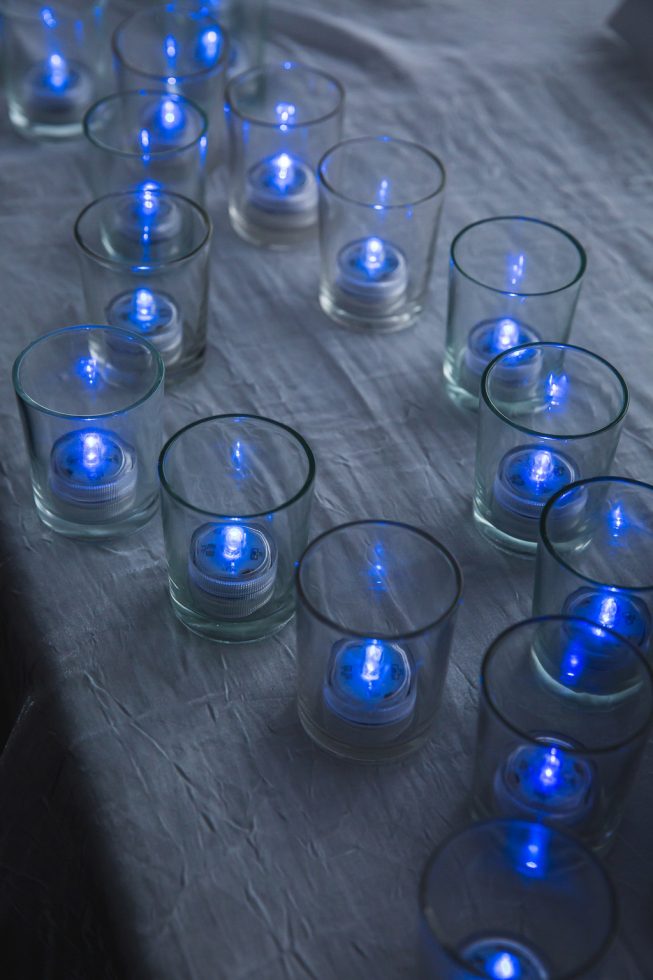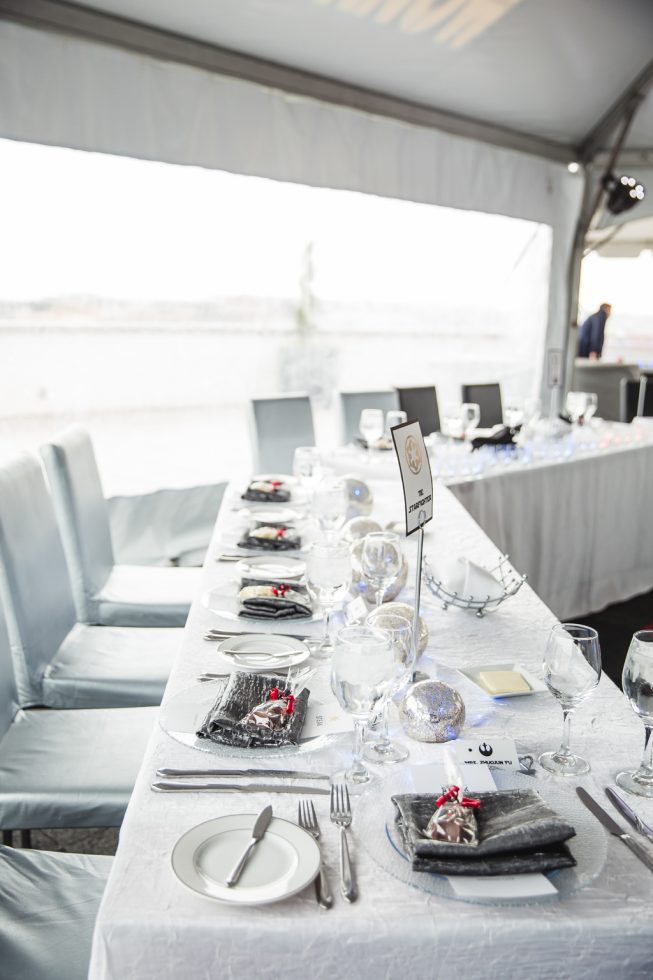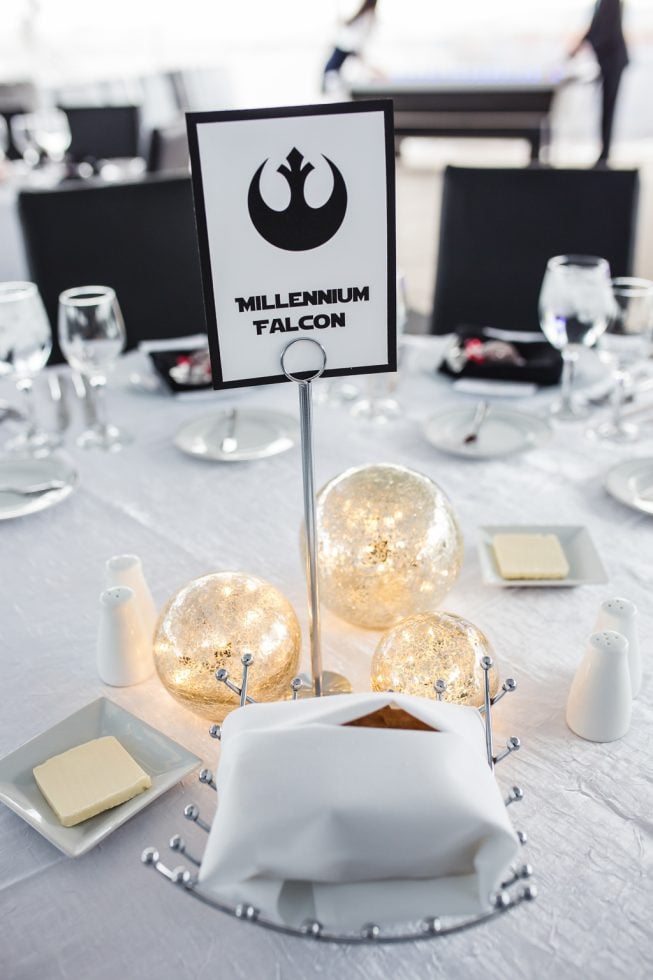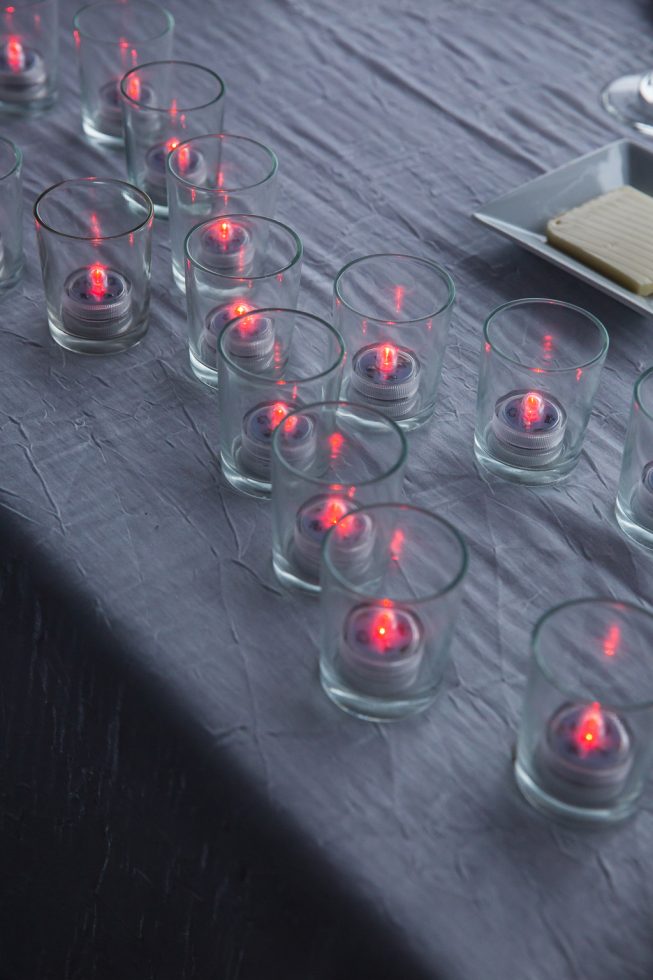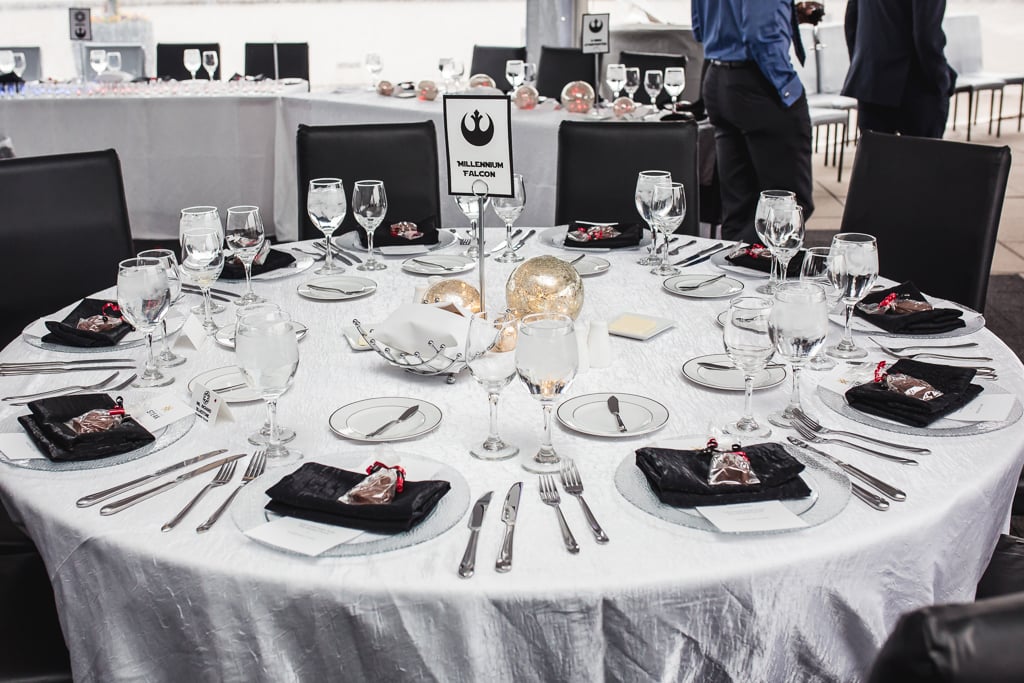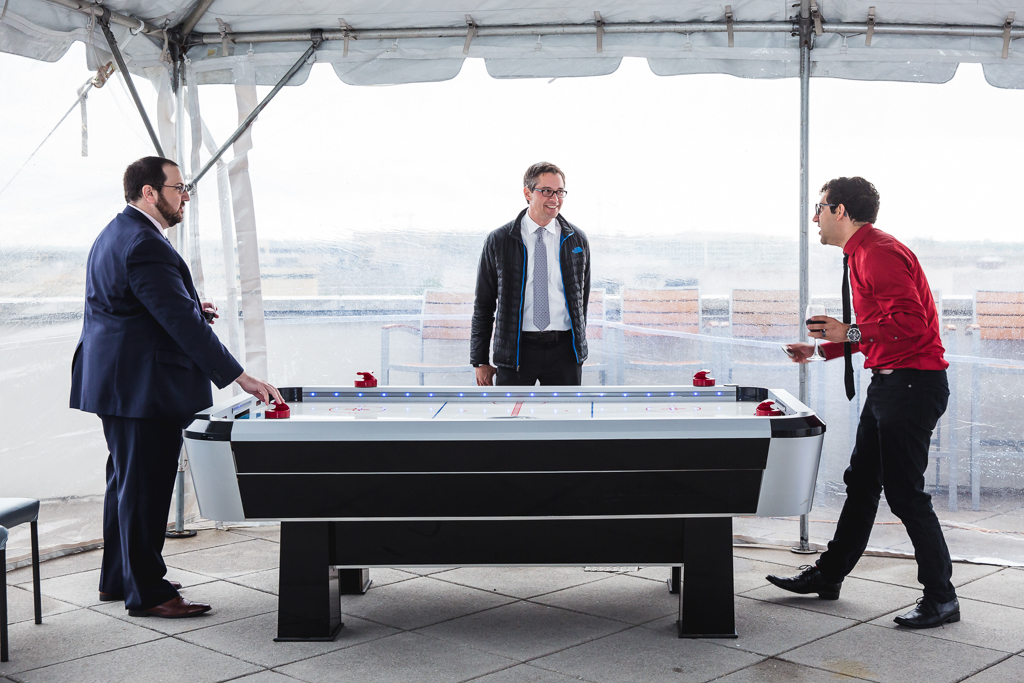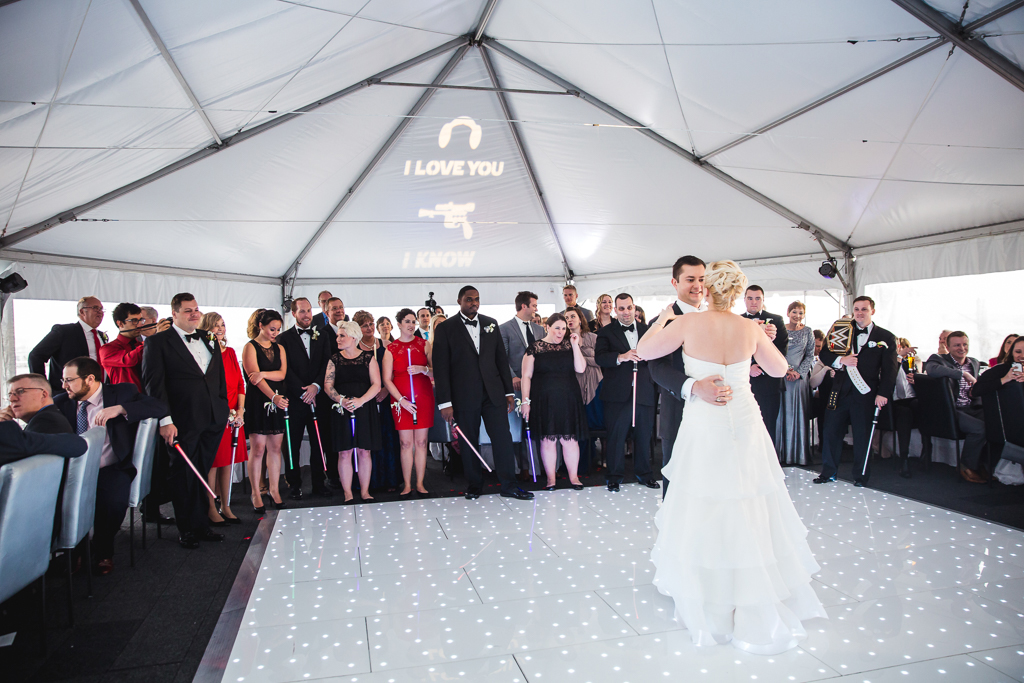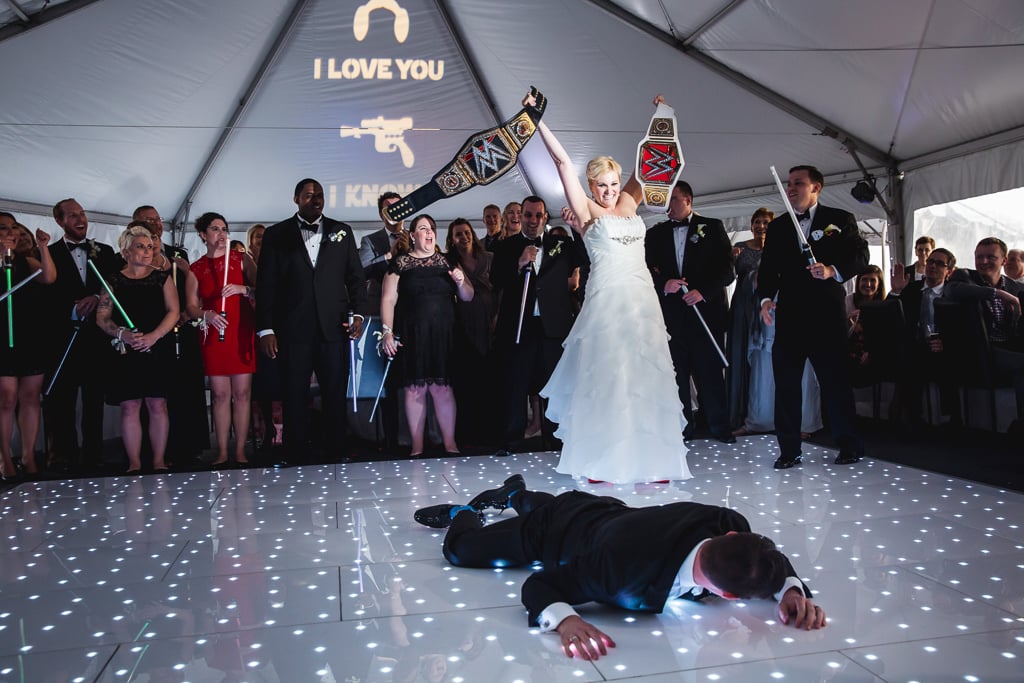 The costumes weren't the only elements of the party that paid homage to the famous space drama: smaller thematic details were incorporated throughout the wedding. The bachelor party wore Star Wars boutineers, while the maids had Star Wars-themed corsages featuring BB-8 (Emily's favorite Star Wars character). Emily's mother made her a custom Star Wars garter. After the ceremony was finished, the guests enjoyed dinner (with Star Wars table numbers and chocolate take-home gifts, of course) while the crew set up for the reception.
Emily and Dave wanted a fun, themed reception space that played to their love of classic video games, so they arranged for an entire arcade section to be set up on the roof, including skeeball, air hockey, and a 1980s multi-arcade game with Pac-Man, Space Invaders, and more. The tent was transformed into an outer-space themed party with the use of creative lighting.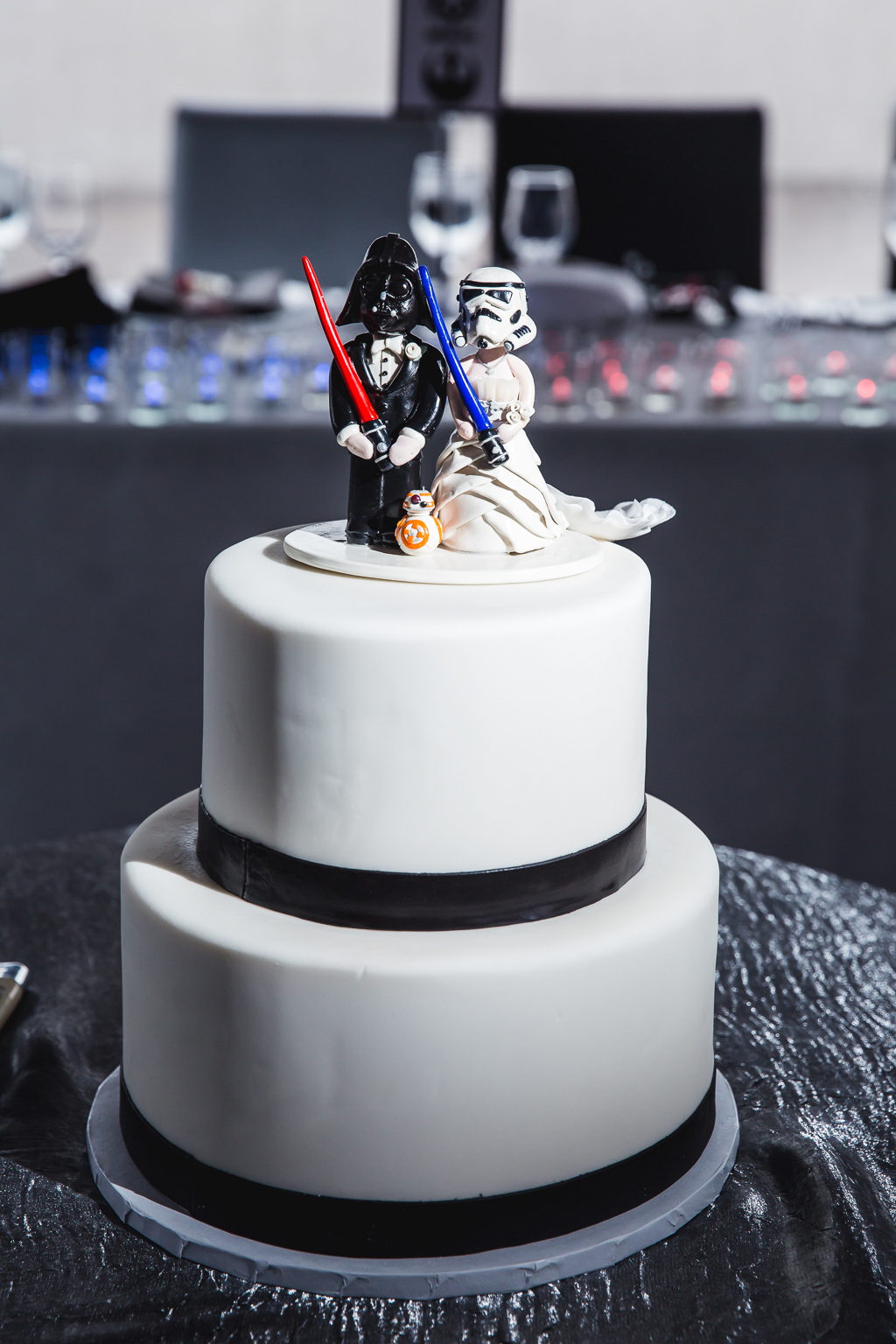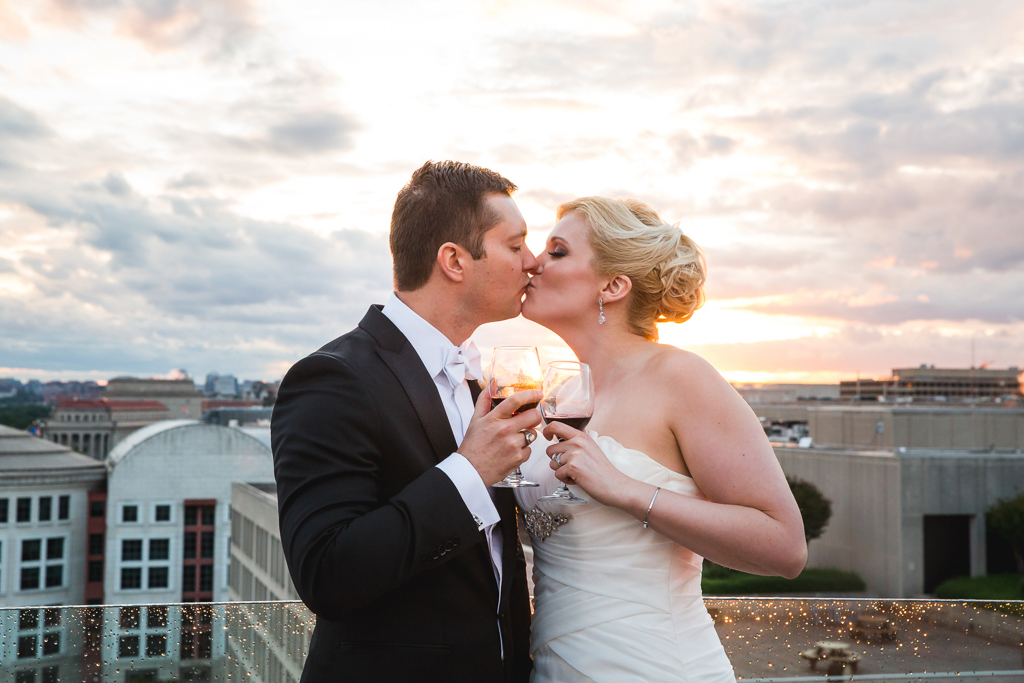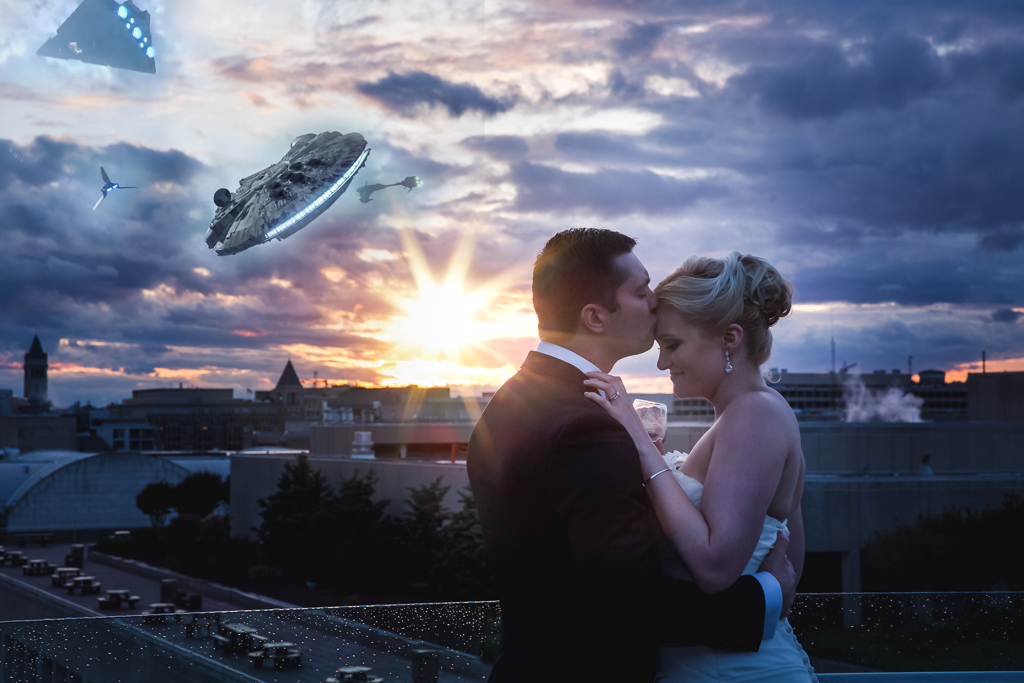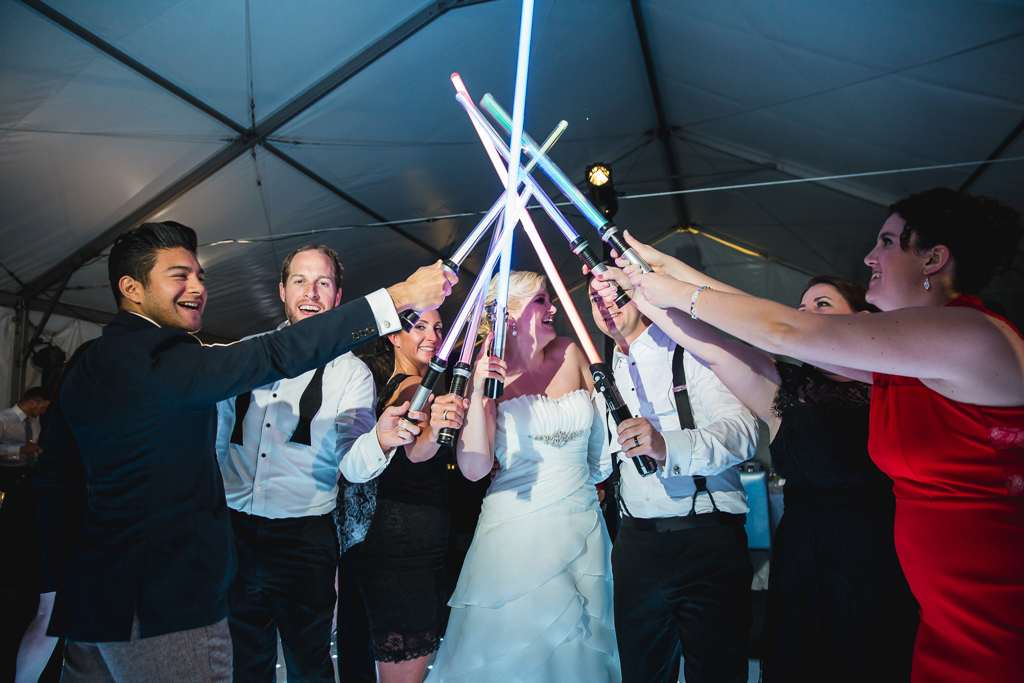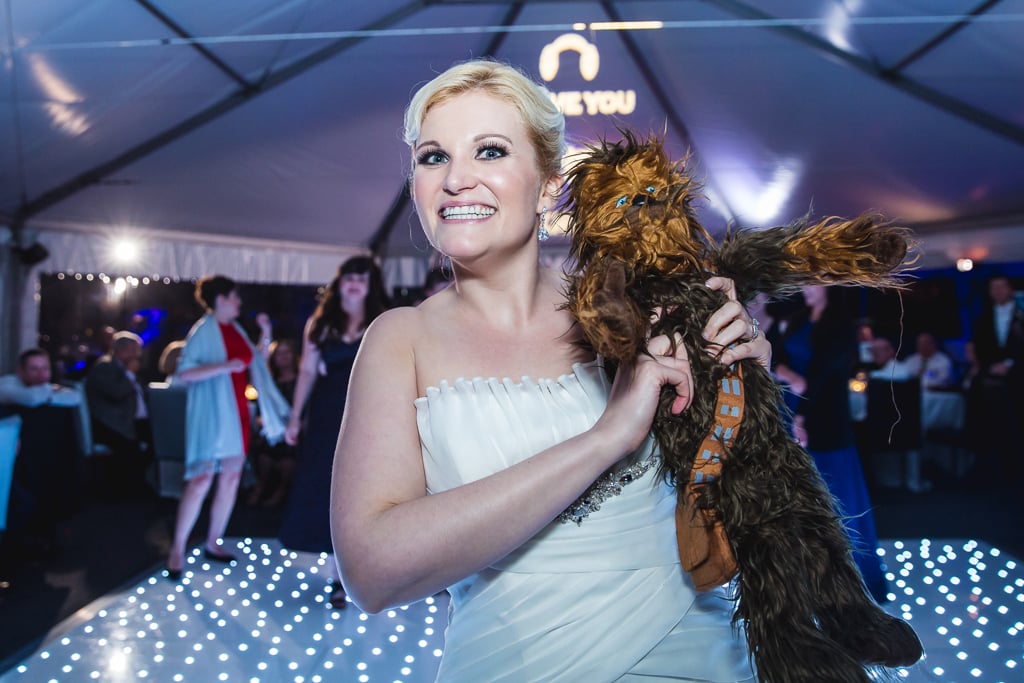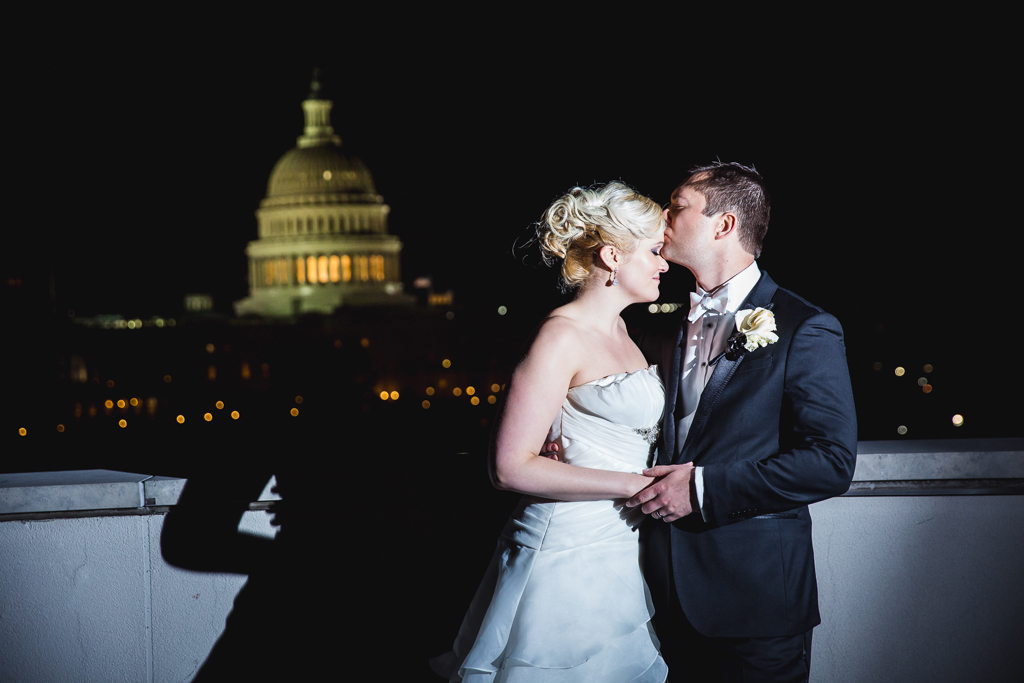 As the first dance began, it was time for the WWE elements to emerge. Donning their wrestling belts, Emily and Dave set up for their performance, announcing the reception in the style of a ringside host. The wedding party came in to Sasha Banks's WWE entrance music, and then Emily and Dave took the stage using a rehearsed entrance in imitation of the Miz and Maryse, their favorite WWE characters. In a truly epic first 'dance,' Emily hit Dave with a chair.
As the afterparty heated up, lightsabers were passed out for guests to get in on the fun, and for her "bouquet throw" Emily actually hurled a stuffed Chewbacca into her gaggle of friends. The couple cut into a Buttercream Bakery cake adorned with his-and-hers Star Wars cake toppers they had found on Etsy. For Emily and David, the unique evening proved to be exactly what they wanted, "nerdy, magical, and classy AF."
The Details