Where to Shop
Autumn Clayton recently renovated her aptly named gift shop, which specializes in handmade goods from studios both local and around the country. Offerings range from snarky greeting cards and baby onesies to oil paintings and jewelry. Clayton's current favorites include Arlington artist Ann Marie Coolick's impasto paintings as well as vibrantly patterned bibs and burp cloths designed by Arlington sisters Lindsey Parry and Melody Parry Jones, under the brand Luna Blu Mar, whose sales benefit women and girls in Panama. 5140 Wilson Blvd.; 703-247-9797.
Women shop at this boutique for its romantic, boho styles by Los Angeles labels. Owner Katherine Glorioso Dress stocks Just Black denim (praised for flattering figures); ruffled and floral looks by Everly; and vegan leather, suede, and fur by brands such as Love Tree. Our favorites are the basics: shelves of $9 spaghetti-strap tanks in every color, a large selection of leggings, and cotton bras. 570 23rd St. S.; 703-920-1498.
It's a winking reference to Lemon Twist, the boutique that used to occupy the space, but the new shop goes for more edgy and sophisticated looks than its preppy predecessor, even in athletic-wear lines such as Nancy Rose. Customers are drawn to denim by Tribal, Margaret O'Leary knitwear, and boldly patterned dresses by Julie Brown NYC. It also carries designer children's clothing, jewelry, and gifts. 4518 Lee Hwy.; 571-444-7177.
It's hard to choose from more than 65 olive-oil varieties and 27 balsamic vinegars, but owner Judith Westfall is eager to assist, holding regular tastings and classes to sample the collection. Not sure what to do with dark-espresso balsamic or kalamata olive oil? Westfall will give you a recipe. The shop also sells wine, cheese, and gourmet-food gifts, along with homemade dog biscuits. 2016 Wilson Blvd.; 703-276-2666.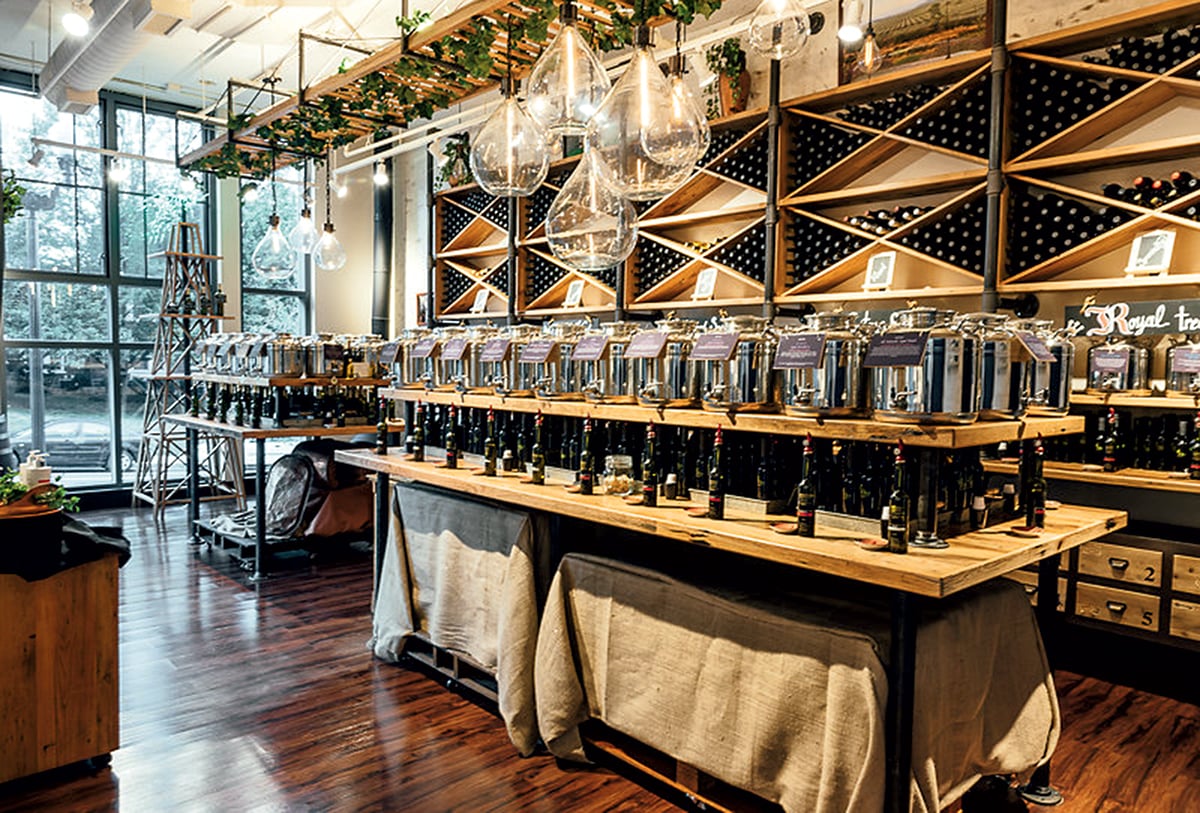 The shop's longtime staff still services the types of bicycles it was selling when it opened in 1976. "We do a lot for people who want to keep their vintage bikes alive," owner Bailey Garfield says. It carries a large selection of commuter bikes, including electrics. Recreational riders meet there for Saturday-morning rides during the warmer months. 2805 Columbia Pike; 703-920-9494.
In a corner of her boutique—which sells globally sourced gifts, tableware, and spa products—owner Lisa Ostroff has expanded her fair-trade coffee counter into a full cafe whose profits help support independent craftspeople. So when you're browsing glass sculpture from Ecuador, blankets made from recycled fabric in India, or felt-wool flowers from Nepal, take a break with some vegetarian and vegan fare that's all locally made. 5852 Washington Blvd.; 571-335-4274.
Johanna Braden stocks a little of everything in her gift shop: baby gear, children's books, jewelry, locally made Bloody Mary mix, graduation gifts bearing the names of local high schools, handmade soaps, and whimsical tableware. For customers who know to ask, she'll pull a box from under her counter to reveal the latest selection of bawdy desk plates—a couple of recent gems: I CAME TO SLAY, B*TCH and ZERO F*CKS GIVEN. 6501 N. 29th St.; 703-300-9547.
Joanna Gaines would love this place. The star of HGTV's Fixer Upper popularized the modern-farmhouse look, and Cissy Barnes—a veteran of merchandising after 30 years at Crate & Barrel—curates her new interiors shop in the same vein. She features work by local artists and craftspeople such as Mira Jean Designs textiles and custom wood-and-metal furniture from Patrick Bernat, but the variety also includes antique dough bowls and cutting boards from Europe. 5140 Wilson Blvd.; 703-298-7659.
Barring foul weather, this flea market is open every Saturday from 9 to 4, ranging from a dozen vendors in the winter to 30 in warmer seasons. Manager Butch Finch, a dealer of vintage clothing and furniture, controls who gets a table. "Not too much of one thing" such as jewelry, he says. The wares include antique cameras and projectors, midcentury art, and Indian textiles. 15th St. N. near the Court House Metro; 202-232-2494.
Where to Eat
Ambar's super-friendly staff is eager to help you navigate the small-plates Balkan menu—a trip made easier with the $35 all-you-can-eat option. The inclusive price lets you dabble in many different regional tastes besides the more familiar sausage and kebab offerings, such as goulash, stuffed cabbage rolls, and beet spread served with puffs of fried sourdough. 2901 Wilson Blvd.; 703-875-9663.
Art Hauptman expanded beyond his New Zealand–focused menu at Cassatt's with Bistro 360, which samples the world with entrées such as gooey Georgian cheese bread and classic French steak frites. Hauptman recently brought Cassatt's lunch menu, with its popular meat pies, to Bistro 360. Live-music lovers can dine at Cassatt's on Saturdays, while oenophiles can sign up for Bistro 360's monthly wine dinners. Bistro 360, 1800 Wilson Blvd., 703-522-3600; Cassatt's, 4536 Lee Hwy., 703-527-3330.
Save a Monday night for the fried-chicken special at Green Pig Bistro, served with mac and cheese, collards, and a fluffy biscuit. It's not on the menu, but ask for the hot sauce for the chicken and you won't be sorry. Along with its Southern-influenced dishes, the kitchen does equally well with delicate, charred branzino, meatloaf, and polenta. 1025 N. Fillmore St.; 703-888-1920.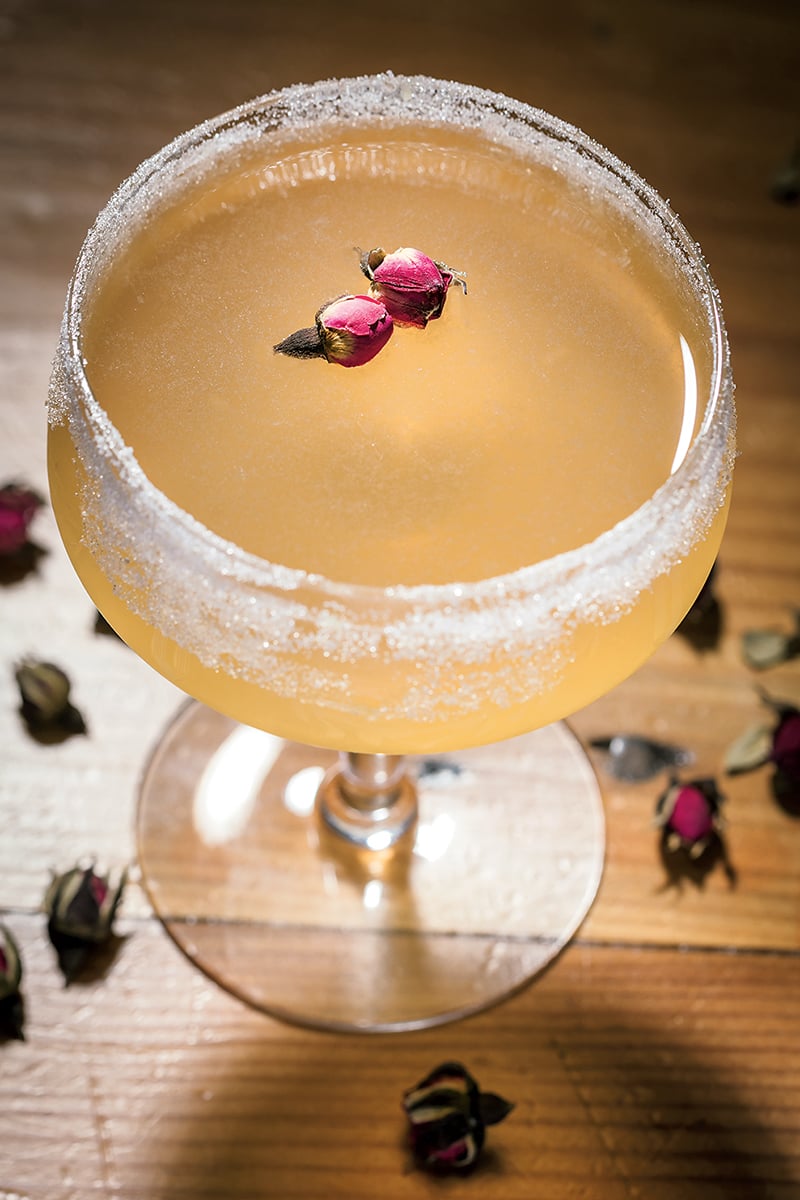 If your group is carnivorous, order a lamb shoulder for the table—a mountain of fall-off-the-bone meat served with cleansing tabbouleh, cucumber, and sumac. Or graze the mezze, spreads, and flatbreads; earthy grilled broccoli; Greek-spiced fries; and grape-leaf-wrapped salmon. The Greek Easter brunch, which this year is April 8, includes spit-roasted meats, grilled-bread and egg dishes, and vanilla custard with phyllo and cinnamon sugar. 4000 Wilson Blvd.; 703-243-4400. *This restaurant is a part of Mike Isabella's restaurant group. Isabella is being sued by a former employee for sexual harassment, assault, battery, and retaliation.
Don't be deterred by the long wait to order—the charred-crust Neapolitan pies brimming with melty blobs of buffalo mozzarella are well worth it. The only frustration is deciding what you want on top, but you won't go wrong with either a heap of fresh arugula and prosciutto or sweet caramelized onions and sausage. Leave room for fried arancini balls with smoky eggplant, plus house-made gelato. 5104 Wilson Blvd.; 571-312-7230.
In a world of share plates and crudos, Ray's steakhouse menu remains delightfully no-frills. Just as you could when the place opened 16 years ago, you can get a hanger steak—which comes with creamed spinach and mashed potatoes at no extra cost—as well as wine and a slice of Key-lime pie for less than $50 a person. The atmosphere is intentionally spare, owner Michael Landrum says, "to welcome people who otherwise would feel intimidated by a fancy restaurant." 2300 Wilson Blvd.; 703-841-7297.
The traditional Spanish menu changes seasonally, but certain standouts are always available, such as Iberian ham sliced tableside, salt cod, and the paella—including a black version infused with squid ink. On Wednesdays, six guests can sit at the kitchen counter for the txotx ritual dinner, a six-course tasting menu paired with all the Basque cider you can drink. 1110 N. Glebe Rd.; 703-746-9822.
Takohachi Sushi
The "special" attached to Takohachi's $1 nigiri menu isn't time-limited. "Forever," we're told when we ask how long it will last. Prices for the rest of the menu, likewise, are exceedingly reasonable. At lunch, a $14.75 sushi-and-sashimi bento box overflows with salmon, tuna, shrimp, yellowtail, and eel—not to mention airy tempura, pork gyoza, and seven salads. The Japanese restaurant also offers ramen and noodle dishes, plus grilled and fried meats. 3249 Columbia Pike; 571-312-7678.
The vegetarian sides are as popular as the protein here, where our favorites include seared Brussels sprouts with lime juice and Parmesan, Mexican street corn, and coleslaw brightened with green chilies and cilantro. The barbecue meats are served without sauce to let their flavors shine. And just when you thought your waistline couldn't take any more, the restaurant recently hired its own pastry chef and began serving Saturday and Sunday brunch. 2761 Washington Blvd.; 703-875-0477.
What to Do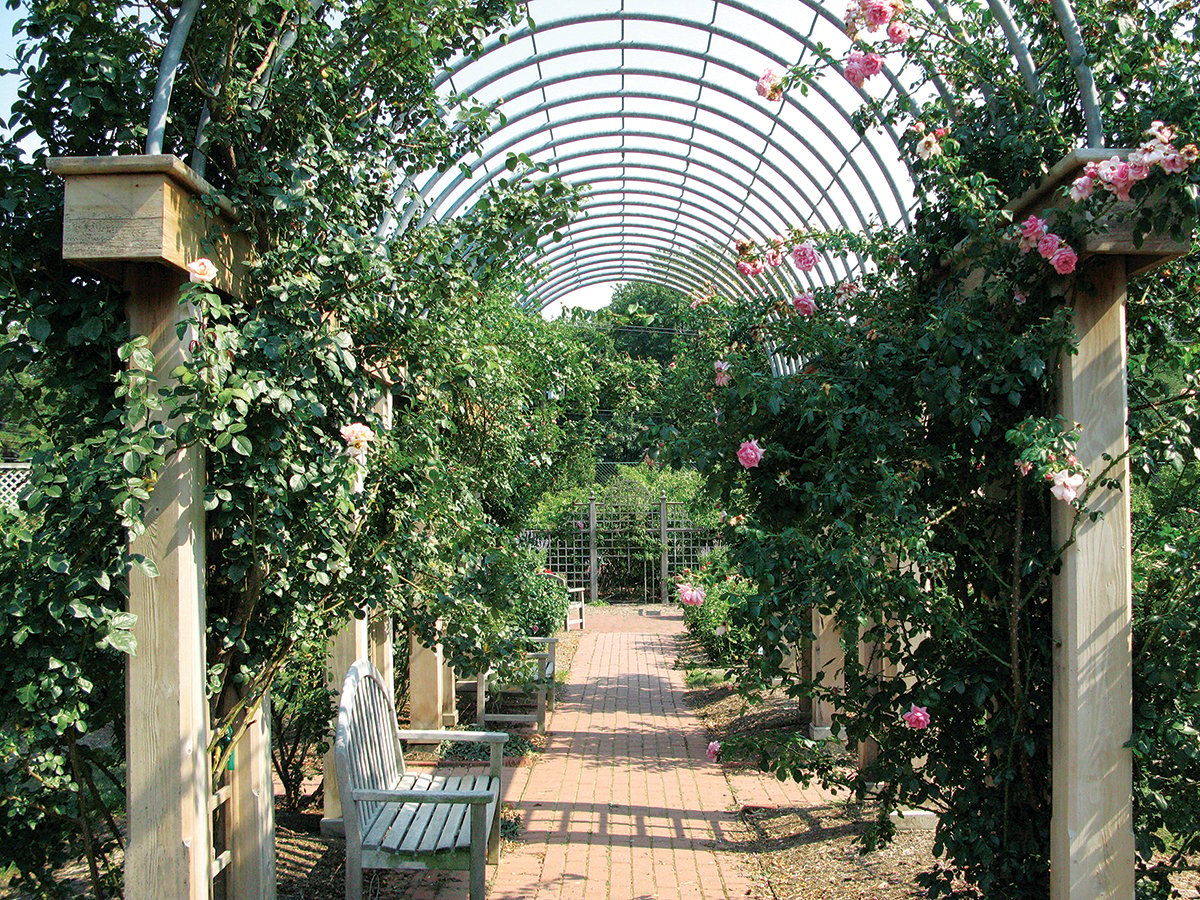 This paved, 16-mile path takes bicyclists, runners, and walkers on a route along the Potomac River past Reagan National Airport; through the shady Four Mile Run and W&OD trails, which traverse many of Arlington County's parks; and down the Custis Trail into Rosslyn—at which point cyclists can add another digit to the Rosslyn Bikeometer, an electronic device that keeps daily and monthly tallies. Multiple entry locations.
The Arlington Rose Foundation established these formal gardens as a living memorial to Arlingtonians who lost their lives in World War II. More than 100 varieties bloom May through November. Veterans Honor, Peace, and Let Freedom Ring are a few that pay tribute to the garden's mission. 850 N. Lexington St.; 703-371-9351.
Resident Mike Chapman founded Salon Arlington so that artists, authors, craftspeople, and musicians could present their work in a casual, low-pressure setting. He hosts the salons every two months with his friend Dawn Hart at her Village Sweet bakery in the Westover neighborhood. After 15 gatherings, they're now so popular that the $15 tickets sell out. 5872 Washington Blvd.
Dancers and DJs who specialize in salsa and its sensuous cousin, bachata, come from Italy, Spain, and South America to perform in this huge dance hall, which can hold up to 600. "We cater to the dancers. It's not a place to go and drink," owner Franco Villarreal cautions. Feeling intimidated? The club holds evening lessons for all skill levels Wednesday through Saturday, just before the late-night crowd arrives. 2619 Columbia Pike.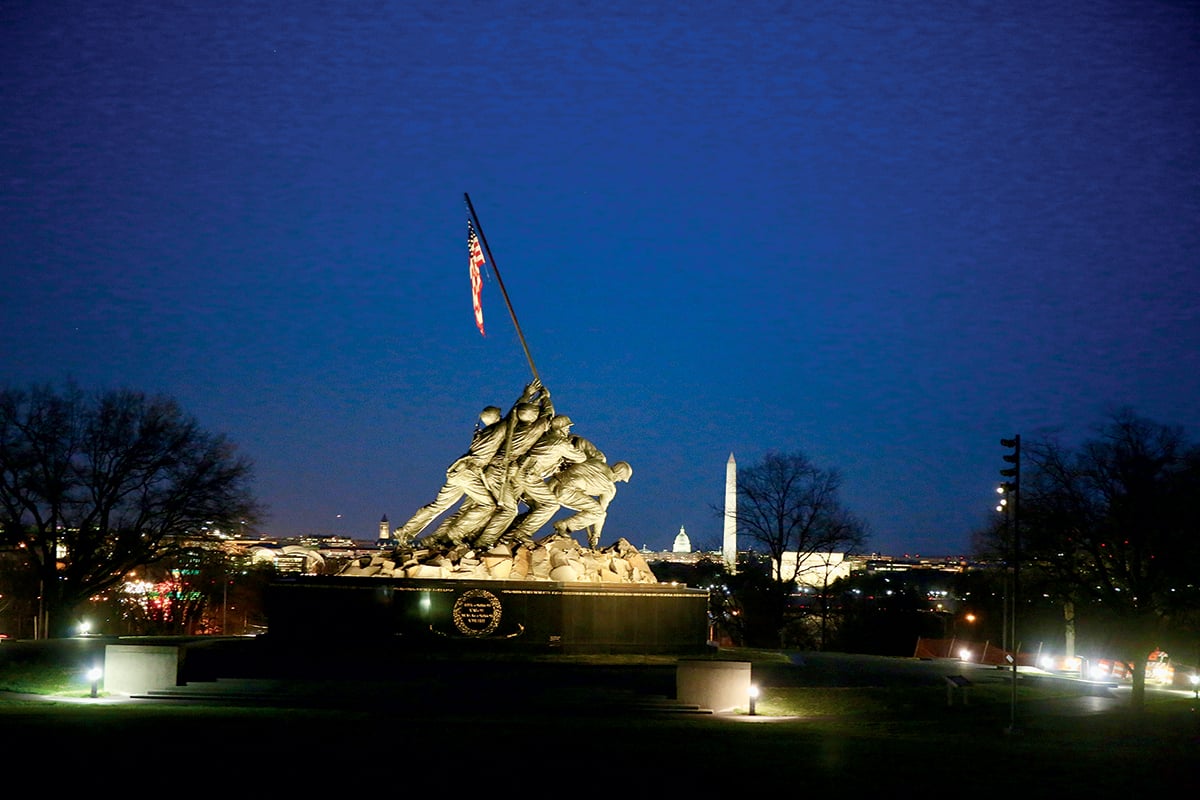 The closest thing to an amusement park in Arlington County, this former Civil War lookout point includes two pools and water slides, an 18-hole mini-golf course, batting cages, a picnic pavilion, and hiking trails. NOVA Parks, which manages Upton Hill, has long-term plans to install a new playground, add more trails, and build a "high-adventure ropes course" through the treetops. 6060 Wilson Blvd.; 703-534-3437.
Better known as the Iwo Jima memorial, the statue set high on a bluff overlooking the DC monuments honors Marines who have died in battle. It just underwent renovations thanks to more than $5 million donated by billionaire David Rubenstein. Besides resurfacing the road and updating lighting and landscaping, the National Park Service cleaned the statue and added Afghanistan and Iraq to the engraved list of conflicts. U.S. Marine Memorial Cir.; 703-289-2500.
This article appeared in the April 2018 issue of Washingtonian.