Washington designer Zoe Feldman is making bathroom design feel easy and natural by doing the counterintuitive—mismatching. In her firm's projects, copper faucets pair with flat-black light fixtures, and polished-nickel hinges sit beneath brass mirrors. Her metal-mixing creates an aesthetic that's sophisticated without appearing copied from a catalog.
"It's less expected," says Feldman of the approach, inspired by the mixed-metal jewelry she frequently wears. "It becomes so one-note when everything's black, everything's nickel, so it allows things to look a little bit more collected."
Feldman's bathrooms are part of a larger trend toward more organic, less defined spaces, she says. People no longer want to order everything from the same company and call it a day, instead opting for rooms that look put together over time.
While clients may need a bit of convincing, Feldman says this style is actually pretty easy to master: "It's all about creating the balance. There's a rhythm to pulling it off."
Some of her recommended hacks: Divide the bathroom into planes and use one metal for the lower half of the room's fixtures and another for the top. Other options are to use one metal for the whole room except for a single statement piece, such as a mirror, or to find a mixed-metal light fixture and incorporate its two materials elsewhere throughout the space.
Also important: Know which metals can work together. Feldman avoids combining ones that are too similar in color, lest the mismatch look unintentional: "You want to make sure there's enough contrast that they complement one another." She suggests combos such as flat black and brass or stainless steel and oil-rubbed bronze.
1. Brass + Nickel + Chalkboard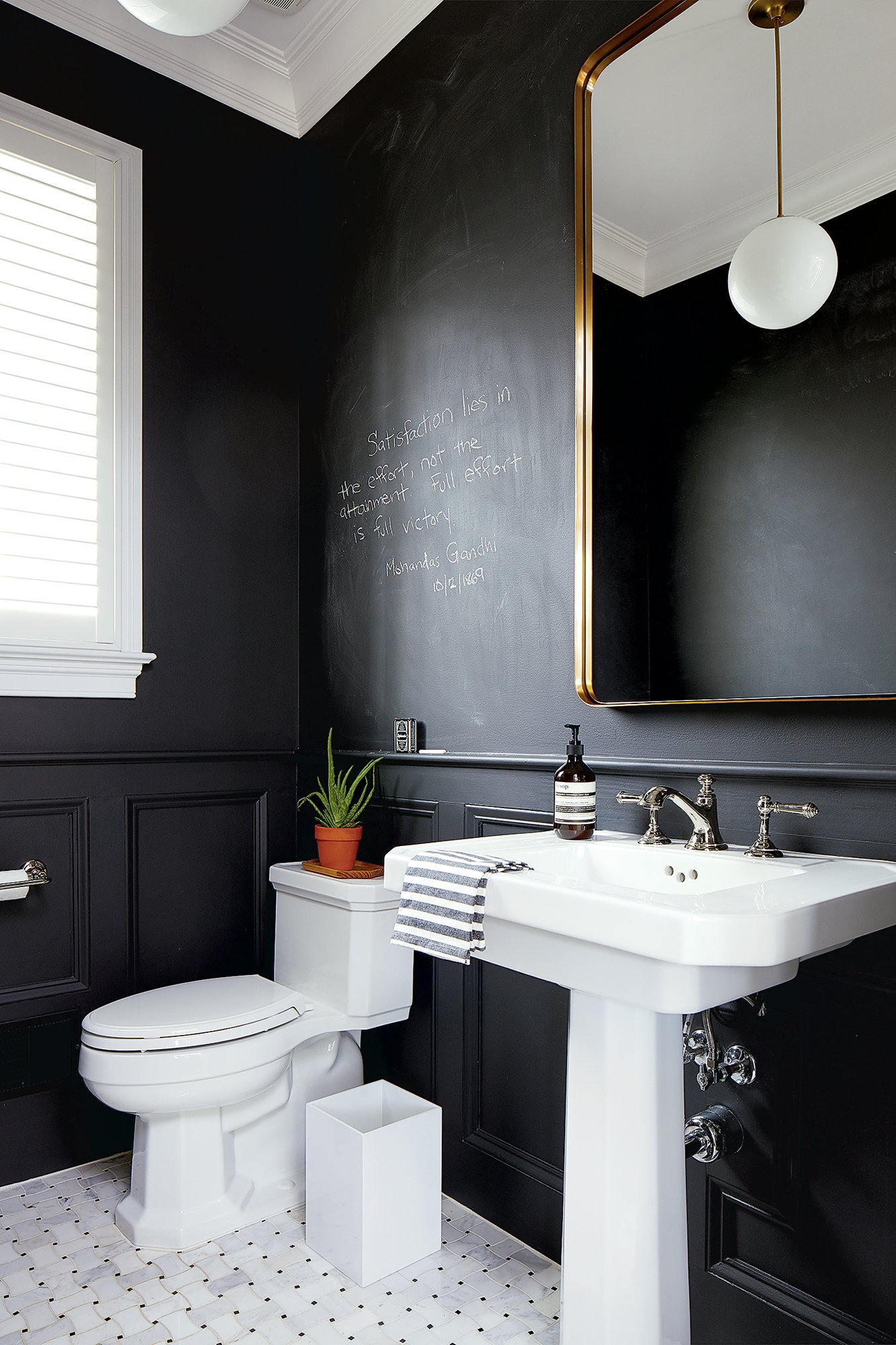 This client wanted to in-corporate poetry into her powder room, Feldman says, so the entire space is done in chalkboard paint. Not only is it an easy way to add inspirational words for guests, but it also pairs with the black found in the basket-weave marble. Polished-nickel sink hardware mixes with the brass mirror and pendant light, creating an eclectic, moody space.
2. Brass + Black + Wood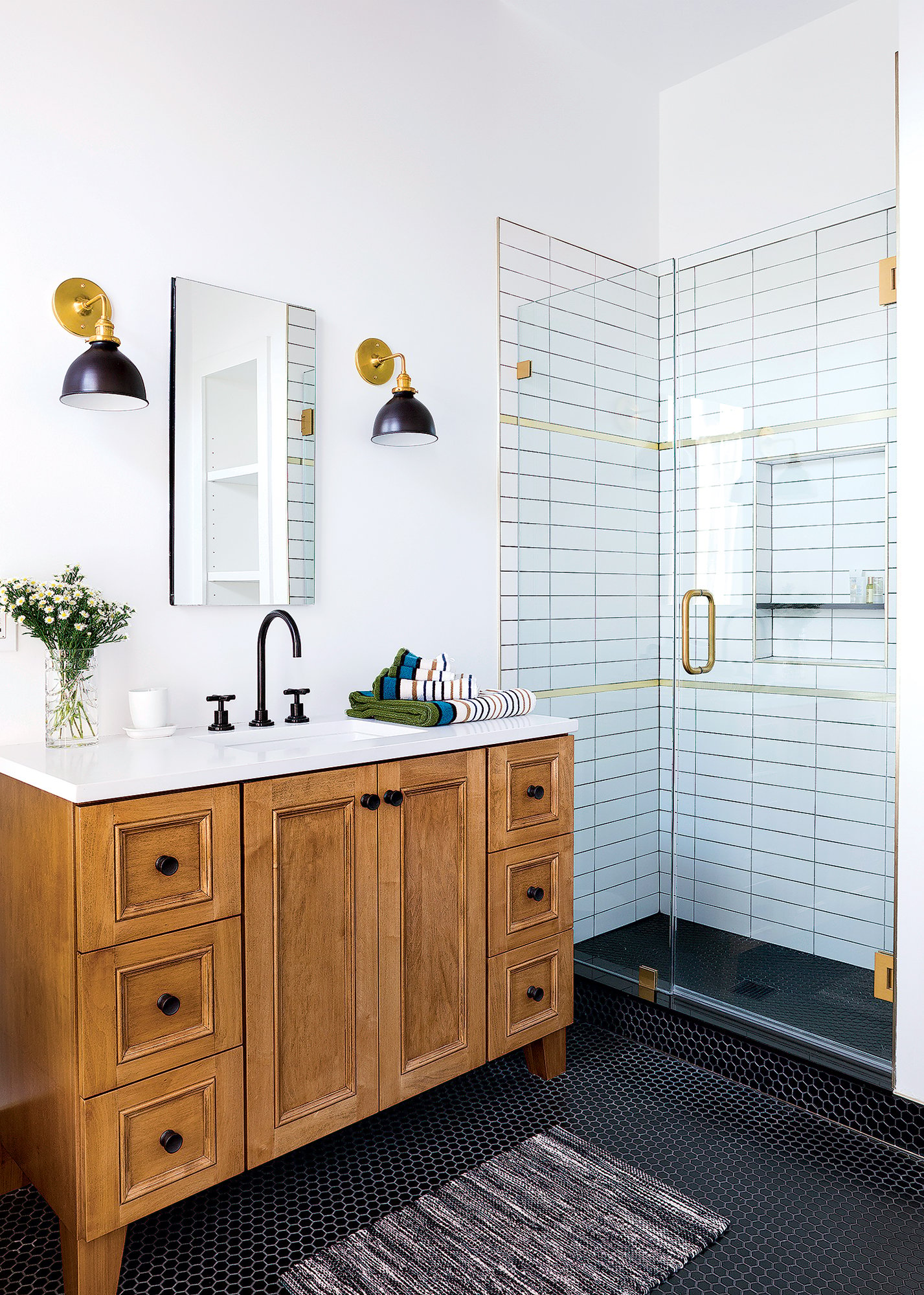 Feldman had the wood-en vanity custom-made and paired it with black hardware to pick up the ceramic hexagonal floor tile. The brass-and-black lighting is a simple way to ease into a multi-metal room, she says, and pairs with the brass hardware and shower frame.
3. Brass + Nickel + Glass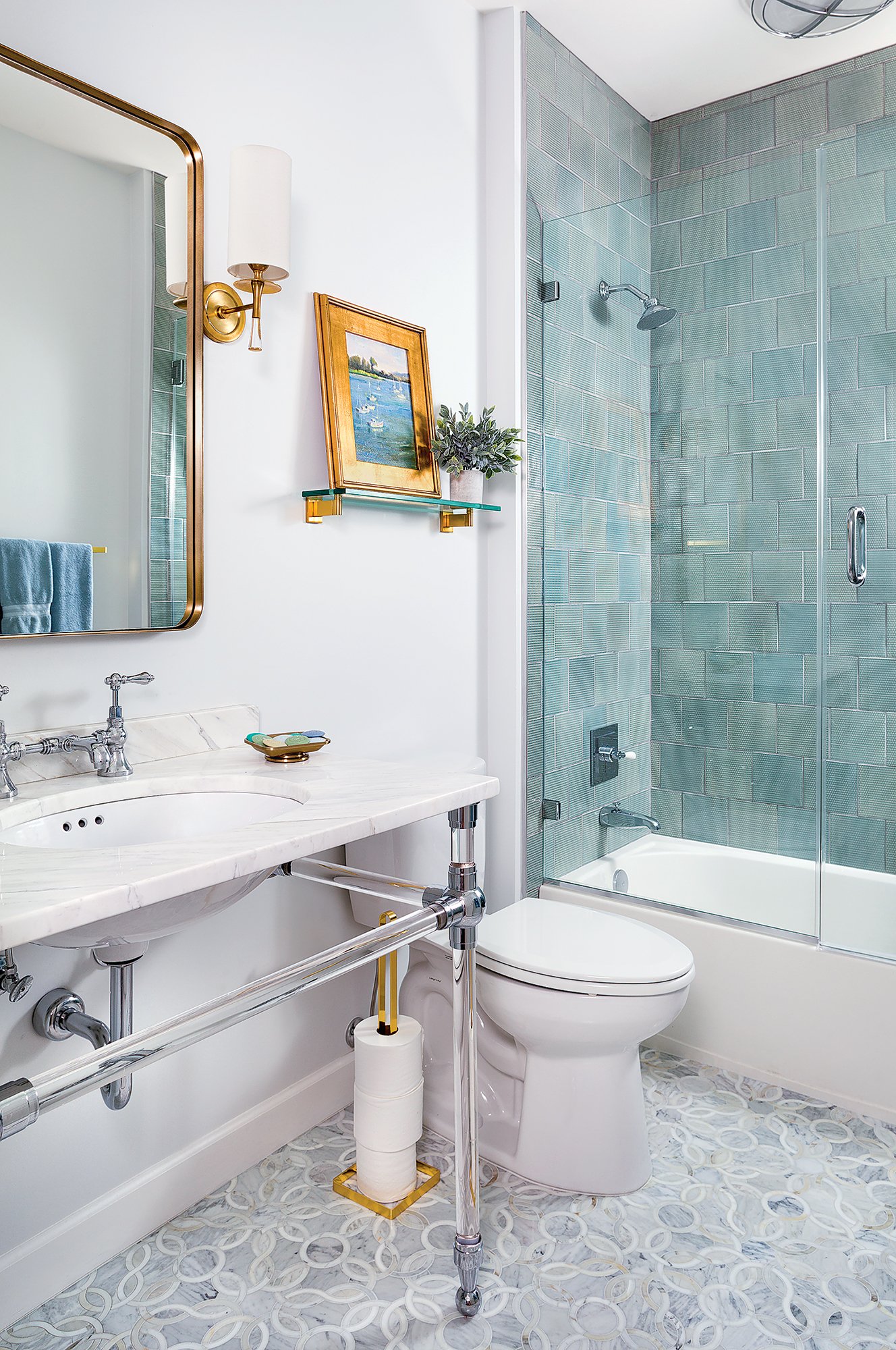 Feldman's client saw the brass wall sconces and fell in love, so the designer knew she'd have to pick another metal to complement them. Polished nickel does just that, appearing on the washstand's glass legs and on the shower fixtures. The brass is picked up again in the mirror, toilet-paper holder, and painting frame.
4. Copper + Black + Wood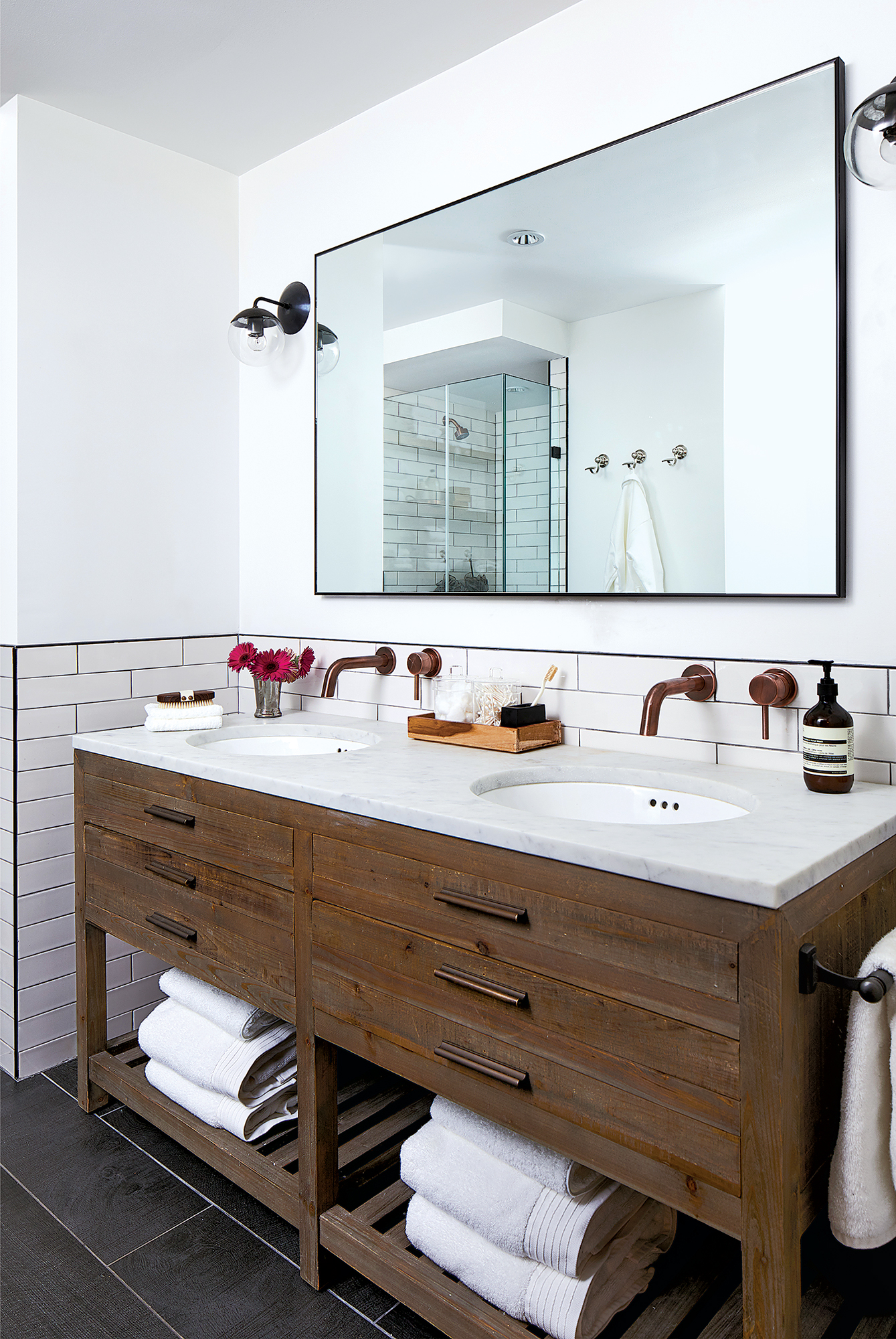 The owners of this bathroom wanted lots of copper, plus a black door. Luckily, black and copper make for an elegant combination, says Feldman. Copper is found in the shower, in accessories on the floating wood shelving, and on the marble-and-wood double vanity, while flat black metal shows up on the mirror, lighting, and shower.
This article appeared in the May 2018 issue of Washingtonian.