Drink Company has created pop-up bars devoted to Christmas, cherry blossoms, Game of Thrones, and the Royal wedding. The latest? A Rick and Morty-themed drinking destination called Wubba Lubba Dub PUB, which will run from Aug. 9 through Oct. 6. UPDATE: The opening has been pushed back to Aug. 16. 
If you're not familiar with the animated science fiction series, what you need to know is it chronicles the wacky adventures of alcoholic mad-scientist Rick and his 14-year-old grandson Morty as they travel through time and alternate dimensions. Think South Park meets Doctor Who.
"I feel like every generation has their adult animated show," says Drink Company CEO Angie Fetherston. "There are the Simpsons people, the South Park people, the Family Guy people. This is ours."
Fetherston says she and others from Drink Company came up with the idea for the pop-up while dressed as the Council of Ricks last Halloween. (For the uninitiated: a version of every character exists in every dimension, and a governing group of Ricks oversees all the Ricks.)
The Wubba Lubba Dub PUB (named after Rick's catchphrase) has two entrances: one for people who dress as Ricks, and one for everybody else. Drink Company's pop-ups have infamously long lines, so come in costume if you want to lessen the wait.
Special Projects team Matt Fox, Adriana Salame-Aspiazu, and Alisa Wyman have decorated every room in the space—which spans three bars—like a different dimension or world in the show. Some of it remains in 2D, while other components have been brought to life in 3D.
Costumed Ricks will enter into the family's garage-turned-lab outfitted with an old washer and dryer plus shelves of scientific equipment. On the ceiling, you'll find "real fake doors" and "plumbus" advertised on inter-dimensional cable (a cable box Rick invented to access TV shows in every dimension).
Seven-foot-tall Mr. Meeseeks—blue creatures that do anything you ask—stand behind the bar. Fetherston's mom Maria Aspiazu, who's become a regular artist for the pop-ups, created a couple of them move.
An inter-dimensional portal made of mirrors and lights leads to another bar. In the front, cutouts of the team's favorite characters—painted by graffiti artist Andrew Funk—pose along the wall, next to a golden podium for the Council of Ricks. Opposite of that are a bunch of Mortys.
In the back of the bar is the Cygnus-5 expanse with a giant animatronic Cromulon repeating phrases like "Show me what you got," "disqualified!," and "not cool." (If you're saying, "Huh?," basically the Cygnus-5 expanse is home to a bunch of giant floating heads called Cromulons that conduct a singing reality show between planets.) You can pose on a stage in front of the animatronic Cromulon, but sadly, there's no karaoke. "We thought that would be highly annoying to everyone else," Fetherston says.
The third bar is decorated like Anatomy Park, an amusement park inside the body of Rick's friend, Ruben. You can see rides like "pirates of the pancreas" plus red blood cells along the wall. A radioactive green DNA strip sits behind the bar, and the bar top art is designed to look like brain-folds or guts. A 24-foot naked Santa is painted on the ceiling with his belly hanging over his, um, parts. (If you are confused, sorry, you just have to see the episode.)
Further back in the bar is a mega tree farm and a space cruiser. In the show, the ship is built out of garbage, so true to form, the bar's ship is also made out of garbage, including some scrap metal found in an alley.
Barman Paul Taylor has created themed drinks to go with the themed decor. (For training, the bar team sent the staff clips that correspond with every drink.) The bright blue cocktail called "Existence is Pain" (gin, vermouth, blue curacao, coconut water, lemon absinthe) is based on something you might want to drink while playing golf with the Meeseeks.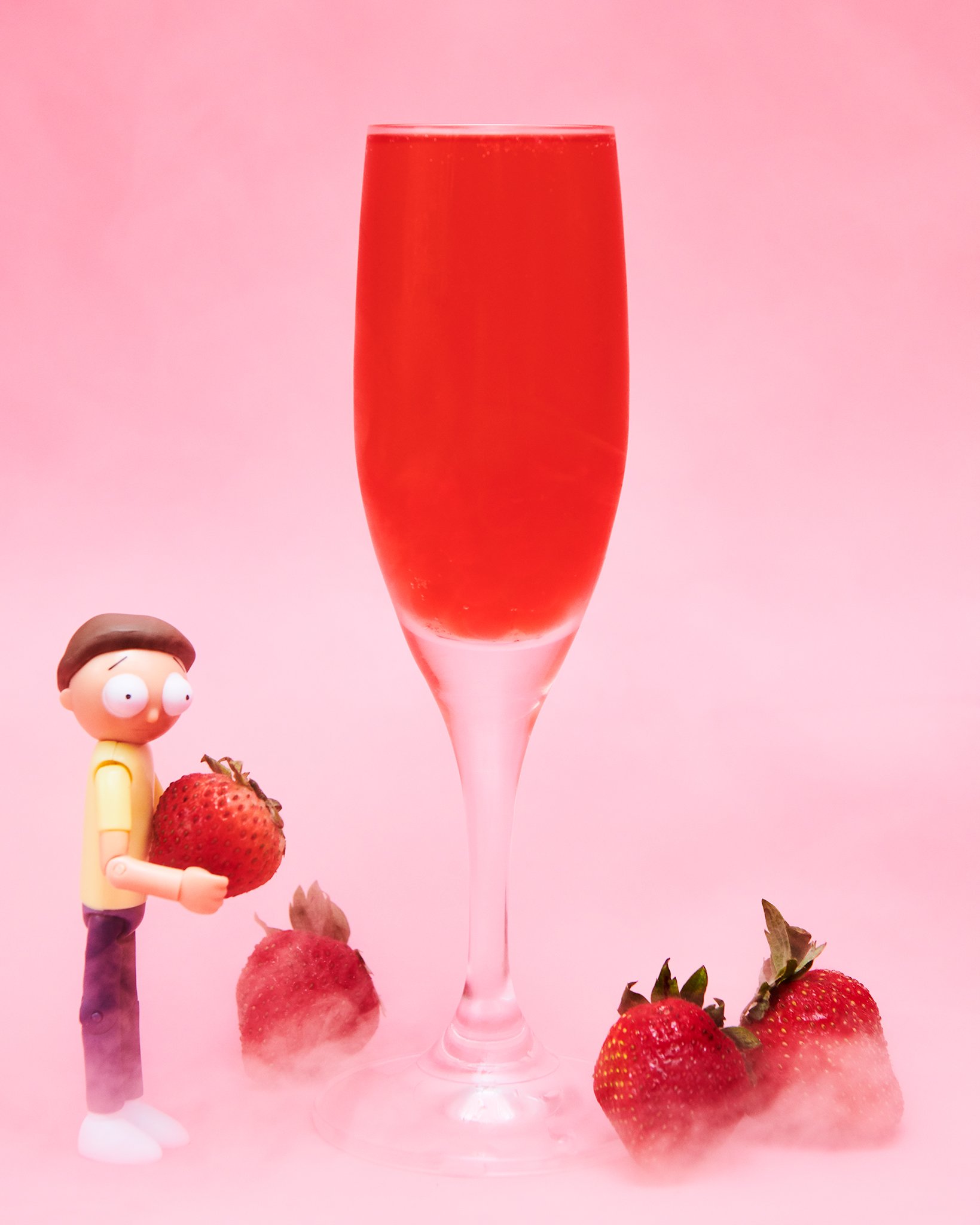 Another drink called "Morty's Mind Blower" is named after tubes filled with traumatic memories that Rick has erased from Morty's brain. They look not all that dissimilar from this rosé, strawberry Campari, blanc vermouth, and sparkling water cocktail served in a Champagne flute.
The bar has specialty glassware for some of the drinks. Pickle Rick Backs with Old Grand-Dad whiskey and Gordy's pickle brine come in mini beakers. Meanwhile, a whiskey and fortified apple cocktail called Mr. Poopybutthole, after one beloved Rick and Morty character, is served in a poop emoji glass.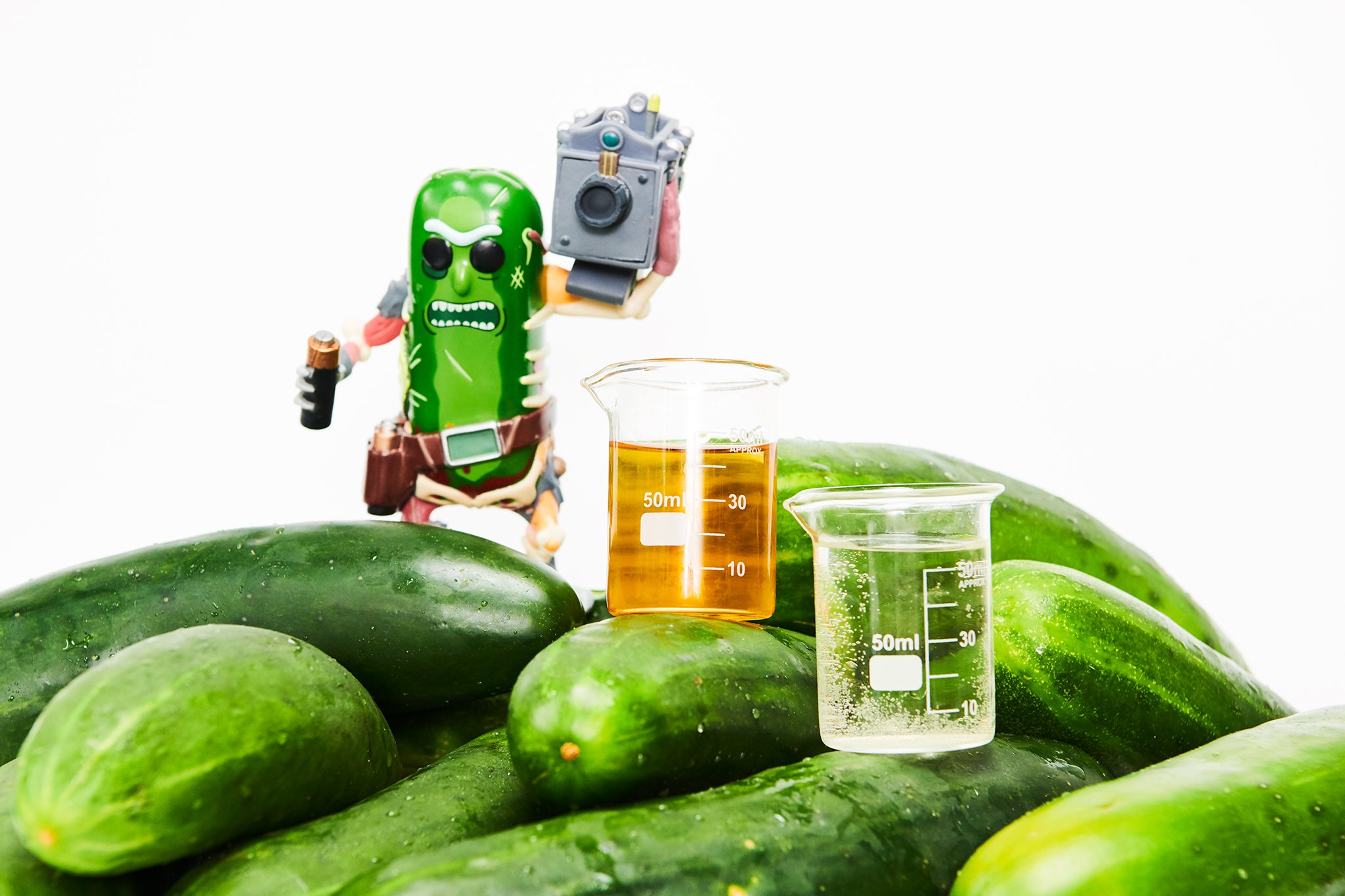 As for intellectual property issues, Fetherston says the bar often has behind-the-scenes agreements. "We can't really talk about them on the record," she says.
Wubba Lubba Dub PUB, though, isn't the first Rick and Morty-themed pop-up bar. An arcade bar in Chicago did the same thing earlier this year. (According to the Chicago Tribune, Turner Broadcasting contacted the bar about its use of intellectual property but gave permission to continue the pop-up in an "unofficial capacity.") Fetherston says her team didn't find out about the other pop-up until after they started working on their own.
Ultimately, she hopes that Wubba Lubba Dub PUB is immersive enough that even if you don't watch the show and understand the many Easter eggs hidden throughout the bar, you can still appreciate it.
"It's like the Game of Thrones bar; The people who were fans of the show loved it and enjoyed it. But the people who weren't also had an awesome experience. They built a crazy, crazy world in there," Fetherston says. "This is my favorite so far."
Wubba Lubba Dub PUB. 1839 7th St., NW. popupbardc.com.
Correction: Maria Aspiazu created the Meeseeks, not sculptor Andrew Herndon. Herndon created the animatronic Cromulon.