Momofuku CCDC opened in 2015 with plenty of hype—and plenty of promise. David Chang, the New York chef/restaurateur responsible for creating an entire class of restaurants, had finally returned to Washington, his hometown. He'd already spun off his brand—loud, ballsy, equal parts stoner-friendly and ambitious—into cities like Toronto and Sydney, but this Momofuku was going to be special.
Fast-forward to winter 2017, the last time I'd visited the CityCenterDC restaurant. You couldn't even slice through fried eggplant with a steak knife. Desserts included a slice of Milk Bar birthday cake that was only half defrosted. And with its rarely changing menu of well-worn hits (bao, ramen, repeat), it felt about as close in spirit to Chang's other places as an airport cafe.
Chang wasn't under any illusions about the place. The problem, he told Washingtonian earlier this year, was that he'd micro-managed his chefs too much. Enter Tae Strain, whom Momofuku announced as executive chef in March. A former chef de cuisine at San Francisco's acclaimed the Progress, Strain was given permission to—in Chang's words—"destroy" the menu. Even the ramen.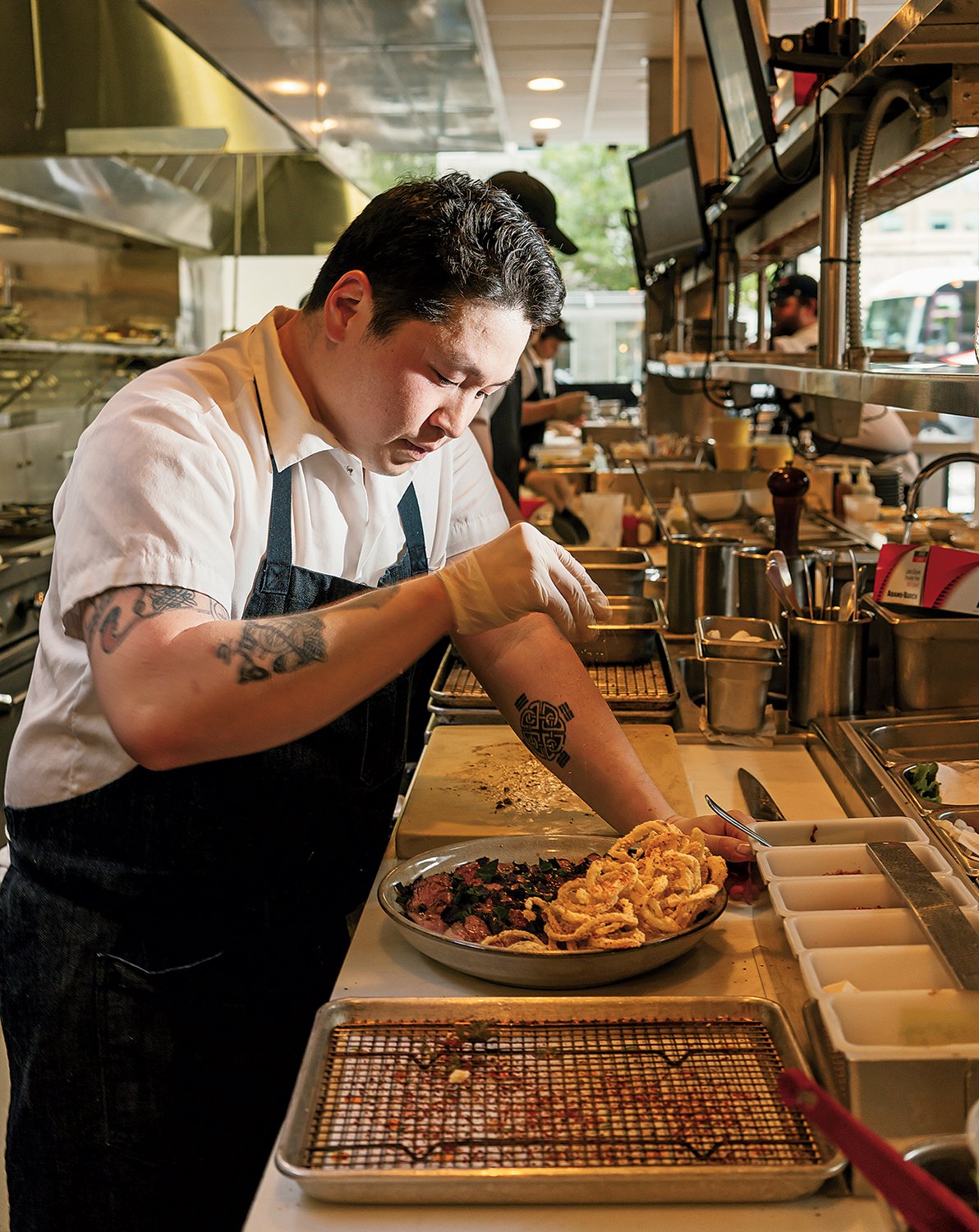 Mission accomplished. At a recent lunch, as a table of four got up and left when their server told them the place didn't offer noodle soup anymore, I was rejoicing over an order of bing, a Chinese-style griddled flatbread. It comes with a number of possible accessories, and I would hoard nearly all of them. The salted-chili pimiento cheese topped with pickled kohlrabi. The sunflower hozon that tastes like hummus, only more vivid. The creamy trout-roe dip. Only the crab dip, which fell victim to the salt shaker, was a mild disappointment.
Save for the fabulously indulgent middleneck-clam toast—rich with dill mayo and smoked butter—the most alluring dishes are the entrées, not the small plates, which include stiff beef-and-lamb dumplings and sodden cucumbers. Go for the branzino ssäm—a whole fish slathered in ginger-scallion sauce and served with Bibb lettuce for DIY roll-ups. A vegetarian farro-and-hominy stew nods to Mexico, with its avocado and charred jalapeño. (Get it with the fried egg or take the leftovers home and do it up for breakfast the next morning.)
The best, however, is the roast chicken. Yeah, it's 54 bucks, but hear me out. The bird is ridiculously flavorful, thanks to a two-day brine and a shellacking of curried labneh. On the side: an excellent simple salad and chicken-fat-glazed rice. It's easily enough for two or three. And like most of the assured cooking here, it feels 100 percent the work of the actual chef in the kitchen.
1090 I St., NW; 202-602-1832
Open Monday through Friday for lunch and dinner, Saturday and Sunday for brunch and dinner.
Neighborhood: CityCenterDC.
Dress: Most anything flies, but it's largely a young, street-style crowd.
Noise level: Very, very loud.
Best dishes: Bing bread with trout dip, pimiento cheese, and sunflower hozon; middleneck-clam toast; branzino ssäm; family-style roast chicken.
Price range: Small plates $5 to $20, large plates $24 to $90 (for marinated-short-rib ssäm serving three to four).
This article appears in the October 2018 issue of Washingtonian.
---