The arrival of Amazon's headquarters in Crystal City means big changes the area's jobs, real estate, and even the neighborhood's name (hello, National Landing). The restaurant scene is no exception. While Crystal City's dining highlights currently include an outpost of Jaleo, some Uyghar food, and a strip club with a decent breakfast, it's likely Amazon will fuel a wave of new, trendy eateries. And if Washington is anything like Seattle, the impact of a young, tech-y workforce with plenty of disposable income will reverberate far beyond just northern Virginia.
To get some insight into Amazon's imprint on a city's dining scene, we called up former Washingtonian food editor Jessica Voelker, who now lives in Seattle and writes about restaurants there. Here are six takeaways:
Amazon likes to recruit hip, local restaurateurs.
In Seattle, the tech giant has made an effort to bring its employees dining options from the city's top chefs and trendiest eateries. Prominent restaurateur Renee Erickson, who operates a number of popular seafood-centric spots like The Walrus and the Carpenter, has a bar and an Italian restaurant in the Amazon Spheres. Meanwhile, hip food trucks, like Hawaiian-Korean Marination and comfort food-focused Skillet, have brick-and-mortar spots around Amazon's campus. Amazon has largely avoided bringing in national chains.
If Amazon follows the same model here, we could see them trying to woo big names like José Andrés or Rose's Luxury's Aaron Silverman, but maybe also a spinoff of Maydan or Call Your Mother?
"Will they approach, I don't know, people from Bad Saint?" Voelker asks. "What will that look like and how will people feel about that? Here in Seattle, it's amazing to see really hardworking restaurateurs do really well, and at the same time, you feel like something is a little bit lost, because you go there and it's almost like the Disney version of your favorite restaurant."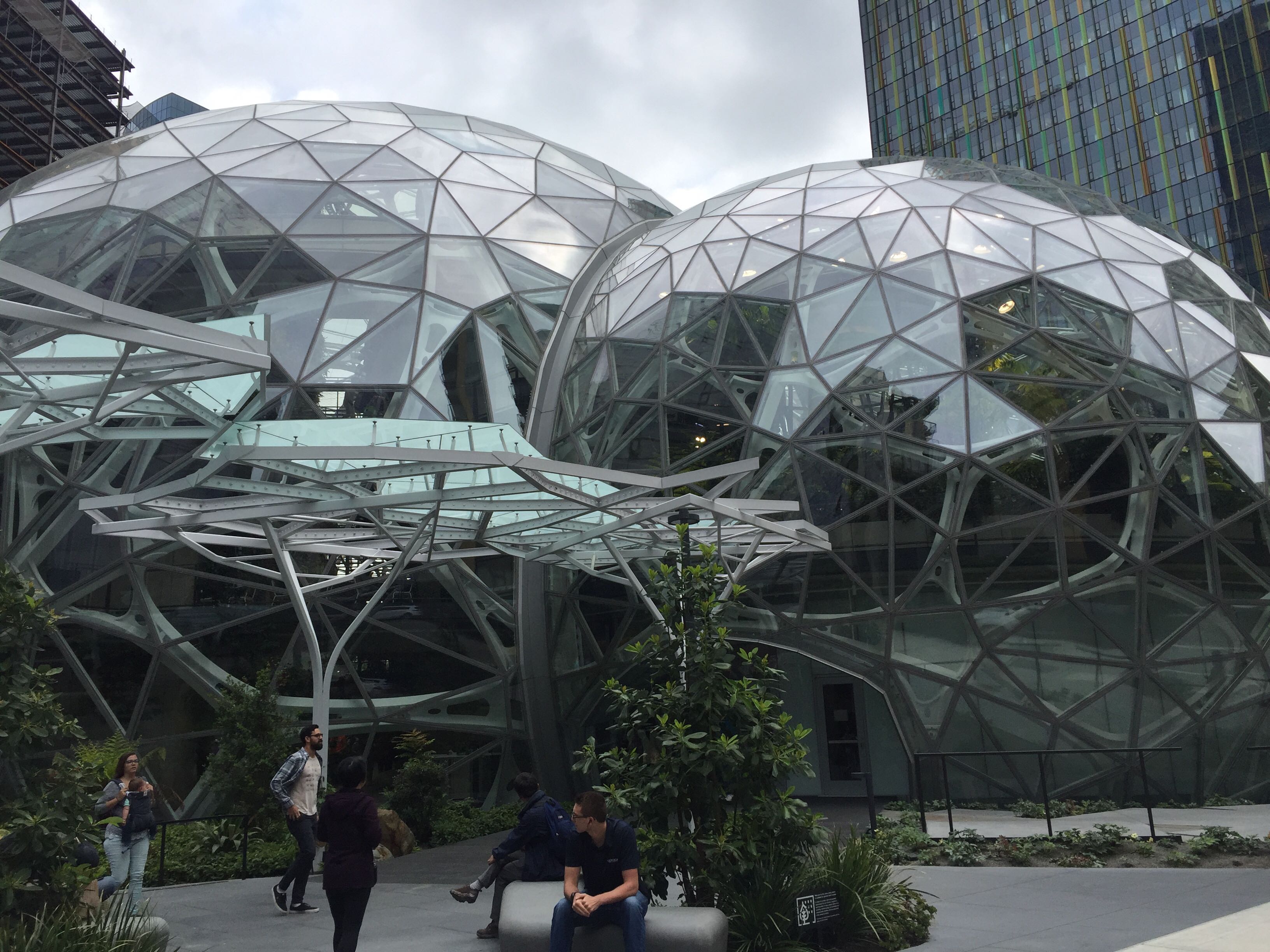 Lunch and happy hour will be big.
Restaurants in the Amazon bubble do most of their business during work hours and immediately after. Many, however, have struggled to bring in big dinner crowds, according to the Seattle Times. Seattle restaurateurs say Amazon's plans to transform a formerly rundown area of downtown into a "18-hour district" haven't fully materialized.
Voelker adds that many restaurants in the Amazon bubble have large bar areas to accommodate all the high-income workers who don't cook and dine alone frequently. "There's a lot of people just coming in every day. They don't know anybody, and they're dining out and they're meeting people. So you seen bar-dining culture evolving," Voelker says.
Jeff Bezos himself might weigh in on dining options.
Word is that Bezos himself suggested an offshoot of a cheffy Bellevue eatery he frequents for Amazon's campus, Voelker says. In DC, we don't know if the Amazon CEO has any particular favorites, but he has been spotted at Le Diplomate, Cafe Milano, and Fiola Mare.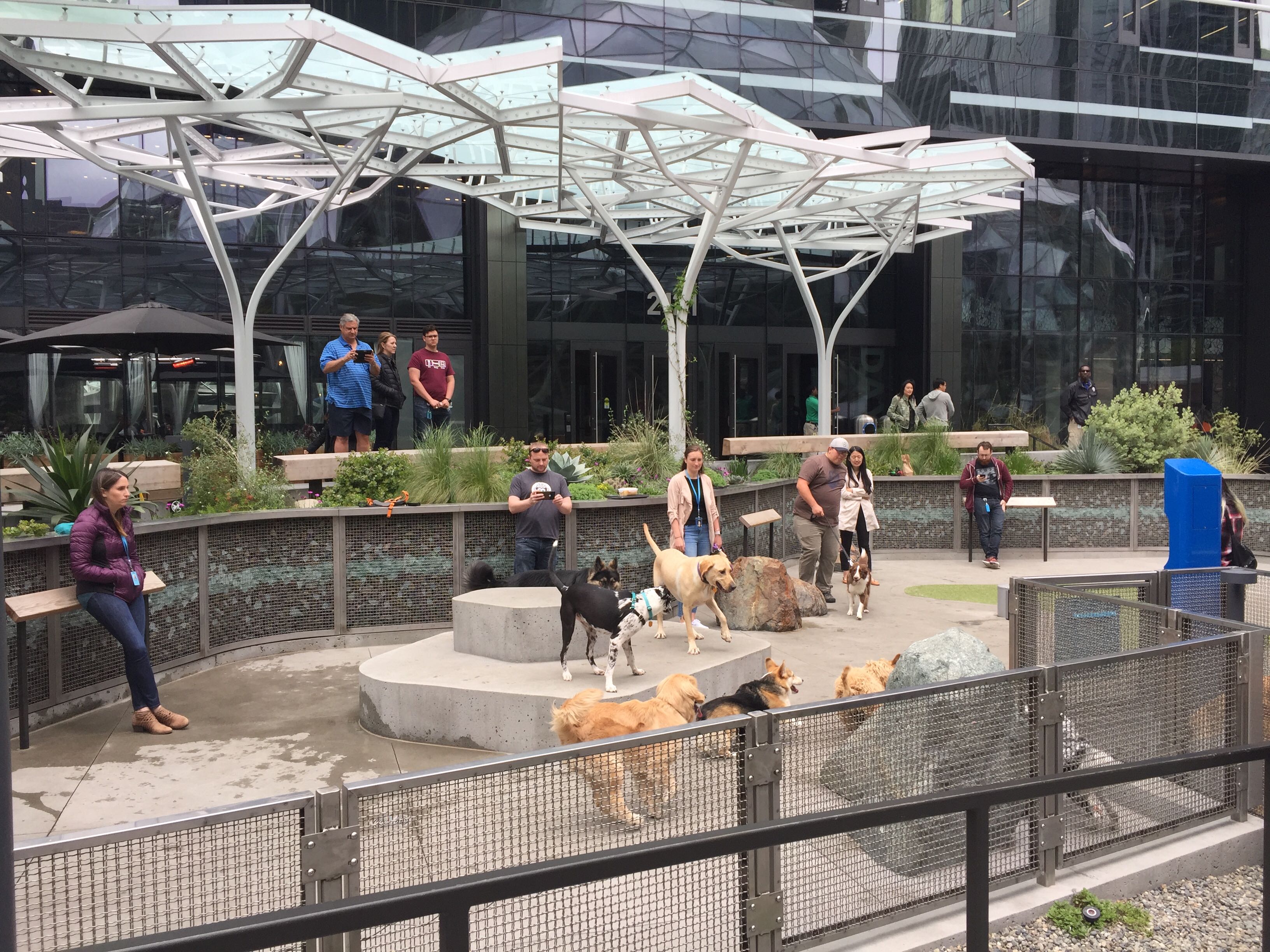 Dog-friendly patios and "yappy hour" will thrive.
Amazon has dog-friendly amenities throughout its Seattle headquarters. (After all, if you don't have to rush home to walk your dog, you'll keep working.) "Dog happy hours are a big thing and people are always asking on forums: 'Where can we go that's dog friendly?'" Voelker says.
Tired: cashless. Wired: cardless.
It's only a matter of time now before the DC-area gets its first Amazon Go store. The grocery and prepared food spots use cameras, sensors, and an app, so you can walk in and out without having to check out at a register.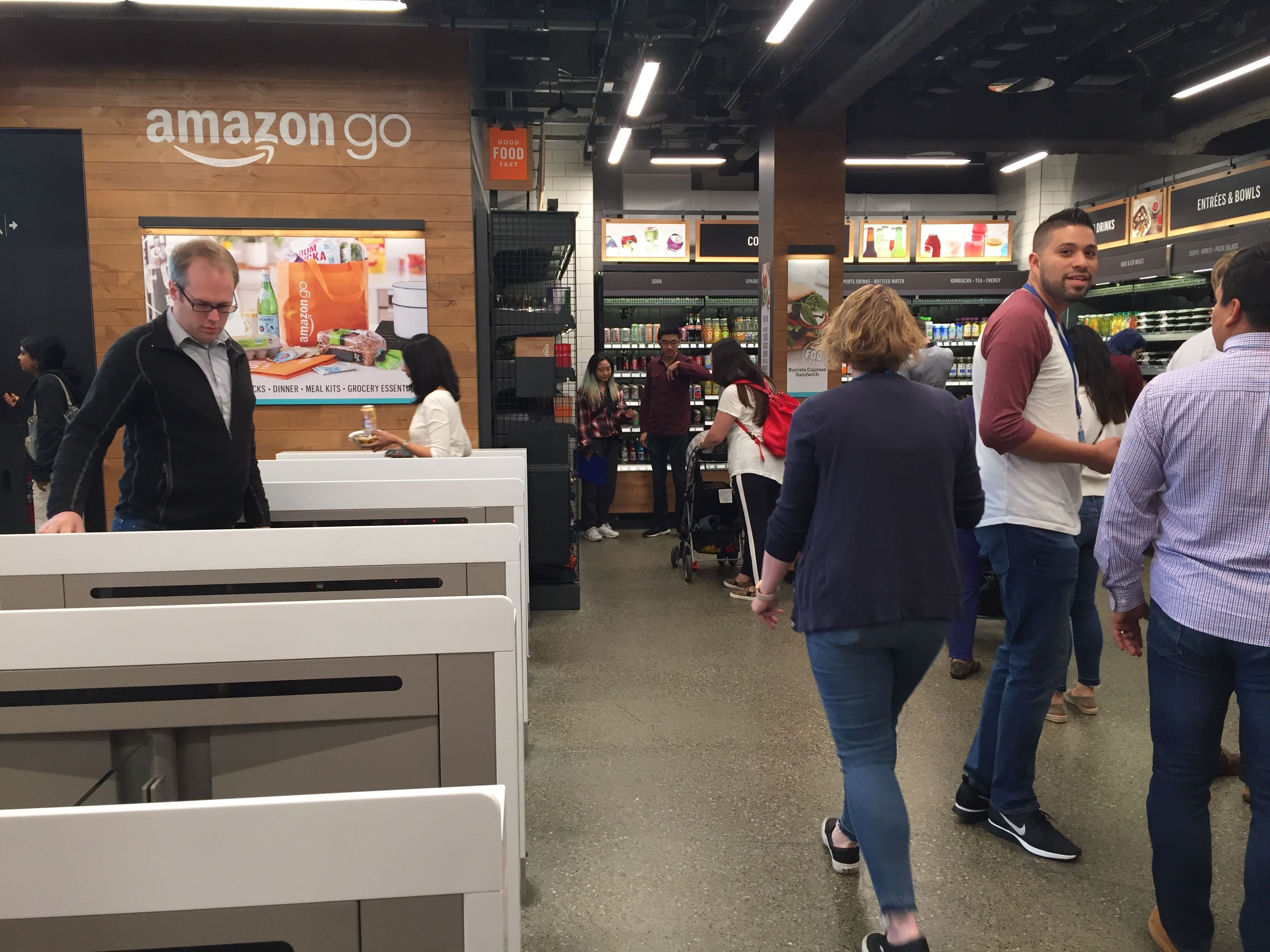 Things are only going to get more expensive.
DC-area dining is already pricey, but the addition of 25,000 jobs with average wages over $150,000 is likely going to make it more so. At least that's been the case in Seattle: "Being over in that area, you're going to expect to spend like $14 to $17 on a salad or tacos," Voelker says. "And I think they know that they can charge that much."