Dream about spending hours relaxing at a luxe day spa? Or simply want a quick, well-priced massage or facial? To find the area's best services, we sent out testers, surveyed locals, and combed through reviews. The result: this guide to the most recommended spa experiences in the region.
Top Spas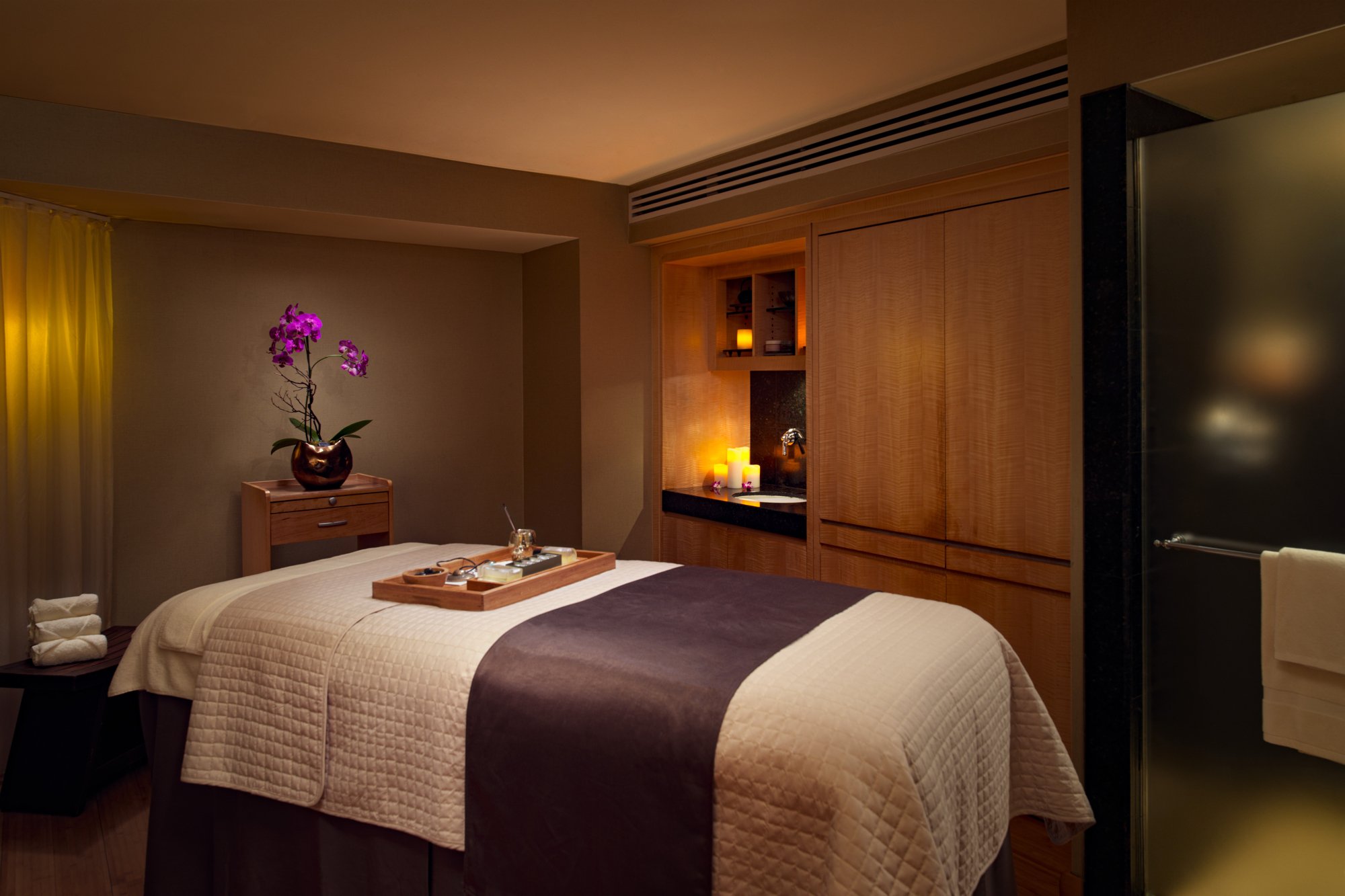 When it comes to the Washington area's best, most luxurious spa experiences, we heard two names again and again.
500 N. Pendleton St., Middleburg
In addition to luxe accommodations and sprawling grounds that include an equestrian center, many would argue that Salamander's spa is the resort's real draw. The space offers private treatment terraces, lounging areas, and a spa courtyard with an infinity pool, hot tubs, a fire pit, and cabanas. Carl Ray, a makeup artist who counts Michelle Obama among his clients, recommends the detoxifying body polish and the aromatic steam rooms. The HydraFacial is a favorite of hair and makeup artist Claudine Fay. Wedding planner Laura Held likes the deep-tissue massages and says the atmosphere, level of service, and facilities make it worth the hour drive from DC.
2800 Pennsylvania Ave., NW
Perhaps because the Four Seasons is where many high-profile visitors stay while in town, the spa has mastered the art of discretion. That makes it a favorite of DC cosmetic dermatologist Tina Alster (who gets the 90-minute massage). Hairstylist Serena Hampton Yates also likes the massages, as well as the serenity (think soft music and a lavender aroma), despite its relatively small space. Public-­affairs expert Gloria Dittus opts for the Georgetown Glow facial, while Lynda Erkiletian, founder of THE Artist Agency, has been known to make a day of it, using the steam room and sauna before a facial or massage, then getting her hair done by Ismail at George at the Four Seasons and having a cocktail or dinner at Bourbon Steak. Because this is the Four Seasons, it's not cheap: Massages start at $185, and the priciest service, the Ionixlight facial, starts at $655. (That's a favorite of content creator and stylist Anchyi Wei.)
Make a Day of It: Other True Day Spas We Like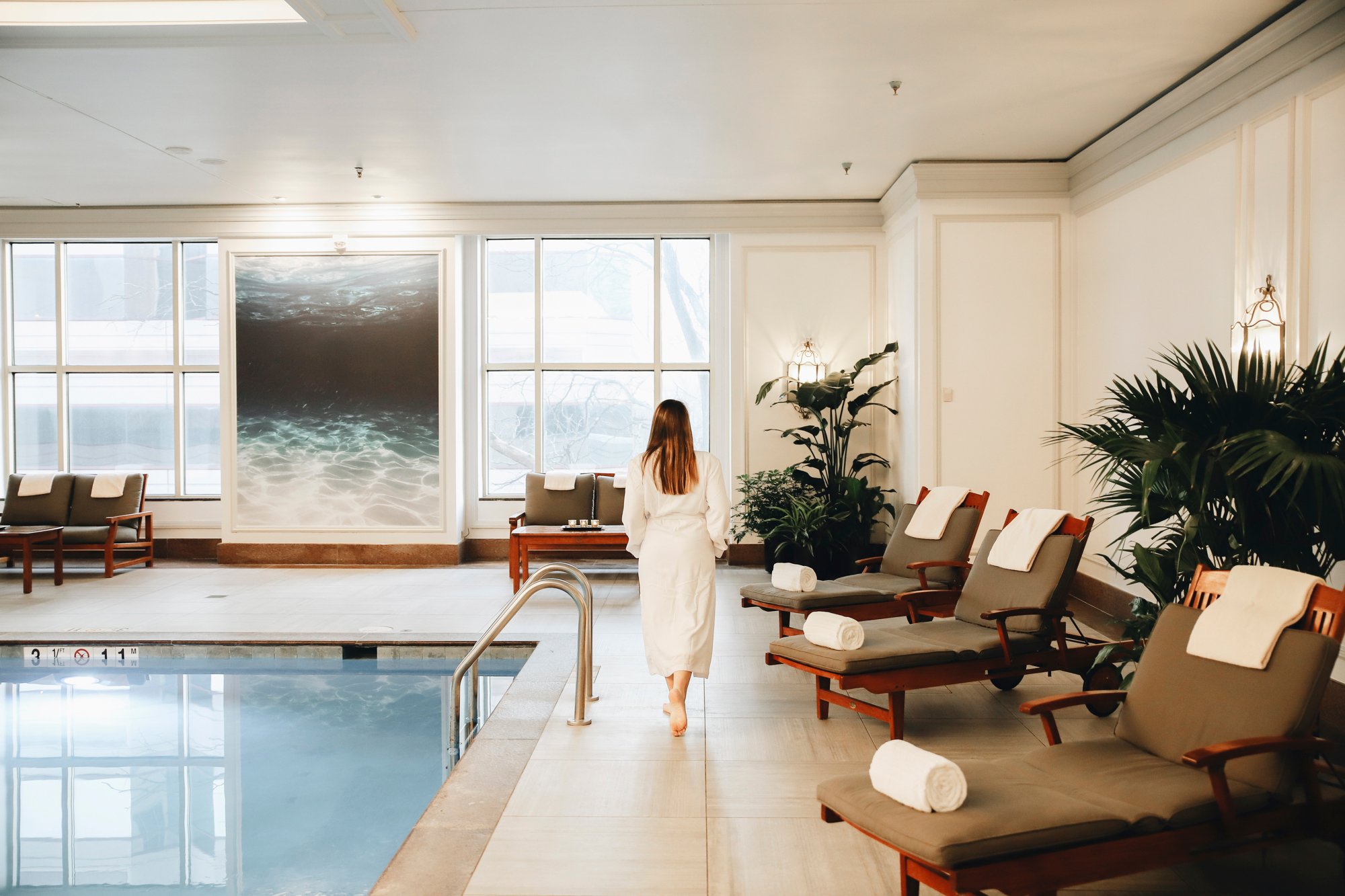 These have facilities that encourage lingering after a treatment.
2650 Virginia Ave., NW
Here, you can enjoy a saltwater lap pool, whirlpool, and sauna/steam rooms. Just know that those amenities are also available to hotel guests, so they can get crowded at peak times.
201 Waterfront St., Oxon Hill
Plush robes, complimentary tea and Champagne, and a post-treatment lounge with water views are among the things to love here. (Note: The whirlpool is temporarily closed.)
1700 Tysons Blvd., McLean; 3100 South St., NW
If you'd like to combine a spa day with shopping, the Ritz in Tysons is convenient; its well-appointed spa has a steam room, sauna, pool, and Jacuzzi. Or try the Spa at the Ritz-Carlton in Georgetown, which offers free valet parking.
515 15th St., NW
Services include everything from massages and body treatments to nails and waxing, but amenities are a bit more limited, with just steam showers and a relaxation lounge. Notably, the spa has 127 five-star reviews on Tripadvisor.
1401 Pennsylvania Ave., NW; 801 Wharf St., SW
Both InterContinental hotels in DC—the Willard and the Wharf—have spas, and both got rebrands recently. The matching, simplified menus list just one or two of each type of treatment (massage, facial, pedicure, etc.) with various add-ons for customization (dry-brush exfoliation, aromatherapy, hot stones). The spaces are straightforward, too: Both have relaxation lounges with chaises, cucumber water, and magazines (the one at the Wharf's spa overlooks the water) and locker rooms (those at the Willard have steam and sauna). Our tester's pedicure at the Wharf was the best she's ever had, thanks to nail technician Latoya Duckett.
101 MGM National Ave., Oxon Hill
This spa has men's and women's "wet rooms" with Jacuzzis, plus 11 treatment rooms across 27,000 square feet—making it ideal for a spa day with a group. We also hear great things about the couples massage.
200 International Dr., Baltimore
The spa at this Four Seasons has long been considered a gold standard in the region. There's a pool, steam room, and sauna, plus a waterfront relaxation room where sunlit naps are encouraged.
44050 Woodridge Pkwy., Leesburg
Spa Minerale offers all the traditional amenities—a locker room, steam and sauna, a hot tub, and a relaxation room.
2 Paseo Dr., North Bethesda
There are plenty of thoughtful details at this hideaway, part of a national franchise, just off Rockville Pike. Though the changing room is snug, the lowlit and spacious "quiet room" offers a wide array of magazines—plus a tray of reading glasses. Chaise longues are stacked with thick blankets, and there's a nice selection of teas, along with a bowl of chocolate truffles. Facials use top-notch Skinceuticals products, and our tester's aesthetician doled out plenty of skin-care tips that didn't involve an upsell. Another nice touch: At the end of a treatment, you're ushered back to the plush relaxation area and offered a complimentary mimosa or glass of sparkling wine.
---
---
Simpler Pleasures: Great Services with Fewer Frills
With no saunas, steam rooms, or other Zen-inducing facilities, these are not spots where you'll linger. Still, the services alone make them worth a visit.
3705 14th St., NW
News4 anchor Jummy Olabanji says she's a fan of this spot because it's easy to get an appointment and the prices are reasonable. A signature massage starts at $85 for 45 minutes, ranking it among the least expensive at any of the spots on this list.
1805 Belmont Rd., NW
A painfully good massage—and hot towels—won over our tester, despite the cramped treatment room. Services range from waxing and body wraps to hot-stone treatments, and the massages and facials are on the less expensive end, starting at $100 and $115, respectively, for an hour.
2028 P St., NW
Reached via a floral archway leading to a rowhouse turned massage haven, Deluca has been a neighborhood fixture for 23 years. More than a dozen treatment rooms span four floors—many spacious enough to accommodate candlelit couples massages—plus a living-room-like relaxation area. Services are geared toward holistic healing, stress relief, and/or bodywork and include experiences such as Hawaiian-style lomi lomi, which incorporates breathing exercises. But massage is the focus. (We've heard raves about the sports massage.) Don't expect extras like tea or robes, but it's worth mini-splurging on such upgrades as $10 aromatherapy oils or $20 hand and foot scrubs.
108 E. Fairfax St., Falls Church
This quaint spot has several small but well-appointed treatment rooms. (Think warm, cozy beds, low lights, and the sounds of a babbling brook complementing Zen music.) Services range from basic organic facials (starting at $100) and massages (starting at $150) to gong therapy, sound baths, and guided meditation. Our tester's facial was especially calming—each step punctuated with a warm towel and aromatic spritzing, plus minimal chatting.
111 N. Alfred St., Alexandria
From the outside, the historic rowhouse off Old Town's King Street looks modest, but inside is a multistory, expansive retreat with a wide menu, including waxing, lash extensions, and massage. While the interiors are a smidge dated (purple carpet, '80s-style wall art), a facial was relaxing and informative. The aesthetician offered feedback on our tester's skin-care routine, explained what might be causing recent breakouts, and gave an A-plus head rub. Bonus: A heated, weighted neck pillow placed around the shoulders induced a ten-minute nap.
1990 18th St., NW; 1054 Thomas Jefferson St., NW
The treatment rooms at these spas—one in Adams Morgan, one in Georgetown—give off Downton Abbey vibes with their gilded mirrors and ornate chandeliers. A signature full-body massage combines Swedish, sports, and deep-tissue styles—and you can upgrade your session with aromatherapy or CBD oil. The Adams Morgan location specializes in massages, including a popular couples option, while Georgetown has a wider range of services, such as facials and body wraps, and accommodates small groups for celebrations.
---
---
Very Fancy New Hotel Spas
These new, ultra-luxe hotel spas have some of the most over-the-top offerings and amenities in the city.
1330 Maryland Ave., SW
Like its sister spa in Middleburg, the Salamander DC is chock-full of amenities: lounges, saunas, steam rooms, pools, and an ice fountain. As part of the spa's transformation—the Salamander took over the Mandarin Oriental last year—changes on the horizon include the addition of street-level entrances, plus updates to the locker rooms, treatment areas, and pool. A "revitalizing treatment" includes a 24-karat-gold-infused body scrub ($325).
1100 Pennsylvania Ave., NW
The spa at the Waldorf Astoria—formerly the Trump hotel—has a Himalayan Salt Therapy Room and a place called the Sanctuary, which features private resting cocoons and a serenity fountain. NBC4 anchor Jummy Olabanji calls the ambience "next level." The "rituals and retreats" section of the menu highlights the most indulgent packages—such as the $2,500, four-and-a-half-hour couples retreat that includes a Champagne foot soak; a body scrub in a couples suite; Champagne and caviar; and hot-stone massages.
655 Water St., SW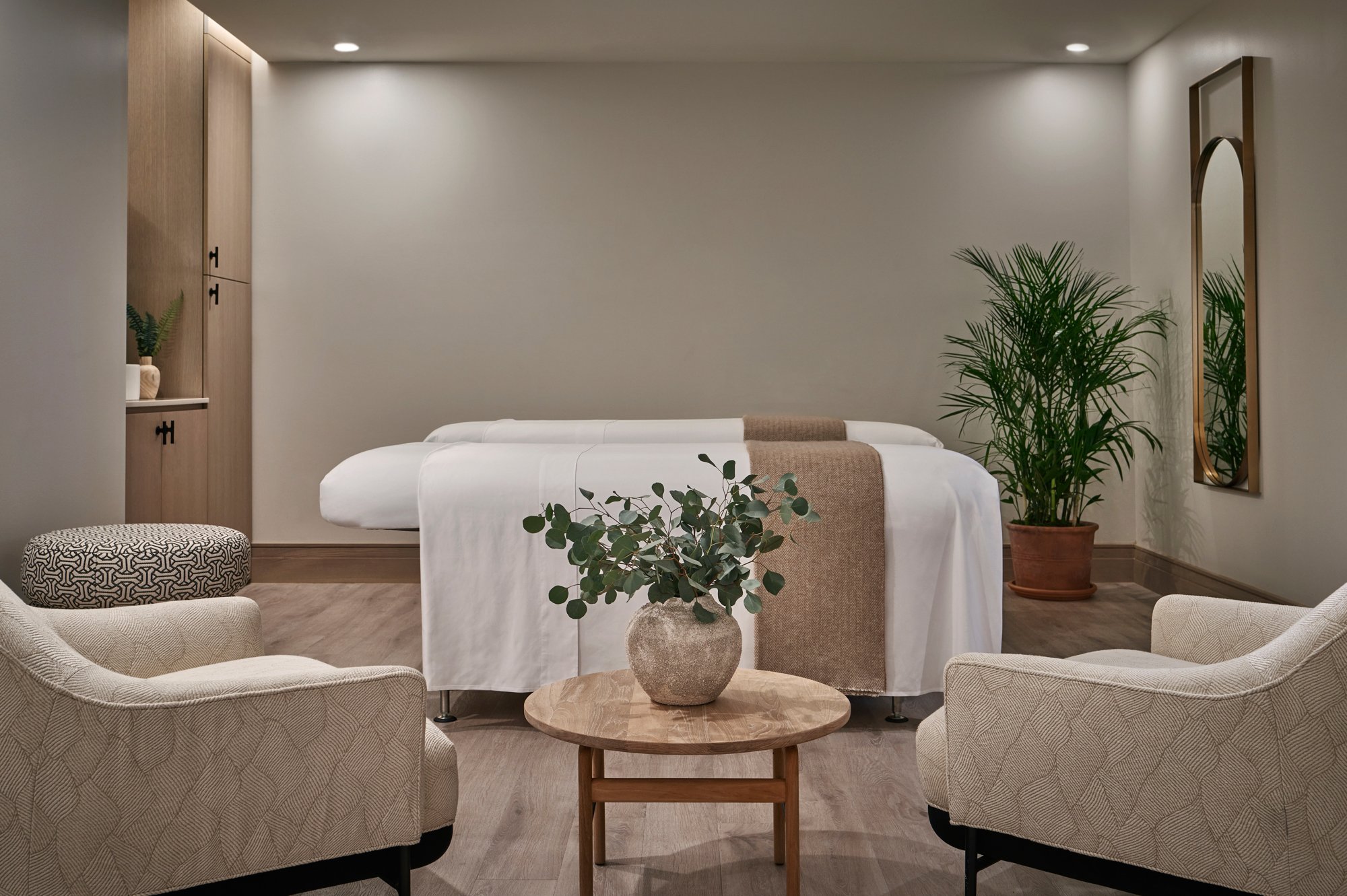 When the weather's nice, you can easily spend a day at the Spa Pendry between your treatment, the eucalyptus steam rooms, and the terrace, which overlooks the Wharf and features a heated pool. (Access to the pool terrace is limited to guests who book a service 90 minutes or longer.) Add to your massage—which starts at $195—an eye mask made of actual diamonds (in powder form) for an extra $30.
---
---
Correction: The sauna and steam rooms at the Relanche Spa at Gaylord National are now open. But the whirlpool is still temporarily closed. A past version stated the sauna, steam rooms, and whirlpool were temporarily closed.
This article appears in the May 2023 issue of Washingtonian.