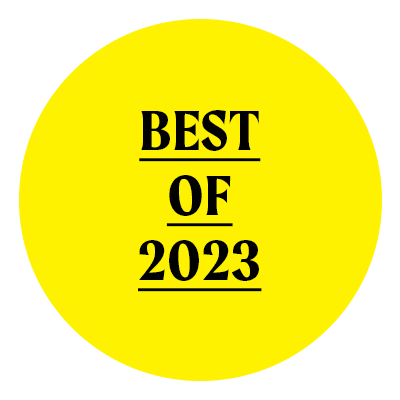 The best tuna melts, the nicest new rooftop bars, the perfect martini, and more of our top tastes and tipples.
---
Best College Try—In and Out of the Pool
In 2014, when Nicholas Askew became head coach of the swimming and diving teams at Howard University, the program had sunk to a low point. So the Howard alum, who swam for the Bison in the late 1990s, addressed every part of the program—from having the once-drab indoor pool freshly painted to recruiting and developing athletes.
The effort paid off. This year, the men's and women's teams both had winning records for the first time in school history, and the men's won its first conference championship in more than three decades.
The only all-Black college swim team in the nation is making a splash outside the pool, too—partnering with non­profits to teach water safety and drowning prevention, mainly in the Black community, where Askew says 65 percent of people have limited or no swimming ability.
Howard swim meets, meanwhile, have become an event, with a DJ and a cheering crowd. "We have 482 seats, and almost every meet now we have 500 people," Askew says. "It's standing room only. The environment is super, super electric."
Want to cheer on the Bison? The new season starts in the fall, and admission is almost always free. (They charged $5 for a meet against Georgetown.) If you see a QR code on the program asking for donations, bear in mind that this team is hungry in more ways than one: "They eats tons of carbs and pasta," Askew says, laughing. "It is very expensive."
---
---
---
Best New Option for Testing Out Baby Gear
1260 Fourth St., NE.
At a time when big-box retailers with baby gear on display are closing stores and are harder to find, Three Littles—a sustainability-focused, upscale toy store near Union Market—recently expand­ed its offerings to include car seats and strollers. Shoppers can not only ask questions of the knowledgeable staff but also try the gear—including brands such as Duna, Babyzen, and Uppa­baby—even taking strollers for a "test drive" outside to see how they do on city sidewalks.
---
Best Mind-Expanding Record Store
5520 Connecticut Ave., NW.
Looking for a specific album? You may not find it at this tiny new space in Chevy Chase DC. But that's part of the fun: Arrive with open ears and allow owner PJ Brownlee to guide you through his collection of vinyl, which includes adventurous rock, jazz, dance, and international sounds. You'll probably walk out with something great you never knew existed. There are books, too—Brownlee will be happy to help pair a novel with a record.
---
Best New Design Trend
Conscious Consumption
While buying preowned furniture is hardly new (see longtime DC vintage purveyors such as Miss Pixie's and GoodWood), it has soared in popularity thanks to Covid-era shipping delays, inflation (which doesn't typically affect vintage prices), and a rise in the number of shoppers concerned with sustainability. The resale-­furniture market will likely hit $22 billion by 2027, according to a 2022 report from the vintage-­furniture site Chairish. (It was $11 billion in 2018.)
Popular options for new-but-old decor include the aforementioned Chairish as well as such sites as Kaiyo, Etsy, and Facebook Marketplace.
New local stores and groups are all about the movement, too: Take The George Vintage & Design (2210 Mount Vernon Ave., Alexandria), a Del Ray store specializing in authentic midcentury­modern furniture; House Friends, a DC-based online design community that provides information and resources for shopping secondhand; and Home of Boho.Vintage, an Instagram account run by a Woodbridge couple, for (what else?) vintage pieces.
---
Best Secret (and Cheaper) Places to Park at the Wharf
There are two ways of looking at the success of the Wharf, says Darryl Madden, who has just passed his 14th winter living at the Wharf Marina. The first: It's terrific to see it become a destination, with world-class restaurants and hotels along the formerly unglamorous Southwest DC waterfront. The other is that it's now a lot more expensive and difficult for visitors to park. The Wharf's three official garages can be quite pricey—the day rate on weekends is $60. Fortunately, it's easy to arrive by cycle, by foot (from the L'Enfant Plaza or Waterfront Metro stop), or even by water taxi from Old Town, Georgetown, or National Harbor ($18 to $35 each way, depending on when you go). Metro has proposed extending two bus lines, the 52 and the 74, to the Wharf, but those changes may take a while.
If you have to drive, Kevin Tien, the executive chef at Moon Rabbit, recommends parking at L'Enfant Plaza, where the day rate is $26 and you can hop onto a shuttle to the waterfront. An executive who works nearby recommends the parking garage at 1100 Fourth Street, Southwest, where the day rate is $26.
Because the Wharf is, you know, a wharf, you can always try to arrive by water. One outside-­the-box option is the free "jitney" from East Potomac Park (where you can park for free) to Recreation Pier. Note, however, that the boat seats only six and runs noon to 6 pm Friday through Sunday during non-winter months.
---
---
---
Best Bathroom Selfie Mirrors
A mirror that somehow makes you look taller and thinner? Yes, please! The gender-neutral lobby bathrooms at Adams Morgan's Line hotel (2468 Champlain St., NW) feature multi-piece, full-body mirrors that create a flattering leg-elongating effect without any fun-house warping. We also can't help but snap selfies in the restrooms of seafood-centric Bar Spero (250 Massachusetts Ave., NW), near Judiciary Square, where the mirrors are shaped like iridescent '90s-style Pit Viper sunglasses.
---
Best Washington Football Team
It hasn't been an easy time to support DC's NFL team, the Commanders. Luckily for local football fans, there is the other football team, the Defenders. In just one season, the XFL squad captured the city's affection, selling out Audi Field (yes, a DC football team playing in DC) and actually winning games. The Defenders are best known for drawing rowdy crowds, which have made headlines for stacking beer cups into a massive "beer snake" spanning 30 rows. After all, rooting for the home team should be fun—not befuddling.
---
Best Flea Market for Gen-Z
2715 Pennsylvania Ave., NW.
In the market for a '90s Betsey Johnson slip dress like the one Olivia Rodrigo wore to her "Sour Prom" after-party? Perhaps patchwork crochet-and-suede pants? A sleek streetwear jacket? Then head to the Get Flee Market (@getfleemarketplace on Instagram) at Sandlot Georgetown, which sells one-of-a-kind vintage and thrifted pieces one Saturday a month from 11 to 4. While there are plenty of pop-up vintage markets every weekend in DC, very few offer the option to grab a bite after you've sifted through the handful of racks. You can enjoy a Flat Out Burger, plus cold-pressed juice or an alcoholic beverage, while a DJ plays fresh beats.
---
---
Expert Picks
Best Public Restroom at a Monument
Local tour guides aren't just knowledgeable about what to do in DC—by necessity, they're also privy to the best public restrooms. So we asked a few to share their potty picks. Three different tour guides chose the MLK restrooms as the cleanest and nicest. (One did admit that "it feels weird to say, 'Go to MLK to relieve yourself.' ") Canden Arciniega, historian and manager of DC by Foot, likes the family bathroom at MLK because she's often with her kids. Arciniega also recommends the FDR Memorial restrooms.
Best For Host and Hostess Gifts
Event planner Lauryn Prattes not only arranges chic parties for clients—she hosts her own. So she's seen her share of hostess gifts. Here are places she recommends when you want to bring something other than wine or flowers.
1309 Fifth St., NE; 1625 14th St., NW.
Prattes says this local favorite has a great gift selection. What she recommends: "Pick a theme and put together a little basket."
Best in a Pinch | A Local Bakery
Make a host's morning with the gift of breakfast. "After [an evening of] hosting," Prattes says, "pas­tries for breakfast is a welcome treat." Prattes likes Tatte or Pluma by Bluebird Bakery.
This article appears in the June 2023 issue of Washingtonian.